Balat Route from Çinili Hamam to Women's Works Library
We started our exploration at The Çinili Hamam and walked to the Women's Works Library with pickle juice glasses in our hands and children's laughter in our ears.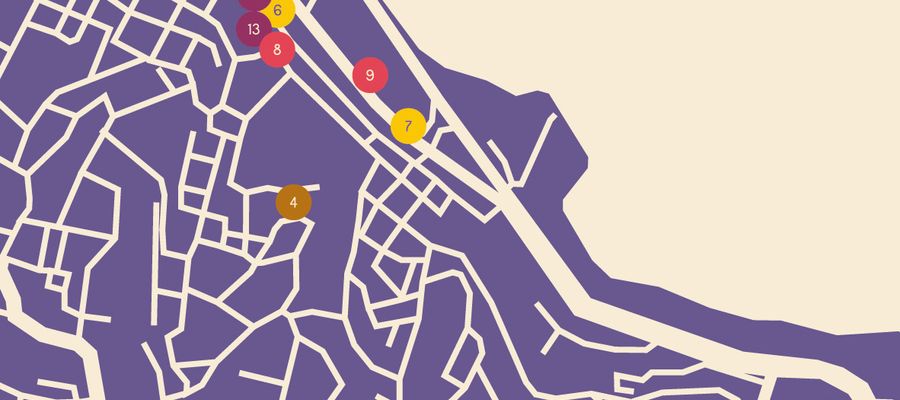 Biennial venues
Küçük Mustafa Paşa Hamamı: A bathhouse that welcomes both men and women. Are you ready to get your fill of art thanks to the 'multi-purpose event space' within its brick walls?
The Çinili Hamam: One of the most important buildings by Mimar Sinan. It still preserves its double bath feature. The tiles are only in the men's section today. We are sure that you will be mesmerised when you step inside.
Restaurants and cafés
Tahta Minare Çay Evi (Tea house): A place for brewed tea and grilled cheese with kaşar. On your way back, you can stop by the Minik Kalpler on the same street and treat the children of the neighbourhood to some hot soup.
Minik Kalpler: A building on Yıldırım Street with toys hanging from the windows. It was set up for the children of the neighbourhood and migrant children who visit. They distribute free soup for the little ones all day long. You can donate your cousin's, your brother's or your own toys and clothes here. One day you will see them on or in the hands of a dimpled, cheerful child, which will add so much more to your memory of the item.
Minik Kalpler at Yıldırım Street

---
Agora Meyhanesi 1890: Rakı, fish, mezze, melon. You can enjoy your drink by gazing at the neighbourhood from inside a historic building where everything inside is made of wood. Attention though, these don't belong to a TV set, these are real memories unique to a real neighbourhood culture.
Smelt & Co.: We are not here to select the best of Istanbul but Smelt & Co. is one of the bests of Istanbul in both food and experience. Reservations are a must to taste the recipes that Sinan and Samet Chefs created by blending their culinary experiences abroad with the food culture of Istanbul. And to watch the sunset from the terrace.
Forno: Trabzon cheese pita or lahmacun. Whichever you prefer, it's hot from the oven and the dough is crispy. It's as simple as a small diner, and a must for lunch.
Coffee Department: Coffee Department, which we are familiar with from Nişantaşı, is a coffee shop designed in the spirit of the neighbourhood, which from the outside looks more like a neighbourhood coffee house than a third wave coffee shop - and that's a compliment. Stop by for good coffee and sweet, fresh snacks. Our favourite is the coffee from Peru El Remanzo.
Ada Ev Yemekleri: You are welcome here for a vegetarian menu. The okra and chickpeas are unique.
Sahan Ev Yemekleri: Kavurma pilav and kuru fasülye (traditional roasted rice and baked beans)? Only Sahan will suffice.
Muhit: Homemade chocolate lemon cake. Do we need to say more?
Shops
Sevda Gazozcusu (Soda shop): No need to explain, you know you are at the right place the moment you see it. Baskets full of soda caps and all kinds of bottles make up the walls of the shop. They offer the original recipe to first-time visitors. Those with a sweet tooth are in luck.
Sevda Gazozcusu (Soda shop)

---
Evin Unlu Mamülleri: Aniseed crackers and crunchy simit. And then there's the smell that takes over the whole street.
İbrahim Hakkı Tarihî Börek Fırını: Next to Küçük Mustafa Paşa Hamam. A family business that bakes pastry, bread and pita bread in their historical wood oven. Warm and crispy.
Meşhur Balat Turşucusu (Pickle shop): Let's warn you in advance that there will be a line in front of it whenever you go. You can take it to go and eat while touring the neighbourhood, or you can take it home in vacuumed packs. We can guarantee that once you taste the trio of pickled greengages, cabbage and bitter pickle juice, you will never crave anything else again.
Kulis Vintage: It wouldn't be false or misleading to say that it is one of the most comprehensive vintage clothing stores in Istanbul. It is possible to find not only 'cool' and oversize grandpa shirts, but also leather jackets, jeans, and glasses in very good condition.
Artisan and artist workshops
Camhane: Bending and twisting glass? All while watching and learning. We set ourselves an ambitious goal of making ourselves an elephant, what's yours?
Klasik Tabela Workshop: In case you want to buy signs to hang in your home or studio. The creations are shaped by your desires. You should already be on your way to surprise a friend by immortalising an inside joke. There is so much to choose from, decorate, and customise.
Zoks Studio: Zoks offers courses every day of the week. Neslişah believes that touching the clay by hand relieves stress, and it really does. First, we make glass, next, a vase, and we will shape it in whichever way our hearts desire. You don't have to get your hands dirty, it is also possible to buy and take home the ceramic plates and glasses that Neslişah makes which bear the defective form, asymmetrical shape, and fingerprint of the producer.
Zoks Studio display
---
Buildings
Yuvakimyon Highschool: It welcomes you as a ruined building on the left at the beginning of a steep slope. At certain times of the year, theatre plays are performed under the name Monologlar Müzesi (Museum of Monologues). There are fifteen-minute monologues in each classroom, when the play ends the school bell rings and you, not them, change your room and give yourself to a different story.
Popstel Balat: The tiled walls almost reference the Ecumenical Patriarchate of Constantinople (Fener Rum Patrikhanesi), which you can see from the balconies. It is so comfortable that if you are in a crowded group, you can chat without having to break off. It is also one of the rare 'European' hostels in Istanbul. Whether you want to visit or stay. And you can't leave without browsing through old books at Popstel Vintage & Old Books.
Jerusalem Church: The building is affiliated with Jerusalem. It's only open one day a year. April 23rd. You can still go there on other days and chat with Uncle Hüseyin, the caretaker. We also heard there are goats in the garden but we didn't see them.
Cultural centres
Women's Works Library: Take a look here for women-centred national and international symposiums, panels, conferences, interviews, panel discussions, open sessions, plays, training seminars, concerts, exhibitions, readings, excursions, film screenings, book signings, poetry readings.
Sinemasal: Right next door to Minik Kalpler. It introduces children to the cinema, organises festivals, and spreads hope. All workers are volunteers. In Balat, for the April 23rd celebrations, a free festival is organised for children from all over, but especially children from the neighbourhood.
Streets and avenues
Hızır Çavuş Köprübaşı Street: We don't think anyone would find it strange to call it Auctioneers Street. Agora Antique, Asanlı Auction, Cen Antique, Ceres Antique are here. Don't miss the auctions organised on the weekends.
Vodina Avenue: Almost all the photos that appear on Google and Instagram when you search 'Balat' are taken on this street. Full of shops, it is one of the busiest streets. It is impossible to pass through Balat without walking there.
Kiremit Avenue: The street that separates Fener and Balat. You can see new houses emulating the old, colourful Greek houses with bay windows and examples of good restoration.
Click here to reach the map from Google Maps.
Liked this story? Share it.
Liked this story
Add to Archive
Add to Reading List
Share
Published in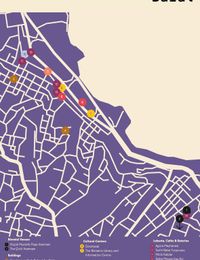 🗺 Soli is at 17th Istanbul Biennial: Balat
Newsletter & Author

Soli
A weekly journal of neighbourhoods to dig into urban culture, people stories, and sociocultural dynamics. In every issue, we meet an inhabitant in their hood where they live, create or belong.
;