Füsun Onur's crowded yet simple world
Özlem Altunok writes about Füsun Onur's art and life.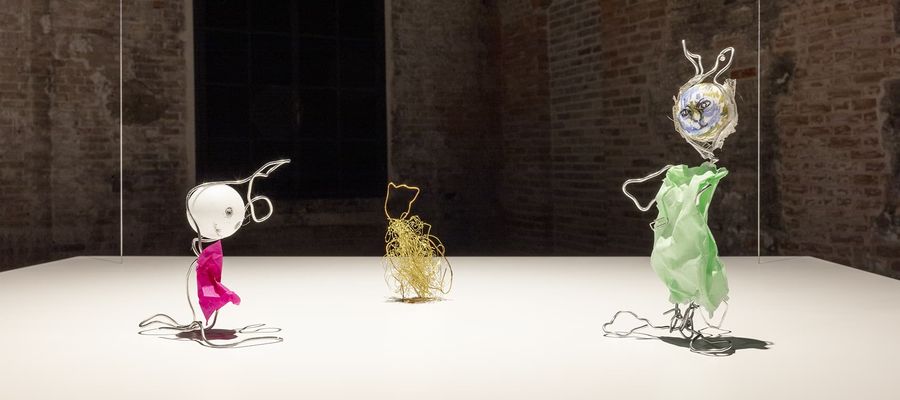 One of the pioneers of conceptual art in Turkey, Füsun Onur draws attention with her works that replace permanence with transience, stasis with interaction, emptying the baggage of meaning attributed to sculpture and reconstructing the relationship with the object in a unique way. The artist transforms objects from everyday life, sometimes by detaching them from their context and sometimes by intertwining reality and imagination, her use of materials is economical and her technique is simple. She is more interested in the space she creates and the atmosphere of the work. Her works are mostly "playful" and contain autobiographical traces. From time to time, they can also give the feeling of an unfinished draft. Thus, she opens up space for the viewer and their imagination.
Füsun Onur, who creates spatial works by making what she calls "silent music", equates seeing and hearing. She activates the thinness and thickness of tones, the color, transitions and rhythm of sound through objects. In other words, she visualizes the music she hears by transforming it into compositions through objects and spreads her productions over time and spatializes them as in music. The titles of many of her works are chosen from classical music terminology.
Childhood in Kuzguncuk
Füsun Onur was born in Kuzguncuk, Istanbul in 1937. She and her brothers İlhan and Senih Onur had an independent childhood. Füsun Onur started to paint during childhood with the encouragement of her father Hayri Onur: "My father wanted us to paint and read books. He would tell us to draw on the closet, on the wall, on a handkerchief, just don't stop. He never wanted to limit us. He would carry books, toys, children's magazines for us to expand our imagination. When she came home, she would say to me, 'My daughter Leonardo is working'." (From Altunok's article A Wonderland in Argonauts, November, 2021)
After graduating from Üsküdar American College for Girls, she studied sculpture at the Hadi Bara Workshop at the Istanbul State Academy of Fine Arts in 1957. "Before I entered the Academy, I thought I was going to paint, but then I read an article in the newspaper about a sculptor who was playing in the Academy Theater and that's when I decided to study sculpture. I went and enrolled directly in the sculpture department. Working with Mr. Hadi was very important for me. Even when he was making small talk, I would feel that I was taking a step forward, that I was learning something. One day he said to me, 'I see that you are going to move to the abstract, are you doing it with or without realizing it? He was right, I was going back to the abstract." (From Altunok's interview with Istanbul Art News dated May, 2014.)
The years in the USA...
In 1962, Onur was awarded a Fulbright scholarship to study philosophy at the American University in Washington, DC, and later, art at the Maryland College of Art. She completes her education with the doctoral thesis titled "The Public Presentation of the Art Object for Its Own Sake as Its Possible Self in a Possible World, as a Possibility of Existence".
After returning to Turkey, the artist held her first solo exhibition at Taksim Art Gallery in 1970 and was invited to the 7th International Young Artists Biennial in Paris in 1971. Afterwards, her works were exhibited in many places such as the Academy of Fine Arts, the 1st, 4th, 12th and 14th Istanbul Biennials, Atatürk Cultural Center, Istanbul Painting and Sculpture Museum and Maçka Art Gallery.
The artist, who gained visibility in the international art world with the impact of the first Istanbul Biennial organized in 1987 and the acceleration of contemporary art in the 90s, was invited to many exhibitions abroad with the role of curator René Block. She participated in the biennials of Japan, New Zealand, Moscow and Documenta. Onur's first comprehensive exhibition in Turkey, Mirror Inside, was held at Arter in 2014. Her works are in the collections of many important international museums such as Arter, Tate Modern, Van Abbemuseum, Centre National des Arts Plastiques and MAK Vienna.
Taking its title from Lewis Carroll's Through the Looking Glass, the exhibition curated by Emre Baykal at Arter featured more than 40 works by Onur. The exhibition, which traced the intuitive connections between Onur's artistic production rather than proposing a chronological installation, included the artist's early abstract geometric drawings, sculptures exploring the relationship between form, space and time, and installations using everyday materials. Between 1965 and 1967, the exhibition featured the drawings she made before returning from the United States and the minimal abstract geometric structures she created in those years, as well as the materials, forms and colors she diversified in the following years. Nocturne, Whisper and Pink Boat, the first examples of her production of rhythm, repetition and music, were also included, as well as works related to the domestic sphere such as Lament for Tekir, Dream of Old Things, War through the Eyes of a Child.
Spread across the upper floor of Arter, Onur's installation Counterpoint with Flowers, first exhibited at Taksim Art Gallery in 1982, was reconstructed for this exhibition. In this spatial work created with a blue plastic tarp, strings, bands, branches and floral arrangements were placed as notes with their repetitions and intervals. The Counterpoint with Flowers, which is a poetic space in the union of the natural and the artificial between the blue tarp evoking the sea or the sky and the artificial and real flowers, was also like a fairytale refuge.
Hayri Onur Mansion
Last year, Füsun Onur and her older sister İlhan Onur donated the Hayri Onur Mansion, the family legacy where they were born and raised, to the Vehbi Koç Foundation. The mansion, which is also the center of Füsun Onur's autobiographical works, is a source for the development of the artist's imagination and the originality and diversity of the objects she used, as well as a home to her studio and the works she produced. Her older sister İlhan Onur, who passed away in recent months, is an important figure who photographed and archived all her works. Not counting the works that Füsun Onur left or threw into the sea from the pier of the mansion because there was no room in the house.
First of all, they were always accompanied by cats, the constant inhabitants of the house. Family heirloom display cabinets, sideboards, trinkets, porcelain cups, photographs, toys, mirrors, fabrics... Most of the objects in the house have written their own history. In the workshop downstairs, there are Bedri Rahmi drawings on one side, Hadi Bara's sculpture castings on the other, trunks of artifacts, cardboard boxes... The fitted wardrobe full of children's clothes, toys and objects belonging to Füsun Onur and her two siblings, which their mother kept, was included in the exhibition "Through the Looking Glass".
When asked "What kind of communication would you like this house to establish with the visitors and artists", Füsun Onur replied "A communication that would free the artists... I don't know how this place will change and transform, it will stay like this for me, but I don't approve of young artists being directed to imitate someone, because then they can become nothing more than that". Her wish for them is to become artists who are nothing but themselves... Just like her.
Füsun Onur at the Venice Biennale
Representing Turkey at the 59th Venice Biennale, Füsun Onur's installation "Once upon a time…", which she has been working on for nearly two years, tells the story of a group of mice and a cat who unite to fight against the human-oriented governance approach that threatens the future of the planet. Bige Örer curated the exhibition at the Turkey Pavilion at the Arsenale, organized by İKSV. Örer explained the process of the exhibition to Cem Erciyes on Gazete Duvar with the following words:
"This fairy tale took shape in our working process of almost two years, new characters were added to the tale, some parts were changed, in a way, the postponement of the exhibition due to the pandemic caused the fairy tale to take shape even more. Ms. Onur was actually seeing a movie in her mind and she wanted everyone who participated to see the same movie. When we read a book, the characters come to life in our minds, you wonder what the next story of those characters will be, and in this work, there is a very exciting attitude that draws you in, dragging you into its own fairy tale. We also worked a lot on the material. We experimented with which material she could use to convey these ideas. Then she decided to use metal wire, and she is an artist who thinks a lot about the colors and thicknesses of metal wires, in other words, about materials. In addition to the figures she bent and twisted, she also added objects from everyday life to this installation. At this point, it is as if you are turning the pages of a book, you are confronted with a different part of the story along with the fiction in the space. It is a work that gives the viewer a lot of space and opportunity. It almost invites you to write a story. Füsun Onur has a story in mind, but this story can be experienced with every viewer."
Füsun Onur's exhibition at the Venice Biennale was accompanied by a comprehensive book. Füsun Onur: Once upon a time... was co-edited by Bige Örer, curator of the exhibition and Director of the Istanbul Biennial and İKSV Contemporary Art Projects, and Nilüfer Şaşmazer, independent curator and art writer. The book, which is the most comprehensive publication on Füsun Onur, includes essays by curators, art historians and researchers on various aspects of Onur's artistic practice. The publication also presents an in-depth chronology that sheds light on the artist's prolific career, reflecting different periods and aspects of her artistic practice in a historical context, with archival images. The publication includes essays by Ahu Antmen, Alev Ersan, Anna Boghiguian, Anne Barlow, Aslı Seven, Ayşe Erek, Chus Martínez, Defne Ayas, Deniz Gül, Fatih Özgüven, Gregory Volk, Hera Büyüktaşcıyan, HG Masters, Iwona Blazwick, İz Öztat, Kevser Güler. The book includes new writings on Füsun Onur's works by many curators, art historians and artists such as Leylâ Gediz, Misal Adnan Yıldız, Murat Alat, Necmi Sönmez, Paolo Colombo, Sally Tallant, Seza Paker and Tolga Tüzün. The book also includes interviews with Carolyn Christov-Bakargiev, curator of the 14th Istanbul Biennial, and Rabia Çapa, one of the founders of Maçka Art Gallery, as well as previously published articles on the artist by Angelika Stepken, Emre Baykal, Fulya Erdemci, Margrit Brehm, Suzana Milevska and others. The book is on sale at Yapı Kredi Publishing stores and selected bookstores.
Liked this story? Share it.
Liked this story
Add to Archive
Add to Reading List
Share
Published in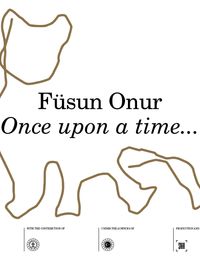 Füsun Onur at the Venice Biennale
Newsletter & Author

;