Kurtuluş is an intermediate stop. It will give you a breath of fresh air and oxygen before moving on to the next point.
Neighborhood: Kurtulus. Neighborhood: Utku Güven. Photos: Deniz Sabuncu.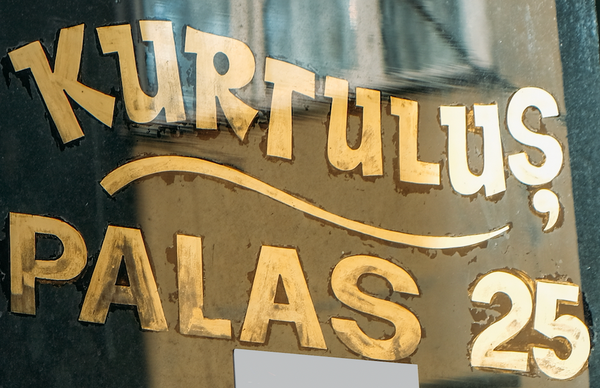 Carpets or parquet, tiles or laminated? Neighbors from whom you pick up your parcels when they are not at home and you meet around big tables on Sunday afternoons? Or, detached houses with locks and security at the door? A relationship with a neighborhood is like a family without blood ties. You choose it. The first question on our minds, then, as we look down from the top of Eşref Efendi Street: What was it that attracted Utku to Kurtuluş?
"I had spent so much time in Eşref Efendi's shared houses at Istanbul Bilgi University's Dolapdere campus, so I was used to and even a little in love with the neighborhood and its people." When Utku came to Kurtuluş in 2014, he had only two criteria in mind when looking for a house: a terrace and an opening to the sky.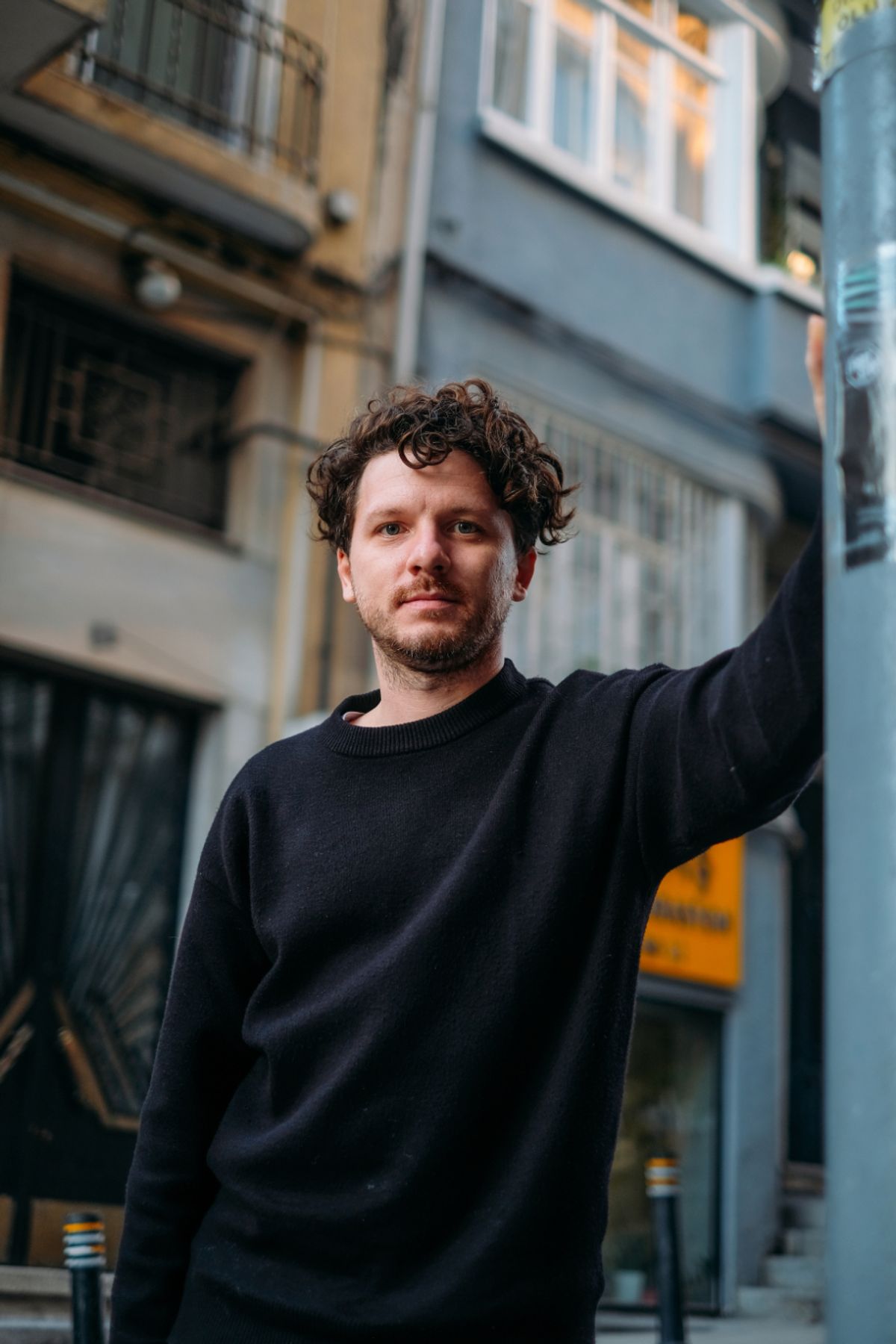 Utku, the creator of Esmiyor Podcast
---
He did not find it immediately. After looking at many streets, buildings and rooms, he eventually comes across an enormous two-story house. The rent is high, but it's nice. He had to live in it. But to live here, you have to be determined…and also have a little luck. This is a word on the lips of many people who have made Kurtuluş their home.
"At that time one of our friends from Berlin moved back to Istanbul. Someone was moving out of their crumbling house, and the landlord was thinking of charging higher rent after renovating it. We decided to move into the house together. In the intervening years, many people have come, lived, and left. Some went abroad; some now live with children, dogs, and spouses. Sometimes they come back to visit as a guest and revisit their old life. I am still here, ready to welcome those who return and who miss the neighborhood. One day I may leave this place, but only if I left Istanbul or Turkey."
We are together, that's it.
History permeates Kurtuluş today. The neighborhood where non-Muslims and Muslims, Armenians, Greeks, Jews, and Roma people once lived together is a place where the communities that are seen as "minorities" in today's world are the voice of the majority; where they do not have to speak in whispers; where they can continue their lives on the street, not behind drawn curtains.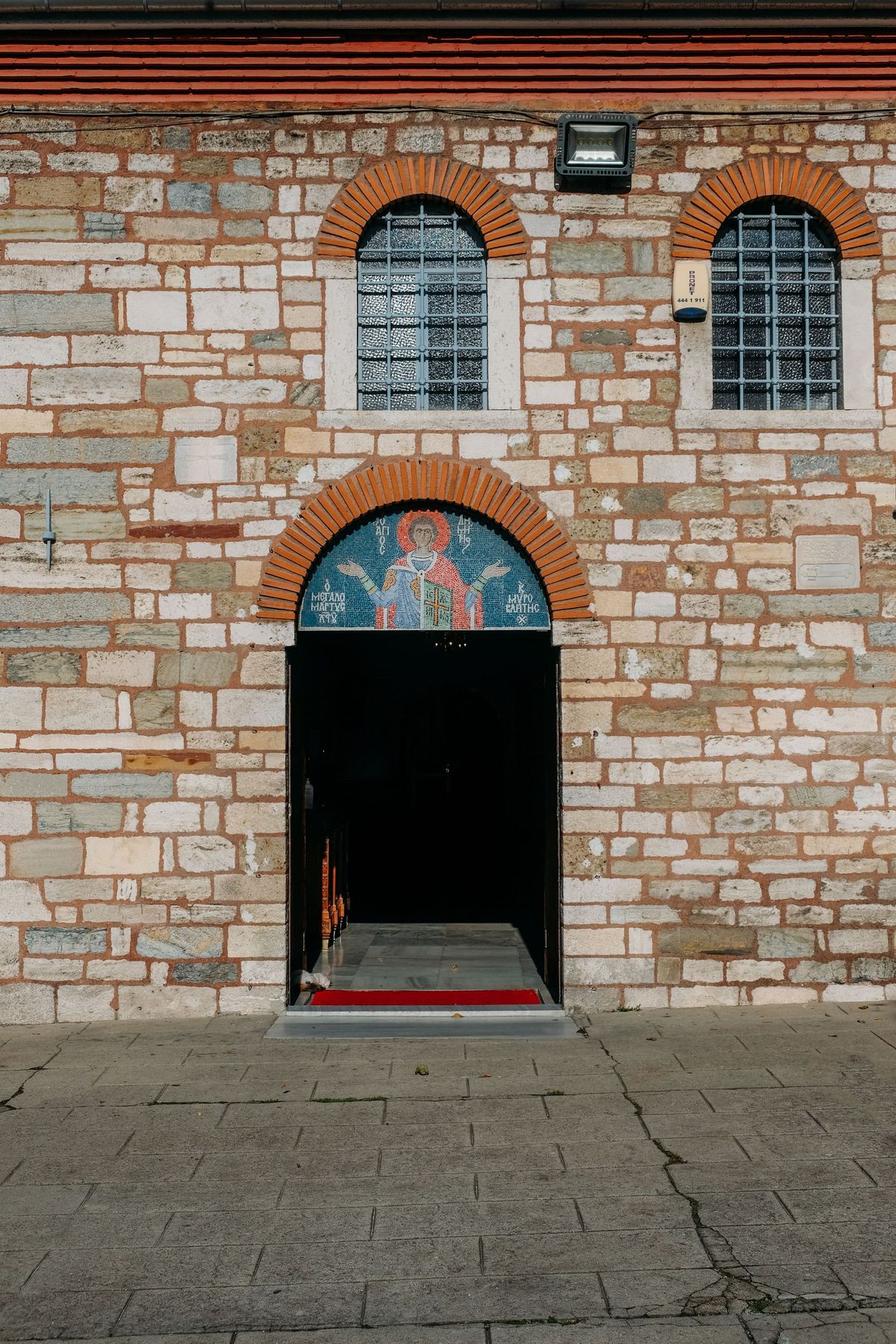 The meeting point of religions, languages, and lives: Kurtuluş
---
A safe space for the Queer community and sex workers. A production center where those who are seen as "minorities" aren't squeezed into limited work areas; where Afghan and Syrian immigrants can carry their cultures from the kitchen onto plates and tables. "Kurtuluş is the most cosmopolitan neighborhood I see in Istanbul right now. For example, there are karaoke nights organized by the Mongolian community in the basement of the beer hall here. There is also the R&B Club run by Africans on Ergenekon Street. On Saturdays, the streets of Kurtuluş are very colorful because of the African church in one of the apartment blocks. The founder of Ben U Sen is a Diyarbakır Armenian. He has handed it over now, but the food is the same. As Utku says while summarising why he is attracted to Kurtuluş: 'You can discover the world from where you sit"
It is a neighborhood that creates space for different cultures, vibrant and distinct but influencing one another. Yes - there are not many neighborhoods like it in Istanbul. Maybe that's why it attracts the attention of civil society organizations, people working in the entertainment sector, and recently not only artists but also art institutions.
It is a transition point for those traveling from the past to the future, from west to east or vice versa, from uncertainties to dreams; it is always in motion because it accepts outsiders.
There is a fluidity between the neighborhoods.
Where does Kurtuluş begin and end? Does it ever end? Although it is physically defined by the islands, being from Kurtuluş is more of a feeling. The bagel seller who walks around saying "Puhçaaa!" in the mornings, annoying those who only put their heads on the pillow two hours ago is also from Kurtuluş, as is Mr. Aran, who is disturbed by the sound of high heels on the floor above him because of the never-ending party. Markiz Vintage, which displays choice items from grandmother's trunk in the window, is also from Kurtuluş, as are the tailors who sew up ripped linings and prepare them for winter, reworking jackets so they fit when the time comes. There are also bookstores displaying Little Black Fish and Pal Sokağı children's books in the crates out front, and people who spend six hours a day staring at their computer screens on the sidewalks. People eating noodles with chopsticks; people playing darts with beer glasses in their hands; people walking briskly to the metro with sandwiches bought from La Fiancée; ladies in scarves pulling their wheeled baskets to Feriköy market; gentlemen walking around with Madame Katia hats. These are usual sights in Kurtuluş.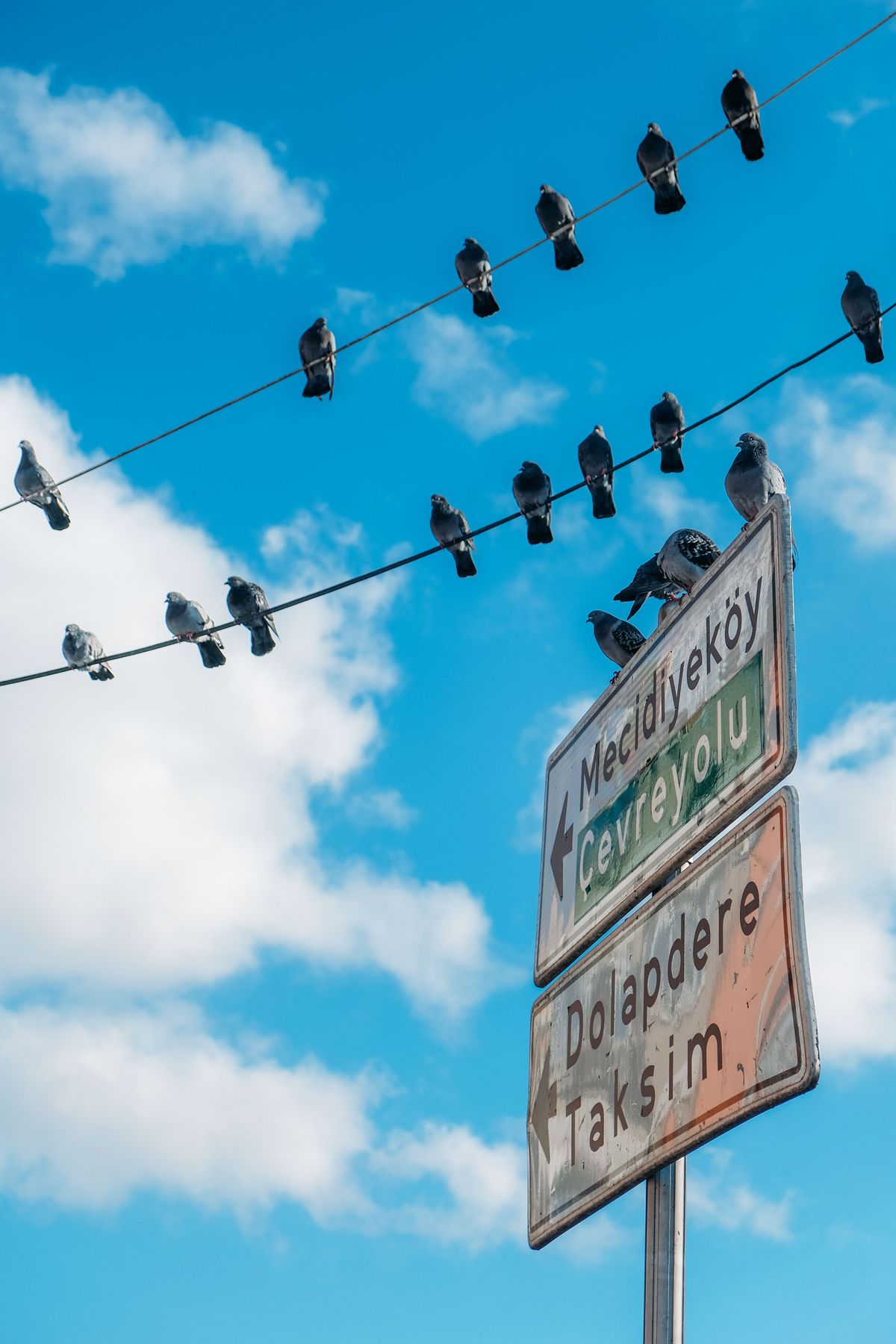 From Kurtuluş to Dolapdere
---
"The gentrification of Karaköy and Kurtuluş happened at the same time: after Gezi," Utku begins to explain. "They are both transition points. But this place is different. Karaköy's neighborhood is made up of outsiders. First, those who left Istiklal, Beyoğlu, and Pera, and then those who opened cafes, bars, and restaurants. But the locals did not abandon Kurtuluş. For this reason, big investors cannot come and dismantle the apartment fonts and doorways, each of which is the work of an artist, and erect skyscrapers in their place. There are no projects worth millions or trillions of dollars here. Yet. Only the temperament of the neighborhood is changing. The old greengrocer is now Fill Kahve, for example. The beer houses where only men can be seen through the smoke when you look through the door are closing down, and Kava is opening. Places are changing not simply because they will make a lot of money, but because they are in harmony with the demands of newcomers to the neighborhood."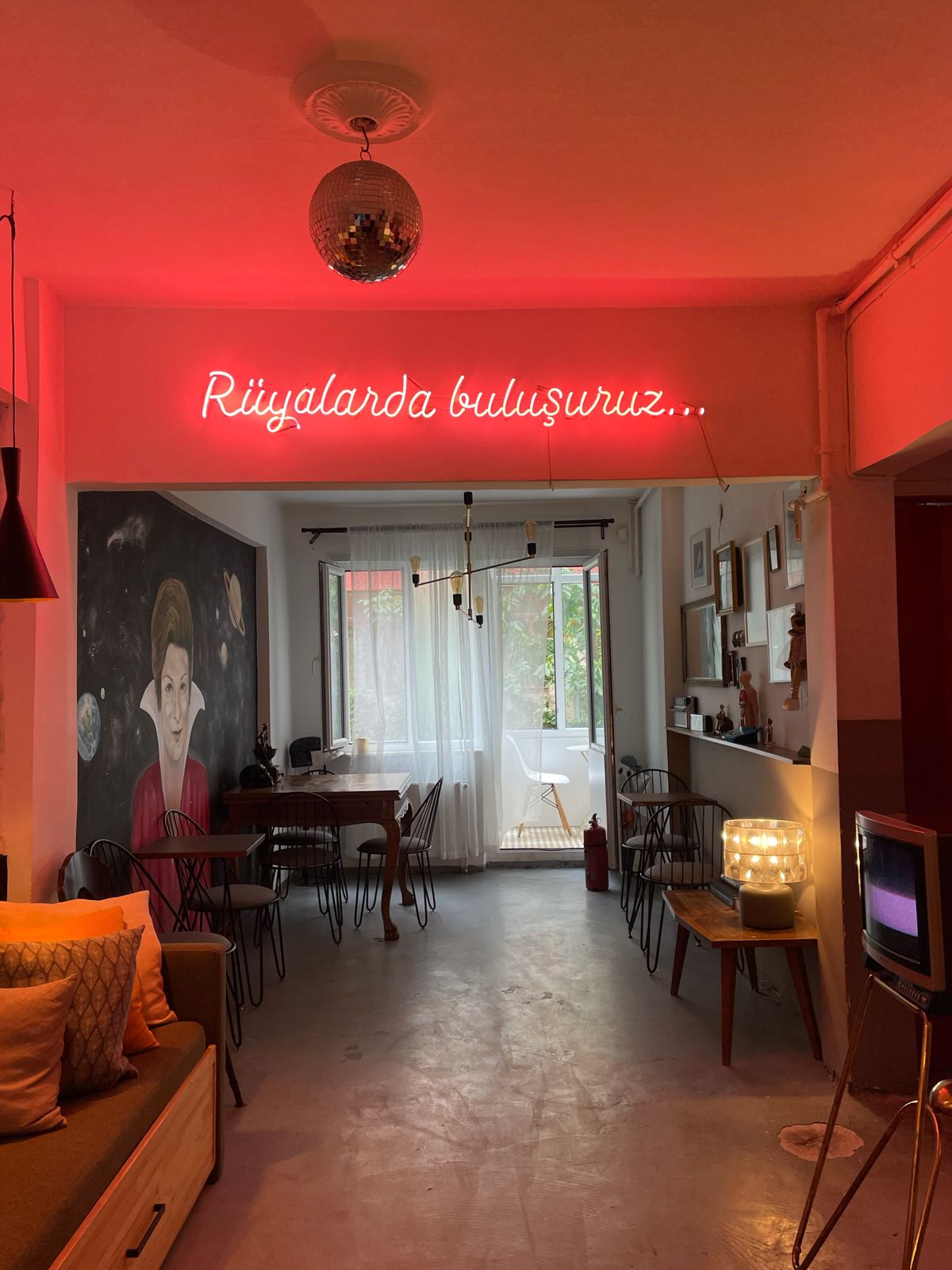 Kozmos Coffee
---
We want to talk about Bomontiada, which was established via enormous investments. Because it is also a part of this microcosm. Because many people come from the outside, those who stop by for a night out, those who take a look and leave, those who leave the cans and bags they throw out of car windows when they go, and those who make it dirty because it is not their own house. How does the neighborhood view these projects? People living in Kurtuluş go to Bomontiada to look and socialize. That area is a bit like an intersection with the outside world, Utku explains. "Those who come to Bomontiada do not go to Kurtuluş. It is not a place frequented by tourists wandering around with lists of places to visit and pose in front of for Instagram."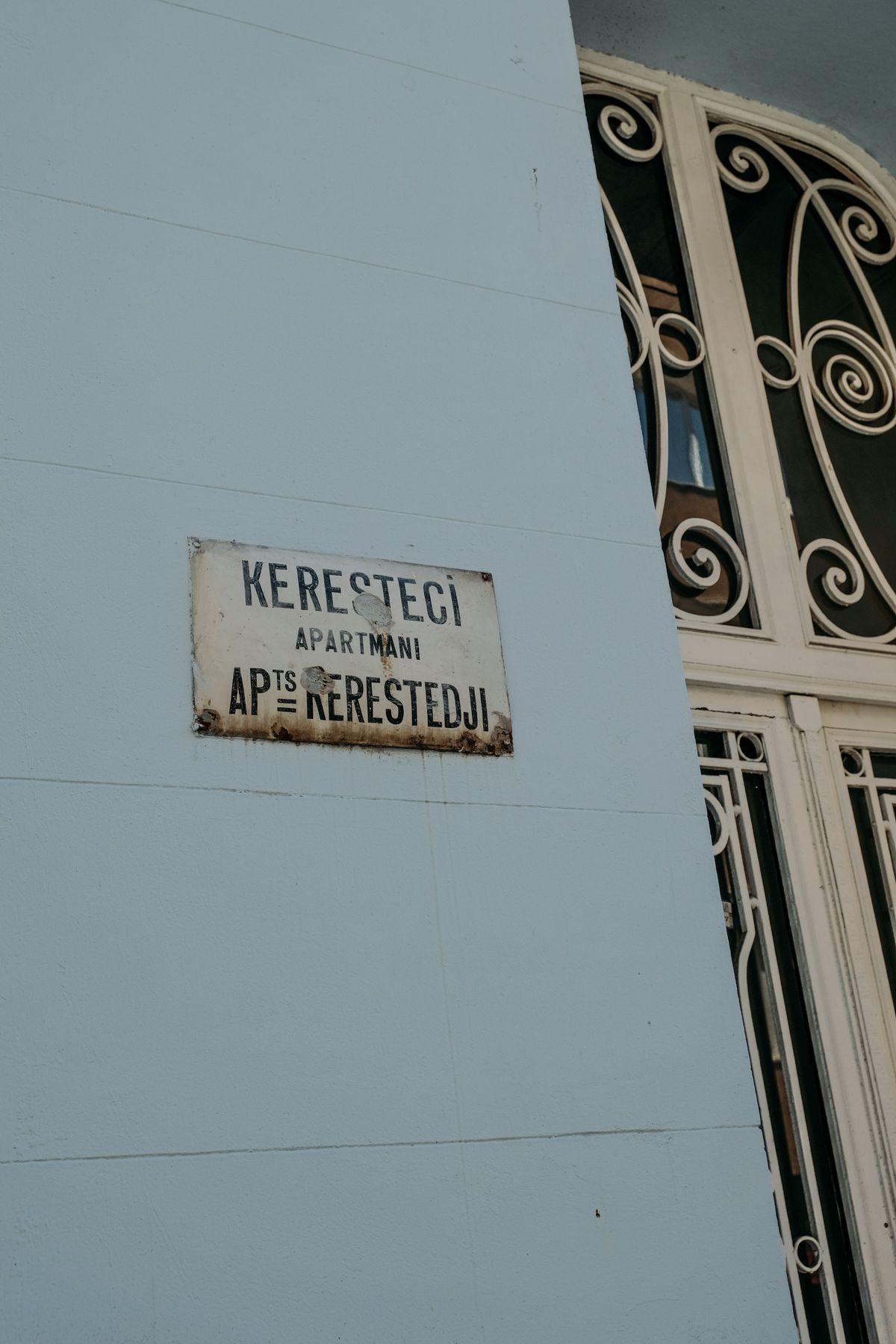 One of the apartments that open to the center of the world
---
It is the center of the world, this neighborhood
"If it's nature, I like to be away from it all, in places where even 3G doesn't work; far from people, buzzing, cables - if it's the city, I like to be in the midst of the chaos, the uncertainty where you can bump into someone when you turn a corner, start a conversation that can lead to a night that changes your life. This neighborhood makes me feel like I am at the center of the world. We call it Kurtuluş, but the neighborhood where I live is called Tatavla. Its Greek name is Ταταύλα. It was originally a Greek neighborhood before the great fire in 1929. The Tatavla derives from the Greek word 'tavla' which means 'horse stable'. 'There is nothing you can't find. I don't need to go anywhere to experience something. I think of the Beyoğlu of the past. It was the place where everyone went even if they lived elsewhere, where those who lived in Kurtuluş stayed. And on the other hand, it also represents a never-ending story of migration."
Greeks, Armenians, and Jews leave; Syrians, Africans, and Afghans arrive. People are fleeing war from east to west, thirst from south to north, natural disasters caused by the climate crisis, and hurricanes. Salvation, today, is like a stop. But it is not the end, it is just an intermediate stop. It is a respite, a breath of oxygen before moving on to the next point.
Liked this story? Share it.
Related Keywords
Istanbul Bilgi University
Liked this story
Add to Saved
Add to Read Later
Share
Published in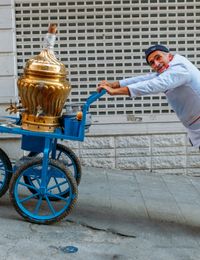 Istanbul's most cosmopolitan neighbourhood: Kurtuluş
Newsletter & Author

Soli
A weekly journal of neighbourhoods to dig into urban culture, people stories, and sociocultural dynamics. In every issue, we meet an inhabitant in their hood where they live, create or belong.
;