Leila and the Robot: Companionship through productivity
What's up with our community's obsession with productivity?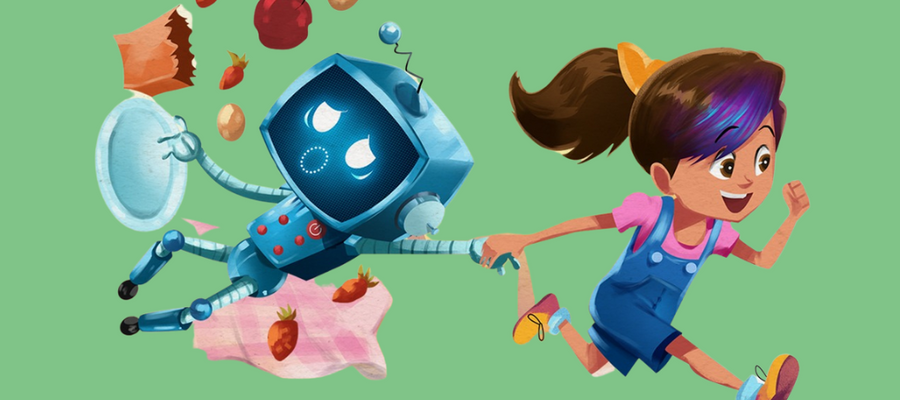 I'm a big fan of the non-verbal suspension-of-disbelief deal with games and books. So I will be presented with a logical framework and I trust that you will lure me in, and you offer me the plot you want to present and say, "Don't question it!" as long as you follow the rules, of course. What a brilliant deal, let's dive into this reality, I say from the bottom of my heart, then.
What I admire more are those magical moments when this deal is fulfilled by all parties. If a fiction is passed on to me by being gamified or through somehow interacting with the reader, I get even more excited. So here comes to mobile applications, new reading habits and experiences, and the excitement of experiencing fiction from the screen. And so to today's book Leila and the Robot.
Close-read of the day: I have a book written and dubbed by Berna Kahraman, and Nihan Yeşil handled the sound design and musical muscles on my screen. The story, illustrated by Doodlenerve, coexists within the Kidly app with its warm colors that happily remind us of Florence, the winner of the 2019 BAFTA Gaming Award in Mobile Games.
Productivity and partnership: Leila and the Robot
I swipe the screen to the right, and meet Leila. A girl busily writing code for the classroom-robot in computer class. I swipe right again and there is a new character: "Leila!" shouted Robot.
It's a duo discovering Leila's world together and began their friendship with the promise of spending time together—here are our protagonists.
🤖 Leila and the Robot
⚙️ Illustration: Doodlenerve
---
The first stop is the tennis lesson, from there they come home and eat their healthy snacks, then Leila non-stoppingly—even before Robot finishes its bite—pulls it by the arm and they play the piano together. Then it's time for the Chinese gameplay. They don't stop, ever. It's not enough, homework are ahead this time! They have a video game for their math homework in front of them, and a Turkish homework and an English cartoon program.
Let's see, how many activities are there? Five. One gets tired while writing, but there are two elements that appear like leitmotif. Leila's energy does not run out, she runs from place to place, but the Robot always gives the same warning:
The Robot worked too hard!
States of productivity: The Robot and a human
It would not be far from reality to assume that we are reading about robots from a positivist perspective. I think that in our speciesist world, robots are perceived from a positivist pen, and they are regarded to be things that do not get tired right away. At least that's my assumption.
Outside of conventional narratives: In a standard narrative, I think we would expect the nonstop-working character to be the Robot character. "Let's do that too, come on, human being, is that making you tired too?"
If I had read such reproaches, this would have been a completely different article. However, today we are meet with the story of Leila, an over-productive person, who isn't a part of a conventional narrative and is associated to be the mechanical one.
🤖 Leila and the Robot
⚙️ Illustration: Doodlenerve
---
The human-robot dichotomy: Leila plays the piano as she plays, runs to her room to do her homework, but the Robot gets a little too hot and finally says, "The Robot worked hard!" A reality that he rebelled against was established. We're not dealing with a master-servant dichotomy here, which we often see in human-robot interaction, and it's irrelevant!
A few questions I'm happy to ask: When the story deals with these dichotomies in a non-standard way, it also enables the reader to question stuff. For example, do we have to be so productive? Do we have to code, come home and then even remember when there's a specific time to play after doing our homework, and set our time management based on tasks? And how are we even supposed enjoy anything if everything is a task? Oh and, one more thing, does Leila have to function non-stop?
Well, when through the partnership of the duo, who experienced Leila's reality together, combined with the narrative of the Robot that stopped working eventually after all those tasks, we indeed realize a very exciting result.
Spoiler alert: At the end of the narrative, Leila realizes how tired she is when she sees that even the Robot that fell asleep did not wake up. They sleep together in peace. I'm excited for this narrative which subtly criticizes our community's approach to productivity through this friendship, and I thank the Robot—I don't want to forget that I have the right to sleep now when I'm a little too heated from working .
Liked this story? Share it.
Liked this story
Add to Saved
Add to Read Later
Share
Published in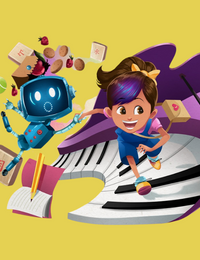 🤖 Productivity and companionship: Leila and the Robot, Robots animation from 2005
Newsletter & Author

Piccolo
A magazine dedicated to Children's and Young Adult Literature, Piccolo is published every Sunday at 2 PM (GMT+3).
;