The Creators's Guide #1: Berna Kahraman and Nihan Yeşil
We visit the universe of the creators of Leila and the Robot.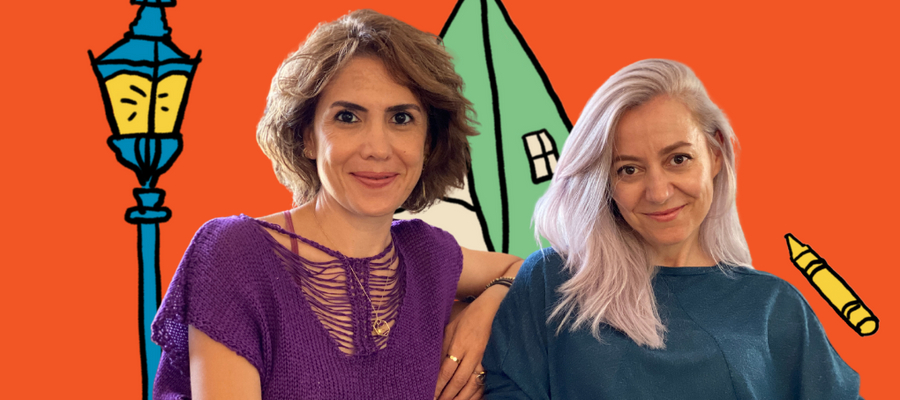 Chinese gameplay, interest in coding, the tennis habits... Where did you get your inspiration when creating Leila? Did you make use of a collective observation when choosing her interests, or is Leila someone you know?
Berna (Writer and producer): When I was imagining Leila, I visited my own childhood in my head, and imagined what I care about when raising my children. All over the world, there are children running from activity to activity today. Why though? I'm questioning this. As adults, we must give children space for how to spend their time, creating opportunities for them to dream and play freely.
Also, when I was a kid, I never complained even when it the thing was hard. Leila doesn't complain about all the hustle and bustle, and she does everything she does with ease, like a superhero. No matter what happens, she doesn't let anything spoil your fun. Her imagination is super wide. The Robot is also a product of Leila's imagination, like her answer to all this hustle and bustle.
Nihan (Sound designer and producer): I was always a very quiet and observant child. I loved the time when I was by myself and I used to dream for hours and draw. But as I observe the parenting trends around me right now, I am very surprised. Children are not given time to be alone. They rush children from course to course and from activity to activity. I know children whose daily schedule is busier than mine!
When Berna told me about Leila and the Robot, I immediately thought of all the Leilas I knew and I realized that we should start our adventure with this story immediately.
Was there an ethos that you determined among yourselves while creating the book or shaping the protagonist? I was very happy because I did not see any gendered rhetorics whilst reading.
B: When I observe my sons, regardless of their own life practices and what they are taught, I am astounded and stunned as they sponge on the gender roles that have been encoded for centuries. In other words, ideas about what women or men can and cannot do are formed very early.
It is not a coincidence that while designing this story, the protagonist is a girl and the chosen activities are genderless. However, Leila enjoys coding! And this is to rewrite the gender codes in society.
N: I was not involved in the writing of the story. As Berna just mentioned, this is one of the stories she wrote for her own children. But as I read the text, I connected with Leila. My life and work, too, have passed by constantly pushing the boundaries of accepted gender roles—and getting tired while pushing them. Actually, there should not be an imposition such as the gendering of interests, but unfortunately there is. Therefore, we need heroes who will rewrite these codes.
🔩 Leila and the Robot
⚙️ Illustration: Doodlenerve
---
What kind of experience does it correspond to that Leyla does not stop in between activities and that the Robot's fatigue is a recurring motif? Was your decision to criticize the "hustle culture" that we internalized with the Protestant morality and social media in our contemporary world consciously?
B: As urbanized adults, we often run like Leila and unknowingly push our children into a similar pace. It's like there's an imposition to do this. However, free time is also very valuable.
I just mentioned that the Robot is Leila's character's answer to the whole situation. It's like saying, "Not even a robot can withstand such a pace!" At the end of the story, Leila falls asleep before she can spend time with the Robot as she wishes. For example, my little boy questioned this situation a lot, "Mom, won't they play with the Robot?" And he complained about this.
That's what we expect—let kids think about what they like, what they want to do. Also, children are incredibly creative, when you give them the opportunity, they can build games with very few materials and play for hours in their own natural way. Let them build their own world.
Gamification of the learning experience is very valuable today. In this context, I quite liked the way Leila did her homework. Similarly, I felt incredibly relieved that the Robot didn't feel guilty about its fatigue! Did you decide on this subtext based on your own experiences? How did the process go?
B: Leila is a feel-good character. She always enjoys what she does. But the real world is not like that. Such a tempo is only possible in fiction. Children spend most of their time in schools by living within certain rules and patterns. As adults, I think we also feel guilty, like, "I'm too busy, I can't take care of it, so I have to fill my child's schedule too." When my sons say they're so bored, I say "Oh well, get bored!" I say. We don't need to be productive at all times.
N: We're so glad you made the point that the Robot doesn't feel guilty when its tired! Yes, it is very important to be able to ask for rest when we need it, and to be able to voice it when we need help. The physical and mental needs of each individual are different, just like how the ways of showing performance are different. But for the most part, the same routine is expected of everyone. So yes, we definitely have our own experiences and observations here.
What ethical values do Leila and the Robot have in line with Kidly? What common ethos does this collaboration have?
When we examined Kidly, the first thing that caught our attention was the perspective and the valuable stories reflecting this point of view. In addition to topics such as science, art, philosophy, they publish content on exactly the topics we want to talk to today's children, such as mindfulness, gender equality, animal rights, and respect for differences.
We are not talking about the didactic stories about gender equality. We're talking about inspiring stories with characters like Leila, who are rewriting the gender roles.
The quality of the illustrations and voice-overs of these stories was the second detail that caught our attention. For this reason, as soon as we talked about Leila and the Robot, we felt that we were on the same frequency and we immediately understood that Leila and the Robot should be in Kidly.
Liked this story? Share it.
Liked this story
Add to Saved
Add to Read Later
Share
Published in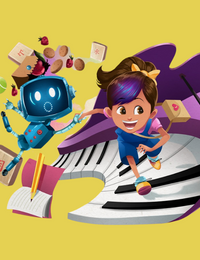 🤖 Productivity and companionship: Leila and the Robot, Robots animation from 2005
Newsletter & Author

Piccolo
A magazine dedicated to Children's and Young Adult Literature, Piccolo is published every Sunday at 2 PM (GMT+3).
;