The story of an oenologist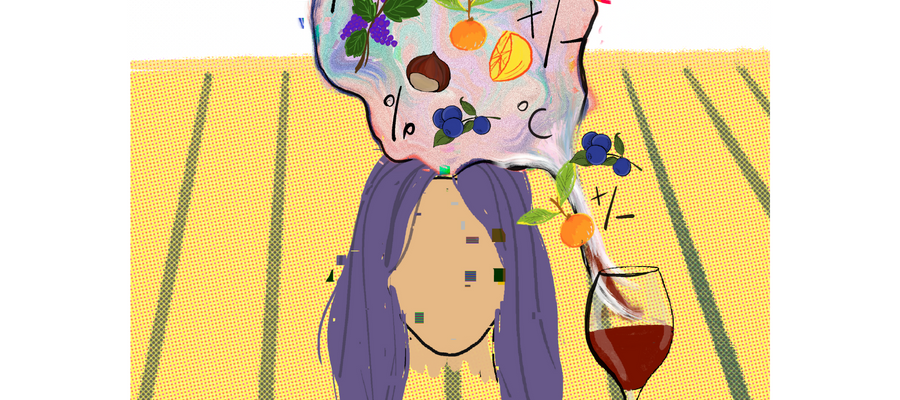 I am starting my "Voices from the Winery" series. In this series I imagine as pleasant and instructive conversations with people involved in the wine production process.
My first guest is Semril Zorlu, an oenologist whose voice I heard from among the barrels in the winery in Çal. I can hear you saying "what is an oenologist, who is she?" and I know you are thinking "isn't she a winemaker?" We will address all of your questions one by one.
Illustration: Ester Saba
Oenology
Oenology is the branch of science that deals with wine and winemaking, let's start from there. An oenologist is the person responsible for winemaking, from the vineyard to the production process. Semril is one.
I ask her the question that is often confused: "Who is an oenologist and who is a winemaker?"
"The winemaker, is more in the winery, in the production process of the wine. They can be a chemical engineer or an agricultural engineer. They may have studied physics or chemistry. Those we call oenologists, on the other hand, receive an education on winemaking and viticulture science in addition to their bachelor's degree. This is a 2-year education, and in this process, the focus is on wine and viticulture. We can think of oenology as the science of winemaking and viticulture. The oenologist does not only work in the winemaking process in the winery; they work in the vineyard and the winery as a whole. In fact, they direct the viticulture processes according to the type of wine they want to make.

Let me explain this with an example. For example; you want to make a very concentrated, powerful Öküzgözü. You organize your vineyard accordingly. For example; starting from the winter pruning process, you direct all processes such as the number of shoots to be left, the number of clusters, the spraying period, the harvest date in order to achieve sufficient phenolic maturity. In my mind, there is such a distinction between oenologist and winemaker. I am not saying that a winemaker is not interested in vineyards; they are. But a person who has received an oenology education can actually improve themselves very quickly in viticulture because they have also received viticulture education and can establish the connection with wine more easily."
Now that we have clarified the distinction between these two professions, I would like to move on to Semril's story.
Semril's story
Semril's story didn't start with bottles of wine. She wanted to be an architect since her childhood. But life took her to the laboratory and the kitchen and she found herself in the Department of Food Engineering at Çukurova University. Wine was not on her mind when she started there. I try to romanticize the story around wine, Semril says "No."
"I am lucky, I crossed paths with beautiful people in beautiful places. Professor Ahmet Canbaş was the first of them. There were many studies on wine in the food engineering department at university. There was a revolving fund at the university, the wine revolving fund. We had our own production facility where we were processing grapes and learning the process. I worked, I did tastings; I met wine."
It was precisely during this period that wine came to Semril's mind. "Of course," I think.
"I never missed fermentation and microbiology classes. These were my best courses anyway, I barely passed the rest of the courses, to be honest."
I can't not include this honest comment here!
While attending school, she did an internship at Kavaklıdere Wines during the harvest period in 2003. At that time, she said, "I want to do this." This is how her journey there began and continued until 2016. Luck was on Semril's side again; she worked with Aslı Odman, Turkey's first female oenologist. "I learnt the innerworkings here," Semril says with a sweet smile on her face. "Okay!" I say in my heart, "I've found some romance in the story."
A lot of distance, yet no boundaries
Then, she turned over a new leaf. Semril travelled to Montpellier in 2010 to study oenology: L'Institut Agro Montpellier de Diplome National d'oenologue (DNO). It is one of the best viticulture schools in the world. She studied 1 year in Montpellier and 1 year in Bordeaux. She returned to Turkey after completing her thesis with an 8-month study at Chateau Margaux. The year was 2012.
After returning to Turkey, she continued to work at Kavaklidere for 2 years. She worked both in the vineyard and in the winery. In 2014, "I had to travel around the region!" says Semril, very excitedly - as if she was about to set off soon.
"During my oenology training, I understood something that changed my career. After about 10 harvests, I felt as if I knew everything as a winemaker. But during the oenology training and the following process, I realised how early I was on the road, and how deep the subject was when I went abroad. When I returned, I realised that I needed to travel around the region and meet new people in order to improve myself. I even discovered that I could travel the world by making wine. You can make wine in one region of the world and go to the next destination with the knowledge you have gained. I discovered this during my oenology education."
And so she started travelling. Semril spent 2 years to see 3 harvests a year. This was the most interesting part of her story.
"The harvest starts in August in Turkey in the Northern hemisphere, in January in Australia in the Southern hemisphere, and in New Zealand in March. I did 3 harvests in these 3 different regions in 2014 and 2015, for 2 years. I harvested in Pendore vineyards in Turkey in August-October, then I went to Victoria in Australia in January, harvested there in January and February, and then went to New Zealand in the first week of March. I stayed in New Zealand until the end of March and April. I did this for 2 years, I saw 6 harvests in 2 years."
She says this with such excitement that you want to get on a plane and go. A lot of distance, yet no boundaries.
After completing these 2 years, she left Kavaklıdere where she learnt her profession and started consultancy. If you ask me, the reason is her travelling spirit and curiosity. She travelled around vineyards in Urla, Çal, Marmaris Bozburun and Selimiye, Eceabat.
"I wanted to work in different regions for different experiences. But even if I had stayed in the same region every year, I would have seen different cycles due to climate change. One year does not match the other year, it cannot. On top of that, when the region differs, things get even more complicated. There are different terroirs, different viticulture methods and accordingly different wine making techniques."
Illustration: Ester Saba
I think about climate change.
The effect of global warming on viticulture
With the increase in temperature, viticulture techniques and wine making techniques are also changing. Even revolutionary changes are being made. I am curious about Semril's opinion and experience, and I ask her about the impact of global warming on viticulture. "What has changed in the vineyard, what is changing?"
"For example, 20 years ago, vineyards were planted on the southern slopes in order to obtain sufficient sugar concentration. The aim was to increase insolation and accelerate ripeness. Now we are going in the opposite direction. We are trying to plant on the northern slopes so that the insolation decreases. We tend to prefer higher locations in terms of altitude in new vineyard establishment. The direction and row structure of the vineyards has changed, this is a big change. While North-South rows were preferred in order to bring maturity forward; now East-West rows are preferred in order to protect from sunburn."
Sunbathing is very important for the phenolic ripeness of grapes. For example, in July and August, when there is intense heat, grapes can get burns on the sides of the grapes that are exposed to the sun in the afternoon - due to excessive heat. This is like cooking the grapes before they reach phenolic ripeness. In other words, the sugar concentration increases a lot, but the phenolic ripeness is not at a desirable level, and there are even green tannins. What this means in wine: High sugar concentration means high alcohol, low phenolic ripeness means an equally narrow aromatic profile, green tannins mean a very tiring tannic texture. You see, the situation is critical, the area of influence is big.
Semril gives another example in relation to sunshine: training systems.
"In the vineyard, you can't change their direction immediately. You can't uproot the vineyard planted 20 years ago and move it from south to north, you can't say 'Come on!' and change the row direction immediately. For this reason, viticulture techniques are adapted to the current situation. For example, there are reversals in the training system, there are regions where there are transitions from the cordon system to the goblet system. The aim is to hide the clusters from the sun. Another example is vineyards that are pruned very regularly. From here, there are transitions to a slightly more disorganised system. For example, we leave the shoots longer so that the grapes are under shade."
Illustration: Ester Saba
In other words, the impact of climate change can be managed to some extent with viticulture methods. But this is a very, very big transformation! The techniques routinely used in viticulture are being adapted to current climate changes. This has also affected the annual life cycle of the vine, the timing is also changing. Let's take an example from the current situation: the spring frosts in Burgundy. Vineyards that wake up early due to climate change suffer spring frost damage when night temperatures approach zero degrees Celsius. Gone are all the future grapes. There is a need to adapt viticulture techniques for such situations. Partially effective solutions such as postponing pruning and not encouraging early awakening are derived.
What does this mean?
More temperature increase is predicted in the coming years. What does this mean? For example, perhaps Merlot will not be produced in Bordeaux, or wines of the same type and style will not be produced. For this reason, grape varieties are being changed. Applications and registrations have been made to produce new grapes in Bordeaux. In this way, there is a path towards new plantings of varieties suitable for the conditions brought about by climate change. Wine is being made and will be made, but we need to adapt to the conditions. Nature always gives its own signals, we adapt to it, we will adapt to it. Our consumption habits, preferences, what we know and what we will learn are always in a state of transformation.
The work does not stop at the vineyard, changes are also being made in the winery to process the grapes obtained with these transforming viticulture techniques. I ask Semril to give an example of this situation. Our aim is to understand these since the process is very complex. Let's not drown in a plethora of viticulture terms. "Should I have put a visual here?" I think to myself. "Ester, where are you!? 😊"
"In the past, when we used to make wine, we used to try to get more alcohol through adding sugar to the wine during fermentation. Now we are trying to make sure that the alcohol does not increase. As a result of years of R&D studies, natural yeasts that use more sugar are selected to produce 1 degree of alcohol; or Non-Saccharomyces yeasts that increase acidity can also be used. Therefore, it is important to follow and adapt new developments in traditional winemaking techniques."
Harvest Time
"What does harvest time mean to you?" I ask Semril.
"It is a stressful process as much as it is enjoyable; it is both physically and mentally exhausting. It is a period in which we identify and, so to speak, flesh out the labour of the whole year in a short and time-competitive period. Harvest time creates the identity of the wine. Actually, you make the wine in the vineyard. The development of the grape throughout the year and then exactly when you harvest it is very important. Harvest time creates the identity of the wine. Let's explain with an example, let's go towards the Aegean. In the Aegean-Mediterranean strip, the difference between phenolic ripeness and analytical ripeness is very wide. Especially in hot climates, balance is very important. For example, if you harvest a grape that ripens fast due to the heat, before the maturity of the tannins and phenolic ripeness comes because the sugar rises; your pH level may be analytically correct, but sensually you will have an unbalanced wine. You may encounter green tannins on one side, alcohol that does not meet it on the other side, low concentration, a narrow flavour profile. You may end up with an unbalanced wine. For this reason, harvest time is very important for winemaking, it determines its identity."
"What kind of harvest year is 2022?"
"If I have to evaluate the last few years considering the region I work in and my vineyards; 2019 was a lucky year when nature did not tire us out too much. 2021 was a difficult and stressful year to manage in terms of both vineyard and winemaking. With high temperatures and droughts, the process of balancing phenolic ripeness and analytical ripeness was very stressful. 2022 is one of the more balanced and beautiful years in general, with a high potential for great wines. There were no early awakenings, so the vine's defences against natural disasters were stronger, there was a balanced rainfall regime, and temperatures did not rise excessively, especially after the véraison period. A year in which the 'fresh' style in wines can be established together with balanced phenolic ripeness. I foresee a year with ripe tannins and full-bodied wines, where we will feel the aroma profile well. But this is very much related to viticulture and production techniques. Another aspect of this year is that it is a year that can give high yields if not managed correctly in viticulture.
We end our conversation with this year's harvest. I would like to thank Semril for this pleasant and informative conversation, a big cheers to you!
Liked this story? Share it.
Liked this story
Add to Archive
Add to Reading List
Share
Published in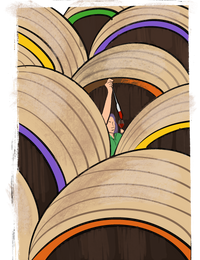 🍷 The Birthday of Wine
Newsletter & Author
Veraison
Veraison is a wine publication that imagines the next sip while exploring the wine in its glass. I believe that wine is not only drunk on white-covered tables and I'm seeking a place on every table. In your inbox to draw sensory experience routes every week!
;