Season's greetings! Today's Tuesday, December 27th.
In our second Year in Review issue, we'll be wrapping up the developments that businesses and companies went through in 2022. Bear with us through the week for a snapshot of the year. Tomorrow's issue: Tech, crypto & startups.
– Team Aposto
• Porsche became Europe's most valuable automaker, overtaking parent Volkswagen after the automaker's successful initial public offering (IPO). In fact; Porsche attracted so much demand for its IPO, almost half the investors that put in orders were not allocated shares in the deal. Just a week after the IPO, with its total value reaching €82.7 billion, Porsche has overtaken Volkswagen's valuation of €78.8 billion.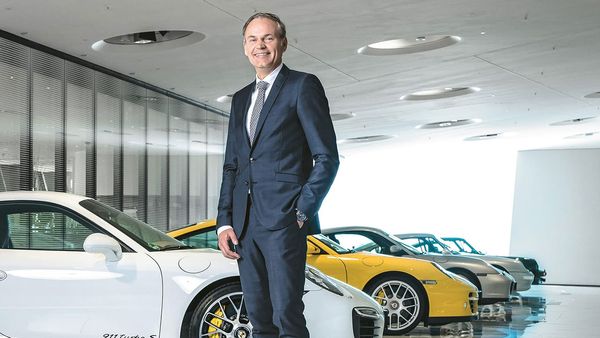 Oliver Blume
A step back: Volkswagen CEO Herbert Diess was succeeded by Porsche chief Oliver Blume earlier this year, after a supervisory board vote forced Diess to step down from his four-year tenure as Porsche and Piech families, who own over half the voting rights and a 31.4% equity stake in Volkswagen, pressed for a change at the helm.
• Tesla Gigafactory Berlin, Tesla's first European factory in Germany kicked off production in March, as Elon Musk handed out 30 electric vehicles to a previously-selected group of 30 recipients on its opening day.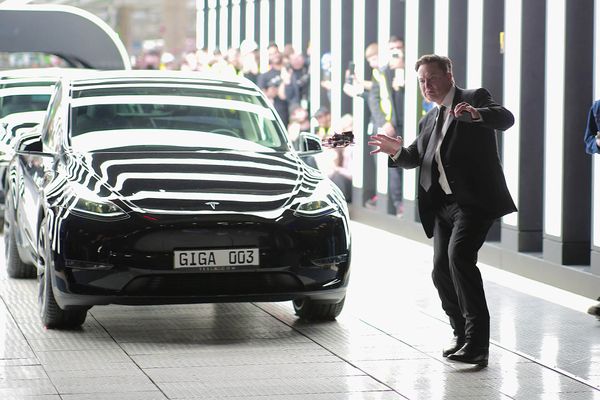 • German utility Uniper was handed a state bailout that has cost the German government more than €50 billion; with investors voting in favor of an €8 billion capital injection by the German state and allowing a further injection of up to €25 billion by Berlin—effectively nationalizing the utility as Finland's Fortum Oyj fully divested all its shares in the company.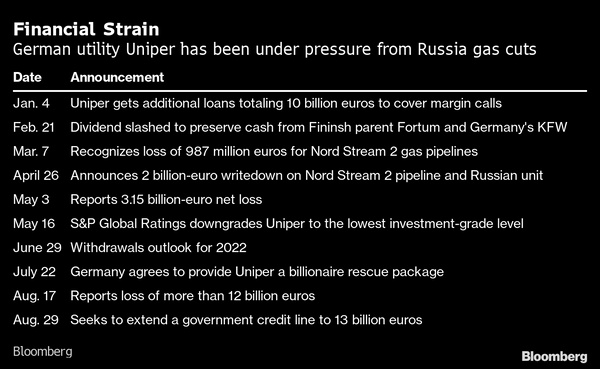 A step back: Russia's Gazprom was once Uniper's biggest supplier of gas, but a big drop in deliveries after Moscow's invasion of Ukraine forced the German gas importer to buy gas elsewhere at much higher prices to honor its contracts.
• Istanbul-based startup Getir acquired its German rival Gorillas in a deal that valued the combined group at $10 billion, following a severe decline in tech investment and the end of the pandemic boom in the instant delivery business. The deal valued Gorillas at around $1.2 billion, down from $3 billion in September last year.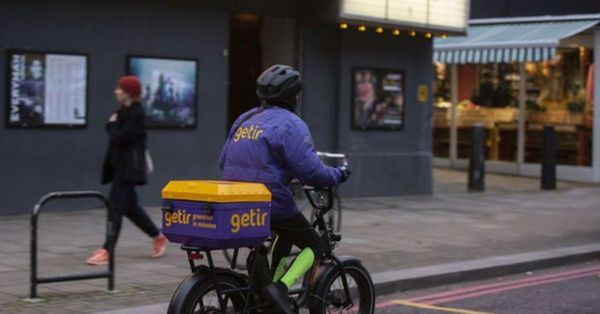 A step back: Getir announced earlier that it has closed a $768 million Series E funding round with a total valuation of $11.8 billion, becoming a decacorn.
• AT&T's WarnerMedia unit, and Discovery have successfully completed their merger earlier this year and became a standalone media business as they set out to be in May last year. With AT&T aiming to focus more on telecoms and Discovery looking to expand its content library, the now-merged Warner Bros. Discovery's portfolio includes Discovery Channel, Warner Bros. Entertainment, CNN, HBO, Cartoon Network; streaming services Discovery+ and HBO Max; and franchises like Batman and Harry Potter.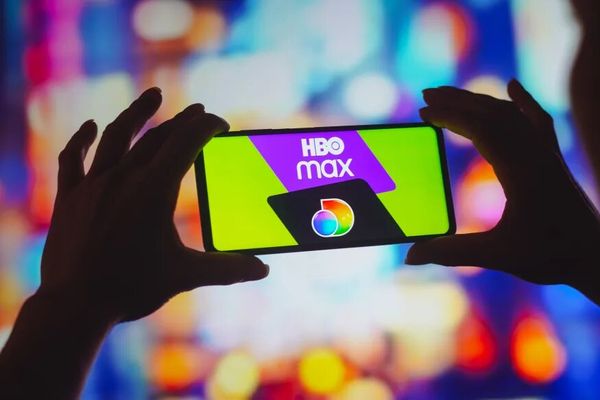 Looking ahead: Warner Bros. Discovery is also looking into combining HBO Max and Discovery+ into a single streaming service which is set to arrive in the spring with a new moniker, with "Max" reportedly being the leading option.
• Elon Musk announced he finally closed his long-winded purchase of Twitter—by tweeting a video of himself entering Twitter headquarters in San Francisco as he carried a sink, with a caption that read "let that sink in!" The world's then-richest man had tried to back out of the $44 billion deal, but was ordered by the court to go through it if he wanted to avoid a trial.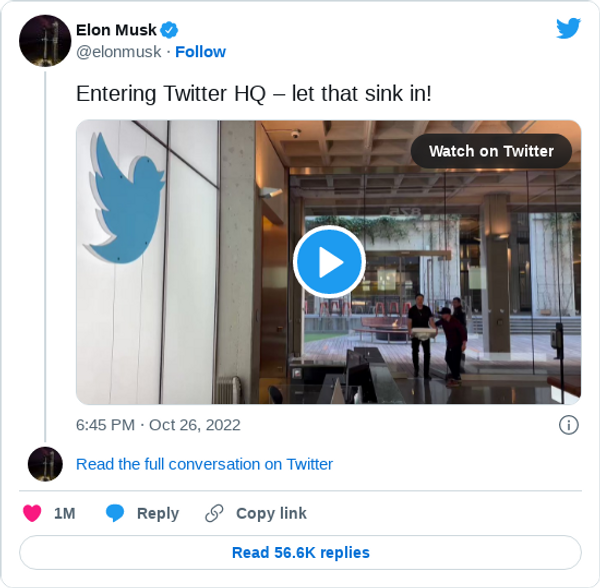 Furthermore: Following the purchase, Musk was relegated to second place in Bloomberg's list of the world's richest people by Bernard Arnault, the chairman of French luxury goods giant LVMH, who became the first European to top the list.
• On the first trading day of 2022, Apple became the first company to hit $3 trillion in market capitalization after its stock briefly touched a record $182.88 per share.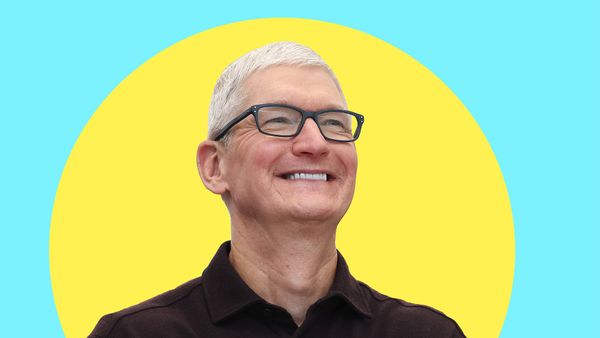 Important note: The tech giant lost the title of "the world's most valuable company" to Saudi Aramco—the Saudi Arabian national petroleum and natural gas company—as surging oil prices drove up shares and tech stocks slumped, however, for a brief amount of time in May.
• The Guardian published The Uber Files, a series of leaks originally investigated by the International Consortium of Investigative Journalists (ICIJ) showing that the company has knowingly broken laws in dozens of countries, gone to extreme lengths to avoid justice, secretly lobbied governments, received aid from top politicians, and put drivers at risk of violence.
• Elizabeth Holmes, the former CEO and founder of blood-testing startup Theranos, has been sentenced to 135 months in prison and three years of supervised release, a year after she was found guilty of four counts of fraud; while Ramesh "Sunny" Balwani, the former president of Theranos, was sentenced to 12 years and 11 months in prison on charges of defrauding investors and patients.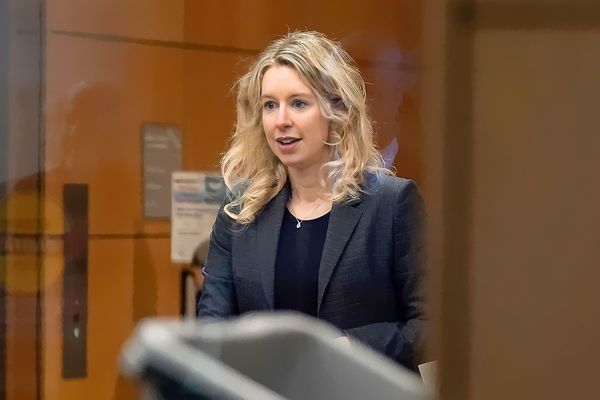 Some background… Prosecutors said Balwani and Holmes deceived investors by saying their company invented a technology that can run medical tests with a small amount of blood while continuing to use traditional methods and providing patients with inaccurate results—for which Holmes had raised $945 million in funding.
• The European Parliament has formally adopted the Women on Boards Directive, a new EU law on gender balance on corporate boards that require 40% of non-executive directors and 33% of all directors to be women by 2026.
In other news: The lower house of the Spanish parliament adopted a new bill that will pass into law once approved by the Senate allowing women with painful periods to take up to five days of paid menstrual leave per month.
On an unrelated note: Belgium has approved a four-day working week bill that will allow employees to complete their working hours in four days instead of five, if they wish.