The smell of Pera - dill pastry in the early morning; lemon cologne at midday; perfume in the afternoon, Chanel No. 5 perhaps; garlic mixed with lentil soup at night. The music of Pera - the saxophone rising from Nardis, the hum of doorstep conversations, the clatter of high heels of those returning home at dawn, the purring of cats, the cries of those who meet each other by chance.
Pera's people encountered on the street, in recollections, in feelings - poet Cemal Süreya, photographer Ara Güler, musician Mehmet Güreli, authors: Can Yücel, Nilgün Marmara, Edip Cansever, Tomris Uyar, academic Aydın Boysan. The taste of Pera - chocolate pudding supangle, frigo, profiterole. The book of Pera - currently, Birdenbire Istanbul by Selçuk Demirel.
This week we wander through Pera's past and present. What does it mean to be from Pera? Is it a feeling independent of the time we live in, or does it involve reminiscences of the past and prospects of the future? In terms of physical space, where is Pera today? Which streets, apartments, and shops can we talk about? Does this area change when we think about it emotionally?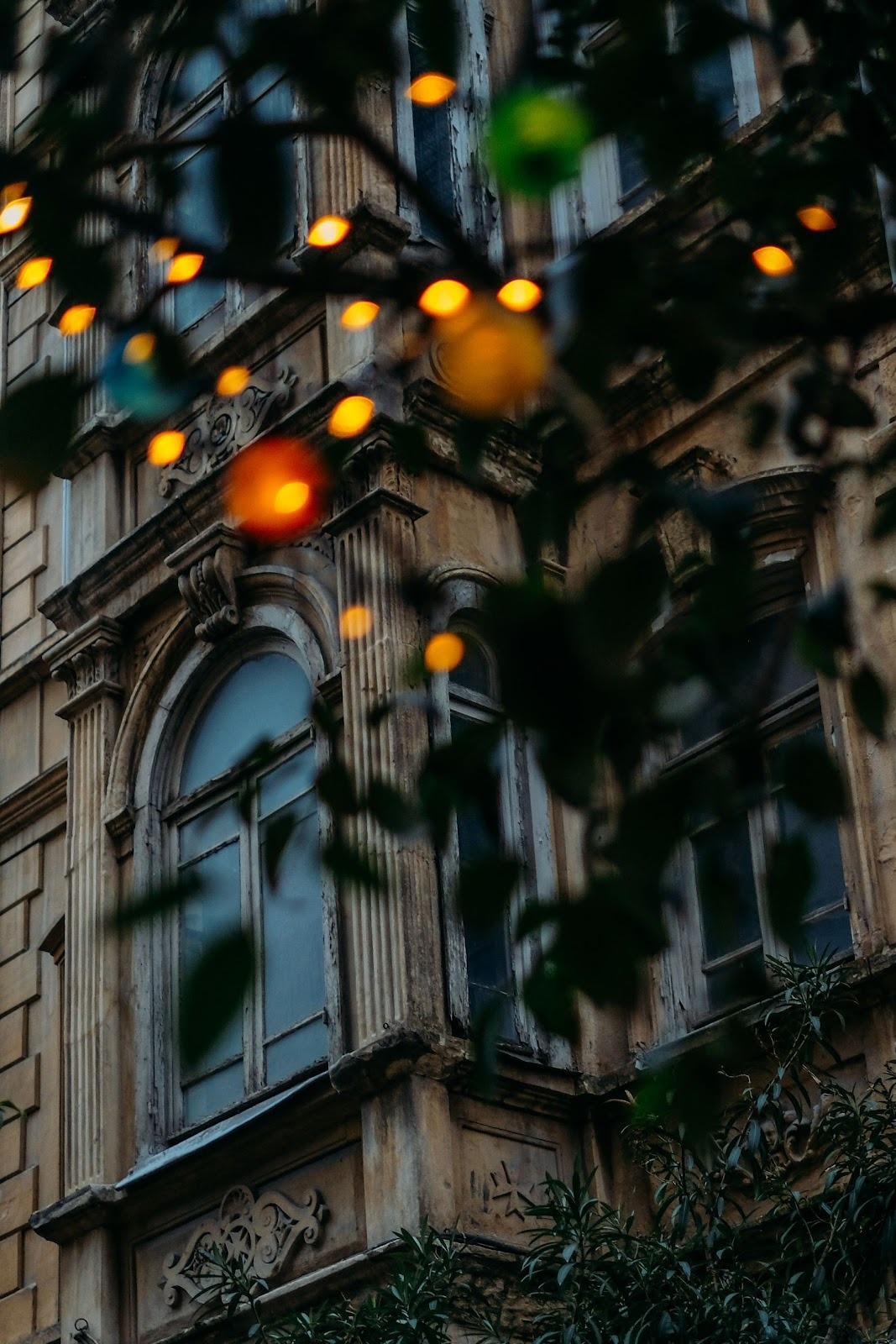 In Pera
---
TABLE OF CONTENTS
HOOD: This week we are rambling through Pera's past and present with Anlam (Arslanoğlu). 'Being from Pera includes nostalgia, respect, and reminiscence for the past, a great joy of living in the present, and an incorrigible optimism for the future,' she begins.
PERA 10: The scent of Pera, the book; the person you meet while walking on the street; the conversation on the pavement.
I'M A REGULAR: Diamanştayn, one of the only shops on Istiklal Street for exclusive antique jewelry; early walks from Galata Bridge to the Archaeology Museum.
Hazal & Elif
'Being from Pera is so much about nostalgia'
'Pera is not a district of Beyoğlu in its current bureaucratic definition.'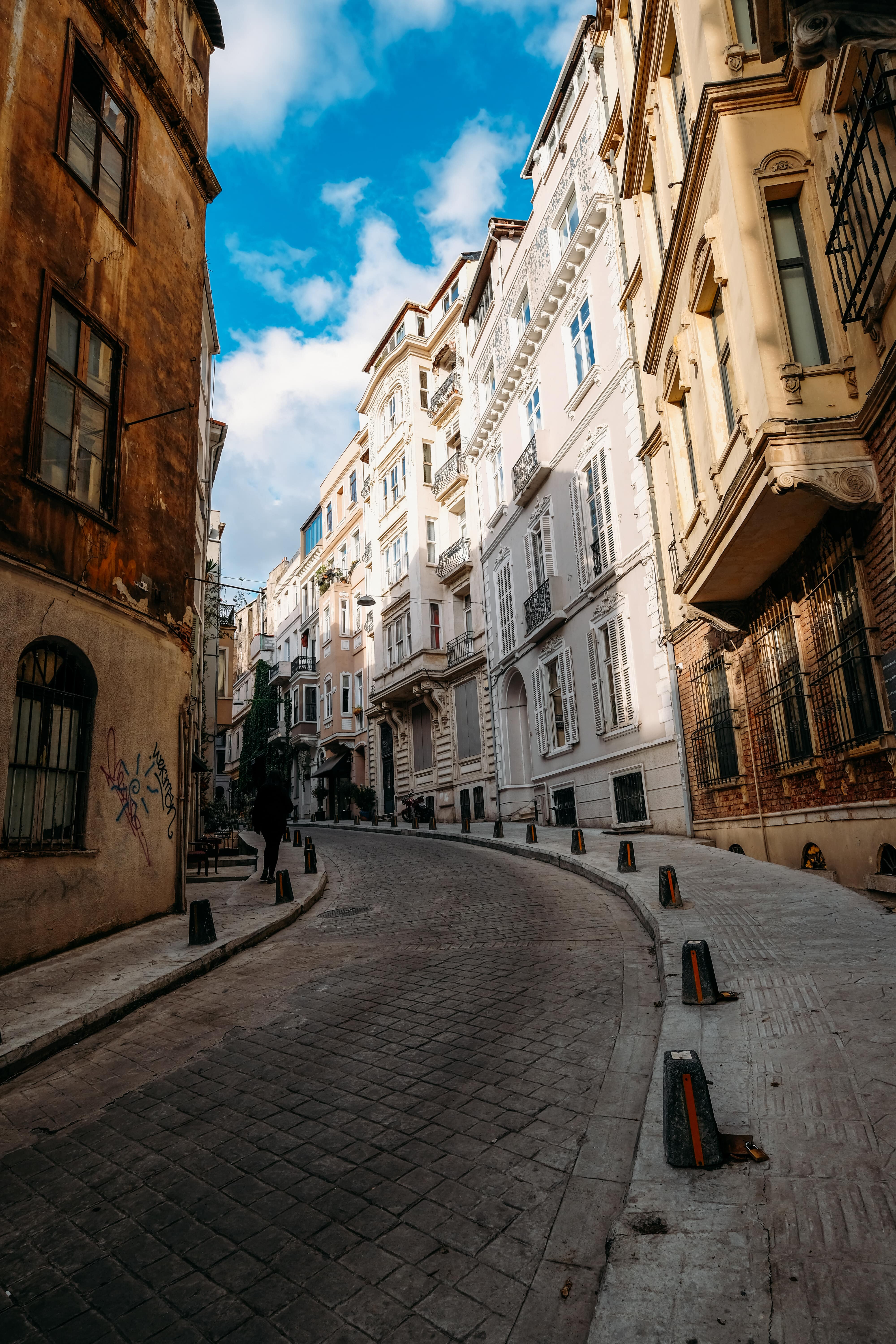 Hood: Pera. Writer: Anlam Arslanoğlu. Photos: Deniz Sabuncu.
The idea that if I lived in Pera I would feel like an Istanbulite began to form when I came to Istanbul for a French theater festival in middle school. We spent our days at Sainte Pulchérie and I can't tell you how impressed I was. Thanks to these festivals, which I continued to attend in high school, Beyoğlu became an obsession for me. Instead of a prospective future in France, I decided to move to Istanbul for college to be a part of the cultural community that I had read about in 'Radikal' Newspaper. Later on, I lived in France and England on different occasions, for work, and for pleasure, but when I came back Pera was my refuge, part of my identity. I think today's Pera is a subjective and fictional space that we create in our imagination. There are different boundaries and definitions of Pera, nourished by memories, what we read and watch, accompanied by our daily life experiences. One thing is for certain: Pera is not a district of Beyoğlu in its current bureaucratic definition.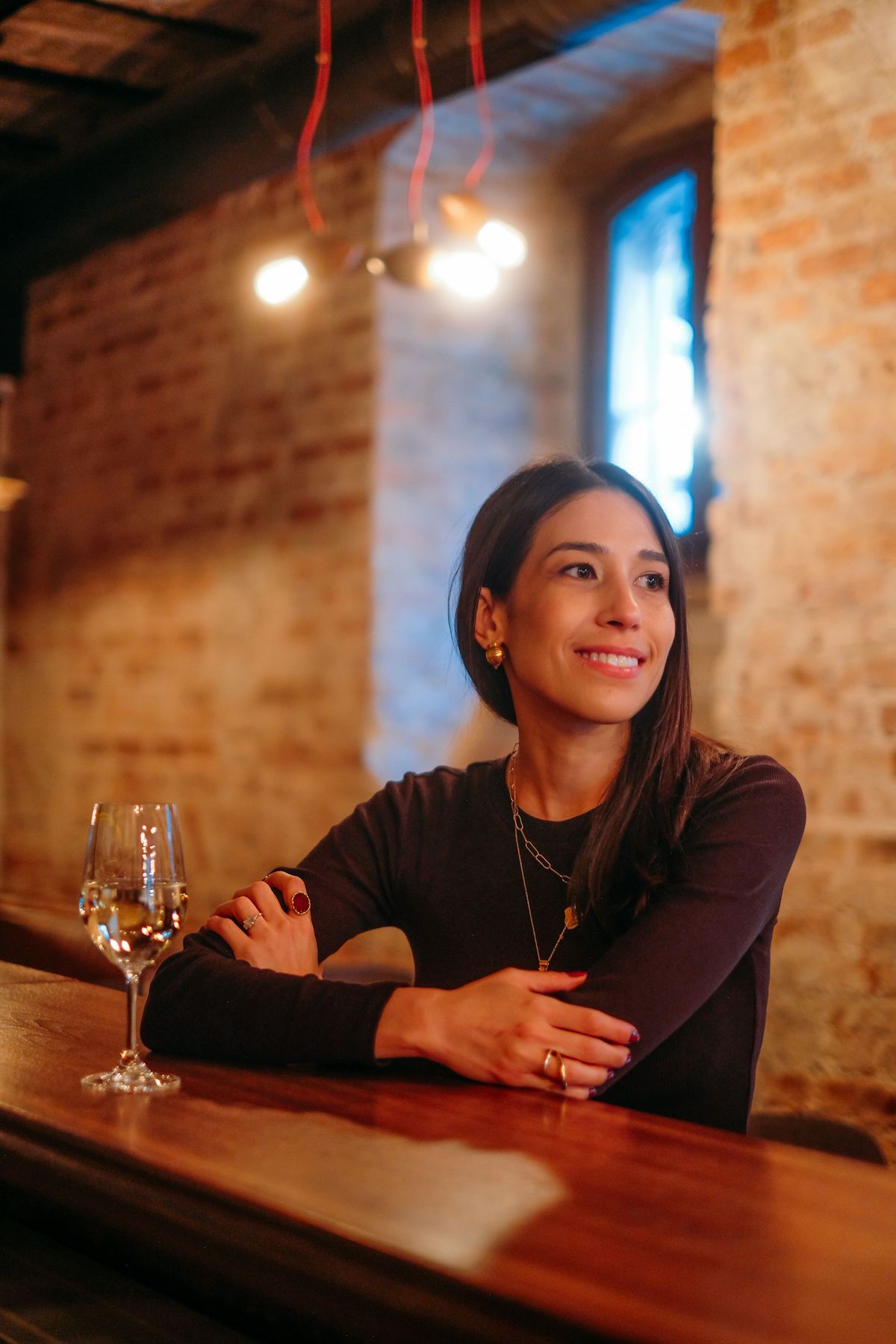 Anlam Arslanoğlu, in Aheste
---
A multicultural and tasteful residential center
I think the real Pera is the multicultural and tasteful residential center created by non-Muslims during the Ottoman Empire. It can be considered a city within a city. Settlement in this area, known as the 'other side' of the Golden Horn, began before Constantinople. It was named Pera after it was frequented by Genoese and Venetian merchants, and by the 13th century, it had become a Genoese colony. Later on, with its rise as a trade center, the region's population grew. Embassies were established, and churches and minority schools were built.
Pera, as a European and developed neighbourhood of Istanbul, experienced its most glorious era between 1870-1923. However, it began to decline with the World War I. The Wealth Tax, the events of September 6-7, the Cyprus issue, and then the deportation of the last remaining Greek citizens in 1964 closed this golden age; Istanbul's most cosmopolitan neighbourhood disappeared in a great tragedy, and its values and knowledge vanished along with it.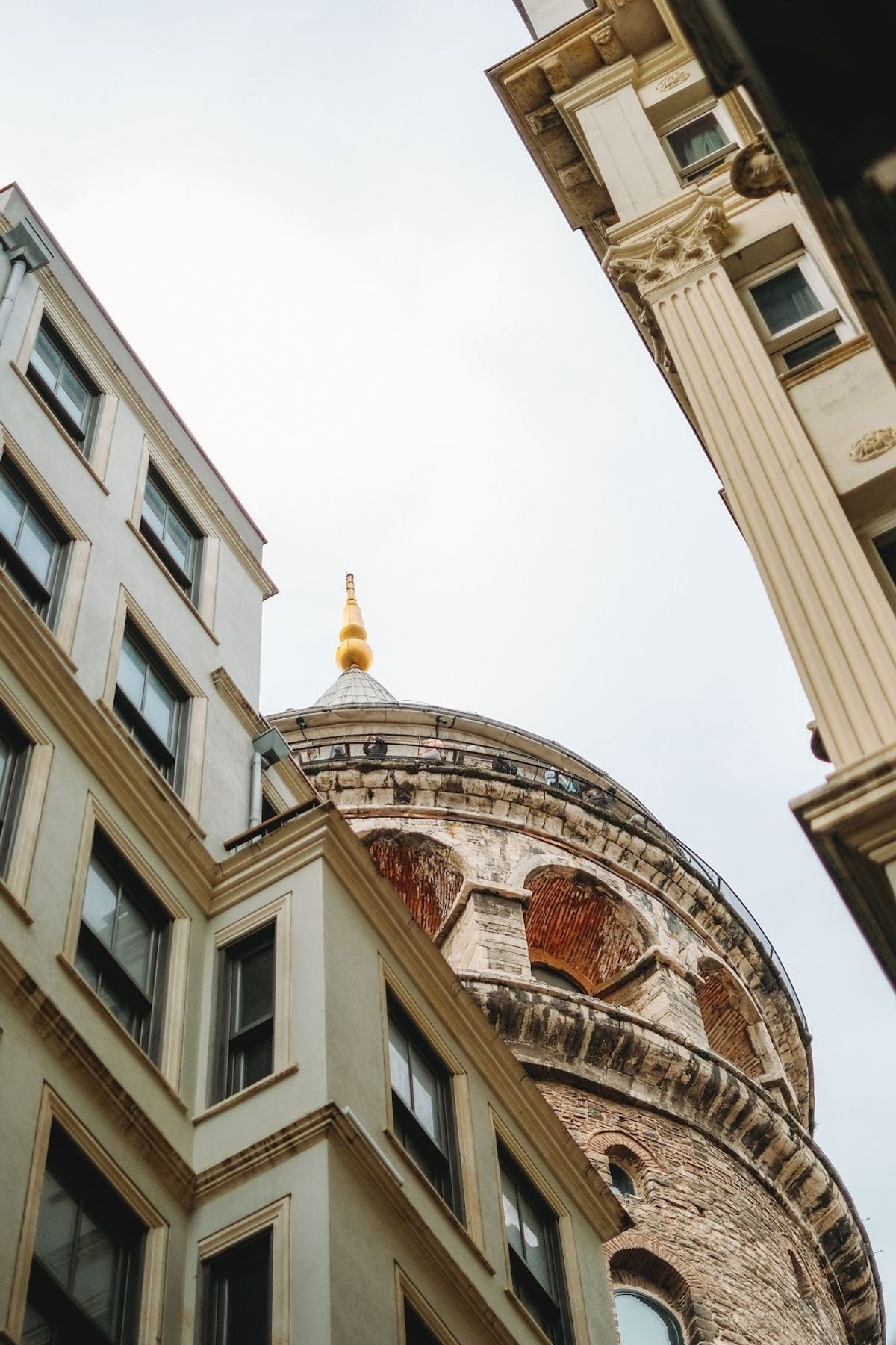 In the streets
---
And then there is the old-new Pera, which I experienced in the late 1990s-early 2000s. Istiklal Street, especially the section from Galatasaray High School to Tünel, was an oasis where I could be 'me' for the first time. Here, I found a community where I felt I belonged, a sanctuary that made me feel anything was possible. Edgy and dirty, but full of life and passion. A neighbourhood of misfits where anyone or anything can change your life in an instant, where brave people open up places that change the city's fate.
Even though I betrayed it by moving abroad from time to time, I have felt like I belong to Pera since I moved to Gümüşsuyu at 18 years old. Frankly, I don't question the definition of this circle too much. From Taksim to Karaköy, Cihangir to Galata, all these hoods are part of my home, like intertwined matryoshka dolls.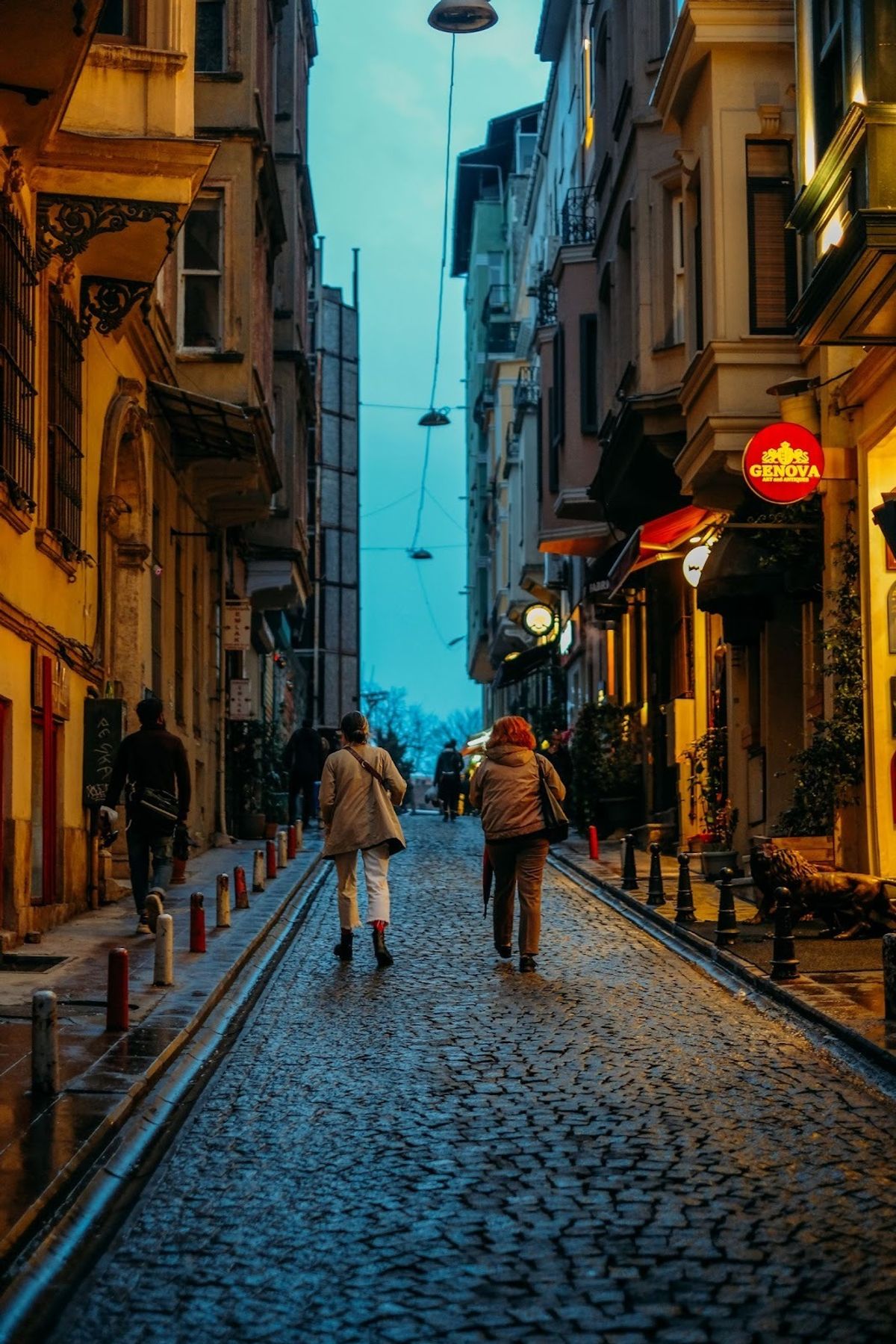 Inhabitants in the streets
---
Then and now: Pera
Pera was a 'privileged' neighbourhood from its inception. A gathering place for non-Muslim minorities and embassies that were not allowed in the Historical Peninsula, it became the center of fashion, commerce, and nightlife as Istanbul's gateway to Europe. Therefore, in my opinion, what is happening here is not exactly gentrification, but the hollowing out of Pera as it changes hands; its transformation into a series of movie sets, a kitsch postcard that will appeal to the tastes of tourists from various regions.
With the birth of the Republic of Turkey came the deliberate destruction of Pera and, of course, the minorities who made it famous. This is the historic story that affects me the most. On the roads I pass by every day, I remember the longing and pain of Greek, Jewish, Armenian, Levantine people, and many others who have been displaced from their homes and belongings. Nevertheless, Pera's ability to preserve its magic, embrace subcultures that cannot find shelter in different parts of the city, and rise from its ashes gives us hope despite everything. Walking around Pera is like visiting an archaeological site - civilisations collapse, but new ones are built on their ruins.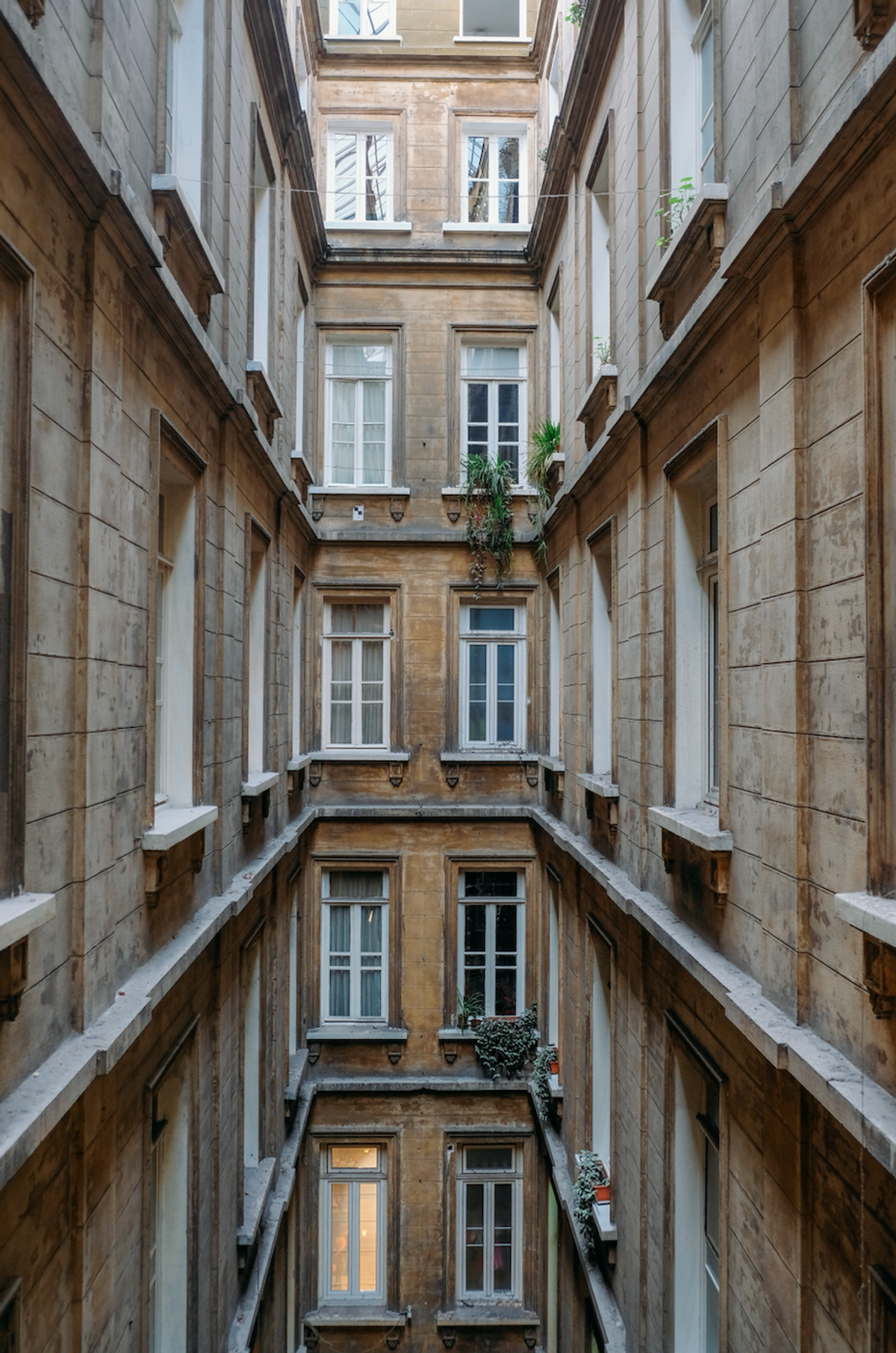 Appartment views
---
I think it is human nature to long for the past, for youth. Inevitably, I find myself unable to accept this transformation and yearning for the old days of Pera. But I'm afraid this feeling is not simply the product of an aging perspective, one that cannot accept progress and rejects change. It also stems from the deliberate destruction of Pera and the lifestyle it represents by those who cannot tolerate it.
As with everything else in Turkey, ups and downs are experienced simultaneously. On the one hand, we are seeing an incredible cultural degeneration on Istiklal Street. The places where we have accumulated dozens of memories are closing down and turning into shopping malls or chain cafes. As a result, the city's memory itself is being destroyed. On the other hand, the Istanbul Metropolitan Municipality Heritage team is doing significant work in restoring precious buildings like Botter Apartments and St. Pierre Han which had been abandoned. New galleries like Martch Art Project are coming alive, and concert halls are reopening their doors.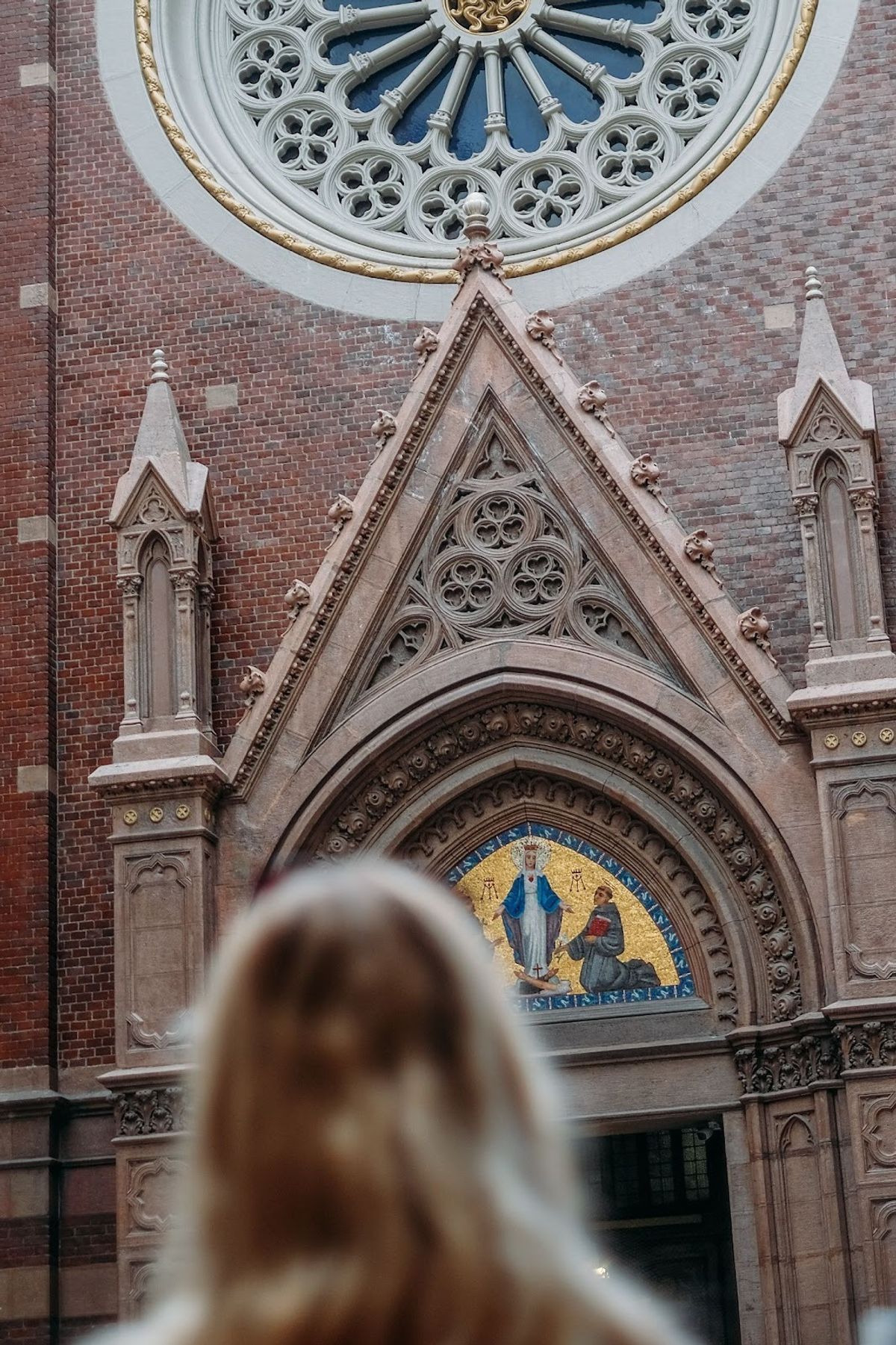 St. Antoine Church
---
Is Pera nostalgic, artistic or literary?
Pera is the heart of Istanbul, influencing and nurturing every discipline of art. Cinema, literature, music, theater, culinary and visual arts, fashion, crafts, and more are all entwined in Pera. When Jean Cocteau came to Istanbul in 1949, he staged sold-out French experimental theater performances at the Atlas Cinema for days, chatted with hundreds of students every day, and signed books. In his book Maalesh, Cocteau writes that the audience and press in Istanbul understood him even better than those in Paris, and that the youth of Turkey gave him hope. This seems like a dream that perhaps will never come back.
Following a period in which Pera's original inhabitants were displaced from their homes and jobs by internal migration, turning it into a cultural desert, new cultural momentum was achieved through the initiatives of a few daring people in the 1990s-2000s. While Istanbul became the European Capital of Culture in 2010, this new beginning came to a sudden and symbolic end with the removal of the tables in Asmalımescit. The fact that alcohol brands were granted the right to sponsor events in the area added salt to the wound.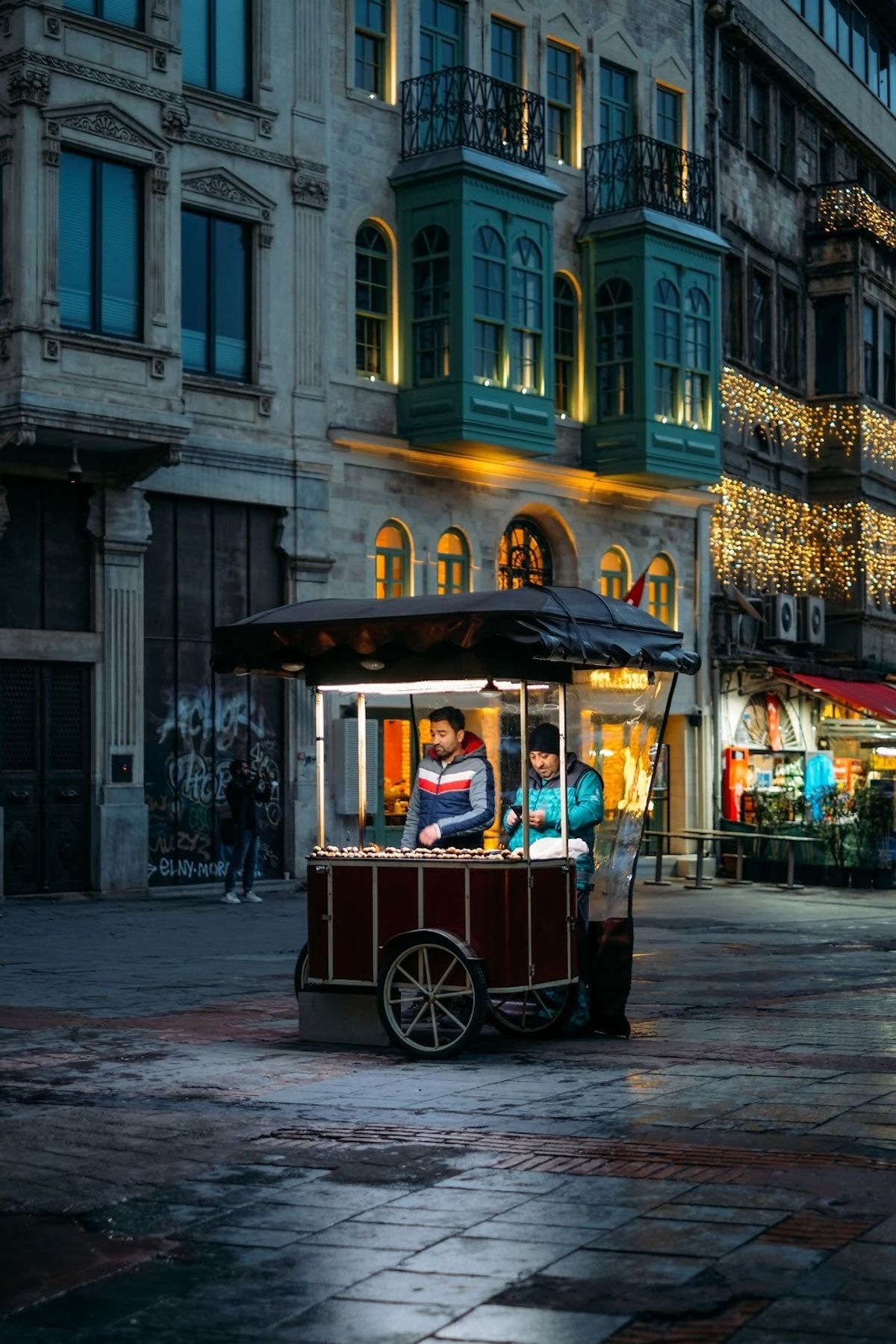 Towards evening on Istiklal
---
In the period following the Gezi movement, even my friends stopped coming to Pera, and with the increase of terrorist attacks, foreigners also withdrew. And of course, endless economic crises and the pandemic have caused many more venues to shut down. Most of the art spaces supported by conglomerates have been preserved, but their programs had to return to more national or "risk-free" content.
We lost cinemas, independent art initiatives, concert venues, not to mention Atatürk Cultural Center (AKM). Today, although art and art lovers are no longer the priority of those who control Pera, there are still oases to breathe. I am sure this region will regain its free spirit once this temporary occupation is over.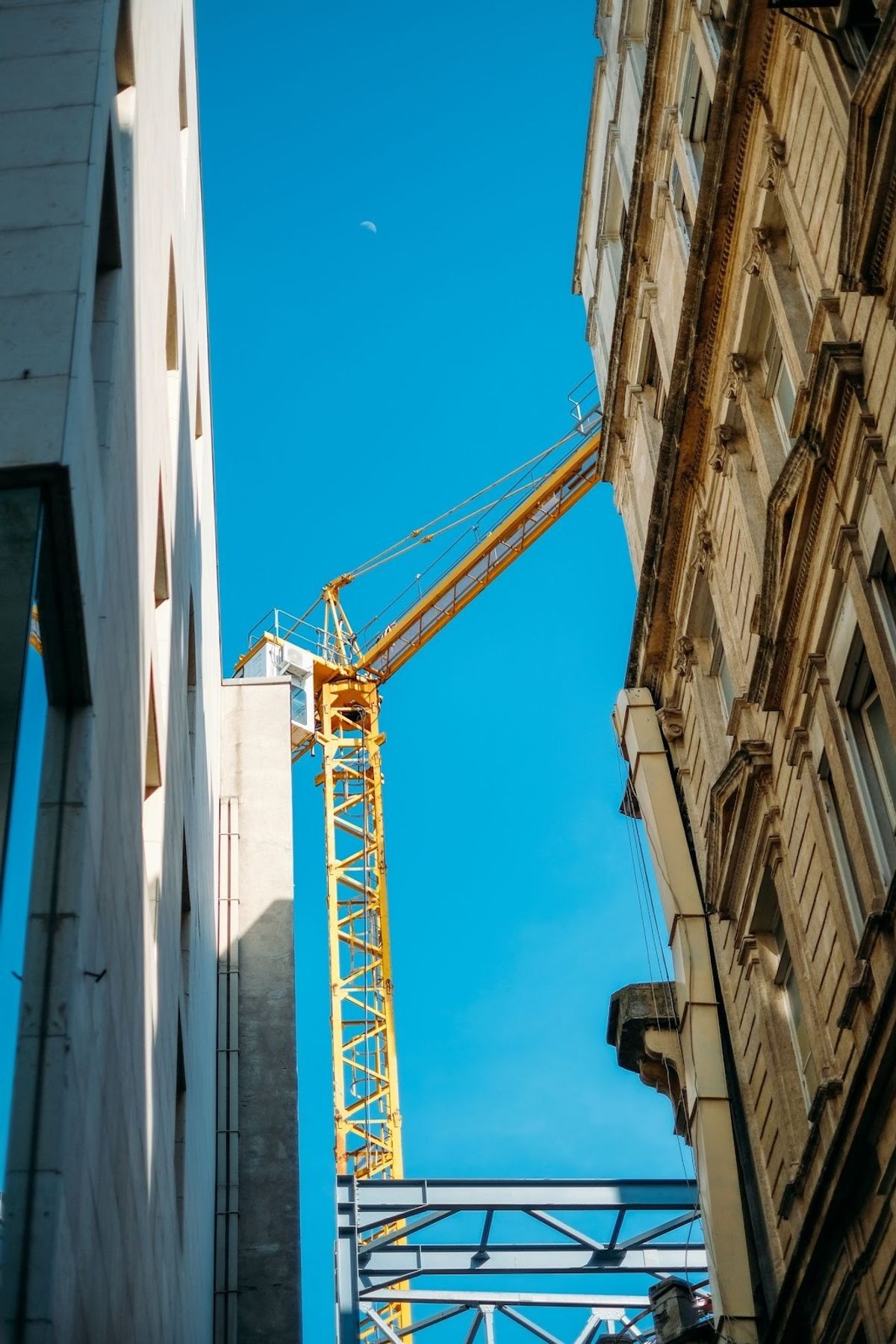 Occupation views in Pera
---
What impact does Pera have on art spaces?
Pera has always been Istanbul's gateway to the world; due to its proximity to the ports, it was the international, social and intellectual heart of the city. The fact that many museums and galleries are still here today is a part of this historical legacy. As someone who has worked at İKSV, Istanbul Modern, and SALT, of course, I can't be too objective, but I do think these institutions could do much more for the neighbourhood.
When we opened SALT Beyoğlu, I stood at its door for a week. I invited curious passersby and said, 'This place is free and open to everyone!' They would run away in fear. Foreigners would come in, excitedly asking questions without waiting for an invitation. It is not enough to establish these institutions and open their doors, we should also build the culture around it. Nevertheless, the presence of cultural institutions in Pera prevents the area from being completely handed over to hotels and chains, and to some extent, ensures the preservation of Pera's architectural heritage and lifestyle.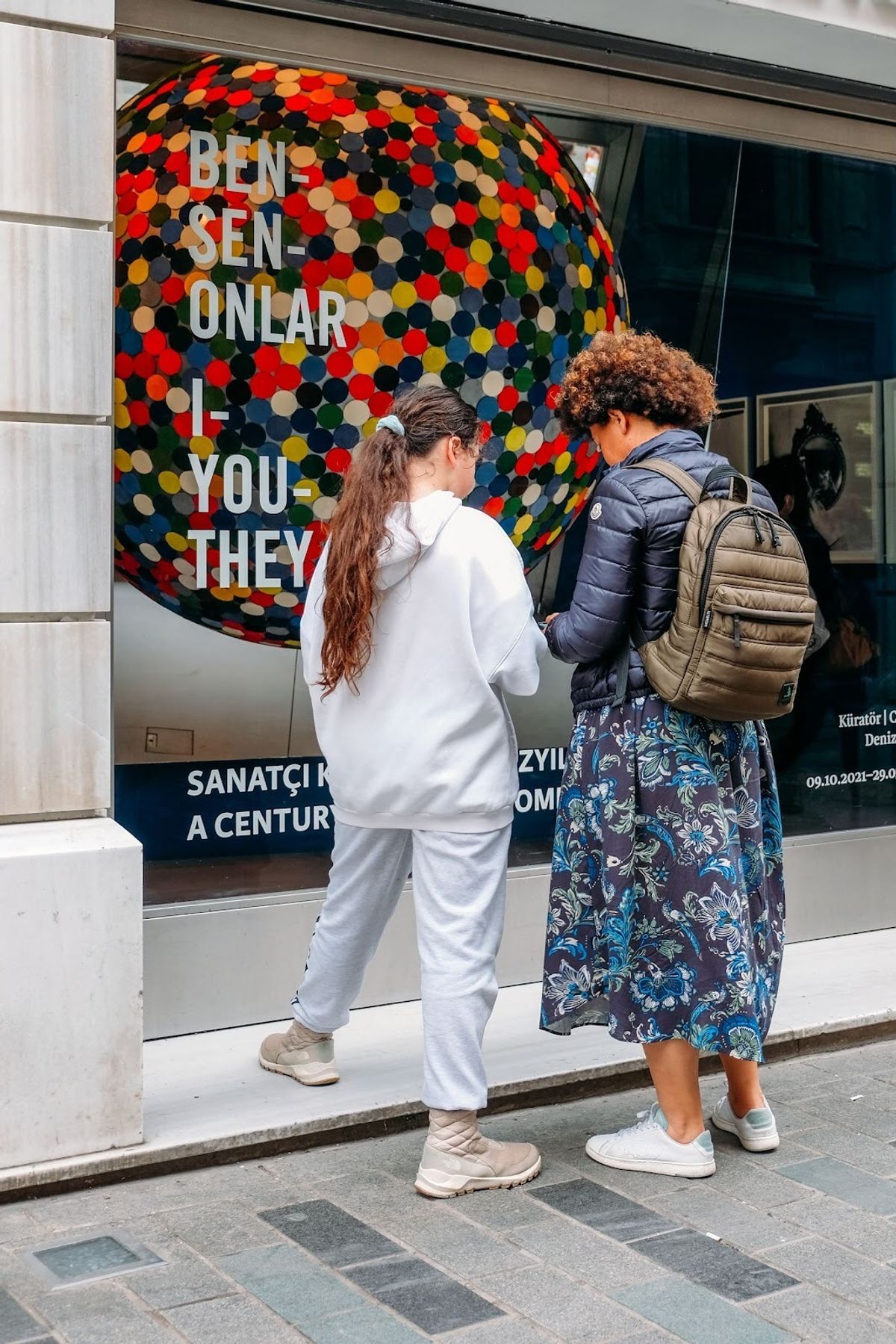 In front of Meşher
---
Unfortunately, local governments in Istanbul have not taken a systematic and bold approach to public art for a long time. The Beyoğlu Culture Trail Project might have been a promising development in this respect, but it was very superficial and sloppy in its implementation. Beautiful public works of art are also subject to vandalism, such as Ayşe Erkmen's Open Column sculpture in Tünel or Salih Acar's Flying Birds in the Odakule arcade.
Although the Istanbul Metropolitan Municipality has launched a new and participatory initiative in this area under the title of "Beyoğlu Senin", it remains to be seen if both the central government and the district municipality will allow the implementation of what has been planned.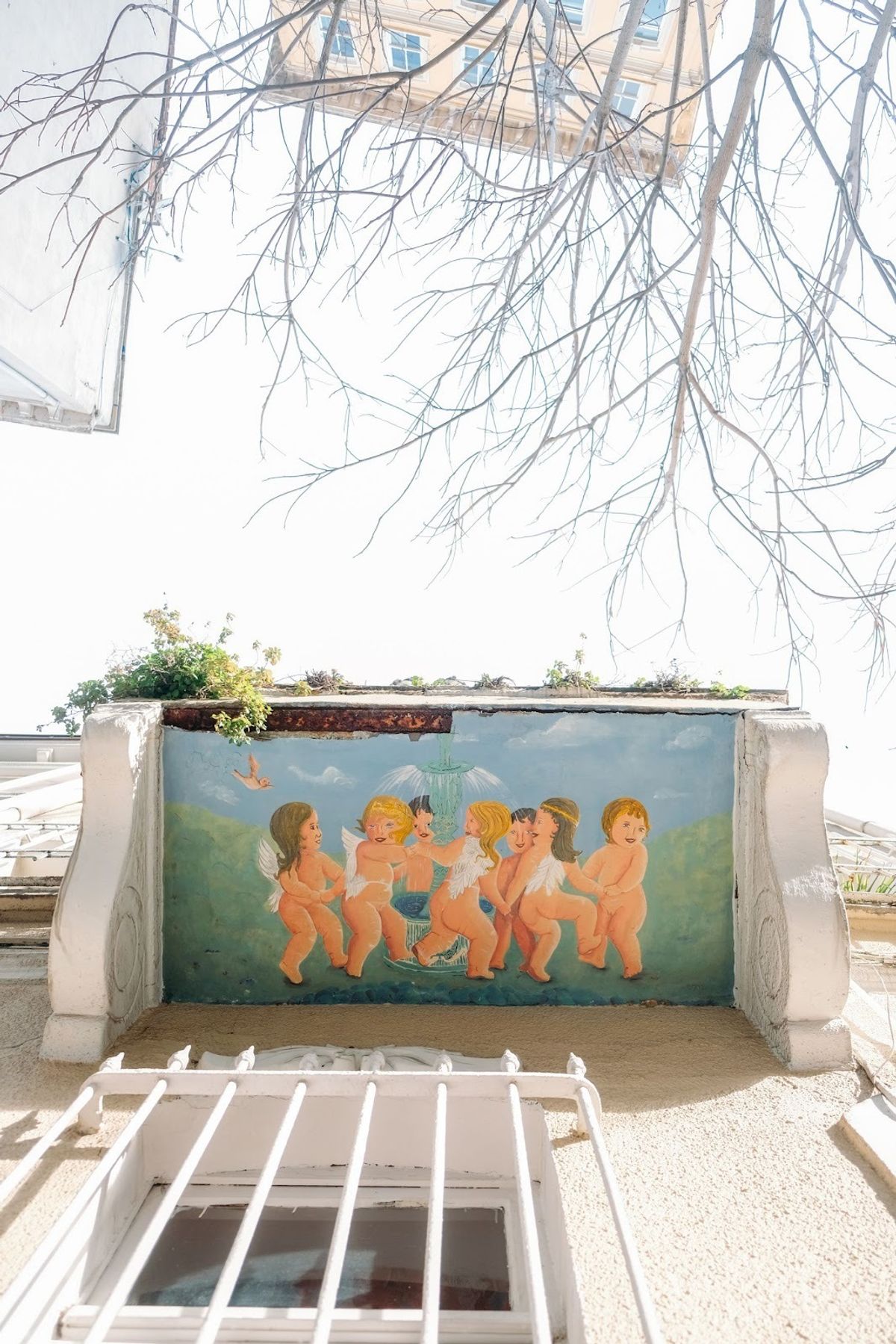 Art on the streets - you can see it too if you walk on Dibek Street looking upwards
---
Living in Pera
For me, being a local means feeling that I belong to that neighbourhood, even if I don't live there all the time. The neighbourhood is a place where I know I can be myself, where I feel good. It's a refuge where I am sure that if I get into trouble I will always find a friend or a stranger who will help me, but it is also a playground that always offers new discoveries.
I got a better reading of Pera by walking its backstreets day and night, chatting with shopkeepers, and experiencing its nightspots. I follow a similar path wherever I go. It is as difficult to characterize Pera's residents as it is to define its boundaries. There are so many different subcultures and communities within its borders, but the Pera crowd that I see myself as a part of has an intimate connection, at least that's the feeling I get. Most of us work in creative industries. Even if we don't see each other much - or even if we are strangers - living or working here creates a strange sense of belonging and solidarity. Despite everything, if there is one thing we who insist on living in Pera have in common, I guess it is that we stand a bit outside the circle. Deviants maybe.
Hikâyeyi beğendiniz mi? Paylaşın.
The Pera 10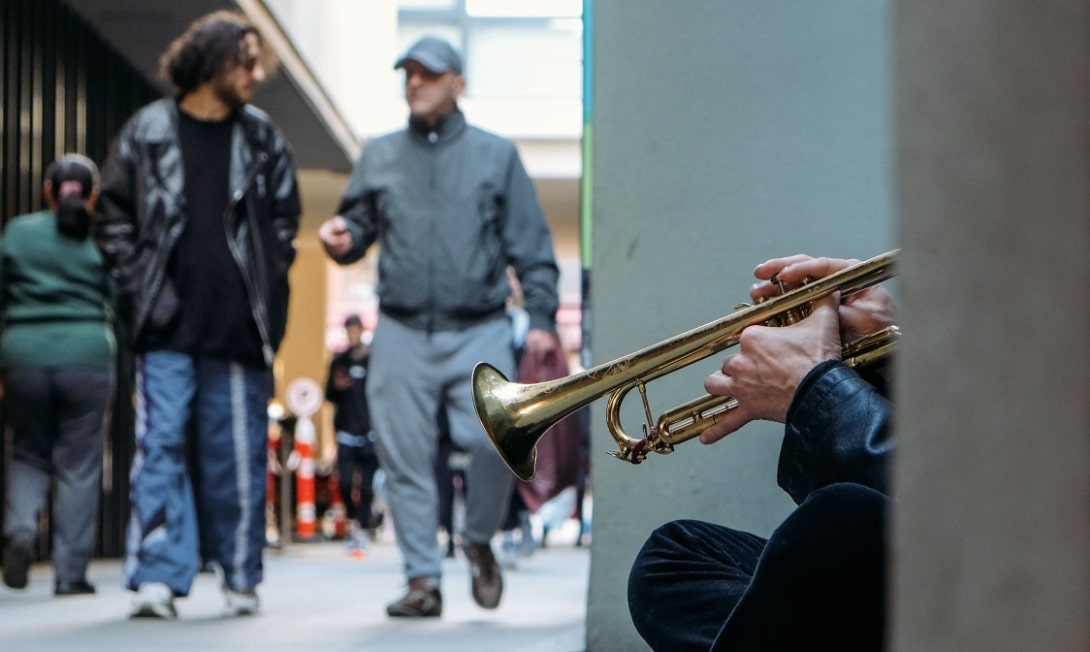 Book: From Pera to Beyoğlu by Orhan Türker.
Music: It's impossible to choose just one piece of music. Even though there are endless albums and concerts that remind me of it, the first that come to my mind are rebetiko, Janet & Jak Esim, songs that have made my heart tremble since I was a child. And, of course, the sound of church bells.
Drink: 20-odd years ago 'Köpek Öldüren', was the cheapest and most tasteless wine ever translated as 'killer of dogs'. Now, raki at Asmalı Cavit, beer at Urban, cocktails at Aheste.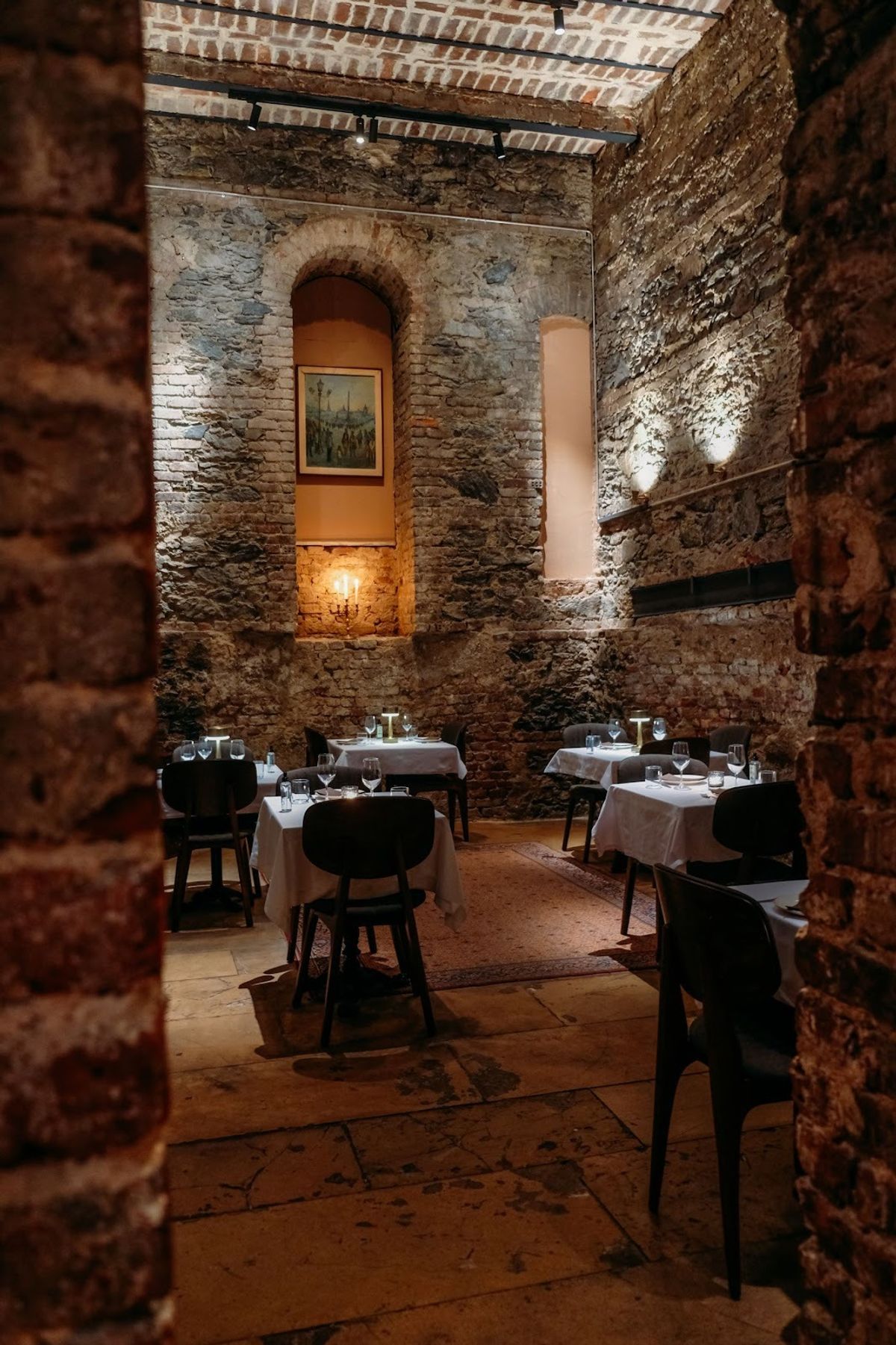 Aheste
---
Taste: Acrid.
The topic of conversation in front of the apartments: "Where do we go from here?"
The object was seen in the window when looking up: A bust of a nude female model with an unrelated object or plant.
Topic: Coexistence despite differences.
The person you meet walking down the street: In the past, walking down Istiklal meant running into acquaintances and having an unplanned drink. Now there are so few people left who live in Pera or come here at night.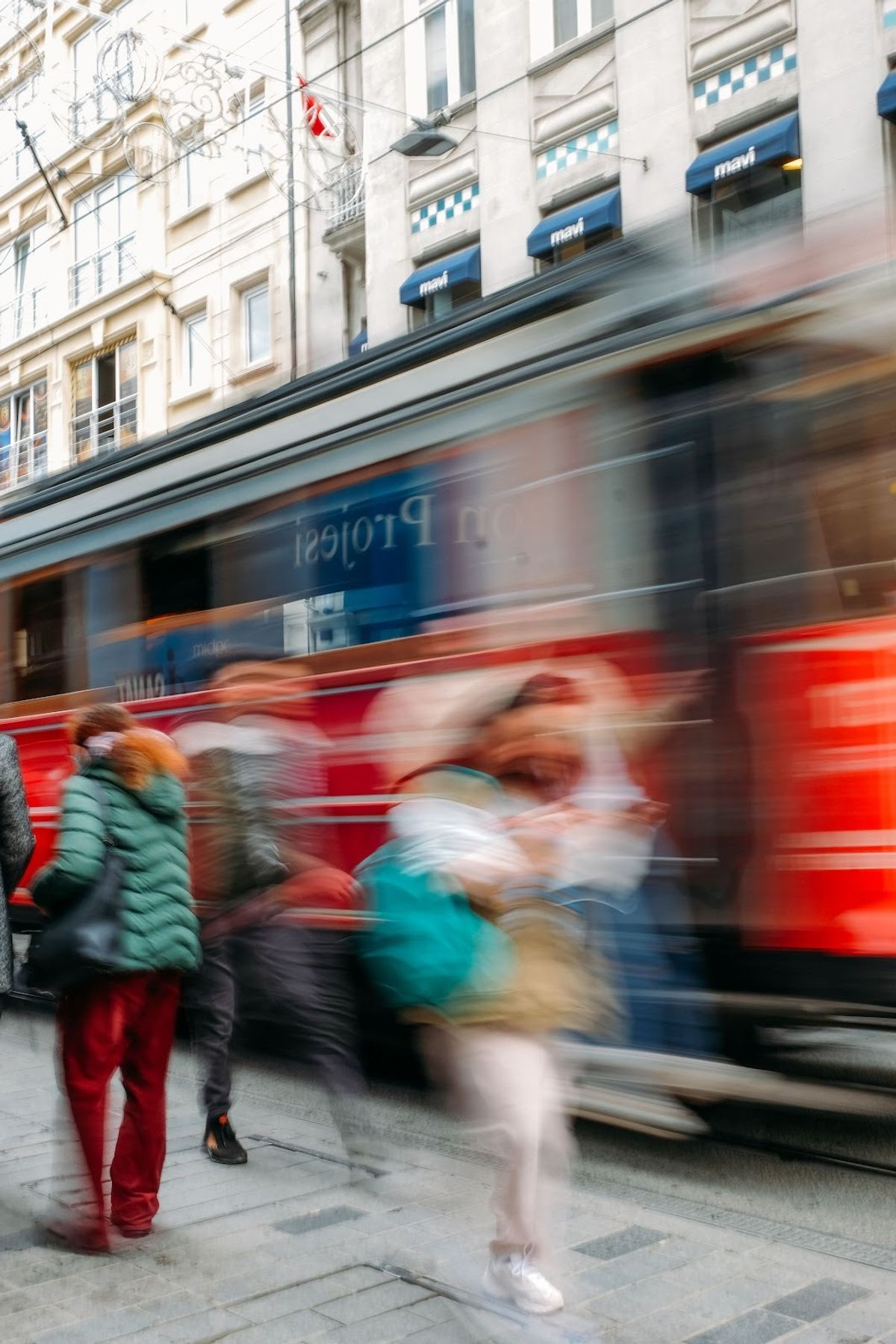 Nowadays, walking on Istiklal
---
Smell: The smell in my imagination is the smell of elegant people wearing Ahmet Farukî perfumes and going to balls in the late 19th century; the smell in my memory is incense in churches; the smell I hear now is the smoke of imitation perfumes and electronic cigarettes.
Sense: Melancholy.
Hikâyeyi beğendiniz mi? Paylaşın.
I'm a regular at
Adresses for frequenters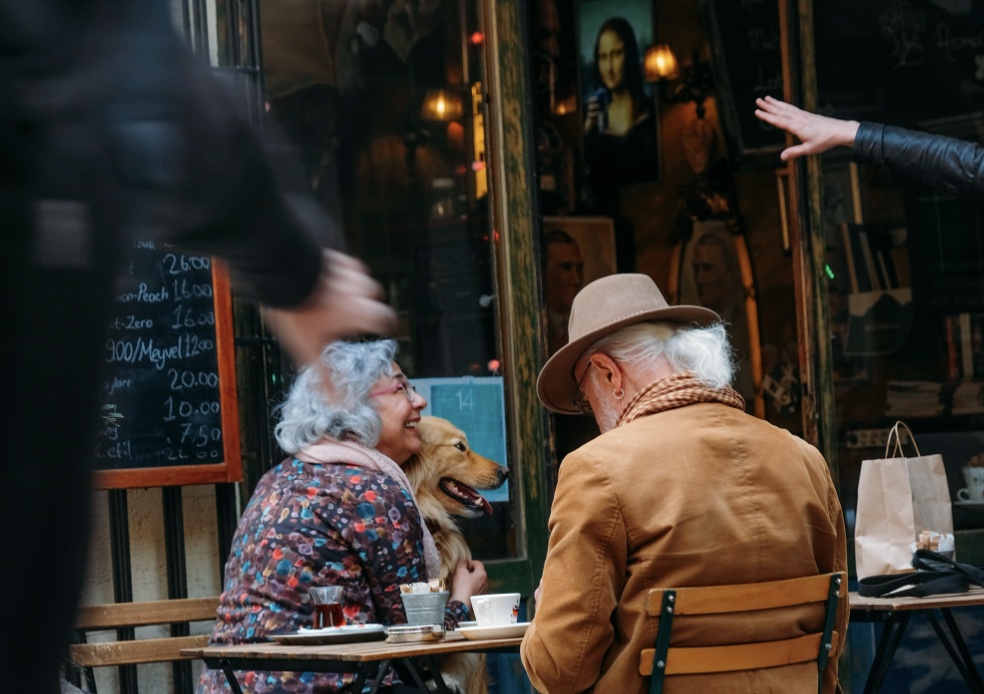 The first hours of the morning starting at Journey when you open your eyes in Cihangir or at Soho House when you are starting the day in Galata,
Dancing nights at minimüzikhol - munchies at Kardeşler Kebap of course,
Zeynep Severge's ceramic production in her workshop and the store Hiç, which combines contemporary design with craft,
La Cave and Comedus to discover wine varieties,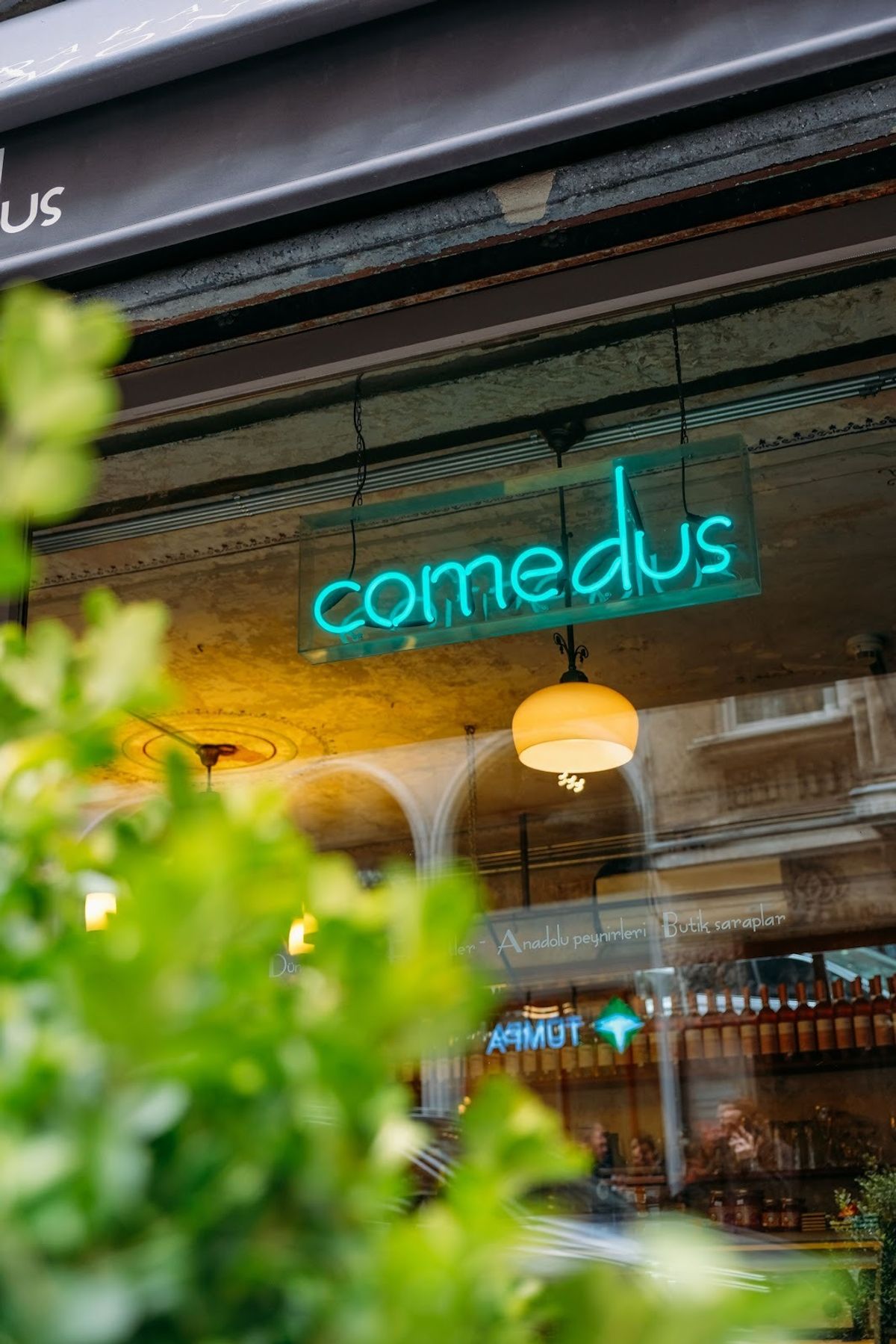 Comedus
---
The old book sanctuary Denizler Bookstore - Although we are sad to see them move from their legendary shop on Istiklal Street, we take solace in the fact that they are now closer to Galata; Robinson Crusoe 389, Homeros, and Pandora's for current book discoveries - thank goodness they still exist.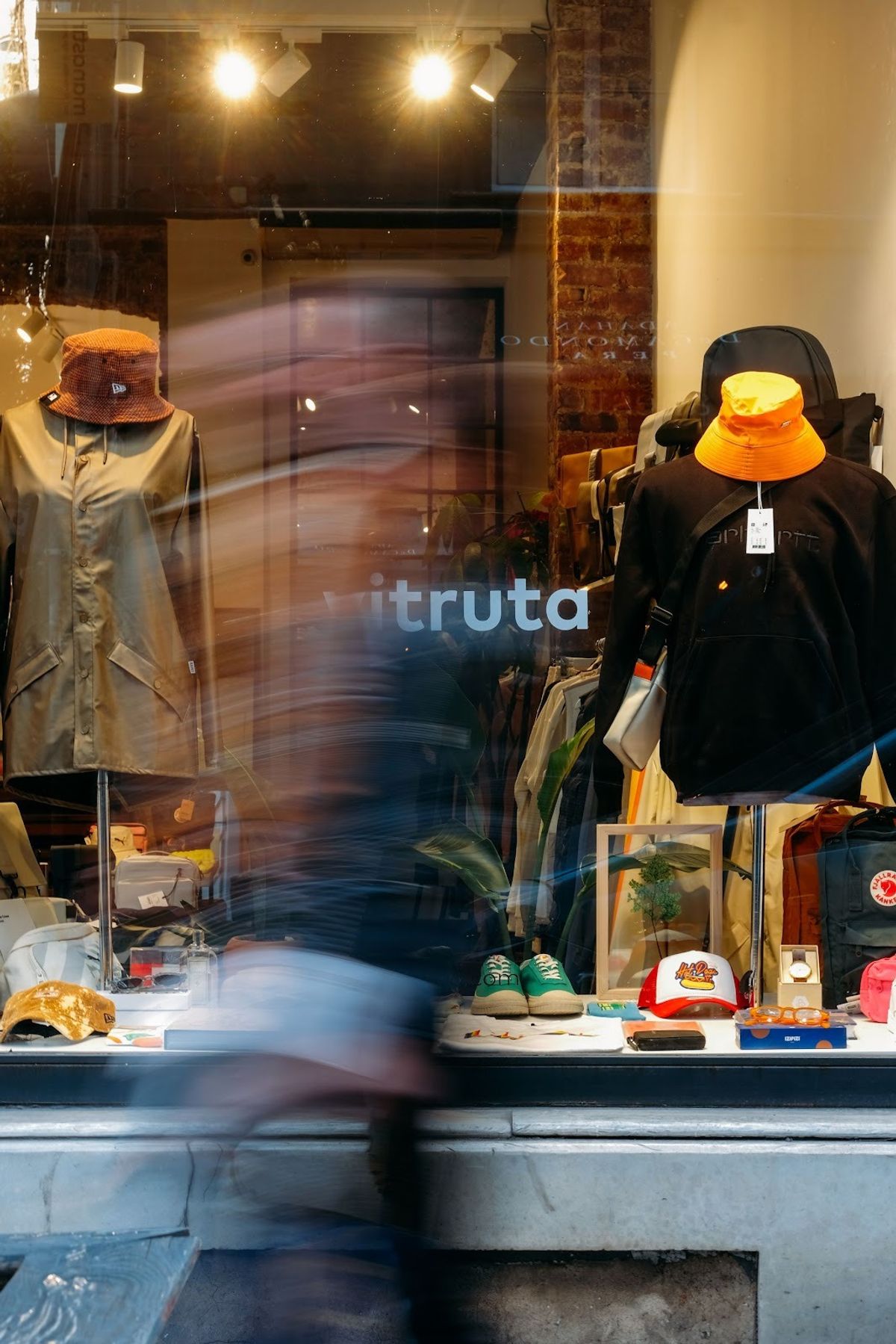 In front of Vitruta display window
---
Tunç Balık's smoked salmon sandwich with scallops, unlike anywhere else in Istanbul,
Karaköy Lokantası for hunger, Helvetia and Bankalar Lokantası for lunch,
Looking at the Crimean Church and Der Liebling while passing through Serdar-ı Ekrem,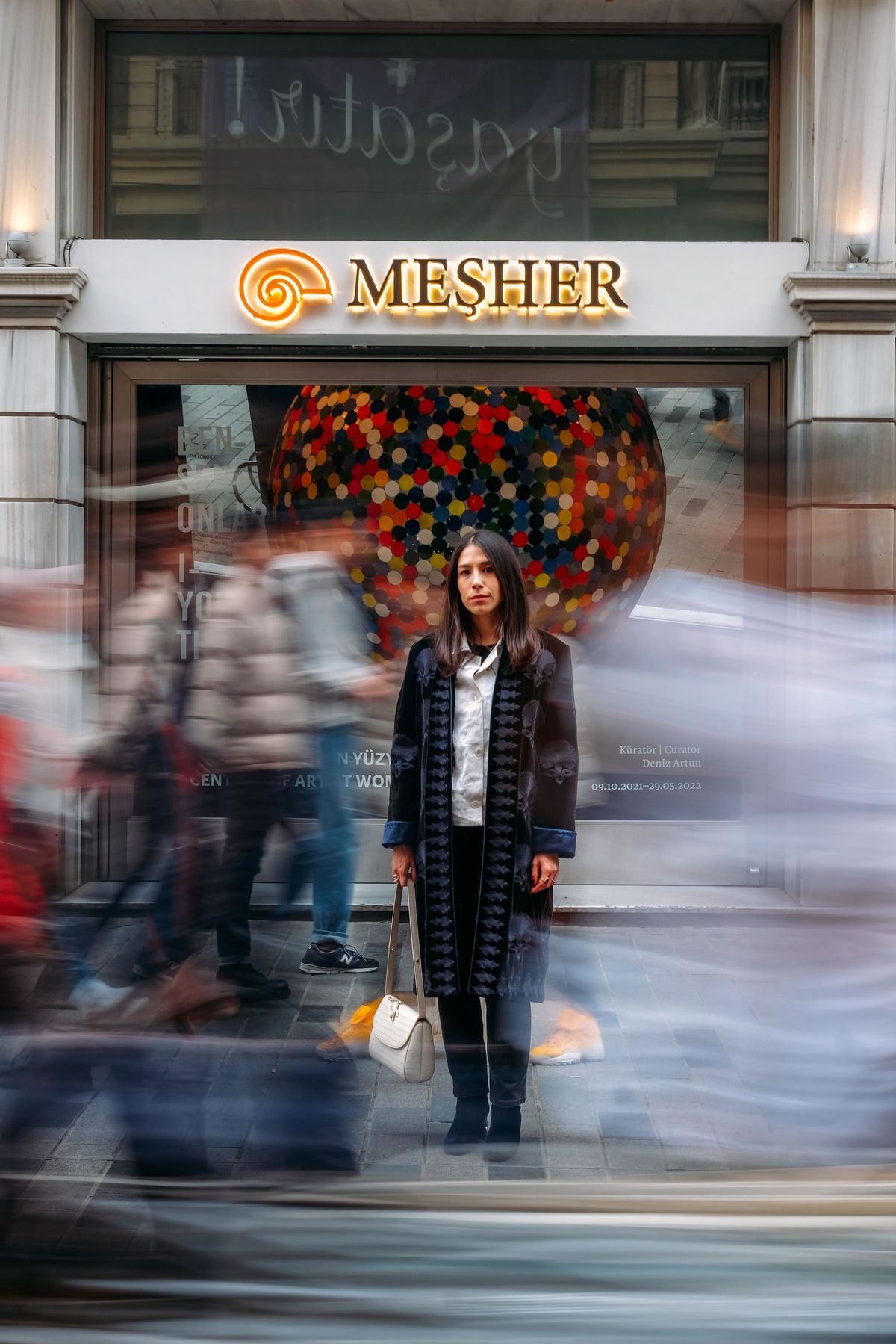 Anlam, in front of the Meşher
---
Vacilando, where you can spend the day with your book,
Unfortunately, there is no walking area left in Pera, but it is possible to set off from Pera early in the morning and walk across the Galata Bridge to the Archaeology Museum,
For special antique jewelry, Diamanştayn's is one of the only shops on Istiklal that has not changed despite being damaged during the events of 6-7 September 1955.
Moreover

For an art route in Pera, we should mention Akbank Sanat, Yapı Kredi Sanat, SALT, Meşher, Pera Museum, Istanbul Research Institute, ANAMED, Galerist, Galeri Nev, Zilberman, Öktem Aykut, Depo, SAHA Studio, Pilot and many other galleries; and if we include the Karaköy and Dolapdere line within the borders of Beyoğlu to Pera, Istanbul Modern, and Arter.
To listen to music, Borusan Music House, Gizli Bahçe, and Salon İKSV are still here. We used to spend more time in Babylon and Küçük Otto than in our own living room when we were all carefree; let us also remember with longing for the lost venues such as Godet, Dulcinea, Münferit, Wake Up Call, Yeni Melek, Emek Cinemas, Ghetto, Indigo, and garajistanbul.
Let's not forget the shopkeepers of Pera - Hüseyin Turgut, who designs amazing lighting in his store Lightwork Design on Galata Hoca Ali Street; Mr. Esat, the owner of La Cave; the unchanging teams of Mavra and Journey; Chef Ebru Akpınar, the founder of Yaya Fırın with her addictive cookies and Janset Bilgin, who sells amazing dresses and accessories right across the street; Engin, Harun and Zeki, the hardworking trio of the parking lot on Dibek Street.
Hikâyeyi beğendiniz mi? Paylaşın.

Organized by the Istanbul Foundation for Culture and Arts (İKSV) since 1987 and sponsored by Koç Holding since 2007, the 17th edition of the Istanbul Biennial continues.
The Biennial, which will be open to public visit until 20 November, is prepared with a different approach in this edition due to the pandemic precautions as well as its one-year delay.
The 17th Istanbul Biennial meets its viewers in various spots of the city such as bookstores, hospitals, nursing homes, cafes, metro stations, and Açık Radyo.
An avid supporter of culture and arts, Koç Holding is happy to sponsor the Istanbul Biennial by 2036. To find the short film focusing on the healing and transformative qualities of art, you may visit this link.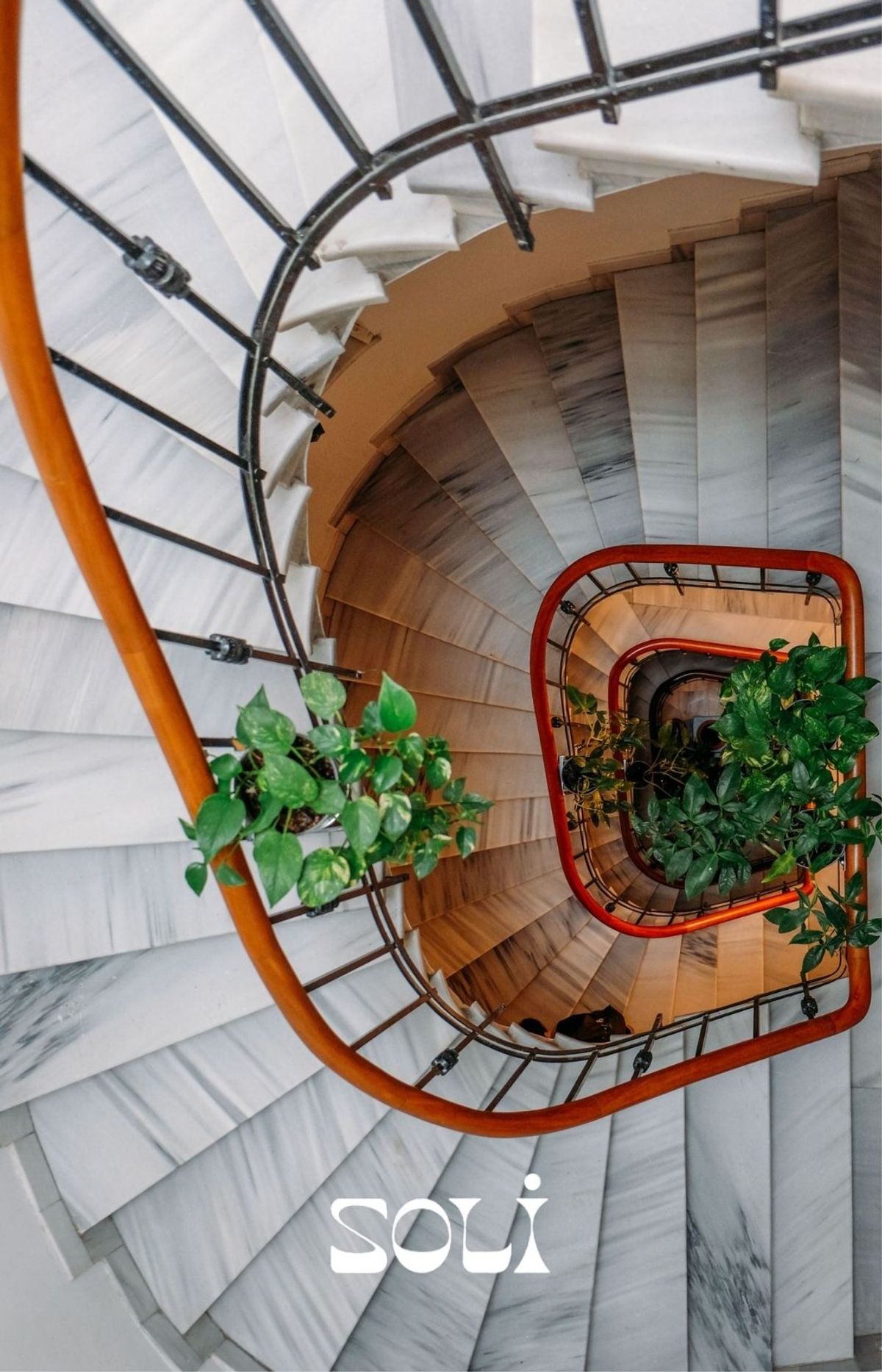 Stairs of Pera
---
In this issue, we wandered around Pera with Anlam. She told us about Pera in terms of the individual and in terms of the collective, as the neighbourhood where she lives, produces, and draws inspiration from. We met Greek, Jewish, Armenian people, and many other Pera people from the past and the present.