Here we are. It's not officially winter, but you can feel it already. Every year, the city changes colours and loses its leaves and needles like a deciduous tree. It retreats into its shell in the winter but continues to grow there. You smell, feel, hear, and think of it without seeing it. You can follow your nose and walk in the snow for baked kestane (chestnut) kebab, follow the voices coming from the street: 'booooozaaa' or take the road to Vefa to drink boza (traditional drink), watch every single drop of rain on the window and dream. Sure, it's romantic, but the essence of winter is.
Yet, thank God, you can also follow the sound in a concert hall, dream while you're watching an art piece in a gallery instead of drops of rain on a window and follow your nose and pull up a chair, sit down in a warm restaurant.
And thank God, you experience Istanbul even when it is in its shell.
This week to listen, we met with Deniz (Kuzuoğlu), the director of our one and only Salon İKSV. Then to taste, we follow our noses with Civan (Er), the chef of Yeni Lokanta and Yeni Soho. And sure, we dream on the dance floor. Again.
And we will keep going.
Elif
In the 21th issue:
Hopping (What's going on in Istanbul: Hand-picked and unmissable events): Giant Swan's concert, The 'Yerin Altında' workshop and performance, LUV x HIP-HOP's party series and much more.
Water Cooler Talk (Local news that you need to know to survive or just to speak of): Beyoğlu Cinema is back!
Notice Board (News that you need to notice to live in Istanbul in a better way): İskele Design Acceleration Programme is taking applications.
Istanbulite (A talk with a creative inhabitant): Deniz Kuzuoğlu, the director of Salon İKSV is on the stage.
What's Cooking (Selected places to eat, drink, cafés, food markets): Let's take the ferry and order a Kup Griye (ice cream). Just like the good old days. This week we have a special guide for foodies.
---
What we don't see: You Know Who
What is it? Exhibition. Inspired by the Byzantine Empire, the exhibition, which pursues representations of historical and cultural heritage, hosts a mixed selection that explores that which is hidden beyond the visible.
Where? Abdülmecid Efendi Köşkü
When? Until 11 December
Why should you go? The exhibition, which is prepared with different mediums and spread over 3 floors in total, has a curation that emphasises the beyond-meaningfulness of contemporary art based on the cultural tradition of Istanbul.
Duly noted: The interactive installation in the basement promises an intersensory experience for those interested in Byzantine cosmology and iconography.
---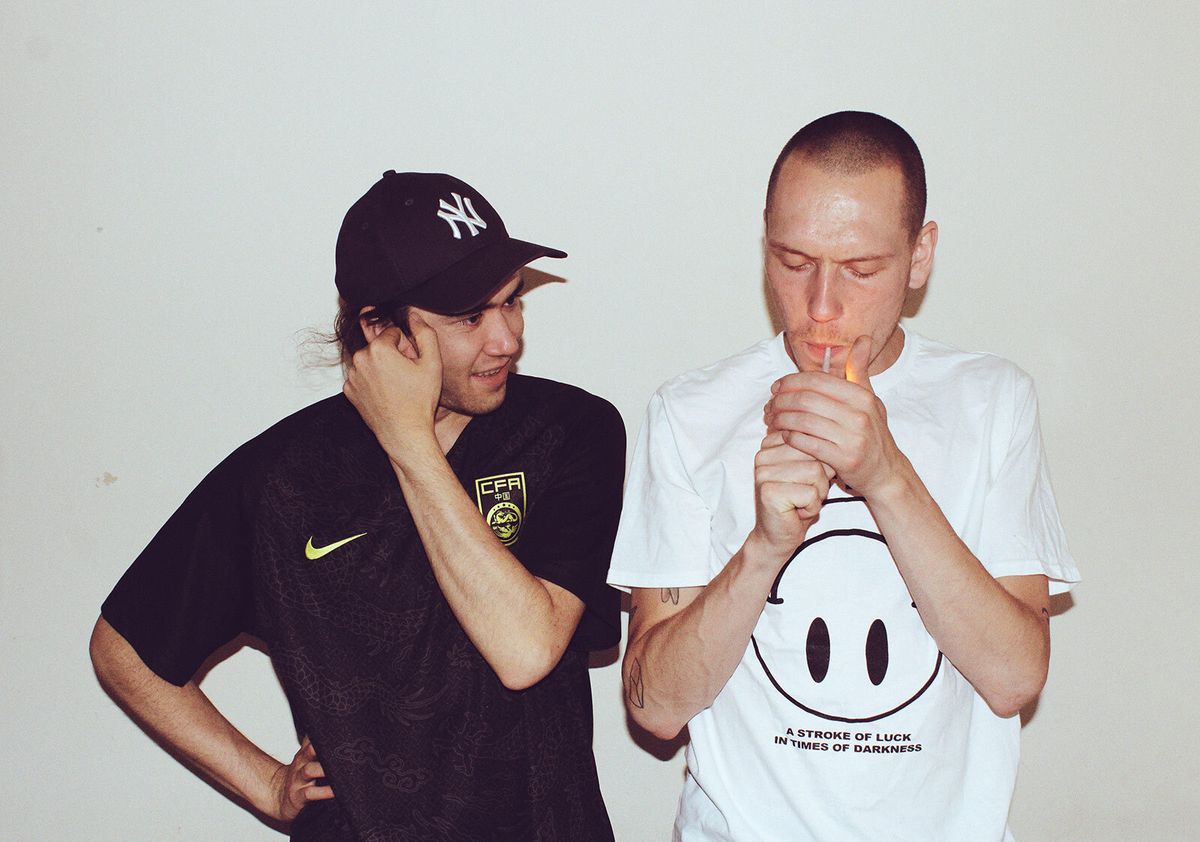 Photo: Jennifer Lo
---
Nova Muzak is back: Giant Swan
What is it? Concert. Organised by Borusan Sanat in collaboration with KOD Music, the Nova Muzak series, the first of which was held in 2011, hosts Giant Swan, a duo from Bristol's underground electronic/techno scene, for its 34th edition.
Where? Borusan Müzik Evi
When? 10 December
Why should you go? You can visit Borusan Müzik Evi (Music House) for a night where industrial techno meets ambient music and dance music steers towards an ecstatic experience.
Duly noted: We congratulate the venue on the reasonably priced tickets, and welcome you here.
---
At Asmalı Mescit: LUV x HIP-HOP
What is it? Party. Blind's regular and favourite party series LUV x HIP-HOP continues where it left off with names like Drake, Beyoncé, Kanye West, Cardi B, Megan Thee Stallion, Travis Scott and Kendrick Lamar.
Where? Blind
When? 9 December
Why should you go? Armageddon Turk, who remixes names such as Moby, Gorillaz, Fatboy Slim, Pet Shop Boys, and dancers Esin Turay and Su Turay will take the stage.
Duly noted: Of course, the stage welcomes you and your talents. Enter this way.
---

Source: I Hate Models
---
An evening with old friends: I Hate Models
What is it? DJ Performance. I Hate Models, who has never refrained from being the host of the most wonderful evenings, is in our city again. Welcome, you industrial techno genius!
Where? Volkswagen Arena
When? 9 December
Why should you go? Among his companions are Regal, the creator of this wonderful track, and Mabbas, who we used to watch on Zorlu PSM stages all the time.
Duly noted: Shake the dust off your rave shoes and go here.
---
Dance Underground: Latin
What is it? Workshop and performance. The 'Yerin Altında' (Underground) series, which brings us together for many different concerts under the ground at the Gazhane Museum, turns into a multidisciplinary stage and rolls up its sleeves for an evening that will excite lovers of dance.
Where? Gazhane Museum Car Park -2. floor
When? Tomorrow
Why should you go? With a programme worthy of a Latin dance night, we will be wowed by a solo dance performance after salsa and bachata workshops.
Duly noted: You don't need to sign up for the free event.
---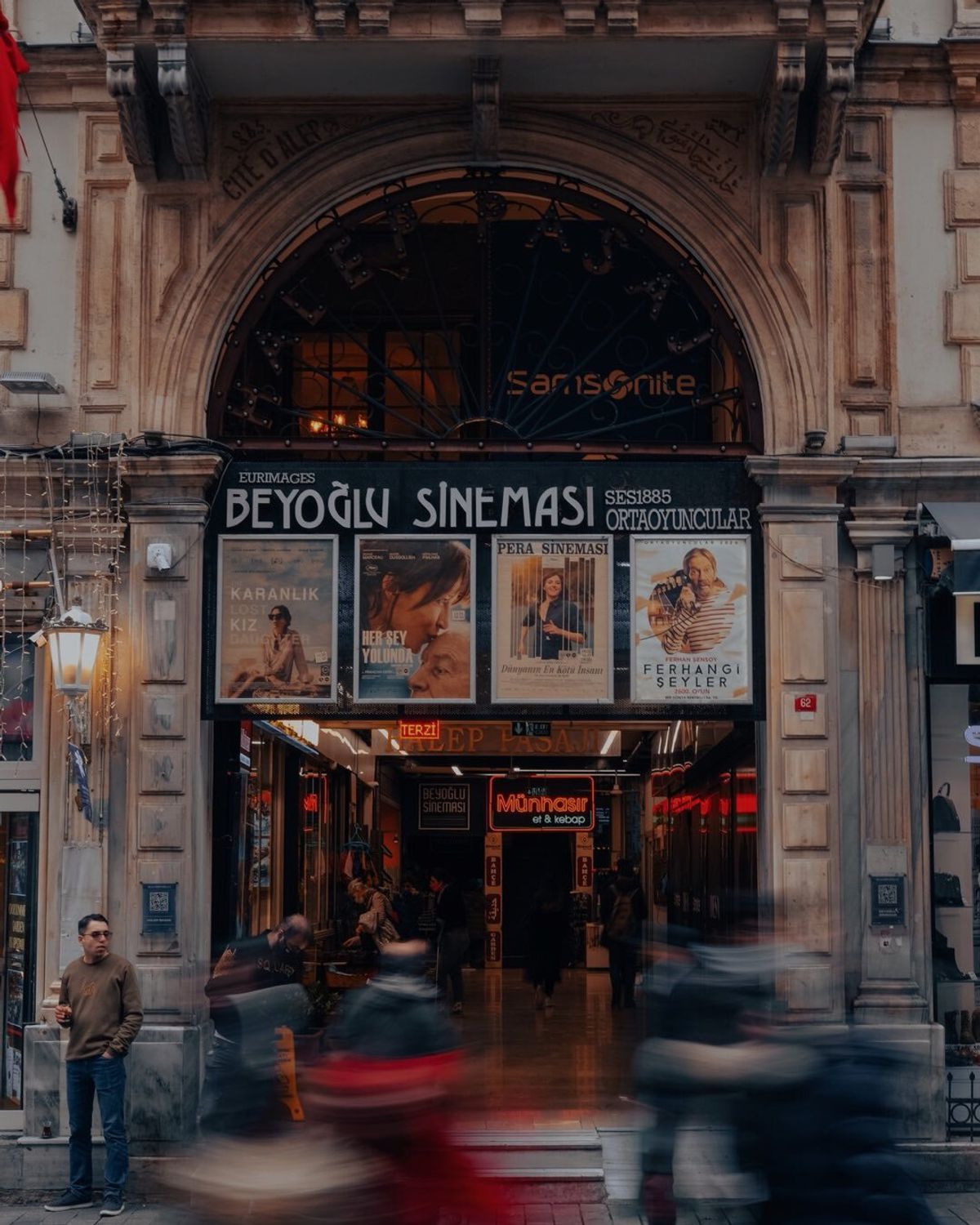 Source: Beyoğlu Sineması
---
Beyoğlu Cinema is back!
Beyoğlu Cinema (Beyoğlu Sineması) was placed among the historic places that Istanbul Metropolitan Municipality (IBB) Cultural Heritage Department teams are renovating, alongside Muammer Karaca Theatre, Botter Apartment Building, and Metro Han.
Beyoğlu Cinema, one of the oldest urban cinemas in Turkey, will be rented by IBB and will continue to be owned by Istanbulites through the efforts of IBB Heritage. Beyoğlu Cinema, which will continue on as one of the symbolic places of Beyoğlu's memory, will continue to be a movie theatre once the project is complete.
What's going on in Beyoğlu?
The project carried out for Muammer Karaca Theatre, which hosts Turkey's most important theatre artists on its stage, aims to be completed in a way to preserve the historical building's relationship with İstiklâl Street and its interior design in the memory of the city. After the project, the theatre will join Istanbul's cultural and artistic life as a meeting stop that lives 24/7.
Botter Apartment Building, the first Art Nouveau building of the Ottoman Empire, also known as Casa Botter, stands out as the home of Botter Modaevi, the city's 'first fashion house' that brought European fashion influences to Pera. The building, which is one of the important parts of Beyoğlu's treasure with its history, story and spirit, reminded us of its glittering days in 2021 with the facade conservation. Work is underway to bring the apartment building back to the city as Casa Botter Art and Design Centre.
Beyoğlu Spatial Strategy Plan, which includes a significant part of the city's historical and symbolic places, was shared with the public. The process, which started about 2 years ago with the motto 'Say your opinion, let's design the Beyoğlu of your dreams together', has produced the 'Beyoğlu Spatial Strategy Plan' after more than 300 events, one-to-one contact with thousands of people and large-scale participation in order to make the district more livable and earthquake-resistant, and protect its multicultural structure and cultural heritage. All developments within the scope of the plan, which is a vision document for the future, are shared on the site Beyoğlu Senin.
A shop for furry friends too: GetirÇarşı

Helping pet owners shop effortlessly from the pet shops in the area, GetirÇarşı delivers all of your pet's needs to your door within minutes.
Including a variety of shops, such as grocery stores, florists, and pet shops; GetirÇarşı delivers everything your furry friend needs from local pet shops to your door in 30-45 minutes.
Thousands of quality products including food, toys, litter, and leashes arrive at your door with GetirÇarşı, so that you can devote more time to your fur baby.
Dear Istanbulite, we would love to hear from you! Email us your questions or feedback at: [email protected] and DM us if you've heard a rumour about the next hip restaurant that's worth checking out or anything else.
And also, love only grows by sharing. So please share Aposto Istanbul with your loved ones.
İskele Design Acceleration Programme is taking applications
What is it? Applications are now being accepted for the İskele Tasarım Hızlandırma Programı (İskele Design Acceleration Programme), which was launched by the Turkey Design Council's (Türkiye Tasarım Vakfı) partnership with Üsküdar Municipality; Istanbul Chamber of Industry (İstanbul Sanayi Odası), İTÜ ARI Teknokent and Istanbul Development Agency (İstanbul Kalkınma Ajansı). The programme, which creates 'incubation' opportunities for the design ideas of students, recent graduates and experienced professionals, will also offer the financial support of İskele Atölye to the selected candidates.
The programme supports: Participants whose applications are accepted and who will be invited to the programme will be able to receive technical support from İskele Atölye's equipment, workspaces and highly equipped computers. On the other hand, creative mentorship from industry professionals throughout the design process, legal consultancy services to protect the intellectual property rights of designers' productions, and brand consultancy services to make their projects long-lasting are among the supports to be provided.
Applications opened on 21 November and will continue until 19 December. For more information, visit İskele Design Acceleration Programme.
Deniz Kuzuoğlu & Salon İKSV
On Istanbul's music scene and more with Salon İKSV director Deniz Kuzuoğlu.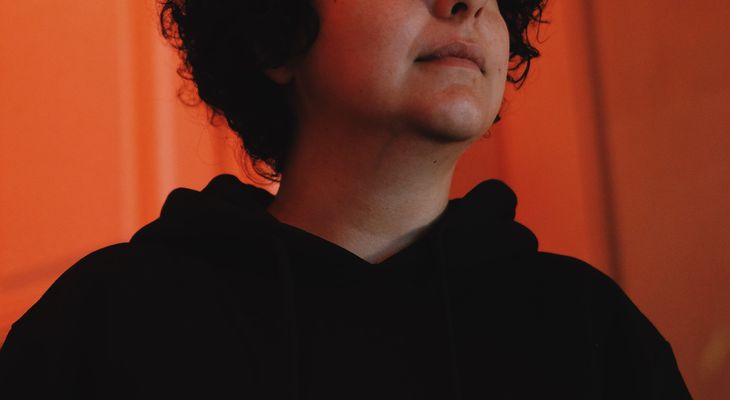 This week's Istanbulite is Deniz Kuzuoğlu, the director of Salon İKSV, a place frequented by true urbanites and a source of energy for weekends and weekdays. What awaits music lovers in the city? What can we listen to, and when? As we would never cross an Istanbulite, we are ready!
---
ID, Deniz
My nickname is: Kuzu (sheep)
Recently, I have discovered in Istanbul: Aheste's Negroni & Küçük Plak Dükkânı (vinyl shop)
I live in: Valideçeşme but I'm from Ankara in my heart.
I always listen to: Jeff Buckley - Grace (the album) while walking from home to Nişantaşı in the winter.
According to me, the top three unforgettable concerts in Istanbul are:
o Nine Inch Nails – Rock'n Coke 2009
o Rufus Wainwright – Istanbul Jazz Festival 2008 - Hagia Irene Museum
o King Gizzard & The Lizzard Wizard – Salon İKSV – 13-14-15 March 2018
Only a true music lover-Istanbulite would know: Salon İKSV
---
ID, Salon
My nickname is: İKSV
My first concert was: The Bad Plus
My first legendary concert was: Marcus Miller
You'll listen to: amazing artists this season. (Not gonna name them before our annual announcement!)
Only a true Salon-regular would know: Hoşcan Çıkmazı Street & Mr. Sakip
---
SHOOT THE BREEZE
What does Salon represent in the Istanbul music scene?
Salon represents good music, discovery, sincerity and happy memories. We can say that it is the meeting point for music lovers looking for a peaceful and private space in the heart of the city.
You are also celebrating your 10th anniversary at Salon. What are the things that have never changed in the history of Salon for more than 10 years?
The excitement and party of the opening every autumn, Sarkis' chandelier, Mr. Sakip at the door, our excitement and passion for music, and the enthusiasm that each festival of İKSV brings to the building in different months and seasons are the things that never change. Of course, there are things that have changed in its 13-year history, but we can say that there is not much difference physically and spiritually. Salon has always had a self-renewing programme, but neither the conversations in the back alley nor the physical proximity to the artists who you can actually touch by reaching out, have changed. Our audience has been with us on this journey, expanding and evolving every year and getting more acquainted with the venue.
In the last 10 years, there has been a century of events that will affect the music industry in Istanbul. How did all this strengthen us? What have we learnt during these times? What has changed permanently in the Istanbul music scene?
Turkey's music market has always been faster and more agile in crisis management than other places, but everything we have experienced, especially in the last 10 years, has provided us with new teachings in event management. Our quick decision-making and implementation reflexes have improved, and the details and priorities we consider when planning an event have increased.
The music scene, especially live music venues are unfortunately the first areas to be affected by every socio-economic crisis. There have been many losses of space and labour force. One of the biggest gains in this process was the strengthened communication between the sector players. Everyone learnt that it is more beneficial in the big picture to make the cake bigger instead of taking the biggest slice.
Can you tell us about the memories of the past 10 years in Istanbul that went down in the history of legendary Istanbul music? What were the milestones? What did we build from scratch?
There were two concerts that took place at the end of 2013, one of the most challenging summers in Istanbul, which gave us and the audience hope: Roger Waters The Wall Live and Iron Maiden, the last event at İnönü Stadium. We saw there that people would come together no matter what.
The same feeling was experienced at İKSV festivals, which continued their events uninterruptedly during the pandemic period, sometimes online, sometimes at reduced capacity. While we were wondering what kind of demand there would be for events after the opening, we got to spend the summer of 2022 together.
In the last 10 years, we have come out of every problem that made us ask 'Will there be any more events?' By rebuilding events, we have gained new venues, and new festivals have sown their first seeds. We have seen how solid the foundations of a city like Istanbul are in terms of culture and arts. Even if it is painful, even if we cannot progress as fast as we want, hopes and dreams still keep going.
A little bit about the future: What kind of a transformation do you foresee and imagine for the Istanbul music scene in the next 10 years?
Especially contemporary music (we can include pop, electronic, rock, indie, whatever you call it) is not seen as a cultural and artistic activity in our country. It is seen more as a field of entertainment. But when you look at festivals abroad, you can clearly see the contribution of all of them to the city where they are held. We can include Primavera, and Berlin club culture in this. It is one of the newest and most valuable areas of cultural tourism.
We had seen the attraction of Istanbul regarding this field in the early 2000s. When the general and local administrations realise the impact of these events on the promotion of the country, when they see the potential for tourism and income, and when they provide the necessary arrangements and support for these events to be held, we can reach the level of the cities, festivals and events that we aspire to in a short period of 10 years.
What do you see in the next 10 years of Salon? Are there any new corners that Salon will adopt after this? This year it turned into a festival, tomorrow, who knows?
Gezgin was actually a project we set out from Salon to embrace various corners of the city. It was always part of the plan to connect its continuation to a festival. Gezgin Salon will continue its single events and festival with the support of +1, but now, the question 'Why shouldn't we go outside of Istanbul?' has started to pop up in our minds.
Hikâyeyi paylaşmak için:
Oldies but goldies of the Istanbul culinary scene
A guide for Istanbulite foodies.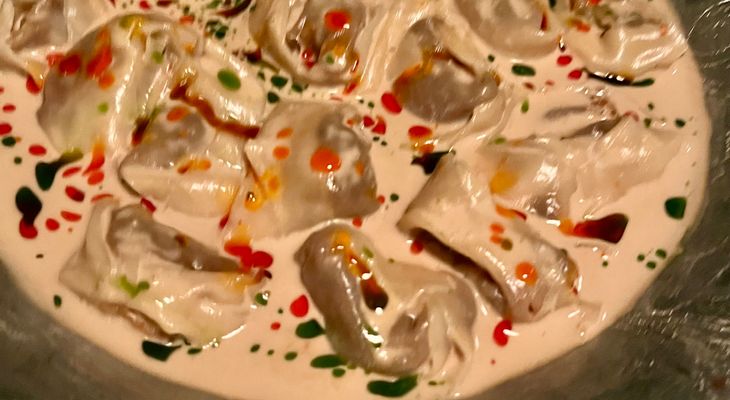 Meet Civan Er, chef of Yeni Lokanta and Yeni Soho living part-time in London and Istanbul. We get together to talk about the culinary scene in Istanbul and find out his favourite secret places and joys in the city.
Civan explains Istanbul's culinary scene as:
"Istanbul is known for its diverse food cultures. Even more today, I think. You have all these immigrants from the East who bring their own food culture. In Istanbul, it's rather tourists, not the locals who make the base clientele of restaurants due to the sad economic situation. In the West, however, the inhabitants of the city constitute the core element of the restaurant industry.

The ongoing deterioration of moral values (in trade). It was the non-Muslims who started today's restaurant culture in Istanbul (as owners and customers). They don't exist anymore and the next bourgeois class created by the state struggled. And they have been replaced with an even newer one recently, as the vicious circle goes on. However, Michelin will make Istanbul even more attractive to tourists.

Last but not least, Kanaat Lokantası, Kadıköy Baylan, and Savoy Pastanesi in Cihangir are the 'oldies but goldies' of Istanbul."
If you are wondering what Civan's Istanbul is like, you are at the right place.
IN ISTANBUL:
My favourite street food in Istanbul is boiled corn in the summer and chestnuts in the winter from the same guy in Beyoğlu (he is mısırcı or kestaneci according to the season).
When I want to eat mantı (Turkish ravioli) I go to my mum's or Yeni Lokanta.
If I have a special guest, I take them to Zübeyir Ocakbaşı.
If I'm out to eat after 01.00 a.m., my 'go-to' is Vakkas'ın Yeri for lamb sweetbreads.
For fresh baked goods, I always stop by Üstün Palmie.
I always make a reservation at Asmalıcavit when I miss the meyhane.
I can't think of the Istanbul culinary scene without simit (Turkish bagel) on the ferry.
A hidden local restaurant that still nobody knows is Gaziantepli Mustafalar in Bakırköy.
It's so cliche but still, I love Baylan's Kup Griye (ice cream).
A weekday hangout is with Ece Aksoy who created the bar culture in Turkey with the name of her bar: Ece.
I'm a regular at Journey, Cihangir.
Editor's note: Let's take the ferry and order a Kup Griye (ice cream). Just like the good old days. Here is the Google Maps link. Send us photos from your experience and we will share them as the catch of the week!
To know more about Civan, subscribe to Aposto London and wait until Tuesday for the interview.
Hikâyeyi paylaşmak için: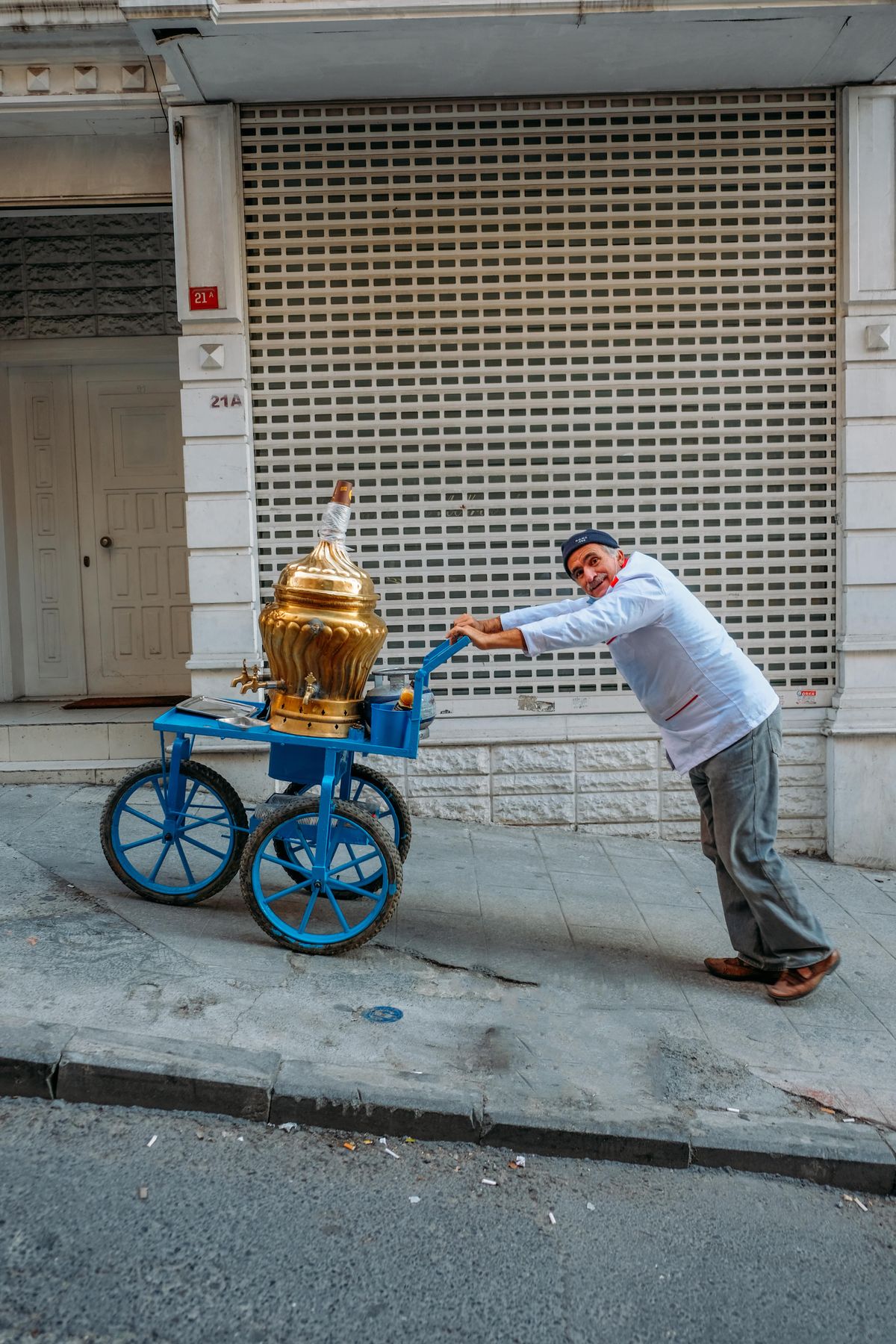 Do you hear that? Yes. It's "Bozaaaaaa"