In a city where the foxes are asleep during the daytime, location unknown, before they scatter into the night; buses wait at the stops in order to change the driver, even out the traffic; pubs take the last food orders around 10:00 p.m., drinks at 11:00 p.m. on a Friday night; cats do not meow, dogs don't bark, cars rarely toot and people seldom yell, the streets of Dalston are lively, cacophonous, relentless.
Ridley Road Market is in a rush. The food vendors are setting the price tags. Avocados are £1.5 for 2, and 6 lemons are worth the same price. Mustaf is wrapping up the falafels for those who crave them in the morning, the horde starts gathering around the stalls, and shopping trolleys are filled with green, orange and red vegetables. "Why there is no blue food?", one wonders. No, the eggplants are purple and even though they are called blueberries, they are purple as well.
The fetid smell of freshly cut meat and caught haddock is in the background. On a few steps up, on the first floor, Ridley Road Social Club changes the mood. The odor is a mixture of bay leaf, peppercorns and clove added to the soup. It needs to cook for about four hours. A few steps down, Ridley Road Market Bar is closed, black trash bags blocking the entrance door, revealing the previous night's usual suspects: limes from ginger mojito, chopsticks from Okonomiyaki, broken gin, whisky, martini bottles.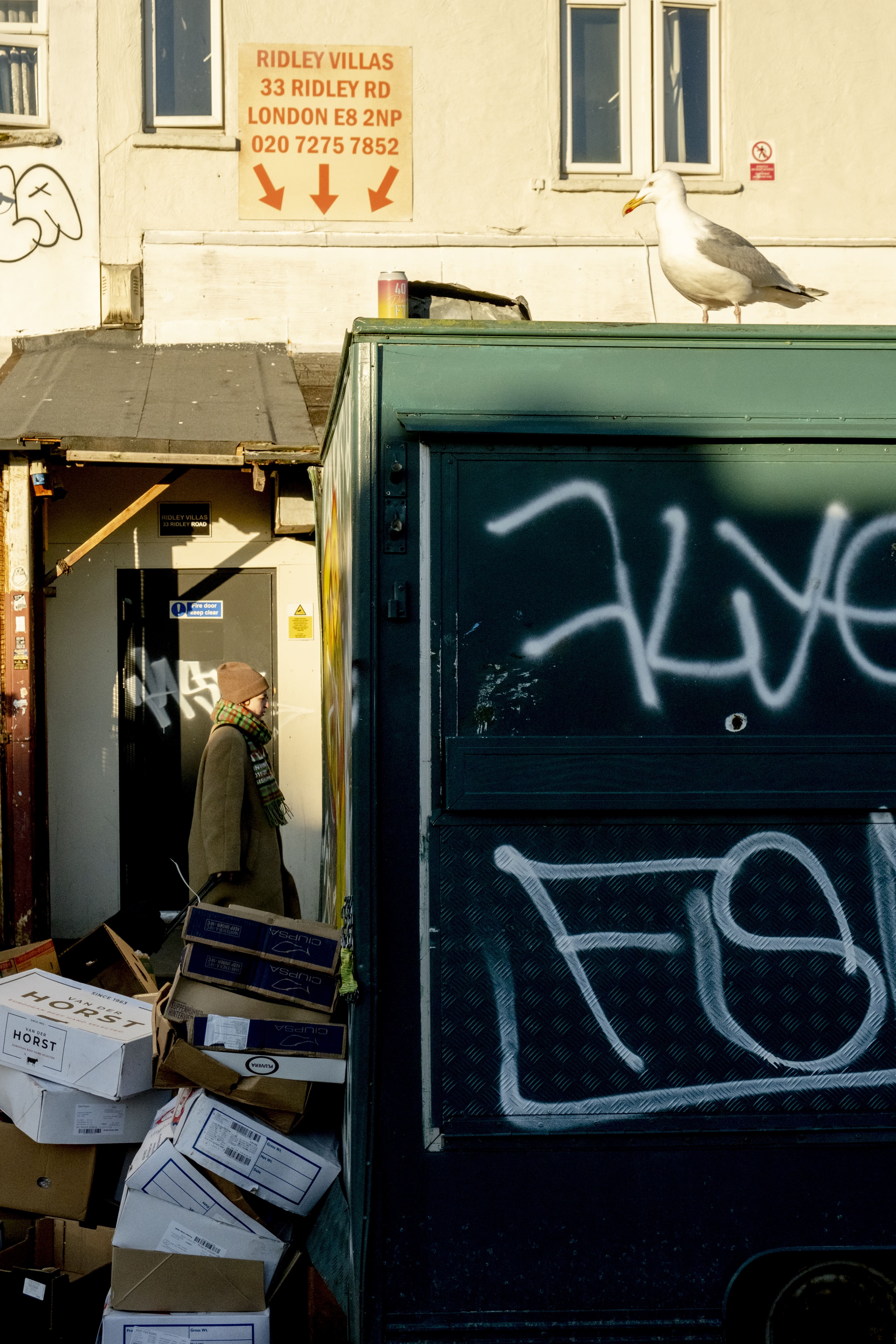 Dalston
---
The escalating pace between Junction and Kingsland stations; the shops where everything even a toilet pump on a Christmas day can be found; the unintentional waiting lines formed because someone bumped into a friend from work, daycare, or school in front of the market; Tuesday swing dance at The Scolt Head; the backgammon tournaments at The Talbot; daytime co-work tables at De Beauvoir Arms; reading Sylvia Plath sitting on a bench at De Beauvoir Rose Garden; Northchurch Road houses; finding a mid-century end table at 2an4Vintage; a glass of Fernao Pires at WeinoBib; long leafed parsley; yenibahar for homemade dolma, the colors and patterns on fabrics rolled neatly on the shelves, the full moon on the sky or on the ceiling of Brilliant Corners. These are just some of my favorite Dalston things.
February 1, from the morning after the day before.
Accompanied by Esbjörn Svensson Trio
Hazal