Last year, my relationship with Istanbul was shaky and one of my new year resolutions was to fix it. It was time for us to kiss and make up. I said 'Look, we could use this time to work on ourselves and our relationship. There's a full year to go.'
I moved and started to live in another neighbourhood. I knew what I wanted from the city, myself and this relationship. It was not based on expectations. It was about decisions and dreams. Meanwhile, the city was experiencing some of its most difficult times while I was having the best days. That's what happens. In every relationship, there is a period that the one is more aware of what they want while the other is feeling lost. That is exactly what we are experiencing.
It's December again. Our relationship is going well, actually. By 'our', I mean me, myself and I. The city & I. This year, fixing our relationship is not on my list. I'm still living in the same neighbourhood. I chose to stay. You know, in every relationship, there is a period that someone chooses to stay or leave because they realise it's always about them. That was exactly what we had been experiencing.
This year, one of my new year's resolutions is to keep dreaming. But first of all, let's dance together for a while, and to dream again.
Elif
In the 22th issue:
Hopping (What's going on in Istanbul: Hand-picked and unmissable events): An exhibition about augmented and artificial intelligence reality at Bilsart, Tamino's concert, Christmas market and much more.
What's Cooking (Selected places to eat, drink, cafés, food markets): This week, we are at Comedus with Selin Osmanoğlu, the writer of Veraison.
A Pocket Guide (Literally a pocket guide to discover the city): 2 unique places for those who ask: 'Where should I quell the rush of the week?' Location: Bebek & Bomontiada. Focus: Panacea music.
Dear Istanbulite, we would love to hear from you! Email us your questions or feedback at: [email protected] and DM us if you've heard a rumour about the next hip restaurant that's worth checking out or anything else.
And also, love only grows by sharing. So please share Aposto Istanbul with your loved ones.
Bir Işık Hüzmesi Üzerine exhibits at Taksim Sanat
Curated by Begüm Güney, the exhibition Bir Işık Hüzmesi Üzerine is open to visitors until 30 December at Taksim Sanat, the exhibition zone of Kültür AŞ by the Istanbul Metropolitan Municipality.
Consisting of surreal works by 17 different artists, the exhibition hosts the works of Sümer Sayın, Serkan Demir, Gözde Mulla, Bilal Yılmaz, Ahmet Öğüt, Ece Kibaroğlu, Nergiz Yeşil, Esin Aykanat Avcı, Ali Şentürk, Fulya Çetin/Sine Ergün, Sergen Şehitoğlu, Mehmet Dere, Özge Yağcı, Osman Dinç, Berkay Tuncay and Özden Demir.
You can visit this link to find out more about the exhibition and follow Kültür AŞ here to keep up with the latest activities in Istanbul.
How to become a regular #5: Comedus
This week, we are at Comedus with Selin Osmanoğlu, the writer of Veraison.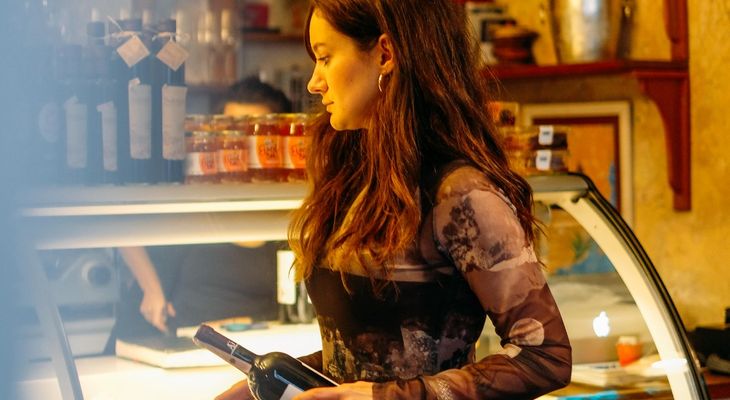 The eater: Comedus. The regular: Selin Osmanoğlu.
We are at Comedus with Selin Osmanoğlu, the WSET3 certified writer of Veraison. In the afternoon, we all gather with glasses of wine in everyone's hand and black cheese on the plate. When we warm up and start a pleasant conversation, a gentle breeze blows through the door as more people are entering. Now, we are at one of the rare delicatessen/wine bars of Istanbul. Where are you a regular? What are the reasons that this lasts?
What does it mean for you to be a regular at a place? When do you say 'OK, I am a regular now'?
Being a regular of a place seems to me to be a state of keeping a few emotions alive and holding on to a place both intellectually and de facto. You love an emotion and you try to keep it alive by putting people, sometimes objects, sometimes a smell or colours around it. For me, regularity comes from a basic feeling: trust. I feel safe in the places where I am a regular.
When I say 'OK, I'm a regular now', is when it gives me the feeling of 'being at home'. When I go to places where I am a regular, the very familiar feeling of going home keeps coming to me. When I open the door, it is as if the door of my home opens. And when the first plate is placed in front of me, I say 'OK!', 'We're sitting at the table.' I always feel this way whether I am alone or with someone else. All 5 senses are active. The eyes are looking for the same colours, the ears want to hear the same sounds, the smell memory has no difficulty, I want to spend time tasting the same taste, touching the same table. No matter who I share the table with, the conversation flows more easily, I feel more myself. That's why I attribute it to the feeling of trust.
How long have you been a regular at Comedus and why here?
Actually, I have not been a regular at Comedus for a very long time; after the pandemic, I started coming here a lot. But, a lot. I am a wine lover, and this place is a wine paradise. My first reason for coming here was my love of wine. The cheese and charcuterie are always very good. Then I got to know the people here, the conversation progressed and I became a regular. Why here? You might expect the answer to the question to be the wine, but it's not; it's the people. I mean it when I say regular, I spend a lot of time here, and I miss it if I don't.
If you are going to Comedus, it is very likely that you will see me inside, or you will hear me entering the door by saying 'Arzuuuuuuu!' That's exactly what I love. I love exchanging a few words with Arzu, listening to endless stories from Mr. Mustafa, and not being surprised to bump into Selçuk, who was probably here.
I love it when Şener comes with red roses during a conversation on the doorstep, and when I ask 'Shall we have dinner at Aheste?' I love the sweet regret of wishing we had opened a bottle as we have our third glass.
Is there anything you always order that we can call Selin's speciality?
The black cheese! It's my favourite cheese here. Whoever I go with or whoever I see, I say 'Have you tried this cheese?' I don't have a special menu, I usually go with the question 'Am I hungry or not?' I find the answer with olive oil, bread and the black cheese. There is no single wine that I say 'The evening won't go by without it!' but after a certain point, it seems like the door's always open to Akın Gürbüz Blend 1.
What are the things you always find here and what are the things you can't find here?
The feeling of curiosity that comes as soon as I step through the door never goes away. 'I wonder if the new wine has arrived? What should I drink?' and not being able to decide even after I have looked at the shelf for 10 minutes. There is nothing I can't find here. Maybe some space because it's a small place. But I wouldn't want it to get bigger. It's nice because it's small.
Hikâyeyi paylaşmak için:
The Legends #1: Babylon & Vamonos
2 unique places for those who ask: Where should I quell the rush of the week? Location: Bebek & Bomontiada. Focus: Panacea music.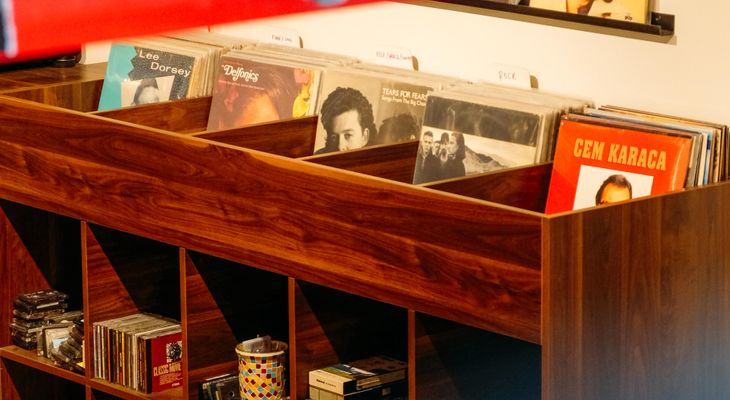 We asked Ceylan (İpek El) from MiniMüzikhol and Deniz (Kuzuoğlu) from Salon İKSV to choose their all-time favourite places where they can find high-quality music in the city.
Editor's note: If you are interested in this curation, you can read the interview with Deniz that we shared last week here. Also, stay tuned for more because we're back next week with a remindful Mini interview.
Spick-and-span
Vamonos Record Shop by Ceylan İpek El
Where? Bebek, Neşe Sk No:4, 34342 Beşiktaş
Why? It's my favourite neighbourhood record shop. But it's not just a record shop. It's a music-driven space with a focus on movement. Also, the young crowd would much rather consume what is produced rather than produce, organise and contribute. I admire and support those who put hard work into expressing themselves.
Opening hours? Open from Tuesday to Sunday from 02:00 p.m. to 08:00 p.m
What does it represent in the Istanbul music scene? The owner, Eren (Gündemir), is an admirable young man who is going against old tracks and tries hard to break the old auditory monotony. He carefully selects, hosts, and organises the music and musicians he works with - thus creating an exemplary underground culture.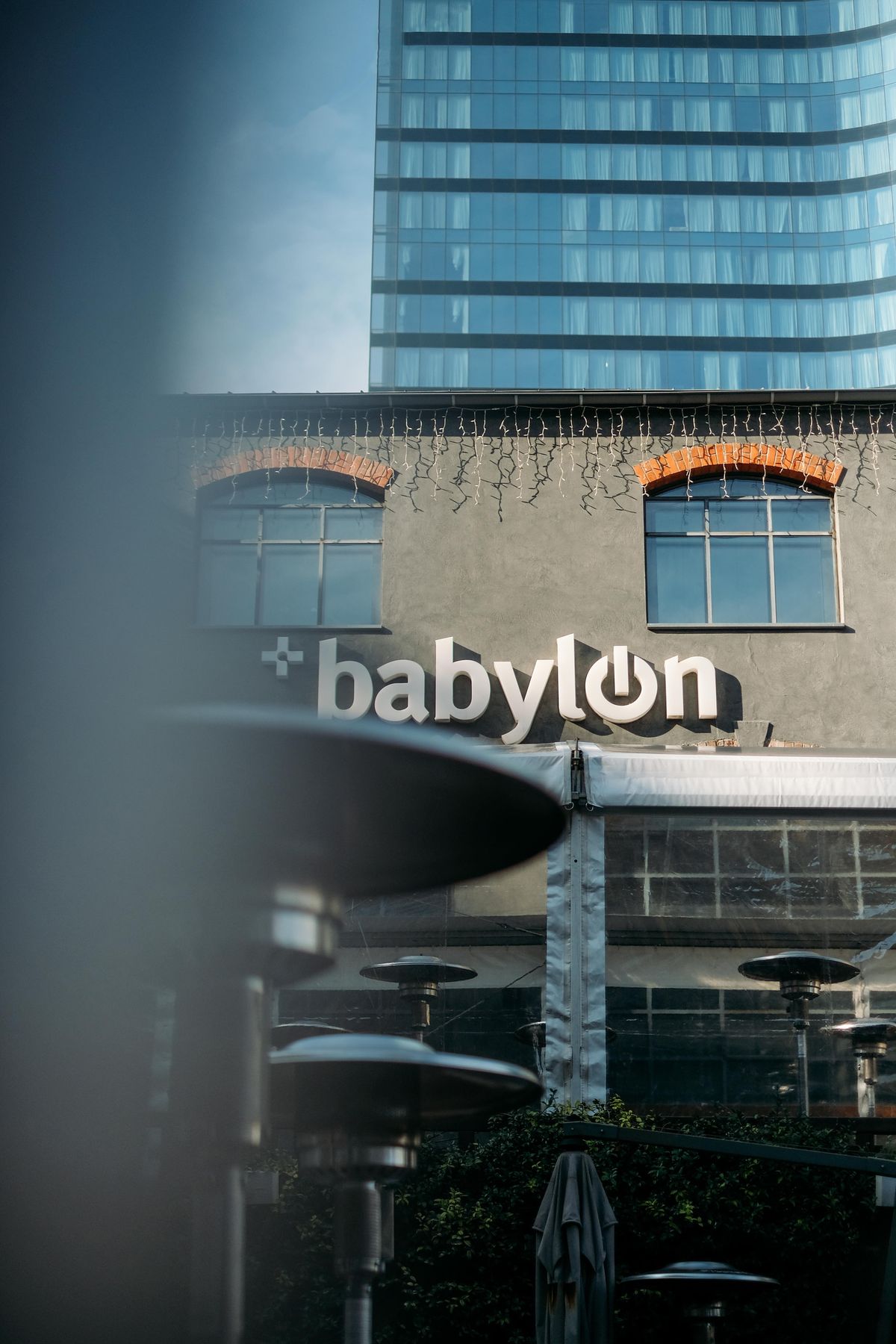 Babylon
---
Oldies but goldies
Where? Merkez, Silahşör Caddesi & Birahane Sokak Tarihi Bomonti Bira Fabrikası No:1, 34384 Şişli
Why? The audience entering through that red door at the time of Asmalımescit changed the lives of everyone working there. Since I started my career there, it always has a special place in my heart. Babylon said goodbye to Asmalı in 2014, but without making its fans wait too long, it made us all happy by moving to Bomontiada in 2015.
Opening hours? 09:00 a.m.- 05:00 p.m.
What does it represent in the Istanbul music scene? The venue in Asmalımescit was one of the most special spaces of the city, along with Salon İKSV, which defined the Istanbul music scene in the 2000s, from changing the face of a neighbourhood to the venue culture it established, from the names it hosted to the industry employees it trained.
Hikâyeyi paylaşmak için:
In Istanbul, you can easily tell if someone is living in a house by looking at whether there are flower pots on the windowsill and balconies