The ones under the ground are traveling inside rectangular boxes, buried in the screens in their palms. On this stratum, they differentiate from one another as the ones who disembark, who get on, who give their seats, who follow another's book pages with their glance, who raise their voice to the one who is already aloud, who chafe at swinging legs, who take their tongues out to the kid across, who give out sound music from their headphones, who are humming the song they are listening to, filling the train car with the stinky food they had eaten. They unite when it comes to waiting for the announcement of the station they would get off.
On the surface, those on the terra firma are in a rush. They stop on the red, cross on the yellow, accelerate on the green, walk amongst the high-rise buildings, and race against the time not to be late to classes, meetings, rendez-vous.
Gayrettepe
---
The ones above are stacked behind sealed windows, sitting around a round table connecting to other zones, skies, and seasons. The sound reaches nine hours ahead with a delay of a few seconds. "Could you repeat the last sentence?", asks the one taking notes.
On the second floor, cards are distributed on the axis of the elliptical table, the maid gets old, the eights get crazy, and those who are ready to win the rummy kiss their dices of luck.
On the forth - button 3 with the elevator - floor, the celeriac is roasting in the oven; because there is no tahini, the dressing is soy.
At the downhill, the beer is being brewed in the factory. Triple-cooked potatoes would be toothsome with it.
The handbags are removed from wooden chairs on the corner of the street because friends join the squad. Bean salad with red onions is passing through the table while bread pieces float in the salad dressing.
This is an ordinary, habitual, usual, accustomed day in Gayrettepe.
Hazal
LOCAL: "I hear that my friends call me Sanki Ceyda if they're talking about me when I'm not around." If Ceyda did not make the food herself, where does she eat? Whose table makes her feel at home the most?
NEIGHBORHOOD BY NEIGHBORHOOD: "Contrary to what it seems, it is not a campus of plazas; it is an old-style neighborhood between workplaces. It is a safe place with large apartments with balconies and people who have lived in these buildings for generations." says Ceyda (Artun), who chose to live in Gayrettepe when she decided to move to Istanbul years later.
A POCKET GUIDE: Neighborhood greengrocer: İpek Hanım'ın Çiftliği sells vegetables, fruits and herbs grown with good and organic farming practices. Neighborhood spicer: There are those who make their way to Gayrettepe for Yıldız Kuruyemiş and pumpkin seeds. But who is the neighborhood's pasta maker? Should we prefer pomodoro or pesto?
HAUNT: We came to Petra on the streets of Gayrettepe to listen to the neighborhood of the shopkeepers. We chatted with the founder Kaan (Bergsen) over batch brew coffee at our round table overlooking the neighborhood.
STOP BY: The plant-based cuisine of Vişnezade is completely free of animal products: Sanki Atölye.
Ceyda Artun
We're following Ceyda in Gayrettepe. But first, we meet. We can hear someone whispering in our ear, "Sanki".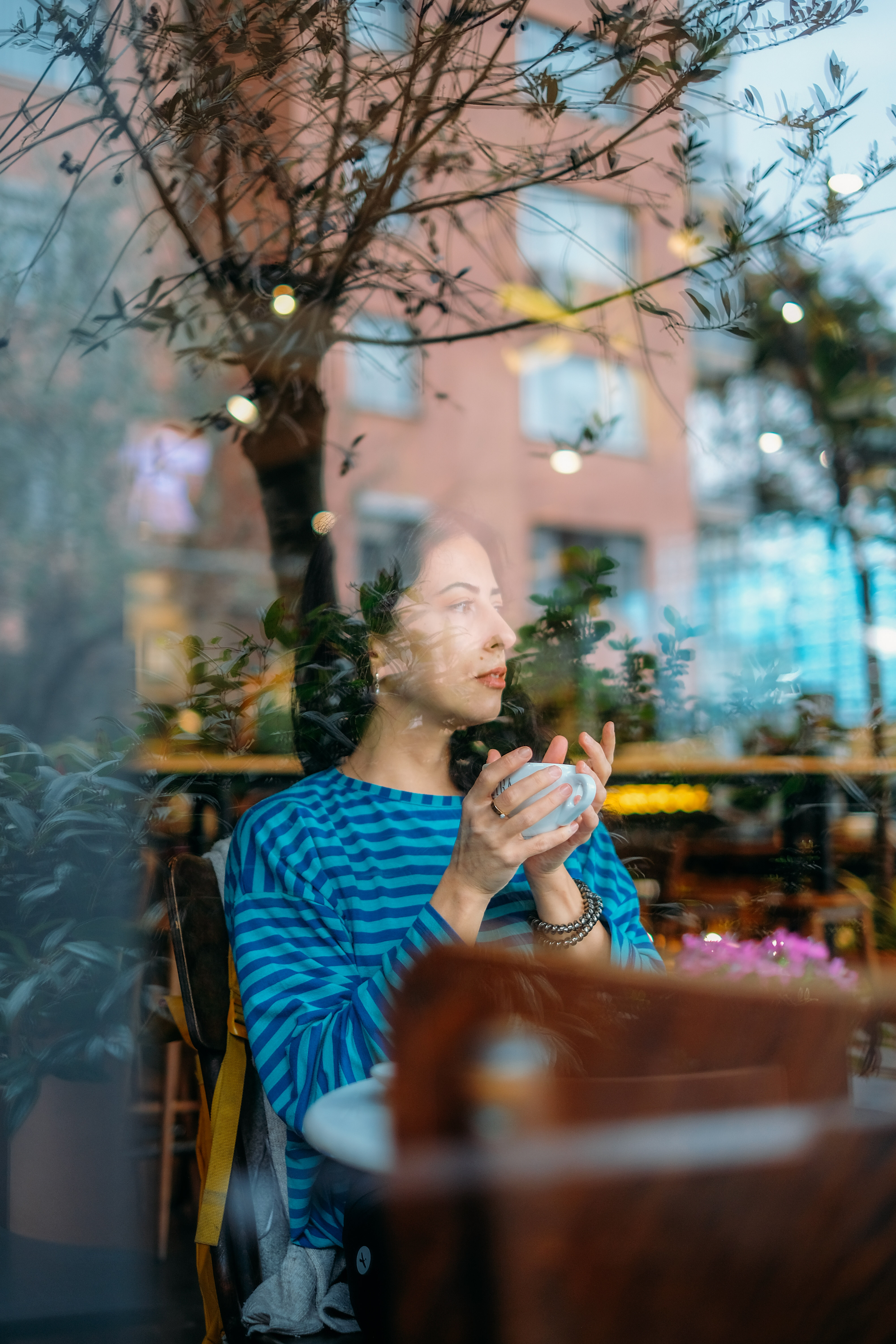 If my friends talk about me while I'm not around, I hear them say Sanki Ceyda. (It's a wordplay on Sanki Atölye, "sanki" means "nearly" in Turkish)
I am currently working as a chef and content creator. If I hadn't been doing that, I'd want to be a farmer.
For my friends, my specialty is cooking, and for me, my specialty is designing food.
If I haven't done it myself, I'm usually at a friend's table. One of my favorite things is the food someone else prepares at home.
Unfortunately, it is not very pleasant to walk in the neighborhood. I will not be able to argue that it is very convenient to hike, as it has "hill" in the name. ("Tepe" means "hill" in Turkish) If I'm in a hurry, I like to walk from Ihlamur Pavilion, otherwise I like to walk from Maçka Park to Sanki Atölye.
My recent vegan discovery in Istanbul: Ethique Bakery
I go to Lokanta Kru when I want to eat something vegan on the go, and to Grotesk when I want a quick chat.
A flavor I searched for but couldn't find: a plant-based kumpir.
Only the gastronome vegan knows this shop: I don't know the vegan part, but I'm sure most people don't know about it except gastronomes: Prasini Papia.
In the neighborhood, you can find me after midnight in the next door, Sail Loft.
Hikâyeyi beğendiniz mi? Paylaşın.
NEIGHBORHOOD BY NEIGHBORHOOD
Between slopes and fruit trees: Gayrettepe
We grabbed our coffee from Petra, we are exploring the streets of the hood with plenty of slopes. We are trying, we will climb that hill and order ourselves zetinyağlı yaprak sarması (stuffed vine leaves) in Prasini Papia.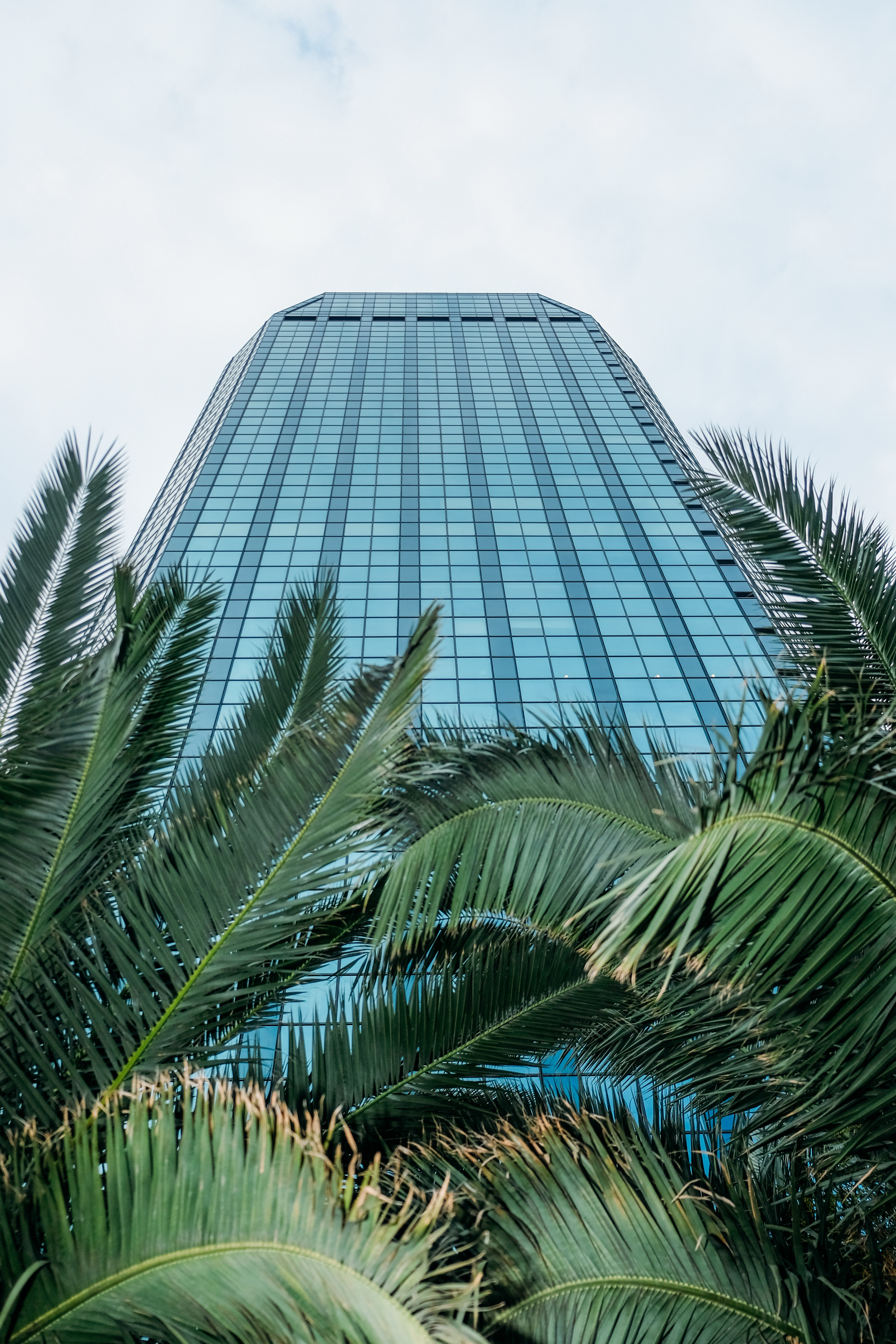 Neighborood: Gayrettepe. Local: Ceyda Artun. Photos: Deniz Sabuncu.
The most distinctive feature of Gayrettepe is its slopes. When you are headed to your destination, the endless slopes and stairs start to fill up, you realize that you are in Gayrettepe. I believe that's where the name comes from; an appeal created by its topography, such as "Make an effort and get out of those hills."("Gayret" means "effort" in English)
Nuts are what I hate the most in life, but even I eat it once a year and try it. I test myself to see if I still don't like it. There is a similar experience in Istanbul. The city is huge, complex and vibrant. I always thought that if I was going to live here, my Istanbul should be smaller. In order to create my own Istanbul, I looked for a place where I could be close to my family, friends and workplace, and if necessary, I could continue my life without leaving these borders. I moved here from Eskişehir 4 years ago.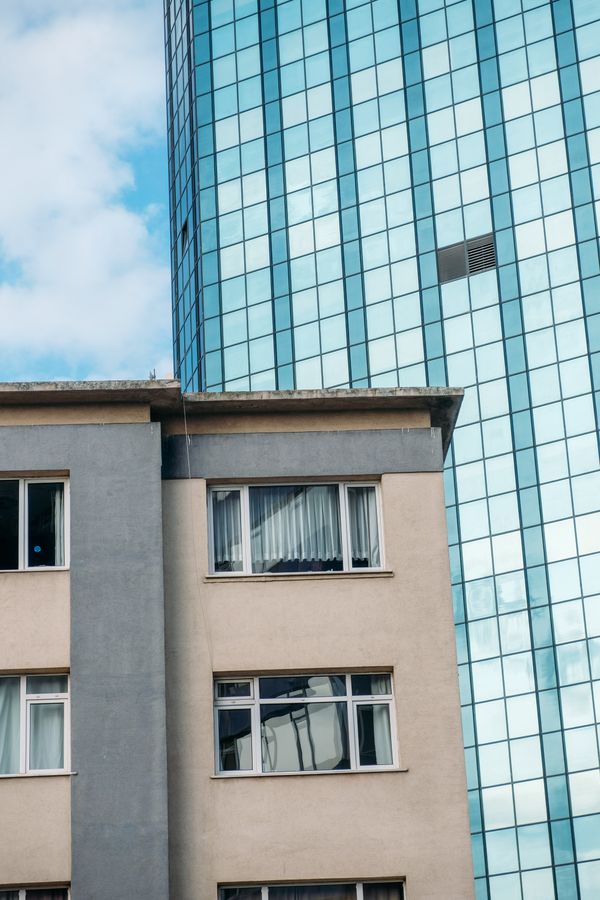 Gayrettepe, where old and new live together
---
Unlike how it seems, it is not a campus of plazas; Gayrettepe is an old-style neighborhood caught between workplaces. Safe place with large apartments with balconies and people who have lived in these buildings for generations. In fact, Gayrettepe Environment, Culture and Business Cooperative was established because the hotels, banks and skyscrapers crammed the neighborhood and affected the quality of life. It is one of the safest regions in Istanbul against earthquakes. Since it is on a rock, it does not get its share of crooked urbanization because it does not need it. The buildings are old and solid. Also, from time to time, at unexpected moments; parks, apple and cherry trees come your way.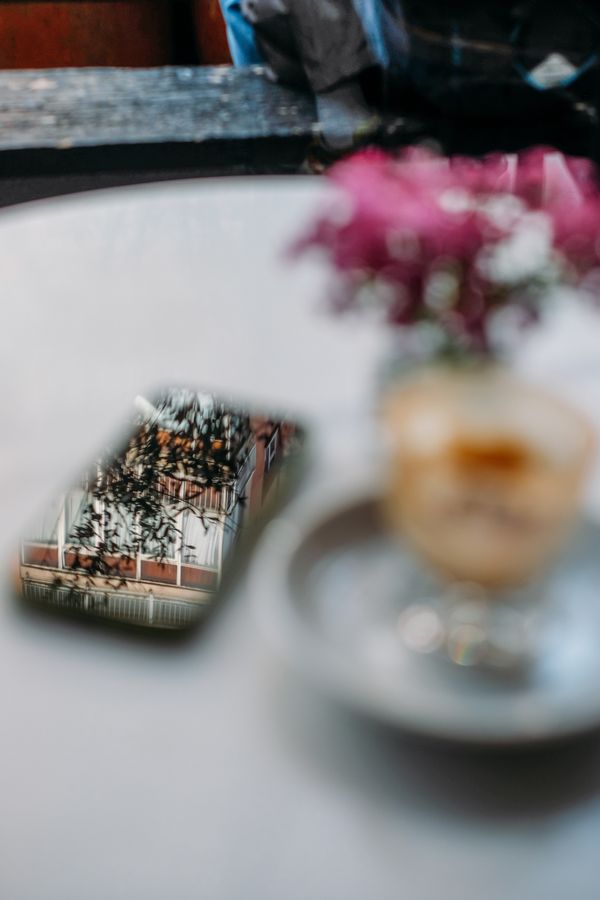 We're in Petra, and the neighborhood is following us
---
Pasta in Oklava, beer in Malt
Although there are many restaurants serving workplaces in Gayrettepe, there are many places between the streets where there are regulars. It is possible to find examples of world cuisine, artisan restaurants and pop-up chef restaurants here. For example, chef Özge Çeltük's brand new initiative on fresh pasta, Oklava, is great.
One of my favorite places to spend time is Petra. I am a regular because of the ambiance, the food and beverage options, the shop that opens up space for artists, the retro product selections and, of course, the coffee. When Petra first opened, I did not live here yet, but I came often because my brother was in Gayrettepe. Back then, it didn't have an ambitious kitchen as it does now, the story began with high-quality coffees and a spacious meeting point, space to grab your laptop and work. It quickly became a popular destination not only for the locals but also for people from many parts of Istanbul, and while giving directions in Gayrettepe, it became an alternative reference to the Florence Nightingale Hospital.
When my nightlife was more lively, I would definitely stop by the neighborhood bar Malt every day and dive into a conversation somewhere. It has been here since 1989. Malt is a bar that plays 90s rock and where its regulars can leave their mark on its music. I think the best thing to do to understand the neighborhood is to spend time in your bar because you know your neighbor, your tradespeople are there, and you form groups of friends there. One of the trademarks of Gayrettepe is, I think, the ocakbaşı culture (traditional meat restaurants). There are many tiny taverns between the streets. Çıtır Ocakbaşı is the place where the locals spend most of their time. If you are here, the nights usually end in Malt. Although there is no competition, my preference is Aleni Ocakbaşı.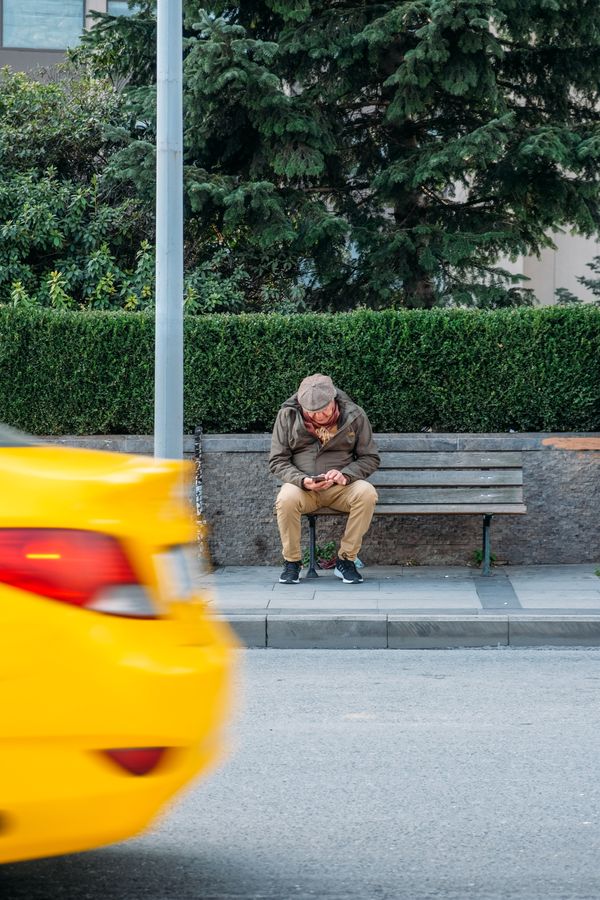 Inhabitants of the neighborhood
---
An old Gayrettepe local: Baylan
In the past, Gayrettepe was one of the neighborhoods that shaped the food and drink culture of Istanbul. Philippe Lenas, an Albanian immigrant, opened his first pastry shop with his partner Yorgi Kiriç in 1923 in Beyoğlu Deva Dead End Street, then moved below the Luvr Apartment Building. He named the shop after Loryan, a Turkish pronunciation of the French word l'Orient (East). The second branch opened shortly after in Karaköy, in 1925. With a law enacted in Turkey in 1934, it is compulsory for commercial enterprises such as hotels and pastry shops to use Turkish names. In those days, Loryan also suffered from nationalist fanatical groups attacking stores that did not bear Turkish names around Beyoğlu. During this period, the art history professor Burhan Toprak, one of the regulars of the pastry shop, suggested the name Baylan, which means "perfection, excellence". Baylan became a meeting point for intellectuals in the 1950s. Behçet Necatigil, Attila İlhan, Fikret Hakan, Hilmi Yavuz, Fethi Naci and Haldun Taner hung out here. Salah Birsel writes about Baylan, Demir Özlü refers to it as "the basic tavern of his youth".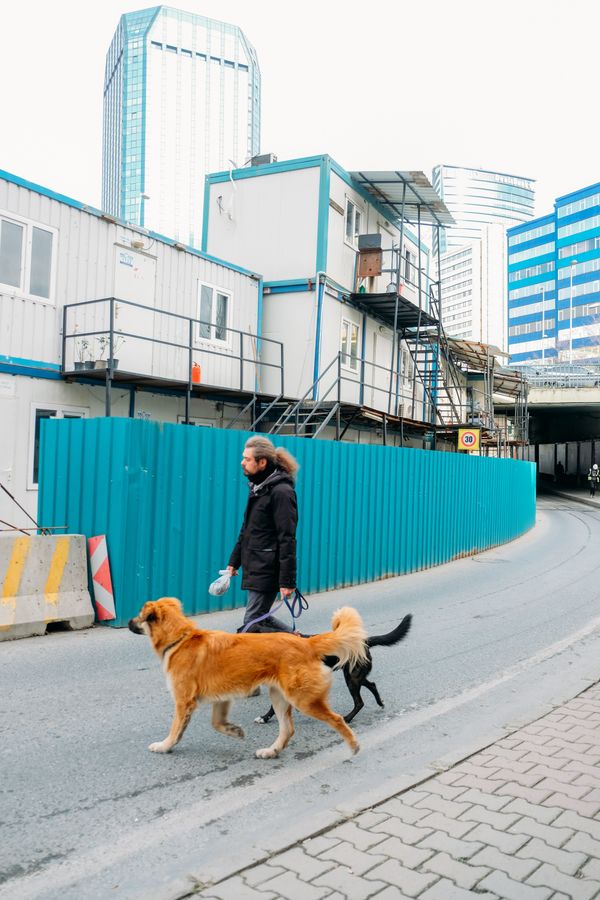 Time for a walk in the neighborhood
---
It introduced tiramisu, espresso, cappuccino, chocolate with liquor, lemon and croquant, and Kup Griye, the invention of Monsieur Harry, the eldest son of Philippe Lenas, to Turkey. Baylan's chocolate factory, where Istanbulites learned about the Tages Bar and which today has branches in Bebek and Kadıköy, was moved from Mumhane Street to Gayrettepe in 1953. During the deportations of Greek people in 1964, some factories were confiscated by the state. Baylan Chocolate Factory in Gayrettepe is one of them. First, it was transferred to Attorney M. İlkin Okan. He continued to trade under the name "Milo Baylan" and was permanently closed in 1984. Baylan is now in Karaköy again after 29 years.
Hikâyeyi beğendiniz mi? Paylaşın.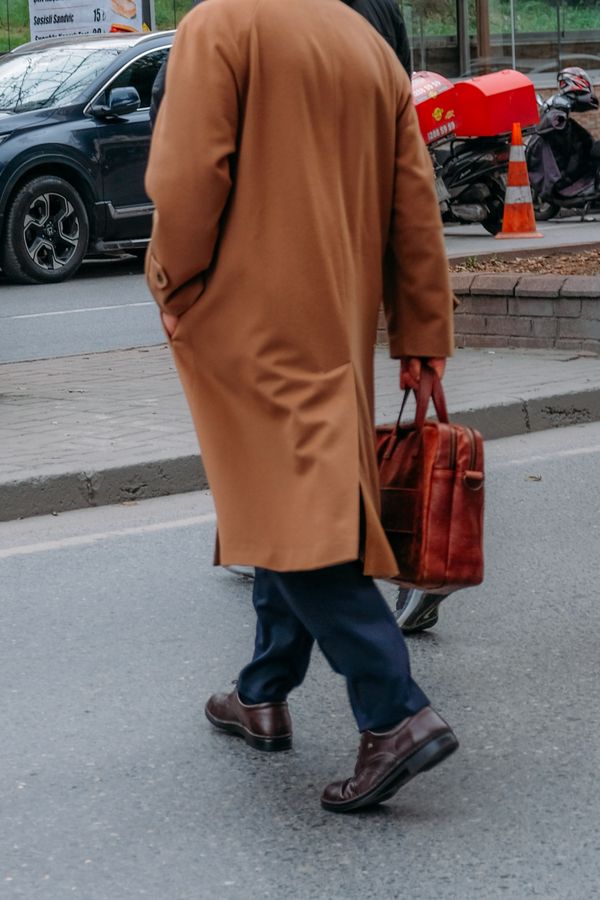 We are walking around in Gayrettepe
---
The greengrocer: İpek Hanım'ın Çiftliği sells vegetables, fruits and herbs grown with good and organic farming practices.
The spicer: There are those who make their way to Gayrettepe for Yıldız Kuruyemiş and pumpkin seeds.
The bakery: Urban Bread with a wide, fresh and delicious selection of breads.
The pasta shop: Oklava, they make fresh Italian pasta every day. Its pomodoro and pesto are especially great.
The artisan restaurant: Definitely Prasini Papia. Everything is fresh, even the most classics are creative, a delicious selection prepared with quality ingredients.
The coffee shop: Petra because espresso is the real deal. There is no place in the neighborhood that makes better espresso.
Petra
We're in Petra with Kaan Bergsen.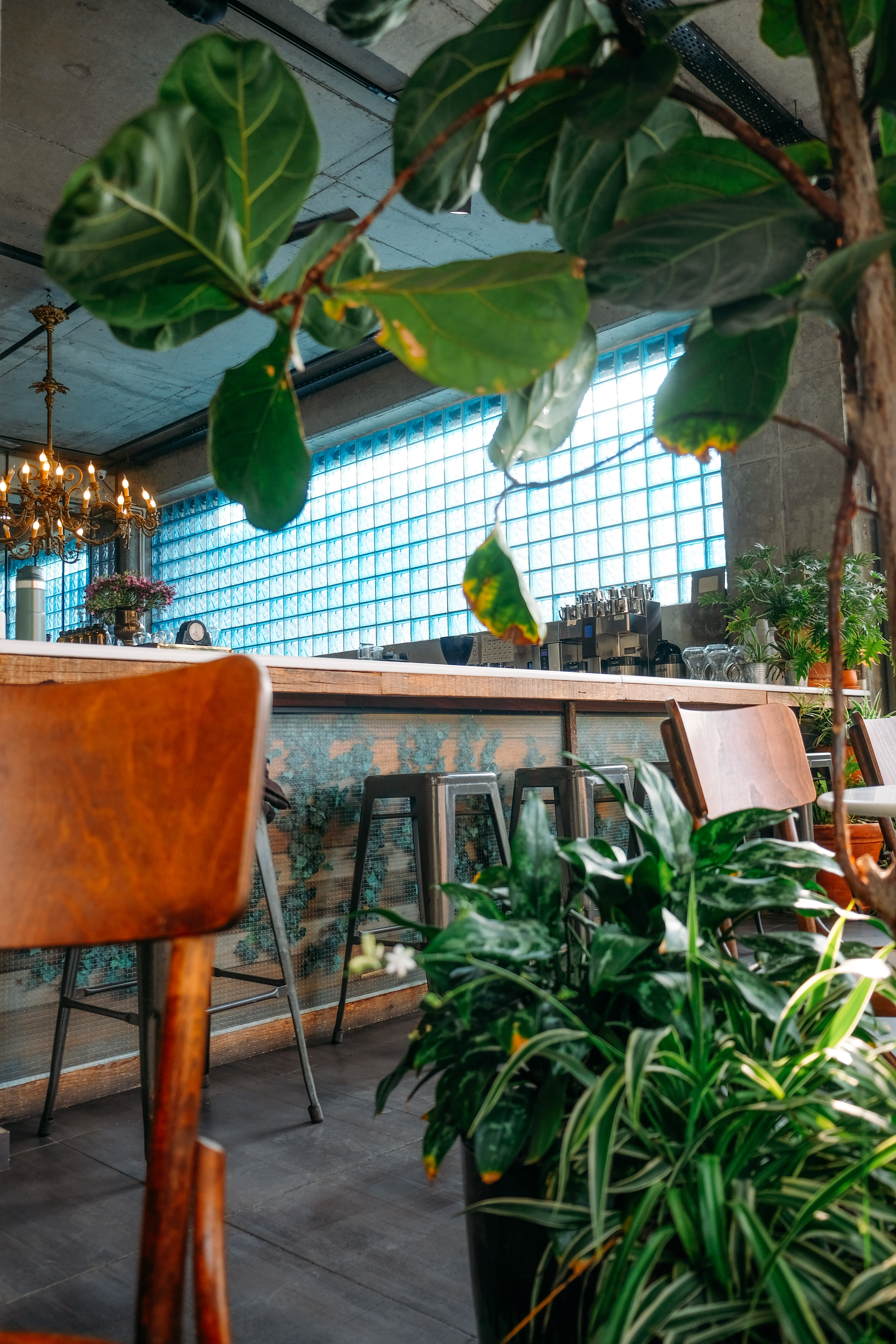 We came to Petra on the streets of Gayrettepe to listen to the neighborhood of the shopkeepers. We chatted with the founder Kaan (Bergsen) over a batch brewed coffee at our round table overlooking the neighborhood.
What is it?
Petra is known as the coffee shop of the neighborhood.
Legendary Schnitzel has been on the menu since day one. Because it really is legendary.
Regulars order batch brew coffees every day. Because this is one of the most important things we care about.
At Petra, you will never find the things you know as you remember them. Because we always seek to question and to improve.
Only a true Petra regular knows: Our fresh sourdough baguette deli-style sandwiches.
---
Gayrettepe is a neighborhood created with the dreams of the modern world. It is full of wide roads, hospitals, parks and fascinating buildings. Since it is generally on the transit line where people don't stop and pay attention, it has an unspoiled texture. The actual neighborhood is very fluid. In addition to the people who moved here in the 90s, there is also a new, young crowd on the streets. Houses are preferred because they are spacious, central and relatively affordable; this leads to a natural transformation in the neighborhood structure.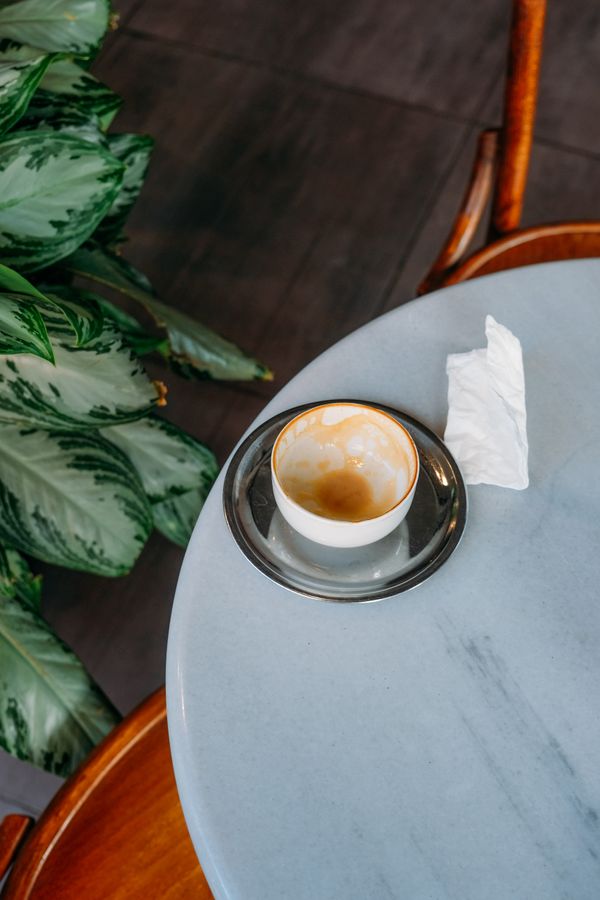 Coffee is over but the conversation never ends
---
Since Gayrettepe is a densely populated business district, there are many addresses that provide pick-up and delivery services and target plaza workers. This diversity allows everyone to find what they are looking for. We are inspired by our neighborhood, and we want to adapt to where we live in every aspect. Our goal is to exist without disrupting the order but to always add to it. Petra is a place designed for all of us. We prevent possible chaos by not combining tables, taking orders and reservations at the table. Our regulars come knowing Petra's service style. Although we have a corporate infrastructure, we work with artisanal instincts. The relationship established between our team and customers while taking orders at the cash register or preparing the coffee is essential for regularity.
As a local, if I am not in Petra, you can see me at the tables of Hüsrev and Şayan, legendary restaurants that have been here for years. Also, the neighborhood is up to snuff with butchers and fishermen. Of course, by the courtesy of the neighborhood and the locals, they have been able to protect themselves since the day they were founded. For example, this New Year's Eve, our neighbor across the street picked oranges from her little garden and offered them to everyone. I think nothing gets old in a neighborhood where its inhabitants take care of those around them.
Hikâyeyi beğendiniz mi? Paylaşın.
Sanki Atölye
We tag along with Ceyda, to eat tomato toast without the cheeses we know and to chat. Shall we also attend the fermentation workshop before going back home?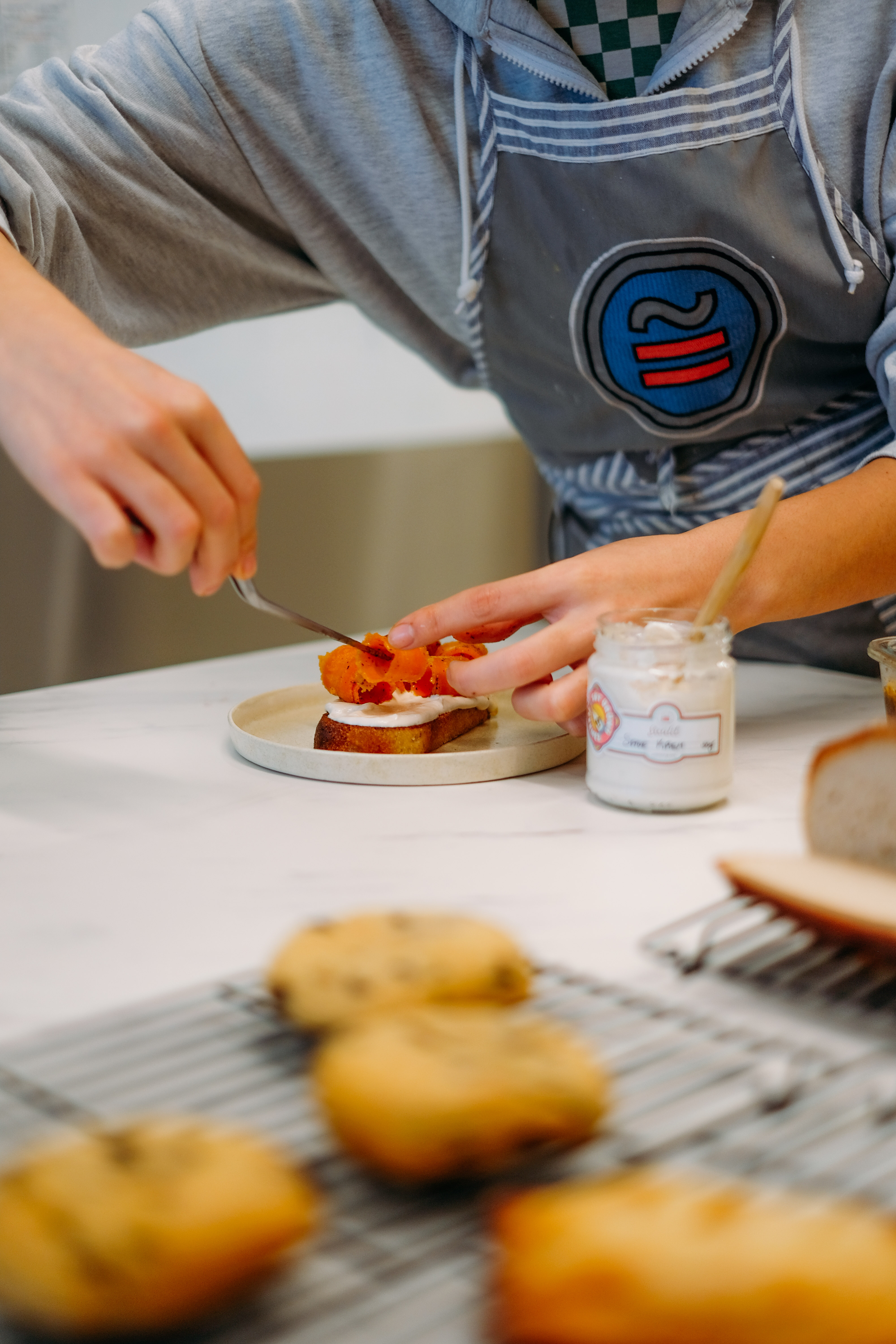 Where is it? Beşiktaş, Vişnezade, Aktarlar Street No: 6
Why here? One of the residents of the neighborhood where you can attend workshops while eating vegan toast. Plant-based cheese, gluten-free and fermentation workshops are just a few of them.
From Gayrettepe we head towards Vişnezade. We are not in a hurry, so we follow Maçka Park, not Ihlamur Pavilion, and arrive at Sanki Atölye. Now Ceyda is talking from behind the counter.
In my opinion, Istanbul is the first place for the application of trends, and plating methods emerging in the world cuisine, in Turkey. This is exactly the reason why I chose Istanbul as the location of the workshop, it is open to experience, and it carries that which is developing in Europe to the local.
I've seen veganism fanaticized over time along strict lines, like supporting a team. While this was happening, I realized that sustainability was being overlooked, and the harms of packaged foods were being ignored.
Sanki Atölye actually emerged from my personal need. When I found out I was allergic to milk and dairy products, the first thing I didn't want to let go of was toast with tomatoes and cheese. Sanki Atölye is a plant-based, completely animal-free kitchen.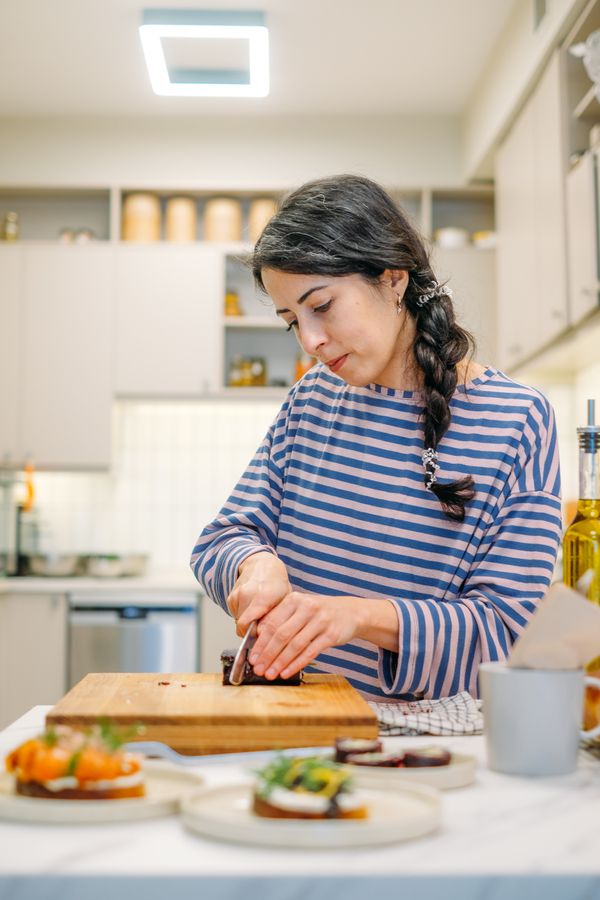 Ceyda preparing plant-based sushi
---
The Vişnezade neighborhood is a very traditional, quiet neighborhood, inhabited by families. It's like the Workshop; In a detached 2-storey, tiny building. The building was actually the old coffeehouse of the neighborhood. It was a structure that the public complained about. It was an area where there was constant gambling and it was frequently raided by the police. Thanks to the workshop, it is now a more sterile and quiet dwelling that closes its door at night. There is no menu, something that indicates it is a restaurant or a very noticeable sign on our door. The reason is that it may be disappointing if a passerby sees toast on the menu and ends up with vegan toast. In a sense, this approach has unfortunately prevented the people of the neighborhood from understanding exactly what Sanki is. But those who are curious began to ask for soup in the winter months, although it was not on the menu. I guess that was the neighborhood's way of saying, "We want to support you, but we don't understand the food you make." We heard about this and added daily soups to the menu.
I think we are one of those who have changed vegan nutrition and culture in Istanbul in recent years. It is now possible to find 1-2 vegan options on each menu. I am also excitedly waiting to see how Turkish cuisine, where animal products are abundant, will evolve into plant-based cuisine.
Hikâyeyi beğendiniz mi? Paylaşın.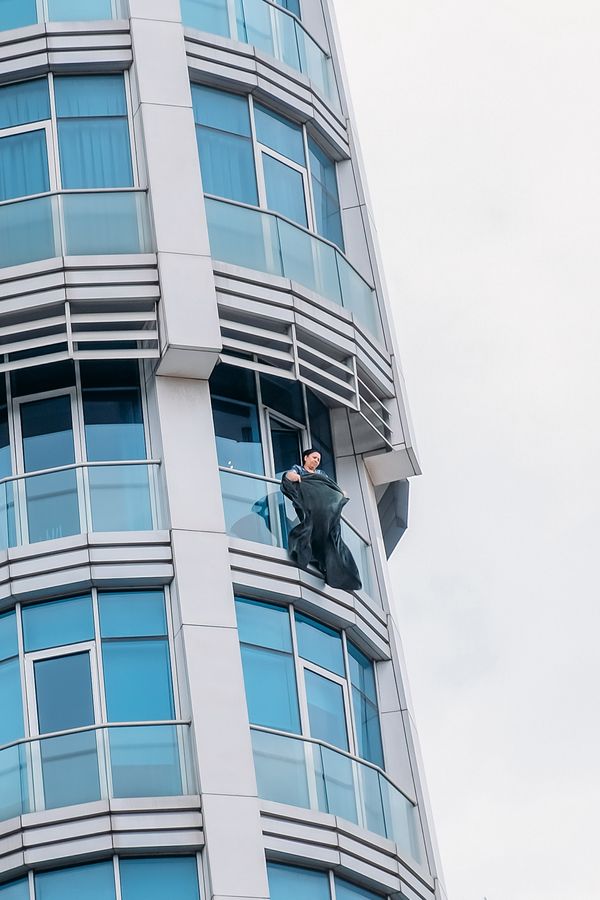 A regular day in the neighbourhood
---
We followed Ceyda up and down Gayrettepe. She told us how she came to Istanbul and why she felt like she belonged in Gayrettepe. We met Kaan at Petra, we started at the café and ended at the orange tree in the neighborhood. Sanki Atölye came up, and then we took a short tour of Vişnezade, following our stomachs.
With the question "With whom does the neighborhood become a habitat that you don't want to leave its borders?" in mind, we set out to discover new places. In the coming weeks, you can see us in Tarlabaşı market, Cankurtaran or London. Until then, keep sharing the neighborhood and friends at @soli.community.