Many years back. We came here, Gümüşlük Academy, to join one of those literature or philosophy gatherings. We arrived earlier, for sure, to reserve some time for ourselves. We were on the beach, each one of us sprawling on a sun lounger. Friends were joining us, just like that. Those were the times we claimed the area across Arriba.
Many years later. The sound of a piano is rising from the Jazz Café, the waves are carrying the pebbles and hitting the shore, composing a new melody. The towel on the plastic sun lounger is damp. We wrap ourselves in some peshtemal so that it could absorb the dampishness of the evening swim. There is a slight coolth. And now, the sound of the wooden chair dragged through the sand participates in the orchestra, melodising with a lighter and a lit cigarette, frogs and the laughter from a small boat that is not far away from us. The rhythm of Gümüşlük, what a delightful song it is.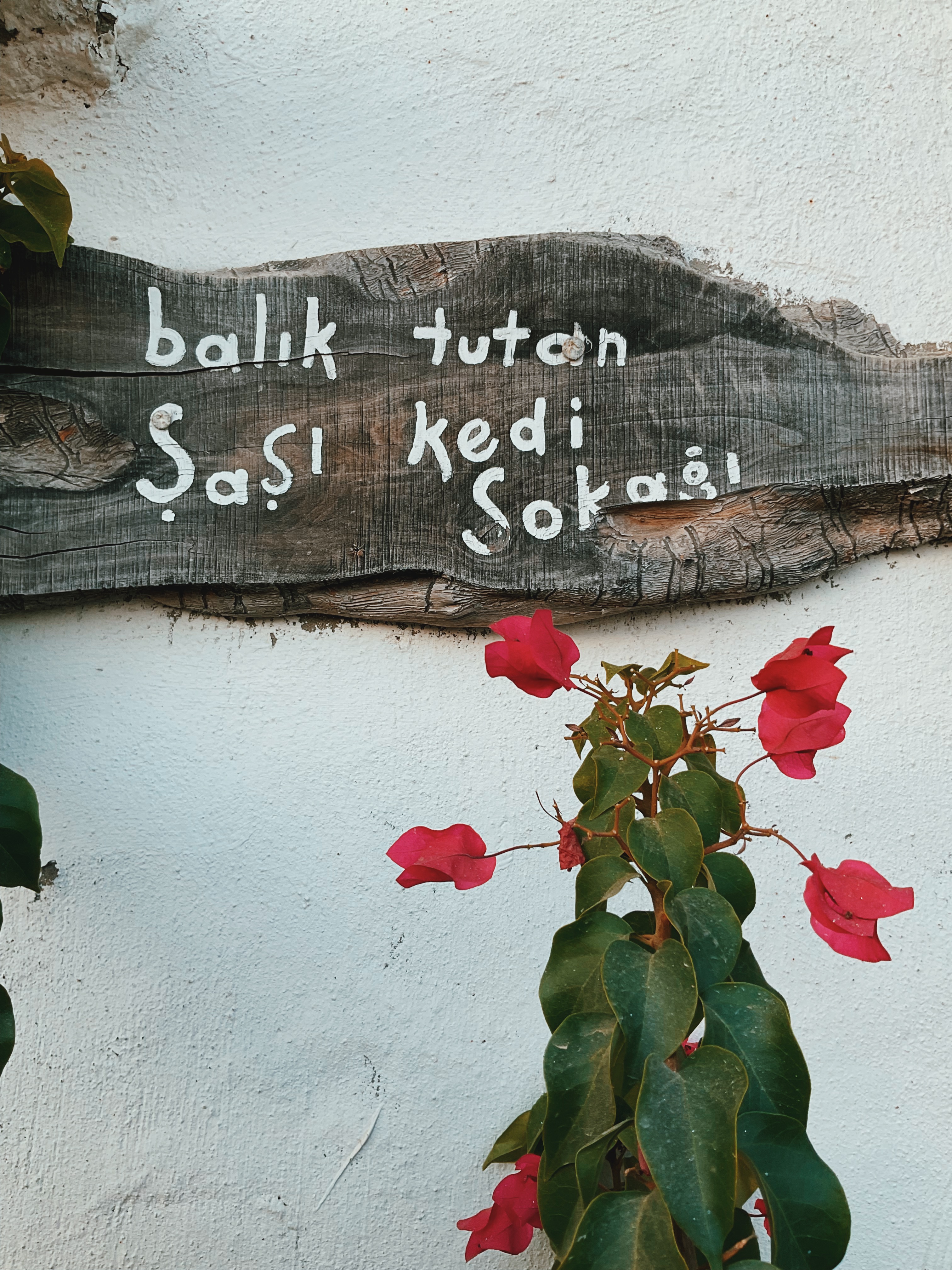 The street that will haunt your eyes with its beauty once you enter from the right
---
TABLE OF CONTENTS

HOOD: We are in Gümüşlük with Aslı (Seven). We depart from the past, when you could barely walk on dirt streets without a lantern, when you would come across herds of pigs, and when you heard frogs croaking in river beds, to draw on our path to today. We are in a 'wasteland' filled with buildings, gated communities, and garbage, yet nature reasserts itself with birdsongs when we go swimming in the morning.
STOP BY: Funda (Açıkbaş) and I sit on the sand at the International Gümüşlük Music Festival, we keep our gaze at the water.
Next week, under the orangish-pinkish sky of Gümüşlük, we will meet with others in other places we are regulars at. Until then, if you can follow dialogues in Turkish, please help yourselves to the conversation Nilay Örnek has with Latife Tekin, one of the most influential authors of Turkish literature, on academia and writing.
Follow us,
Hazal
Gümüşlük commune: plants, bugs, and water
Hood: Gümüşlük, Inhabitant & Article: Aslı Seven Photography: Aslı Seven & Rana Mengü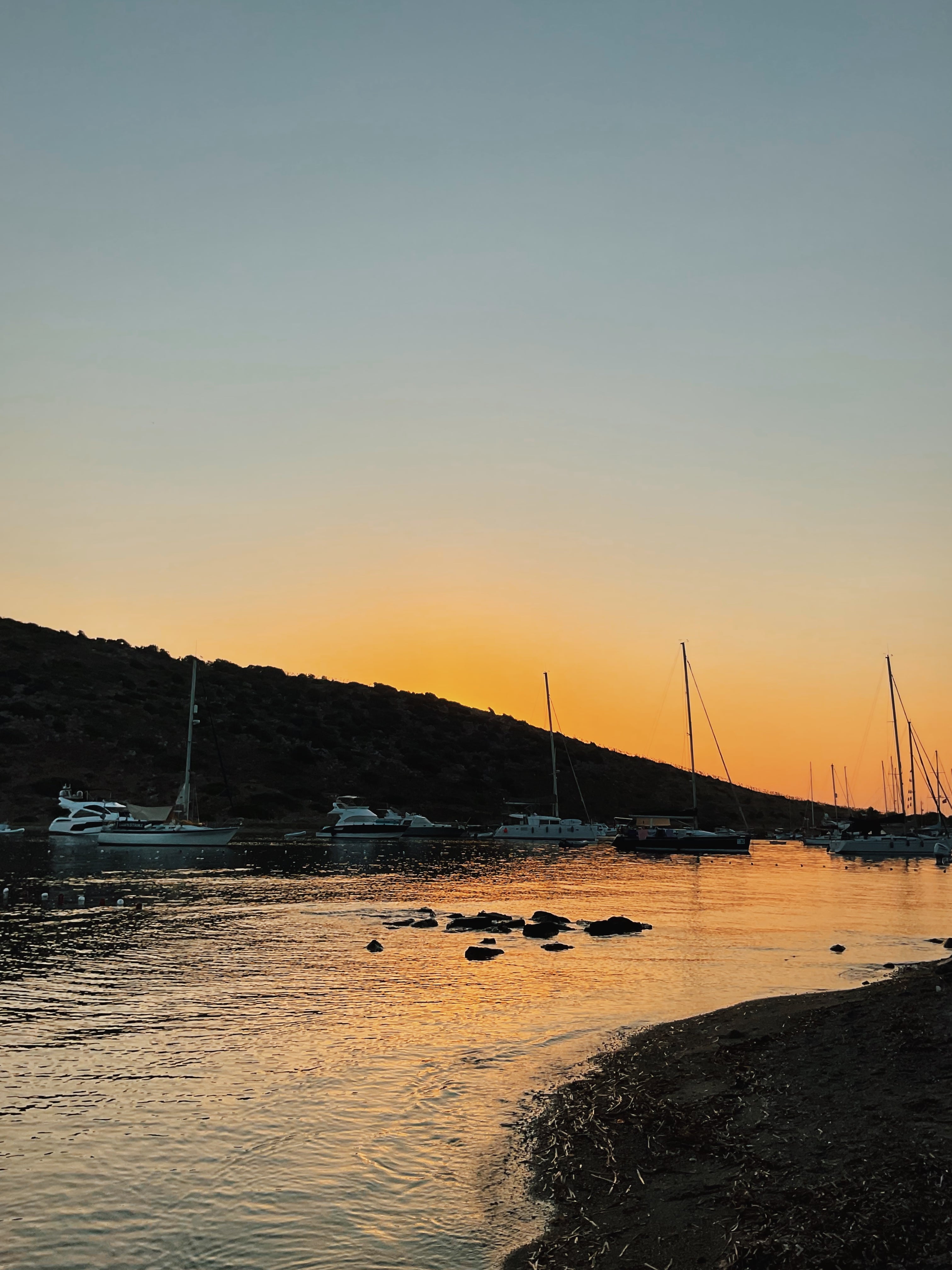 I have been Gümüşlüklü (from Gümüşlük) since we had to carry a lantern on our way back home along the dirt road. Back then, lanterns were necessary because phones did not have any flashlights. I remember how scared we were at night on the thin path through the bushes. In that narrow space that did not allow two people to pass side by side, four or five of us would queue up in rows. None of us would want to be at the back of the row. We would sing songs or play conversation games out loud to conquer our fear. With each step, we would hear the sound of an animal moving in the bushes. It was a kind of place where nature ruled over the surroundings more than we did. That fear, as an emotion that makes people feel how constructive it actually is to be a more humble being, was healthy.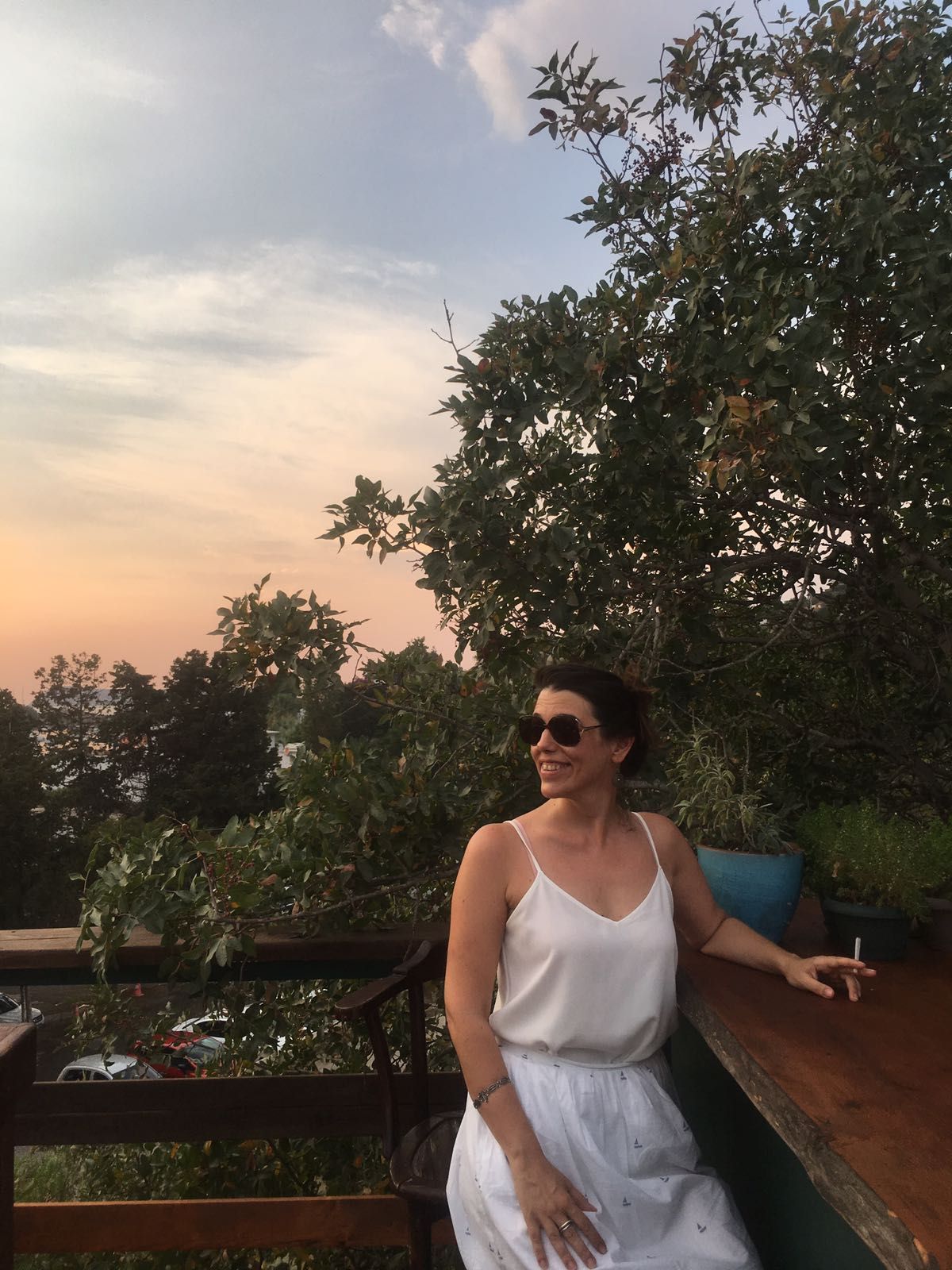 With Aslı, at Gümüşlük sunset
---
Things lost with urban transformation
In the early 2000s, when urban transformation and intensive tourism first started to take over, I made a list of things that were slowly disappearing and that I missed. Among the things I miss the most are the old river beds. Today, all of them have turned into roads made of asphalt in the village, but once they used to be dirt roads that were so dense and covered with lush vegetation that you could not even see the sky and that cars could hardly enter. I spent the summers of my childhood in the tree hollows, in the world of squirrels and turtles on those roads, it was like the forests in old cartoons, full of surprises. In my list, there were also the sounds of frogs in the wells of the houses, the braying of donkeys and the sounds of the waves licking the shore and retreating through the pebbles.
What I see today is that the empty places, small agricultural areas and tangerine orchards in the village beyond the coastline of Gümüşlük have become fewer and fewer, and they have been replaced by gated communities consisting of box-like houses, car garages and a 'wasteland' where every bit of empty space has turned into a junkyard. I think the thing we undervalue most is space.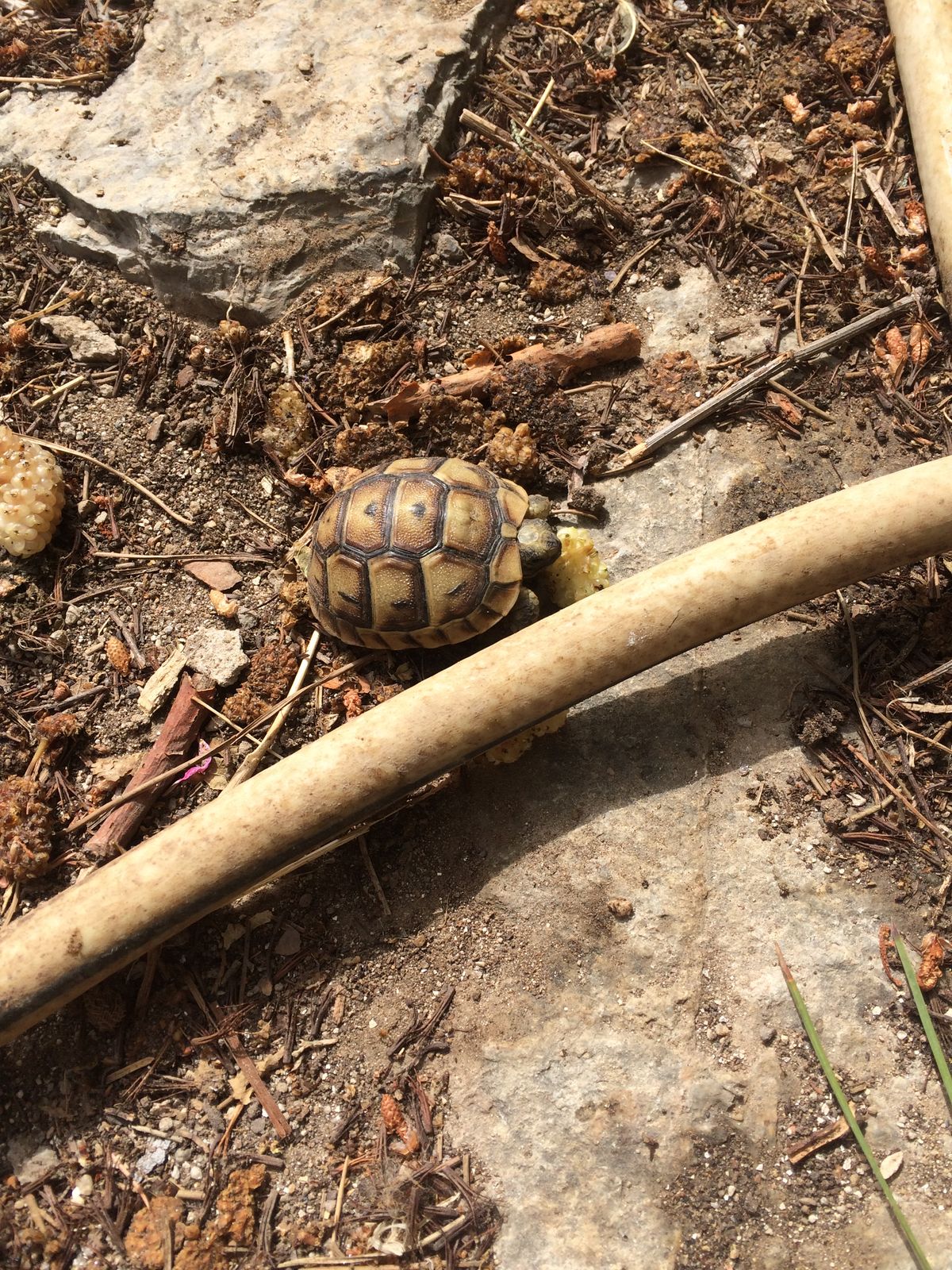 Attention! You can bump into Gümüşlük's actual habitants, any time, any where
---
We call it empty land, but it is not actually empty at all. An organism is in motion under the soil where plants and animals feed each other, reproduce, move together, and, eventually, feed us. We suffer from a nature blindness. It is also necessary to add to this: the water purification and its destruction directed to Gümüşlük bay today and its destruction. For example, the quality of the water has deteriorated drastically and the blue flag has been lost. But no one talks about it, even though this is an issue that brings up the infrastructure problem of the entire Bodrum peninsula. This place turns into a vacuum truck republic in the summer months. We swim and breathe in waste.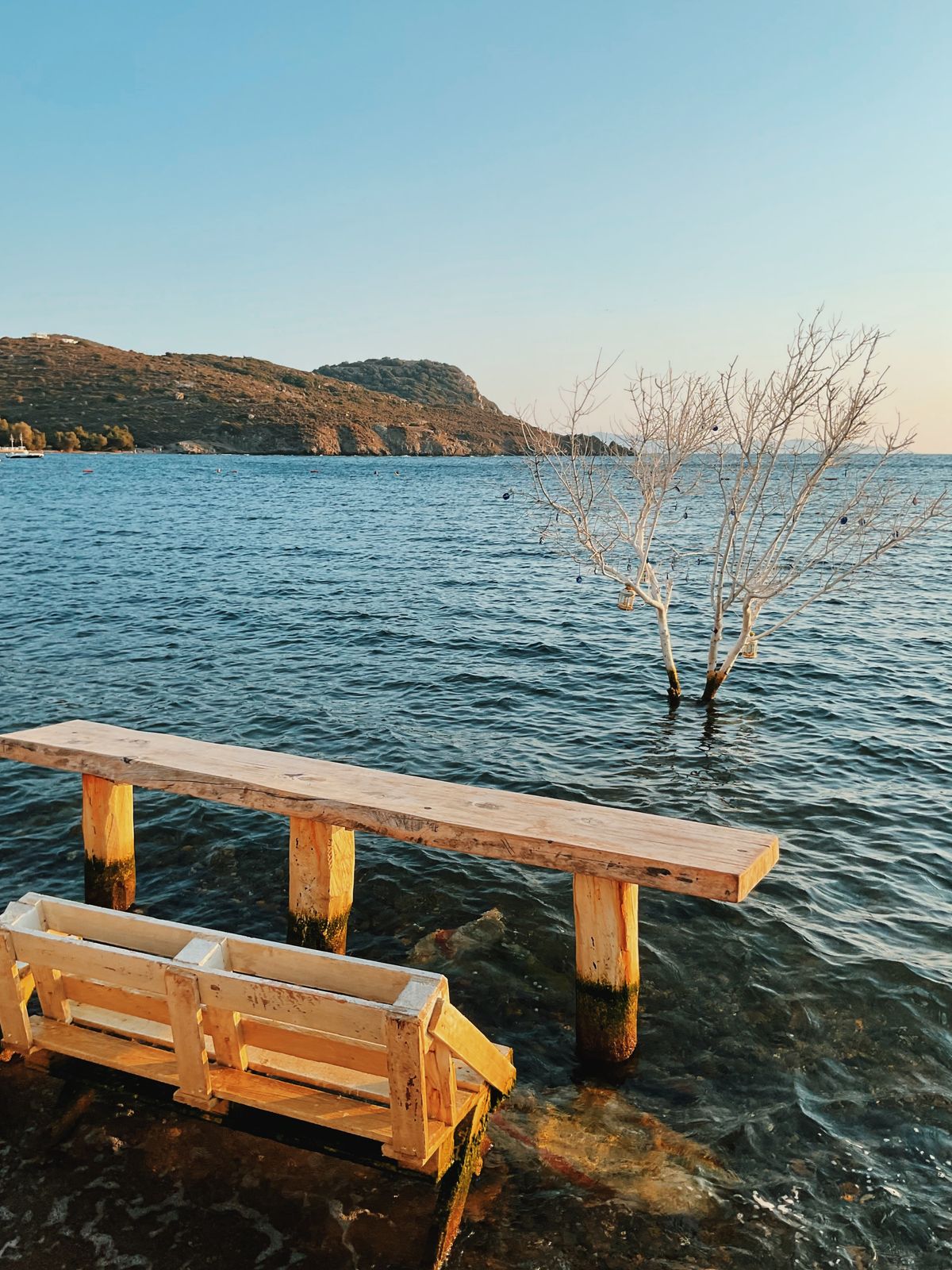 Foot to the sea, eyes to the beach, faces to the sun

---
The savior of the future: small-scale agriculture and livestock
The thing that most affected my approach to world issues was to observe how urbanisation worked here over a period of 30-35 years. I found answers to my questions such as, how urbanisation develops, what phases it goes through, what infrastructure means, what rural production means… I learnt these things by experiencing them one-on-one. This is a place where we experience the results of concrete and construction being the thing that runs the economy and "saves" it from crises in the world and especially in Turkey.
I had the chance to be here when COVID-19 first broke out, I thought a lot about how important it is to preserve small-scale agriculture in order to survive in a time when the pandemic scared us all and the uncertainty was very high, because, despite all the destruction of tourism, this is a place where small-scale agriculture and farming still resists.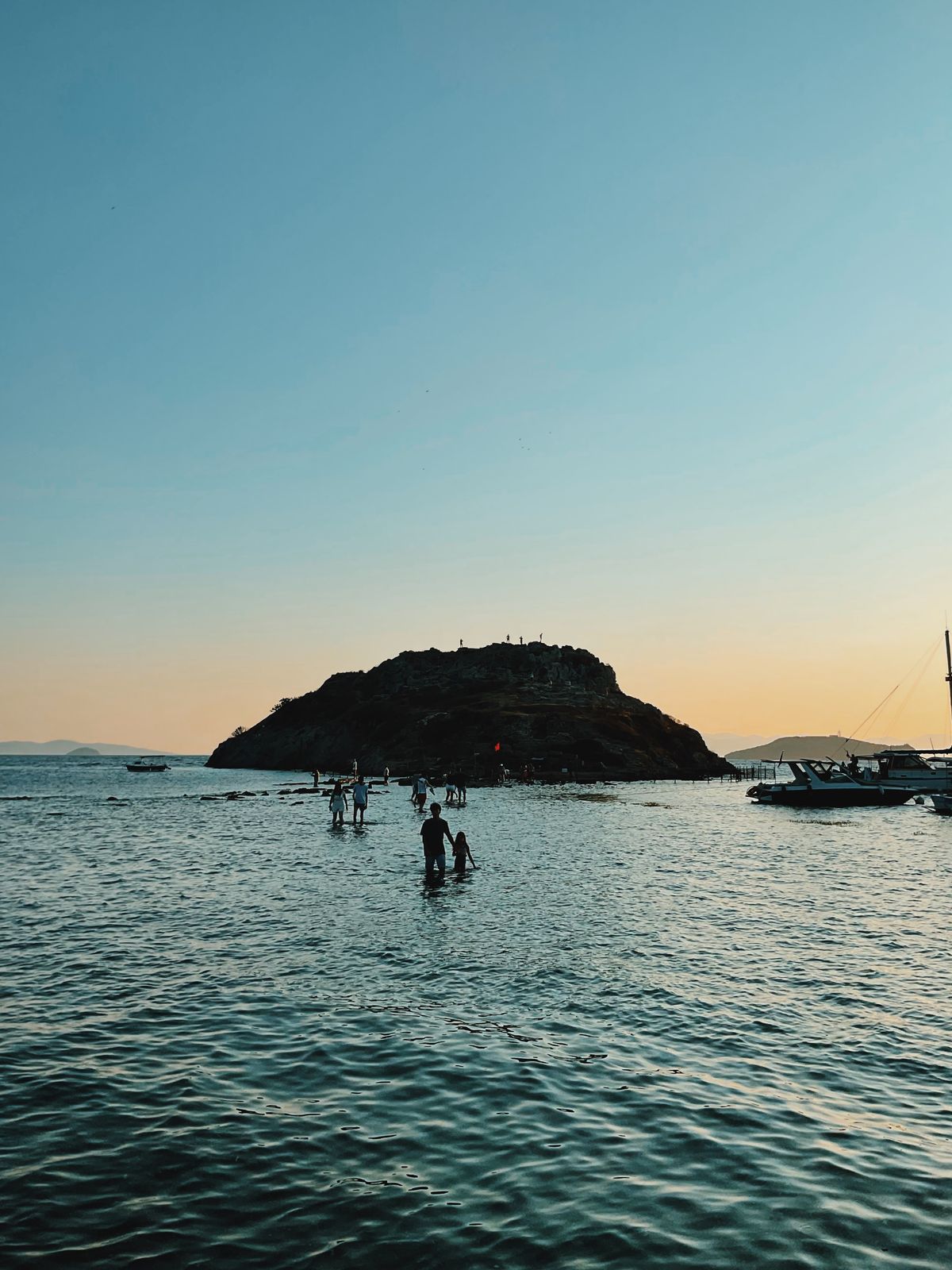 On the way to Rabbit Island, step by step, through the sea.
---
Rituals, either/both alone or/and together
I have unchanging rituals that I have acquired over my years here in Gümüşlük. Taking a long swim in the sea early in the morning is one of them. For example, there is a goat family living on Rabbit Island this summer. Every morning I swim to the island, circle around the island and watch the goats when there are very few people around. When the sun rises, I run home, which gets cool because it is a stone house. I spend my daytime with various creative projects such as reading, writing and drawing. I divide my afternoons between cycling around the village and gardening, sometimes I cut and grow a piece of the interesting plant that I come across on my bike tours. These are the rituals of my 'me time', and of course there is the social life as well. I make plans where we cook and swim with a circle of people like me who have been here for twenty, thirty or forty years or have beeniving between here and elsewhere. Life enlarges here when friends come to stay with me. There are times when I go out of Gümüşlük and wander in other bays, spend days in places like Ortakent, Bitez, Gündoğan, and live a parallel life that I can describe as 'touristic'.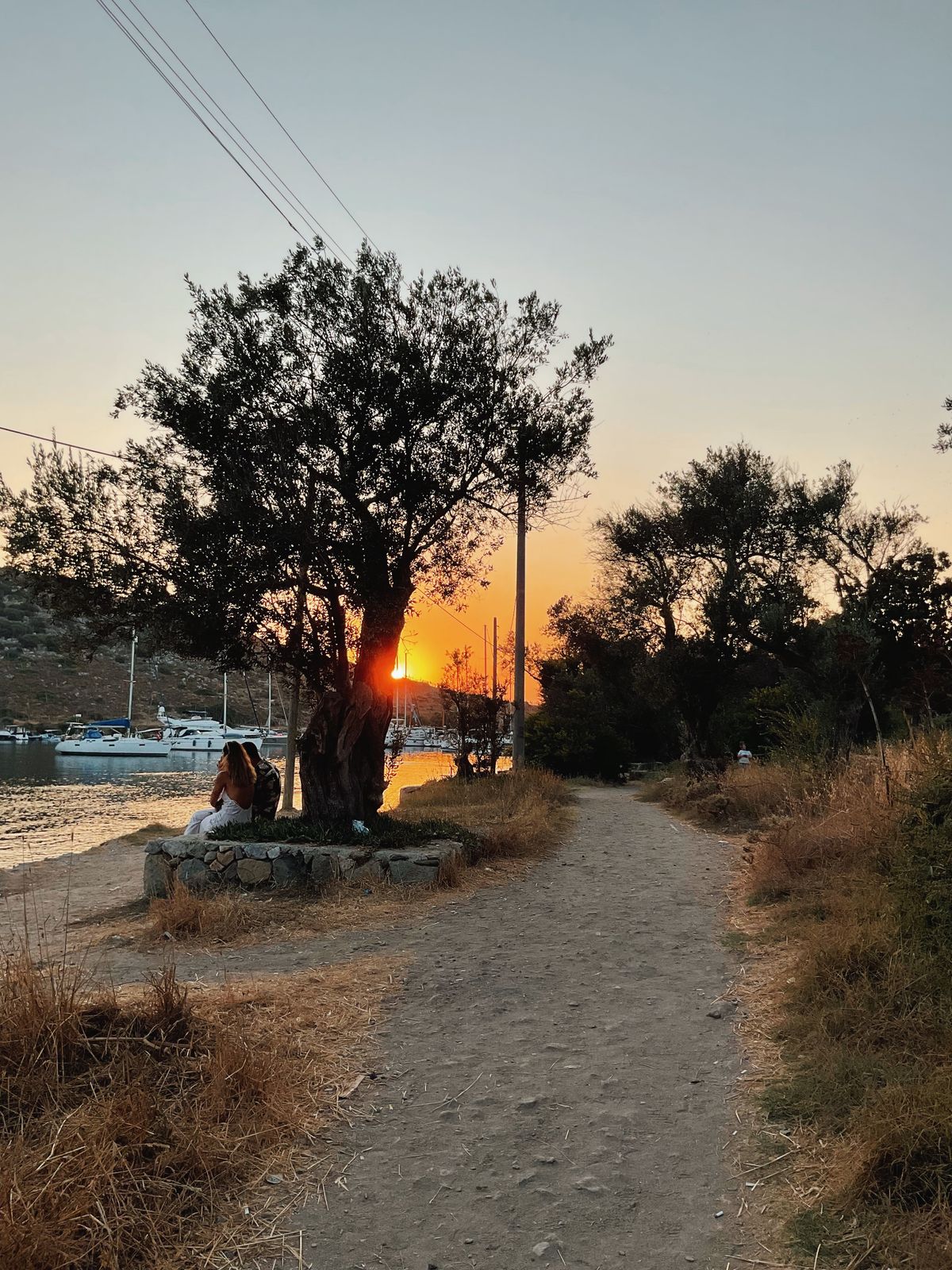 Afternoon conversations under the olive three
---
Who is the Gümüşlük commune anyway?
I think I am looking at Gümüşlük from a position that the word 'commune' does not quite match. I relate more to plants, bugs, smells, stones, water and wind, rather than the people living here. Of course, this was much stronger twenty or thirty years ago. The construction madness that has been going on since the early 2000s has lowered the frequency of nature a lot, but still, this is a place with hidden gardens and corners away from tourism and crowds of people. Maybe because it is a very small place, a village, I prefer to be anonymous and not get too involved in human relations. For an intellectual or artistic production, one has to spend time not only in chaos, but also in their own world. This is a place where I find the calmness that I cannot find in city life, get closer to my centre of gravity and create my own orbit. My favourite thing is that my family, aunt and cousin, who live here for four seasons, are people who create ceramics, design, music and I can talk to them about creative processes. It is also nurturing to relate to organizations such as Gümüşlük Academy and Classical Music Festival, which focus on cultural production, and the atmosphere they try to create here.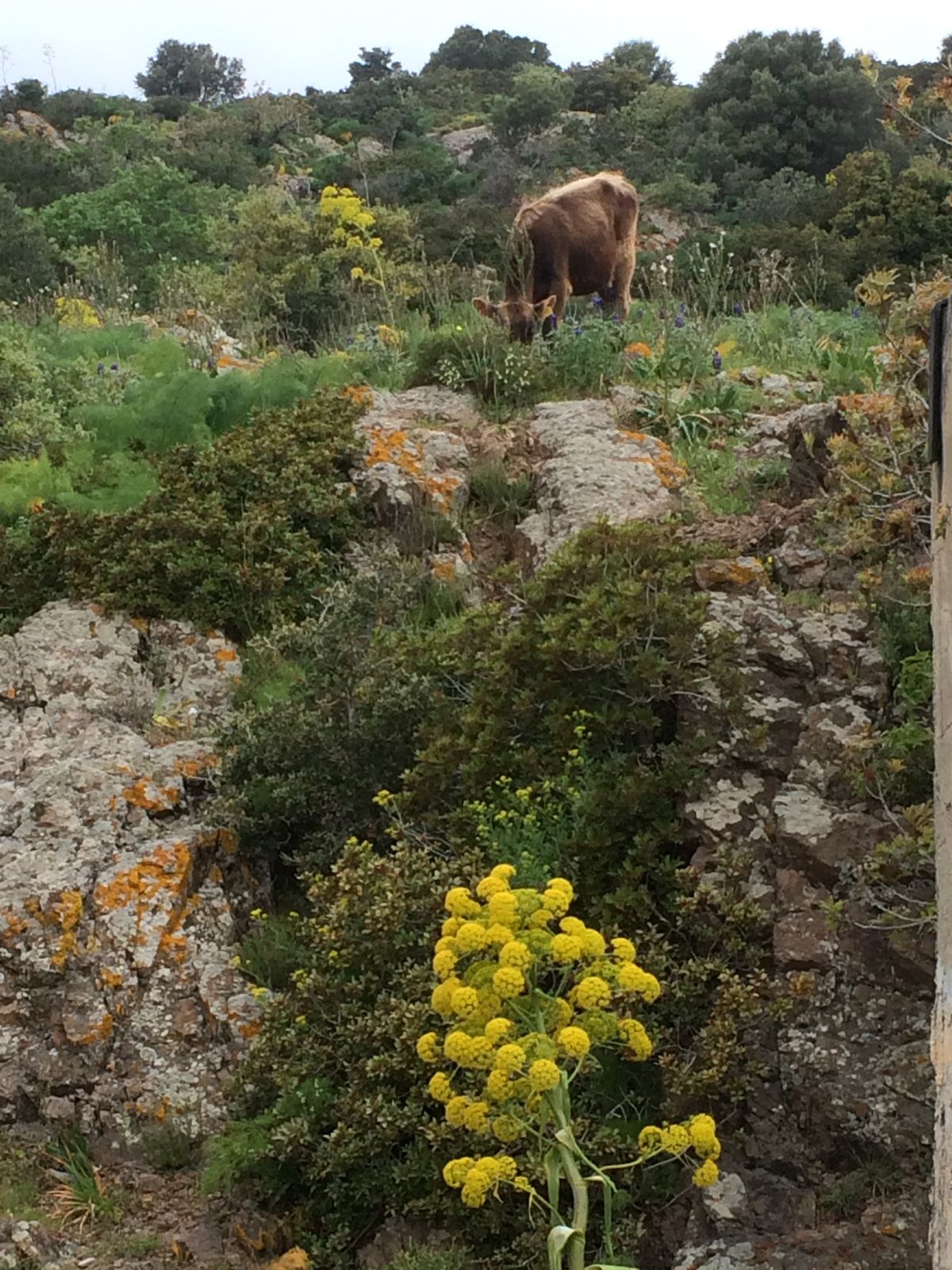 No, it is captured from a documentary, this is the nature of Gümüşlük
---
Nature that resists
There is definitely a change of perspective that comes from living by spending time in the water or moving in the water, looking at the land from the water, and being able to do this not just for a week or two, but sometimes for months. It would seem right to call it an expansion of perspective. Being here is a state of liberation brought about by bodily position or bodily movement, or, for example, the decrease in gravity that comes with water, as I am mostly busy with mental work. Living close to nature, regardless of water, also has a separate contribution. Watching how some things take shape in the natural world is a great way to understand or remember again and again that the process is always more important than the result.
One day at the beginning of this summer, my cousin and I were sitting on the terrace of the house and watching the valley as the sun went down, without talking much. Within half an hour, we observed the swallow chicks, which had just settled on the electric wires and were just learning to fly, and then the family of wild boars passing through the reeds beyond the field in front of the house. Just when they were taken off the stage, a fox appeared in the middle of the field, jumping towards us. I can still hear the sounds of wild animals that I do not know, with the wind rising towards the morning when I can't sleep. I used to clean the weeds that grew in the garden of the house, now I let the bugs and reptiles reproduce, because they no longer have any other place. The creatures we label as harmful are also living, and there is so much we still do not know about them.
Hikâyeyi beğendiniz mi? Paylaşın.
STOP BY: Gümüşlük International Classical Music Festival
Do not miss Turgut Alp Bekiroğlu's project Love Jazz Quartet on September 6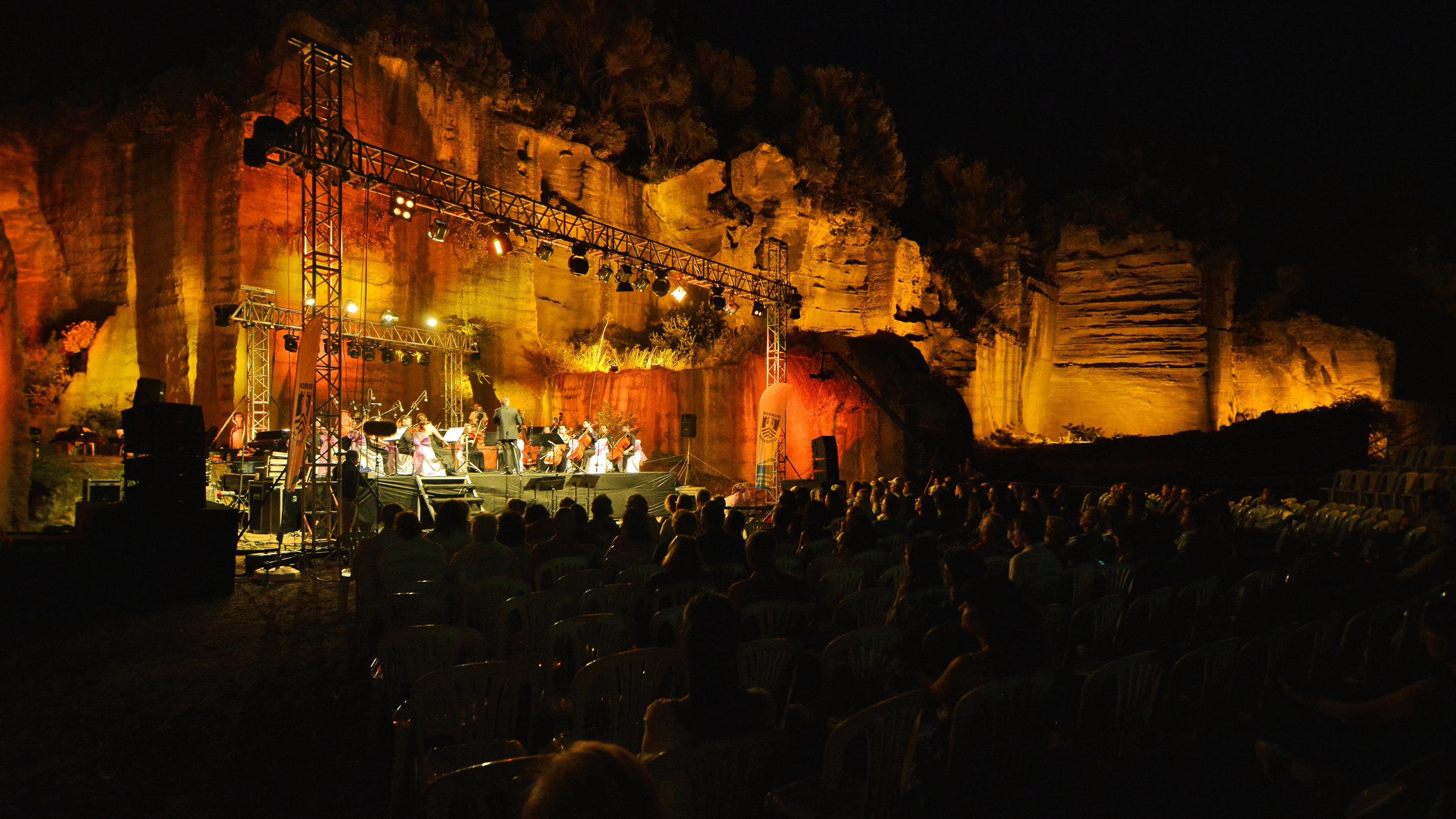 The Gümüşlük International Classical Music Festival, where you have been able to watch Juan Lago & Balen Navarro and many concerts such as violin, cello and piano with bare feet at sunset and on the sand since July, will end on September 14 with the concert of Gülsin Onay and Bilkent Youth Symphony Orchestra. We met with Funda (Açıkbaş), the coordinator of the festival, to talk about the relationship between Gümüşlük and music on the sand. Funda suggested that we not miss Turgut Alp Bekiroğlu's project Love Jazz Quartet on September 6.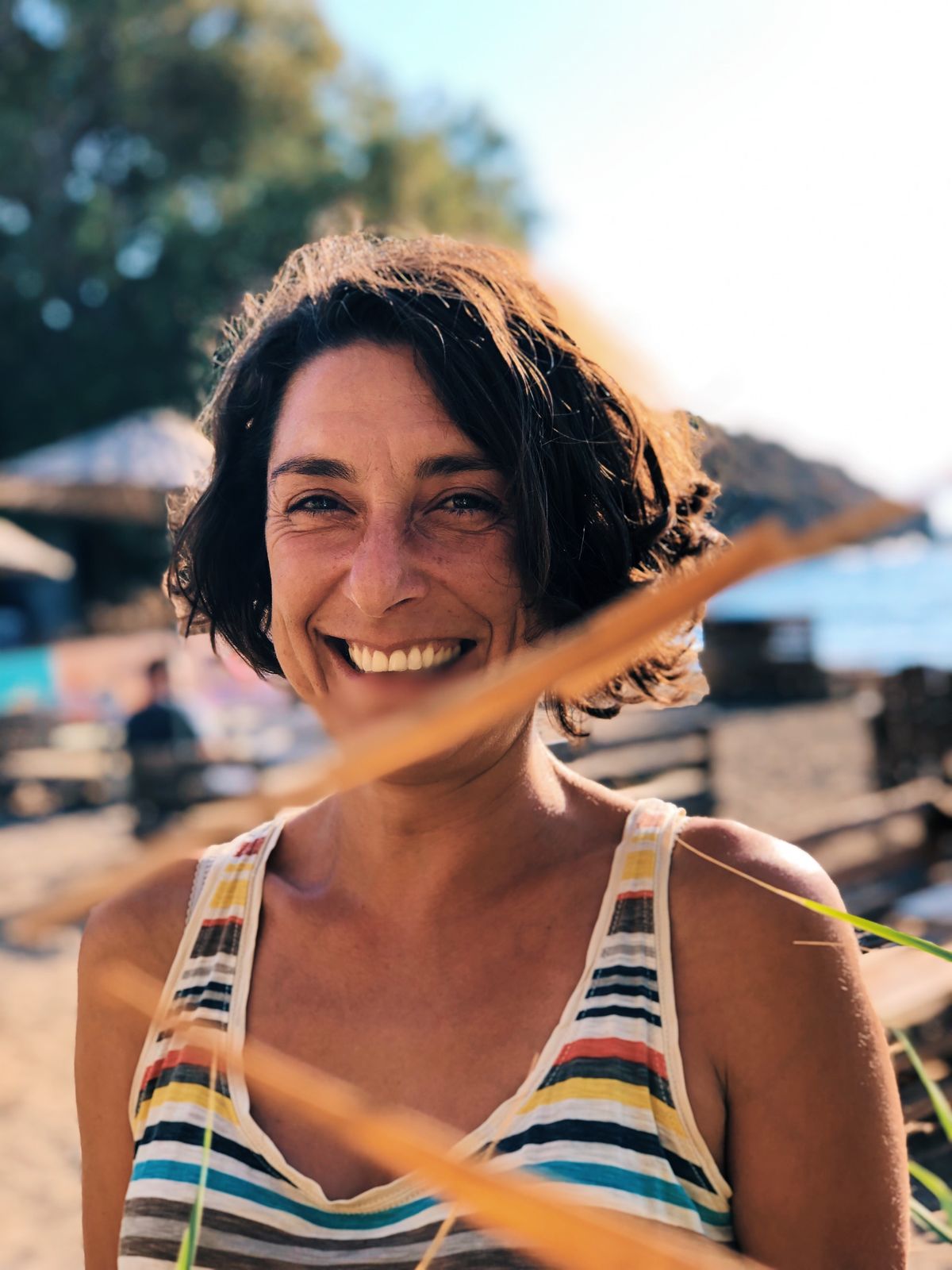 Funda Açıkbaş
Photography: Zekican Sarısoy
---
Why is Gümüşlük the centre of an international music festival? Is Gümüşlük a place that opens up a space for art?
In the 1980s, Gümüşlük was a meeting place for painters, musicians, theatre actors, writers and poets who are known and respected in Turkey and even the world. That is why it is known as the 'artist village'. The artistic director of the festival, Eren Levendoğlu, who is also a pianist, decided to settle here. When he came to Gümüşlük, the historical Eklisia Chapel was in use as an international art centre. International projects involving different art disciplines such as music, dance, theatre, photography, sculpture and installation were held here between 1989 and 2007. In 2003, Eren initiated the Piano Festival under the artistic direction and supervision of Gülsin Onay, who is a state artist.
The starting point of the festival is to contribute to their music careers by offering an alternative education to talented music students. The virtuosos invited for the master classes also started to give recitals in Eklisia Chapel, and this is how the Gümüşlük Music Festival, which turned into a nineteen-year international music festival, began. Today it covers jazz and all other music genres. For the last 3 years, such activities have been organised under the name of Yeşil Yaşam Gümüşlük and with the theme of sustainable life, which aims to raise environmental awareness.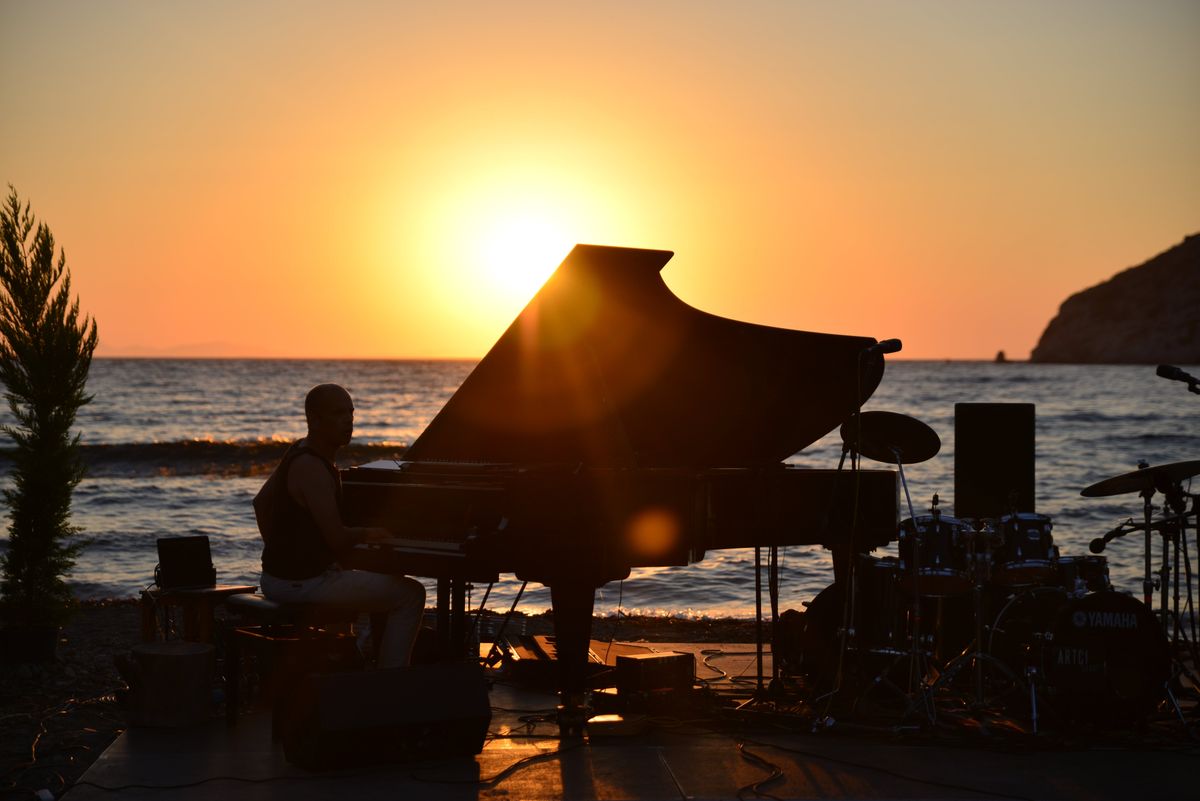 On the beach of Gümüşlük, at the concert
---
There is also an 'artist residence' that is a part of the festival. What do you think this residence in Gümüşlük will bring to the artists and the neighbourhood?
Artist residences are held in Gümüşlük simultaneously with the festival, which later becomes a part of the festival. So far, names such as Can Yücel, Tuncel Kurtiz, Nihat İleri, Civan Canova, Lale Müldür, Yaz, Poyraz, Efe, Fora Baltacıgil, Reyent Bölükbaşı, Ömer Uluç, Carlo Domeniconi, Yavuz Tanyeli, Bettina Franckenberg have come to the residence. At that time, there was no specific residence theme as today, and today the residence does not take place around a certain theme. It's kind of organic. One way or another, the artists we invite cannot leave here, or they come and stay here and start producing with the natural atmosphere of the Festival Center. In addition to the everyday life of Gümüşlük, the people, artists and students they meet here inspire them and offer them the opportunity to produce in a creative environment away from their daily routines. It becomes a source for unplanned projects that are not in their minds. Different ideas catch the attention of the neighbourhood and arouse the curiosity of the neighbourhood.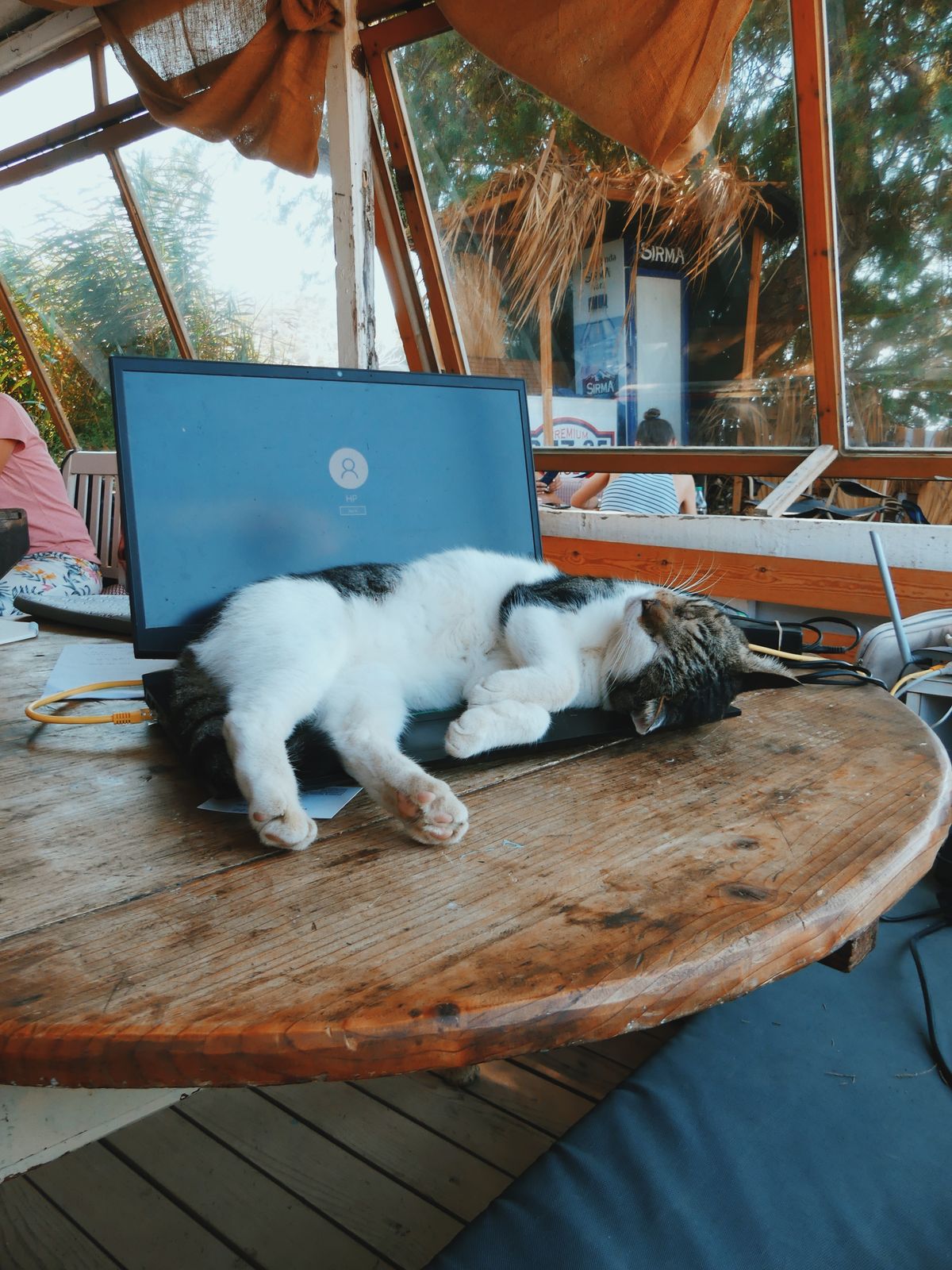 A teammate exhausted from festival preparations.

---
How do the locals view the festival? Is there such a thing as owning the festival or helping the festival team?
According to Eren, the shopkeepers were warmer to the festival when Eklisia was performing their first concert nineteen years ago. 'There was a time when we got support from all the restaurants,' says Eren. At that time there was the Municipality of Gümüşlük — Gümüşlük had not yet been a district of Bodrum. So, it was easier to get support from the tradesmen. After the municipalities merged, it became harder.
However, due to the change in Gümüşlük in recent years and the commercial approach of the new owners who took over the well-established places, this sense of togetherness has decreased slightly. If we could understand how a network created in the first years of the festival, where cultural tourism can be established together, would contribute positively to Gümüşlük, very good partnerships could be established with new owners. The old tradesmen of Gümüşlük (such as Onion Garlic, Hotel Gümüşlük, Myndos Hotel, Sysyphos Pansiyon) do their best in important items such as accommodation and meals for artists, which strain the festival budget. In fact, it is mostly personal support that has enabled the festival to survive from the very beginning. The people we call Festival Dostları (Festival Friends) are actually everyone who knows the old and quiet times of Gümüşlük.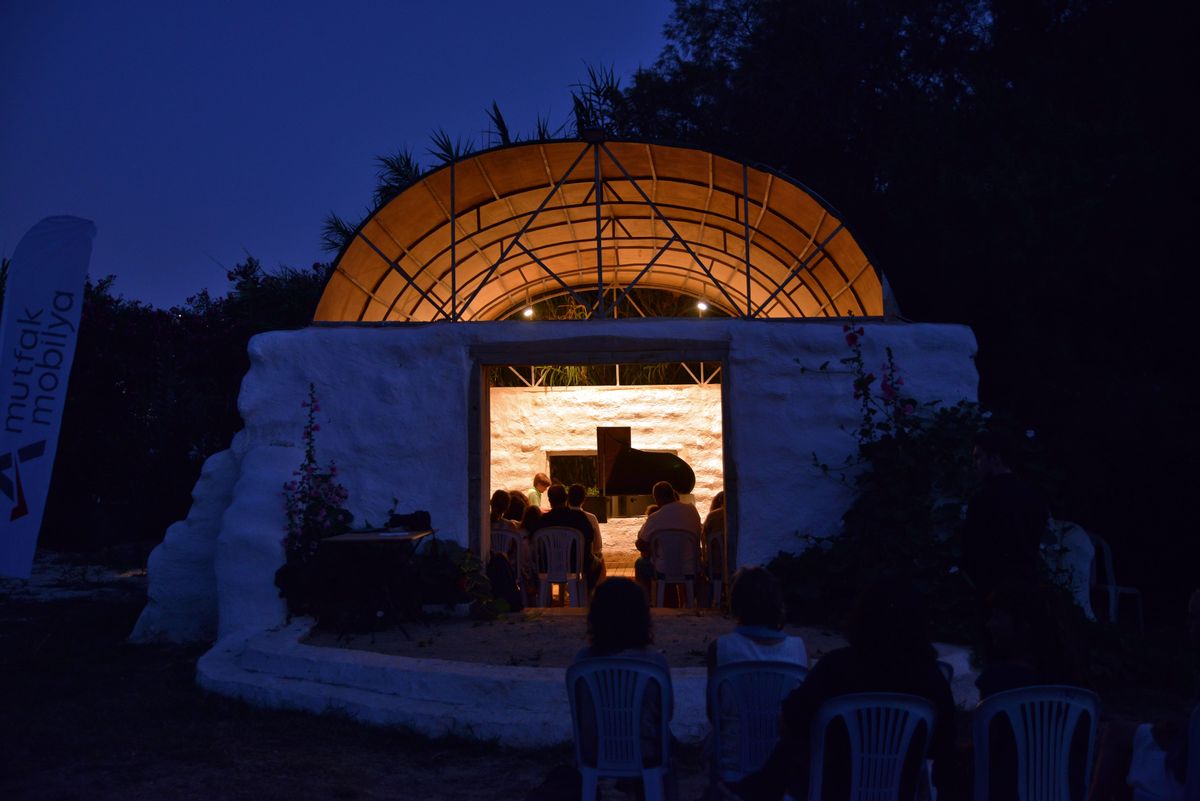 A night time concert
---
To which stops in the neighbourhood are you a frequenter?
Except for Tuz Duman Kumda, I think I mostly go to the municipality's kahve (café). There was also Faik'in Gahvesi in the past, whose owner changed this year, and when the owner changed, the kahve (café) changed its shape. Before everything got too expensive, that is, which was when we first moved here, we used to go to Hasan'ın Yeri, known as Gümüşlük Fish Cooking House now. And of course to Mars Café, where I can say that I am a frequenter. Mars Café was a real neighbourhood bar. The most enjoyable times there were the winter months. Unfortunately, we lost that too and now there is another bar in its place. I also think I am a regular at Yeni Hayat these days.
Hikâyeyi beğendiniz mi? Paylaşın.

Prioritizing all that can be experienced through the five senses, Five and More Travel organizes domestic and international boutique tours in various destinations.
Five and More Travel presents gastronomy, culture and vineyard tours for groups of 6-20; boat trips in the turquoise bays of Marmaris, Göcek, Fethiye, and Kaş; and boutique tours where one may register individually.
For you: Readers of Soli can get €100 off with the discount code "SOLİ100" on international tours to join the multisensory travel experience.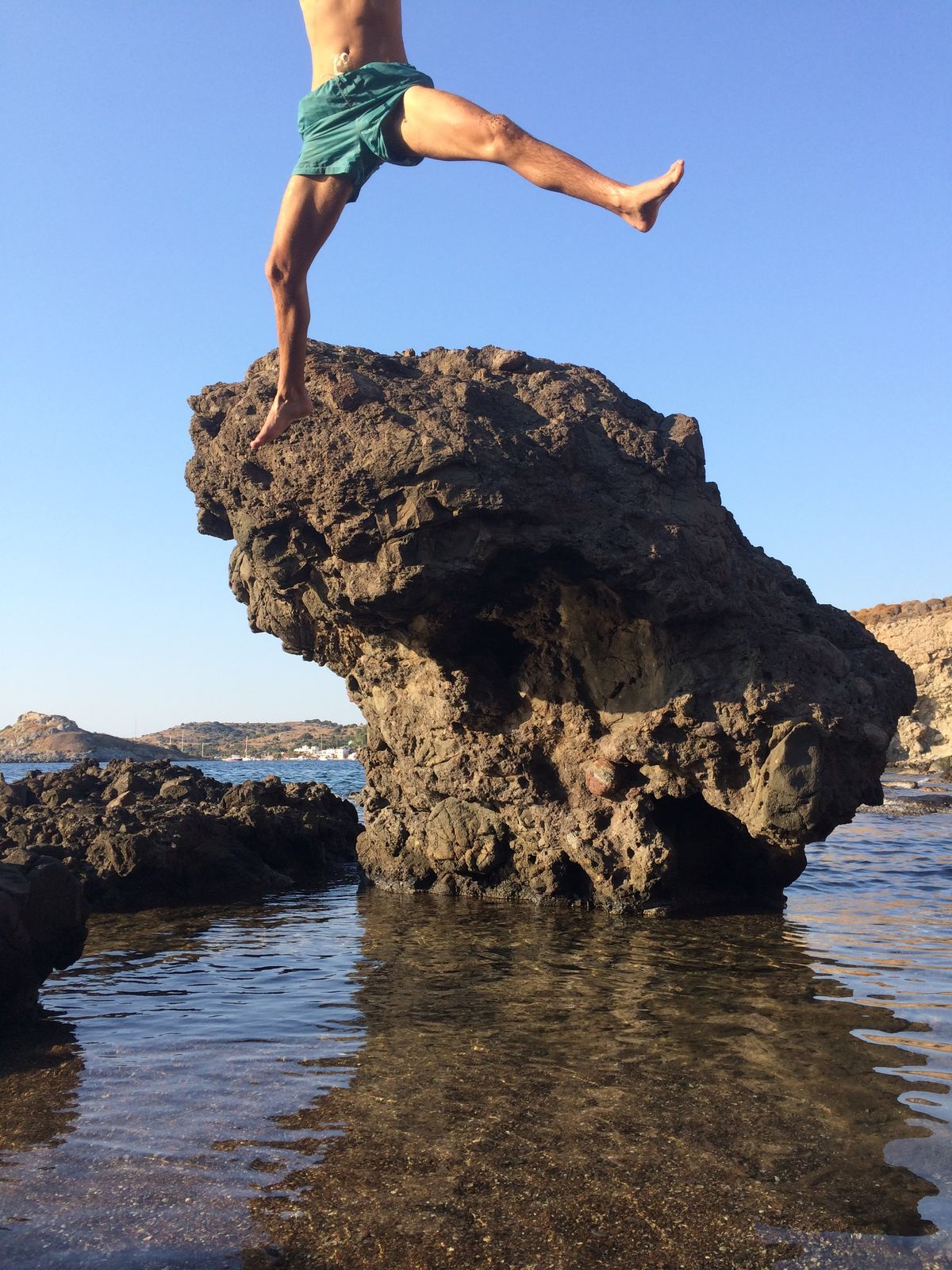 If our subject is Gümüşlük, we can also jump from the rocks.
Photography: Aslı Seven
---
We started our wandering in today's Gümüşlük by following the overturned dustbins where the sounds of frogs come from the streams, the braying of the donkeys is louder than the horns, the cars give way to the cows crossing the street, and the pigs are on their way. Next week, we will follow the relatively new Gümüşlük-lü Yiğit Karaahmet, Lara Lakay, and Jehan Barbur, we will visit the places they frequent, and we will ask them: Do people create in chaos or feed on nature?. And finally, which stops do you frequent in the neighbourhood?
A salty, sandy week for you!