A place you escape to, migrate to, seek refugee in. A village where you live as part of nature, not just look at its view from afar. A time when you are carried away by the flow of water and wind, when even your thoughts are lost in their splendor. A magnet that brings people from different paths and directions together and doesn't let them go until they are healed. Here is the short story of Gümüşlük.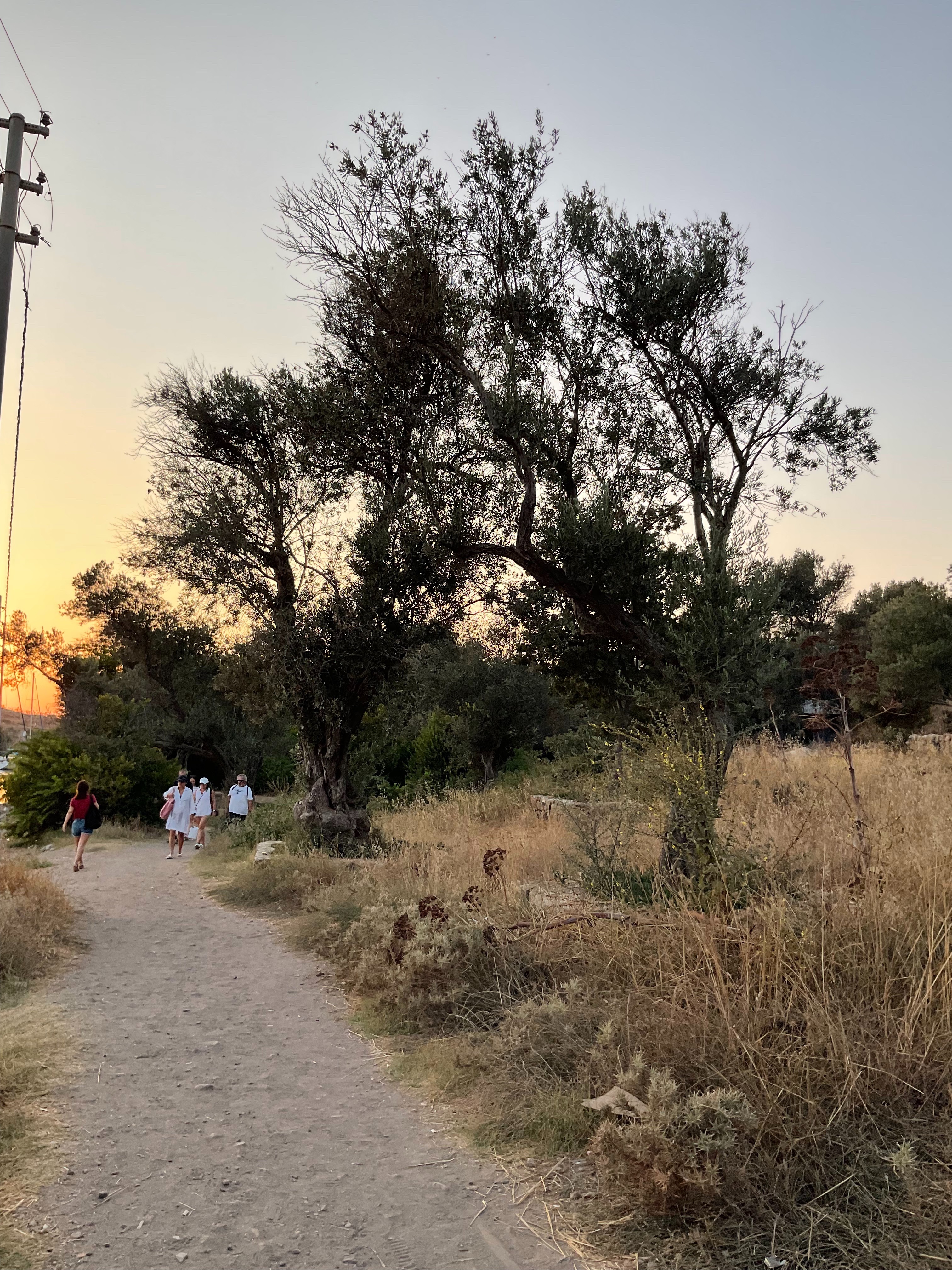 Neighborhood walk
---
TABLE OF CONTENTS:
Lara (Lakay) says, 'I love the people who find their way here, people who were raised here, in short I love the everyday life here. Places where I can hear my own voice give me strength.' Even though she now lives in Greece, she has taken a piece of the soul of Gümüşlük with her.
Yiğit (Karaahmet) describes the spirit of the village with the words 'Nature is so grand, so infinite and so impressive that every thought seems to disappear into a void.'
Jehan (Barbur) 'Here, everywhere is your home. There is no need to go back home because you are not a foreigner anywhere.'
Tag along,
Hazal
When spring comes to Gümüşlük, nature changes in such a way that even you feel obscure inside you cannot resist its grandiosity.
This is a place where you can learn to build your own coast, bay, field, and neighborhood.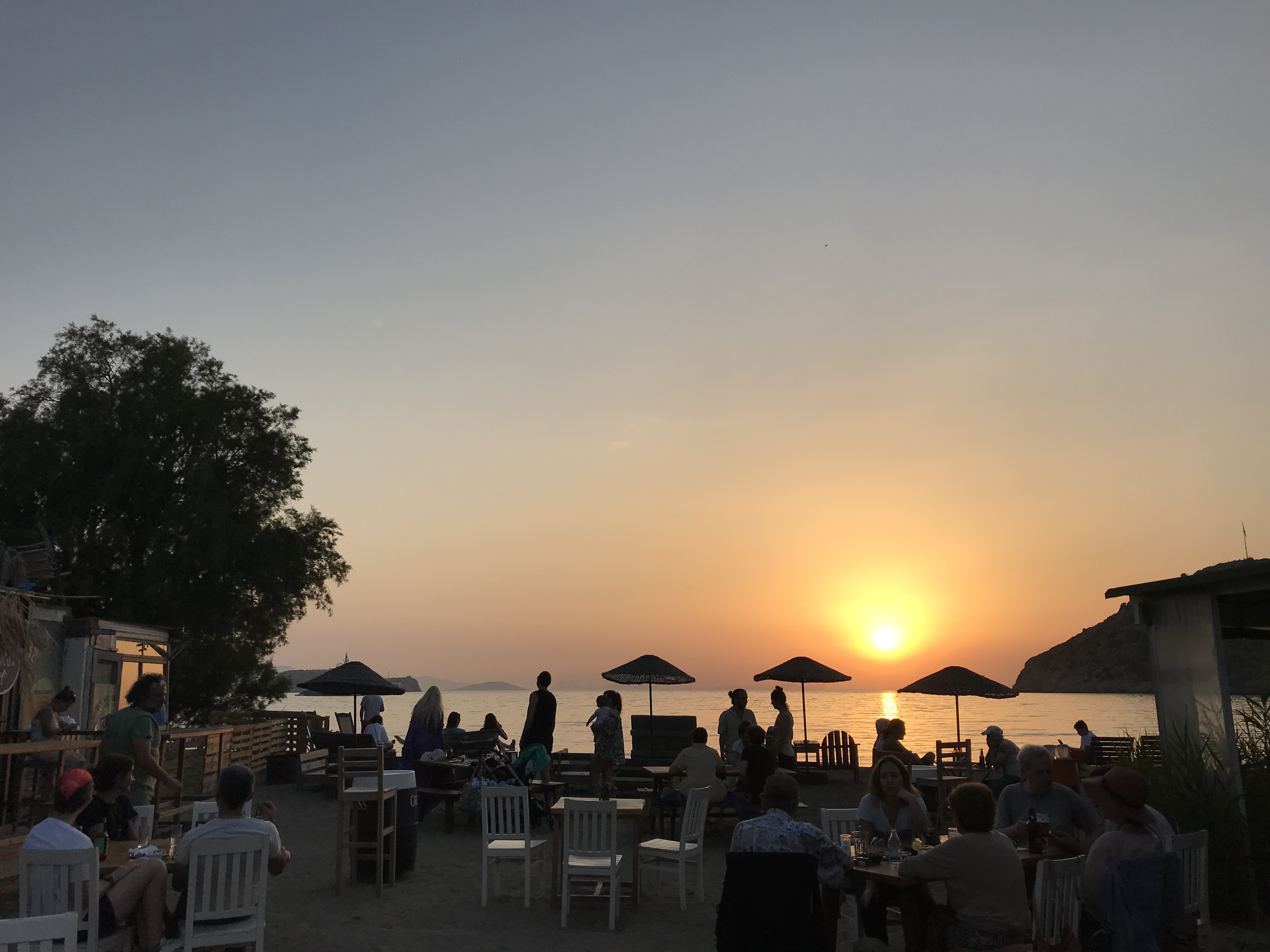 'The life is in sync between solitude and unity.'
Lara Lakay, Writer, Poet
I had a nomadic life for five years which always ended up back in Gümüşlük. I don't find this word very fair, maybe I should say it became my refuge. It opened its heart to me and brought me beautiful people with idiosyncratic stories. I guess in my heart, I am from the Aegean; I have a great weakness for the sea, greenery, and mezzes. Without salt and water, I dry up.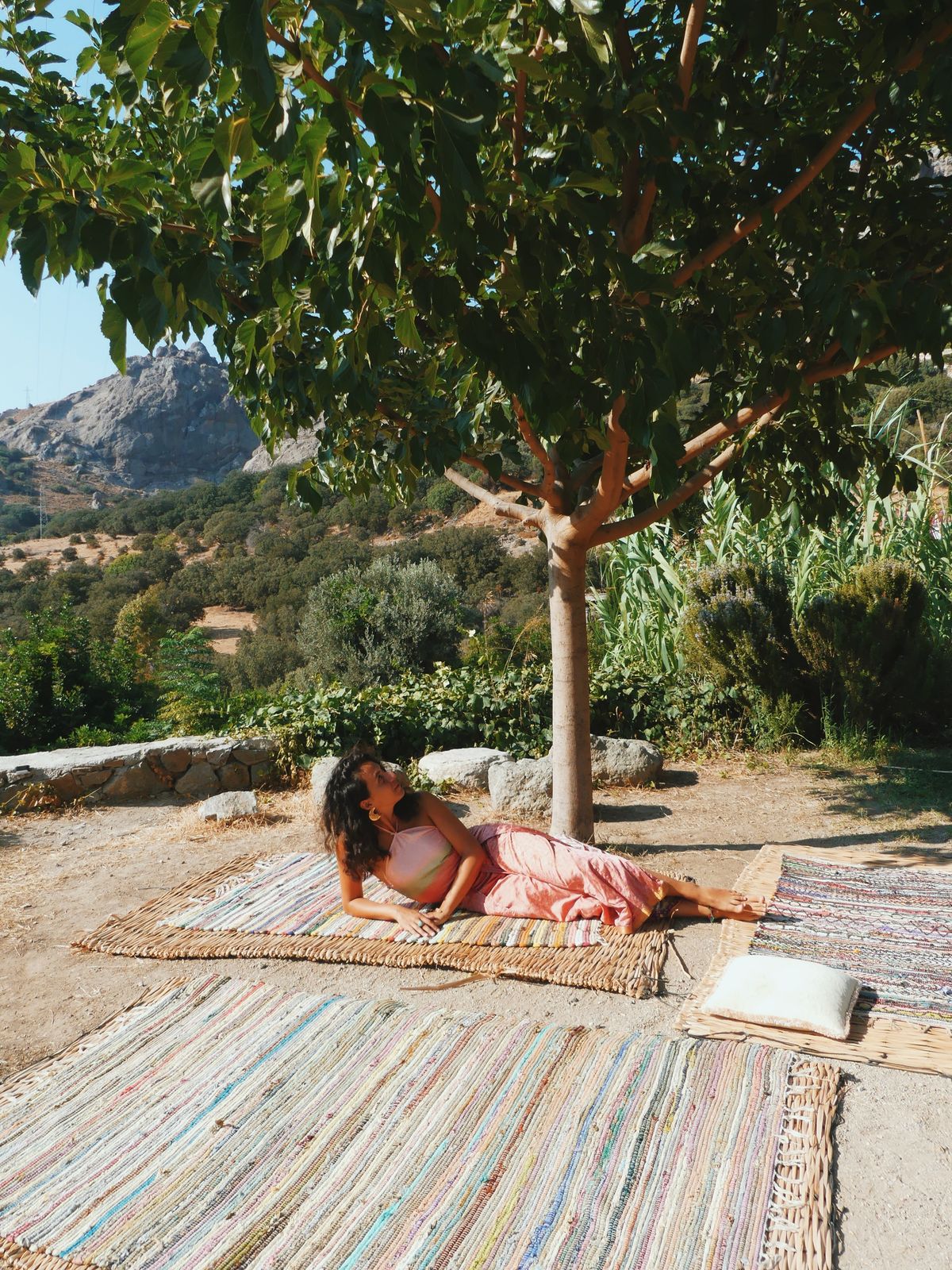 Lara is under the trees
---
The story of my first visit is interesting. I lost my grandmother while I was studying in Venice, I went through a depression, and I thought I should be close to my loved ones and stay in my hometown for a while. I returned to Turkey, but I didn't want to stay in Istanbul. Purely by coincidence, I heard that there was a volunteer retreat center in Karakaya Village in the hills of Gümüşlük, so I grabbed a single suitcase and came here. I spent the whole summer trying to relax, at work. Later, I went back and forth to Istanbul, but I kept coming back to Gümüşlük. I closed the house in Istanbul for good and I arrived here. The pandemic broke the week after my move. I furnished a tiny stone house behind the beach and found myself living in this nest. I'm still rooted here.
A place to honour the simplest pleasures
It is interesting that everything I have written in the last three years, including the book I am trying to finish right now, is about a pier, an island, expectation. The places that fulfill this prophecy automatically become my habitat. Places where I can hear my own voice give me strength. It may sound romantic to you, but I value the relationship between the sun, the sea, the stone, the bug, and the human emotion here. Although I need the chaotic impulse of the city from time to time, renewal, and transformation are my life supports.
The people of Gümüşlük has a balance. The life is in between loneliness and unity here. Living in small villages can be tricky at first glance. First, you need to learn to build your own shore, island, area, your neighbourhood as you would call it; then those who hear your voice will surround. What I have experienced here is that they honor the small pleasures. There is no yesterday, no tomorrow. Today is what we can have. It sounds cliché, but we forget it quickly. The healing power of places is hidden in its people, sounds, and colors. I perceive every place I go, travel, and live through this trio. In my story, Gümüşlük gave me my friends, music, sunlight, and also moonlight until I was healed. Now, I am on my way to a new kind of healing.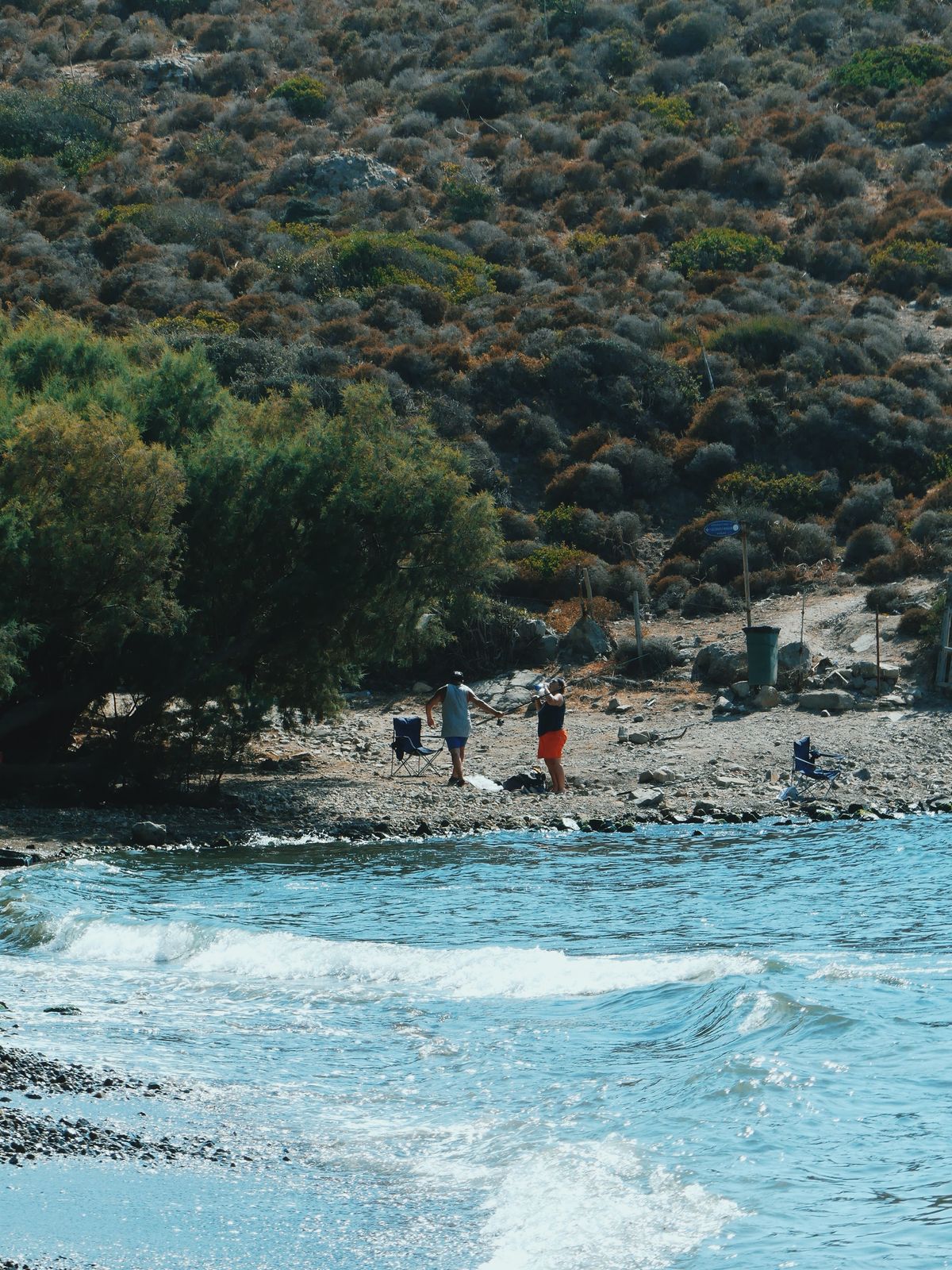 The rhythm of the neighbourhood is the roar of the wave
---
You can hear the chaos of nature
A while ago, I decided that I had come to the end of my Gümüşlük chapter, I closed it, and I fled to Greece. I am the child of a family that has been migrating from one place to another for generations, so I don't have much difficulty in making a new place my home and being on the move. Gümüşlük has completed its duty for me now. But I can say that what it has taught me has been very different compared to other places where I have lived before. I always know about the chaos of the city, the chaos of art, and the chaos of producing and creating. Gümüşlük has the chaos of nature. This is the place where you don't try to resist or silence the crickets; a balance where you adapt your day to catch the sunset, a choice whether to swim alone or with friends. A beautiful diversion from the life I already knew.
When everyone was trying to flee Istanbul, I was already in Gümüşlük.
Yiğit Karaahmet, Author, Journalist
I first visited Gümüşlük in 2015. Until then, Bodrum for me was all about hotel vacations, friends' summer houses, beach parties, and beach clubs. But when I came here, it was so unique, so different from what I knew of Bodrum. I started coming here to vacation and I loved it. At the same time, I started getting bored with Istanbul, but I couldn't admit it to myself then. After the coup attempt, most of my friends had moved abroad, and Istanbul, which has made me who I am now, was becoming a strange place. But my urban identity was very dominant. I secretly despised those who left the city and moved to the south. My friend who lived in the house I live in now asked me if I wanted to rent the house when they were preparing to moved out. I had only twenty days to decide. I said, 'I have nothing to lose. Let me move, if I don't like it, I'll take care of it then.' So it is how I ended up in Gümüşlük in February 2018.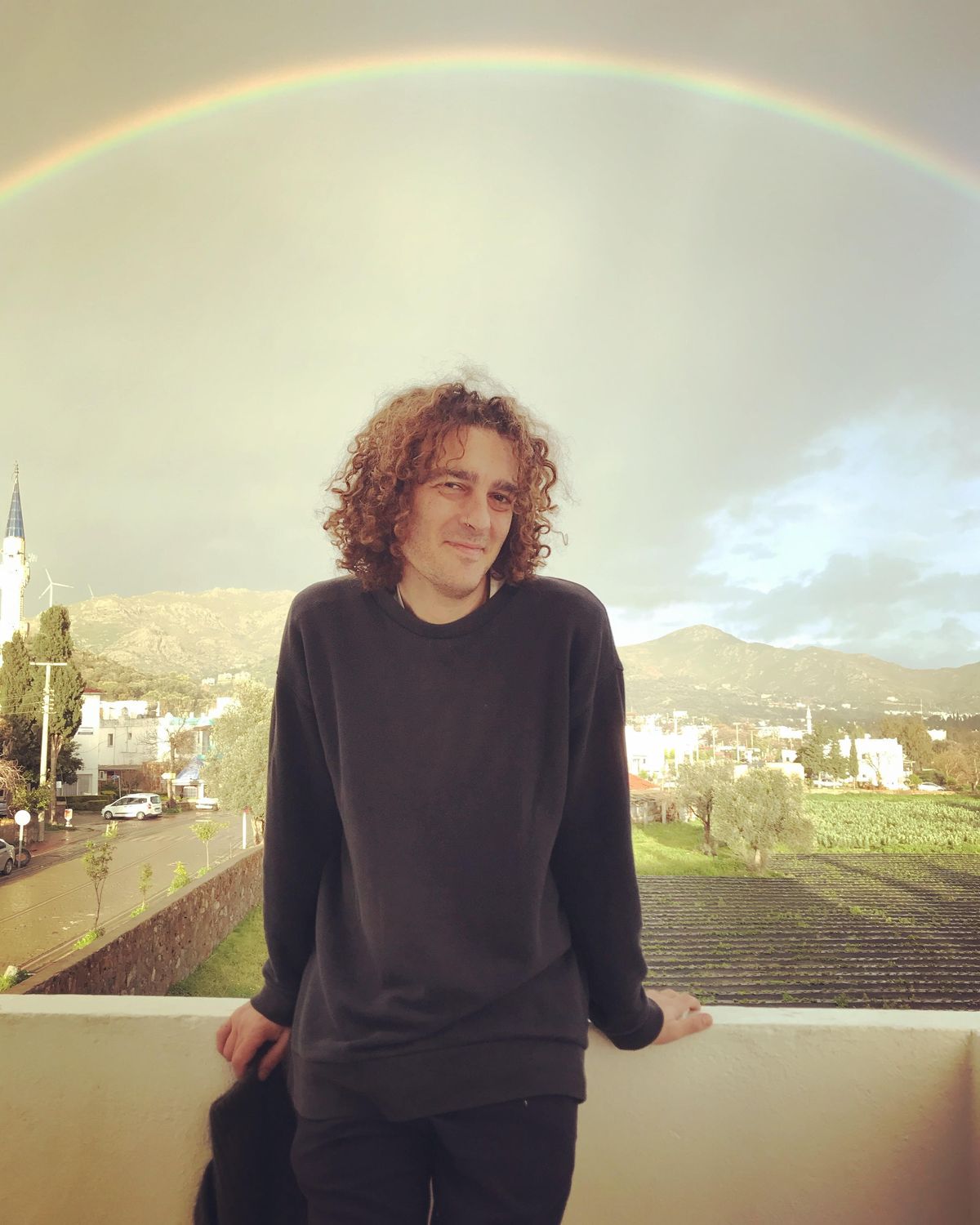 Yiğit and the rainbow
---
The first year and a half was filled with thoughts of 'Oh my God, what did I do, am I crazy? I have left my life in Istanbul and locked myself in this village.' Then the pandemic happened and all the pieces clicked. When everyone was trying to flee Istanbul, I was already in Gümüşlük. For the first time in my life, I managed to catch a trend before everyone else, or I was a trendsetter. I am about to complete my fifth year here, but I still have doubts whether I feel like a local. There are things I dislike, or things that are bad for me as much as there are things that are good for me. Part of me is from here, but other parts of me are still searching for somewhere else.
A nucleus that nurtures the soul
When I moved here, I thought I would write, produce, and do all the things I love. But that's not exactly how things evolved, and I think it's due to nature here. Nature is so grand, so infinite and so impressive that everything I think seems to disappear into a void. I can't finish anything, for example, because there is no end in nature, either. I feel like my ideas are going to the void of space. But I think it's a good place to finish something you've started. Because you have a lot of free time, you can work on your current project, or I don't know, you can also do some research. But creating something from scratch didn't work for me. Unfortunately, what still feeds me the most is the city, the chaos, and the crowd. I am fascinated by people's characters, their stories, their reactions, and I find them amazing and inspiring. I feed on the cultural opportunities the city offers, the nightlife, and human psychology. The idea of locking myself in a random village house and writing my novels doesn't really work for me, I can tell, at least for now.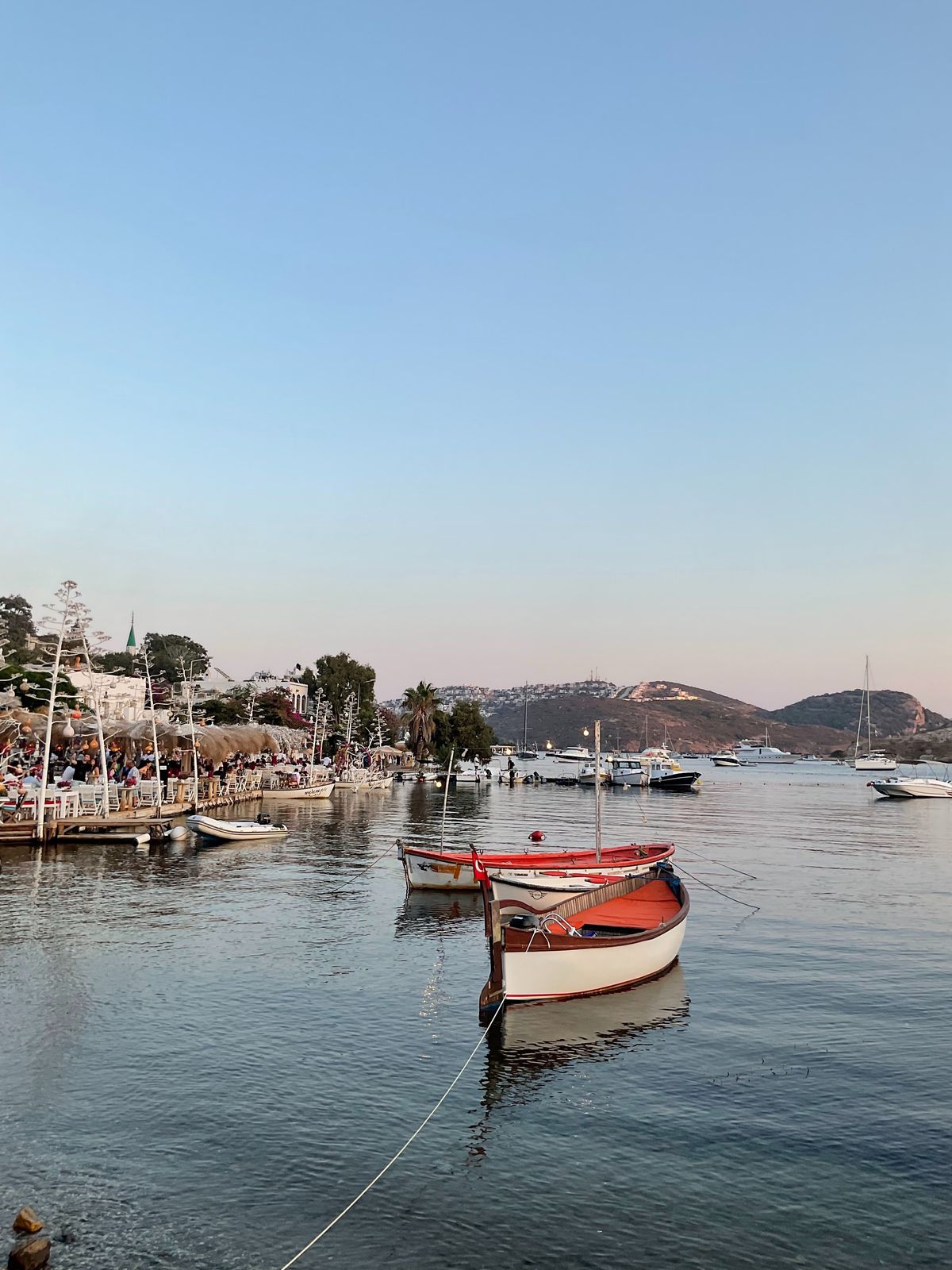 The place where our souls rests
---
A life subject to sun, rain, soil, and a lot of wind.
I think people can only have two feelings about Gümüşlük. You either love it or hate it. There is not much in between. If you ask me, I'm one of those who love it. The first things that impressed me were the old hippie spirit that was still untouched, the long days you can spend on your own without spending too much money, the public beach in the middle of the bay, and of course, the relatively unspoiled nature compared to Bodrum. And the spectacular sunsets, I must add. The first time I saw Gümüşlük from the top of a hill at sunset, I couldn't believe a place like this existed. It was magical to me.
I never liked winter, every winter I get into a strange, dark state that I think I will never get out of. Winters are hard on me not only psychologically but also physically. When spring comes to Gümüşlük, nature changes in such a way that even you feel obscure inside, you cannot resist its grandiosity. I take long country walks and during these walks, I think that this is the only place I want to be. Flowers bloom, nature changes and I realize that the summer I miss and love so much, is the summer in Gümüşlük. When you live here, seasonal changes are different experiences. Your whole life is subject to the sun, rain, soil, and a lot of wind.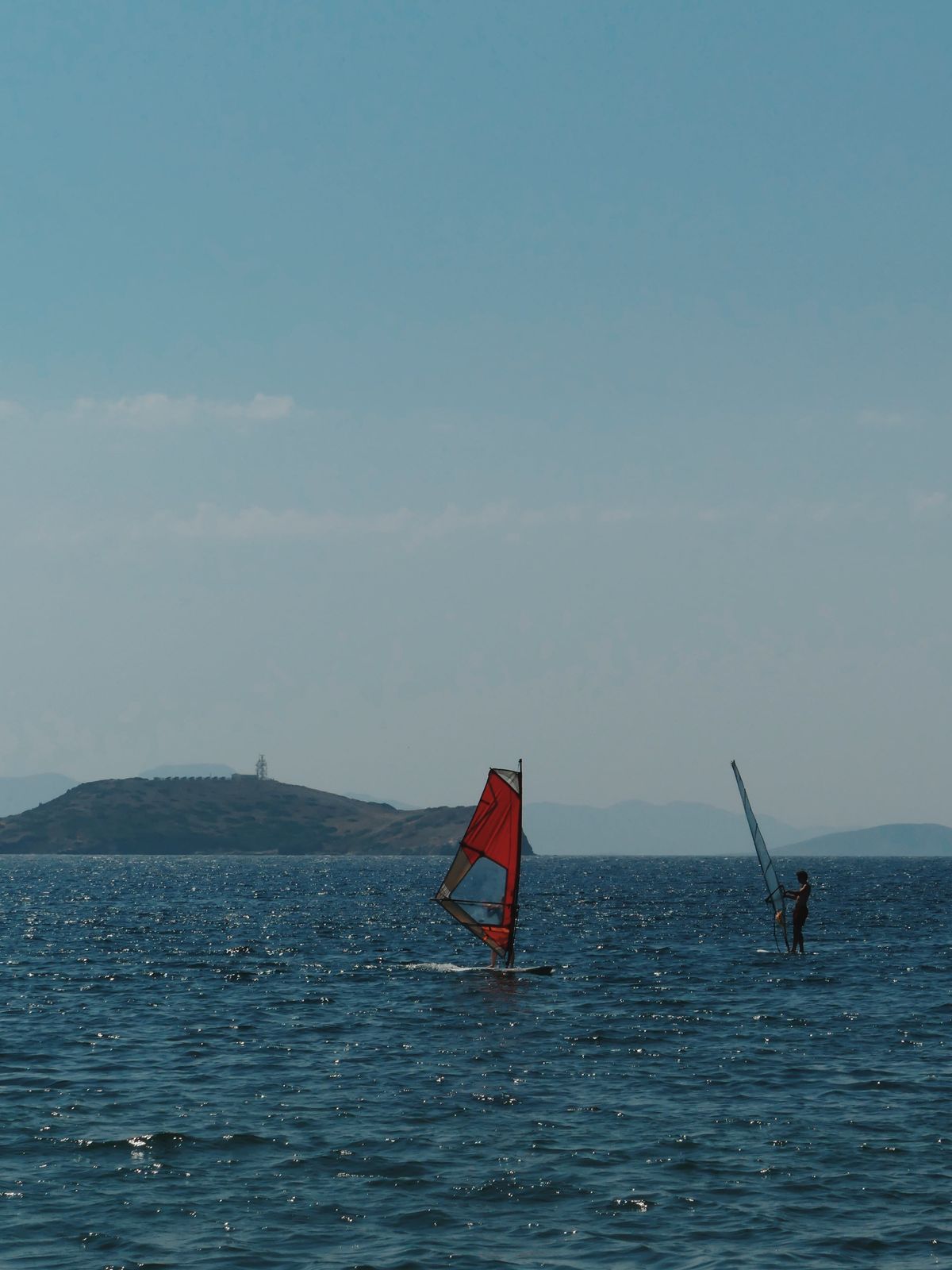 Those who dancing with the wind
---
There is an uncanny spirituality in Gümüşlük that only people from here can understand. I believe that people who come here find their own way after some kinds of physical or mental breakdowns. I think Gümüşlük wanted me as part of its existence. I wanted to downsize my life a bit. I had the little life I wanted, the little life that I filled with my own things. In the same way, this situation actually prevented me from noticing other possibilities. After I settled down in Gümüşlük, life in Istanbul and our general mood seemed crazy. For now, it feels safer and more comfortable to stay far away, in a relatively sheltered place, and witness it from afar. For example, no matter how much I hate it sometimes, I always know that I will be sad and miss Gümüşlük if it leaves me. I also know that I will realize many things that seemed boring to me while I am experiencing them will be so special afterward. I have been trying to live in my own way for a while, not staying in there too often but keeping it as the main centre. It seems to be going well for now.
'I'm a regular' at Gümüşlük
Gümüşlük is a very small place, so I don't think there is such a thing as regularity here. Everyone visits everywhere. I can say for myself that there are places I love and places I hate. If I wrote the ones I hate, it would be a very long list, so let's talk about the few that I really like.
Yeni Hayat: In summer, when the coastline is a bit unbearable with its crowds and chaos, Yeni Hayat, which is just behind the beach, is a savior with its calm and exquisite garden. In my opinion, it is the only place in Gümüşlük that offers an 'urban' touch with its decoration and food. I recommend Yeni Hayat for small gatherings and dates. I think it's also a company when you visit alone. It has an extremely friendly bar, they don't make anyone feel lonely.
Tuz Duman Kumda: It's charming but unfortunately overpopulated nowadays. I don't like it when some places become extremely popular, I feel like we are losing what we have. This is one of them. On the beach, at the end of the bay, at the last point where the sun sets. The food is delicious, I may have eaten the whole menu over and over again. Despite many kids, dogs, and parents it's still a go-to place for me. Let's hope everyone would leave one day and we could have it all to ourselves again (laughs).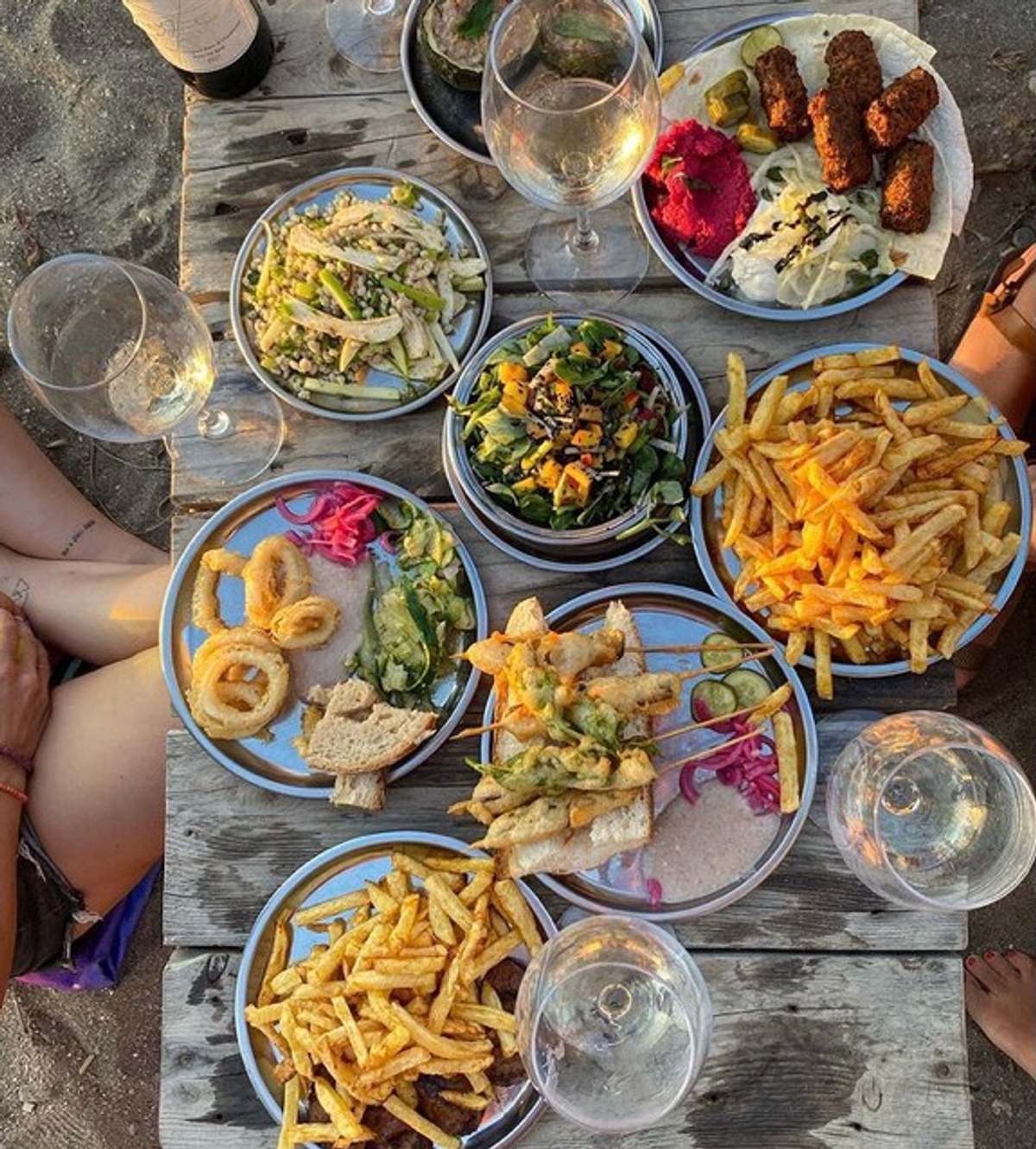 Afternoon at Tuz Duman Kumda
---
Deli Pizza: This is a tiny pizza corner behind Yalı Cafe. Two owners, Ece and Tuğba make the dough, tomato sauce, and everything else by themselves. It is very rare and important to find such a delicious pizza in our village, so I am rooting for their success.
Kardeşler Köftecisi: If being a regular would be a place, it'd be Kardeşler Köftecisi. Probably the best meatballs and grilled cheese within the borders of Bodrum, also at Yalı Café. Long queues are expected during the summer season. We eat grilled cheese at least once a week, and meatballs more times than we can count.
Limon: I don't know if there's a need to mention Limon because it's already in the top ten of the places to visit not only in Gümüşlük but also in Bodrum. But it deserves it with its ambiance and details. I'm not a big fan of their food, I think the breakfast, which is no longer available unfortunately, was tremendous. The whole point is the bar at sunset, if you can find a seat. I'm a very popular regular so I always have a seat (laughs).
Balıkçı Hasan: Honestly, if I had to pick one fish restautant I could eat from for all my life, I would choose Hasan, or the original name of the place, Gümüşlük Balık Pişirme Evi. Since I dislike every single one of the fish restaurant on the beach, Hasan stands out from the crowd. I can't say any of their dishes are perfect, but in general, they are at a certain level. They grill good fish, service is good. What's more important that we always have a table and all Gümüşlük locals end up here.


'There is no need to go back home here because you are not a foreigner anymore'
Jehan Barbur, Singer, Poet
When I got married, my spouse was living in Bodrum, and we moved back to Istanbul because of my work, but we kept in touch with Bodrum at least in the summers. When we came to visit Gümüşlük, I told him that I really wanted to move our house here from the centre because as soon as I saw Gümüşlük, I was smitten with it. In 2015, when house prices were not yet crazy, I bought an old Greek house here, and a year later, when my husband and I separated, I settled here and left Istanbul permanently.
It's easy to get by and its nature is wonderful. If I miss the city, the city centre of Bodrum is only twenty minutes away from me. There are no apartments, no shopping malls, no elevators, we are not cooped up in houses and buildings, we are always outside, outdoors.
When I started living by the water, I remembered to surrender myself to the flow, to the superiority of nature over me, and to the huge universe inside of me. I think this is enough, and a great start. In Istanbul, there was the landscape itself, here I am in the landscape. So I don't pay for the visual, I live the visual and I can touch all of it.
Here, home is everywhere.
Here, home is everywhere. There is no feeling of 'needing to go back home' because you are not foreigner here. I have been living alone for many years, but I have never felt lonely, not even for a moment. I take a breather wherever I want, I drink my tea or coffee. There is a unity in between locals and newly-locals, who have settled down in Gümüşlük in recent years.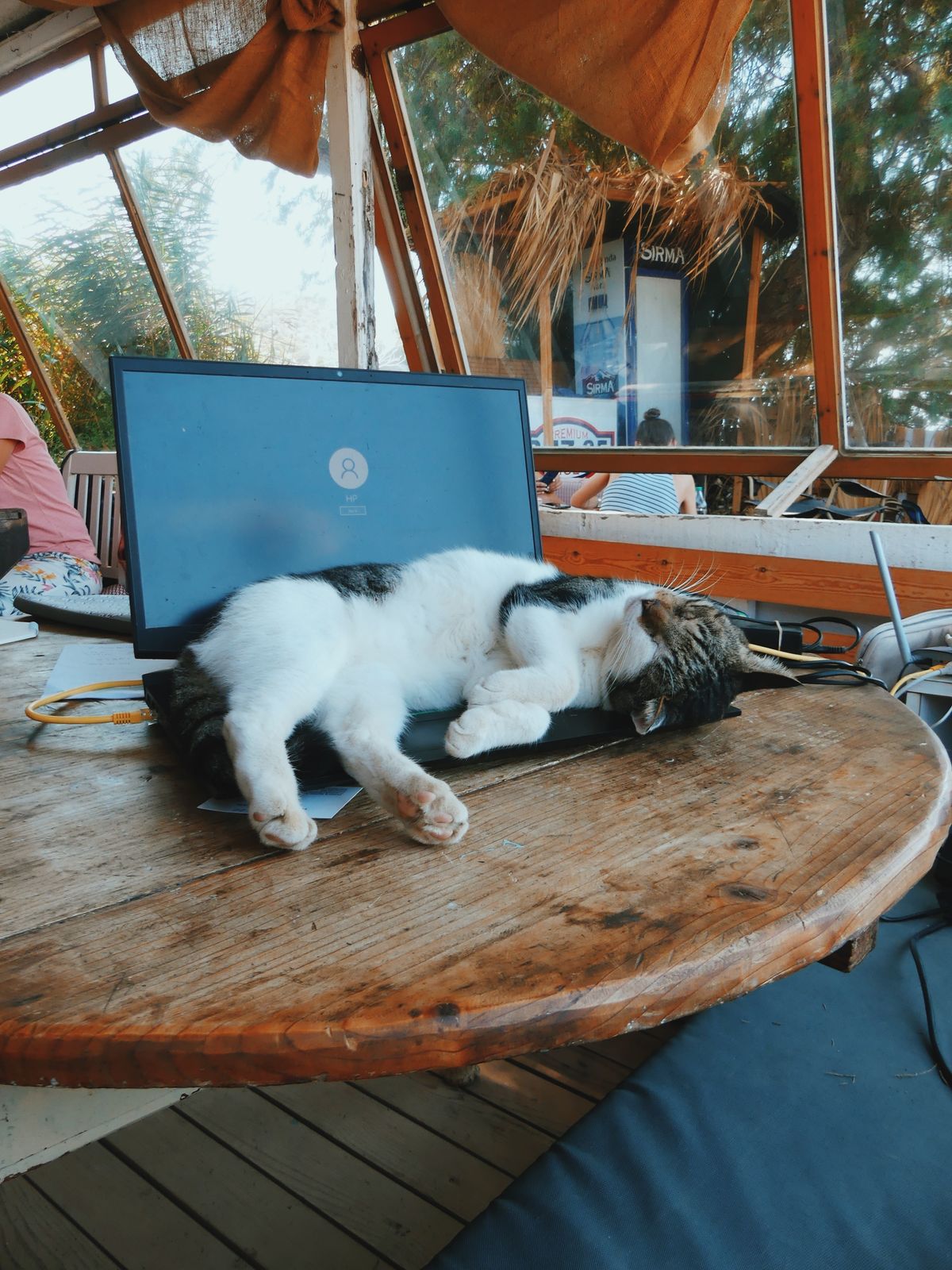 A cat who made the computer keyboard a bed
---
I am proud and pleased with the Gümüşlük Academy. It is a productive and educational space creating opportunities and bringing people together in nature. I usually stroll through the neighborhood with my good morning greetings, and when a cheerful face warms me up, it lifts my spirit. My favorite season in Gümüşlük is winter though, ah winter, when the summer tumult is gone and we are left to ourselves.
We are putting our efforts to make sure that industrial tourism doesn't kill the local one in Gümüşlük, but very few people seem to hear us. Still, to some extent, I think the fact that Gümüşlük is a protected area still makes here special. But there is a policy of plunder in this country right now, as it has been in effect for a long time. Sadly, we feel it in our bones here in Gümüşlük.
There is a change for a few months with the people who come in the summer. Since I live far from the city centre, I also have an opportunity to spend time with my friends living in other places. In other words, I hang out for a few months, have fun, mix with the crowd, and get away. With the pandemic, people took refuge here, but they could not manage to maintain their lifestyles they had back in big cities, so they failed to slow down. They invested in construction a lot, and prices reached astronomical figures due to them, but as I always say: This too shall pass. I say this often because the village, in one way or another, vomits out those who cannot survive.
Hikâyeyi beğendiniz mi? Paylaşın.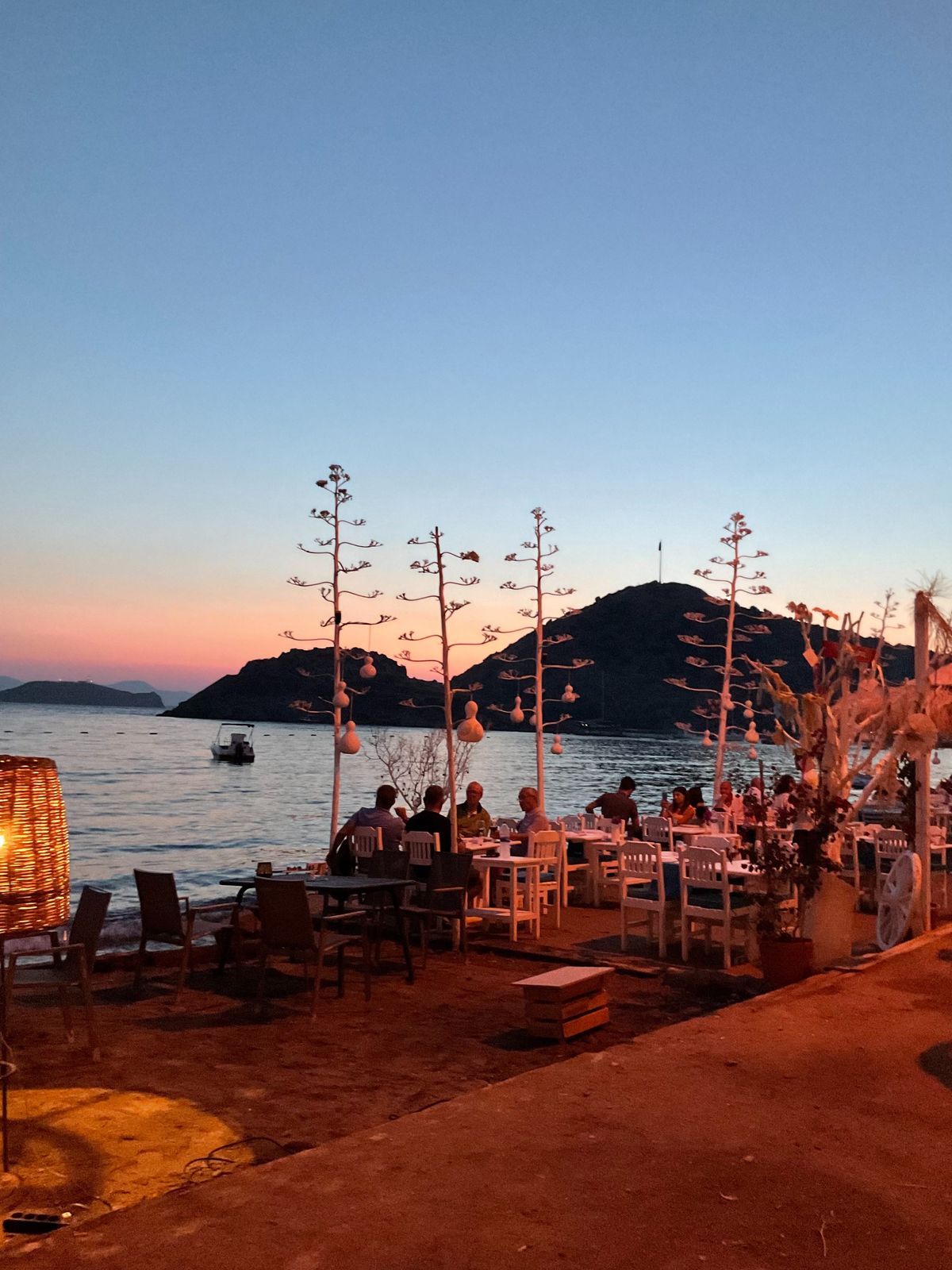 With glasses in hands, the sunset in Gümüşlük
---
With the sea salt of Gümüşlük still on our skin, we are on our way to the Istanbul Biennial next week for the sake of art. Balat, Çemberlitaş, Tophane, Zeytinburnu.. People and place we follow, things we discover... Let's keep them as a surprise for now. We're salivating over what we'll see, discover, and witness. If you want to join, to share, to multiply, find us at soli.community.