Early morning. The most crucial time of the day. Tarpaulins, heavy iron sticks and the ropes that bind them are the tools needed to construct the roof of one of the oldest gathering places in human history in the narrow streets of the neighborhood, which are occupied with different purposes for the remaining six days of the week. These are the fixed elements of this nomadic structure. Then there is the labor, bargaining, land, crops and realities that fill it. The physical space it occupies, one or several streets of the neighborhood and the height up to the tarpaulins. And it will take some time to calculate the area it occupies in the city. For sure.
The distance from the clean Black Sea coast to Tarlabaşı and the space covered by the plastic crates of ispit transported along this distance; the weight of Larissa's cookie recipes, who knows how old the recipe is, which she carried from Ukraine to Kurdela Street; and the length of the list of products she put on sale that day, written in Cyrillic; the distance that the anchovies, horse mackerel and chinook that fisherman Murat put on the counter traveled on time at sea and then on land despite all the hunters; the weight of Ezine cheese that Ömer brought from Çanakkale and the time it took until the best Ezine recipe was found; the waiting time for a mixed gözleme with spinach, cheese and potatoes; the number of walnuts cracked to be tasted by the customers; all the similarities between two neighboring neighborhoods and the centuries it took for them to accept each other.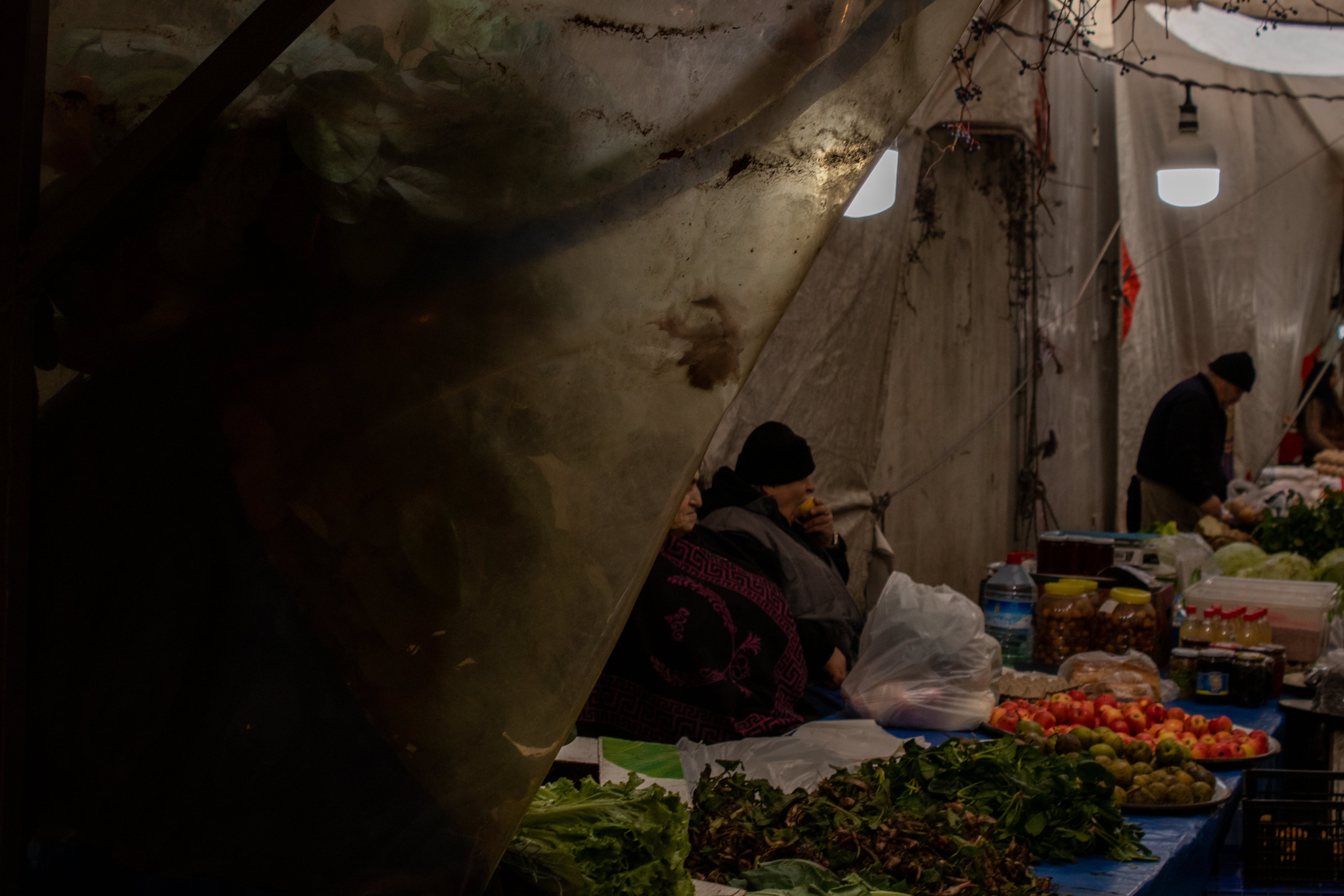 Permanent and temporary in Kasımpaşa İnebolu Pazarı
---
Can all this give a measure of the area covered by a neighborhood market, pazar? Can the temporary market, where the village and the city, the seller and the buyer, the buying and the giving, the exchange of economic, social and cultural layers take place, be the most concrete resister or supporter of a neighborhood's gentrification movement? If we were to redefine the marketplace today, would it be enough to call it the place where we meet all together in between realities of the neighborhood?
Yes. At least today. The acrid and sour smell of olive oil, the taste of bitter black tea, the pink of plastic bags the color of ispit root; the waves of inward, outward and inward migration of the 1960s and 2010s, the transition from 19th-century housing to gentrified 21st-century residences is the memory of walking along Dolapdere in and between Kasımpaşa İnebolu and Tarlabaşı markets. Last Sunday we met Italo (Rondinella) and Kornelia (Binicewicz) in Kasımpaşa İnebolu Pazarı, on Turşucu Bayram Street. Chestnut mushrooms and baby spinach in a pink plastic bag. We ordered four ince belli cups of tea. Then we headed towards Tarlabaşı.
Tag along,
Elif
Soli
A weekly journal of neighbourhoods to dig into urban culture, people stories, and sociocultural dynamics. In every issue, we meet an inhabitant in their hood where they live, create or belong.
LOCAL I: Kornelia is a DJ, music researcher and food explorer. She says that if she hadn't done these things, she would have wanted to be a chef. With an expat song in our ears, we follow in Kornelia's footsteps.
ROUTE: "Markets display the reality of the neighborhood in the goods lined up on the vendors' stalls, in the price scales, in the words they use to attract shoppers, in the aesthetics of the stalls and the music they listen to in the background." Kornelia describes the markets as the place where the anecdotes never end. Bag in hand, eyes on the stall on the right, Kornelia and Italo by our side, we start the tour.
LOCAL II: We find Italo by the sea. We have some questions about tomatoes and Bolognese sauce and of course asking for some tips about photography.
PHOTOBOOK: Italo selected 12 photographs from the Istanbul section of the book named Pazar // Shuk that he produced with Kornelia. The photos he has chosen reflect the reality of the markets and tell their daily stories. So we couldn't return home without following him from stand to stand and listening to what he had to say.
KORNELIA BINICEWICZ
We are together with Kornelia Binicewicz.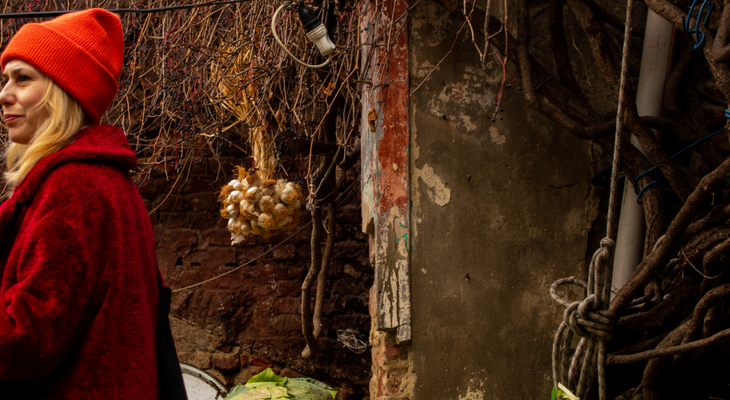 My nickname is Kora, but only a few people call me that.
Currently, I'm working as a DJ, music researcher and food explorer. If I wasn't doing that I could have been a chef.
According to my friends, I'm a master of hummus.
I live in Burgazada, but I'm from Kraków in my heart because this is where it all started.
If I am not at home, you can find me in the forest, on the top of the mountain, in a local pazar or in a record store.
When I come across a bakery with sourdough bread in a neighborhood, I feel I belong there.
After living for years in Istanbul, I have recently discovered: Zeytinburnu Medicinal Plant Garden.
I have recently found inspiration in the people and the street art of Quartieri Spagnoli in Naples.
I complain the most about inflation and the costs of eski kaşar.
I can never find it in Istanbul: a white cheese for pierogi, Polish ravioli.
The sound of Istanbul's markets in the morning: A smooth and easy vibe with conversations between sellers about daily things, setting up the tents, sails and stands. And the evening: the vibe is high and vibrant with loud shouting and singing of sellers encouraging you to buy everything they have in akşam pazarı mode.
When I'm walking around a market, the first thing I'm looking for is seasonal fruits and vegetables.
The trademark of an Istanbul market is a unique structure of poles and ropes stretched between historical buildings of the old neighborhoods.
I return from the market with fresh greens for pesto and other green sauces.
Only a real music hunter would know that you should never throw a record. You never know when it will become a treasure.
My favorite gurbet song is Gurbet by Semra Sine.
Here is my current playlist: soundtrack from Glitter TV Series.
Hikâyeyi beğendiniz mi? Paylaşın.
The showcase of neighborhoods
Pazar-hopping. Fresh produce from farms, affordable clothes and lots of stories. Market bags in hand, eyes on the stall on the right, Kornelia and Italo by our side. Let's start the tour.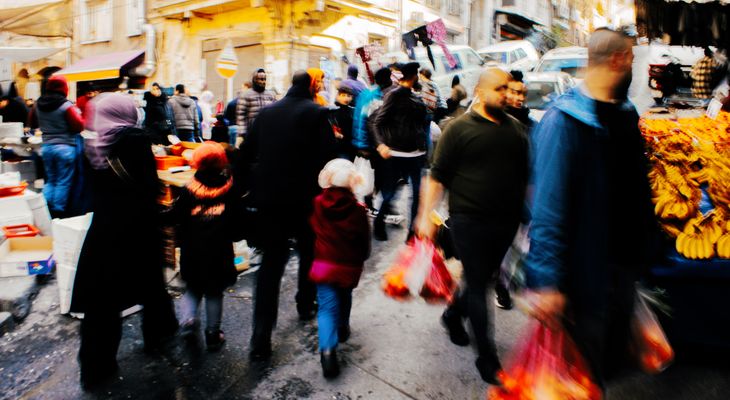 By Kornelia Binicewicz. Photos: Kaan Walsh.
Chapter I: History, culture, and function of markets in Istanbul
A market has been the heart of every city all around the world, and also in Turkey. The exchange between a village and the metropolis has happened right there - in the middle of the urban space. Sellers and producers have brought fresh produce, scattered animals, and delivered various services and craftsmanship.
Back in the day, the Ottoman Empire shaped local economies and the distribution of goods. The principle of provisionalism was the most crucial rule of Ottoman economic policy within the entire structure of the empire. The rulers believed that the availability of essential goods at affordable prices in the markets was the most significant factor in preserving social order and political balance. The marketplaces in the Ottoman Empire were a vital source of goods and a fundamental core of social interactions.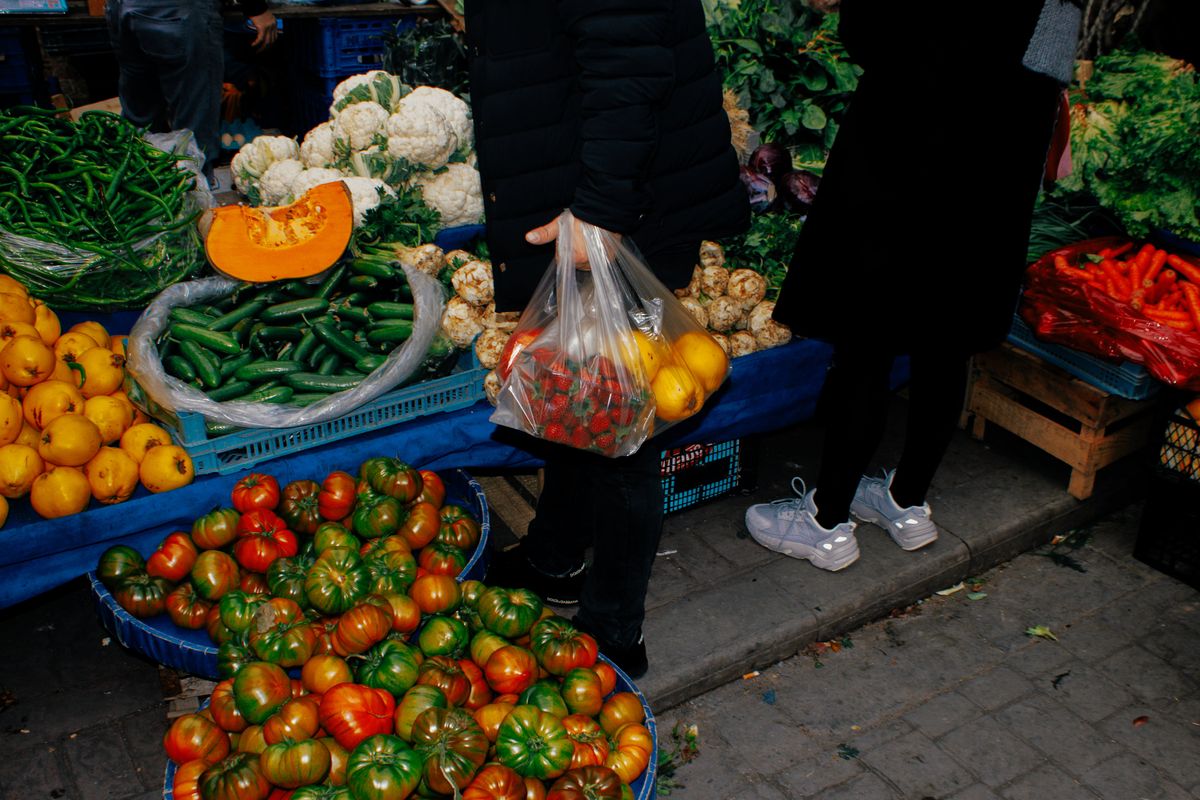 Everything here is transparent
---
Today, urban markets have retained their communal and economic importance. Turkey and Istanbul have two primary collaborative spaces selling food and other goods: pazar and çarşı. Both bring people together in search of the best possible exchange. But pazars in Istanbul, with their unique architectural character, and open-air structure, perfectly reflect the neighborhoods' history with their local colors and identities.
A mirror of society and its needs
There are around 350 weekly markets in Istanbul, but this is only an official number, as many are half legal or secret, therefore not included in any statistics. The food and culture of everyone who somehow passed through the city are alive in the marketplaces. Their diversity is a mirror of society and its needs. Markets fulfill many appetites and desires of Istanbul's inhabitants. They provide impoverished citizens with affordable and fresh products, minorities with their regional food and goods, chefs and foodies with inspiration and culinary know-how, and tourists with a taste of the East. Last but not least, they keep the local character of the neighborhoods alive.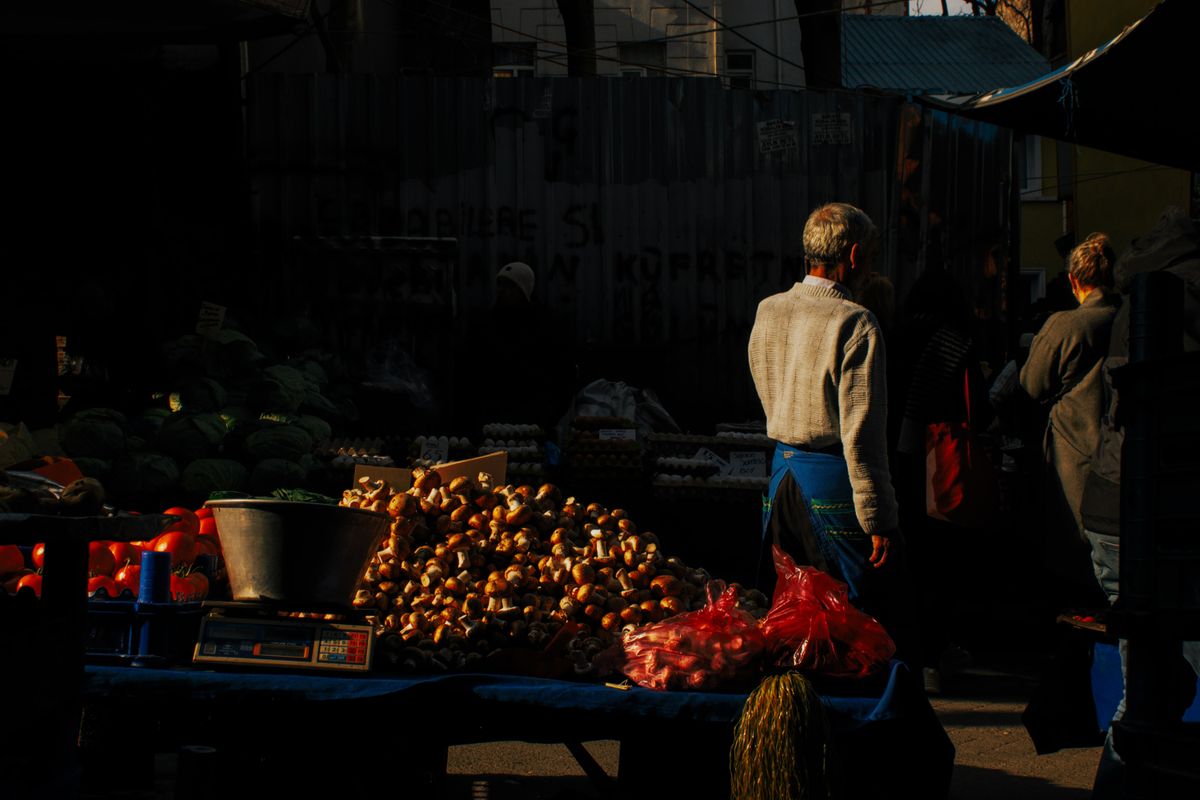 Pink plastic bags, onions, a pair of scales and pazarcı (seller in a market)
---
Chapter II: The relationship between markets, neighborhoods and locals
Semt pazarı (market set up specifically in a neighborhood) happens in the exact location once per week. Visiting a semt- pazarı in Istanbul feels like going to a weekly festival in the neighborhood. The regular streets, squares, and parking lots turn into multicolored and vigorous centers of local life, trade, and tastes. Long rows of racks with a cornucopia of fresh vegetables, fruits, dairy products, olives, olive oils, local sweets, and nuts are mixed with stands with colorful textiles and cheap home decor products. A Coco-Chanel carpet waving in the air hangs just next to dried sucuk (spicy and fermented sausage) and a selection of women's head scarfs. Fluorescent lamps dance above joyful and noisy sellers at the fish stands, where you can get seasonal goods at the best possible price. The passages are not only crowded with visiting and bargaining clients but also with spontaneously appearing sellers of döner, köfte, süt mısırı, baklava, tulumba tatlısı, or basbousa. Every neighborhood in Istanbul has different, unique, social and demographic characteristics.
No matter in which district, the local community gathers here
The markets mirror those realities with the sellers' goods, prices, behavior and language, aesthetics of the stands, and types of music played by the traders. Also, various models of pazar arabası (shopping trolley) reflect the social and economic positions of the clientele of each market. The pazar of Tarlabaşı, a neighborhood inhabited by low-income citizens of Istanbul's center, is busy with the multicultural crowd of women and men in terlik (slippers) and home-wear. On the contrary, the visitors of the pazar in Feriköy, situated in the middle of the Şişli/Bomonti neighborhood, visit it in a more elegant and chic outfit. No matter in which district, the local community meets at the markets in every location, discusses prices, shares their stories and opinions, and eats gözleme or drinks at least one glass of çay (tea) served in a pazar tea garden.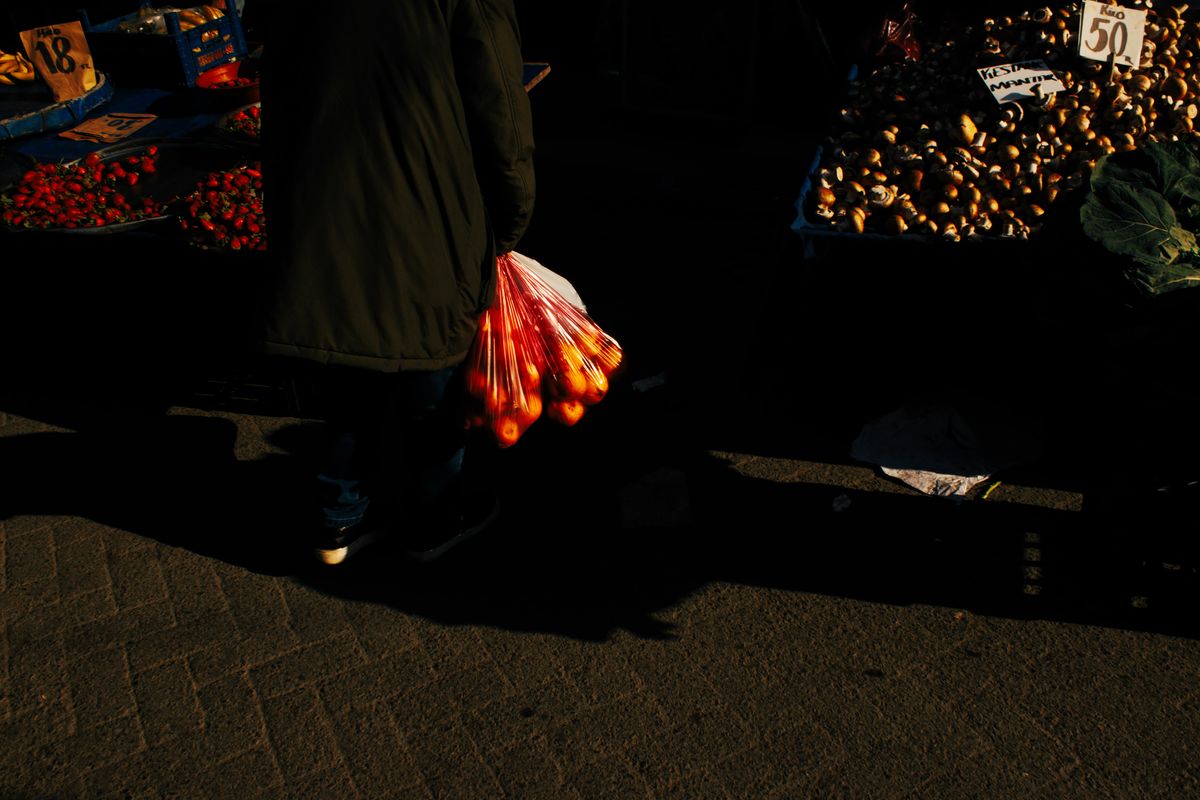 Chestnut mushrooms 50 TL and strawberries 18 TL per kilo
---
Chapter III: The market guide
The best markets are the local ones. We reach them quickly as they are within walking distance from our houses. For that reason, according to me and Italo, the markets of Burgazada and Tarlabaşı are the best.
Pazar-hopping on islands
Burgazada Pazarı is relatively small (around 30 stands) and happens on Fridays. It finishes pretty early, about 01:00 p.m., so sometimes it is not easy to catch it. In that case, making a pazar-hopping the other day is an excellent idea. Taking a ferry to a neighboring Heybeliada Island, where the same traders set up their stands on Wednesday, allows one to keep up with the routine of getting fresh goods every week and meet favorite sellers.
The island markets are set not far from the Marmara Sea coast, and all the sellers come with their produce by early morning ferries from other parts of Istanbul and Yalova.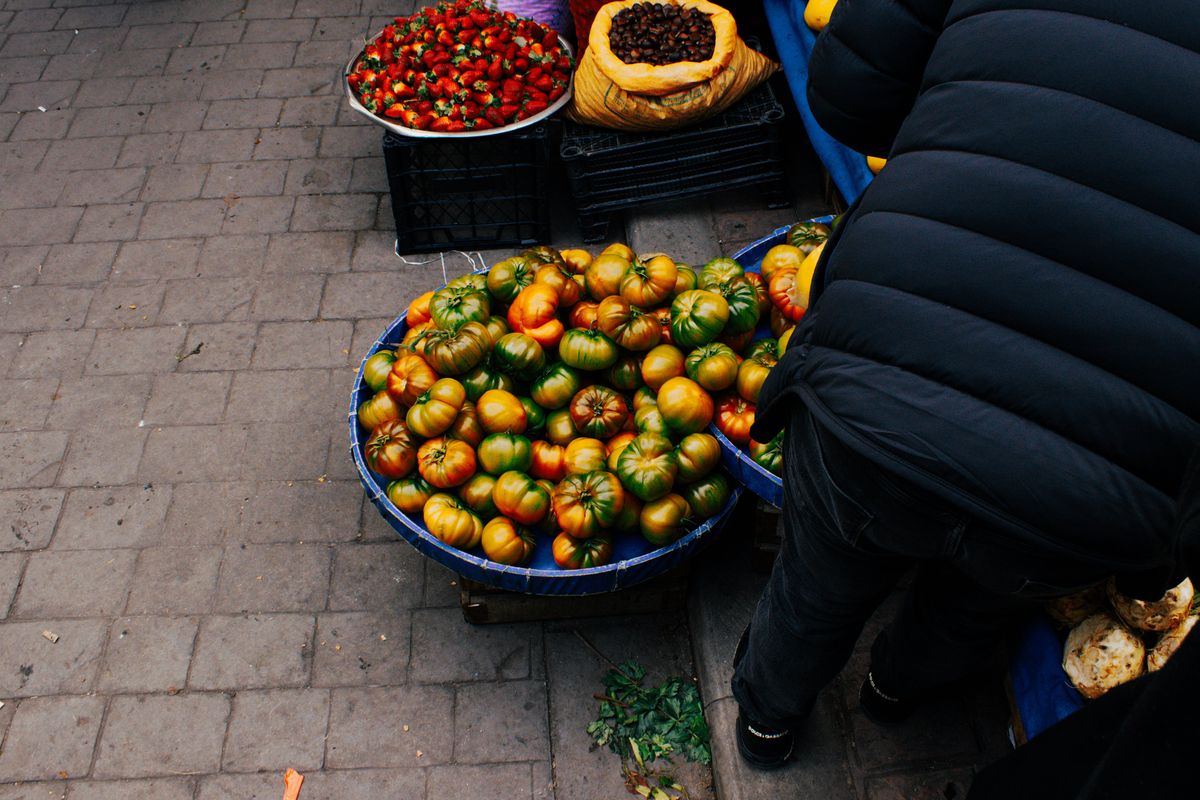 I could be red, I could be green
---
Shopping in markets is all about relationships - the more you know the sellers, the better and cheaper your groceries are. For a new customer, it is essential to follow teyzeler (aunties), who know who sells the best tomatoes and the sweetest pumpkin. Besides shopping at crowded stands, it is advised to taste and experience the tastes of the goods. In the case of cheese, tasting is obligatory. After a few mini bites of a few kinds of cheese, you find the perfect one. If the product is good and the seller treats you well, you must come back the next time and ask for the same product. You need to establish a genuine connection with a seller, which can eventually develop into a beautiful market friendship (a kind of friends-with-benefits relationship). Even though the island markets are small, they abound in numerous intriguing personalities: A silent and humble spice and tea seller from Yalova, a Bosniak cheese seller, Burgazada- based vegetable seller who grows much of his produce in his garden or a pumpkin/ artichoke cutter who entertains the visitors with traditional, very often obscene songs.
A hot spot of the market: Tarlabaşı
Tarlabaşı Pazarı, which operates every Sunday, is our local market in Istanbul. This massive food market is one of the best reasons to live in this neighborhood. It is located in the center of the Beyoğlu district, just a 10-minute walk from the famous İstiklal Caddesi and Taksim Square. Historically, the district was primarily inhabited by non-Muslim communities of Levantines, Jews, Armenians, and Greeks who worked in numerous international institutions, embassies, and entertainment venues of the Taksim and Pera. Now it is populated mainly with low-income Turkish, Kurdish, Syrian, and African citizens of Istanbul. The variety of produce —fresh vegetables, fruits, seafood, dairy, olives, spices, nuts, and dried fruits— makes the markets of Tarlabaşı one of the most beautiful in the city. Hundreds of professional merchants of fresh products set up their stalls along Kurdela Sokak.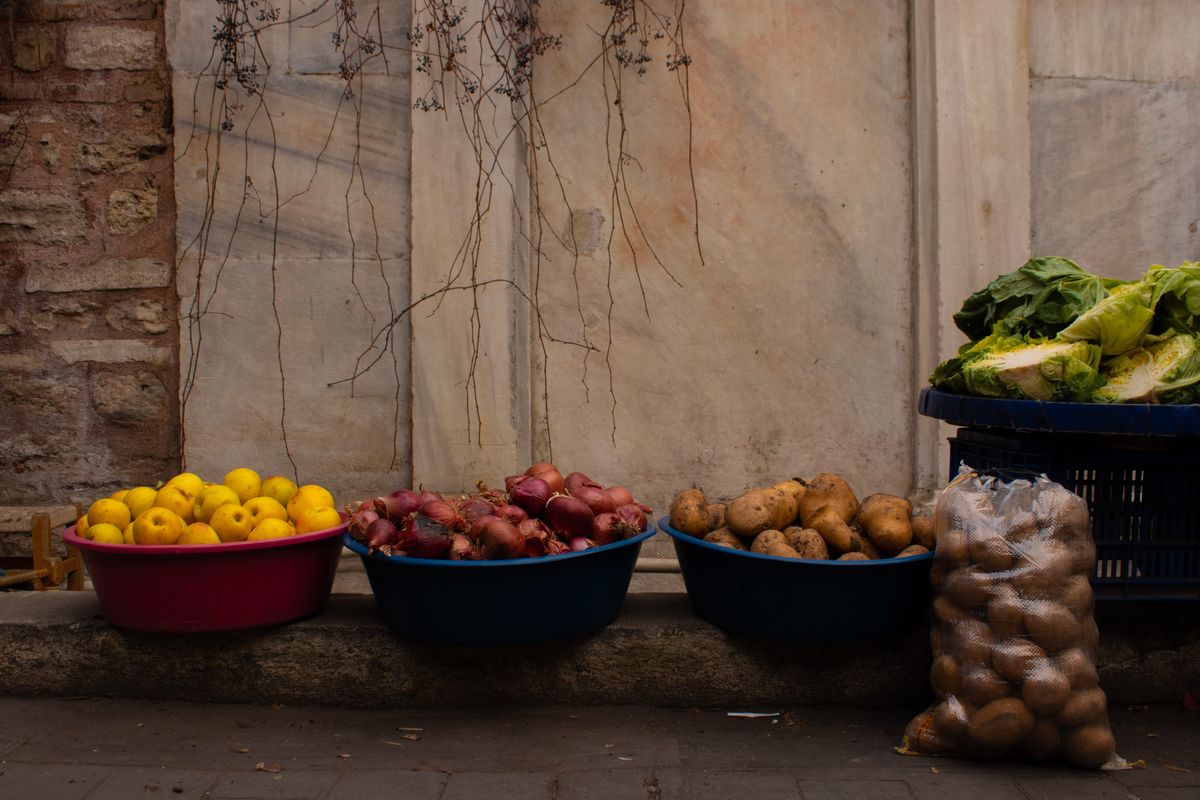 Guess who knows who sells the best apples
---
Every Sunday morning, pazarcılar (sellers) build their light architectural structure with poles, ropes, and tarps between historical buildings on the streets to create their temporary open-air market. The market is considered to be generally cheap, meeting the expectations of its residents: the lower-class citizens of Beyoğlu. The variety of products and sellers in Tarlabaşı pazarı allows us to find what we are looking for. Pazar is an excellent place to get fresh and carefully selected Turkish cheese and village dairy. Two outstanding cheese sellers in the market sell a high-quality peynir from Çanakkale. One of them sells his products at the very top of the market, close to the Beyoğlu side, where you can get fresh village eggs and homemade bread. The second one operates at the end of the market, close to Dolapdere. In recent months of high inflation, which is also visible in the local food markets, the second stand has become more convenient and affordable.
The pazar experience would never be completed if not for gözleme. Almost mid-way to Kurdela Sokak, the artery of the Tarlabaşı Pazarı, you can find a small gözleme station (where you can also buy fresh yufka). It is a perfect idea to make a pit stop there for a delicious, hot, and made-on-spot snack. Plenty of vegetable and fruit stands allow you to choose the best spot which offers good quality products according to the season changes. One of our most desired greens, basil leaves, is available only at one of the stands at the top of the market. Exploration of the whole market of Tarlabaşı and finding your desired goods can take a while, but it pays back by meeting fascinating people and observing inspiring situations.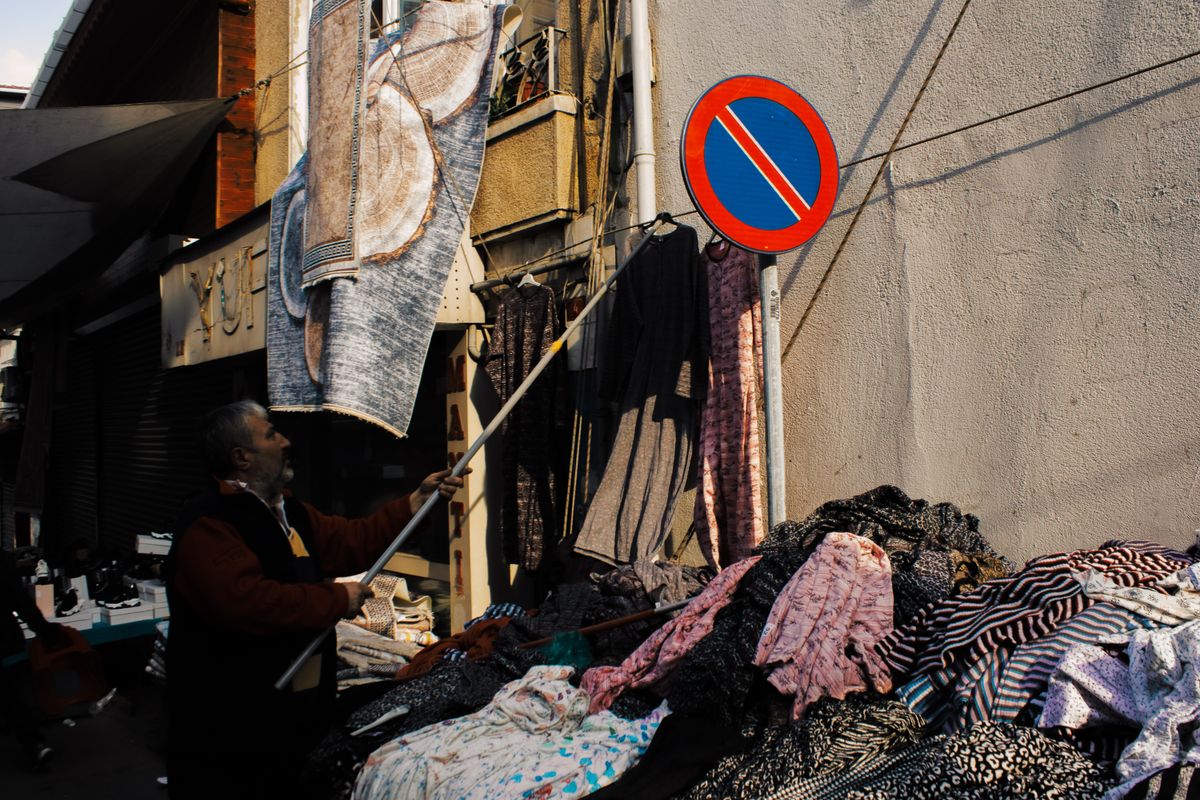 Shop on shop
---
On the mainland, it is even easier to make pazar-hopping, as many markets in the city take place on the same day. Luckily, just a short walk from Tarlabaşı, another excellent market, operates on Sundays: Kasımpaşa İnebolu Pazarı is situated in Kasımpaşa district.
Every Sunday, a little street changes into a colorful open-air Black Sea village food festival with unique products from Tosya, Kastamonu, and Inebolu. There are usually not more than 35 stands. Still, all of them belong to the farmers or merchants with seasonal vegetables, village dairy —butter, milk, süzme yoghurt— homemade loaves of bread, village eggs, fresh and alive chickens, organic honey in many variations, handmade jams from mulberry and rosehip, and a selection of wild plants like borage (starflower), fresh mint, and wild herbs. Visiting Kasımpaşa and Tarlabaşı markets on one of Sundays shall make you feel fulfilled for the whole long week ahead.
---
Editor's Note: All photos are taken in Tarlabaşı Pazarı and Kasımpaşa İnebolu Pazarı.
Hikâyeyi beğendiniz mi? Paylaşın.
ITALO RONDINELLA
We are together with Italo Rondinella.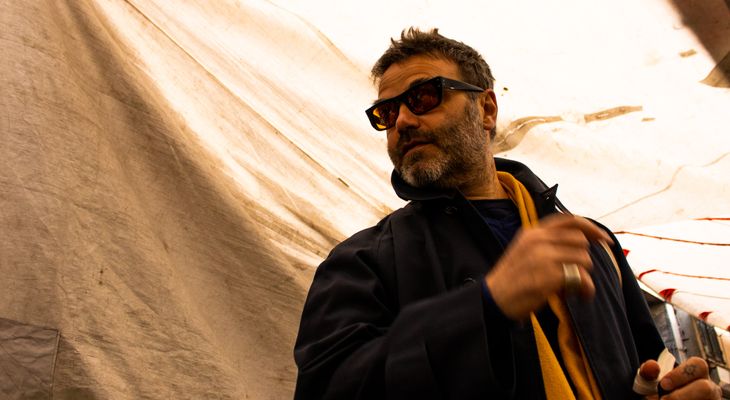 Italo is my name and my nickname too.
Currently, I'm working as a photographer and journalist, if I wasn't doing that I could have been a footballer.
According to my friends, I'm a master of tomato sauce, Bolognese sauce, and any sauce.
I live in Istanbul but I'm from Bologna in my heart because although I don't live there I visit frequently.
If not at home, you can find me at the seaside.
When I come across a good pizzeria in a neighborhood, I feel I belong there.
After living decades in Istanbul, I have discovered that also here, in Beyoğlu Balık Pazarı, I can find a delicious bottarga with which I prepare one of my best spaghetti recipes.
I have recently found inspiration in making bread.
I complain the most about referees in Italian football.
I can never find fresh green celery in Istanbul (or, at least, rarely).
I do not return from the market without good tomatoes (if it is the right season) and beyaz peynir.
When I need to fix my camera, I go to Sirkeci.
Only a real Istanbulite photographer would know that owning a tear gas mask is a good idea.
My favorite market to take photos in Istanbul is probably Samatya Pazarı, but I love all of them.
Hikâyeyi beğendiniz mi? Paylaşın.
Pazar//Shuk
A pazar tour with Kornelia and Italo.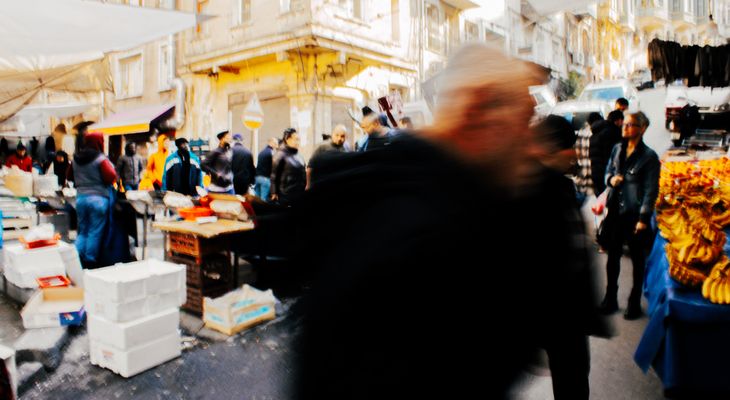 Unsaturated: Food markets
Photos: Italo Rondinella
Pazar//Shuk, the book prepared by Kornelia Binicewicz and Italo Rondinella, with the contribution of Elazar Zinvel the former Cultural Attache of Israel in Istanbul and Ipek and Zeynep Ozbay from Paper Street Co. contains a collection of stories, essays, and street photography spiced with a solid dose of recipes coming straight from the local markets. It brings together the two cities and their people, presenting the universe of pazar and shuk with brilliant snapshots of culture and local history carrying the very essence of life itself in Istanbul and Tel Aviv.
Italo selected 12 photographs from the Istanbul section of the book that he produced with Kornelia. The photos he has chosen reflect the reality of the markets and tell their daily stories.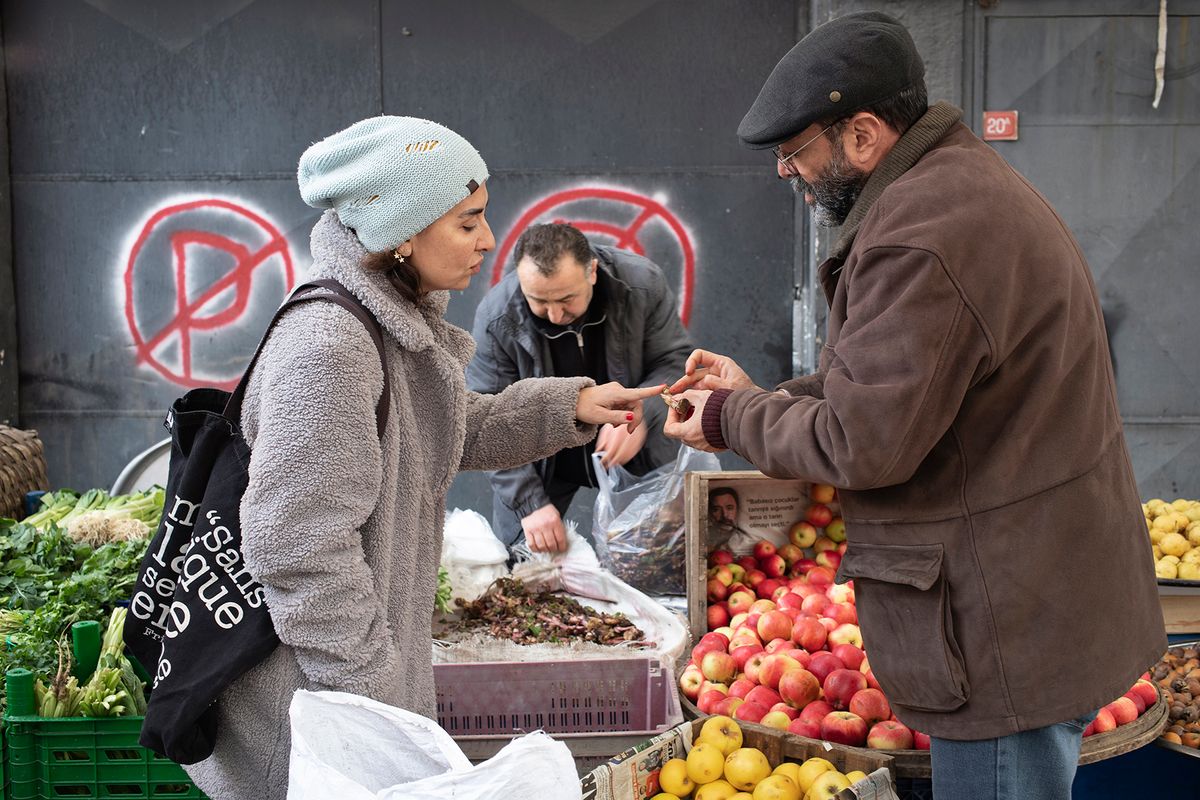 Musa Dağdeviren, Çiya Restaurant owner, in his Sunday morning shopping at the Kasımpaşa İnebolu Pazarı.

One of the stands of Kasımpaşa İnebolu Pazarı.

Hilmi Yıldız owns a fish shop and a fish restaurant in one of the main squares of Samatya, a neighborhood in Fatih district on the European side of Istanbul.
A hamal (porter) at Samatya Saturday market.
Menemenci Hamido is located in one of the small streets entwining the Istanbul Grand Bazaar, just next to the Yeni Polonya Pazarı. His menemen is one of the best in town.
Watching the football match at Tarlabaşı Sunday market.
The cheese seller Ömer Gülcin is ordering tea to the Tarlabaşı Pazarı çaycı.

Tarlabaşı Pazarı takes place every Sunday and it is the main weekly market of Beyoğlu on the European side of Istanbul.
The Kadıköy Pazarı structure was designed by the architect Hakan Kıran.

A bread seller at Kadıköy Pazarı. The market happens twice a week, on Tuesdays and Fridays, and it is one of the biggest in Istanbul.
Gözleme is standard fare at any pazar in Istanbul and Turkey. Here one of the gözlemeci teyzeler at Kadıköy Pazarı.

Fruit and clothes stands at Kadıköy Pazarı.
Hikâyeyi beğendiniz mi? Paylaşın.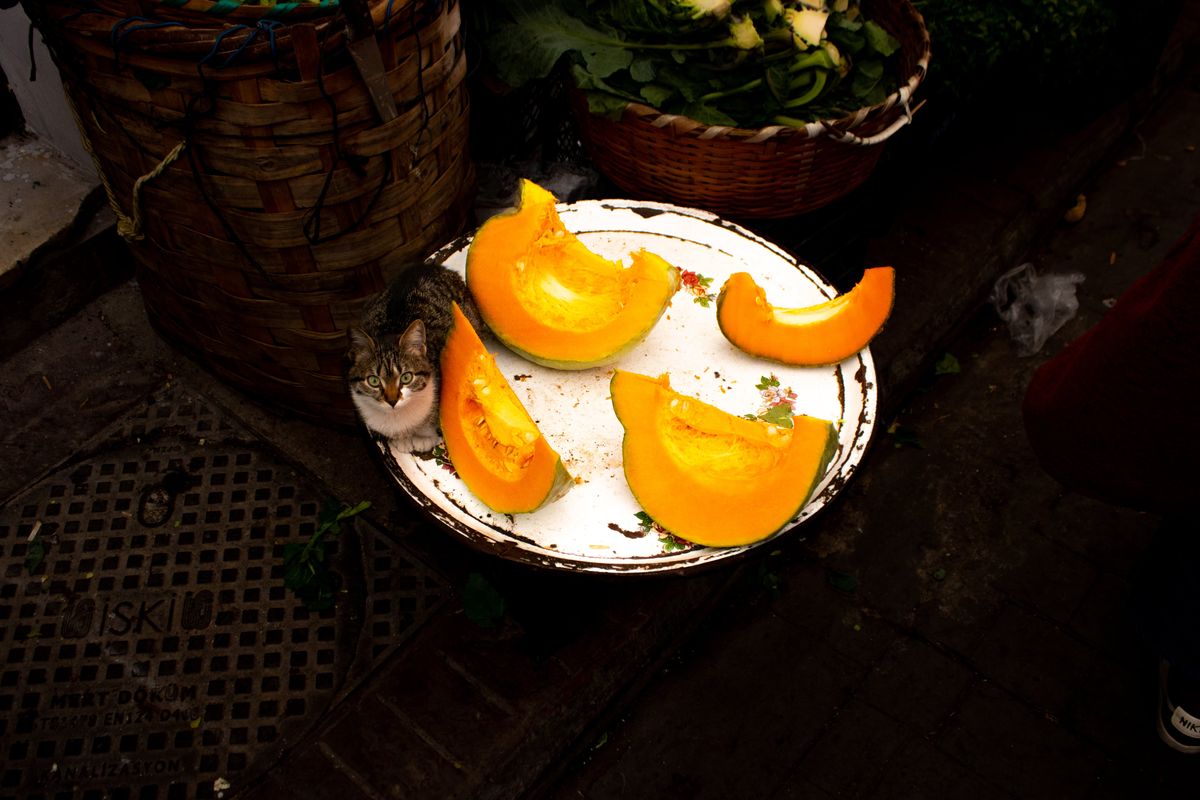 Find the best pumpkin in the market by following the neighborhood cat
---
This week we were in the market with Kornelia and Italo, looking for green celery, chatting with those who said "booouyr!" to their stalls and looking for parsley that hadn't yet soaked for tonight's salad.
Next week we will greet you from London to meet once again the usual suspects of the neigbourhoods and salute the newcomers
Until then, follow us: @soli.community