Moments are meant to come and go. Like things. They disappear from our minds to make room for present and future tenses. It is not surprising that the first things that come to mind when travelling from Taksim Square to Cihangir via Sıraselviler following Meşelik, Abdullah, Çukurlu Çeşme streets are those we have lost. Reminiscences from an elegy to the past. The corner where we used to take off our uniform skirts to reveal our rolled-up trousers underneath, is still there. But not as we remember it. A car's parked on our spot. The terrace where we carried the beer bottles we bought from the corner grocery store up seven floors, read underlined Oruç Aruoba lines to each other, and listened to The Cure and Pulp through shared headphones is also here, when we look up. No longer makeshift, but 'facelifted'. As we can see from the movements of the new inhabitant's finger on the screen, it has been turned into a castle, protected with a six-digit code. The greengrocer where we buy apples and tangerines just before going to Istiklal; the Black Sea restaurant where we learned that "Laz böreği" (pastry) is in fact a dessert; Dulcinea, the after-party location of jazz festivals; Hayal Kahvesi, the meeting point of Cihangir, Çukurcuma and Galata on weekdays. A list of the disappeared.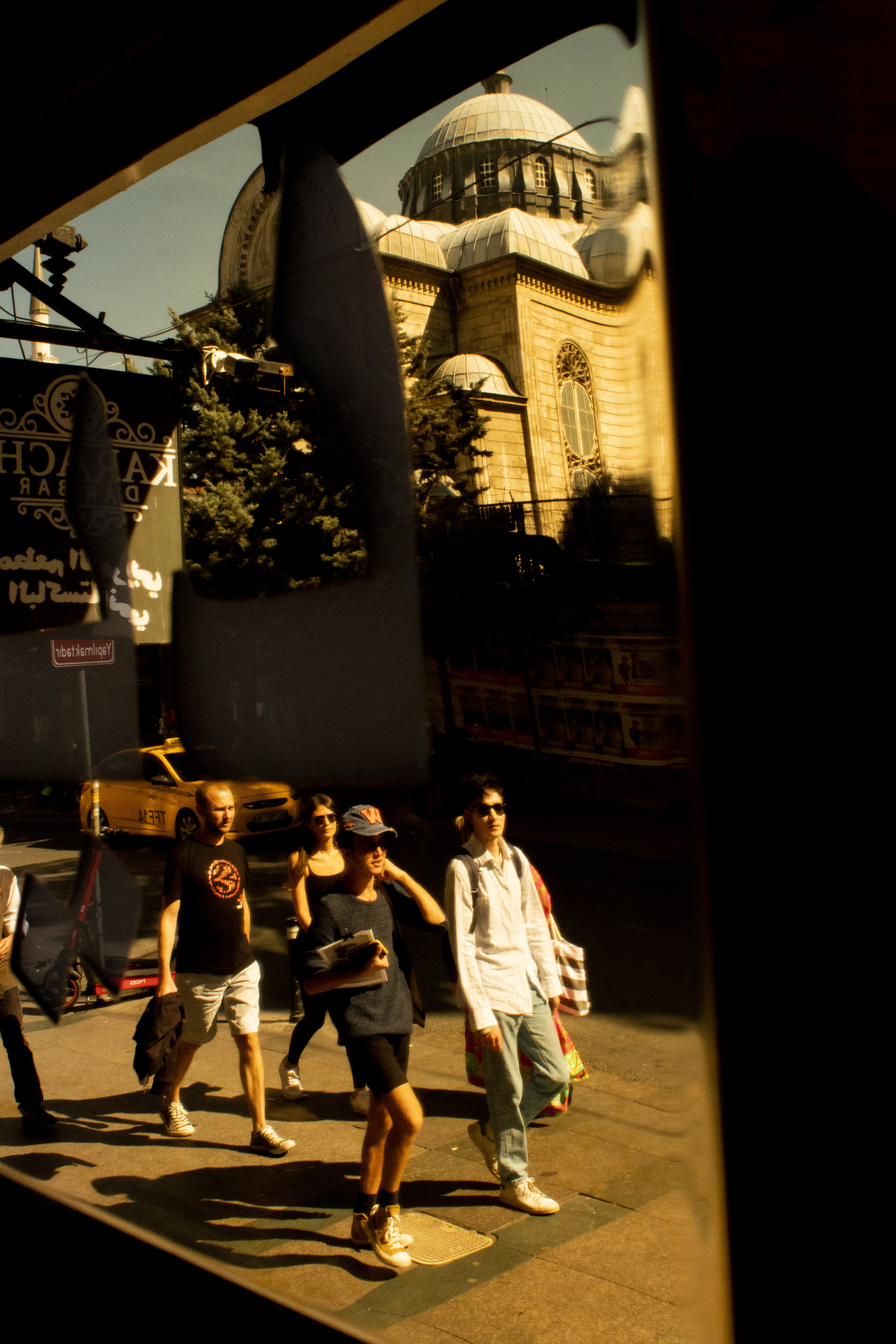 Exploring neighbourhood like a tourist
---
But when we take a closer look, when we focus on looking not for the lost but for the remaining, some stand strong despite everything. Nizam, for example, who we used to ask for a plate of pickled peppers with our pide, is still there. The building where we photocopied and distributed our fanzine Fanfin is on the streets of Beyoğlu -28 copies a month- is also in place. We still return from Sirkeci Mescit when we want to take a shortcut. Someone's playing backgammon in front of Hocazade. The walls shout out words of rebellion, albeit faintly. The shop window at the corner of Abdullah Street, where lipstick is secretly checked and clothes are straightened up before entering "Sokak" (Street), is also in its place.
The memory of Sıraselviler continues to live on among the building entrances, passages, and corners passing through the oral history as witnesses of those times.
Follow us,
Hazal

Organised by the Istanbul Foundation for Culture and Arts (IKSV) since 1987 and sponsored by Koç Holding since 2007, the 17th edition of the Istanbul Biennial has opened its doors to the public eye.
The Biennial, which will be open to public visit until 20 November, is prepared with a different approach in this edition due to the pandemic precautions as well as its one-year delay.
The 17th Istanbul Biennial meets its viewers in various spots of the city such as bookstores, hospitals, nursing homes, cafes, metro stations, and Açık Radyo.
An avid supporter of culture and arts, Koç Holding is happy to sponsor the Istanbul Biennial by 2036. To find the short film focusing on the healing and transformative qualities of art, you may visit this link.