Between September 17 and November 20, we stroll around Balat, Çemberlitaş, Sıraselviler, Tophane, Yeldeğirmeni, and Zeytinburnu for the 17th Istanbul Biennial. This year's biennial takes its inspiration from compost, a natural fertilisation method in which many different organic wastes are brought together and decomposed. We stroll around these neighbourhoods one more time, but this time for the 17th Istanbul Biennial, we enter streets we frequent less and peek through the doors of the buildings whose names we have just heard of. This time, we let our eyes roam over the city we are native to, like travellers. When our feet get tired, but not our minds, we catch our breath in a café where locals sit. It is the curiosity that makes our feet stand back up again. We feel homely and then unhomely again. We swing around the authentic and the cliché, the old and the new, the traditional and the modern, the nostalgic and the futuristic, between the black and the white of the six neighbourhoods where the 17th Istanbul Biennial is spread. 'Can the streets be audible and/or silent narrators of the neighbourhood at the same time?'. This question is on our minds as we traverse the streets again and again. We continue on our route through artisan and artist workshops, streets, parks, restaurants, shops, and cultural centres to better understand and read the neighbourhoods and become a participant in their everyday culture.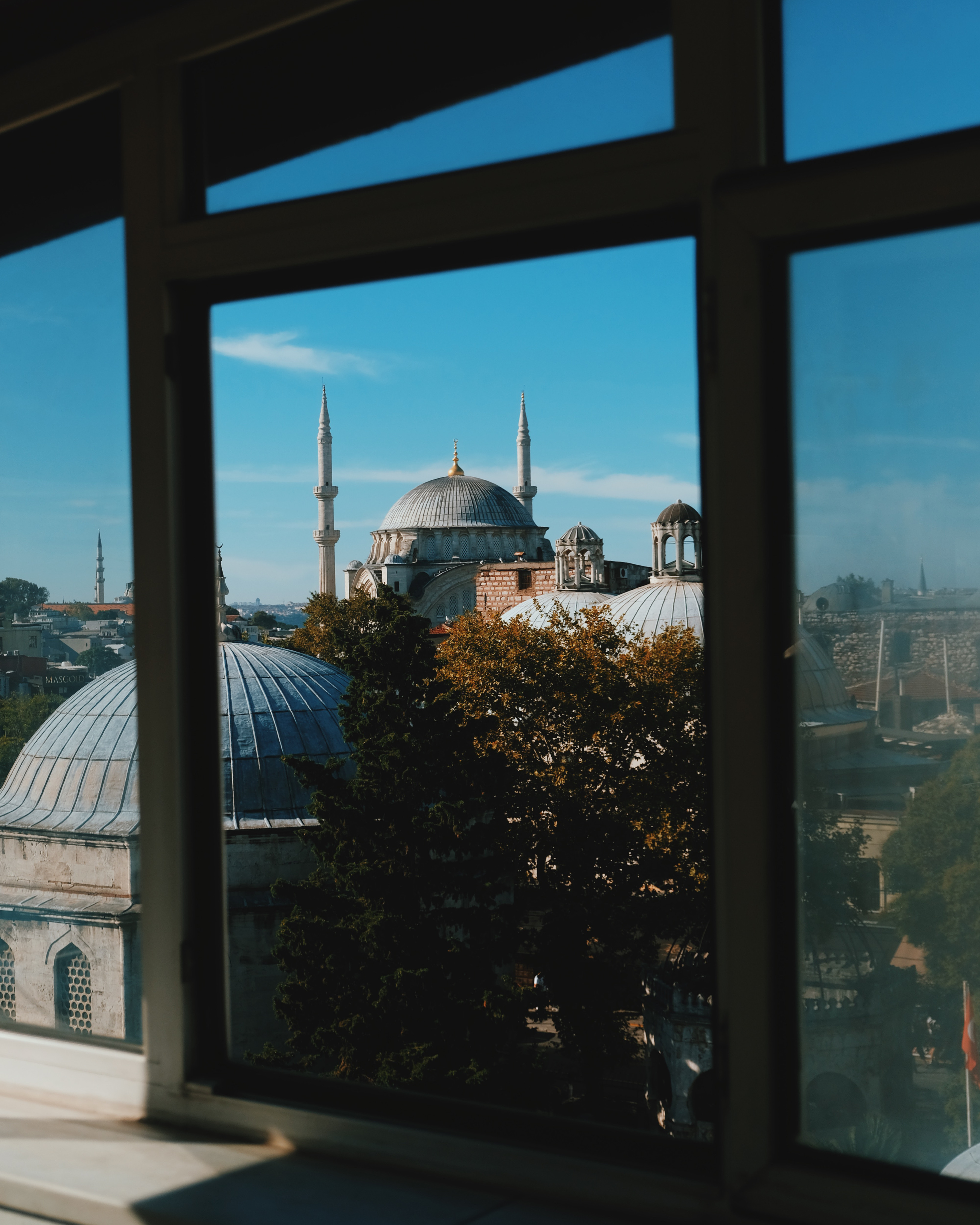 The window opening to Çemberlitaş view
---
Today, we are welcomed by Barın Han in Çemberlitaş, which was the calligraphy and bookbinding studio of artist Emin Barın for many years. Then we will pass by Gedikpaşa Armenian Protestant Church (Gedikpaşa Ermeni İncili Kilisesi), take a short break at Bena Ice Cream Shop, and walk through Kürkçüler Pazarı Street.
Follow us,
Soli team
Çemberlitaş Route from Barın Han to the Protestant Church
The first step was taken at Barın Han. We came to the Protestant Church by passing from street to street, accompanied by the sounds of moving boxes and pigeons flying above us, with simit and chocolate açma bought from the bakery. While we are there, we decide to have a cup of tea with Recep Abi.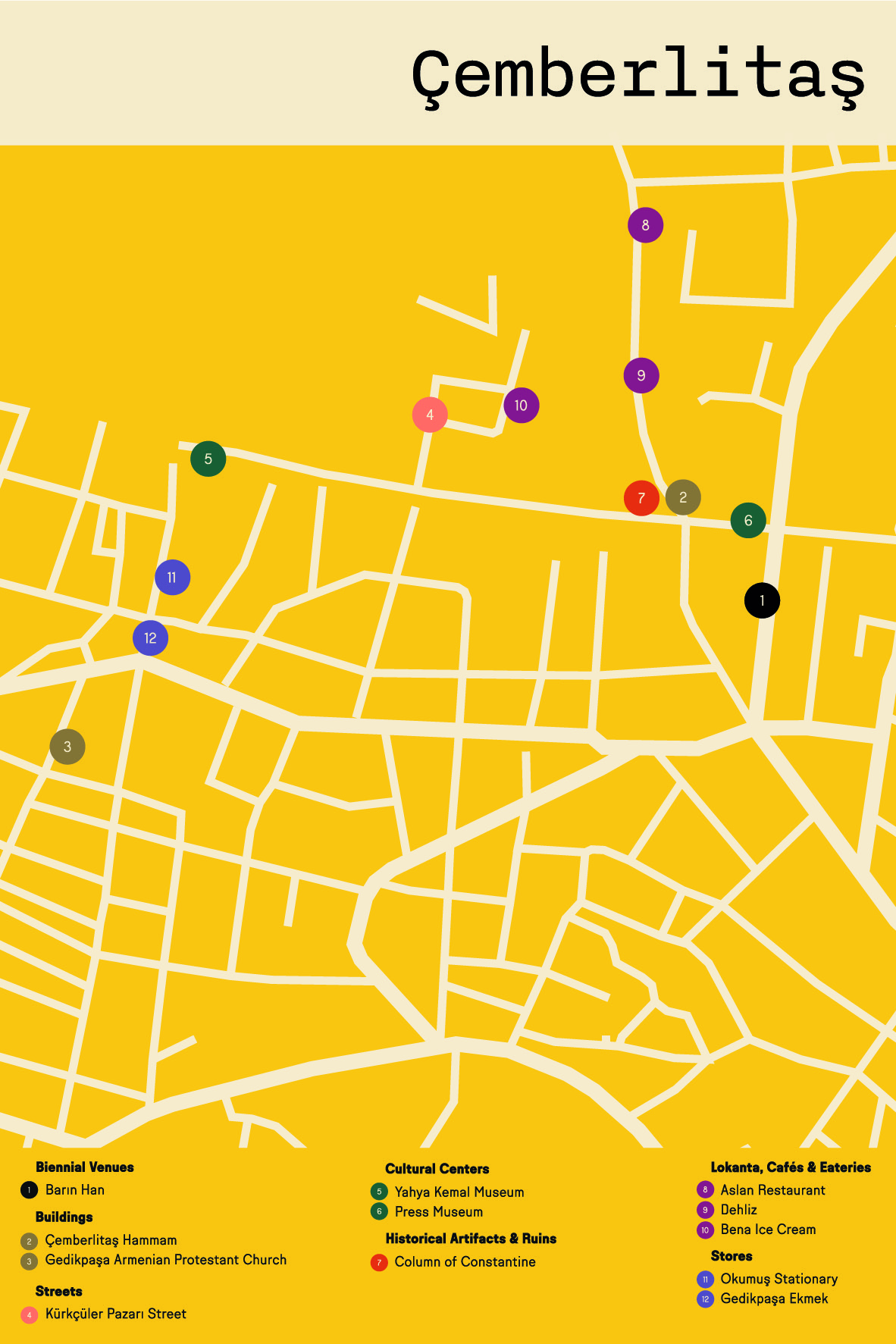 Biennial venues
Barın Han: We couldn't wander through history and miss the art. Barın Han, which takes part in the Biennial, is on the right end of the streets that lead to the sea. Barın Han has served as Prof. Dr. Emin Barın's studio and bookbindery for many years. Since 2019, it is one of those rare places where you can see independent art collectives and artists.
Cultural centres
Yahya Kemal Museum: If there are no visitors, they usually keep the door closed. But tour guides can open the museum for you upon request. They don't tell you anything without you asking, so we say, ask anything you can think of and learn as much as you can. Unfortunately, sometimes asking is not enough. For example, we still haven't found out why the Yahya Kemal Museum is located in the Istanbul Conquest Society (İstanbul Fetih Cemiyeti), but the manuscripts and drawings inside stole our hearts.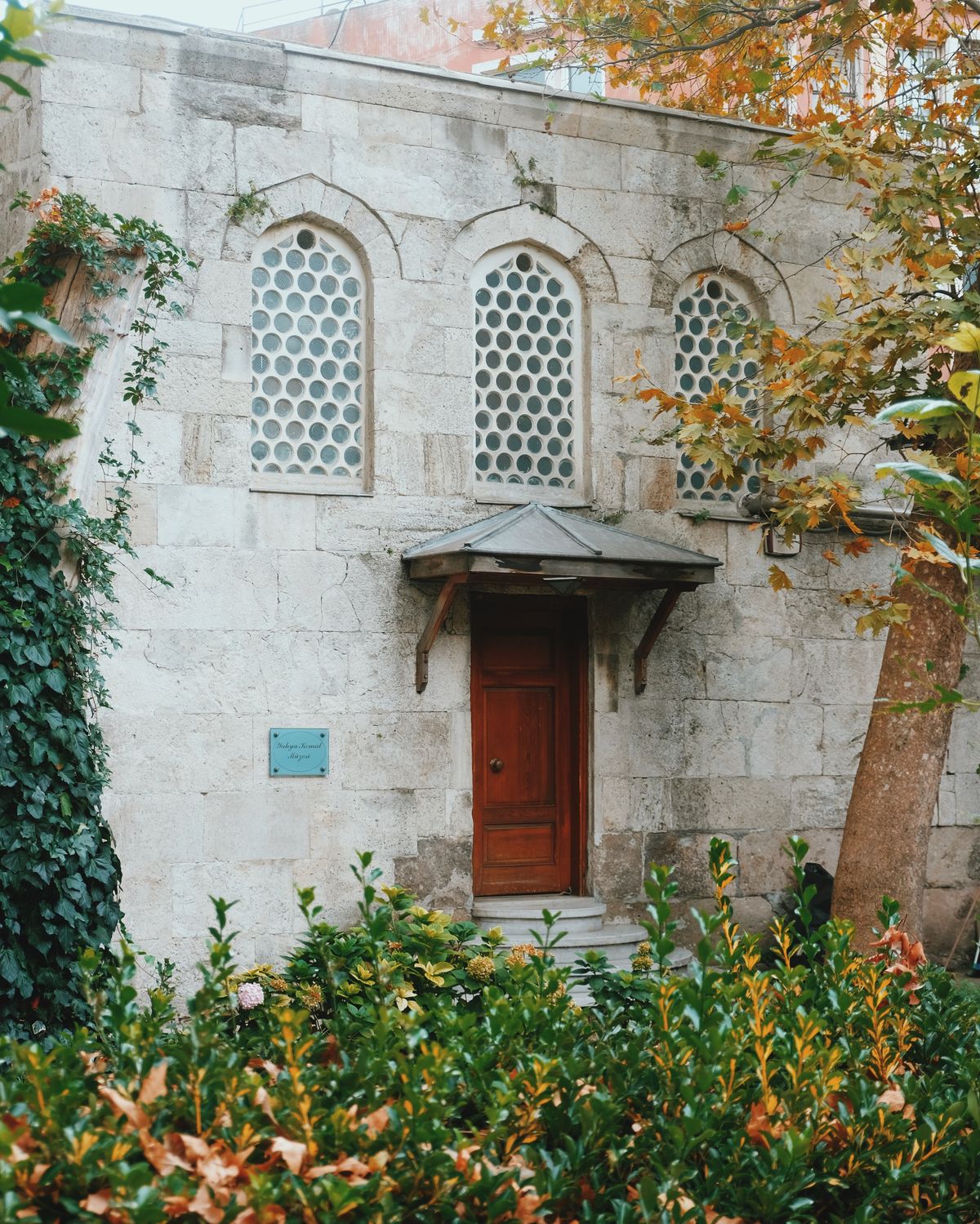 Yahya Kemal Museum
---
Press Media Museum: When you look at the green board at the entrance, you can find everything you need to know: they only accept 5 people at a time, there are numbers for those who want to have a solo or group exhibition in the art gallery on the second floor of the building, the rules of the museum, and much more. But perhaps the most eye-catching of all is a small notice on the top left of the board. Sindi, the lady of the museum, is gone. For twelve years, Sindi has been the apple of the museum staff's eye, and the corner dedicated to her makes you feel at home as soon as you see it.
Şerefiye Sarnıcı Square: Don't be surprised if you ever feel like you're visiting one of the signature squares in Europe when you're at Şerefiye Sarnıcı. Grab a book and coffee from Istanbul Kitapçısı and sit on the stairs, and chit-chat with your friends.
Restaurants and cafés
Dehliz: On the ground floor of the 450-year-old Vezir Han. Sevan salad and döner, which are their own recipes, are the most preferred ones. For vegetarians, a daily changing plate of olive oil dishes comes with rice in the middle. We could swear that the view you see when you descend the stairs makes you hungry, but we can't prove it.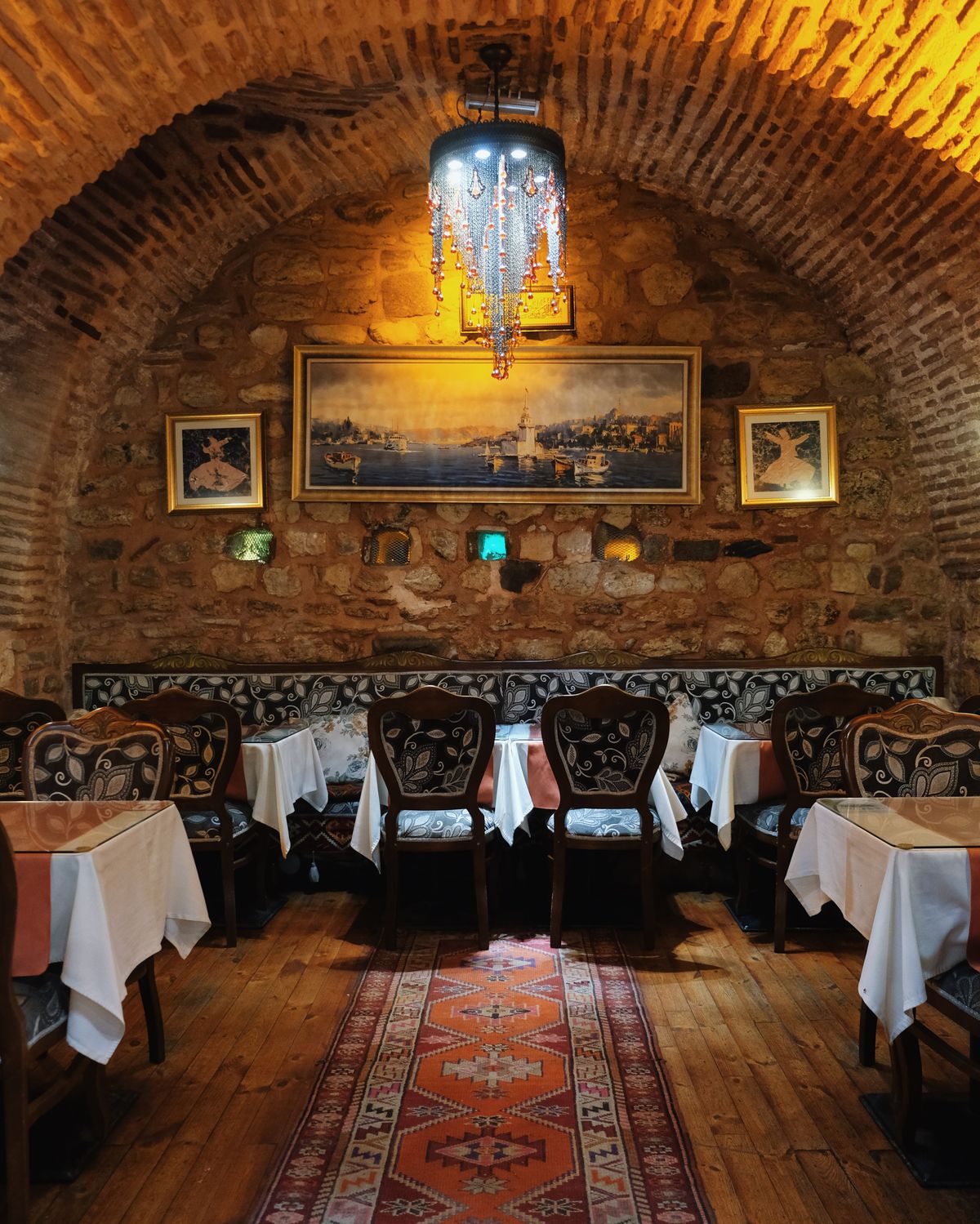 Downstairs of 450 year old Vezir Han
---
Çemberlitaş Börekçisi: Its cheesecake is our favourite. You can have it when you go to work, or you're on your way back home, or you're on your lunch break. It's always warm and melts in your mouth.
Bena Ice Cream Shop: It's good to be prepared for a long queue between 13:00-17:00. We went around eleven in the morning and we were spoiled by the choices and the smiling ice cream artists. Strawberry and caramel are our favourites. We already have a plan to get their Cypriot desserts in the winter.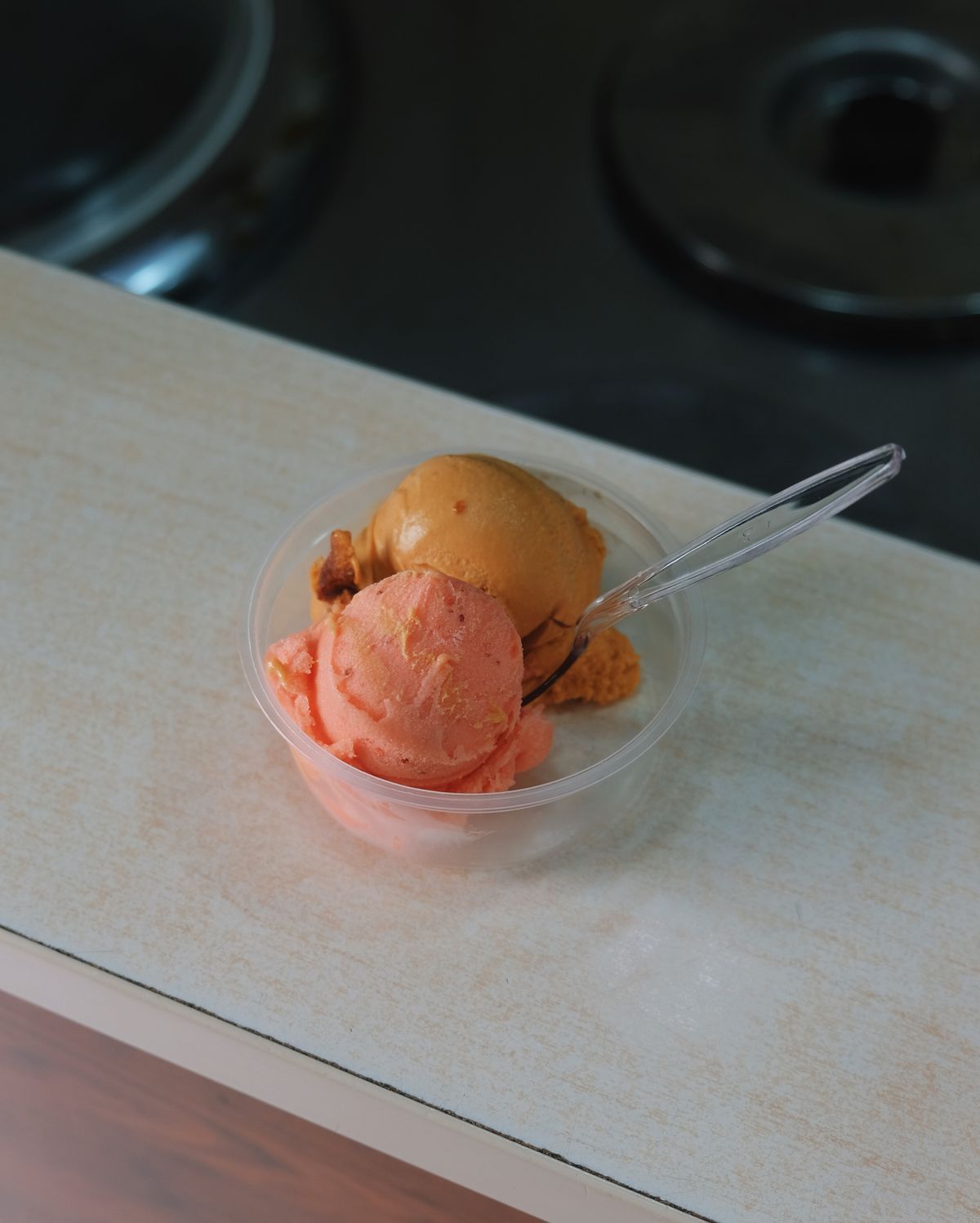 Strawberry and caramel ice cream from Bena
---
Şeyhmuz Kebap: Famous for being trustworthy. Between 12:00-14:00 you may not find a seat, how about an afternoon rest? And don't be too late because they close at 18:00.
Gedik Paşa Pilavcısı: Pilaf is served from the glass cart in front of the shop. You can either order chickpea-pilaf, chicken-pilaf, or all three, and a glass of ayran goes well with them.
Dayday Patisserie: We say 'donuts' and nothing else.
Peyk Away: Imagine you start your day walking in Peykhane with your coffee. Let the dogs accompany you, they don't bite.
Çiğdem Patisserie: In the mornings, it tempts you with baked goods, and in the afternoons with chocolate ponçiks, strawberry tartlets, and croissants.
Aslan Lokantası: An artisan restaurant serving those working in the Grand Bazaar, Sultanahmet, and Çemberlitaş since 1986. Spinach soup and stuffed leaves are among the favourites.
Streets and avenues
Kürkçüler Pazarı Street: A twinkling street to lose yourself in. Silver shops left and right, front and back. You're as enthusiastic as we are, aren't you? Unfortunately, this time we have to save that enthusiasm for another street because the products here are reserved for retail only. Still, that doesn't stop us from trying to persuade them with sweet talk. We've already got our eye on something and we're going to try it out.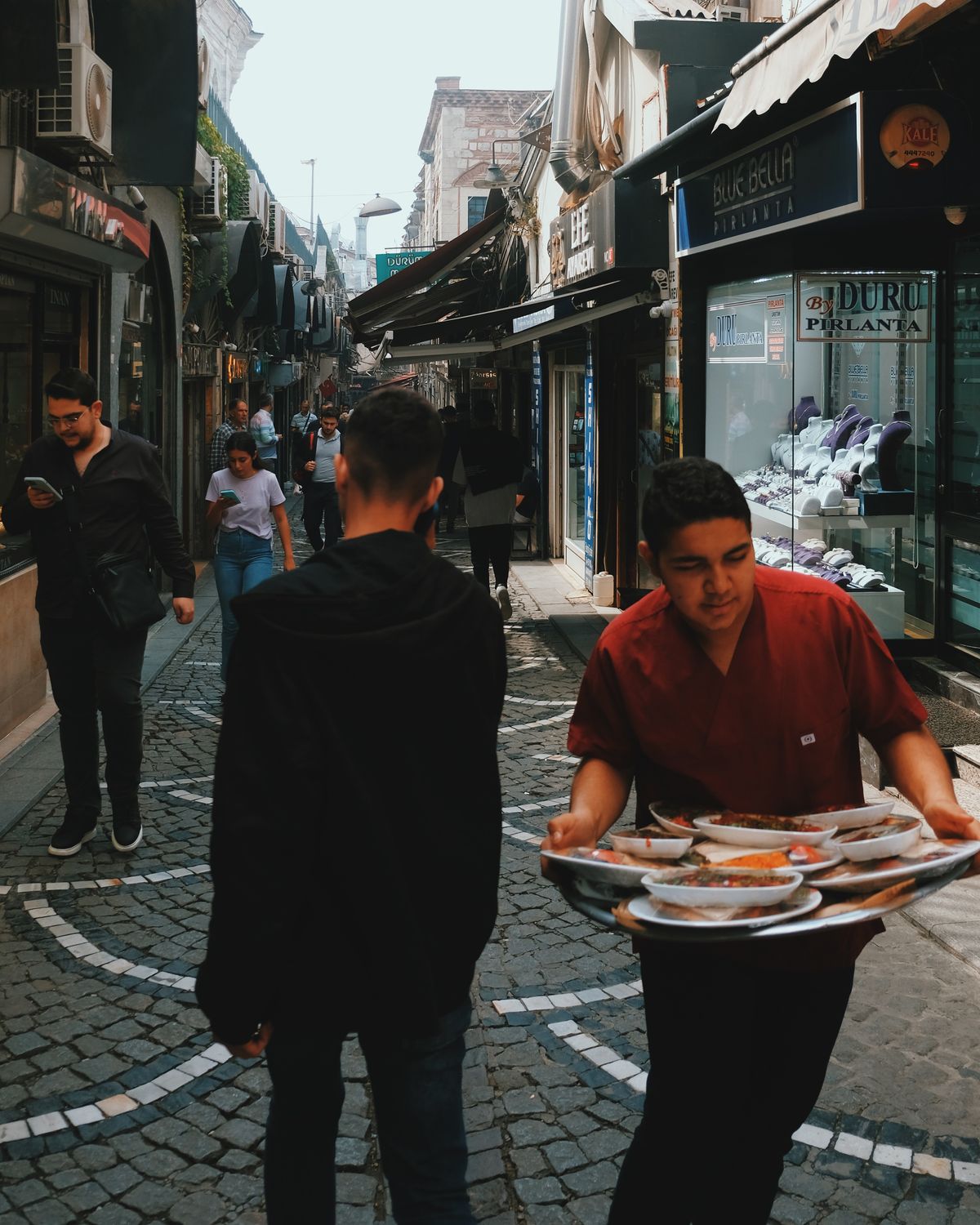 "The tray carries"
---
Kafesli Çadır Street: If you need fabric, and if you are one of those who cannot choose one without touching it, we are waiting for you on this colourful street.
Gedik Paşa Avenue: The street is full of different shoe stores. If you can't find what you are looking for here, we don't know where you can find it.
Shops
Gedik Paşa Ekmek AKA bakery: Thanks to the huge windows, you can see inside as it is, every second of the day. Next to the 'warm bread' sign, there are warm, smiling staff, crunchy simit, and soft pitas. Our favourite is the milk chocolate açma that they shape themselves, 1 of them can feed at least 2 people.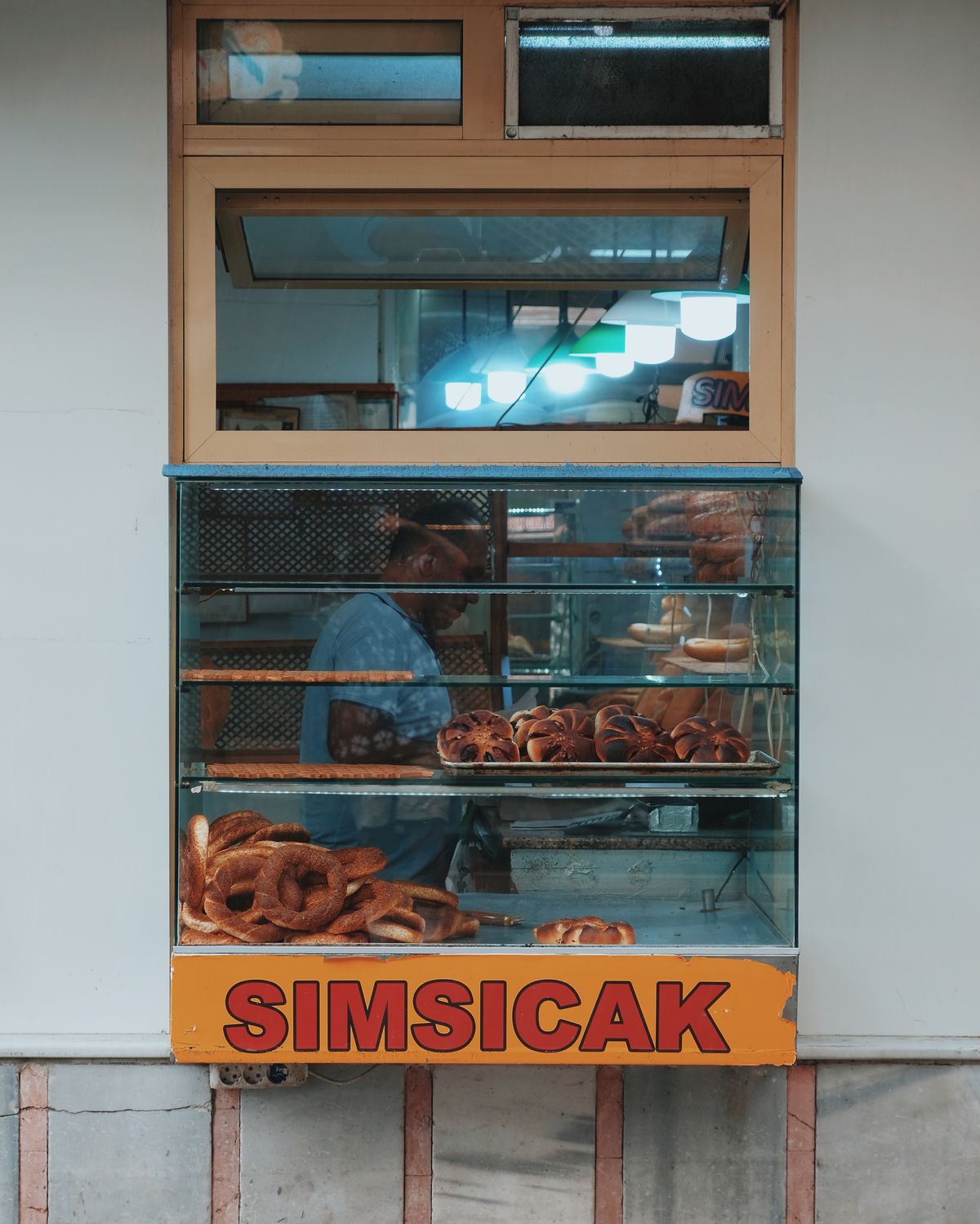 The Turkish bagel shop AKA Simitçi
---
Okumuş Kırtasiye AKA stationary: As soon as you step in, you are greeted by the calm and smiling demeanour of the third-generation owner of the family business, Hakan. Since there are more offices, bureaus, and workshops than schools in the neighbourhood, the content is organised accordingly. Chargers, the most essential need for the employees, are a must-have in the store.
Zımba Dünyası AKA stationary: If you want to make your own bag or wallet, and learn how to do it, this is the right address. Third-generationer Cenk is waiting for you at the entrance with bare feet and a smiling face.
Devrim Kitapçılık ve Kırtasiye AKA stationary: Many 'vintage' products such as staplers, tipp-ex, hole punches, pencils, carbon paper can be found here. It is like a stationary museum.
Buildings
Column of Constantine: Water in blue basins and bread scattered around. A gift from the neighbourhood for the pigeons that have made the column their nest. We bought stale bread from the shopkeepers across the street and watched them approach us, and trust us. We also decided to make a wish when the first bird we fed flew away.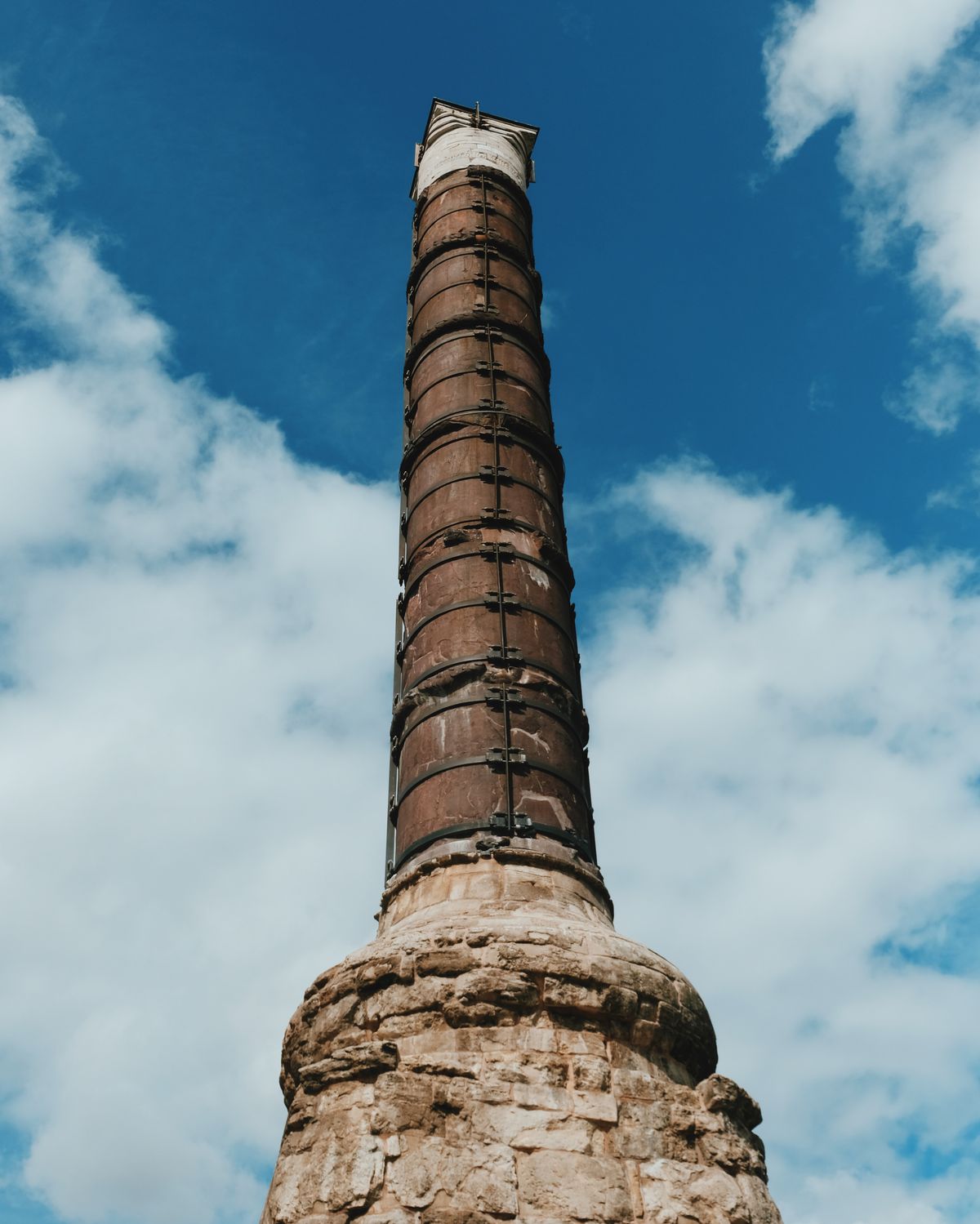 Column of Constantine

---
Gedikpaşa Armenian Protestant Church: On the right side of Gedikpaşa Street, which leads to the sea, is a magnificent building dominated by yellow and orange colours, which is currently being restored but will be open to all of us in a day or two. Turkish prayers take place at 11:00, Armenian prayers at 15:00, Persian prayers at 17:00. At the entrance is Recep, who is very happy to answer questions. "Nowadays nobody asks questions, nobody is curious about anything, those who come in leave as they are, I want to meet those who want to learn, then I never feel like shutting up." While solving his puzzle, he may suddenly talk about history, the neighbourhood, humanity, conscience, and make you question yourself.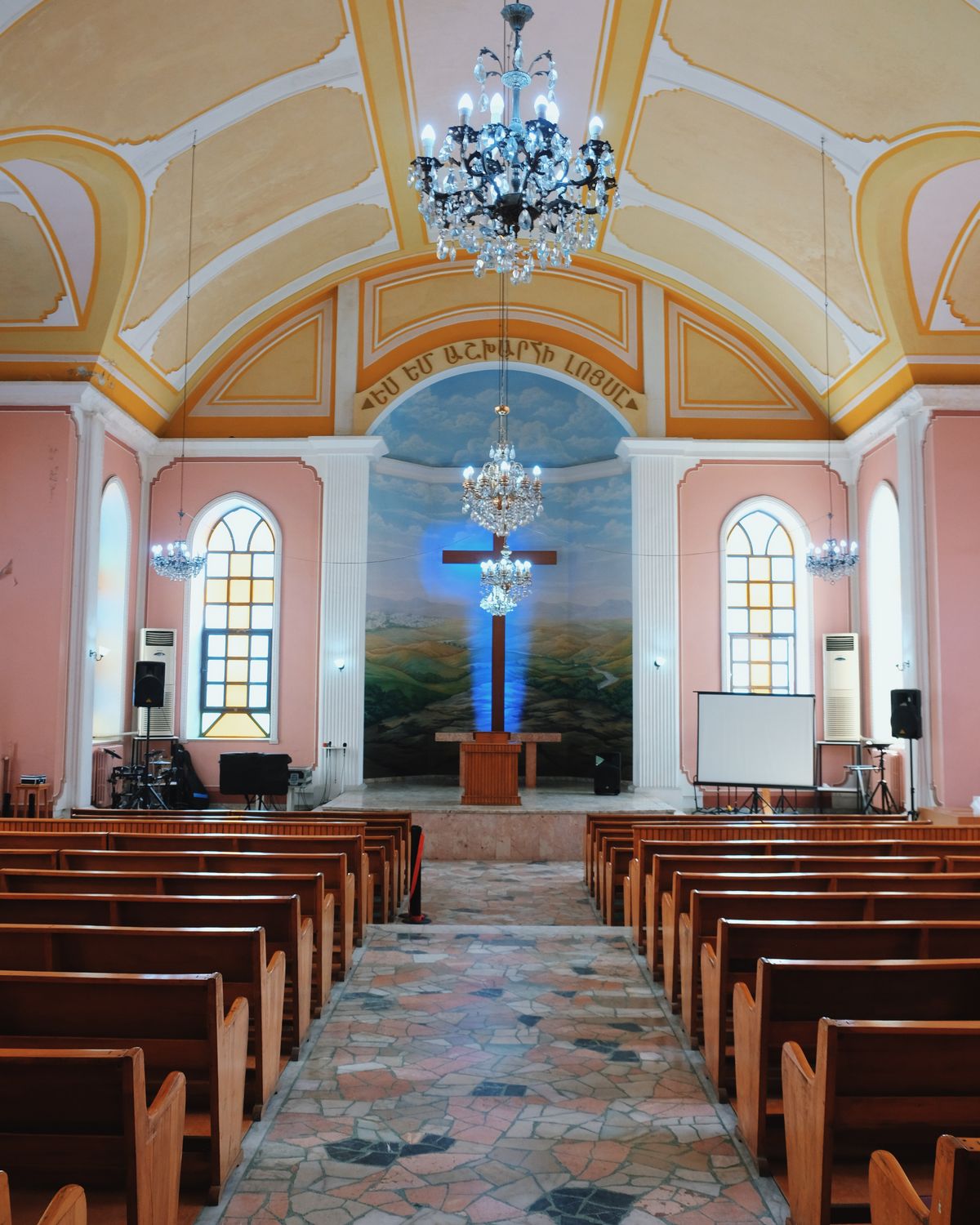 Gedikpaşa Armenian Protestant Church

---
Çemberlitaş Hamamı: While exploring the building, which has been around since 1554, we went for an Indian head massage. Within half an hour, all our tense muscles relaxed, and our headache was gone. Now we could continue on our way, ready for Istanbul traffic and new stress factors.
Click here to reach the map from Google Maps.
Hikâyeyi beğendiniz mi? Paylaşın.
Seventy-two years in business: Zımba Dünyası
We are chatting with Cenk, the third generation of the family business selling staplers.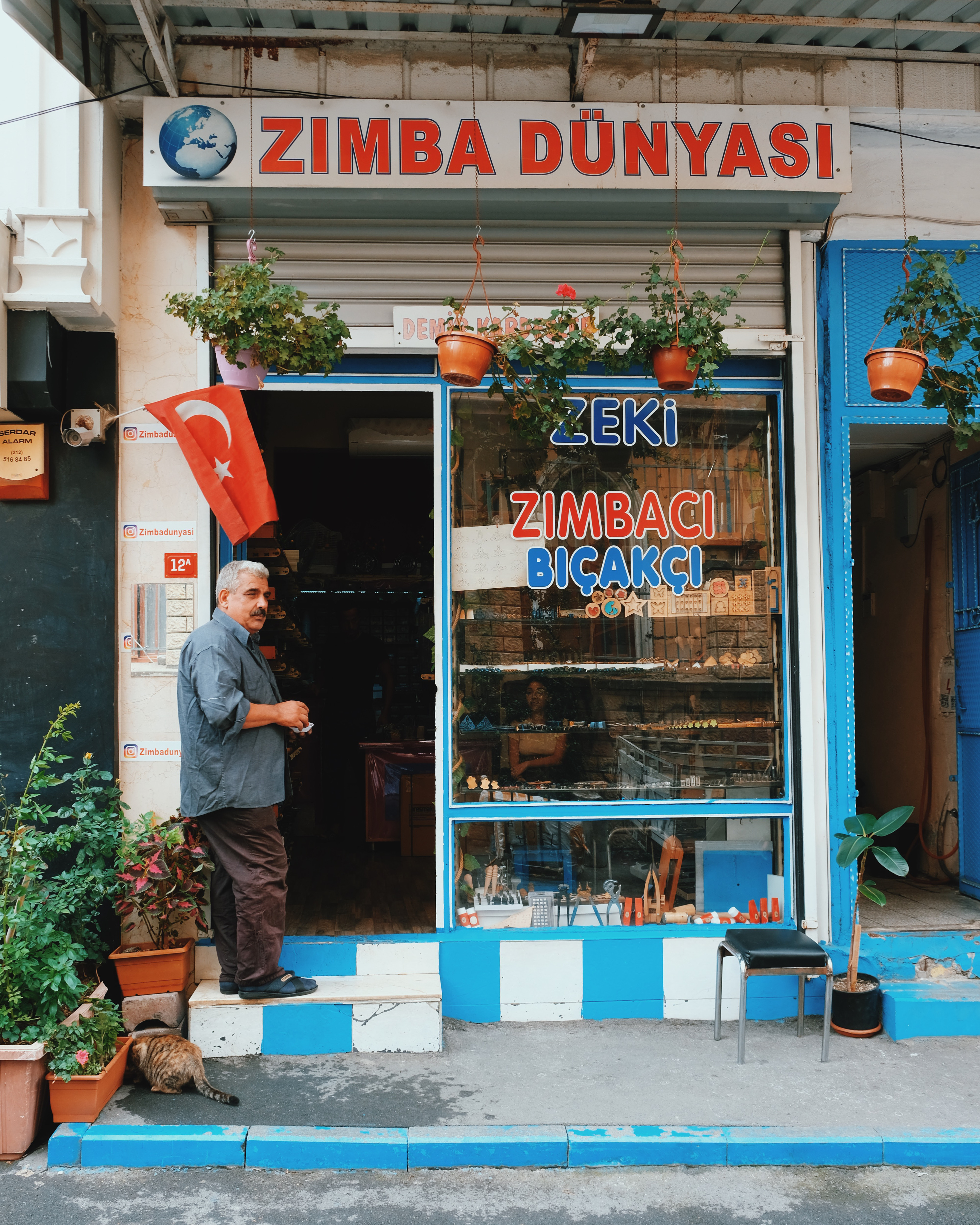 Zımba Dünyası (World of Staplers), exists since 1950. The third generation Cenk is thirty-six years old, and an apprentice since he was fifteen. He is a college graduate but life conditions made him go back to his family profession. When he was younger, this was a street of shoestores and leather shops where you couldn't walk through in peace because of all the hammering noises. Nowadays, it is calm but the small businesses still keep working and producing.
Cenk has a rabbit and a parrot inside the store. He puts chairs in front of his desk for us, and we start our conversation with one eye on him and one eye on the animals.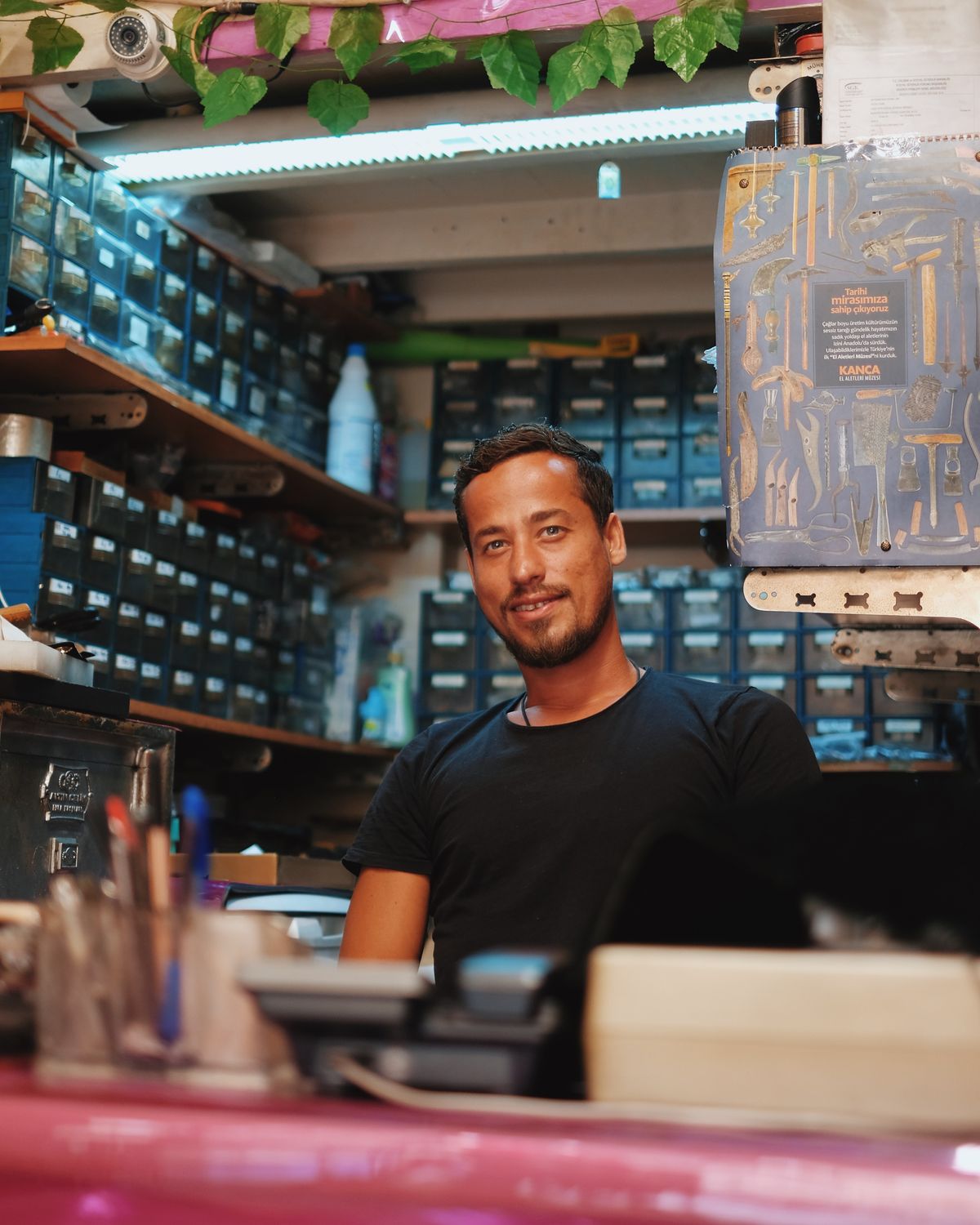 Cenk in his studio
---
What kind of a neighbourhood is Çemberlitaş?
This is a very historic place. Right opposite my shop there is the Gedikpaşa Armenian Protestant Church. Many people from Iran come here. Weddings and associations are held here. As a neighbourhood, we embrace this place very much, we take care of it.
If we think of Istanbul as a human body, this place is the stomach of Istanbul, Sirkeci is the heart, Eminönü is the brain for me. This place is also a very delicious place for those who know it. If you give some time to familiarize Çemberlitaş.
How do you know the neighbourhood of Çemberlitaş?
Neighbourliness can still continue here and this is very valuable. Breakfasts, shopping, and trade are always done through each other. Funerals and weddings are done together. Why? Work starts early here. We see our friends in the neighbourhood more than our families, and this binds us together.
For example, for breakfast in the mornings, we buy clotted cream from Kumkapı, simit, tomatoes, cheese, whatever we have. We always set the table in front of the door. So when you say 'Bon appetite', we give you some for the road. It's still like that here.
For you what difference does the stapler store being in this neighbourhood make? For what purpose do the neighbourhood residents come here?
Those who want to produce or those who follow their imagination come here. We are the only one in the neighbourhood. Without us or without these materials, people cannot do this job. We facilitate the process. When the neighbourhood wants, I give lessons, I explain what I know. Workshop apprentices, those who work at home, or foreigners come, and we relearn together. What I enjoy the most is the moment when people discover the materials.
Then a customer walks in. "I always talked to your uncle, can you help out me this time?" he asks. Cenk draws the desired watch strap right there, they exchange phone numbers to communicate before he leaves.
The neighbourhood is still warm and friendly. There is still the smell of simit on the street, the sound of tea and laughter coming from the next table to yours.
Hikâyeyi beğendiniz mi? Paylaşın.
Koç Holding welcomes art enthusiasts to the 17th Istanbul Biennial

Organised by the Istanbul Foundation for Culture and Arts (IKSV) since 1987 and sponsored by Koç Holding since 2007, the 17th edition of the Istanbul Biennial has opened its doors to the public eye.
The Biennial, which will be open to public visit until 20 November, is prepared with a different approach in this edition due to the pandemic precautions as well as its one-year delay.
The 17th Istanbul Biennial meets its viewers in various spots of the city such as bookstores, hospitals, nursing homes, cafes, metro stations, and Açık Radyo.
An avid supporter of culture and arts, Koç Holding is happy to sponsor the Istanbul Biennial by 2036. To find the short film focusing on the healing and transformative qualities of art, you may visit this link.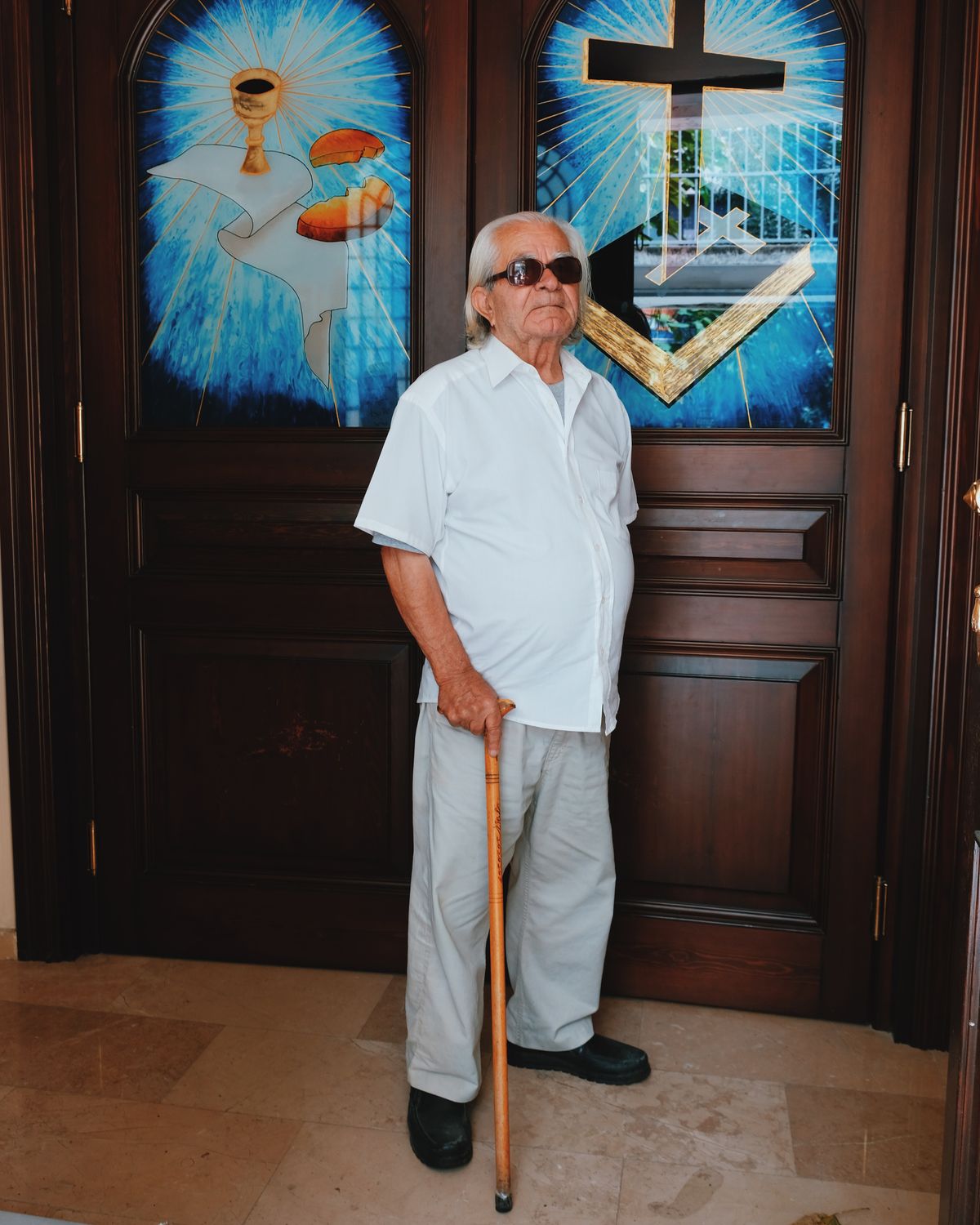 Recep in front of Gedikpaşa Armenian Protestant Church
---
We wandered through streets divided according to products; bag makers, silversmiths, fabric sellers, shoemakers, with chocolate açma in our hands. We visited museums, and exhibitions, and fed the pigeons. We gathered energy for new routes. Now, we are ready - with every cell in our body!