Between 17 September and 20 November, we stroll around Balat, Çemberlitaş, Sıraselviler, Tophane, Yeldeğirmeni, and Zeytinburnu for the 17th Istanbul Biennial. This year's Biennial takes its inspiration from compost, a natural fertilisation method in which many different organic wastes are brought together and decomposed. We stroll around these neighbourhoods one more time, but this time for the Biennial, we enter streets we frequent less and peek through the doors of the buildings whose names we have just heard of. This time, we let our eyes roam over the city we are native to, like travellers. When our feet get tired, but not our minds, we catch our breath in a café where locals sit. It is the curiosity that makes our feet stand back up again. We feel homely and then unhomely again. We swing around the authentic and the cliché, the old and the new, the traditional and the modern, the nostalgic and the futuristic, between the black and the white of the 6 neighbourhoods where the 17th Istanbul Biennial is spread.
'Can the streets be audible and/or silent narrators of the neighbourhood at the same time?'. This question is on our minds as we traverse the streets again and again. We continue on our route through artisan and artist workshops, streets, parks, restaurants, shops, and cultural centres to better understand and read the neighbourhoods and become a participant in their everyday culture.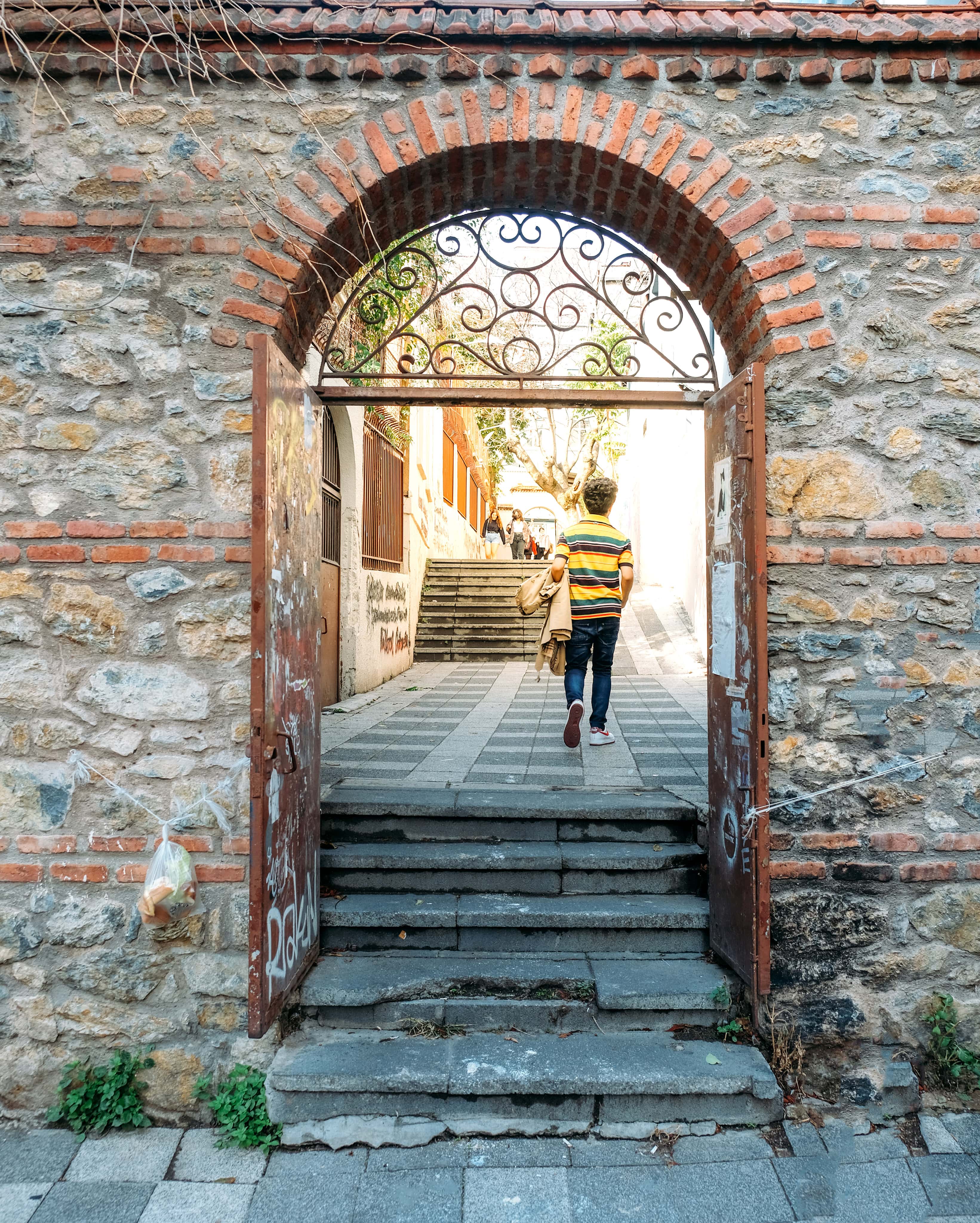 Tag along, we are hanging out in Yeldeğirmeni
---
Today, we started walking from the Museum Gazhane in Hasanpaşa, and the road will take us to arthereistanbul, where many stories, voices, and conversations will intertwine. In between, we will explore the multicultural, colourful, and cat-filled Yeldeğirmeni.
Follow us,
Soli team
Yeldeğirmeni route from Museum Gazhane to arthereistanbul
We bumped into acquaintances at Küff, walked at Uzun Hafız Street while the sun was setting in Yeldeğirmeni.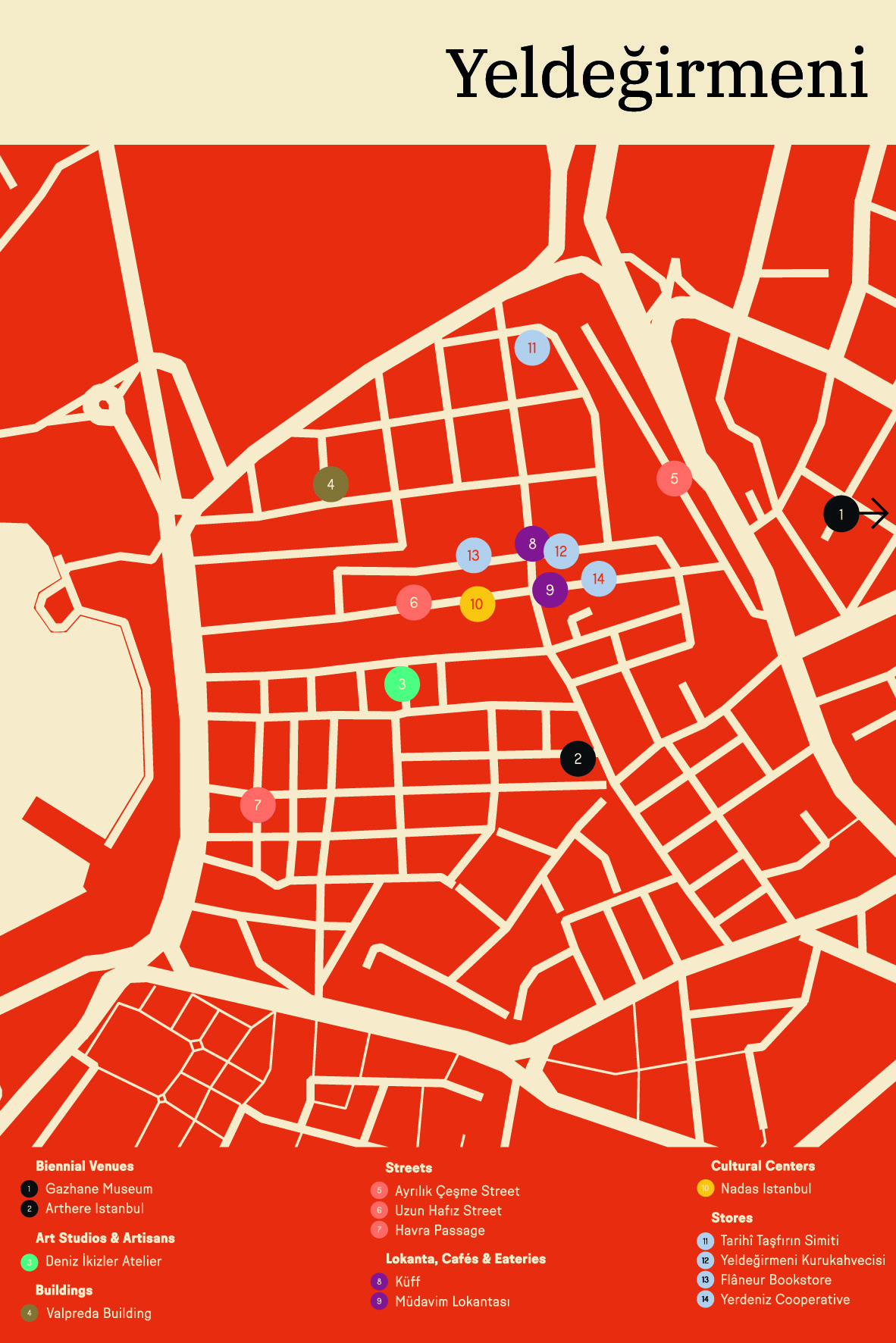 Biennial venues
Museum Gazhane: Founded at the end of the 19th century to produce the air gas that would provide the energy needed to power the Anatolian side of Istanbul, Hasanpaşa Gazhane closed in 1993. Today it is a 24-hour center with exhibition and museum spaces, stages, and libraries.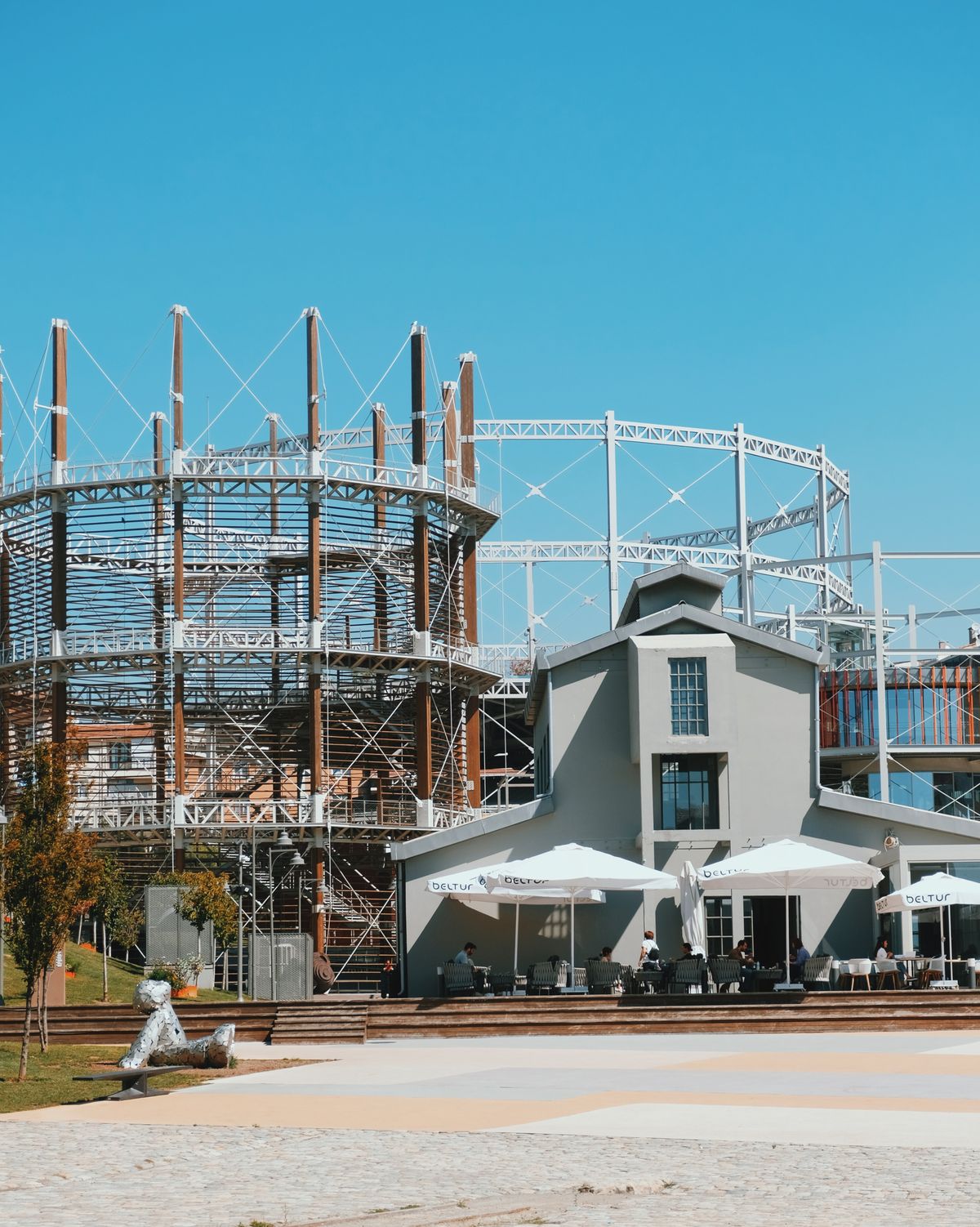 Museum Gazhane
---
arthereistanbul: Founded in 2014 by artists who left Syria because of the war, arthereistanbul has a sound recording studio, residency programs, a darkroom, and spaces for exhibitions and workshops.
Cultural centers
Nadas Istanbul: We are in a three-story house with a garden built in the 1930s. Jess Sim and Ahu Kopan, the first ambassadors of the conscious and empathetic community, have started a creative space dedicated to urban biodiversity, supporting projects that believe in the diversity of urban life and the relationships between people and their environment. The platform greensquaremeter, which also hosts talks on plants, is part of this community.
Noks Independent Art Space: Workshop, residency, exhibition space, publisher. This is how we can define the collective structure of Noks.
Restaurants and cafes
Küff: Coffee shop, sandwich shop, open office; the epicenter of Yeldeğirmeni where you can meet acquaintances and locals.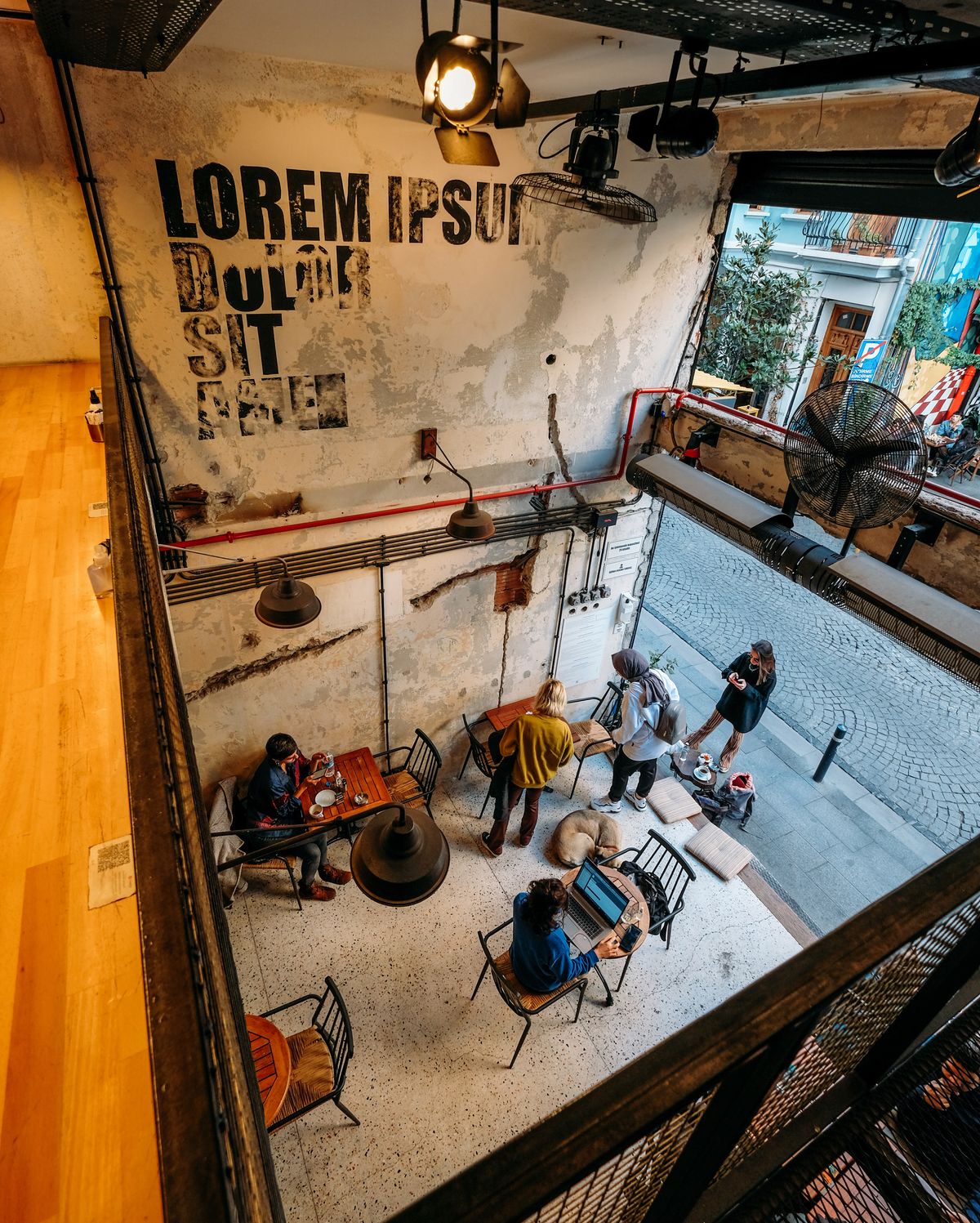 Yeldeğirmeni epicentre: Küff
---
Müdavim Lokantası: Your mother's meatballs, baked beetroot, whatever comes out of the kitchen that day, you can fill your plate with it.
Damla Pide: We order cabbage salad with stone-fried pita.
Coffee Manifesto: To turn on the computer and hang out all day; to listen to the conversations about the exhibitions or books at the next table.
Görkem Lokantası: A plate of pilaf that tastes like your grandma's.
Antepli Beraat: After eating çiğköfte wrapped in lettuce, baklava is next.
Levent Pide: The meeting point for those who want to eat Kurdish pastry before going to work in the morning.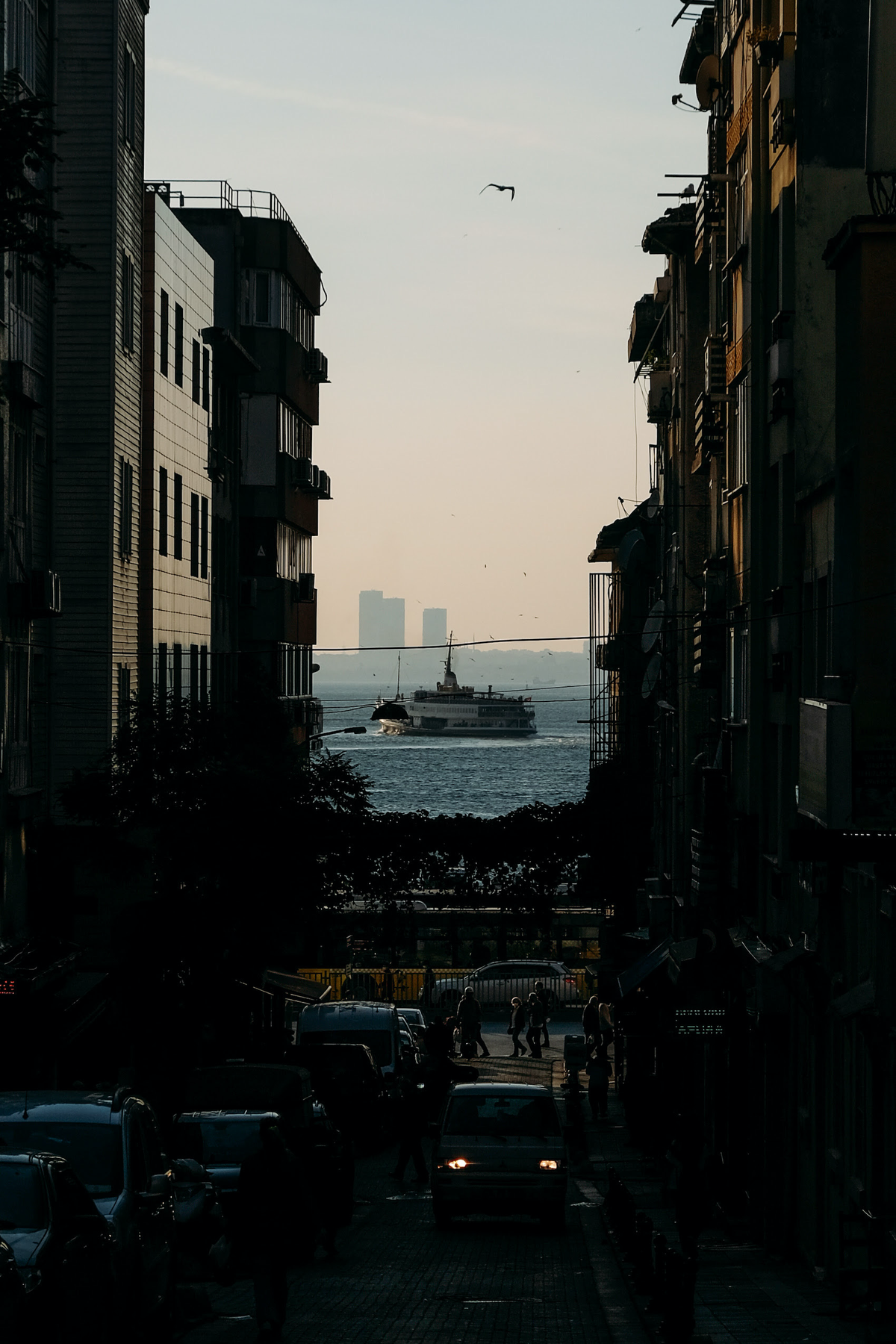 The streets of Yeldeğirmeni open to the sea
---
Bop Breakfast: Jams to take home, Antep-style olive salad, and handmade peanut butter are the reason to wait for a table there on the weekends.
Cafe Eya: Open until midnight, a neighbourhood meeting spot where you can drink coffee.
Bento Noodles: For handmade noodles, dumplings, and katsu.
Streets and avenues
Havra Passage: The place that connects two long streets in the middle, known as the portal among the neighbourhood.
Ayrılık Çeşme Street: Once one of the busiest streets of the Yeldeğirmeni mural route still has moments that make you say 'art on the streets!'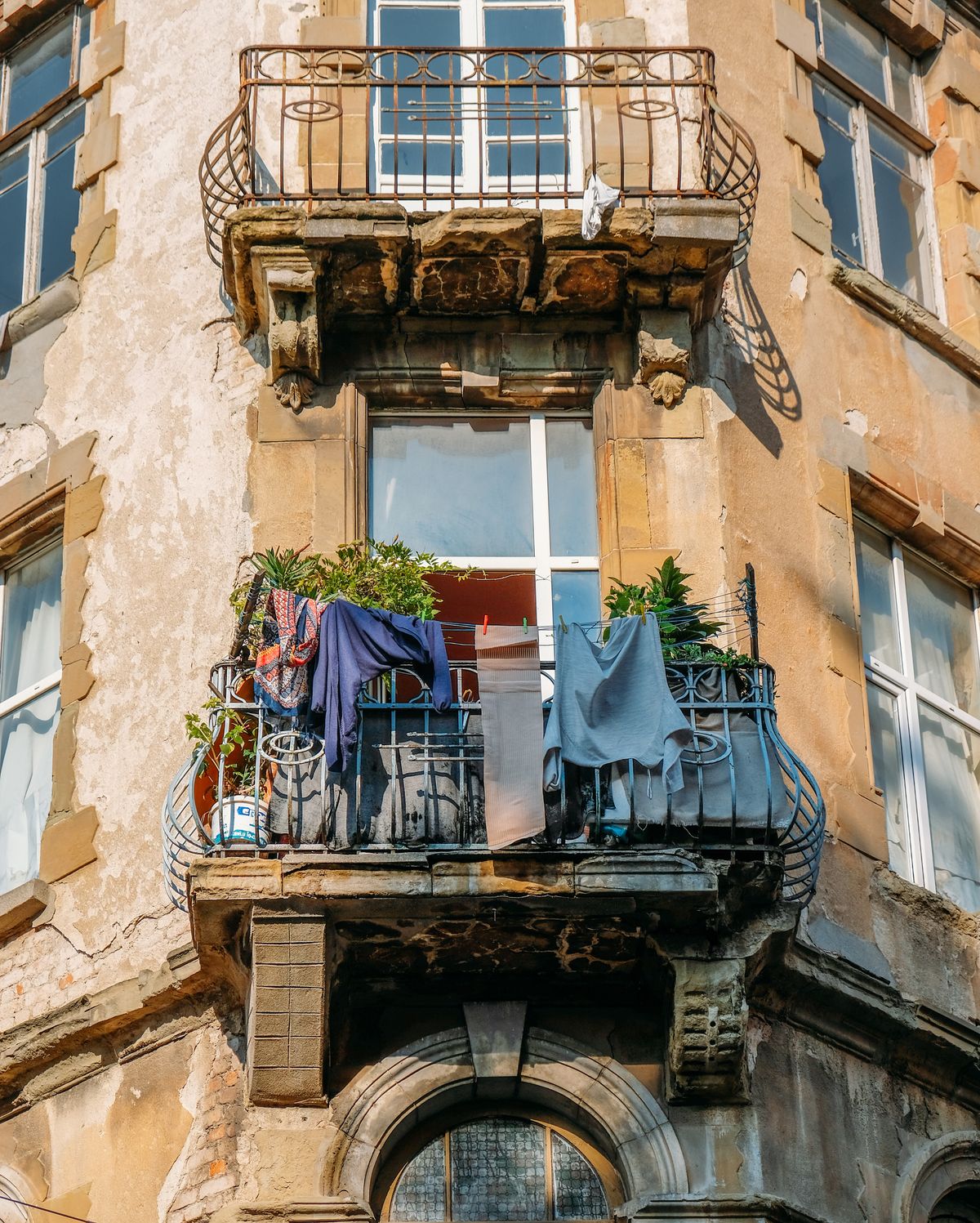 Yeldeğirmeni buildings
---
Uzun Hafız Street: You get a view of the sea, the setting sun, and passing ferries.
Reşit Efendi Street: Walk among the colors and lines of many muralists such as The Writer Material, Pixel Pancho, and Treze.
Shops
Flâneur Bookstore: Kadıköy-based publishing house that has been publishing independent graphic novels since 2012. It is possible to encounter many names such as Reinhard Kleist, Milo Manara, Emre Orhun & Hakan Günday on its shelves.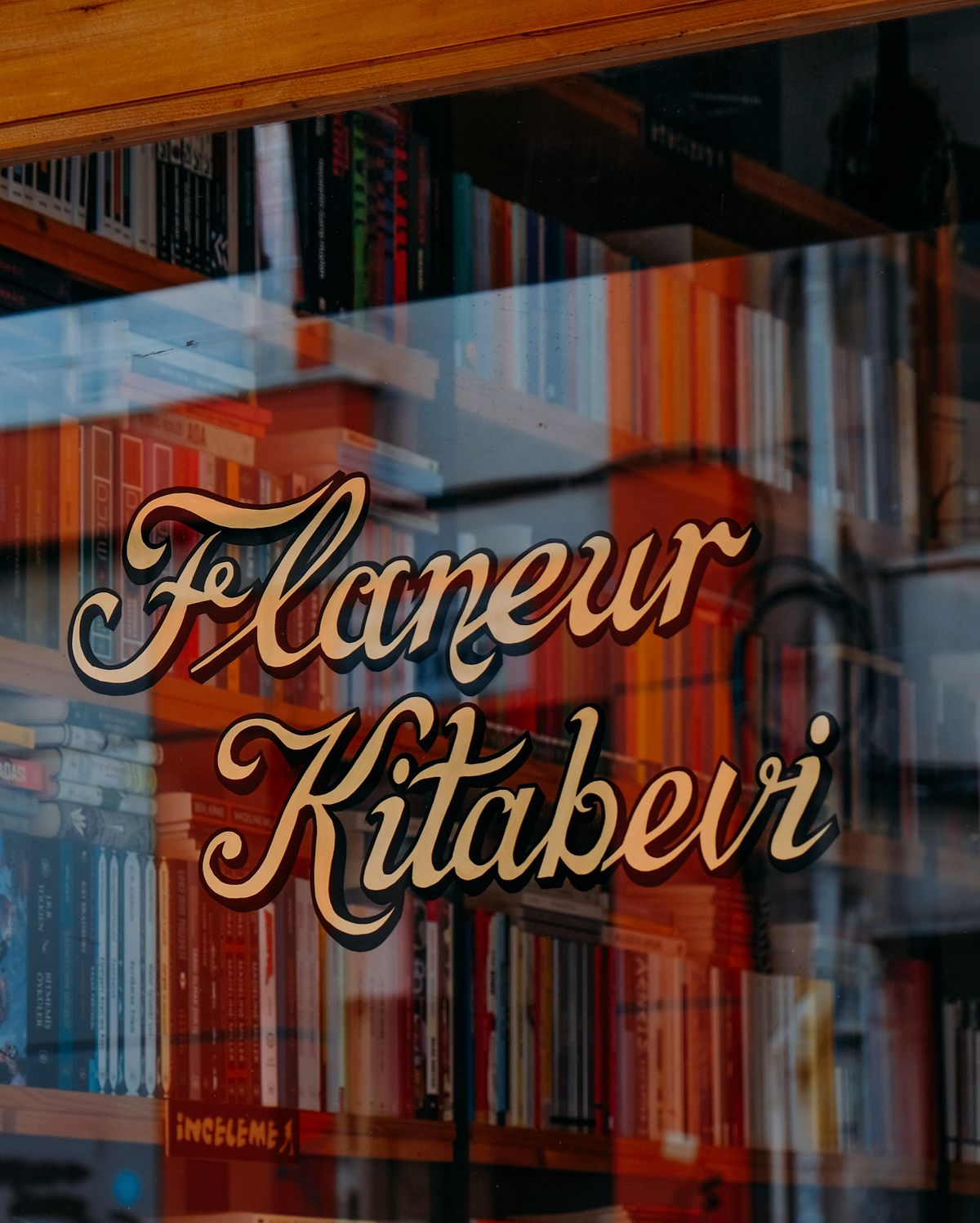 Flâneur Bookstore, an independent graphic novel publicist
---
Yerdeniz Cooperative: Defines itself as a solidarity economy for home and kitchen shopping.
Tarihî Taşfırın Simit: Every neighbourhood has a shop with hot, crispy, crunchy simit. This is the place.
Yeldeğirmeni Kurukahvecisi: As you walk around the neighbourhood, the smell of freshly ground beans draws you towards it.
Buildings
Valpreda Apartmanı: Built-in 1909 by Levi Kehribarci, the 7-story, the four-teen-apartment building is the first residential apartment building in Istanbul. It was built for the engineers from Germany and stone workers from Italy working in the construction of Haydarpaşa Train Station.
Ayios Yeorgios Greek Orthodox Church: First you see the bell on 15-meter iron legs in the garden. It was cast by the famous bell maker Zilciyan from Samatya.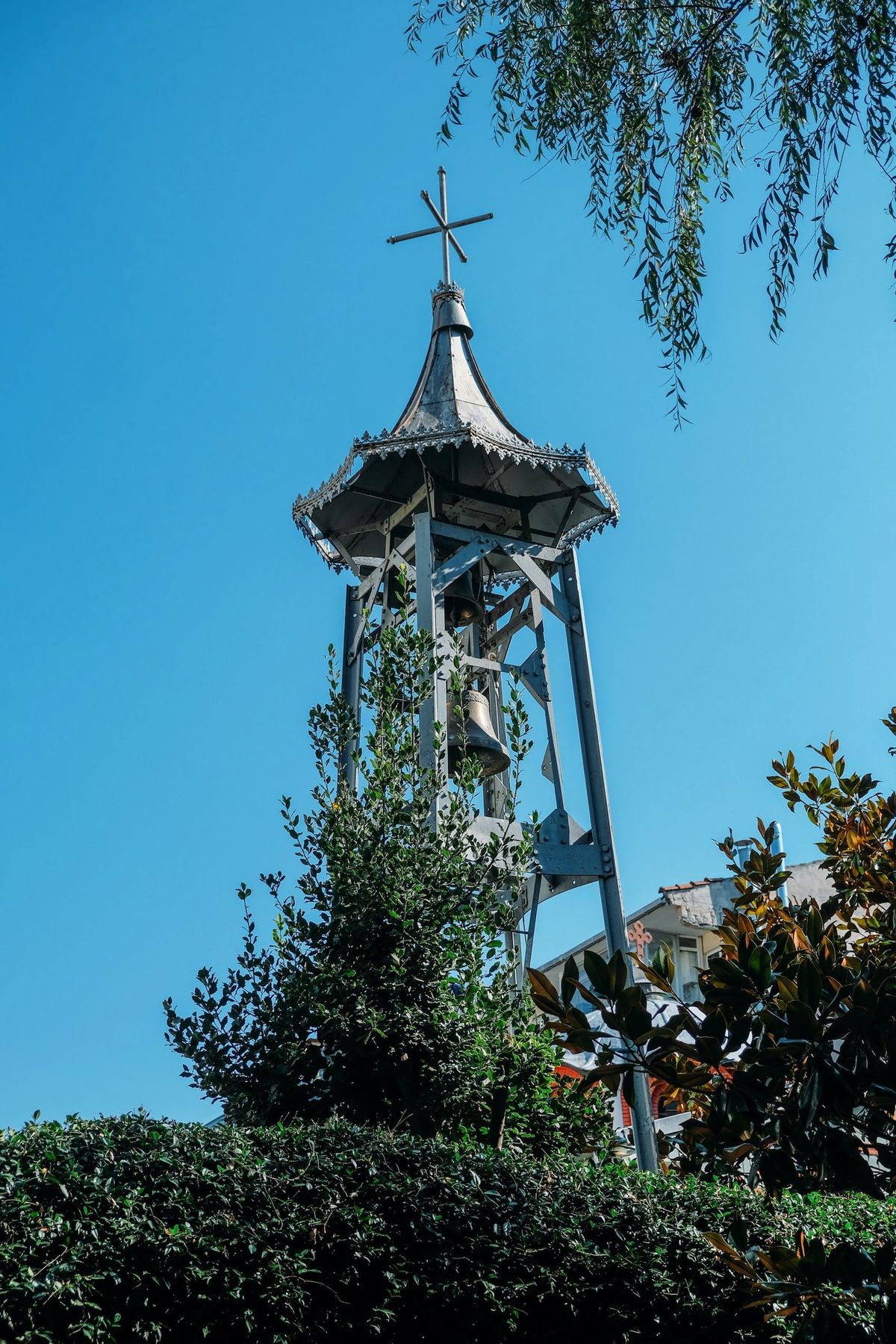 Ayios Yeorgios Greek Orthodox Church
---
Tevfik Tura Apartmanı: One of the few apartment buildings whose owners weren't Jewish. Known as Tevfik Tura Apartment Building today, it was built by the Armenian Demirciyan family.
Menasa Apartmanı: Known as Ankara Apartment Building. At the intersection of İskele Street and Taşlıbayır Street.
Konya Apartmanı: According to the people from Yeldeğirmeni, it was used as a community center, an area where engagement and wedding ceremonies were held.
Hush Hostel: In addition to being home to friends who are visiting Istanbul, it also allows music to meet the neighbourhood.
Artisan and artist workshops
Deniz İkizler Atölyesi: An area that also holds sculpture and painting workshops and introduces the children of the neighbourhood to art.
Terzi Hasan Amca: Tailor for all of your sewing, cutting, and frilling works: Taşlı Bayır Street. No:14/A
Parks and green spaces
Ali Ismail Korkmaz Park: The former parking lot on İskele Street is transformed into a park and is named after Ali İsmail Korkmaz, who died in Taksim Gezi Park protests.
Click here to reach the map from Google Maps.
Hikâyeyi beğendiniz mi? Paylaşın.
Easy to reach, and secluded, away from the crowds
Yeldeğirmeni is a mysterious place where you can find art in every corner. Here is Omar's neighbourhood.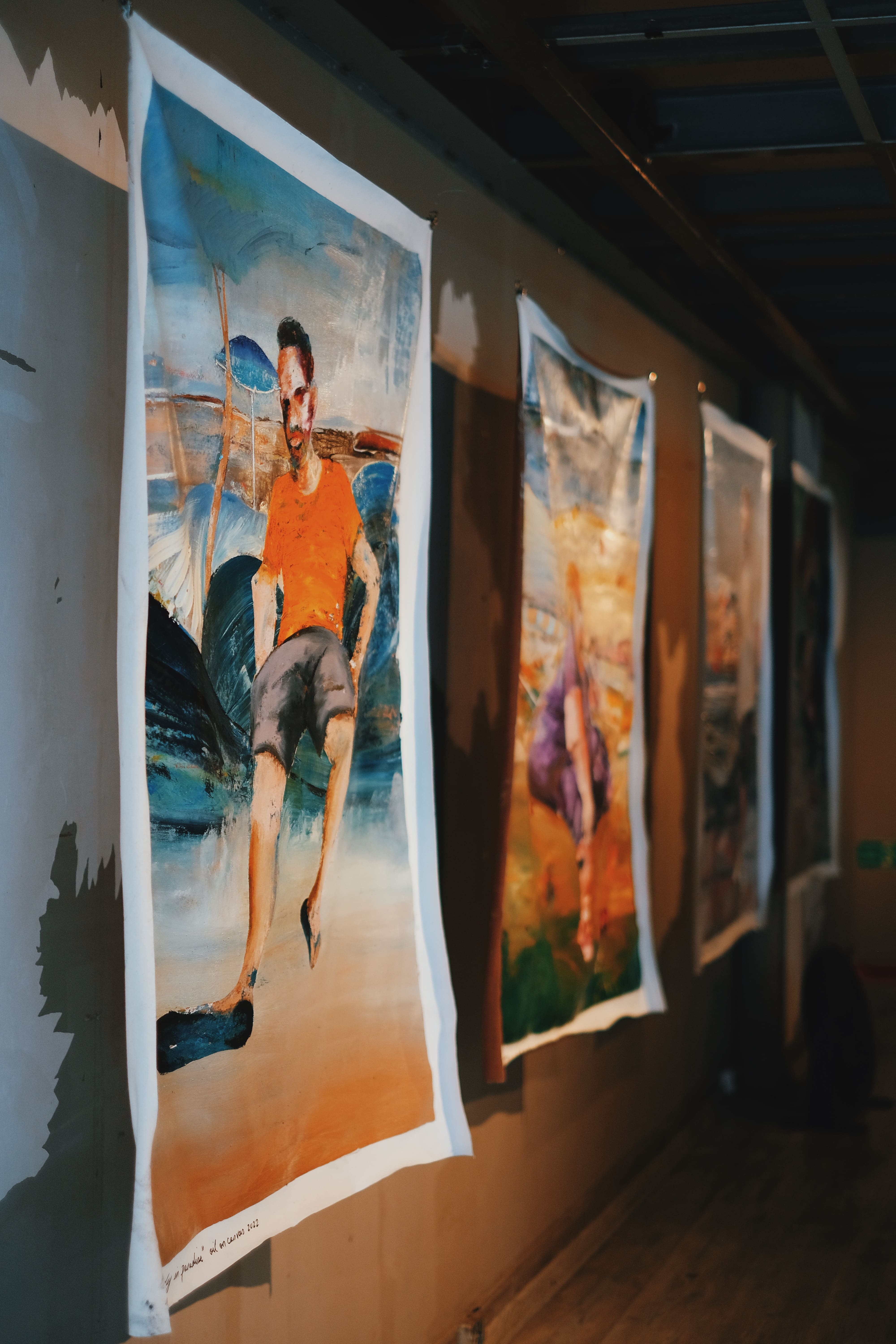 While ambling the streets of Yeldeğirmeni, we stop by arthereistanbul, one of the 17th Istanbul Biennial venues, to see Omar Berakdar, its founder. We want to talk to him about the neighbourhood and arthereistanbul's presence in it. Here is the story of his neighbourhood and why arthereistanbul is located here; Yeldeğirmeni from Omar's words and perspective.
Writer: Omar Berakdar
Think of a neighbourhood that is both in the heart of the city, easy to reach, and secluded, away from the crowds of touristic areas. For us, this kind of unique hub is called Yeldeğirmeni. This district has a deep-seated history. First of all, many ancient structures such as Greek-style buildings are present here. Moreover, it is a neighborhood that is not still not cladded by the skyscrapers.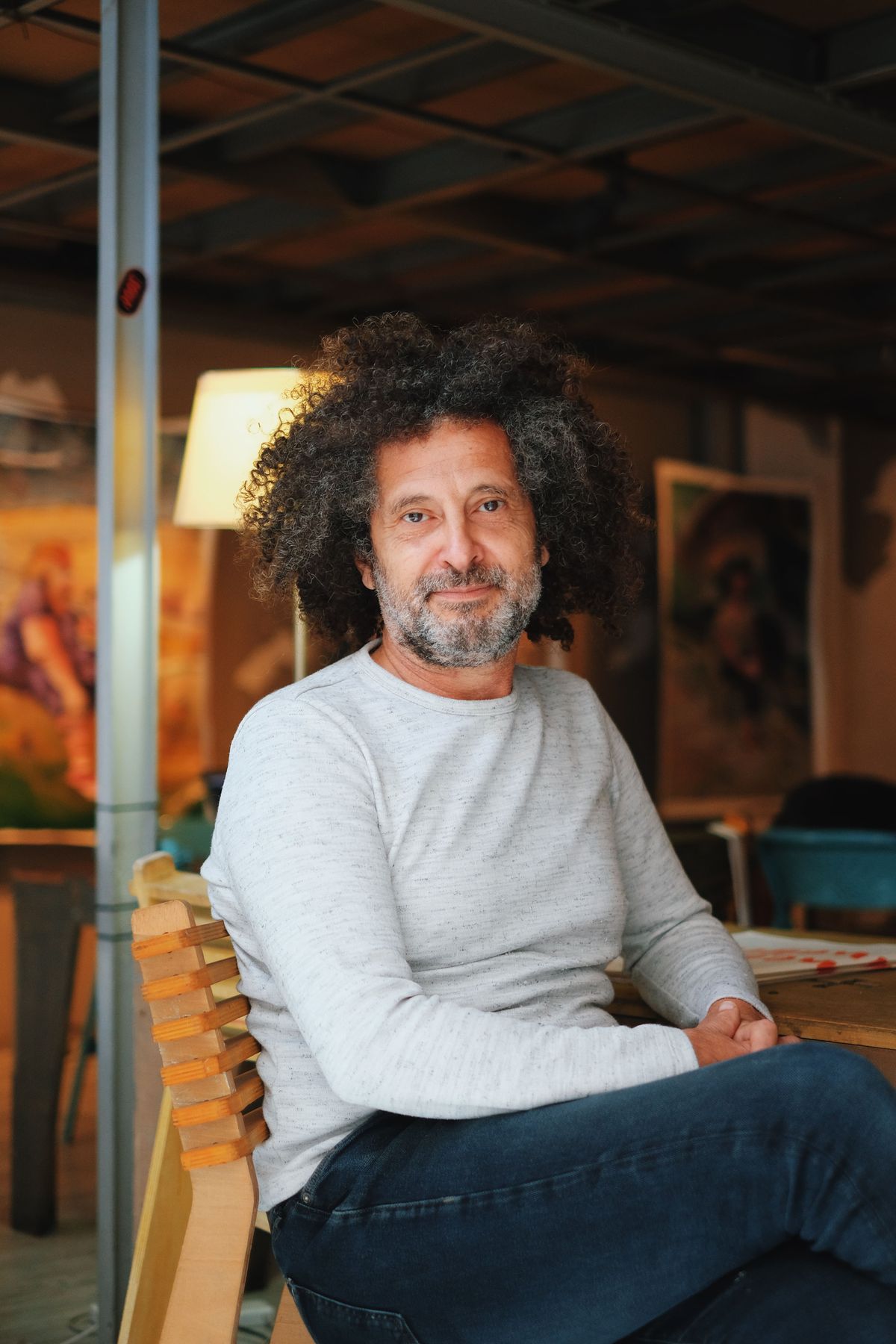 Omar in arthereistanbul
---
Yeldeğirmeni was a neighbourdhood that was in disfavor much around 2007. Because of the bars and abandoned buildings around the hood, the area seemed dangerous, hence the rent, and living costs were cheaper. And, of course, this reasonable lifestyle has made Yeldeğirmeni an artist center, just like everywhere else in the world. The artists came and started renting shops, turning them into studios, and settling down here.
You may think that the stores are closed when you go around for a walk, but in fact, behind those shutters, art studios remain. All rental places in Yeldeğirmeni are artist studios candidates. When we came here for the first time, we were mesmerized by the atmosphere and the first thing that came to our mind was that this area needed a public art institution. A place where everyone could contribute, sit, talk and share. As such, arthereistanbul's story began.
Hikâyeyi beğendiniz mi? Paylaşın.
Koç Holding welcomes art enthusiasts to the 17th Istanbul Biennial

Organised by the Istanbul Foundation for Culture and Arts (IKSV) since 1987 and sponsored by Koç Holding since 2007, the 17th edition of the Istanbul Biennial has opened its doors to the public eye.
The Biennial, which will be open to public visit until 20 November, is prepared with a different approach in this edition due to the pandemic precautions as well as its one-year delay.
The 17th Istanbul Biennial meets its viewers in various spots of the city such as bookstores, hospitals, nursing homes, cafes, metro stations, and Açık Radyo.
An avid supporter of culture and arts, Koç Holding is happy to sponsor the Istanbul Biennial by 2036. To find the short film focusing on the healing and transformative qualities of art, you may visit this link.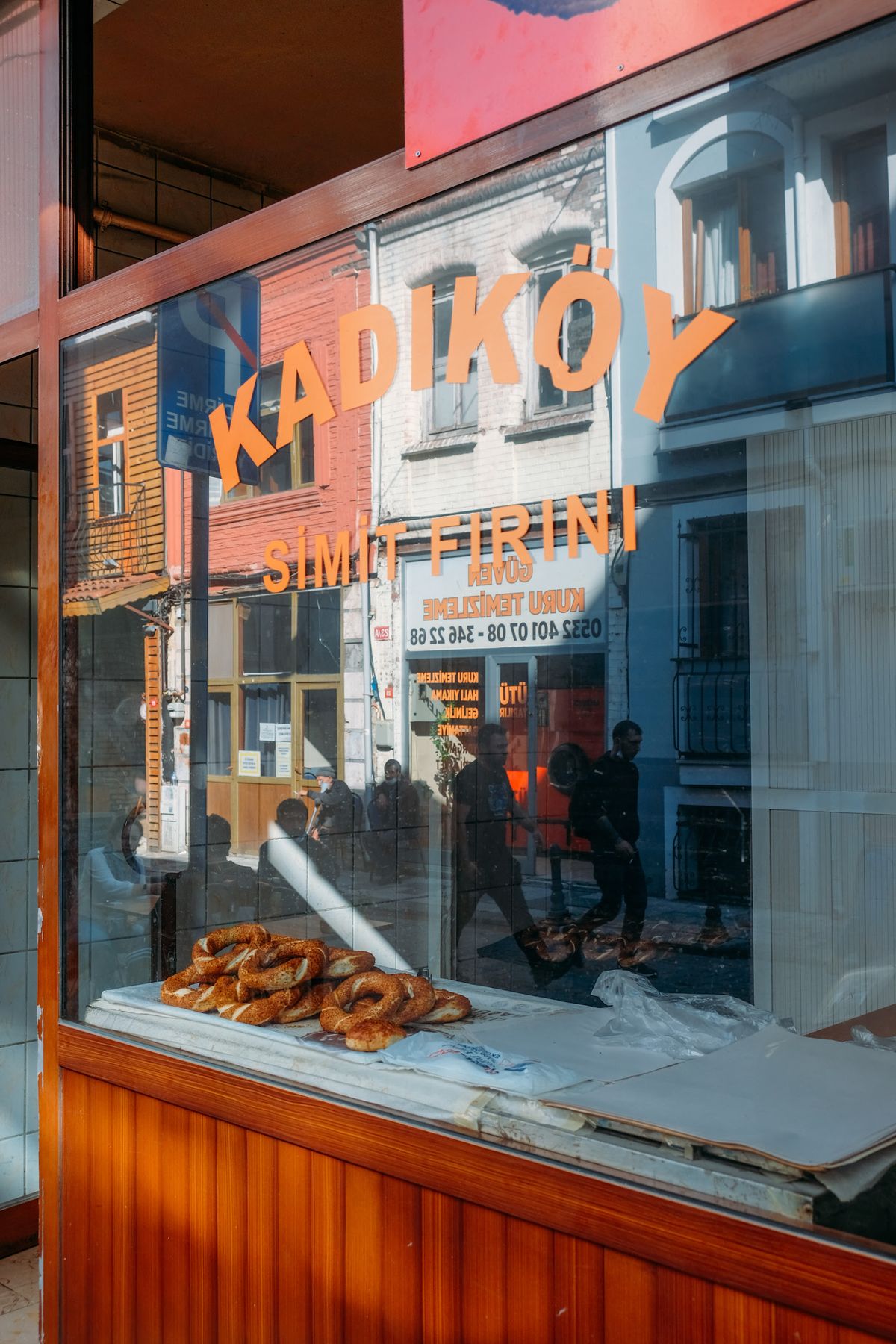 Rumour has it that the best simitçi (bagel shop) is in Yeldeğirmeni. If you ask us, which shop is the best is likely to change every three months, as simitçis change their sesame supplier. But still, just to call out a particular place, Yeldeğirmeni Tarihî Taşfırın is our one and only.
---