Between September 17 and November 20, we stroll around Balat, Çemberlitaş, Sıraselviler, Tophane, Yeldeğirmeni and Zeytinburnu for the 17th Istanbul Biennial. This year's biennial takes its inspiration from compost, a natural fertilisation method in which many different organic wastes are brought together and decomposed. We stroll around these neighbourhoods one more time, but this time for the Biennial, we enter streets we frequent less and peek through the doors of the buildings whose names we have just heard of. This time, we let our eyes roam over the city we are native of, like travellers. When our feet get tired, but not our minds, we catch our breath in a café where locals sit. It is the curiosity that makes our feet stand back up again. We feel homely and then unhomely again. We swing around the authentic and the cliché, the old and the new, the traditional and the modern, the nostalgic and the futuristic, between the black and the white of the six neighbourhoods where the 17th Istanbul Biennial is spread.
'Can the streets be audible and/or silent narrators of the neighbourhood at the same time?'. This question is on our minds as we traverse the streets again and again. We continue on our route through artisan and artist workshops, streets, parks, restaurants, shops, and cultural centres to better understand and read the neighbourhoods and become a participant in their everyday culture.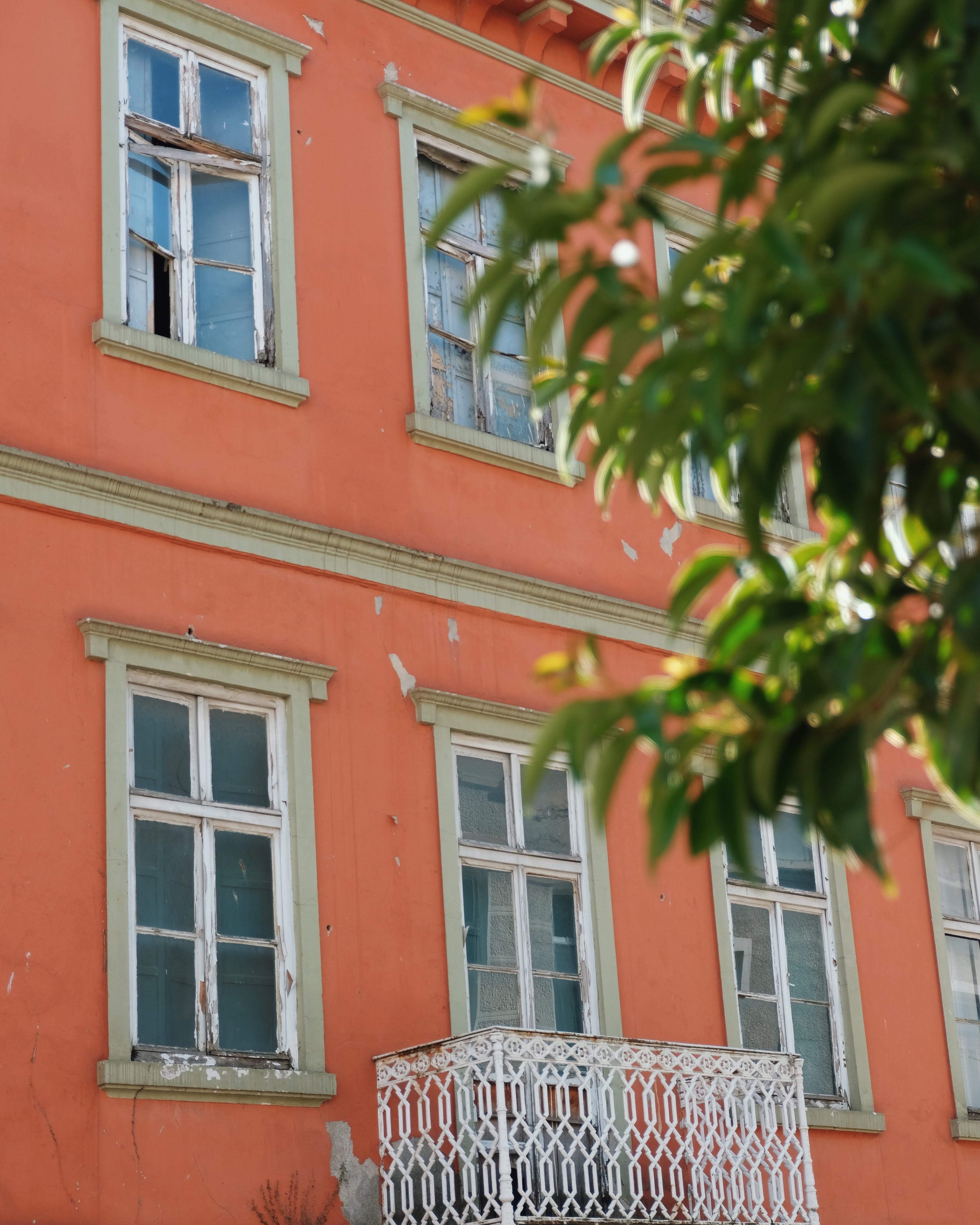 Tophane windows
---
This week the route takes us to the Tophane neighbourhood. We stop by Tophane's biennial venues performistanbul, Büyükdere35, from Boğazkesen to Lüleci Hendek, and then we walk up Dibek Street and Defterdar Yokuşu. Famously, Istanbul has 7 hills, and we feel it. We take a breather on the streets overlooking the sea and walk through the streets of Tophane.
Follow us,
Soli team
Soli
A weekly journal of neighbourhoods to dig into urban culture, people stories, and sociocultural dynamics. In every issue, we meet an inhabitant in their hood where they live, create or belong.
Tophane Route from Boğazkesen to Pera Museum
This week the route takes us to the Tophane neighbourhood. We stop by Tophane's biennial venues performistanbul, Büyükdere35, from Boğazkesen to Lüleci Hendek, then we walk up Dibek Street and Defterdar Yokuşu.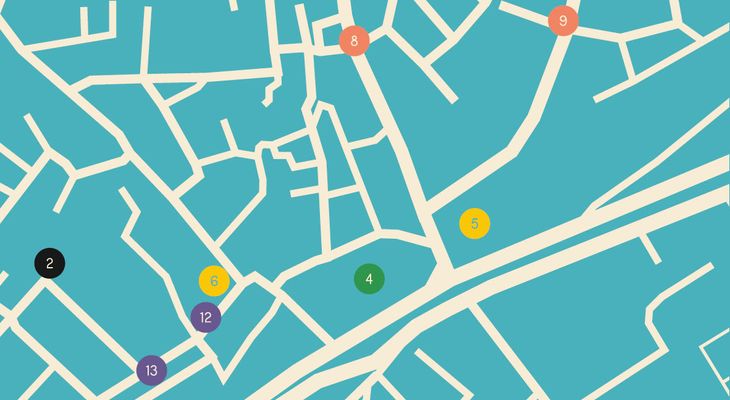 Biennial venues
Büyükdere35: Founded in 2017, the gallery is one of the most valuable reasons why Boğazkesen continues to be an art route. It hosts contemporary artists from different disciplines such as Cins, Karbon, Ali Kanal, Atilla Galip Pınar, Gülfem Kessler. This year it will be among the biennial venues for the first time.
performistanbul: Simge Burhanoğlu's dream of improving the performance arts in Istanbul and Turkey came true in 2016 as performistanbul. It is Turkey's first live art research space. Drawing strength from the unifying and healing motivation of performance art and supporting education in this field with its archive, the centre is among the biennial venues this year. On Dibek Street.
Pera Museum: Designed in 1893 by architect Achille Manoussos as the Bristol Hotel, it is one of the most unique neoclassical buildings on Meşrutiyet Street today. The building has been the Suna and İnan Kıraç Foundation Pera Museum since 2005. Exhibiting three permanent collections, Orientalist Paintings, Anatolian Weights and Measures, and Kütahya Tiles and Ceramics, the museum is among the biennial venues this year.
Cultural centres
Tütün Deposu: Also known as Depo Istanbul, the cultural centre and exhibition space was used as a tobacco warehouse until the 1950s. It hosted the 9th Istanbul Biennial in 2005 for the first time as an exhibition space. In addition to its official cultural function since 2009, it has also housed Açık Radyo since 2012. You can visit Nira Pereg's The script remains the same exhibit until October 28 and Tanja Ostojić - Mis(s)placed Women? (2009-2022) exhibit until October 30.
Lokanta, cafés and eateries
Probador Colectiva: Not only a third wave coffee shop, but also a coffee roasting house. We can also call it the laboratory of coffee. Its doors are open for education on coffee, El Salvador & El Divisadero Anaerobic cold brew and Vitruvius hops kombucha, whose bottles entice as much as their contents. (By the way, its doors are open until the weather gets cold for an indoor-outdoor experience.)
Yeni Lokanta: Chef Civan Er's restaurant can be reached by climbing (yes, climbing) up Kumbaracı Slope from Tophane. Reservations are a must to try the modernised Turkish cuisine and end the day on a sweet note. The dumplings are highly recommended.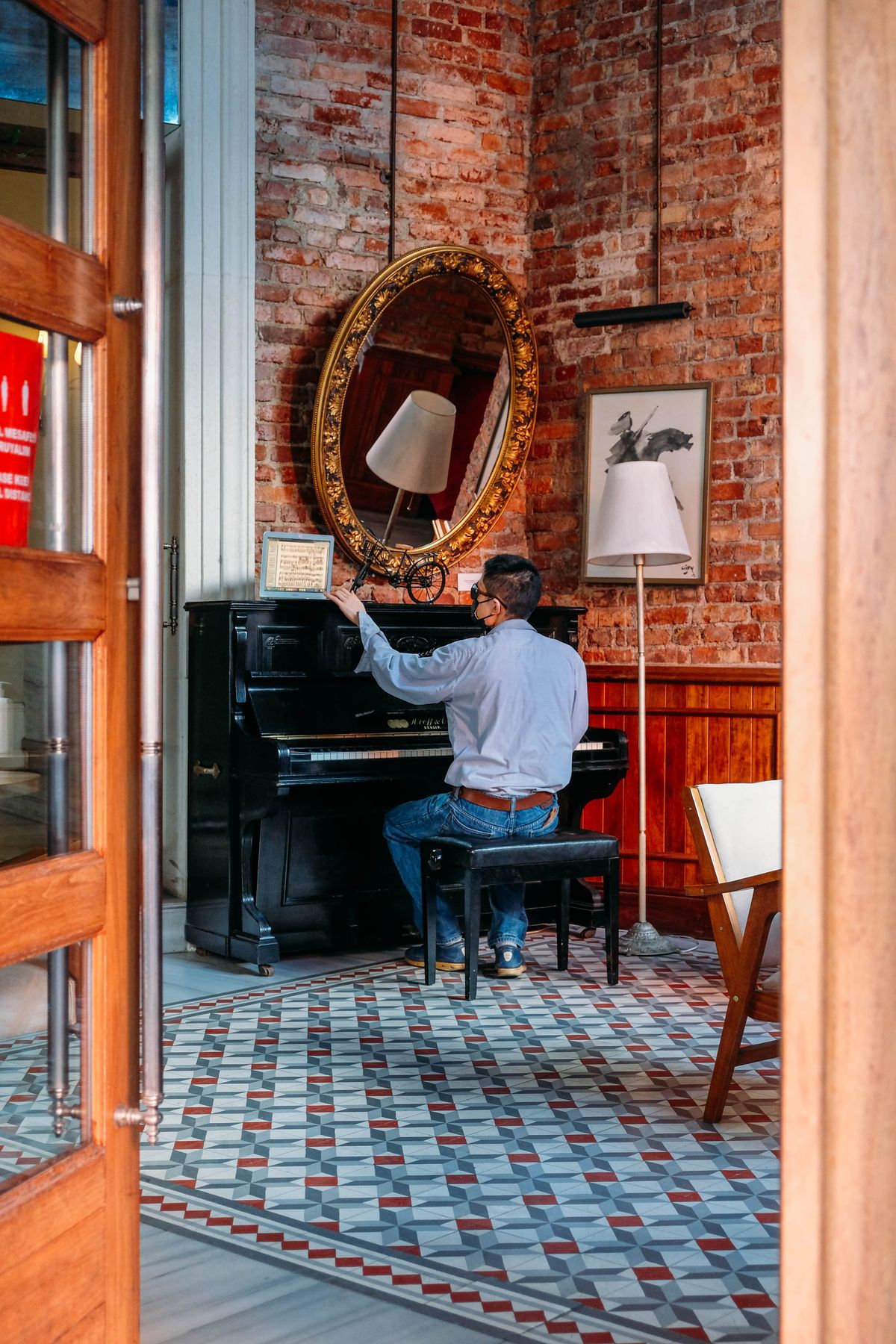 Creative people of Tophane
---
Comedus: Even if you're not that hungry, a local wine and cheese pairing sounds like a good idea. At least to us. Ask Ms. Arzu or Mr. Mustafa at Comedus for their recommendations.
Tavern: It's on the left as you walk through the streets of Pera towards Galatasaray and then Çukurcuma. It is the meeting point for Beyoğlu locals on weekdays after work, and for a cocktail and a little chat on weekends after dark.
Gizli Bahçe: Gizli Bahçe is one of the few clubs in Istanbul that invites you to dance until dawn. For those who are not tired and want to continue their Beyoğlu meeting on the dance floor. The program is shared every week on their Instagram account.
Streets and avenues
Defterdar Yokuşu: Defterdar Slope, also known as Italian Slope, is the most enjoyable slope down in Istanbul and the most unpopular slope on the way up. It is also the shortest line connecting Cihangir and Tophane. Starting from the building on Defterdar Yokuşu 1A, which alone gives you a reason to love Istanbul apartment buildings, the biggest motivation to climb the slope is the view of Tophane-i Amire, Galata Tower, Italian Hospital and the Bosphorus at the very end.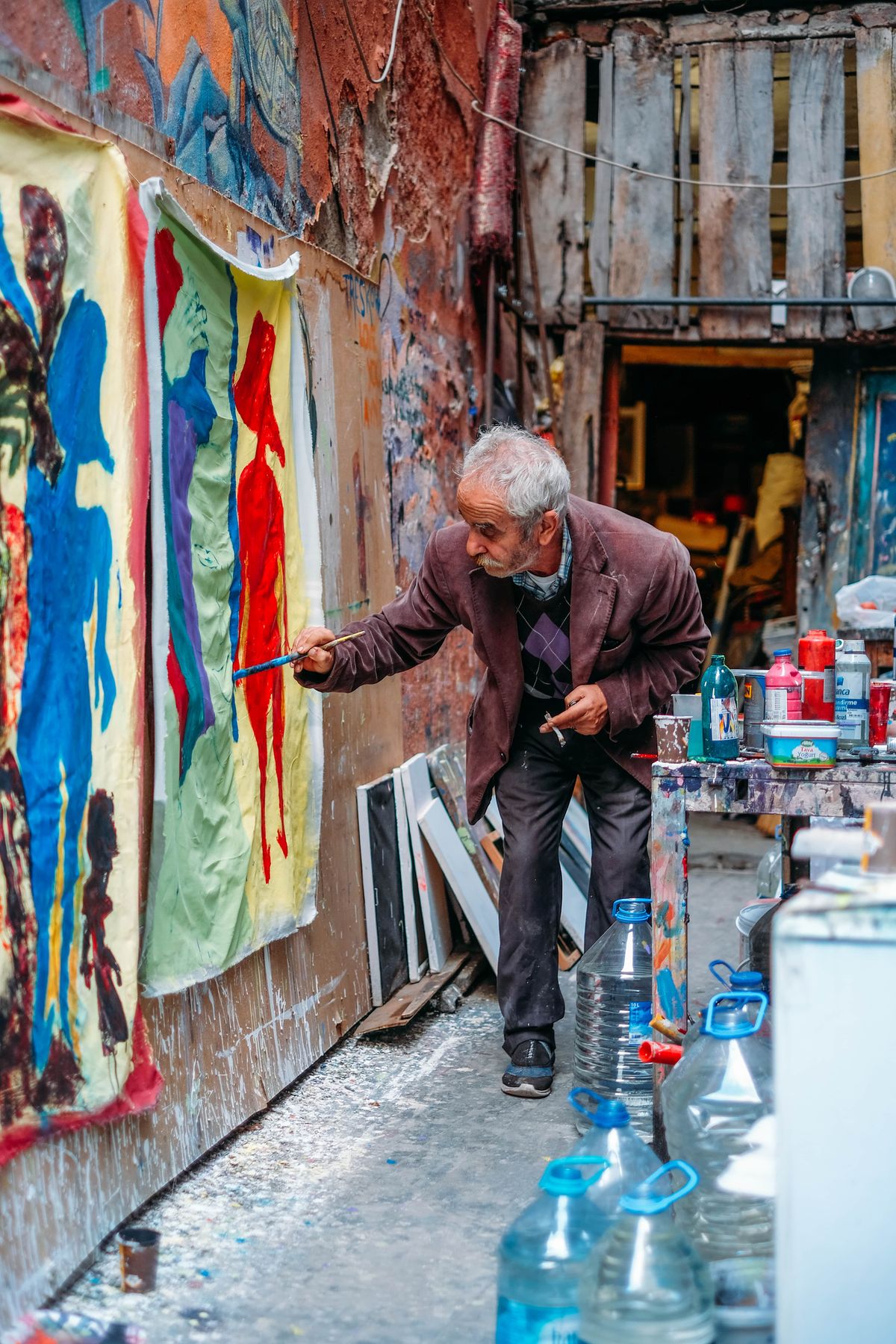 The Turkish Picasso: Avni Akmehmedoğlu
---
Boğazkesen Street: This street is famous for its fresh juice kiosks, grilled cheese shops, 'design shops' and galleries, of which there used to be many more. It is a route where you can find a döner kebab and a vegetarian wrap at the same time, and the nights and days are quite different from each other. Old buildings, new residences, Northern tourists in their slippers in winter, Tophane Tayfun Sports Club fanatics and local artists… They all gather here. It connects Tophane to Galatasaray, Cihangir and Çukurcuma.
Lüleci Hendek Street: Connects Tophane to Galata. It is the best route to get a coffee from Urban Bread, Project Cafe and walk to Galata and have a cultural experience. Dibek Street gives way to Vacilando or Kumbaracı Slope. Until 12.00, the sidewalk on the left, where Saint Benoit French High School is located, is in the shade. It is called 'moat' (Turkish: hendek) because of the ancient Galata walls.
Parks and greeneries
Tophane Park: Before going up to Galata from Tophane, it is visited to rest in the shade of the trees in the summer and to walk on the leaves in the winter. It is a recreational area for shopkeepers who want to spend their afternoons in the shade, and a playground for the children of Tophane.
Shops
Vitruta: Vitruta, a concept shop that sells selected products from local and international brands that we can rarely find in Istanbul, is just around the corner before you start walking up Defterdar Yokuşu. Lar's scarves, Vatka's out-of-the-line designs and Ceremony's candles are always a reason to stop by.
Tarihi Boğaziçi Simit Fırını: The famous simit bakery of Boğazkesen, which distributes its simits to almost every corner of Beyoğlu. The shop sells simit exclusively (yes, not even bread) and is frequented by the people of Cihangir and Tophane to buy them in the early hours or to help the owner with his crossword puzzle in the afternoon.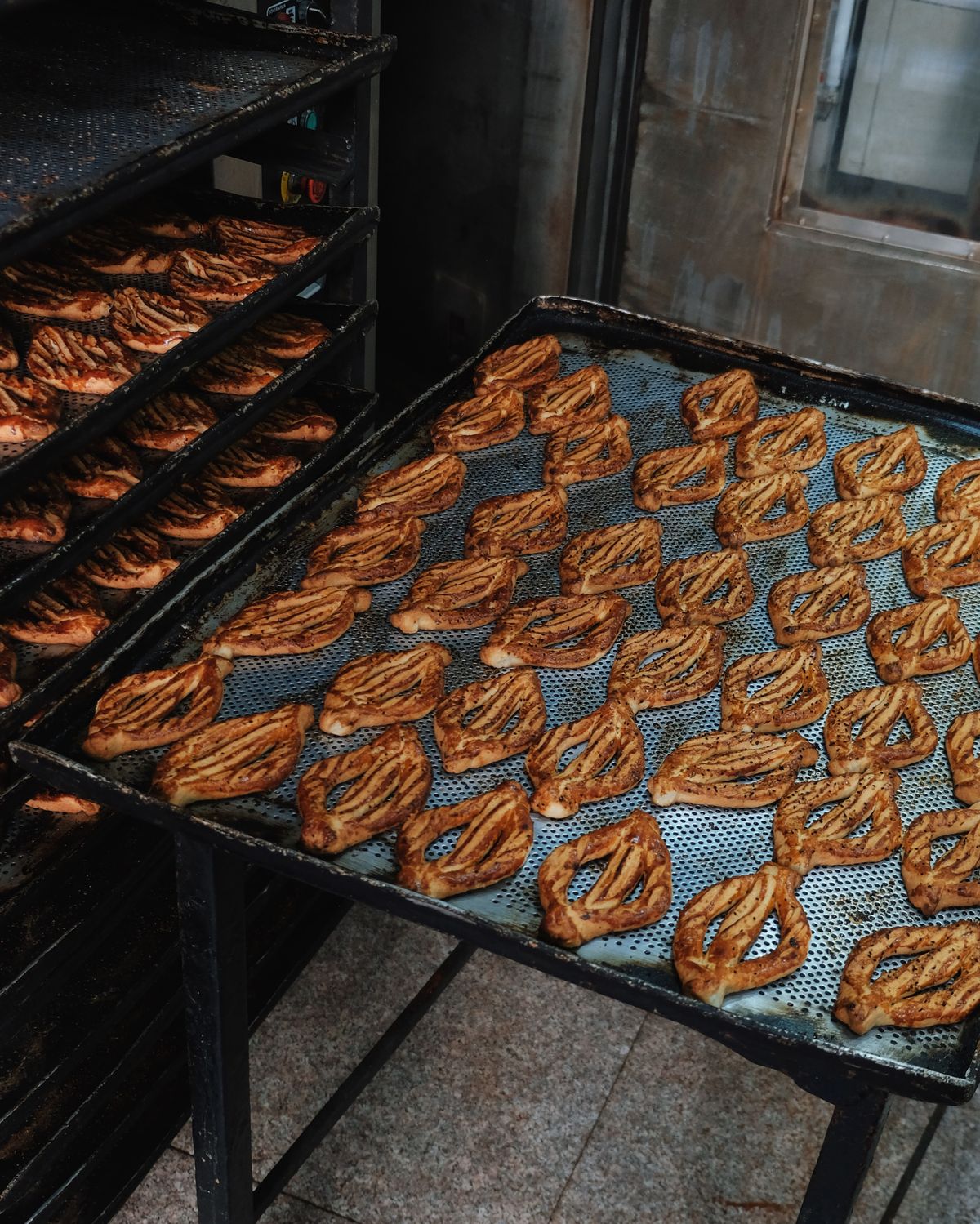 This one is called "çatal"
---
Eryılmaz Kardeşler Simit Fırını: Although we don't have any confirmed knowledge that Boğazkesen's bakeries are famous, it can't be a coincidence that two ambitious simit bakeries are neighbours here. If you stop by in the evening, they'll warm your simit, and if you stop by in the morning, they'll give it to you straight from the oven. There are always salty cookies and other delicacies.
Hiç Contemporary Crafts: Featuring a satisfying selection of products by artists and artisans, Hiç should be visited to see the designs of ceramic artist Zeynep Severge, whose studio is also located in Tophane, where functionality and simplicity are reinforced with colour.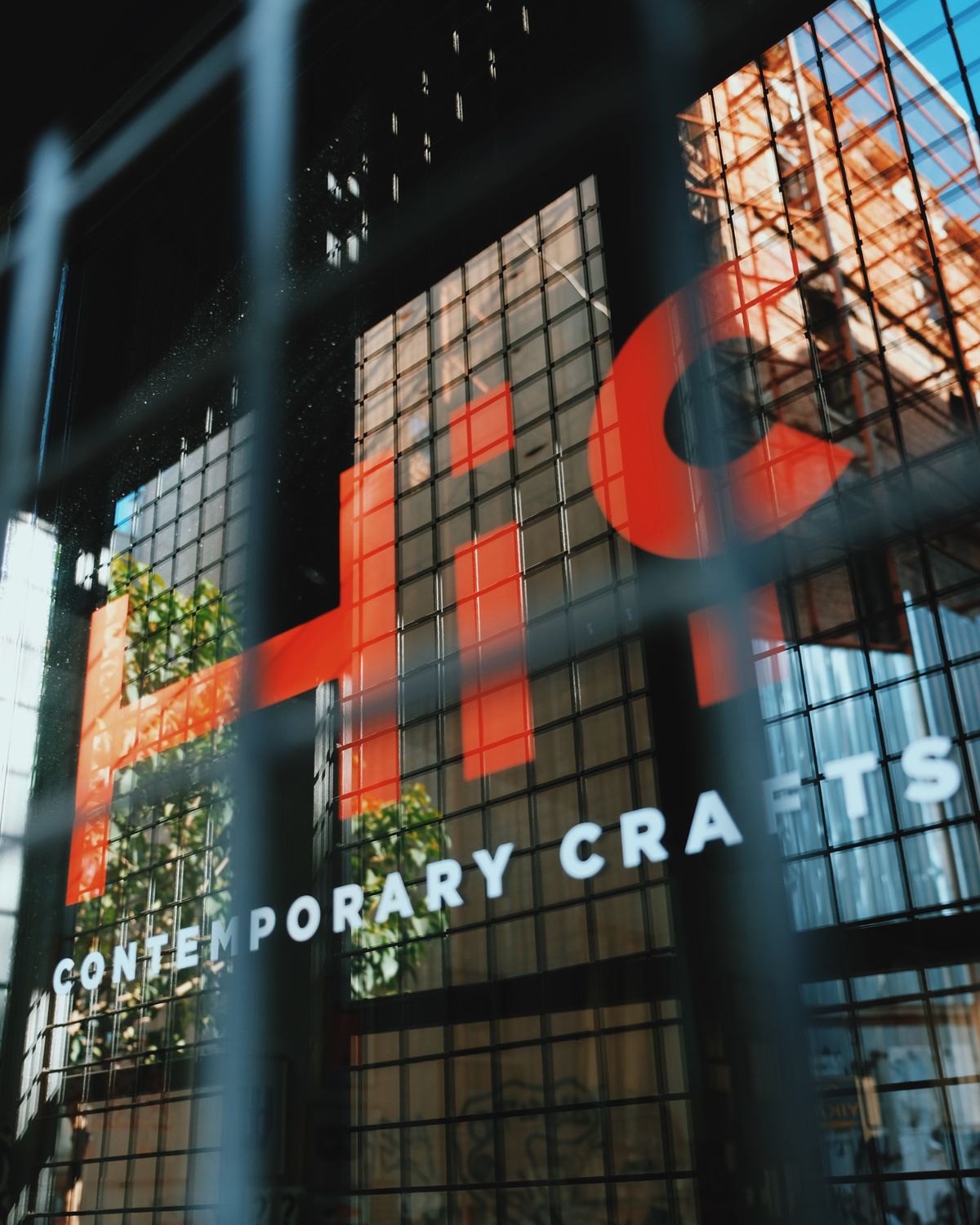 Hiç Contemporary features products by artists and artisans
---
Manuk's Workshop: The creative residence of Lüleci Hendek. Every time you look through their giant windows, you wonder what they are doing here. In addition to the jewellery designs in the showcase, they also offer services such as graphic design and web design.
Frankeştayn Bookstore: The small business we are the happiest to welcome to the neighbourhood in a long time. Frankeştayn represents the excluded and marginalized in society with its rare books, its selection of gender and feminism, and its name. Since its independence is the key to its freedom, the bookstore, which has a political stance, ideas and dreams, is a place to stop by for a coffee, to browse through the books as you would browse through the books in your home library, or to chat with its founder Ayşe Tümerkan.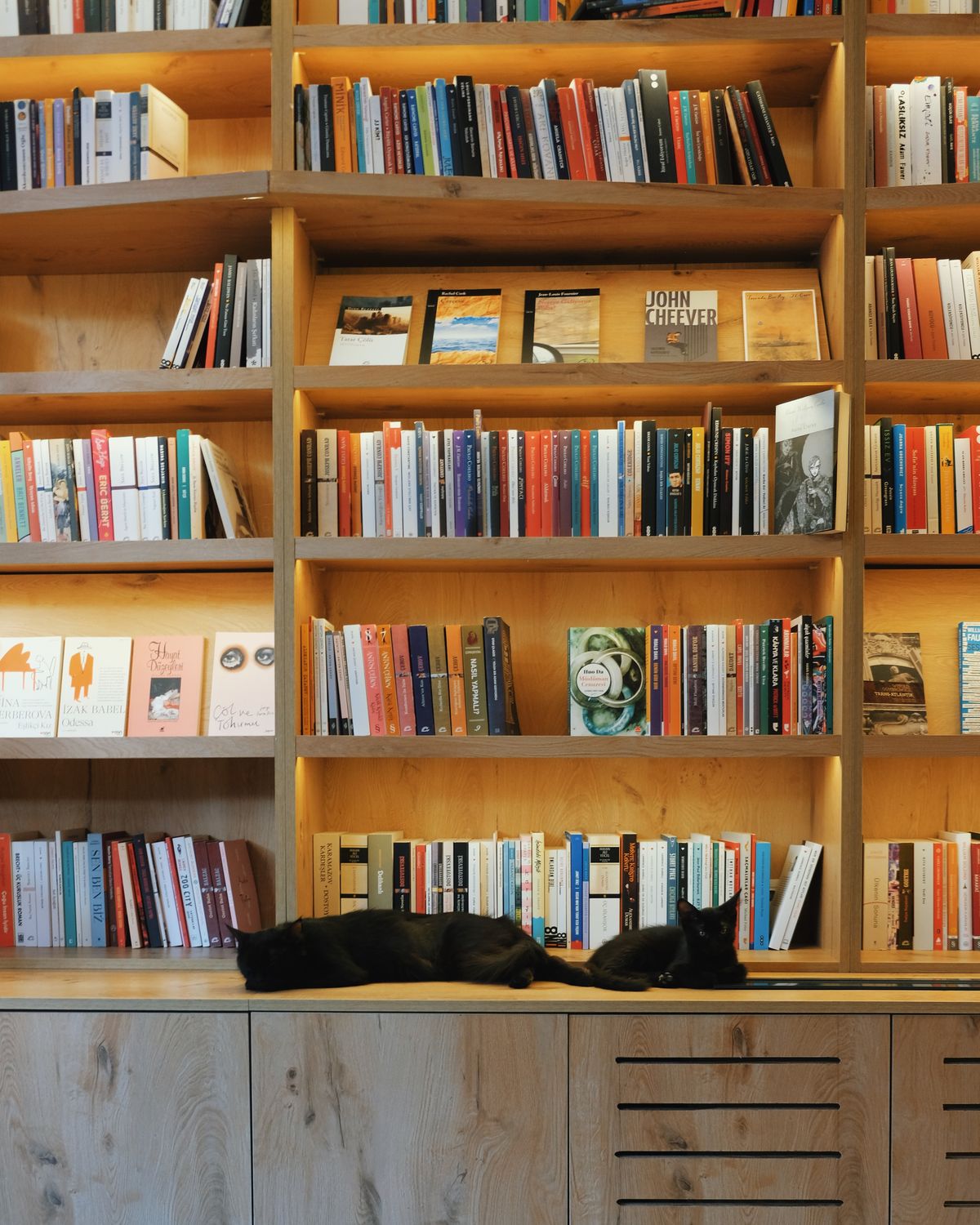 Frankeştayn Bookstore and its inhabitants

---
Buildings
Italian Hospital: The Italian Hospital is the saddest and the most magnificent building on Defterdar Slope. Giovanni Alberto Agnelli Italian Hospital was founded in 1820 to treat Italian sailors. It was first established for the Italian people in Istanbul, then started accepting everyone else, and in 1876, it became what it is today. Its fate is similar to that one shop in every neighbourhood that always closes down no matter what new business moves in, but with a big difference: it is the most beautiful building in Istanbul that has no function today.
Tophane-i Amire Culture and Art Centre: Founded in the 15th century in Byzantium and used as a cannon casting centre after the conquest of Istanbul, Tophane-i Amire today serves as a culture and art centre under Mimar Sinan Fine Arts University. You should stop by to see the domes and architecture of the building both from the outside and inside.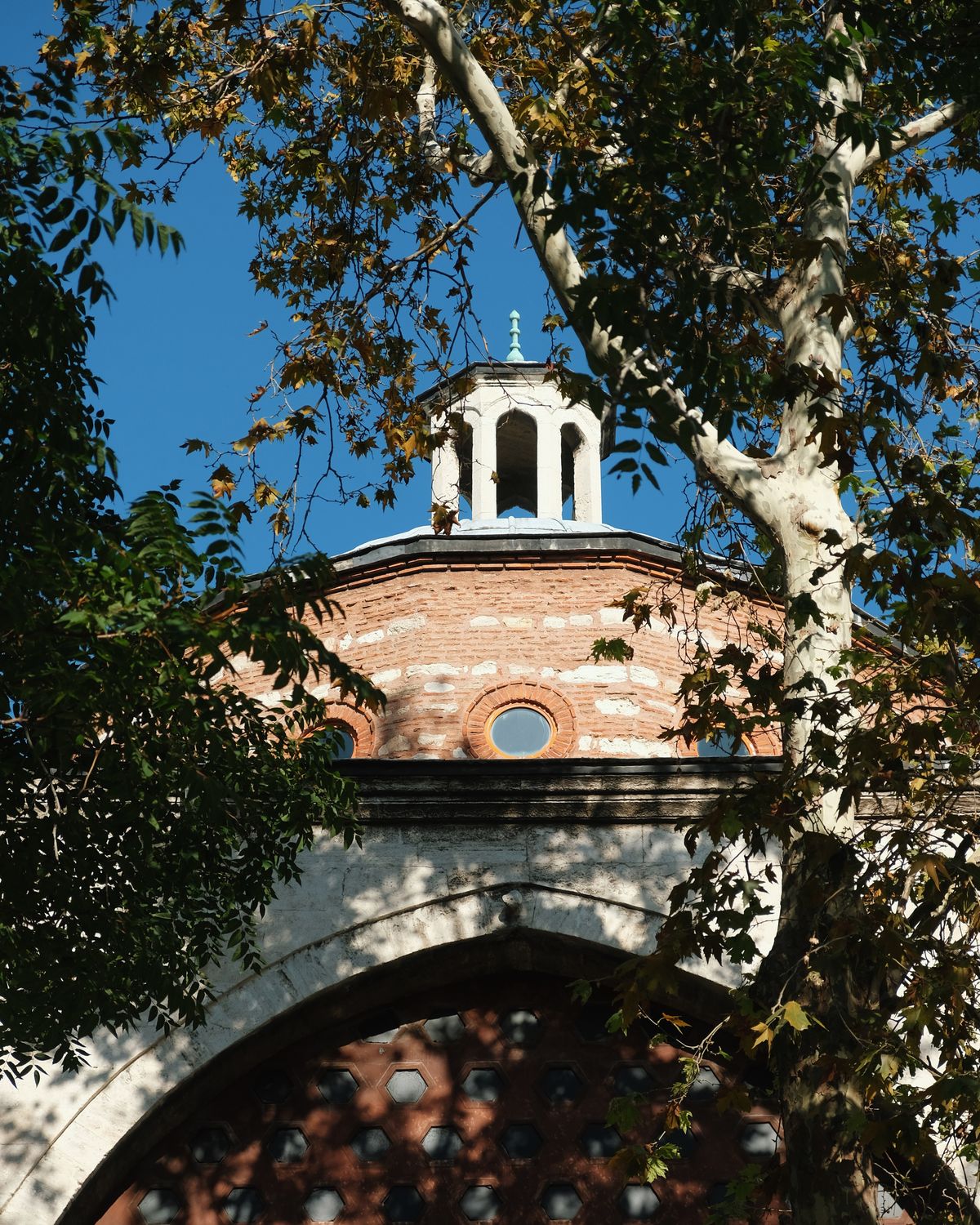 Tophane-i Amire Culture and Art Centre

---
Fountains and baths
Firuzağa Hammam: First said to have been built in 1445 but rebuilt after it was damaged in a fire in 1822, the hamam is one of the most frequented spots for those who preserve its historical structure, especially for foreigners living in Istanbul who are relatively distant from the hamam culture, Istanbulites and tourists who have heard of it, even though it pales in splendour next to its neighbour Kılıç Ali Paşa Hamam. Right at the entrance of Çukurcuma Street, it is touristic but not touristy. It is recognized by the red 'Hamam' sign at the entrance.
Nameless Masonry Fountain: Near Hostel Neveruna, towards the end of Boğazkesen, to wash our faces and cool off. The fountain has no name.
Click here to reach the map from Google Maps.
Hikâyeyi beğendiniz mi? Paylaşın.
From the master to the apprentice Quilting
There is a tiny, colourful shop, two steps into Soğancı Street. Beşir Abi welcomed me at the counter; with a paper, which looks like acetate paper, attached to the burgundy piece in his hand and the patterns drawn finely with a pencil that became clear as you got closer.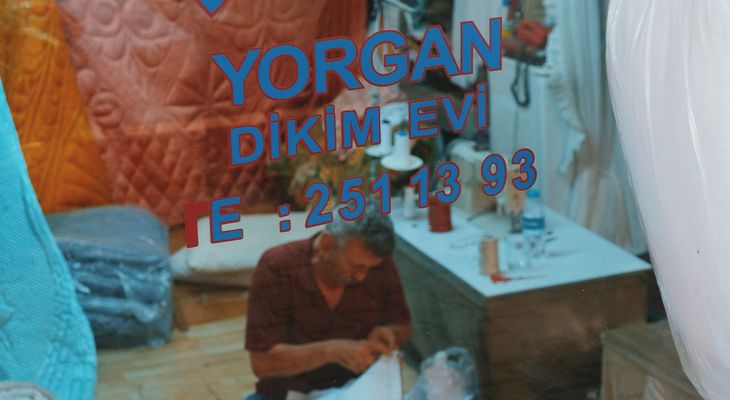 I approached him enthusiastically. He got offended; however, he tried not to make it obvious. 'Daughter, you do not stand on the counter with your shoes on.' I felt ashamed. This time, I properly got down, next to him.
There were yellow walls, and fuchsia and pistachio green quilts were hung on the walls. The store is 70 years old, and he has been a local for the last 50 years. He has been called 'Tophaneli Beşir Abi' since he was 11. He is a board member of İstanbul Yorgancılar Odası, (Istanbul Quilters Association) at the same time. His quilts are made-to-order. A clipping caught my eye, and later I learnt that Beşir Abi has been quilting for the Queen and Arab sheikhs, shipping his quilts internationally.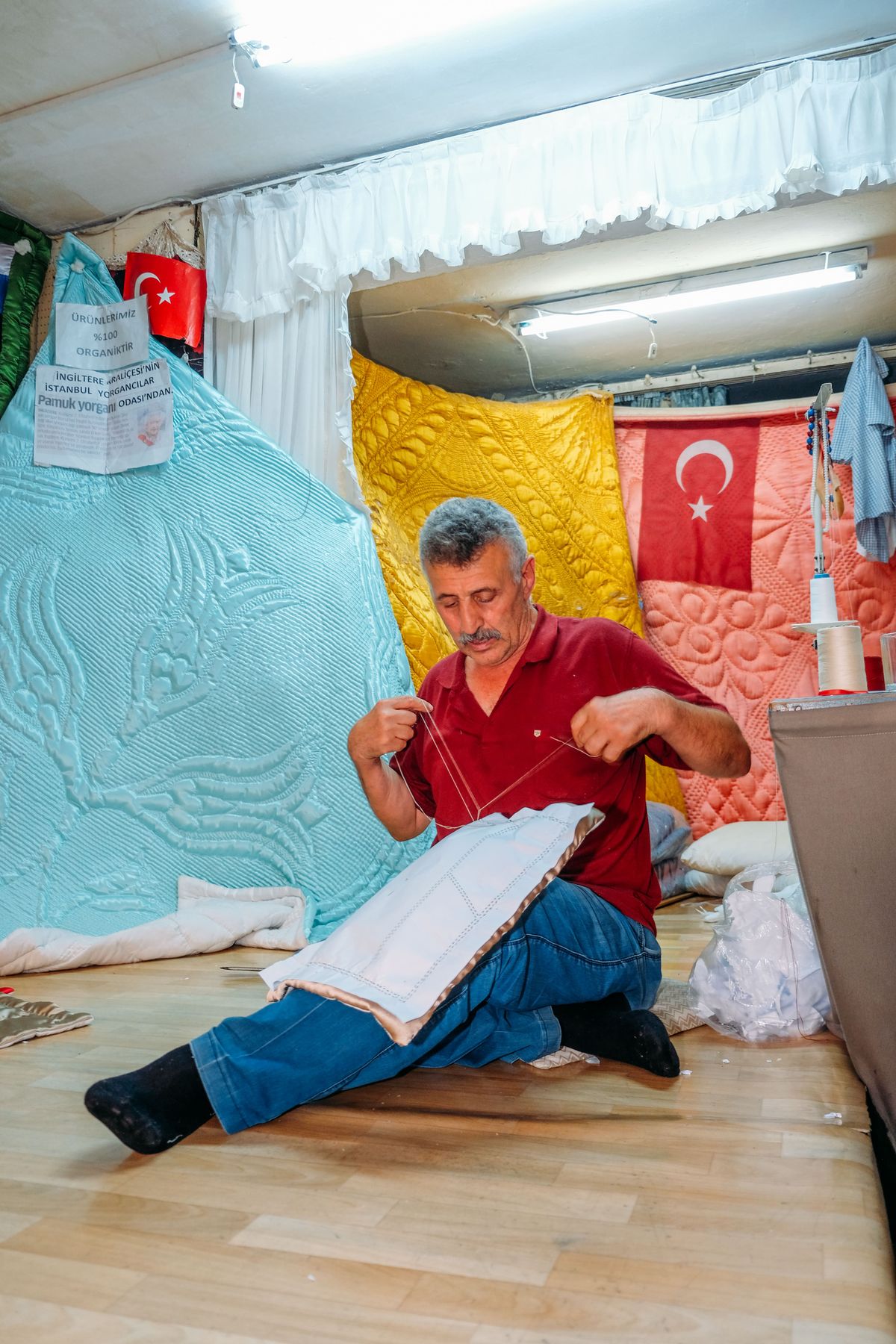 Beşir Abi
---
Lately, Beşir Abi makes his own tea. 'There used to be a coffeehouse we would usually go to, but after Galataport was opened, modern cafés came forward. The artisans had to flee. I have never set foot in one of those modern cafés. The next thing I knew, I was making my own tea.' says Beşir Abi talking about the transformation he went through.
What are the essentials of a quilt?
What matters to you the most? What are your essentials? Let me ask you. 'A happy and healthy life', isn't it? Quilts lie behind that. They are your power banks that determine how your day goes. You spend 1/3 of your day under the quilt which makes it even more precious than clothes. Thus, our craft is vital.
Quilts that are not hand-sewn are synthetic and unhealthy. They all contain cancerogenes. People are not able to see what they purchase, which is a huge drawback. If we talk about quilts, we should talk about those made out of pure wool and carefully stitched instead of those which come out of mass production.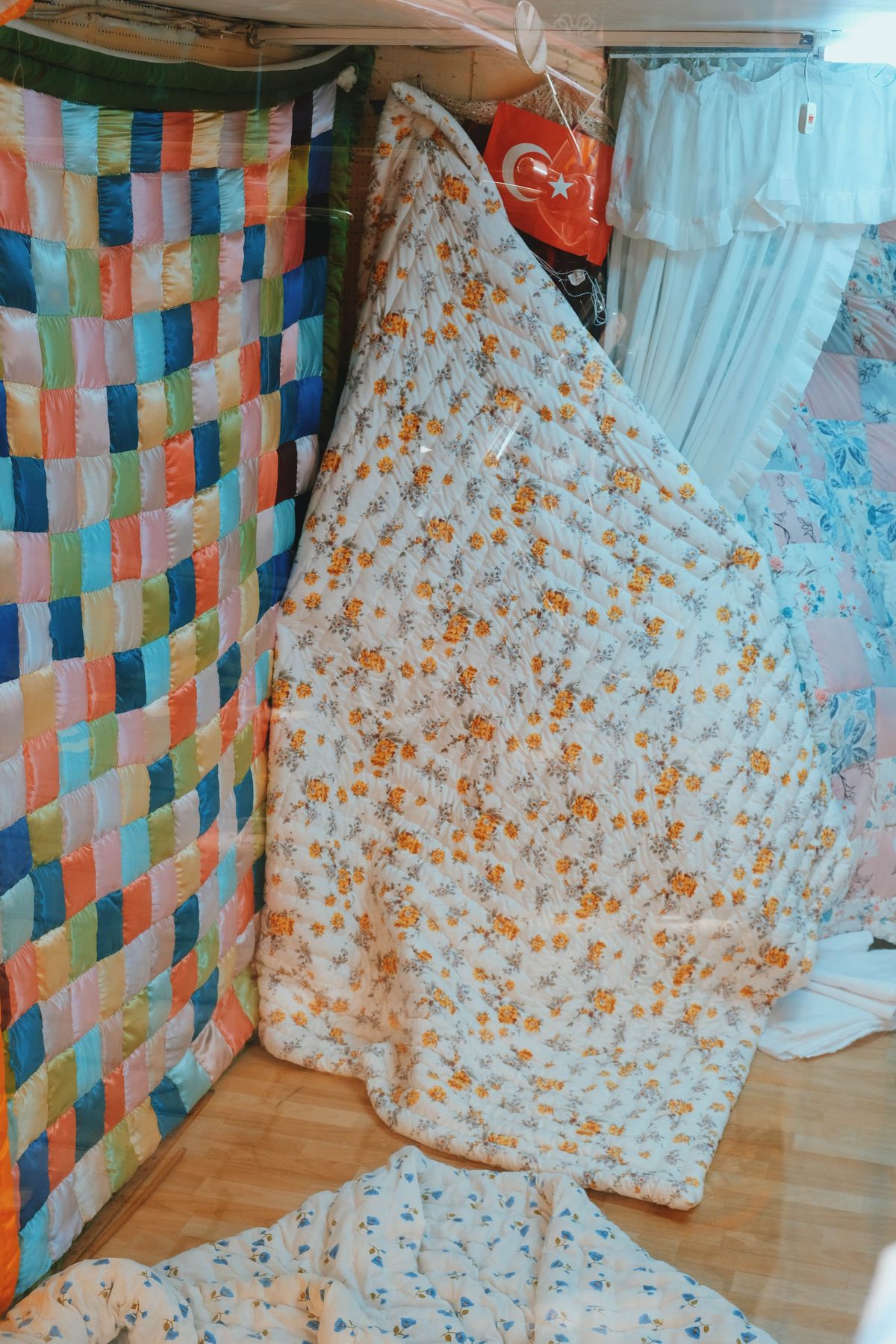 Colourful duvets
---
How do you see the future of quilting?
We inherited this craft from our masters. We would like to pass it on to the next generations, but we cannot find anyone to do so. I have a son; however, he was not interested in learning the craft of quilting while growing up. Though, it is not a craft that has to be handed down from the older to the younger.
In fact, quilting has been a part of our lives for about 7-8 centuries. During the Ottoman period, they used to quilt kaftans (robes) to keep themselves warm. Nowadays, this tradition seems to be forgotten. In fact, this craft should be taught in art schools.
In our country, young people have a hard time finding a job after they graduate from university. Unfortunately, we cannot provide them with a reliable future. Actually, everybody should have expertise in their job, starting from childhood, just the way it is in Europe. Artisanry is not looked down on, it is highly valued. Contrary to Turkey, children can receive education according to the field they are talented in. This is a huge difference.
We lack guidance. I learnt the craft by zonking out in the corners of the counter. I believe this is how you learn it, experiencing it in its place. Back in the day, when our mothers would trust the masters with us, they had the 'all yours' kind of mentality. Nowadays, there is nobody left with this perspective. Maybe that's why quilting is faced with the threat of coming to an end.
Speaking the truth with Beşir Abi was hard on me, but I felt at ease and filled with hope. I said goodbye to Beşir Abi. I'm sure I'll be back and drink his tea again.
Hikâyeyi beğendiniz mi? Paylaşın.

Organized by the Istanbul Foundation for Culture and Arts (İKSV) since 1987 and sponsored by Koç Holding since 2007, the 17th edition of the Istanbul Biennial continues.
The Biennial, which will be open to public visit until 20 November, is prepared with a different approach in this edition due to the pandemic precautions as well as its one-year delay.
The 17th Istanbul Biennial meets its viewers in various spots of the city such as bookstores, hospitals, nursing homes, cafes, metro stations, and Açık Radyo.
An avid supporter of culture and arts, Koç Holding is happy to sponsor the Istanbul Biennial by 2036. To find the short film focusing on the healing and transformative qualities of art, you may visit this link.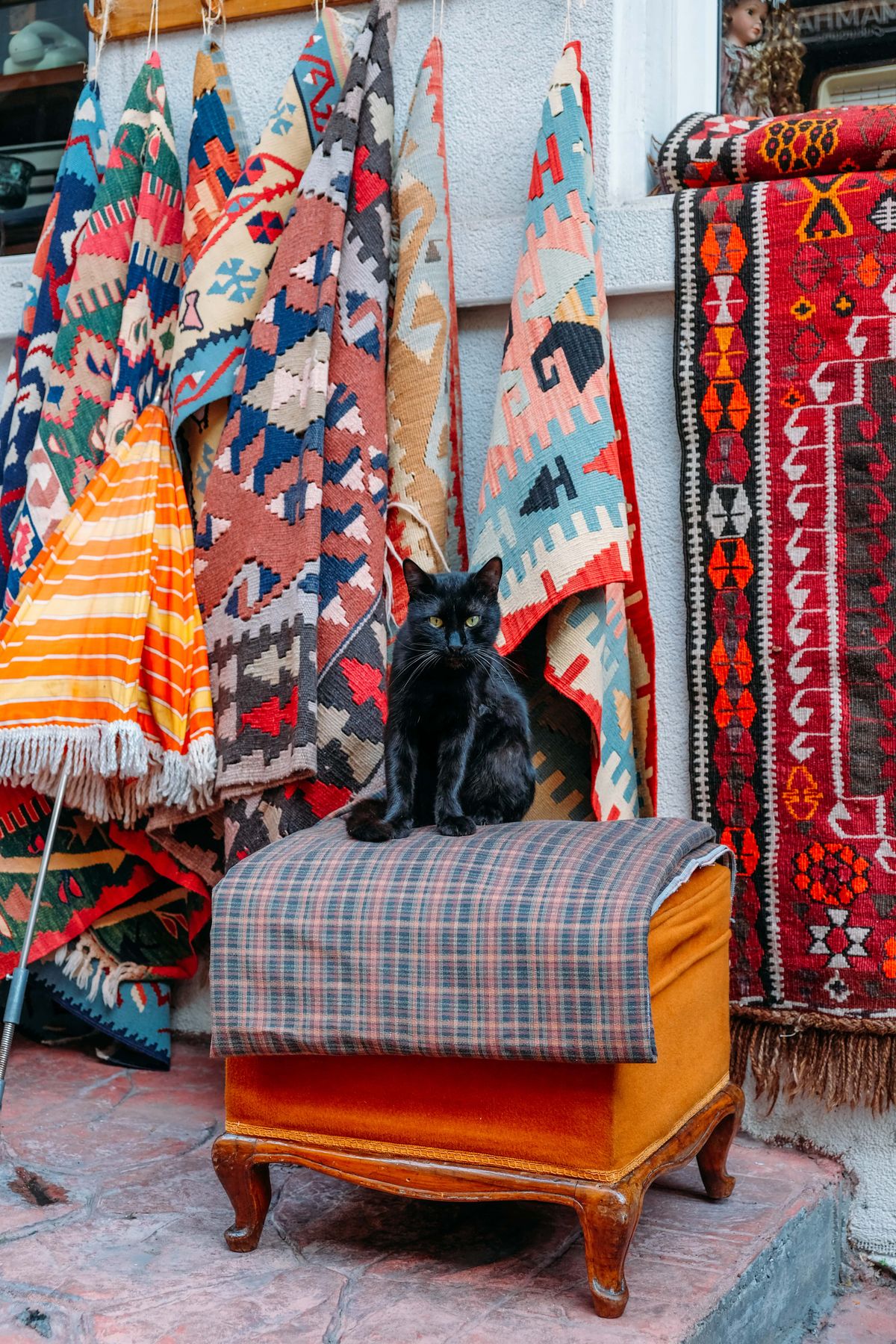 Cats, rugs, and street sights
---
Dear Solitan,
It's very valuable to experience the joy of the Biennial and to feel the art in Tophane with you. While visiting Pera Museum, Tütün Deposu, and Tavern, we lost track of time. Now we're heading to Firüzağa Hamamı to recharge ourselves for future adventures.