Here, the tables outside are for close friends and family. It's not a restaurant policy. It is just understood. They do not need to be in a cozy environment, they have enough memories to warm them up. Inside, a few tables are occupied by couples. 'Dinner here is probably the best choice for a first date,' they obviously thought. They share some meze's. Moments blissfully lost to a bottle of 70'lik rakı around 11:00 p.m. They allow themselves to relax, finally let go, and think that maybe they can sit outside later. It's hot enough.
The bar next door has tables filled with people sitting from different lands. It's like an old Turkish joke: A Turk goes into a bar with a German, a French, and an Italian... Some are drunk already, others have bought popcorn and are now eating them in front of the bar. Here, it's one of the most popular street foods at night, alongside midye dolma. You can observe indicators of this statement on the streets in the morning like other reminders of a typical autumn night in Asmalı.
And so, dearest Istabulite, I write these words now, sitting in Sofyalı, one of my favourite meyhanes in Istanbul, in one of my favourite neighbourhoods in the city, reflecting on my teen years and the past of Asmalımescit. I follow traces of the past even though it is not quite that old. Belonging here means enjoying things that have a nostalgic value in them. And always missing something. And being passionate about bringing the missing part back.
This week we met Omar Berakdar. We both miss things and try to create them again and again. Then we get ready to make strides along the streets of Yeldeğirmeni. We met in front of Kadıköy Sineması for Filmekimi. We miss Rexx, then move on to listen to Ravi Coltrane.
To the old but gold,
Elif
In the 12th issue:
Hopping (What's going on in Istanbul: Hand-picked and unmissable events): Photography festival, exhibitions, and the hotly-anticipated agenda item of the year; Filmekimi!
Water Cooler Talk (Local news that you need to know to survive or just to speak of): A new square for Karaköy.
Istanbulite (A talk with a creative inhabitant): We met Omar (Berakdar) at arthereistanbul, an open art space for art and artists. It was an incredible experience to listen about Istanbul from the point of view of this hub's creator.
Bond, James Bond: Dr. No
What is it? Film screening. In Kundura Cinema's Restored Classics programme, this time we follow 11 classic adventures of one of our favourite spies, 007 James Bond, and celebrate his 60th birthday together.
Where is it? Kundura Cinema
When? 8 October
Why should you go? The first of the classics to be screened between October and December, in Dr. No, Bond seems to have some problems with a doctor who is the head of a Jamaican crime syndicate.
Duly noted: If you ask which other classics are in the programme where restored versions will be presented to cinema lovers for the first time in Turkey, you can check them out here.
---


Les Pires
---
The month of film: Filmekimi
What is it? Film festival. The most special cinema gathering of autumn is back in town.
Where is it? Atlas 1948 Cinema, City's Nişantaşı, CINEWAM Premium, Kadıköy Cinema and Sinematek/Sinemaevi
When? 7-16 October
Why should you go? Watching the highly anticipated productions that have been screened at prestigious film festivals around the world such as Sundance, Cannes, Venice, Toronto, etc. Wathcing them all together is a different experience. The full programme is over there.
Duly noted: The ticket rush starts on 4 October. Everybody to the box office or to the screen!
---


Agnes Denes. The Living Pyramid
Source: SSM
---
A life cycle: Agnes Denes. The Living Pyramid
What is it? Installation. The site-specific work titled The Living Pyramid by Agnes Denes, one of the pioneers of ecological art, awaits its viewers together with the artist's Manifesto written in 1969.
Where is it? SSM
When? Until 29 January 2023
Why should you go? The pyramid, where participants are involved in the planting process, will grow and change shape as thousands of seeds grow into flowers and grass. You are invited to the life cycle of the pyramid.
Duly noted: Art Heals Programme based on Agnes Denes' The Living Pyramid starts on 8 October.
---
Festival of photography: 212 Photography İstanbul
What is it? Festival. Organised for the fifth time this year, the festival is back in the city for 10 days full of events designed around photography.
Where is it? Various venues
When? 6-16 October
Why should you go? The journey through photography promises a rich visual journey with stops for talks, workshops, and film screenings.
Duly noted: Visitors of 212 Photography Istanbul will be able to watch the festival screenings for 30 days with their free MUBI membership. For details, we invite you here.
---


Ravi Coltrane
Source: Michael Weintrob
---
The music of the cosmos: Ravi Coltrane
What is it? Concert. Ravi Coltrane, son of John Coltrane and Alice Coltrane, will visit Istanbul for a cosmic musical adventure as part of the Akbank Jazz Festival.
Where is it? Zorlu PSM
When? 8 October
Why should you go? You are invited to one of the most eagerly awaited concerts of the Akbank Jazz Festival, an experience beyond time and space where Ravi Coltrane keeps his musical legacy alive.
Duly noted: Two days before the Ravi Coltrane concert, Portico Quartet will perform at Babylon and Abdullah İbrahim will perform at Atatürk Cultural Centre. The way to the tickets passes through here.
---


A scene from Men I Trust's Tailwhip video
---
Genre to genre: MIX Festival
What is it? Festival. A series of concerts with a selection of local and foreign artists ranging from Men I Trust to Ceza, Kit Sebastian to Gülinler.
Where is it? Zorlu PSM
When? 7-8 October
Why should you go? From pop to rap, DJ sets to rock 'n roll, a short but packed two-day music programme awaits you.
Duly noted: Entrance tickets for the two-day festival are here.
---
Early bird


Source: Best Kept MTL
---
Satori And The Band From Space Tour 2022
What is it? Concert. Satori is in the city again to invite us to the endless garden of music where different instruments and electronic sounds meet.
Where is it? Volkswagen Arena
When? 17 December
Why should you go? This time he will mesmerise his fans with his live performance project Satori And The Band From Space, which he calls his 'most passionate dream'.
Duly noted: Early-bird tickets have flown away, but for those who want to catch the first period of sales, let's take you here.
---
Out of town

Photo: Ara Güler
---
First time: Aphrodisias - Ara Güler
What is it? Exhibition. Through the photographs taken by master artist Ara Güler, you will be a guest in Geyre, which he visited at every opportunity until the early 90s, today called the Archaeological Site of Aphrodisias and included in the UNESCO World Heritage List.
Where is it? Erimtan Archaeology and Arts Museum, Ankara
When? Until 28 February 2023
Why should you go? It will be Ara Güler Museum's first exhibition in Ankara. In the exhibition, you will also find Ara Güler's original darkroom prints of Aphrodisias and his work during the preparation of his book Aphrodisias Scream.
Duly noted: You can visit the museum every day except Monday between 10:00 a.m. - 06:00 p.m.
---


Source: Kayhan Kaygusuz
---
We pick up where we left off: İmalat-hane season opening
What is it? Exhibitions. Guido Casaretto's 'Looking for graviton in uneven plates' and Can Küçük and Cem Örgen's 'No Entry' will start off the new season of İmalat-hane.
Where is it? İmalat-hane, Bursa
When? Until 10 December
Why should you go? While cutting the ribbon of İmalat-hane, one of the shining stars not only in Bursa but also in Turkey's contemporary art scene, you will see Casaretto's works, most of which will be exhibited for the first time in Turkey, and you will see the moral implications of Küçük and Örgen's transgression of the spaces demarcated by the words 'No entry'.
Duly noted: We recommend planning a day trip, the gallery is closed on Sundays and Mondays.
A new square for Karaköy

Source: Gazete Duvar
---
What is it? Istanbul Metropolitan Municipality has decided to demolish the 46-year-old multi-storey car park in Karaköy. As of 24 September, the car park is closed, and demolition will start in October.
More: The area to be opened after the demolition will be used as a city square and the above-ground car park will be compensated for by a new car park underground.

Organised by the Istanbul Foundation for Culture and Arts (IKSV) since 1987 and sponsored by Koç Holding since 2007, the 17th edition of the Istanbul Biennial has opened its doors to the public eye.
The Biennial, which will be open to public visit until 20 November, is prepared with a different approach in this edition due to the pandemic precautions as well as its one-year delay.
The 17th Istanbul Biennial meets its viewers in various spots of the city such as bookstores, hospitals, nursing homes, cafes, metro stations, and Açık Radyo.
An avid supporter of culture and arts, Koç Holding is happy to sponsor the Istanbul Biennial by 2036. To find the short film focusing on the healing and transformative qualities of art, you may visit this link.
Send news: Dear Istanbulite, we would love to hear from you! Email us your questions or feedback at: [email protected] and DM us if you've heard a rumor about the next hip restaurant that's worth checking out or anything else.
And also, love only grows by sharing. So please share Aposto Istanbul with your loved ones.
Omar Berakdar
Meet Omar Berakdar; an artist who moved to Istanbul from Syria and made Yeldeğirmeni his home. And of course, he is an Istanbulite.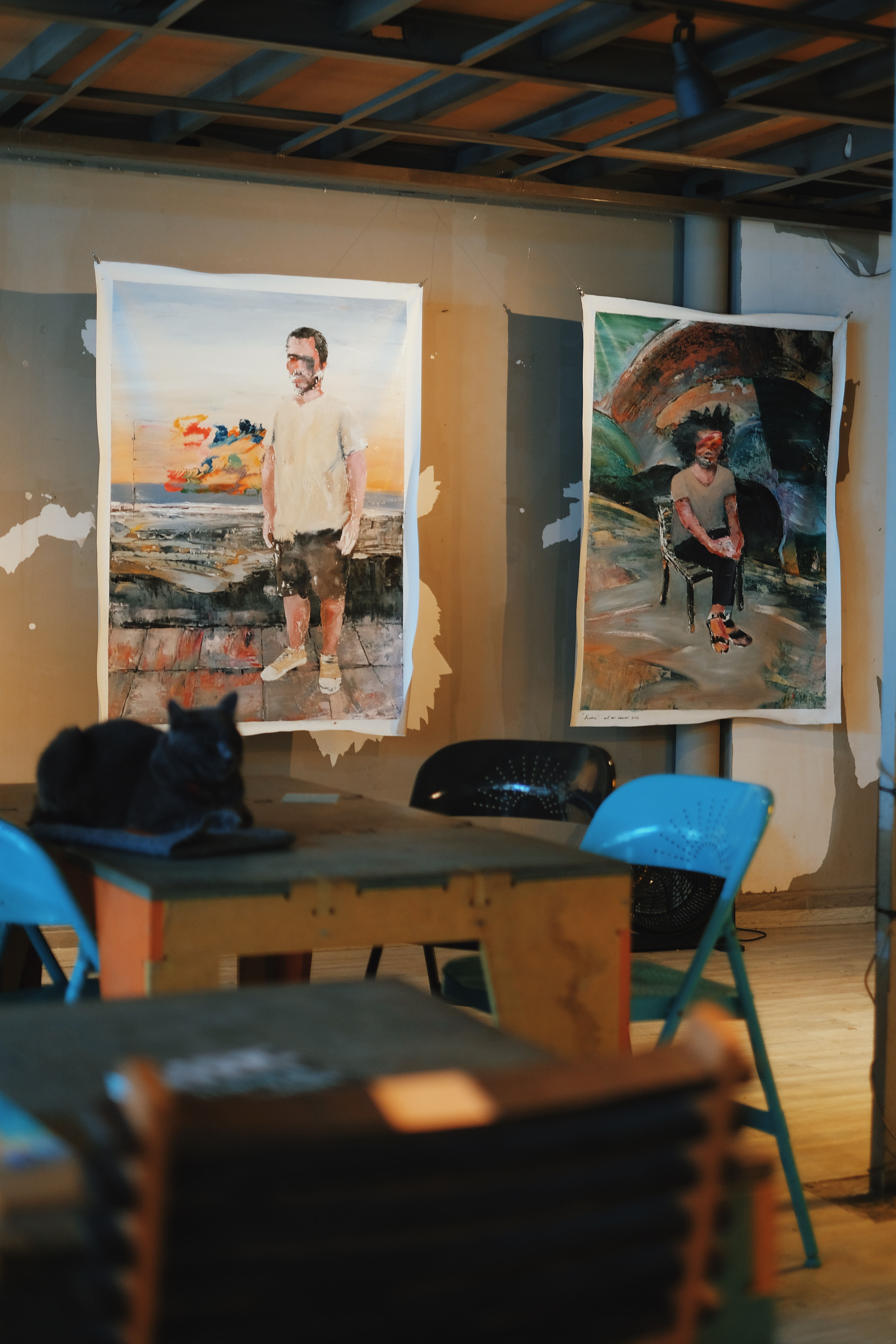 Last Wednesday, we met with Omar (Berakdar) at arthereistanbul, which he founded. We talked about the platform, one of the venues of the 17th Istanbul Biennial, his relationship with the neighbourhood, the importance of the biennial, and art. It was a completely different experience to look at Yeldeğirmeni through the eyes of Omar, who came to Istanbul from Syria and created an open production space for artists and art lovers.
If you are ready, we will start our conversation to learn the story of arthereistanbul with cats on our laps, pieces of art in front of our eyes, and the sound of the neighbourhood in our ears.
SHOOT THE BREEZE
What is the relationship between arthereistanbul and Yeldeğirmeni?
Now, we are a part of the neighbourhood. We do lots of collaborations with the locals. Yeldeğirmeni is a really close and sincere district. When I need to handle other stuff outside of the hood I can easily ask anyone to take care of the place. Over time we became a part of the family, and this means so much to me.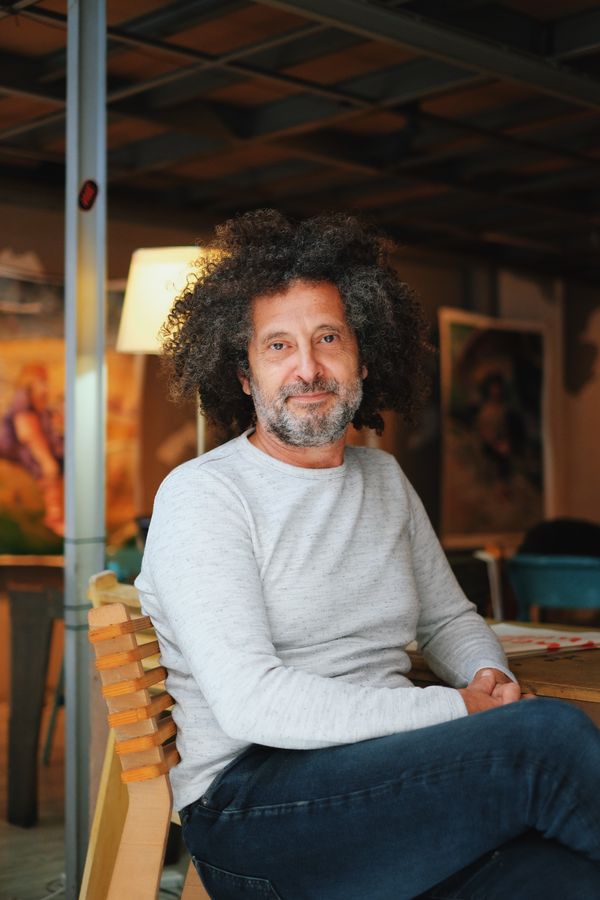 Omar at arthereistanbul
Photo: Deniz Sabuncu
---
What is the relationship between art and Yeldeğirmeni?
Yeldeğirmeni is a very rooted and nostalgic place. About 10-15 years ago, the municipality started a project related to murals. It attracted a lot of attention from the environment. You can easily find lots of tours located here about murals.
At the same time, there are many historical buildings around. Again, this place was protected by the decision of the municipality. That means; you will see that many of the buildings around here can stay the same for many years. People are aware of this as much as possible, and they try to buy houses from here and renovate them in exactly the same way, and they have to do it this way by law. Thanks to the locals and the people who visit, Yeldeğirmeni will be one of those who succeed in preserving its texture in the future.
arthereistanbul is one of the participants in the 17th Istanbul Biennial. For you, what is the impact of the biennial and this collaboration?
We had many collaborations with IKSV before. Even though we took part in the previous biennial, this one is slightly different than the others because this time arthereistanbul is one of the venues. This is so significant as the recognition of the role of the artist who presents Turkey.
We have a library that tells all the stories about the war and how the war affected people. In relation to this, we started collecting books translated into Turkish and Arabic and international books to spread this awareness to people as much as possible. Knowledge is very important for people who want to learn what's going on around the world. It was very rare to find a Syrian writer to write in Turkish and now with the help of our library and space, you can easily find sources.
We hope it will grow and continue after the biennial. We wanted this place to become an open space where anybody who wants to learn can come, sit, and learn. This area has always been reserved for spending time together and producing.
Duly noted: We are collaborating with the British Council which involves 3 countries; the UK, Turkey, and Jordan. All of us were selected to host 2 displaced artists and present them in our spaces. The residency will start soon.
Hikâyeyi beğendiniz mi? Paylaşın.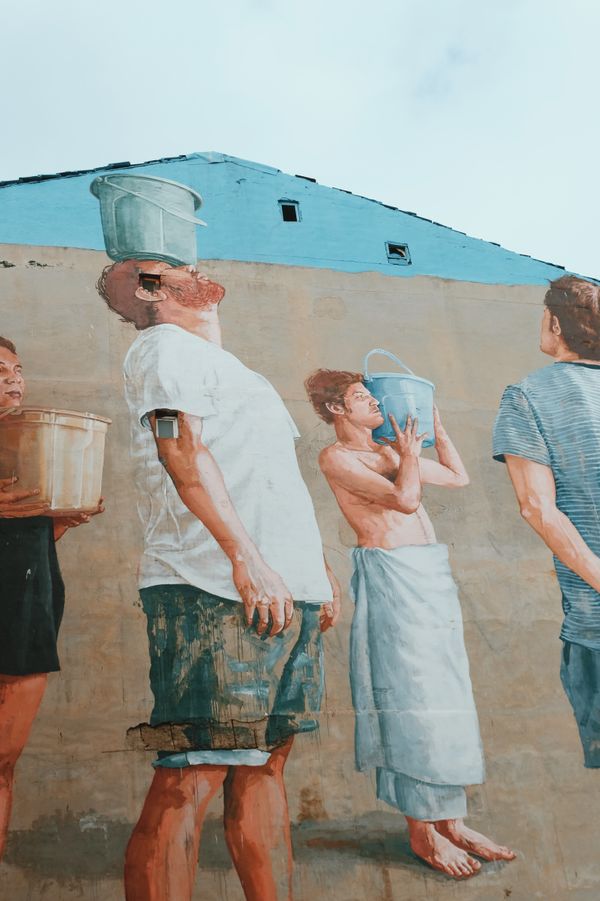 Here, even the murals express solidarity