It's 10:30 a.m. Outside, a small group is waiting for the grand opening. A hipster, a group of tourists from France and Italy, some shopkeepers (esnaf) from the Grand Bazaar, and a couple of foodies. As time passes, the crowd becomes increasingly impatient for döner kebab. Jewelry store next door is still closed, like the rest of the shops in the alley. A porter is crossing the street. He is probably on his way to Çembelitaş. Where are we? Is water wet? We are at Dönerci Şahin Usta, Grand Bazaar, of course.
It's 10:30 a.m. Some are walking by with coffees in their hands to watch the sun shining over the sea, others are jogging. Drunk faces are seen from inside taxis on Operatör Cemil Topuzlu Street. You know the street. On one side, modern buildings rise up to the sky, and on the other side, nothing but the endless sea and the islands. Dogs barking, cats meowing. After all, this is their territory. People are here to take a deep breath, and take in the smells of the seaside. Here in Suadiye.
Istanbul is a Russian doll of a city. You find many intertwined cities inside. It's the origin of all chaos and diversity. It's the source of life.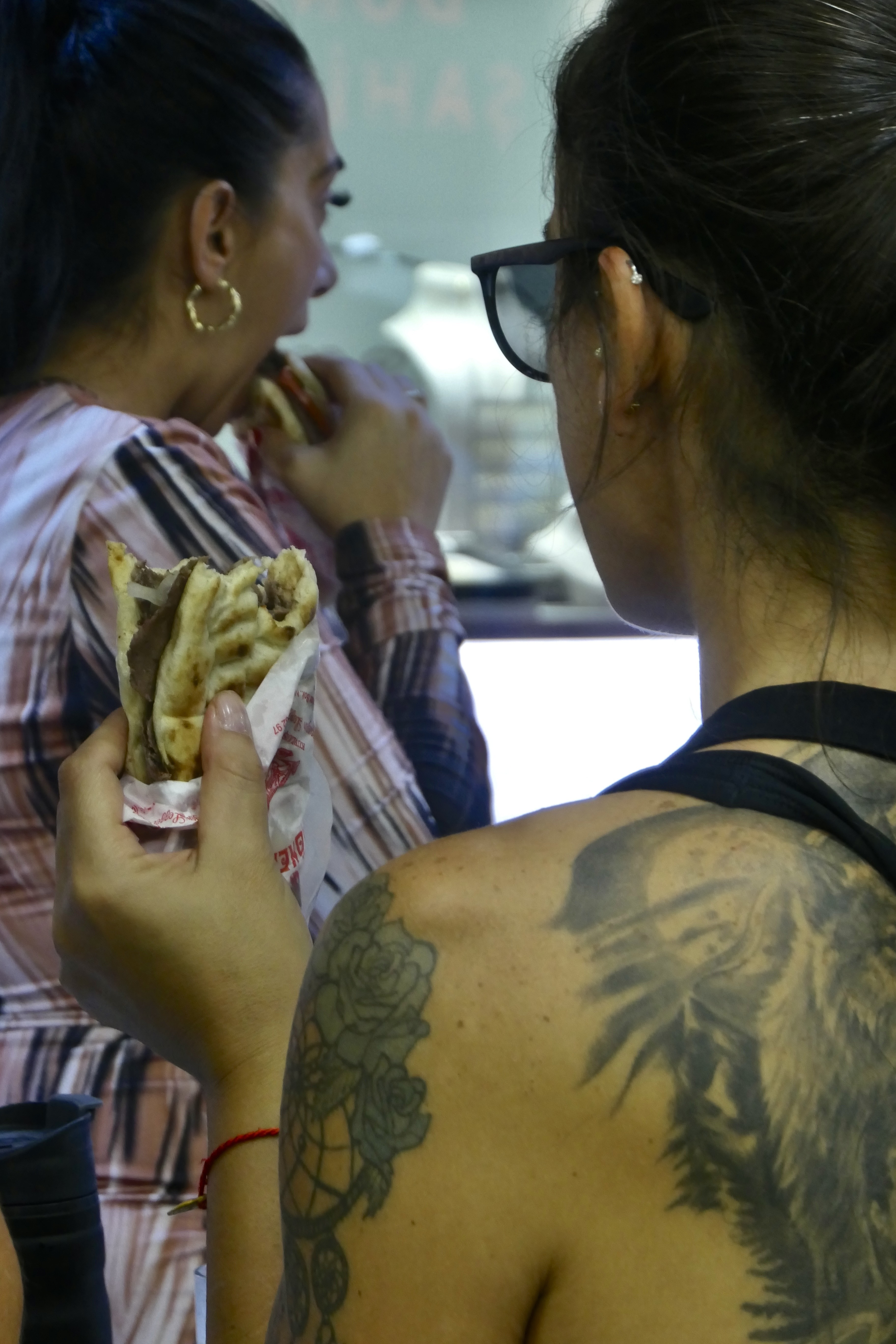 Çemberlitaş at 10:30 a.m.
---
This week we meet Bilal & Lydia at Ali Paşa Han to embrace the diversity of the city: explore and remember the crafts, and the people behind them. Later on, we move another han. Then we find ourselves in an old factory, at Bomontiada to see 212 Photography Istanbul which can be visited until 16 October.
What's next? Which neighborhood are we going to find ourselves in? You never know, but let's see.
Elif
Aposto Istanbul
A weekly, practical guide to Istanbul for those who want to make this city their neighborhood. Every Sunday.
In the 13th issue:
Hopping (What's going on in Istanbul: Hand-picked and unmissable events): Omnivore food festival, exhibitions, concerts, KuirFest, and much more.
Water Cooler Talk (Local news that you need to know to survive or just to speak of): M4 Kadıköy - Tavşantepe Line Sabiha Gökçen extension is in service.
Istanbulite (A talk with a creative inhabitant): We met Bilal (Yılmaz) & Lydia (Chatziiakovou) at Ali Paşa Han, one of the places that they revel in visiting most in Istanbul. We talked about crafts in Istanbul and their impact on the city.
What's cooking (Selected places to eat, drink, cafés, food markets): A Sıraselviler guide for foodies.
---
Back in town: Omnivore Food Festival 2022
What is it? Food festival. Omnivore Food Festival, the world's first and only travelling culinary festival, is coming back after a 4-year break to whet the city's appetite.
Where? Sakıp Sabancı Museum the Seed
When? 15-16 October
Why should you go? The festival, which visits the world metropolises that shape the food and beverage industry and hosts many inspiring events, will bring together world-renowned chefs in Turkey.
Duly noted: At the Omnivore Pop-Up Dinner, we will taste the menus specially prepared for us by the chefs and enjoy the drinks at the Liquid Stage for the first time.
---
Hypnotised flights: HOMESHAKE
What is it? Concert. Mac Demarco's stage guitarist HOMESHAKE, who has also developed a full music catalogue of his own, is coming to the city.
Where? Salon İKSV
When? 12 October
Why should you go? On the small and intimate stage of Salon İKSV, you will be swept off your feet with hypnotising pop songs.
Duly noted: Tickets for the event are now available over here.
---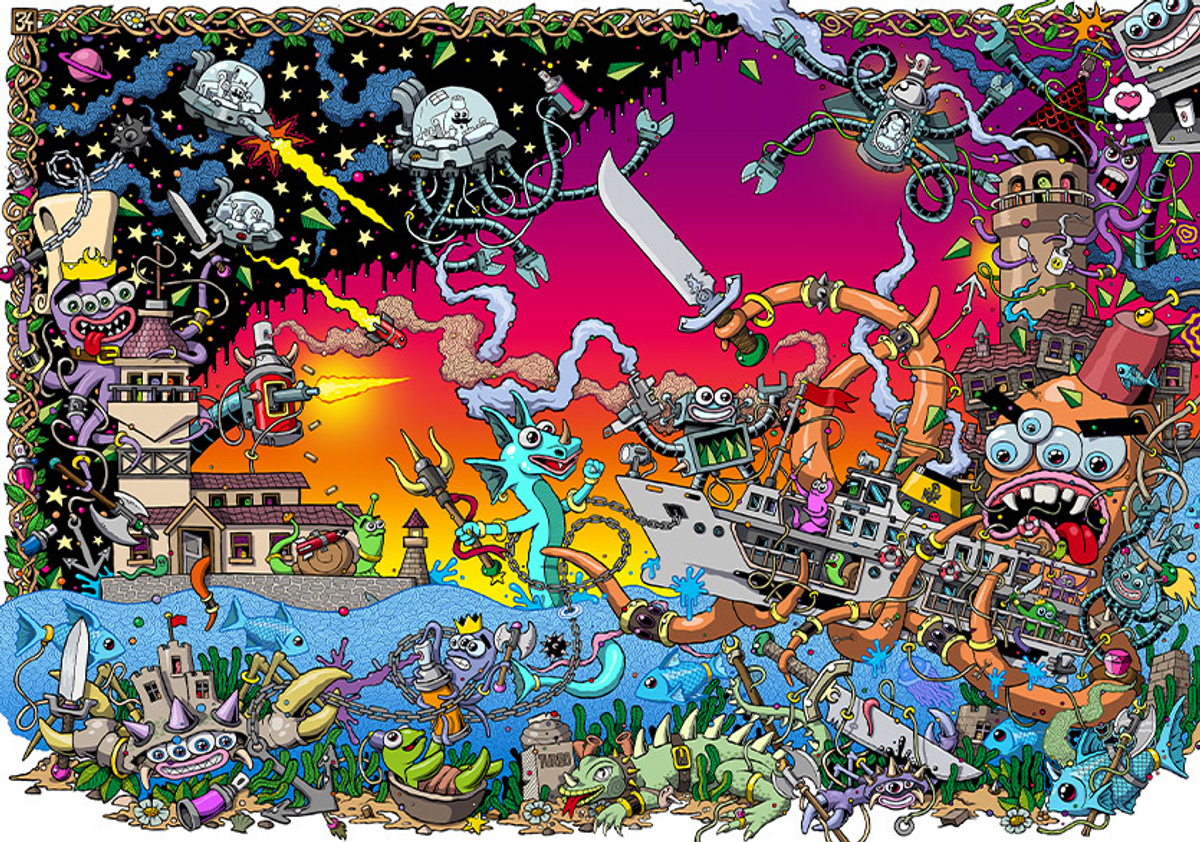 Island Ferry, Tunç 'Turbo' Dindaş
---
Graffiti on the gallery walls: Tunç 'Turbo' Dindaş's Istanbul
What is it? Exhibition. Graffiti works by Tunç 'Turbo' Dindaş meet ink and paper as part of the 17th Istanbul Biennial.
Where? Brieflyart
When? Until 12 November
Why should you go? Turbo, who combines the inspiration he takes from Istanbul with the playfulness of graffiti art, promises a breathe of the air of the 'imaginary art of the street' with a unique visual narrative of the city.
Duly noted: Tunç 'Turbo' will open a door to the world of creative graffiti for the participants with his performance at Brieflyart on 4 October from 12:00 a.m. to 05:00 p.m.
---
Queer screenings come to Istanbul: 11th Pembe Hayat KuirFest
What is it? Festival. The second stop of the queer film festival, which started in Ankara at the beginning of October, is in Istanbul.
Where? In various venues
When? 14-16 October
Why should you go? Short films from Turkey, queer documentaries, events, interviews and workshops invite you to the vast world of queer creativity.
Duly noted: Don't miss the MUBI selection of the festival.
---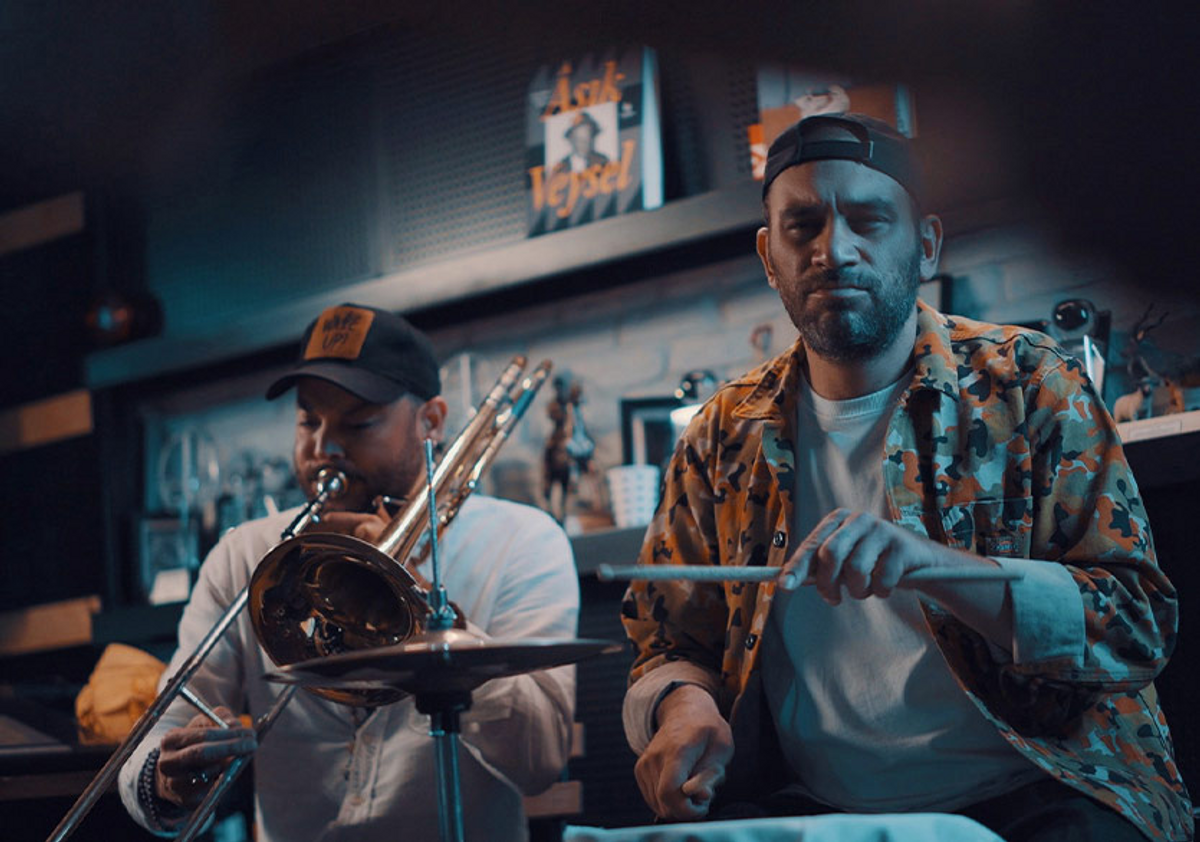 Air Anatolia
Source: artfulliving
---
Psychedelia of Anatolia Air Anatolia Project
What is it? Concert. An event that brings together the cult names and songs of Anatolian psychedelic music with British jazz musicians, creating an intercultural fusion of sound.
Where? Zorlu PSM
When? 14 October
Why should you go? Moğallar, Kurtalan Ekspres, Cem Karaca, and more will take on a new form with jazz, and the psychedelia of Anatolia will be adorned with brand-new motifs.
Duly noted: Cahit Berkay from Moğallar, Okay Temiz, the percussion legend of Turkish jazz, and Murat Ertel, one of the babas (fathers) of Baba Zula, are among the dozens of names who will take the stage on this magical night.
---
Early bird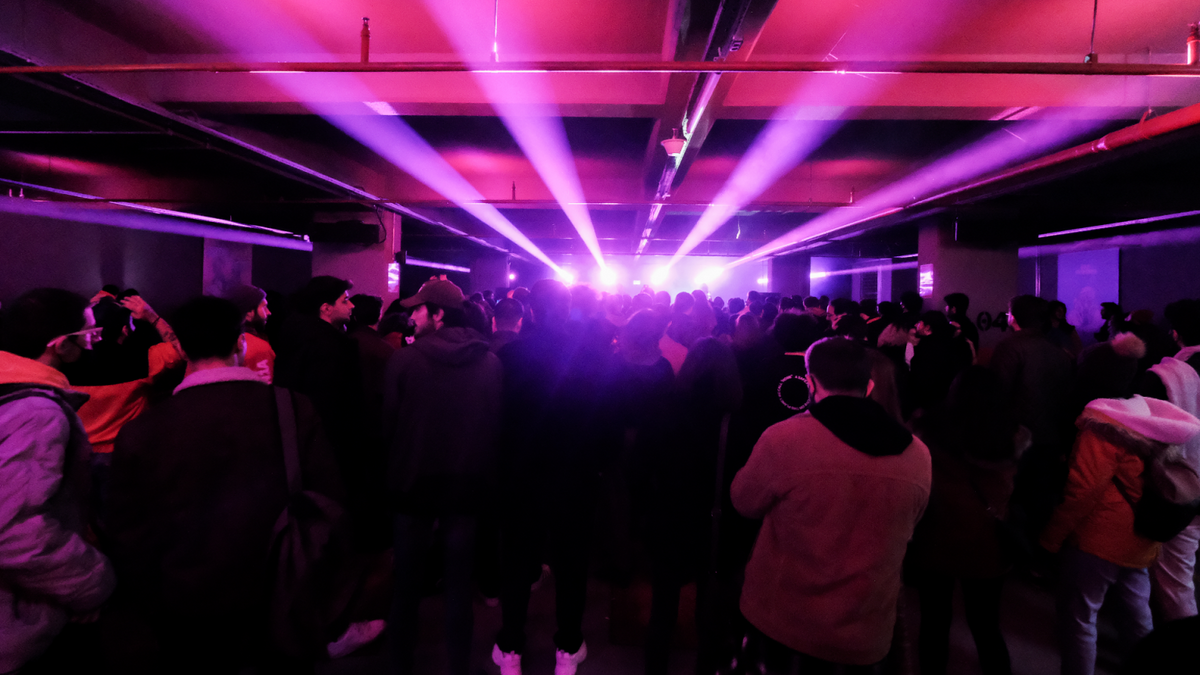 An underground concert
Source: kultur.istanbul
---
Reporting from the underground: Concerts in the car park
What is it? Concert series. Concerts that bring local musicians and bands to the underground, turning the city upside-down.
Where? Müze Gazhane car park, -2nd floor
When? For now until 27 October
Why should you go? It will be a brand new adventure to listen to Istanbul musicians underground and experience the local sound in an extraordinary atmosphere.
Duly noted: The concert programme of the series is right here.
---
Out of town
#GreenJusticeAndPeace: 9th Bozcaada International Festival of Ecological Documentary
What is it? Documentary festival. The festival, where dozens of films around themes such as ecological crisis, environmental justice, and liveable and sustainable future are screened, celebrates its 9th anniversary this year.
Where? Bozcaada
When? 12-16 October
Why should you go? It is possible to witness the universality of the climate crisis with films from all over the world defending the soil, the green, the future, and defending the 'defender'.
Duly noted: The 'Gaia Student' category, open only to student films, is an opportunity to discover budding documentary filmmakers.
Briefly from the city
M4 Kadıköy - Tavşantepe Line Sabiha Gökçen extension is in service. The line operated by Metro Istanbul, a subsidiary of Istanbul Metropolitan Municipality (IBB), became the most extended subway in Istanbul with 23 stations and a length of 33.5 kilometres. 7 new sea line services are coming to the Marmara Sea, the Bosphorus, and the Golden Horn. It aims to extend maritime transport throughout the city with the new services to be parallel to the shore and between the 2 continents and to offer environmentally friendly, fast, and comfortable journeys.
New lines: Kadıköy-Kasımpaşa-Fener-Sütlüce-Eyüp, Avcılar-Bakırköy-Kadıköy, Avcılar-Bostancı, Maltepe-Büyükada-Heybeliada-Burgazada-Kınalıada, Çengelköy-Kabataş, Beşiktaş-Kabataş-Karaköy-Kasımpaşa-Sütlüce-Eyüp and Bostancı-Caddebostan-Moda-Kadıköy-Kabataş.
Kültür AŞ to exhibit in 212 Photography Istanbul
Once Upon a Time In Istanbul, 2022
A significant photography festival in Istanbul, 212 Photography Istanbul is coming to the city between 6 - 16 October for its fifth edition in collaboration with Kültür AŞ by the Istanbul Metropolitan Municipality.
What to see?
Consisting of a selection of Faik Şenol's photography documenting Istanbul's development and transformation in time, Once Upon a Time In Istanbul awaits its visitors in Taksim Sanat for a nostalgic view of the city.
Moving from record collections of Murat Abbas, Kanat Atkaya, and Burak Sülünbaz, On Record provides excerpts from the visual history of music.
Send news: Dear Istanbulite, we would love to hear from you! Email us your questions or feedback at: [email protected] and DM us if you've heard a rumor about the next hip restaurant that's worth checking out or anything else.
And also, love only grows by sharing. So please share Aposto Istanbul with your loved ones.
Bilal Yılmaz & Lydia Chatziiakovou
Meet Bilal and Lydia who live part-time in Istanbul (and part-time in Thessaloniki.) They have mapped Istanbul's crafts to protect its vanishing values, and love Istanbul's every single detail. Do we still need to say that both of them are Istanbulites?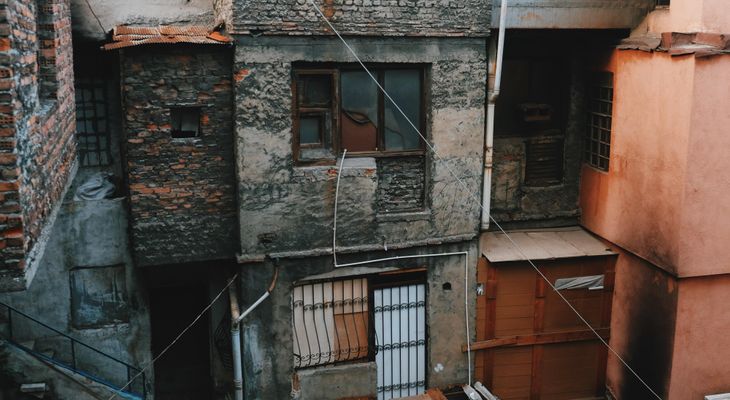 Last Wednesday we met Bilal and Lydia at Ali Paşa Han, one of the places that they revel in visiting most in Istanbul. We talked about crafts in Istanbul and their impact on the city.
We recommend you sit in a cozy place where you can focus easily because what you are about the read is the kind that should be paid attention to.
ID
We have visited 'this neighborhood' to meet 'this artisan' in Istanbul recently: Recently we visited Eminönü - Büyük Yeni Han to meet Thomas Usta, maybe the best engraver in the city, who recently collaborated with an international artist for the creation of her artwork in the context of the Creative Craft Collaboration - Residency Programme, that we are curating.
We have explored 'this artisan' recently: We mapped several craftsmen in Prizren/Kosovo.
We live in: Istanbul and Thessaloniki.
(In our hearts,) we feel like we are from: The Balkans.
Our favourite hangout: Hans of Istanbul.
SHOOT THE BREEZE
You have created a digital craft map of Istanbul called 'Crafted in Istanbul', in order to ensure the integration of crafts into the existing design system by documenting them and making them visible. Why did you choose craftsmanship as a field of research? When and how did you realize that the continuity of craft in Turkey was in danger?
While studying in New York, I (Bilal) started experimenting with materials and handcraft techniques to create the forms and narratives in my mind. While I was doing an MA in Product Design in Istanbul, I started discovering local crafts and making experimental creative productions with traditional craft studios, which led me to initiate the collective action research project Crafted in Istanbul. My initial purpose of integrating crafts into the design system evolved into using mapping as a tool to activate reflection on crafts' potential as a medium for contemporary creative productions. In 2020, Lydia got involved (from Greece), bringing her expertise to socially engaged art practices. Together, we started developing the Creative-Craft Platform, a transnational platform to establish creative networks and communities around crafts, revealing and activating their potential as an alternative, sustainable, local, and socially-aware production form, especially for creative ideas.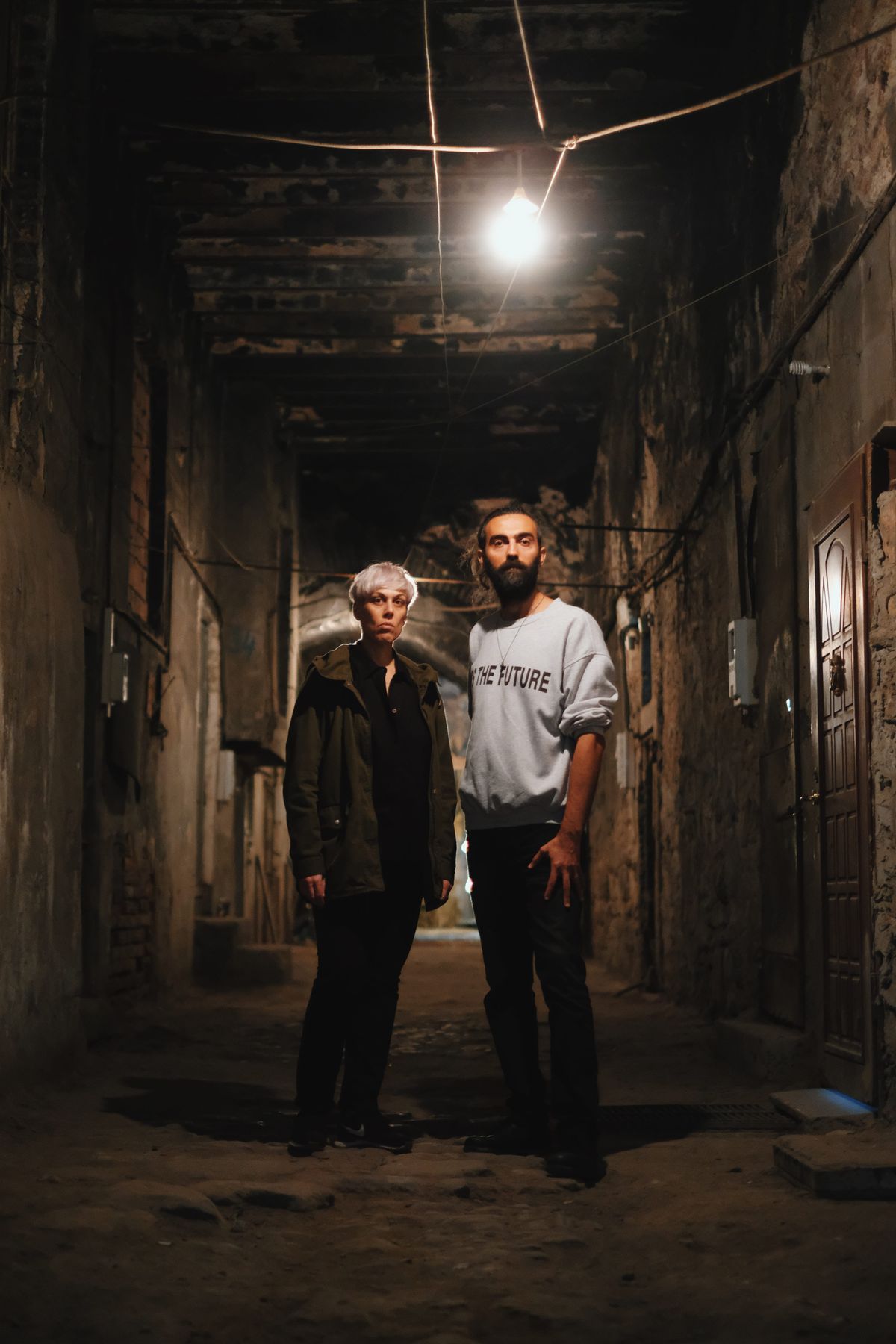 Lydia & Bilal
---
What are the characteristics of the soul of Istanbul's crafts and how does this contribute to your overall approach and research?
Crafts in Turkey are slowly being pushed to the margins, without social recognition or state support. Still, they remain an important part of the local economy. Alongside producing traditional objects, craftsmen represent the skilled working class of Industry 3.0. They either work in or with the industry, which makes their production extremely varied and innovative. This is why Istanbul attracts Westerners eager to discover techniques and materials and in the process, they often discover Bilal, who has become a sort of ambassador for the city's crafts. Additionally, Istanbul's craftsmen are fascinating storytellers, sources of experiential knowledge on issues related to the city and its social and financial transformations.
Many would say that crafts are 'outdated'. How does your project respond to this generalised perception of crafts?
Creative interventions are crucial to transform crafts into a contemporary field. Crafts can be a versatile medium that can lead to social, cultural, and environmental sustainability. Their borders are flexible enough to include fine and applied art, function and non-function, labour and leisure, analog and digital, and past and future. This eclectic quality is what makes crafts not only an absolutely contemporary field but also an excellent methodology for artistic research, critical thinking, and conceptualisation.
What are the main elements of the Creative-Craft Platform? Is the map available to everyone? Can anyone contribute to the platform?
Creative-Craft Platform is based on a 3-step strategy: mapping, connecting, and reactivating. CCP introduces tools to create a collective dynamic archive of craft through participatory action research; provide a platform for creatives to reflect and act on the potential of crafts; brings together creative cumulative actions as a basis for institutions to build craft policies, and document the transformation of crafts' know-how in the contemporary context. The first CCP element to be launched soon is Craft Net, a digital app open to creatives to conduct mapping research and realise their creative productions with crafts.
Hikâyeyi beğendiniz mi? Paylaşın.
Craving food in the middle of the concrete jungle aka Sıraselviler
A guide for foodies.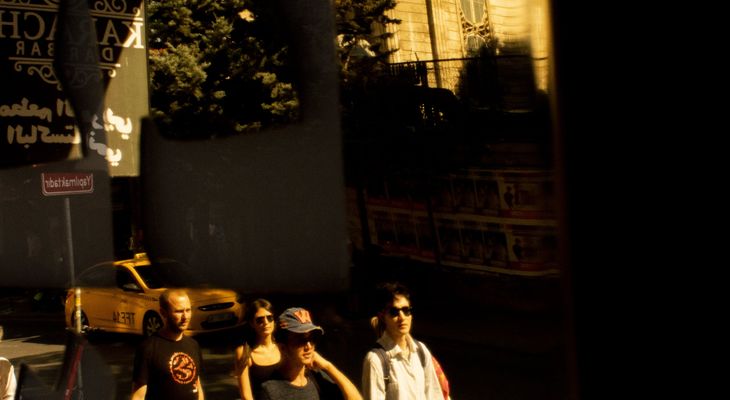 Photos: Elif Bayram.
Well, Sıraselviler is not the place where you would prefer to hang out or have a fine meal. However, occasionally you end up here. Since you are here, you complain about the crowd and the transformation of Taksim. Sure, after a while, you begin starving in the middle of this concrete jungle. And here we are with a list full of the classics and the latest.
For a good morning
Historical Savoy Patisserie: The patisserie, which was first opened on Soğancı Street in Cihangir in 1950, has been on Sıraselviler Street since 1989. The patisserie, which always keeps up with the needs of the time, uses sourdough with high protein value and grains with high nutritional value. Just like the new generation patisseries, 'sugar-free' products are available on its counter. When you enter, the smell of tahini buns and mini cherry cakes take over. Well, we take our share and continue on our route.
What to order: 'Turkish' breakfast tea and tahini bun
Where: Sıraselviler Street No:91/A
It's always lunch time... somewhere
Vegan Dükkân Lokanta: Istanbul's new vegan, the neighbourhood's most wanted. Vegan Dükkân's latest initiative, Vegan Shop Lokanta may be the best thing that has ever happened to Cihangir in a while, especially now that Özkonak Esnaf Lokantası is closed. Good news for those who want a taste: It's open between 10:00 a.m. and 09:00 p.m. Extensive vegan breakfast is also available.
What to order? Katsu curry or 'Hünkar Beğendi' with homemade sugar-free lemonade.
Where: Soğancı Street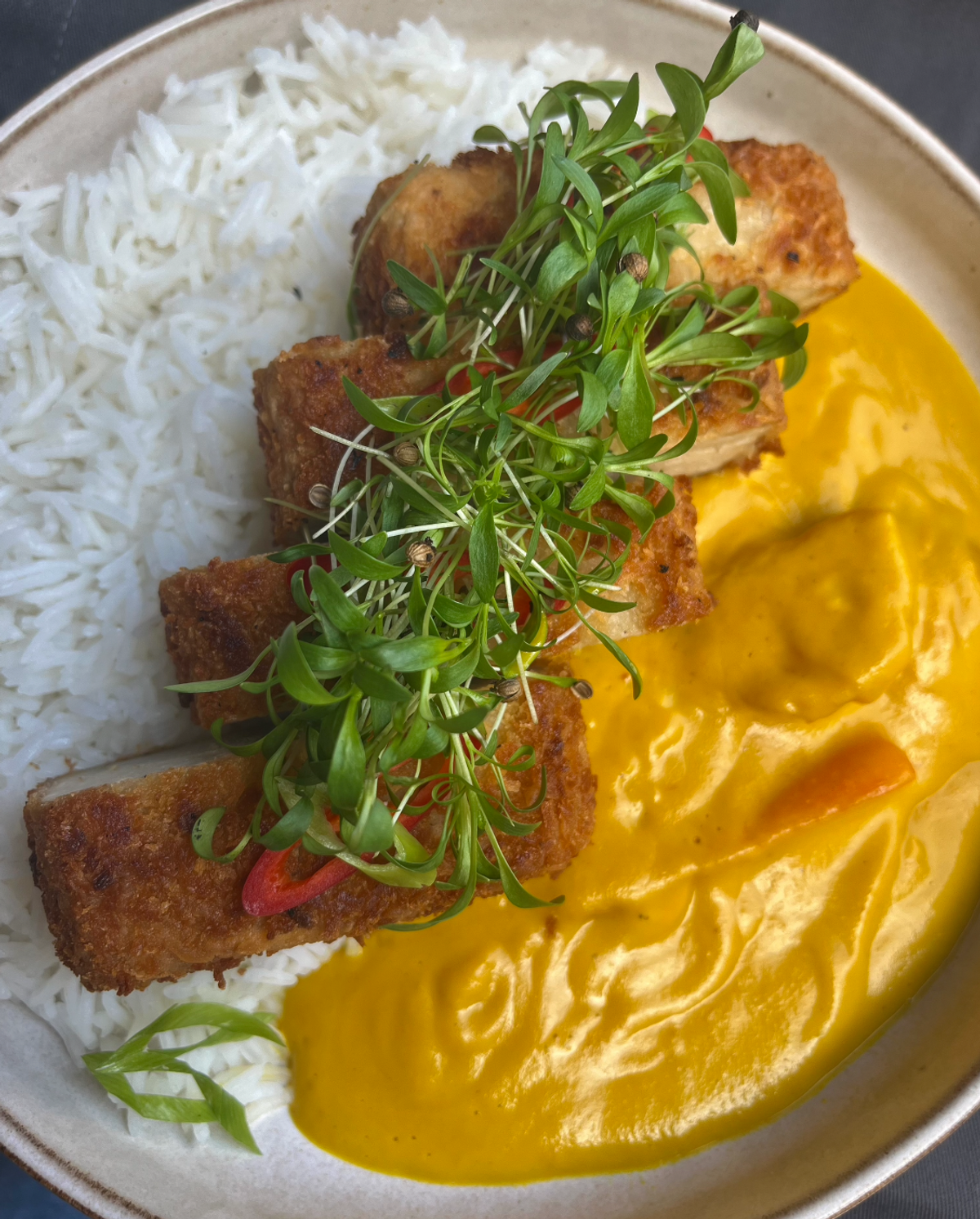 Mmmm katsu curry
---
Late night with 'ıslak hamburger'
Bambi: Some say it's impaired its quality, some still eat it as they did on the first day. Let's stop arguing and face this: In the heyday of Istiklal Street, if you didn't end the night at Bambi, the late-night snack stop for regulars, you wouldn't have had your ultimate 'Taksim night'. It didn't matter if it was cheddar toast, double cheddar toast, or Istanbul-style 'ıslak hamburger', we would wait for it in the queue. When it was close to sunrise, we would eat our sandwiches hungrily. Would we go again today? Yes, and yes.
What to order? Islak hamburger or double cheese toast
Where? Sıraselviler Street No:2\J
'I'm craving something spicy, something sour'
Geyik: The meeting point of Cihangir people awaits those who want to join the locals hanging out in the streets with their cocktails. Go for Tommy's with chili.
Where: Akarsu Yokuşu Street No:22
Asri Turşucusu: The famous pickle shop of Cihangir. It's worth walking all the way for its spicy pickle juice or pickled okra and green plum.
Where: Ağa Hamamı Sokak No:9/A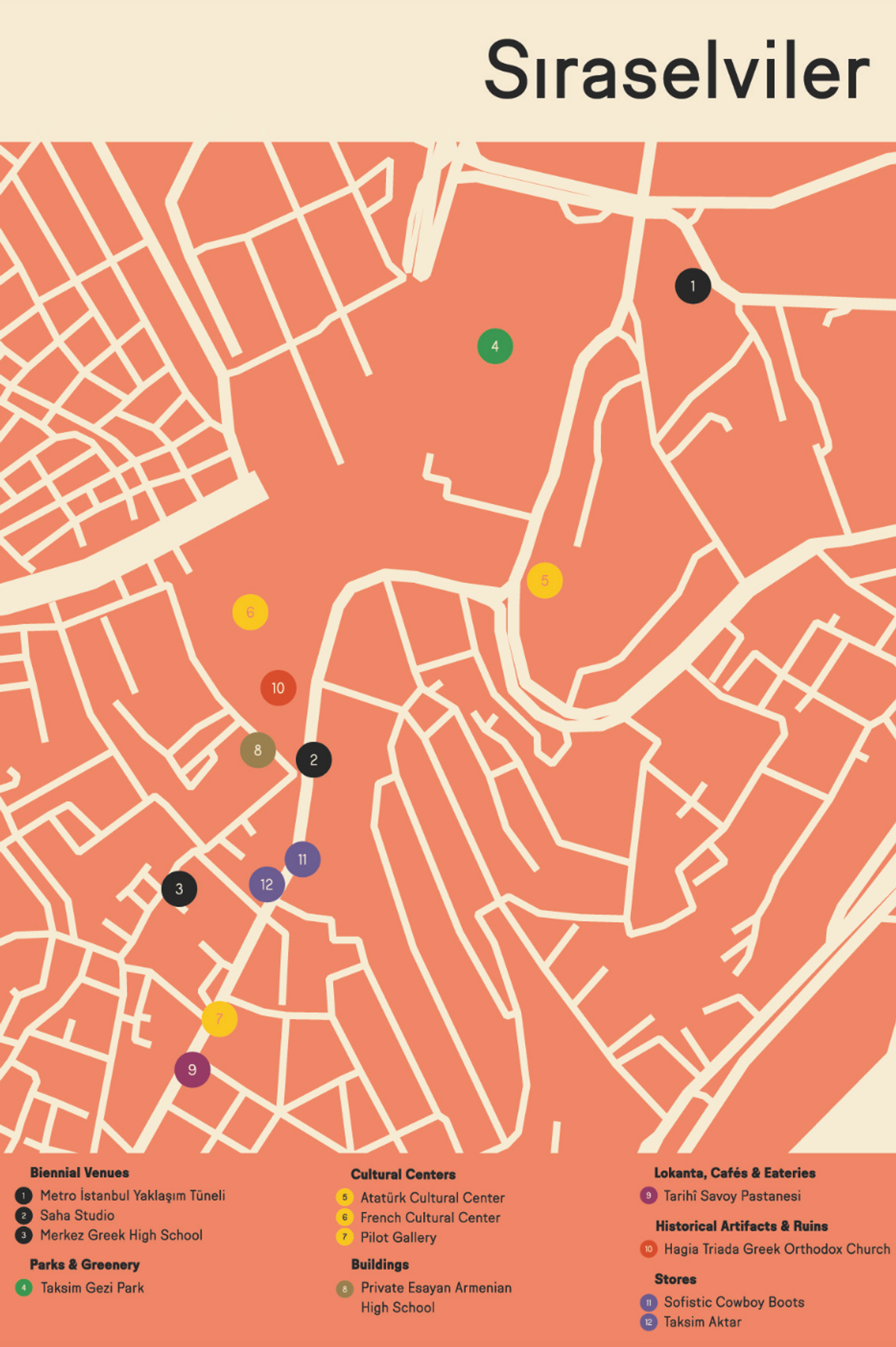 A map of the concrete jungle
---
Check this out! Weekly travel and culture journal Soli (aka sis) prepared special neighbourhood guides including essentials of the hood for the 17th of Istanbul Biennial visitors. Last Tuesday, Soli saluted you from Sıraselviler. Read the full guide here.
Hikâyeyi beğendiniz mi? Paylaşın.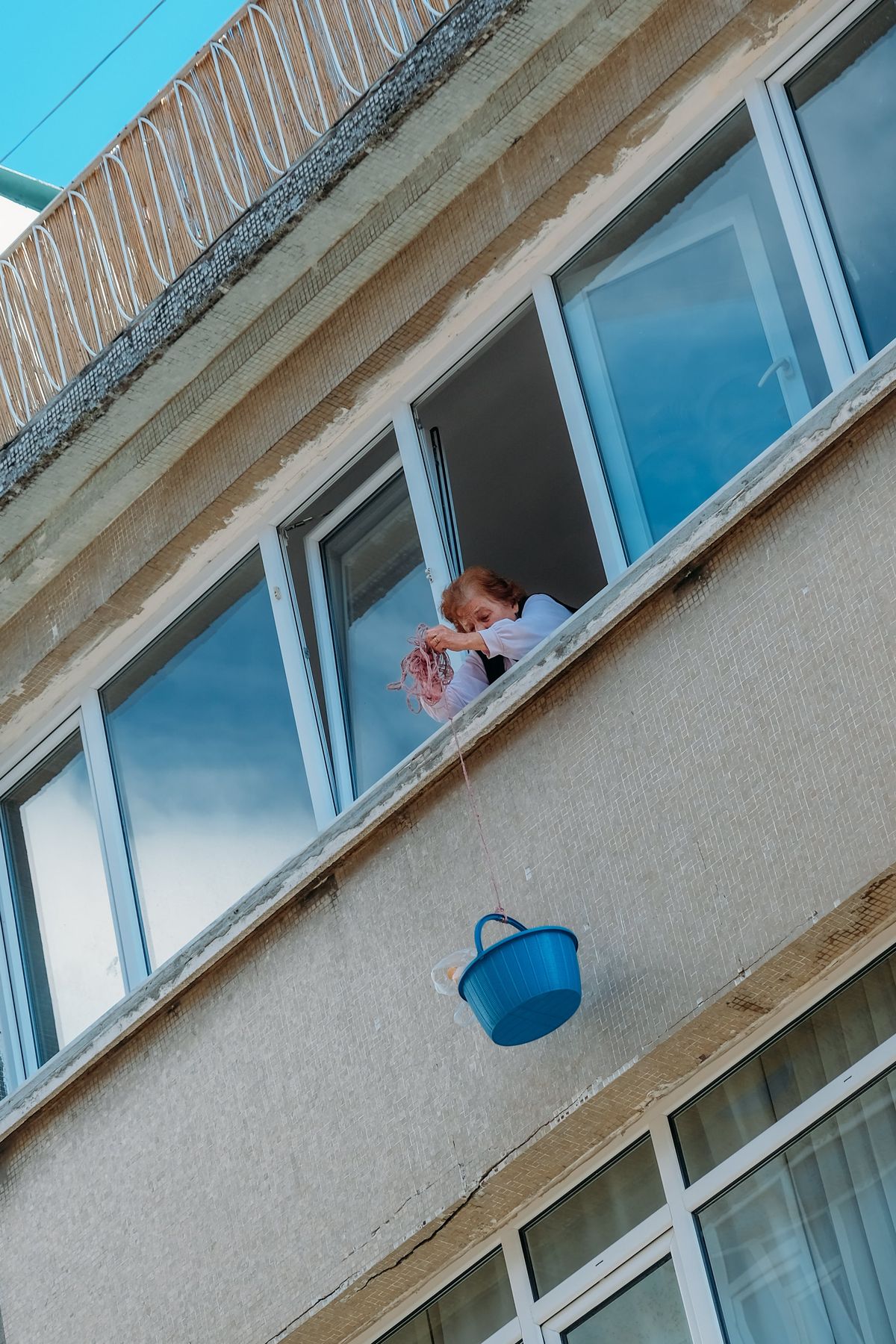 This is not called laziness this is a type of helping each other