Dearest Istanbulite,
All good things come to an end. Inherently. Here comes the end of the year. You know the story.
I am writing these words now, in my favourite quiet café in my neighbourhood in Istanbul. Probably for the last time, this year. Economic crises, wars, earthquakes, explosions and social issues aside, this was the most exciting, intense and exhausting year in my life. It was a rebirth by fire. And I felt a small sliver of hope. Because I believe we all experience during these hard and strange times, the true test of character is searching for the strength to stand on and move forward rather than give up the joy of living and give up on your calling.
And I wasn't the only one feeling that way. As a community, we didn't give up. We met tens of Istanbulites, listened to and then told their stories. 350, the official number of operating bazaars in Istanbul. Did you know that? Kornelia (Binicewiz) told us. We discovered a hidden local restaurant Gaziantepli Mustafalar in Bakırköy, thanks to Civan (Er). Now we know, there's Efsane Dürümcü Baba AKA Yıldırım Usta, a 70-something gentleman who makes incredible Adana and çöp şiş wraps from a small, white van converted to a grill that is located right in the centre of Kurtuluş Son Durak and is open well into the night. We should give Paul (Osterlund) credit for this. We met on the dance floors of Salon, Zorlu PSM, SumaHan, Babylon, MiniMüzikhol, Gizlibahçe, and other 'advocates of peace'. And we'll continue painting the town red.
For many reasons counted and uncounted above, we thank all Istanbulites we have just mentioned and could not mention here.
In my humble opinion, every cloud has a silver lining. This year, thanks to all challenges, we became a real community. A community of people who believe in Istanbul. This is a story that we don't know the end of yet.
Now, we'll take a week off. Meanwhile, follow us through Soli, a borderless travel community and Istanbul-based travel culture publication uncovering the world by neighbourhood, with their locals.
Tag along!
Merry Christmas & A Happy New Year,
Elif
In the 24th issue:
Hopping (What's going on in Istanbul: Hand-picked and unmissable events): Performance of Heya Sound Collective, New Year's Eve party, Aftersun film screening, festivals and much more.
Notice Board (News that you need to notice to live in Istanbul in a better way): Open call from the curators of the Venice Architecture Biennale Pavilion of Turkey.
Istanbulite (A talk with a creative inhabitant): On Istanbul's music scene and more with the co-owner of MiniMüzikhol Ceylan İpek.
What's Cooking (Selected places to eat, drink, cafés, food markets): Taste-Forward, Sort-of-Late Night Eats.
---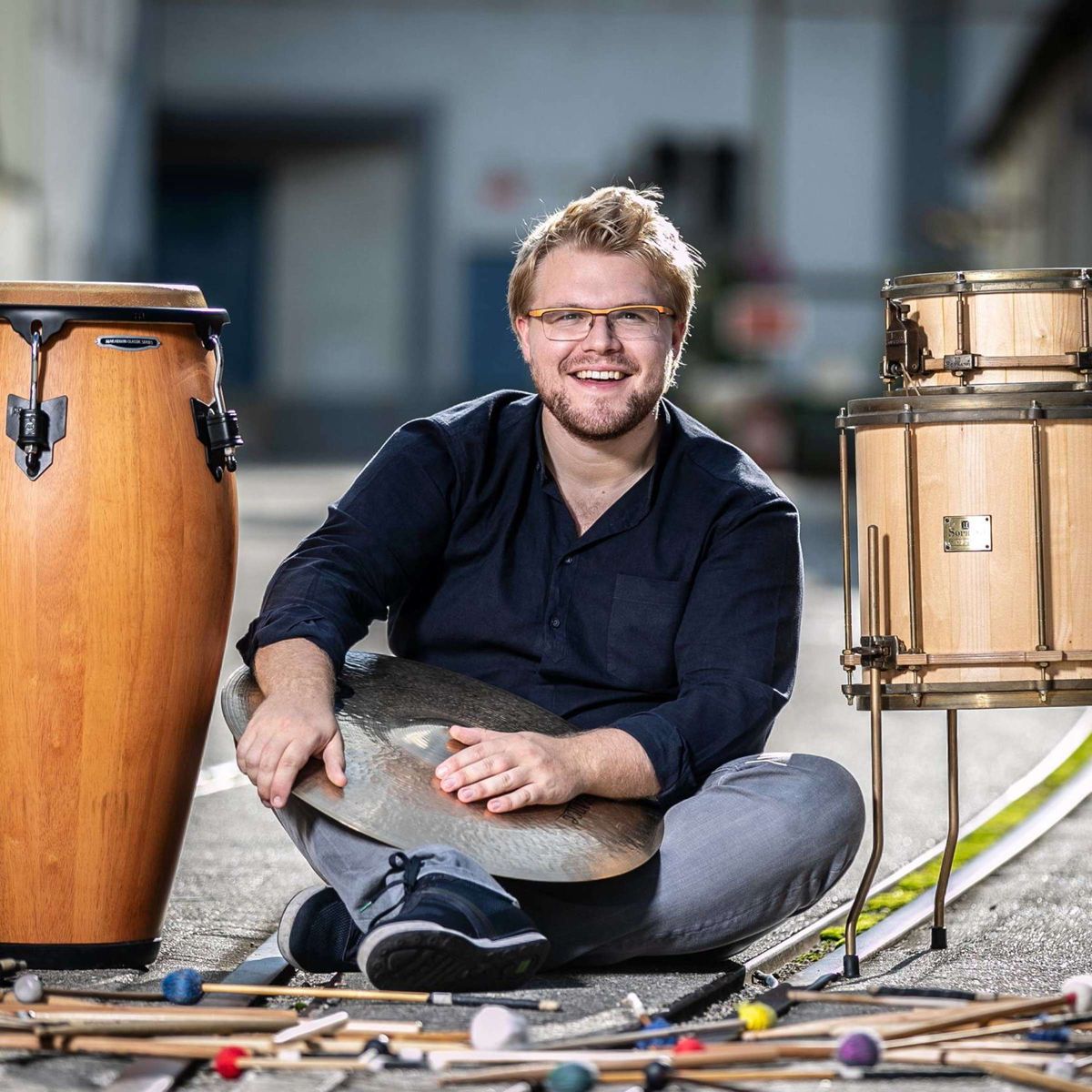 Photo: KN
---
Percussion night: Christian Benning, SA.NE.NA and MIAM Percussion
What is it? Concert. German percussionist Christian Henning joins forces with Istanbul-based SA.NE.NA and MIAM Percussion, promising an experimental concert with a multimedia show.
Where? Borusan Müzik Evi
When? 7 January
Why should you go? Borusan Music House, where contemporary names of experimental music come together, will offer another experiential night with percussion, field recordings and light plays.
Duly noted: Let's take you here for the tickets.
---
Collective of women, experimental sounds: Heya Sound Collective
What is it? Performance/Concert. Heya Sound, a collective of female musicians from the UK, Turkey, Egypt and Lebanon who produce experimental and improvised music, will give their first concert in Istanbul.
Where? Salt Beyoğlu
When? 07:00 p.m., 27 December
Why should you go? Bringing together women from various geographical locations under the umbrella of experimental and improvised music, the concert will go beyond being a mere concert and offer an inclusive performance experience.
Duly noted: The event is free and open to all!
---
To welcome the new and the old: Oldies But Goldies 'New Year's Eve Party'
What is it? Party. If you want to keep your New Year's Eve mood away from pyjamas, slippers & TV, and welcome the new year with timeless classics, an alternative party awaits you in Bomonti.
Where? Babylon
When? 31 December
Why should you go? Mabbas and Murat Beşer's selection of songs ranging from ABBA to Michael Jackson, Depeche Mode to Madonna, Snap to Donna Summer and visuals by Engin Eraydın will take you on a time-travelling journey, and you may wonder what year it is.
Duly noted: Tickets on the way to the new year are here.
---
Living is easy with eyes closed: Aftersun
What is it? Film Screening. In Charlotte Wells's first feature film, we are transported to Fethiye with Paul Mescal and Frankie Corio, leaving our hearts to a father-daughter and growing-up story.
Where? Başka Sinema
When? 28 December
Why should you go? Don't miss out on the chance to see the film on the big screen, which received full marks from the audience as well as the attention it received at the award ceremonies.
Duly noted: Tickets are available here.
---
Out of town
We remember and celebrate: the 4th International Izmir Sephardic Culture Festival
What is it? Festival. The festival explores the footprints of Sephardic culture spread over centuries and geographies and remembers and celebrates Sephardic Jewish people by giving visibility to their productions.
Where? Various venues in Izmir
When? 18-27 December
Why should you go? From concerts to film screenings, and exhibitions to talks, the selection sheds light on the multidimensional history and heritage of Sephardic culture.
Duly noted: Hamburg Klezmer Band at the Etzhayim Synagogue is our highlight of the 8-day festival.
---
Early bird
Patiently waiting for: Ludovico Einaudi
What is it? Concert. Modern classical musician Ludovico Einaudi, who has gained a reputation with his solo albums from Divenire to In a Time Lapse and the music he has composed for various productions, will be on stage with an additional date due to the great interest in the evening of 8 February.
Where? Zorlu PSM
When is it due? 7 February
Why should you go? It is possible to oscillate between minimal piano sonatas and cathartic orchestral grandeur; it is possible to experience the sensations of green, blue, grey, black and white.
Duly noted: Einaudi, who will be visiting Istanbul as part of the tour of his last album Underwater, which he released at the beginning of 2022, will bring his brand new songs to the stage for the first time in Istanbul.
📣 Open call from the curators of the Venice Architecture Biennale Pavilion of Turkey
What is it? Pavilion of Turkey is making an open call for the Ghost Stories: Carrier Bag Theory of Architecture project to be exhibited this year. The curators invite everyone to document abandoned or disused buildings from all over Turkey. In this way, it is aimed to collectively document large and small idle buildings in almost every city and to be a part of the exhibition to be opened in May.
If you would like to respond to the open call and learn more about the project inspired by Ursula K. Le Guin's Carrier Bag Theory, contact them.
All blue: Mavi

Mavi is proud to make it to CDP's (Carbon Disclosure Project) Global A List in the Climate Change category, where only 283 companies are included among 20000 candidates.
The first and only ready-made garment company from Turkey on the list, Mavi is developing its eco-friendly All Blue strategy in order to fulfill its goals of designing its full denim range out of All Blue materials by 2030 and becoming a climate-positive company by 2050.
You can visit here to find out more about Mavi's All Blue strategy.
Dear Istanbulite, we would love to hear from you! Email us your questions or feedback at: [email protected] and DM us if you've heard a rumour about the next hip restaurant that's worth checking out or anything else.
And also, love only grows by sharing. So please share Aposto Istanbul with your loved ones.
Ceylan İpek El & MiniMüzikhol
On Istanbul's music scene and more with the co-owner of MiniMüzikhol Ceylan İpek El.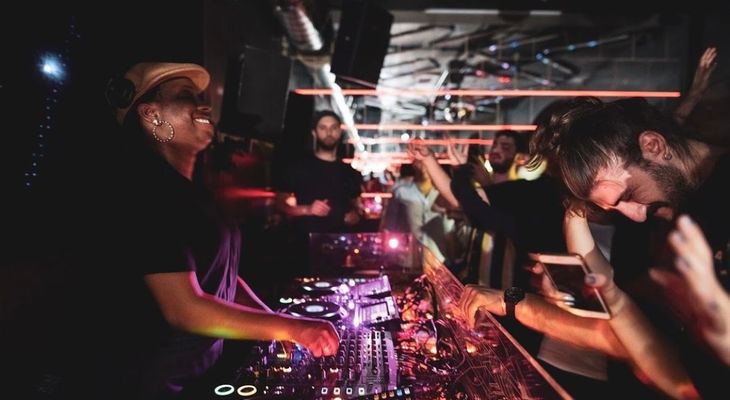 Last week, we were hanging out with Ceylan (İpek El), the co-owner of MiniMuzikhol, which dominates Istanbul's underground club culture. We talked over what's going on in Istanbul's music scene. What awaits Mini? And where did Tokyo come from? Are you wondering? We are the same.
ID, Ceylan İpek El
My nickname is: ippiki (Japanese for a small animal, a small cat in my case)
I have recently discovered in Istanbul that: It is possible to dance under the Bosphorus. As above, so below.
I live in: Istanbul but in my heart, I'm from Japan.
I'll dance at: Ruby Room Tokyo while I am listening to Tutan this winter.
Only a true dancer-Istanbulite would know that: Dance does not end with sunrise, it only signals the start of act two; the overarching plot where all characters come into play.
According to me, the top five unforgettable performances in Istanbul are:

Antal at MiniMüzikhol (May 17, 2019)
Isolée (live) // Tutan at MiniMüzikhol (January 19, 2018)
Carista // Dj Tennis at MiniMüzikhol (February 16, 2019)
Minifesto: Ricardo Villalobos at Volkswagen Arena (September 14, 2019)
Minifesto: One Night in Berlin // Katerblau at Zorlu PSM (March 2, 2019)
ID, MiniMüzikhol
My nickname is: Mini
My first performance was: Time and Space Machine aka Richard Norris (2009)
My first legendary performance/night was: Ricardo Villalobos (2010)
You'll listen to: Hunee, Antal, Young Marco, Toy Tonics, Lauren Lo Sung, Aroop, Séxstasy this season.
Only a true Mini-regular would know: 'It'll be all right on the night.'
SHOOT THE BREEZE
What has MiniMüzikhol represented and continues to represent in the Istanbul underground music scene?
If a pioneer is a person or a collective who's the first to do something then MiniMüzikhol is the pioneer of nightlife and electronic music in Istanbul, Turkey.
The team behind MiniMüzikhol has been the underground stalwart for electronic music and has played a formative role in putting Istanbul's electronic scene on the world map. Not many long-standing locations in Istanbul have created their own identities, created a culture and shaped their audience, making Mini the longest-standing underground club in Istanbul.
Why are people still at Mini after 10 years? What does it mean to create an underground club culture and community in Istanbul?
It is enough to be creative, responsible and cheerful. When you add consistency and commitment to this, it is impossible not to get a response. The place they feel they belong must have a soul and character beyond the physical space. And this needs to have a real and stable life. When you are able to implement all of these despite the difficult times, you are rewarded by marvellous people.
What are the next 10 years of MiniMüzikhol?
Before the end of this year, we are preparing to present a unique perspective on the developing mutation of the city with Löpçük.org creator Erman Akçay.
I am leaving here for the first time the catalogue of the exhibition, which we will open in the last week of this month, where we will host many local and foreign artists:
Erman Akçay - Nils Bertho - Pakito Bolino - Ezgi Irem 'E333' Mutlu - Yves Hanggi - Anne Van Der Linden - Zeynep Mar - Dave de Mille - Sam Rictus - Ben Sanair - Zigendemonic
How will her Tokyo sister feed her Cihangir-local Mini?
As for our Tokyo adventure... It all started with a common interest where our lives merged with my MiniMüzikhol partner and comrade Dj Tutan. We want to build a bridge from here to our country and make breakthroughs in both trade and tourism. We are working to see a future when we open our second branch in Tokyo, where we organise festivals here.
'Do you want to do this in one of the most difficult times in the history of the world economy and politics?' you may ask. According to an Asian saying;
'虎穴に入らずんば虎子を得ず'
'Koketsu ni irazunba koji o ezu'
'You can't catch a cub unless you go into the tiger's den.'
Hikâyeyi paylaşmak için:
Late night eats
Taste-Forward, Sort-of-Late Night Eats.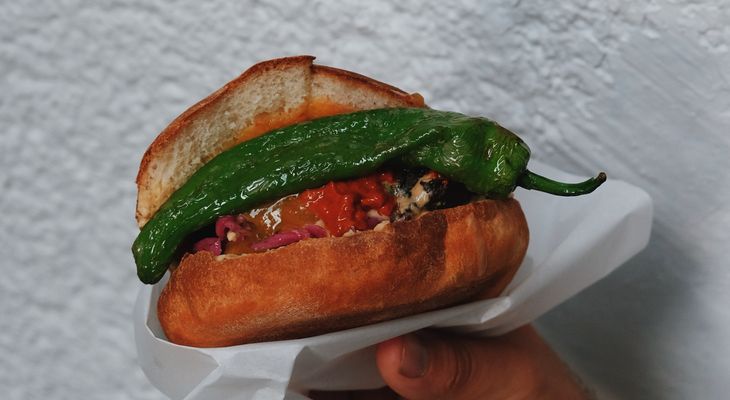 Istanbul is a city that never sleeps. But it's unique in the way that it stays awake. Rather than New York's wired frenzy or Tokyo's costume change into an alternate identity, Istanbul's different parts are awake in different ways. An eye open here, a restless leg there, heart beating slowly but the blood rushing still. And the belly is the part that changes most compared to the day.
Istanbul's nights do not do justice to its cuisine. The places that are open are mostly cheap eats in the form of street stalls or carts, moving destinations with unknown kitchens. The problem with these is that taste has lost its priority to convenience, speed and price. The once famous rich in umami, texturally unique 'ıslak' (wet) hamburger is now a sad, soggy sandwich with a piece of cardboard with an aftertaste of heartburn.
So this small selection is not to showcase the margarin-based pilav cart you might love, the cheerful uncle-type selling stale popcorn or the shady midye dolma (mussel) guy on the corner who is probably an undercover police officer. It's about the few places that are open relatively late at night, that pass as a snack point to hit after drinks but before the last rave, if you prioritise taste.
Bordel is the hero Istanbul needs, but not the one it deserves. The small Asmalımescit joint is the love-child of chef Cem Ekşi's culinary overtake of the neighbourhood and his twisted mind believing currywurst will be a staple of Istanbul's nights. Dishing out a German-inspired street food menu with French touches, Bordel goes on until 02:00 a.m. on the weekends and is the perfect spot to recharge your gastronomic battery before finding an afterparty or a taxi cab, both equally challenging feats. The menu often has new items to try with riffs on local foods as well as European classics like deep-fried tripe or cacio e pepe pasta.
What to eat: Azgın Tavuk (spicy chicken sandwich), currywurst.
Hours: 12:00 p.m. - 01:00 a.m., except Mondays
Kimyon is a staple Kadıköy late-night stop. This is perhaps the ultimate Istanbul eatery for night dwellers. Not only is it a 24-hour open casual restaurant with a broad menu focusing on Eastern classics like lahmacun, pide and soups, it is also fast and delicious. Plus, the best dishes have vegan options, and the vegan içli köfte is actually pretty tasty. My go-to drunk belly filler here is a kelle-paça soup (head-and-trotters) coupled with a portion of içli köfte to share. If your Kimyon partner is not down to get some içli köfte to share, is it really worth going home with them?
What to eat: Kelle-paça soup, vegan içli köfte.
Hours: Open 24 hours
Afil is a well-branded street food spot with Turkish classics as well as burgers and mezzes. Their portions are decent and come with 2 sauce-sized mezze dippers, which is a refreshing take in the often unsourced world of Turkish street food delicacies. Their kokoreç is the stronger item on the menu together with the vinegar and oil-doused, salady options.
I just don't understand why their go-to carb is sourdough bread at the base of all the dishes. It doesn't soak the juices of the meat properly, is too dense to let the kokoreç shine texturally and has too much flavour taking away from the sides. Still, for the late night, it's a decent grab, especially if you are in the neighbourhood.
What to eat: Kokoreç, Girit ezmesi.
Hours: 11:00 a.m. - 03:00 a.m. weekends, 11:00 a.m. - 02:00 a.m. weekdays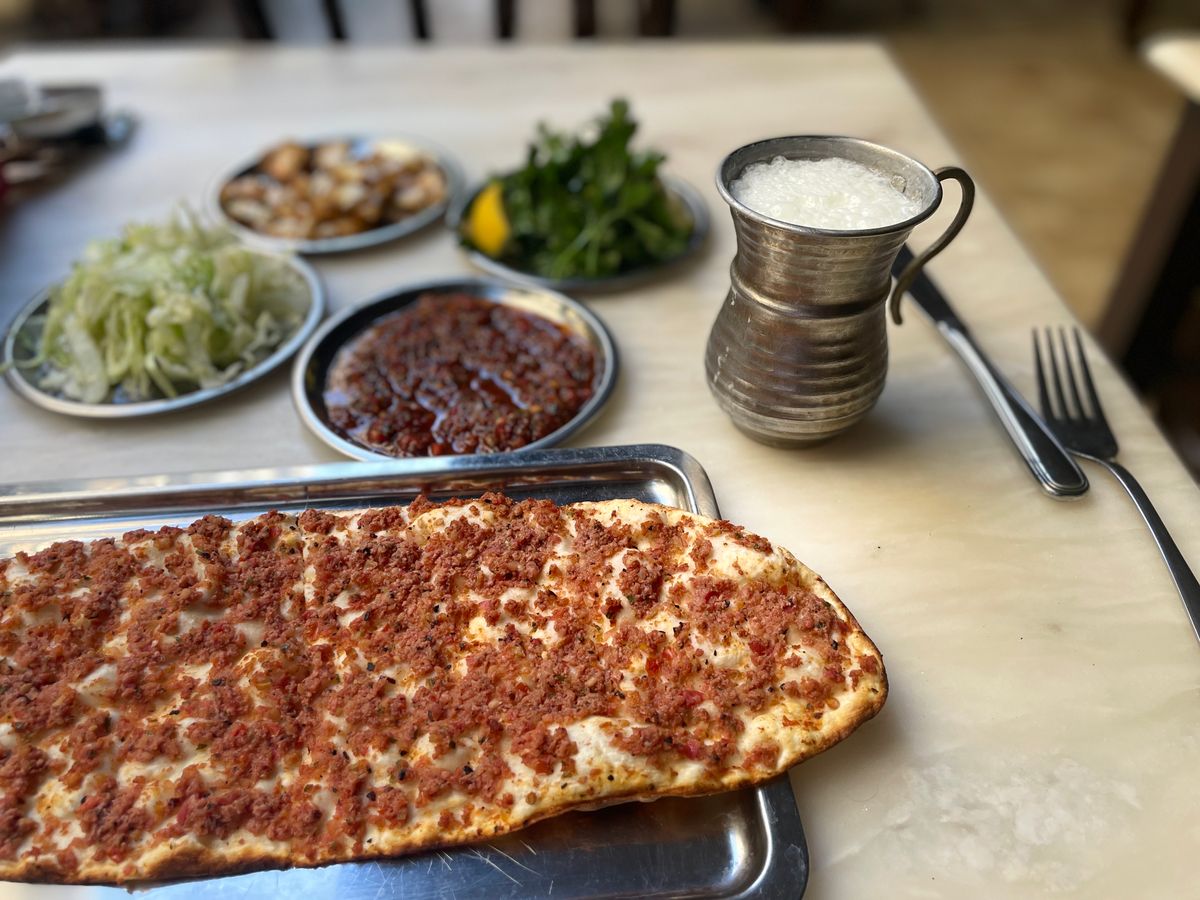 Baran Lahmacun
Photo: Berkok Yüksel
---
And then there is the unsung Baran, the lahmacun restaurant near Galatasaray Bathhouse. While it only goes until midnight, because of their quick service and delicious lahmacun, they merit an 11:45 p.m. visit (and they let you sit around after the official closing time too). A sister establishment of 'Yirmibir Kebap', one of the best ocakbaşı's (grillhouses) in Istanbul, Baran Lahmacun serves 2 kinds of lahmacun: Antep and Diyarbakır style. While the Antep lahmacun has more oomph with spices and garlic, the Diyarbakır has a more purist approach focusing on the tomato and expertly chopped beef. When one orders the lahmacun it comes with enough sides that it's a proper feast. The homemade ayran served in small copper mugs is also excellent.
What to eat: Antep lahmacun and açık ayran.
Hours: 10:00 a.m. - midnight
Hikâyeyi paylaşmak için: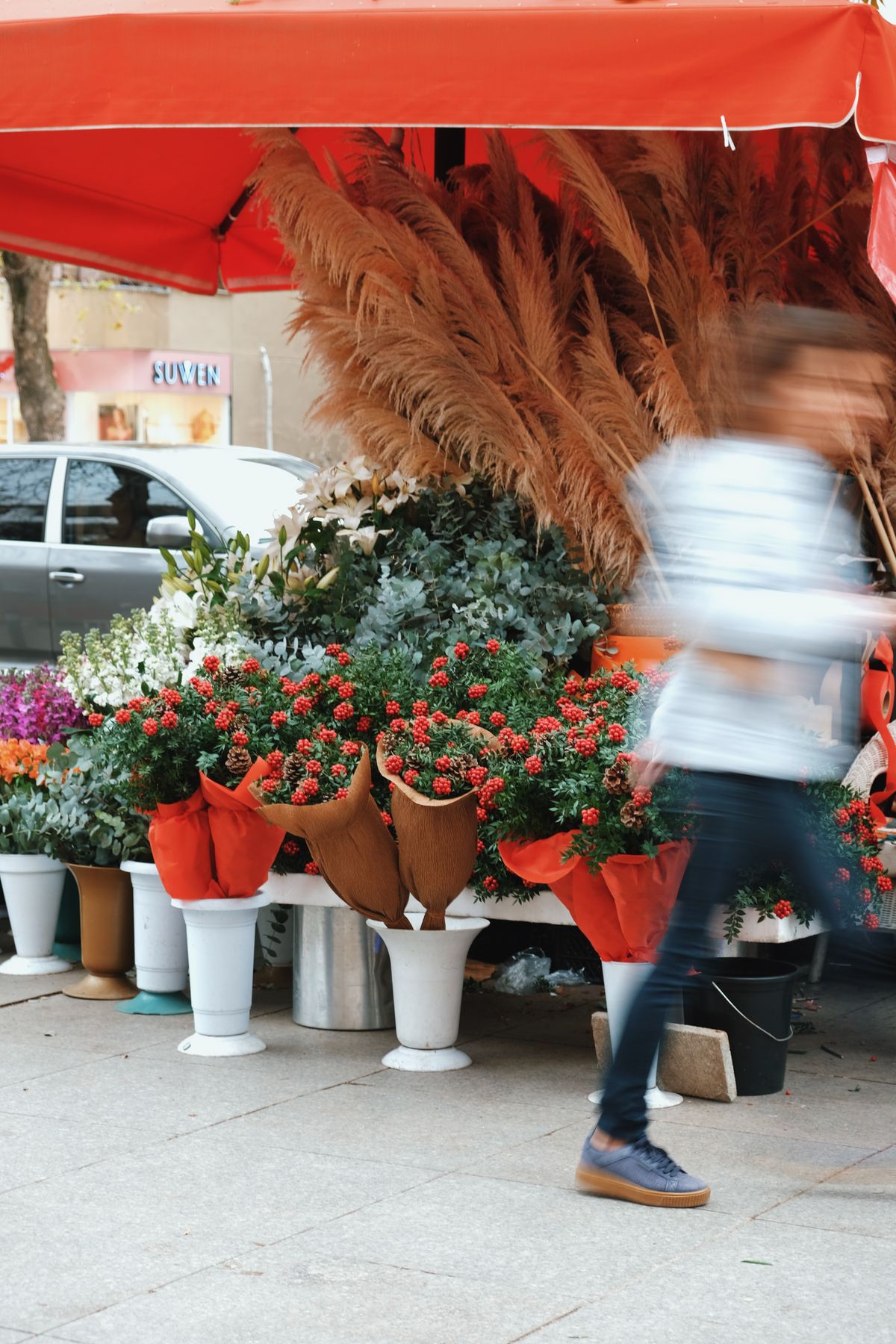 Dear Istanbulite, thank you for being a part of this journey and discovering the city with us.
We can get together anytime, and anywhere. Take care of yourself and meet us in different neighbourhoods in Soli, where we have coffee and tell each other about the memories of the city.