It's a common practice if someone has recently moved to Istanbul, to ask 'why' as an Istanbulite. Especially those who have an affair with the city that is not going well, ask the question. They are the Istanbulites who have a love-hate relationship with Istanbul. So, sometimes they need a fresh reason to stay in this relationship. And they hope to get this reason from the newcomer's answer. Or they just want to remember why they stay.
If you ask me, relationships are not that simple. It's more complicated than the possible answers to the question 'why?'. Yes, I'm one of those, I have a love-hate relationship with Istanbul. Yet, we have a connection that I could not find anywhere else. We shape, push, thrill, and amaze each other. I can be myself, and find myself in the darkest and brightest days. We've known every aspect of each other for years but still crave more. More to discover, more to live, more to share. We have a history, you know. Today, I may find a reason to go, but I know that we'll have a future, whether we want to or not.
And I'll always have a reason to stay.
Love.
This week, we're reviewing our relationship. Istanbul will surprise us. We'll dance with Sama Abdulhadi and Amelie Lens for two days in a row. We'll take a walk in Beşiktaş and stop by Artweeks Akaretler. Then we'll have a date at Smelt&Co. Later on we'll meet Bilal & Lydia again to discover the craft ecosystem in the hans of Istanbul.
Elif
In the 16th issue:
Hopping (What's going on in Istanbul: Hand-picked and unmissable events): Ankara Film Festival, queerwaves parties, beats by girls and much more.
Water Cooler Talk (Local news that you need to know to survive or just to speak of): Goodbye Lebon Patisserie.
A Pocket Guide (Literally a pocket guide to discover the city): An alternative route focusing on Craft culture in the Hans of Istanbul.
---
Grand band: Snarky Puppy
What is it? Concert. Snarky Puppy, filling out the stage with their sublime voices as well as tens of members, is in Istanbul on their tour for their latest album Empire Central.
Where? Zorlu PSM
When? 5 November
Why should you go? From jazz to rock, funk to world music, the energy of improvisation and live performance will be felt to the max.
Duly noted: Go here for the tickets.
---
Naughty performances: Kinky Pinky
What is it? Party. Queerwaves parties from Friday night to Saturday morning with DJ sets by BANGS, Nots and Şevval Kılıç, and a naughty drag queen performance by Florence K. Delight.
Where? Feraye Nevizade
When? 4 November
Why should you go? You can become a regular at Nevizade's new venue Feraye.
Duly noted: To take advantage of limited advantageous tickets, you can DM Queerwaves over their Instagram account.
---

Beats by Girlz
---
Equal, inclusive and together: Beats by Girlz Turkey Festival
What is it? Festival. Beats by Girlz, which pursues a dream in which everyone's voice will be heard equally in the realms of music and technology and become even more liberated in it, invites us all to dance side by side at the brand new festival, where it opens space for workshops, panels, stand-up, concerts and different collaborations.
Where? Bomontiada
When? 4 - 6 November
Why should you go? We will take photographs of music with Dilan Bozyel, discover the different musical paths of Melike Şahin and Elif Dikeç, get together at many more events, and hit the dancefloor with the gorgeous vocals of the women on the local stage.
Duly noted: You can find the detailed programme here.
---

Akaretler
Paintings: Nazan Azeri
---
Touring around art: Artweeks@Akaretler
What is it? Exhibition. We meet at the seventh edition of Artweeks@Akaretler to closely examine the works from different galleries from Turkey and around the world, collector exhibitions and unique productions of independent artists, and to go on a free and very enjoyable tour of the arts.
Where? Akaretler Sıraevler buildings number 15-17-19-37-39-55-57
When? 2 - 13 November
Why should you go? Many unique and new works from different disciplines will welcome you.
Duly noted: According to a worldwide survey by Time Out, Süleyman Seba Avenue in Akaretler was chosen to be one of the coolest 33 avenues in the world.
---

Source: Amelie Lens
---
A studious disc jockey: Amelie Lens
What is it? DJ performance. Queen bee of techno, Amelie Lens is back in Istanbul accompanied by Koboyo and Gräfin.
Where? Volkswagen Arena
When? 4 November
Why should you go? To leave aside our techno scene, where new names have difficulty gaining visibility and different flavours are not very accessible, and to bring the night, ourselves and our dancing to a safe harbour again.
Duly noted: You can suddenly turn your weekend into a festival by going to Sama' Abdulhadi the next day in the same venue. Tickets for both nights are available here.
Out of Town
For the 33rd time: Ankara Film Festival
What is it? Film festival. Ankara's film festival is coming back to the city with a selection of tens of classical and contemporary films.
Where? Büyülü Fener Kızılay
When? 3-11 November
Why should you go? Panels and workshops throughout the festival offer a comprehensive and inclusive cinema experience.
Duly noted: Discounts for 11:30 a.m. showings, tickets for students and 60+year-old visitors.
Goodbye Lebon Patisserie
The patisserie, which took the naming rights of Istanbul's first patisserie Lebon and has been serving in Beyoğlu for nearly 40 years under the same name, closed its doors yesterday as a result of eviction lawsuits.
The notice hung on the window stated "Dear customers, Istanbulites and friends... We have been happy to serve you for nearly 40 years. We regret to inform you that Lebon will close on 29 October 2022 Republic Day. Sincerely..."
What happened? Burç Lebon Patisserie, which announced that it would close last year due to the Karagözyan Foundation's refusal to renew the lease contract, extended its service period until yesterday due to the interest of Istanbulites and ongoing lawsuits.
Pure Active Vitamin C 10%
Containing the most effective and pure form of vitamin C, Etat Pur's Pure Active Vitamin C 10% is a multi-tasking serum that brightens the skin while preventing the signs of aging.
Pure Active Vitamin C 10%'s proven effects:
90% Helps brighten dark spots and circles.*
*These results are based on a 56-day test conducted with 30 volunteers. The expected impact on hyperpigmented areas and normal skin is measured.
87% Improves skin complexion.**
81% Helps the skin regain its natural glow.**
80% Helps even skin tone.**
**These results are based on a 28-day test conducted with 33 volunteers. The expected impact on hyperpigmented areas and normal skin is measured.
You may visit this link to find your own natural glow with Etat Pur.
Dear Istanbulite, we would love to hear from you! Email us your questions or feedback at: [email protected] and DM us if you've heard a rumour about the next hip restaurant that's worth checking out or anything else.
And also, love only grows by sharing. So please share Aposto Istanbul with your loved ones.
Hans & Crafts in Istanbul
An alternative route focusing on Craft culture in the Hans of Istanbul. Some tips about history, craft production and contemporary potential waiting to be discovered.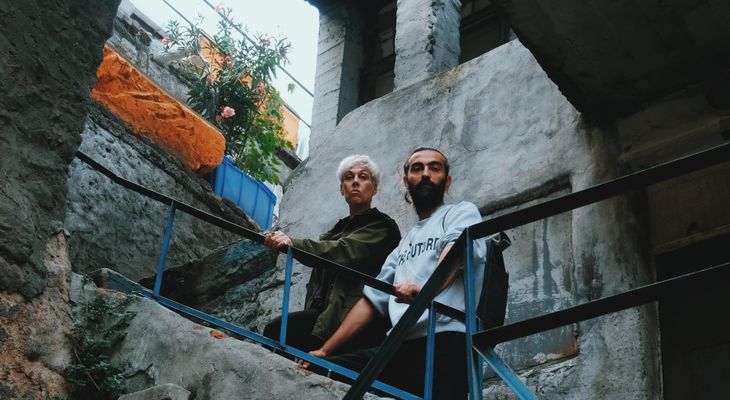 A guide by artist Bilal Yılmaz & curator Lydia Chatziiakovou.
Dear Istanbulite, based on our artistic research on crafts and 'art for social change' experiences, we have been developing the Creative-Craft Platform, a digital and physical tool for building participatory networks and communities around crafts, to reveal the potential of crafts for contemporary creative productions in post-industrial societies. Through this pocket guide, you are invited to discover the craft ecosystem in the Hans of Istanbul.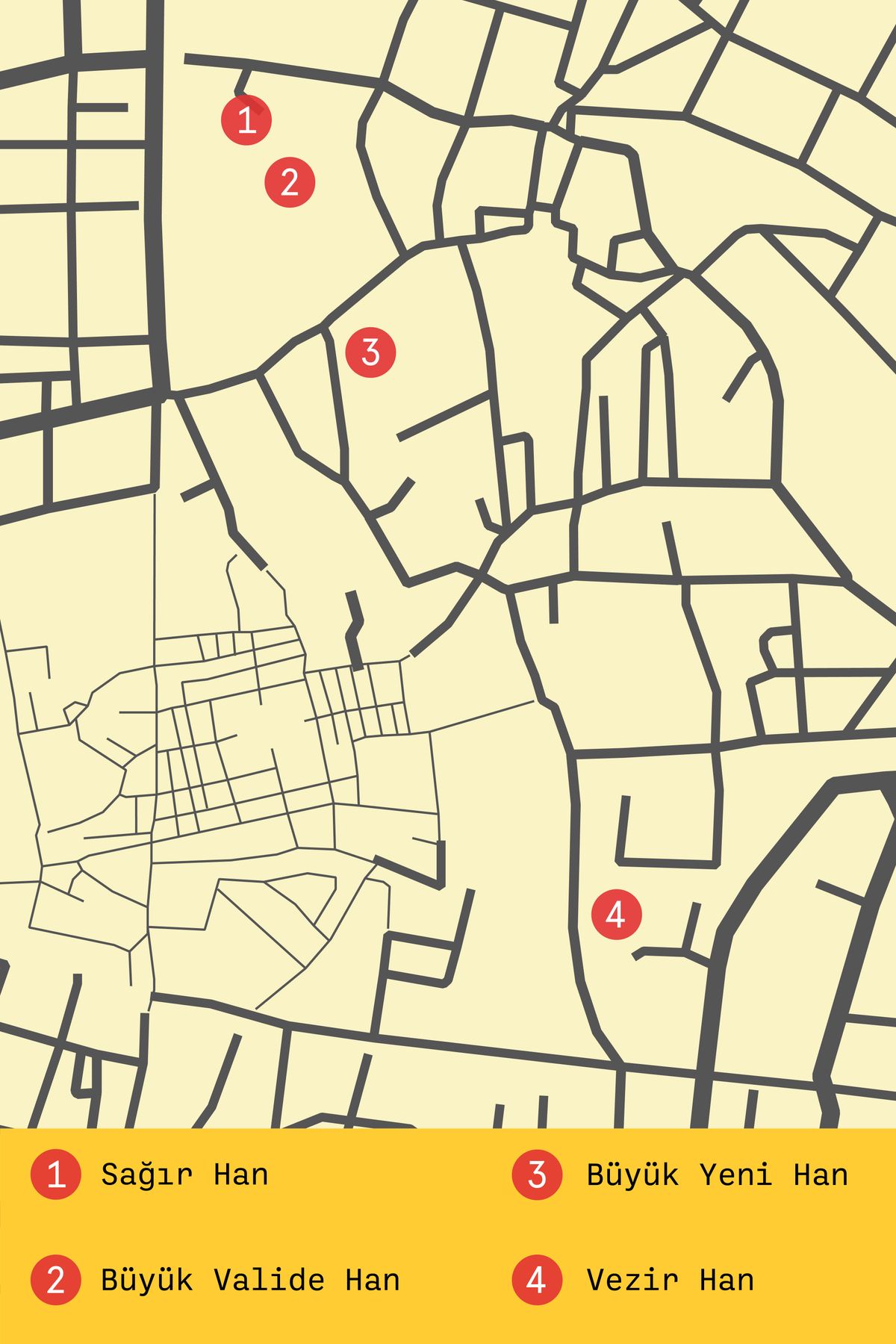 Hans Map
---
Starting with the basics: Historical Hans are surviving examples of Ottoman architecture influenced by Byzantine structures. Typically, they are 2-3 story buildings with vaulted arcades and small rooms built around an inner courtyard, where sometimes we find a fountain, a tree or a mosque. Their floor plan is mostly irregular because they were designed to occupy a free space in the growingly unplanned city. Initially, they were inns for travelling tradesmen, with stables and storages on the ground floor and rooms for lodging, holding meetings and crafts production on the upper floors. Throughout the centuries the hospitality element faded, but Hans kept their connection to trade, with crafts studios dominating their spaces.
Discover: As historical places, Hans are charming, romantic and monumental, on the other hand, they are loud, dusty and busy production centres. Looking past first impressions and into the essence of Hans as clustered crafts systems, one will realise that they are places of skilled knowledge, creativity, experimentation and collaboration. One can forget about the romanticised view of the craftsman toiling away in a small, dimly lit studio, and look at what the craftsmen are actually doing and the context in which they are working.
Duly noted: Crafts are not only connected to traditional objects. Actually, this romanticised view limits their potential. In Hans, one can discover the power of crafts for contemporary artistic practices, technically and conceptually. In Hans, one can realise the potential of crafts as a methodology for creative research, critical thinking and conceptualisation, addressing issues such as contemporaneity, production and consumption, urban transformation, social dynamics, colonialism, history, tradition, materiality, performativity, and temporality.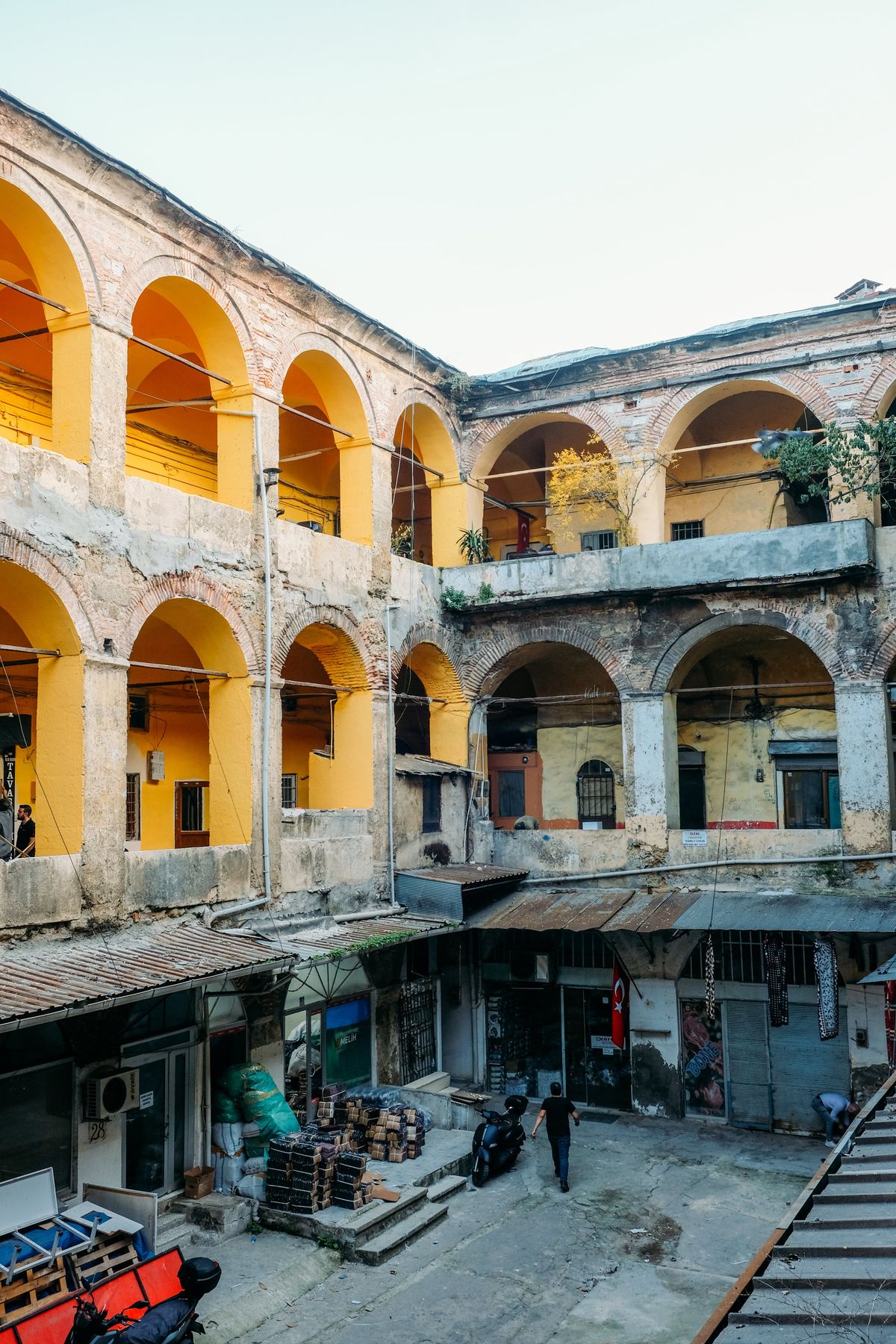 Büyük Yani Han
---
Here are 4 Hans in Fatih:
Büyük Yeni Han (Taya Hatun, 1764) is one of the city's first 3-storey Hans. It hosts many craft studios producing precious silver objects for special orders, which have been here since the early 1980s.
Vezir Han (Mollafenari, 1660) houses jewellers and precious metal masters who supply the Grand Bazaar. This is an unusually quiet Han, since due to the value of the main materials (gold, silver, diamond), most of the studios are behind thick closed doors, leaving its courtyard peacefully silent.
Büyük Valide Han (Mercan, 1651) is Istanbul's biggest historical Han complex. Crafts related to textile and metal were the dominant production of the Han until the 1980s. Today, besides coppersmith, metal casting and moulding studios, you can still find a few remaining studios working with textiles.
Sağır Han (Tahtakale, built with Büyük Valide Han) hosts various craft studios that produce nargiles (shishas). In the courtyard, you'll also find a form of woodcraft recently brought by Syrian refugees. A decorative craft production similar to the Japanese mosaic wood craft Yosegi.
Here is the google map.
Hikâyeyi paylaşmak için: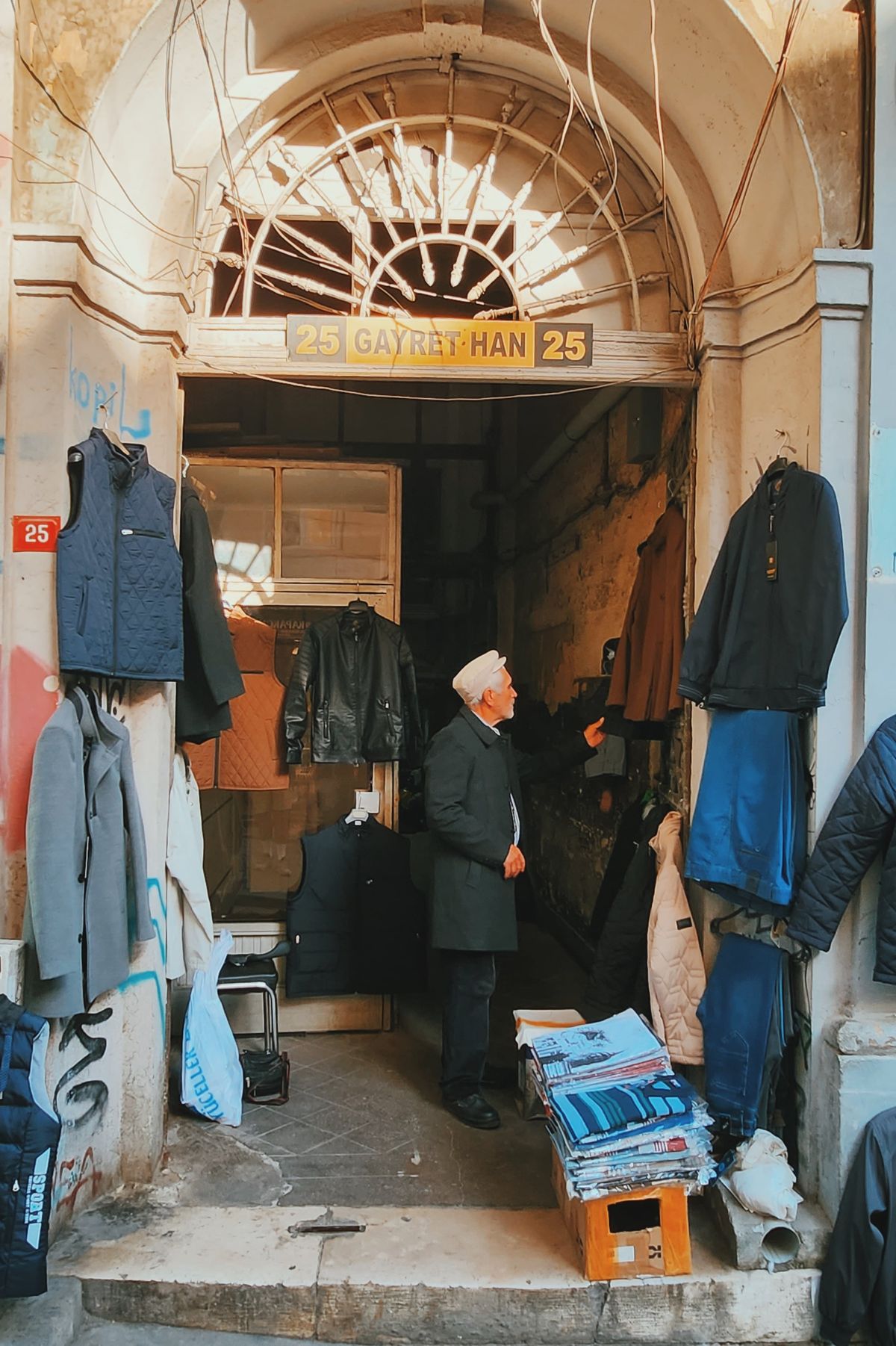 In hans, we don't have any limitations