2023 Turkey-Syria earthquakes
Turkey's Greatest Natural Disaster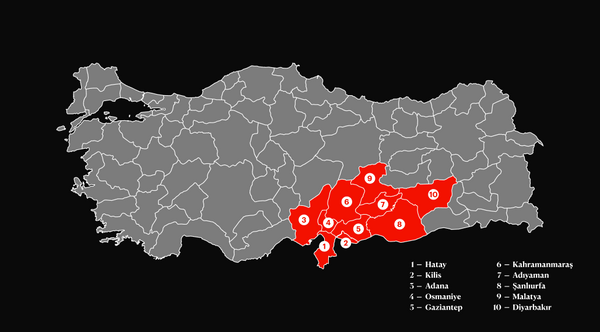 Aposto Europe
The news, every weekday at 07:30 (CET), with a distinctly European perspective. Your briefing on markets, politics, business, tech and more — under 5 minutes
The 7.7 and 7.6-magnitude earthquakes in Kahramanmaraş have become one of the biggest natural disasters in the history of the Republic of Turkey. We, the people of Turkey, stand in solidarity to repair the damage caused by the earthquakes that have affected 10 provinces and more than 13 million people.
Kahramanmaraş
Kahramanmaraş, a city of 1,15 million inhabitants, suffered significant destruction, especially in Elbistan and Pazarcık, the epicenters of the two earthquakes. Among the damaged areas are Trabzon Street, Azerbaijan Boulevard, and Mufti Square.
In a statement around noon today, Vice President Fuat Oktay announced that in Kahramanmaraş, 530 people have died, and 2 thousand 900 people have been injured.
It has been later stated that over 4,060 search-and-rescue personnel have been deployed to the city.
Elbistan-Nurhak and Nurhak-Kapıdere Station-Gölbaşı roads have been closed.
Citizens in Elbistan, the epicenter of the second 7.6-magnitude earthquake, have expressed that the relief efforts have not reached them yet.
Hatay
Hatay, with a population of 1,7 million, is one of the cities heavily affected by the earthquake. It has been announced that many buildings in the city center, including the İskenderun State Hospital annex building, have collapsed, and thousands of people have been trapped under the rubble.
A fire broke out in the Iskenderun harbor because of a container that was tipped over during the earthquake.
State hospitals in the districts of İskenderun and Antakya have collapsed.
Nearly 2 thousand buildings collapsed in the city.
It is reported that the airport in the region has become unusable and people trying to reach the city have been advised to enter via Adana or Gaziantep. It is also reported that part of the Hatay-Reyhanlı road has been destroyed due to the earthquake.
It has been noted that an emergency response ship has departed from Istanbul to Iskenderun as of 09.30 am today.
Malatya
Located 200 kilometers northeast of Kahramanmaraş with a population of 809,000, the city was severely damaged by the Elazığ earthquake back in 2020.
Malatya is one of the four provinces, along with Hatay, Adıyaman and Kahramanmaraş, where search and rescue efforts have been concentrated most intensely. There is currently 1,912 search-and-rescue personnel in the region.
More than 500 buildings collapsed in the earthquake, and most of the buildings in the city are in an uninhabitable state.
Electricity has been supplied to the region in a controlled manner, the airport is functioning and flights are taking off from the city to different provinces. Citizens have been staying in areas such as sports halls, cultural centers, and dormitories.
Adıyaman
In the city of 632 thousand inhabitants, 162 km from Kahramanmaraş, there is debris in Alitaşı, Yenimahalle, Sümerevler, Yunus Emre, Çarşı and Fatih neighborhoods.
Although it has been reported that there is 1,721 search-and-rescue personnel in Adıyaman, people in the region state that the efforts are not sufficient.
Çelikhan road has been closed and the Balıkburnu bridge on Çelikhan-Sürgü road collapsed.
Adana
In the city of Adana with a population of 2,2 million, 11 buildings collapsed. It has been reported that devastation occurred in the Çukurova district and Turgut Özal Boulevard.
Adana Airport has become a regional base for logistics. Volunteers from Turkey and abroad, as well as planes carrying supplies and search-and-rescue teams, are using the airport to reach the earthquake zones.
Repair work on the Tarsus-Adana-Gaziantep (TAG) Motorway has been largely completed, and the motorway is currently open to traffic.
It has been announced that 119 search-and-rescue teams are on duty in the city.
Şanlıurfa
In the city with a population of 2.1 million, 201 buildings collapsed, and the destruction in the Halliliye district has been extensive. Search and rescue operations are continuing on İpekyol Street.
Şanlıurfa Metropolitan Municipality Mayor Beyazgül said in a statement today that some houses have been destroyed, but there is no significant destruction in rural areas with single-story houses.
Turkish Jockey Club (TJK) has opened the hippodrome in Şanlıurfa to the citizens affected by the earthquake.
Gaziantep
In the city of Gaziantep with a population of 2.1 million, Islahiye and Nurdağı districts are the major destruction areas.
The historical Gaziantep Castle, one of the symbols of the city built on a hill in the city center, has been partially destroyed in the earthquake.
It is reported that there is a natural gas outage in the city where 1,314 personnel are on duty; therefore, the bakeries cannot operate.
Fractures and rubble occurred on the highways, and the entrances to the city are made through a single open lane.
Mayor Fatma Şahin stated: "80 percent of Islahiye and Nurdağı is paralyzed. More than half of the district is missing right now. This is a complete disaster."
Diyarbakır
With a population of 1,8 million, Diyarbakır has also suffered great destruction. It has been reported that 21 buildings collapsed in Kayapınar district, Bağlar district, Emek Street, İskan Evleri Street, Yenişehir district, and Elazığ Street.
Temporary shelter areas have been established in the indoor sports halls of 10 schools in Bağlar, Kayapınar and Yenişehir districts, and tents have been set up in Selahattin Eyyubi Square.
It has also been stated that there is 562 search-and-rescue personnel in the city, and the efforts are ongoing.
Osmaniye
In the city with a population of 557 thousand, 85 buildings collapsed. Disaster and Emergency Management Authority (AFAD), Turkish Armed Forces, The Gallipoli Peninsula Historical Site Management, Manisa Fire Brigade and Kuşadası Search and Rescue Association (AKUT) are continuing search-and-rescue operations.
Minister of Environment, Urbanisation and Climate Change Kurum said, "We ask our citizens not to take this road unless they have to and to give priority to our aid teams."
Kilis
In the city with a population of 150 thousand, 13 people have been reported dead. It has been announced that there is no one trapped under the rubble.
A building has been reported to have collapsed in the central district of the city.
Hikâyeyi beğendiniz mi? Paylaşın.
Kaydet
Okuma listesine ekle
Paylaş
Aposto Europe
The news, every weekday at 07:30 (CET), with a distinctly European perspective. Your briefing on markets, politics, business, tech and more — under 5 minutes
YAZARLAR

Aposto Europe
The news, every weekday at 07:30 (CET), with a distinctly European perspective. Your briefing on markets, politics, business, tech and more — under 5 minutes
;