Pockets: The union of fluffy pita bread and crunchy green falafels
The most famous falafel in the city. Yes, it is.
An average East Londoner weekend consists of two major events: Strolling around Broadway Market vendors trying to decide what to eat before rebounding to the usual Netil Market corner on Saturdays, and cruising amongst plants at Columbia Flower Market on Sundays. Veteran Londoners would know to visit the market after 3 p.m to get half-price or "what's your final price?" offers. This action is followed by bumping into friends in front of the Royal Inn or Dove. Beer is the glue holding diverse groups together, Bloody Marry is the cure to the previous night's headache.
It's pretty rare you can convince a hungry, hang-over Londoner to wait in queue for food for more than ten minutes. But that's exactly what Pockets do on any given Friday, Saturday, and Sunday. Starting cooking these delicacies at Oxford, followed by Chatsworth Road Market, they made (lucky for us) their way into Netil Market in November 2020. And since their debut, there is no single day or hour we can bypass the queue to attain the ultimate goal: falafel pita.
It's not just the falafel, it's the union of fluffy pita bread, crunchy green falafels, the classified sauce we finally dared to ask and learned was mango-based, hummus, tahini, garnishing, and the final touch: boiled, roasted, fried potato slice we are dreaming of while counting how many people are in front of us. It takes about 2 minutes to layer impeccably one falafel pita. Yes, we timed it! So about 22 minutes to go.
What to order? Falafel, obviously! Although you can choose hot or not. If you ask us, order always the hot!
Where: Netil Market, 13-23 Westgate St, London E8 3RL
Heads Up: Pockets is only open on Friday, Saturday, and Sunday. Try to be there before 11:30 a.m. Have a friend, headphones, or book present because the waiting line would approximately be 30-40 minutes. Trust me, it's worth it!
Bonus: Netil Radio is playing on the second-floor booth.
Hikâyeyi paylaşmak için:
Kaydet
Okuma listesine ekle
Paylaş
NEREDE YAYIMLANDI?

Aposto London
∙
BÜLTEN SAYISI
🍻Cheers to London
Here we go, Londoner! Every Tuesday, you will receive a weekly dose of walk-in, plan ahead or last chance Hopping recommendations; meet a Londoner, gaze the city through their steps; get a sniff of What's Cooking in the kitchen.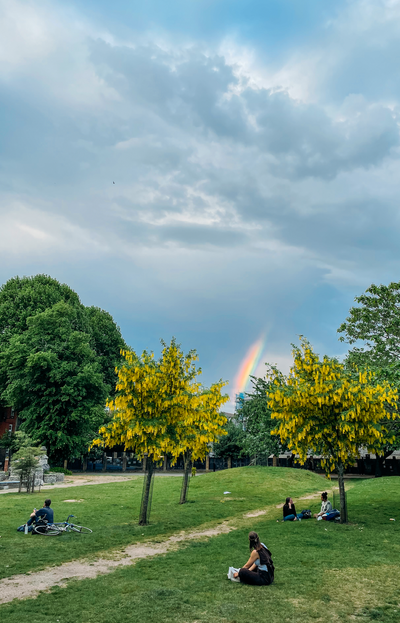 YAZARLAR

Aposto London
A weekly, practical zine to London for those who want to make this city their neighborhood. Every Tuesday.
;