Behind the chaos of the Swift tour: Monopoly of music in the US
What happened in the background of Taylor Swift's The Eras tour, and why were some fans left unhappy?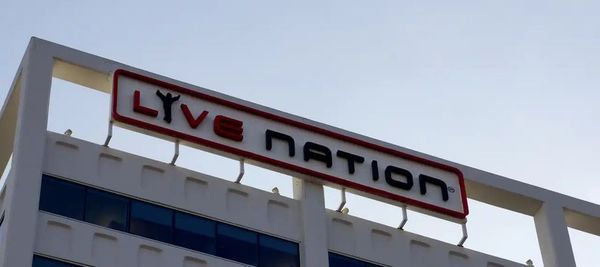 Recently, there has been extraordinary demand from fans for the pre-sale of tickets for Taylor Swift's The Eras tour, consisting of 52 concerts, which is her first tour in nearly five years. 2.4 million tickets were sold in one day through a pre-sale made through Live Nation Entertainment's Ticketmaster, which at first opened exclusively to a specific group of members. While stating that to date, this is the largest amount of tickets sold in one day, the system has received 3.5 billion requests, which is equal to four times the previous record. Ticketmaster.com could not handle the traffic, and most of the fans had to wait a long time to buy tickets on the website that gave errors, and for the most part, they had to give up.
Following the chaos, Ticketmaster went for solutions, such as cancelling the general sale and changing the dates some of its members could buy tickets, stating that this situation occurred 'due to extraordinarily high demand and not enough tickets'. Taylor Swift, on the other hand, held the company responsible for what happened and said in a statement:
'I'm not going to make excuses for anyone because we asked them, multiple times, if they could handle this kind of demand and we were assured that they could. It's truly amazing that 2.4 million people got tickets, but it really pisses me off that a lot of people felt like they went through bear attacks to get them.'
Calls for incompetition and unwinding
The 2010 merger of Ticketmaster with Live Nation, which operates venues, advertises tours, and sells tickets, has been critised for damaging competitive dynamics in the market, resulting in a monopoly and not making enough effort to improve processes and operations and innovate to improve the user experience.
This was not the first incident that Ticketmaster faced. During the merger, the companies made commitments that they would not discriminate against venues that prefer not to use the ticketing platform, and that they would give the software licence to one of their competitors. However, in 2020, the US Department of Justice (DOJ) introduced some new regulations because they did not fulfill them. Sources told the New York Times that the DOJ launched an investigation into Live Nation and Ticketmaster over complaints from event venues, consumers, and ticket companies shortly before the Swift chaos, and the question whether the company abused its dominant power in the music industry has been raised following the recent events.
According to Bloomberg, Senators Richard Blumenthal, Amy Klobuchar, and Edward Markey from the United States said in a note to the DOJ, 'If the investigation reveals that Live Nation has continued to abuse its dominant market position notwithstanding two prior consent decrees, we urge the department to consider unwinding the Ticketmaster-Live Nation merger and breaking up the company.'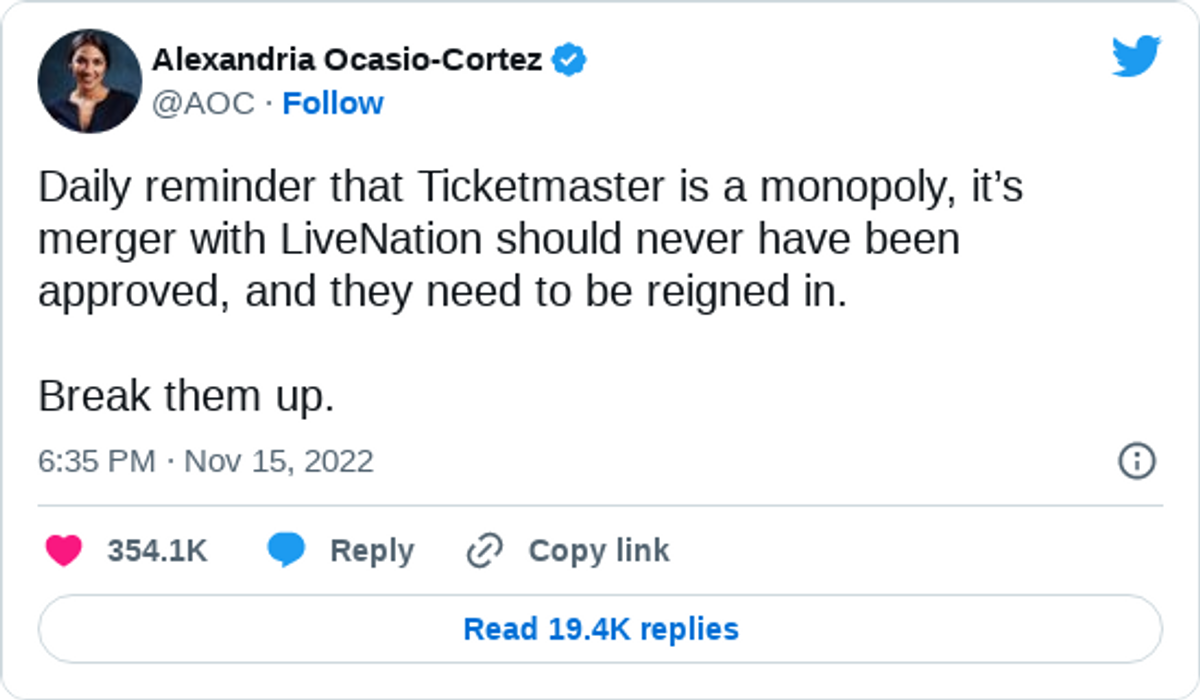 What was really the problem?
Liberty Media, the largest shareholder in Ticketmaster and Live Nation, suggested that AEG, which is responsible for Swift's tour and also Live Nation's rival, would prefer to work with Ticketmaster, while AEG told CNBC that the allegations were not true, citing Ticketmaster's private agreements with the vast majority of event venues, 'Ticketmaster's exclusive deals with the vast majority of venues on the Eras tour required us to ticket through their system. We didn't have a choice.'
It wasn't just a problem Taylor Swift faced, indeed, the coalition called Break Up Ticketmaster, said that Live Nation controls 70% of the ticketing and live event venues market, so artists and their representatives have little choice as to the platforms to sell their tickets.
Moreover, the group urged the DOJ to open an investigation into Ticketmaster and Live Nation for 'hiking up ticket prices' and 'charging rip-off junk fees'. Senators who wrote to the DOJ that they anticipate that the 2010 merger would actually encourage competition and reduce ticket prices, but Ticketmaster has increased prices for all types of events and venues by more than three times over the last 20 years.
Pricing: The ticket pricing method used by Ticketmaster determines the price based on demand and allows prices to increase in direct proportion to the number of people waiting in line. In 2021, Live Nation grossed more than 1 billion dollars with over 13 million ticket sales, while its rival AEG grossed 281 million dollars from 3 million ticket sales.
Florian Ederer, Professor of Economics at Yale School of Management, notes that Ticketmaster is not the only seller in the market, hence it is not a monopoly. However, he says it could abuse its power with a 70% share of the market and is in fact responsible for more than 80% of tickets for major concerts sold since 1995. On the other hand, Michael Carrier of Rutgers University told The Economist that over 70% market share is enough to control a market.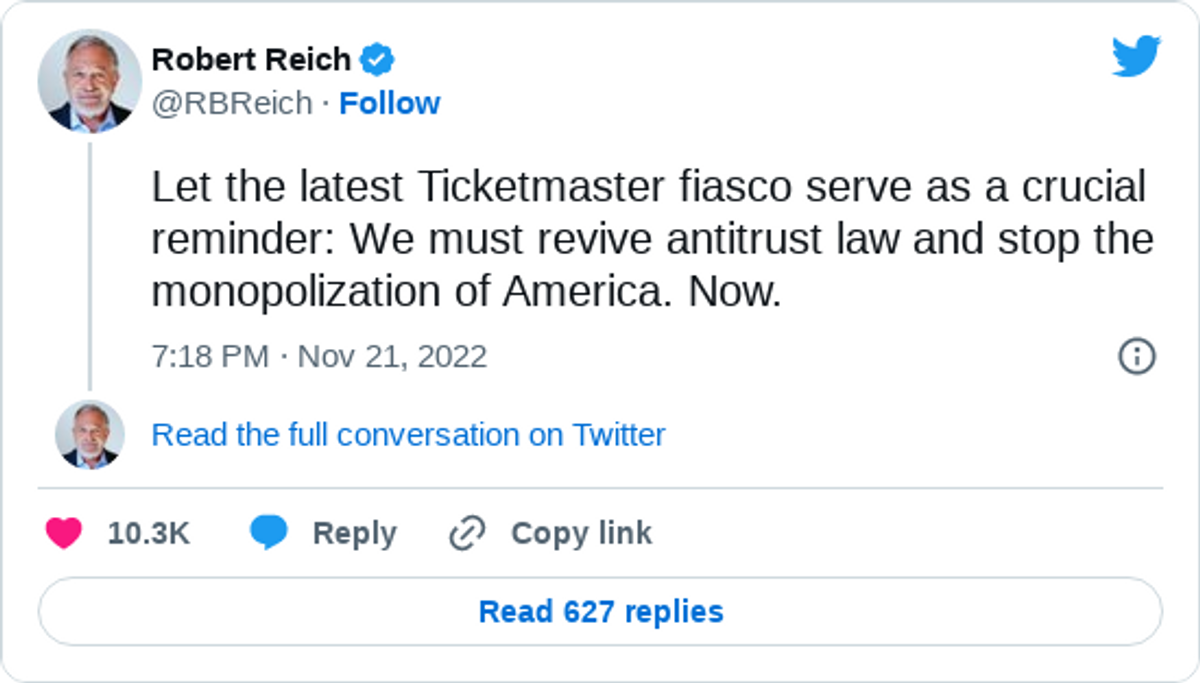 While some state that monopolisation usually occurs through the provision of a unique product or service, it would not be wrong to assume that Ticketmaster's 30% market share is not due to its innovation ability; because some factors, such as its pricing method and the advantages it acquired in the ecosystem as a result of its merger with Live Nation, do not seem to be a source of motivation for the company in the sense of making innovations and investments to improve the website and the user experience. Considering that in April 2021, 5 members of the US House of Representatives urged US President Joe Biden to launch an investigation into the merger of Live Nation and Ticketmaster, which they call a 'monopoly', we will wait and see what the institutions that have been observed to have taken steps to prevent monopolisation, especially in recent times, will do to preserve competition in the music industry in the near future.
Hikâyeyi paylaşmak için:
Kaydet
Okuma listesine ekle
Paylaş
İLGİLİ BAŞLIKLAR
Live Nation Entertainment
NEREDE YAYIMLANDI?

Aposto Business
∙
BÜLTEN SAYISI
∙
ÜYELERE ÖZEL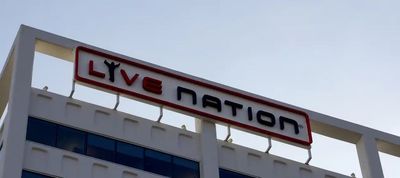 YAZARLAR

Aposto Business
The best articles on business at Aposto, curated by our editors. Topics include micro-mobility, future of work, energy, green economy, consumer products, marketing and more.
;