COP 27: Second Week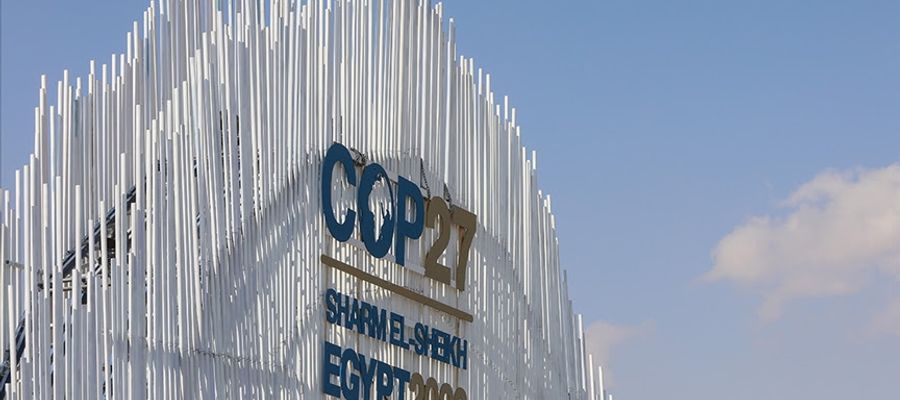 Written by Büşra Uçan,
MarComm Assistant, Mazars in Turkey
In the second week, negotiations took place on the themes of Gender Equality, Water, Energy, Civil Society, Biodiversity, in that order. Thursday November 17 was named 'Solutions Day' and the Parties gathered to find a common path through unresolved issues.
Gender and Water Day
On the first day of the second week at COP27, the impact of women in driving climate solutions and the critical impact of the climate crisis on water resources were the main agenda items at Sharm el-Sheikh.
At the opening session of Gender Day, the Chairman of the Egyptian National Council of Women, Dr. Maya Morsy launched the African Women's Climate-Responsive Priorities (AWCAP) initiative. This initiative stems from an important insight that about 80% of those who need help after disasters are women and children, and poor women in rural areas are 14 times more likely to die during a natural disaster. Morsy stated, 'Women are not helpless victims of climate change. They are powerful agents of change and their leadership is of critical importance.'
At an event directed towards women in Africa, the UN Deputy Secretary, Amina Mohammed emphasized the need to support women and girls' access to education and the necessary technology in order to adapt effectively to climate change, commenting, 'there is a very simple and effective solution for Climate Action. Let women and girls lead the way.'
Lucy Ntongal, a Kenyan climate and gender expert from the NGO Actionaid, said that while her homeland is skilled at dealing with the climate crisis, they will not be able to survive for much longer. 'The priority of mothers is water, because their husbands leave home in search of new pastures. Mothers have to take their daughters out of school to send them by foot over miles to find water.' she explained, describing the gravity of the situation.
Source: Sedat Suna/EPA
The same day was Water Day and the opening of the sessions began with the launching of the 'Action for Water Adaptation and Resilience' initiative (AWARe), carried out jointly with the World Meteorological Organization (WMO). Launched in aid of the most vulnerable communities and ecosystems in Africa, the aim of the program is reducing water loss, proposing and implementing policy methods for adaptation and encouraging cooperation.
Later in the day, success stories from Africa were presented, highlighting how water systems have been successfully adapted in the face of severe climate change. Techniques such as smart irrigation, flood and overflow protection, and rainwater harvesting were discussed.
Dutch Water Ambassador Henk Ovink said,
'It's now or never! Whether it's energy, food security, health, economy or international cooperation, the theme of water is always part of the discussion. When it comes to water, we need to change our behaviour, attitudes, actions, governance and the way we organize!'
About 40 percent of the world's population is affected by water scarcity. As the UN Secretary General noted earlier this year, 80% of wastewater is thrown into the environment without treatment, and more than 90 percent of disasters take place around the issue of water.
The UN Water Conference will take place in New York in March 2023.
Energy and Civil Society Day
Discussions on Energy Day focused on the role that renewable energy sources, smart grids, energy efficiency and energy storage can play in developing and transforming the energy sector for a just energy transition. According to the International Renewable Energy Agency (IRENA), 29% of global electricity generation today comes from renewable sources, and carbon emissions continue their upward trend.
At the G20 summit in Bali, which took place as COP27 was coming to an end, the United States and Japan, led by a coalition of countries, announced they would make significant investments of at least USD 20 billion to reduce Indonesia's dependence on coal and promote renewable energy in Southeast Asia. According to statistics, Indonesia is one of the world's largest consumers of coal and the fifth largest emitter of greenhouse gases in the world.
Scientist and IPCC member Jim Skea pointed to the IPCC reports unequivocable statements that 'large' reductions in coal use, 'moderate' reductions in oil use and 'modest' reductions in gas use in the short term were needed to make the 1.5 scenario achievable.
Inger Andersen, Head of UNEP, said:
'In the year that has passed since Glasgow, climate action has been postponed. We need to reduce emissions by 30 to 45 percent by 2030, but since COP26 we have reduced by one percent. We have a long way to go.'
Francesco La Camera, Director General of IRENA, explained that in the future, energy systems will be derived largely from renewable sources, as well as from the sustainable use of green hydrogen and biomass. He added that renewable energy could create three times more jobs and contribute more to countries' GDP than an equivalent investment in the fossil fuel sector.
Tuesday was Civil Society Day at COP27. The voice of civil society was heard loudly, especially in support of abolishing the production and use of fossil fuels. Arguing that a record number of fossil fuel lobbyists were present at COP 27 and that they should not be admitted to the conference, civil society and climate activists critiqued their inclusion, stating, 'Just as tobacco manufacturers cannot find a place for themselves at health conferences, there is no place for fossil fuel lobbyists at these climate conferences.'
Previous week, Urgewald (a non-profit environmental and human rights organization), together with 50 other NGO partners, published the Global Oil & Gas Exit List, representing 901 companies that account for 95% of the globe's oil and gas production in the form of a publicly available data set. The report revealed that 96% of the oil and gas industry continues to grow, and many financial institutions and banks continue to make investments in this sector, even if they have signed 'Net-Zero' commitments.
Schuecking said that currently, c.USD 5 billion is spent by companies on oil and gas exploration in Africa, describing these investments as a waste, especially considering the potential for renewable energy on the continent.
In a speech given between sessions, African Development Bank President, Akinwumi Adesina commented that, 'in order to provide electricity to 600 million people without access to electricity in Africa, we must have natural gas as well as renewables. Even if Africa increased its natural gas production to three times current levels, its contribution to global emissions would only increase by 0.67%,' he noted. Africa needed natural gas to balance electricity supply, given the intermittent nature of renewables.
Biodiversity Day
Scientists are warning that the sixth mass extinction of life on Earth is underway and 1 million species are in danger of extinction.
On Biodiversity day, the COP27 Presidency launched the 'Enhancing Nature-based Solutions (NbS) for Climate Transformation' initiative with the aim of securing healthy natural ecosystems on up to 2.4 billion hectares through restoration, conservation and sustainability. The initiative also aims to increase the protection and resilience of 1 billion vulnerable people by leveraging nature-based solutions.
Ministers from about 30 countries met in Sharm el-Sheikh to discuss the draft nature agreement, known as the 'post-2020 biodiversity framework,' at a side event jointly organized by Canada and China. The sticking points in the negotiations, including financial support for the deal, were discussed by the governments. David Cooper, Vice President of the UN Convention on Biological Diversity, said: 'Climate change is one of the biggest drivers of biodiversity loss.'
Two weeks after the COP27 climate summit, a COP15 Biodiversity Conference is to be held in Montreal, Canada (7-19 December), at which governments will negotiate the next decade's goals for preventing biodiversity loss. The architects of the Paris agreement have urged world leaders attending the COP15 Biodiversity Conference to reach an agreement, warning that it is impossible to limit global warming to 1.5C without protecting and restoring ecosystems.
Solutions Day and other Highlights of the Week
Thursday was Solutions Day. The first draft of the COP27 resolutions agreement, published was published on Thursday morning, maintaining the goal of limiting global warming to 1.5 degrees. But it leaves many of the most contentious issues in the negotiations unresolved. Among the most controversial points is the issue of whether to establish a new 'loss and damage' fund for countries that are already feeling the impact of climate-related disasters, a key demand from developing countries. The draft indicates that discussions have begun for the fund, but a roadmap for how it will be formed is not yet clear.
International NGOs, dissatisfied with the draft text, called on the Egyptian Presidency to withdraw it for a rewrite.
'If we can't agree on the loss and damage, then I think this COP will not have been successful,' said Nabeel Munir, the chief negotiator for the G77 countries and a diplomat from flood-ravaged Pakistan. 'No one can deny the scale of the loss and damage we are seeing around the world,' commented UN Secretary-General Guterres. 'The world is burning and suffocating before our very eyes. But rich countries, including the US, have opposed the creation of a new loss and damage fund, fearing it could expose them to unlimited liability for their historic contribution to greenhouse gas emissions.'
On Thursday, U.S. Special Climate Envoy John Kerry held a behind closed-doors meeting with his Chinese counterpart Xie Zhenhua in a sign of potential climate cooperation between the world's two largest emitters of emissions. As Kerry left the meeting, he said, 'We are making progress. Let's allow the talks continue.'
A Norwegian-backed fund to protect Brazil's Amazon rainforest will restart 'immediately after January 1,' Norwegian Environment Minister Espen Barth Eide told Reuters. The Amazon Fund, which includes USD 542 million donation for the protection of the rainforest, had been frozen by the previous president, Jair Bolsonaro.
Murat Kurum, Source: Anadolu Agency
Minister of Environment, Urbanization and Climate Change Murat Kurum announced Turkey's updated National Contribution Statement (NDC) target in a statement at the Ministerial meeting at COP27. According to this statement, Turkey's reduction target for the year 2030 increased from 21% to 41%. The agency said, 'We will have reduced emissions by about 500 million tons.' 2038 has been set as the point at which emissions will peak. The Istanbul Policy Center (IPC) report called 'A road map of Turkey's decarbonization: Sectoral Cost-Benefit Analysis' was presented at COP 27, exploring the cost of investing USD 101 billion to reach the declared 2050 net zero emissions.
The European Union has updated its climate commitments, increasing its plans to reduce emissions from 55% to 57% by 2030. EU climate policy chief Frans Timmermans said: 'We will not let anyone say here at the conference or at any other venue, that the EU is taking a step back.' The commitment is part of the 'Fit for 55' package, which aims to make the EU carbon neutral by the middle of the century.
According to the Internal Displacement Migration Centre, in 2021, about 23.7 million people were temporarily displaced from their homes within their own countries, most of them as a result of extreme weather-related disasters. According to the World Bank, if serious and rapid steps are not taken to deal with climate change, about 216 million people could become climate migrants in their own countries by 2050.
The United Arab Emirates renewable energy company Masdar and its partners said on Wednesday that they have signed a framework agreement with Egyptian state-backed organizations to develop a 2 GW green hydrogen production project in the Suez Canal Economic Zone (SCZONE).
Hikâyeyi beğendiniz mi? Paylaşın.
İlgili Başlıklar
World Meteorological Organization
Hikâyeyi beğendiniz mi?
Kaydet
Okuma listesine ekle
Paylaş
Nerede Yayımlandı?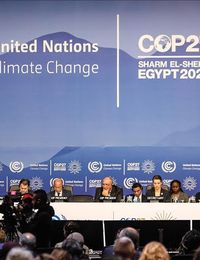 COP27: Second Week and Outcomes
Yayın & Yazar

Aposto Business
The best articles on business at Aposto, curated by our editors. Topics include micro-mobility, future of work, energy, green economy, consumer products, marketing and more.
;