Cozy as well as spooky: Mercury
A comic book recommendation from Deniz Braderin for those who want to warm up a little inside on Halloween.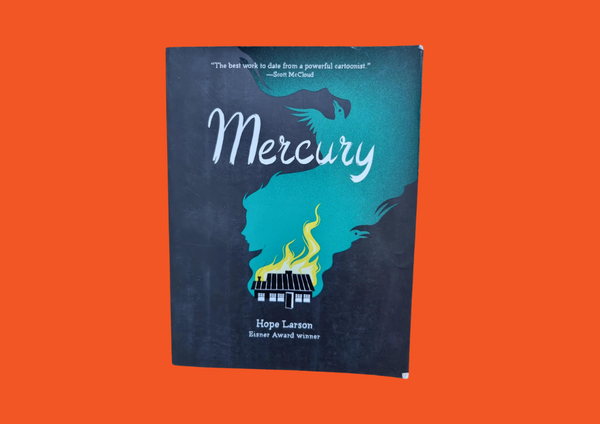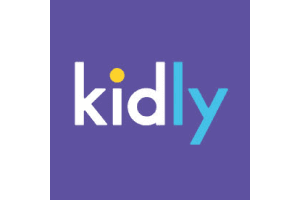 Together with Kidly
A new perspective in publishing: Kidly Presenting today's stories for today's children and a gamified reading experience. Let's take a closer look at Kidly . Kidly is a library of illustrated and read-aloud stories that helps preschoolers and primary school children spend quality screen time. Kidly library, today's values, and gamification Kidly Originals stories, created by the in-house content team, make up most of the library. At the same time, digital versions of popular children's books are also available in the Kidly library. All Kidly stories are carefully selected and reviewed by psychological counselors. Reflecting today's values, there are stories on many valuable topics, such as gender equality, mindfulness, yoga, philosophy, science, art, and animal rights. A gamified reading experience makes reading even more fun! Children earn badges and characters as they read, which in turn motivates them to read more and regularly. You can download the app via this link to read and listen to Kidly stories.
Learn more →
Greetings dear Piccolo readers, I am here again. This time I bring you Hope Larson's Mercury. I love Hope Larson. Alara asked me "Would you write an article for the Halloween issue?", and when she it, it was the first thing that came to my mind.
I think the magical reality that Larson infuses into her stories without us noticing is just right for this issue. This book is worthy of this place with its creepy story that I am talking about. I love it so much, I hope you do too
The story of two young girls separated for many years: Mercury
Mercury is the story of two young girls tied to the same land but separated by many years. Actually, I guess it's more the story of a necklace, frankly, I'm not sure. The first of our two young girls is Josey Fraser, who lived in the 1850s. Josey lives a humble farm life. She spends her days with her family by milking cows, washing clothes, and picking fruit. Tara Fraser is a high school freshman in 2009. She's lived on the Fraser farm, which has belonged to the same family for generations—until recently. As you can see from their names, these two, who are related by blood, also have a common destiny.
Meet the characters: The book begins with the transformation of the city over the years. Larson's detailed but heavily spaced lines make these panels eye-catching. Then we meet our first character, Tara. She likes running. In fact, it's more than just enjoying running, she's an athlete. She is running to the wreckage of a burned house. And we understand that this is her old house. After meeting Tara, this time we go back to the past.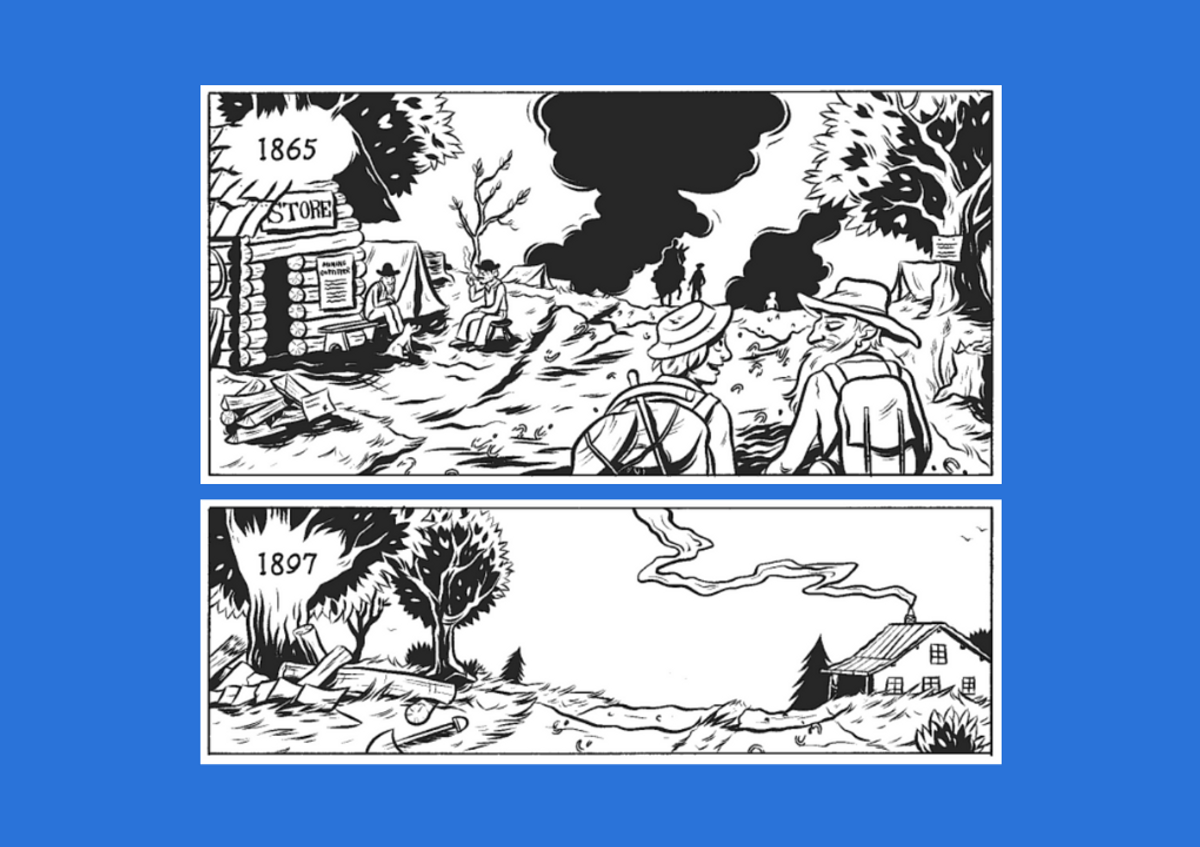 🎃 Illustration: Hope Larson
---
Next up is Josey. Josey meets Asa while doing business near her home. According to Asa, she found gold on the land of their farm. And she wants to talk about it with their father. These years are just the beginning of the "Gold Rush" in North America. The father jumps into the scene with the excitement of the period and Asa suddenly becomes one of the main characters of the story. She also steals Josey's heart.
Supernatural elements: Another main character is Ben. Ben and Tara look a little alike physically. Their hair is almost the same. This physical resemblance gradually causes the two to develop strong feelings for each other. Ben steals Tara's heart. Gradually, the supernatural elements of the story begin to appear here. Josey's mother began seeing ghosts. This trait is actually a legacy in the family and it comes down to Tara.
As time goes by, this gold spree turns the lives of Josey and his family upside down. Tara tries to save her own life by finding these gold coins that ruined her great-great-grandfather's life.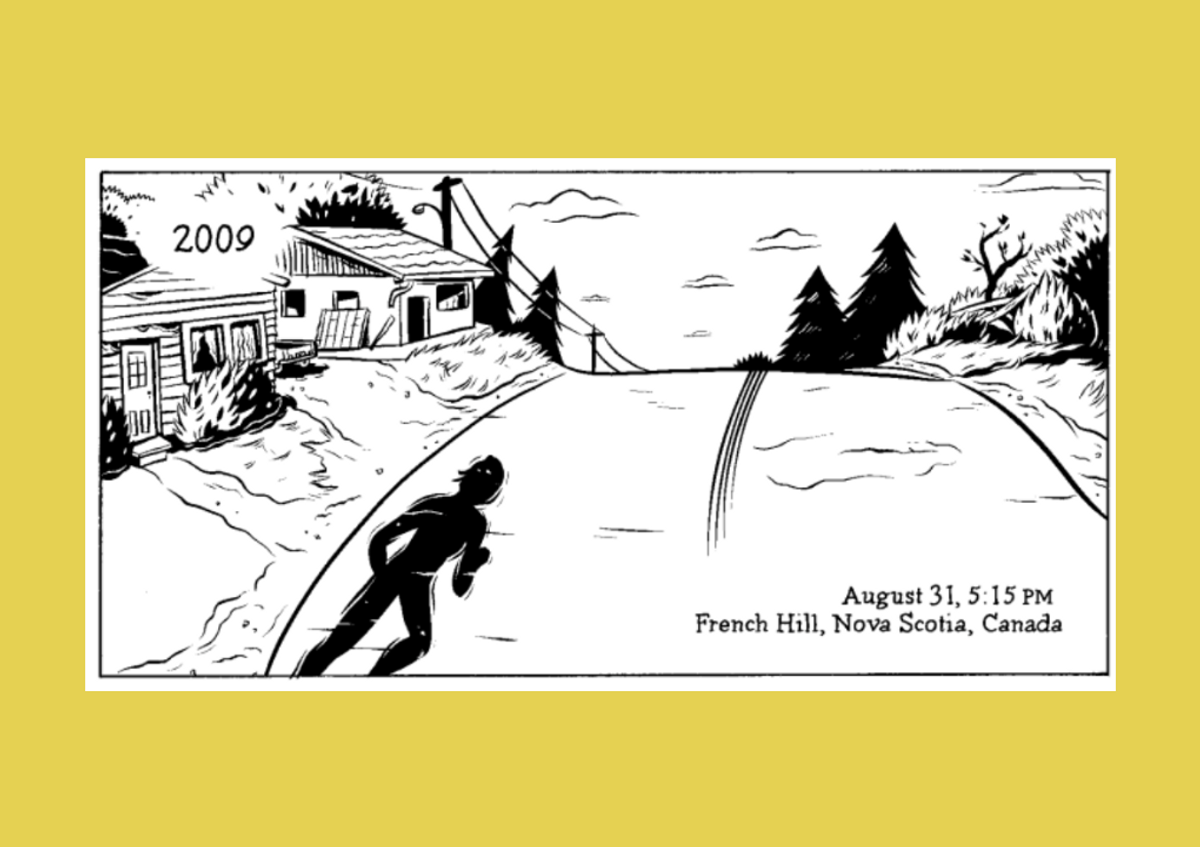 🎃 Illustration: Hope Larson
---
From being a young adult writer to becoming a comic book superstar: Hope Larson
I really like Hope Larson. The stories she pulls out of her big roomy bag always touch my heart. Her drawings are especially great. I can stare at the faces she draws for hours without getting bored. She must be aware of this, as we see a lot of close-up facial expressions.
You can see why she became a comic book superstar in this book, which she made in the middle of her transition from sweet and independent young adult writer to comic superstar.
Mercury has everything I look for in a YA comic. A beautiful, calm but slightly sinister story, including romance and youthful fire. Mmmmhhh, delicious. I repeat, Hope Larson is an amazing illustrator.
So if you want to feel cozy as well as you want to get spooked up, or if you just want to read a well-explained book, your next read should be Mercury. It can be very enjoyable to take an hour from your weekend and go visit a small town in Canada.
Hikâyeyi paylaşmak için:
Kaydet
Okuma listesine ekle
Paylaş
NEREDE YAYIMLANDI?

Piccolo
∙
BÜLTEN SAYISI
∙
ÜYELERE ÖZEL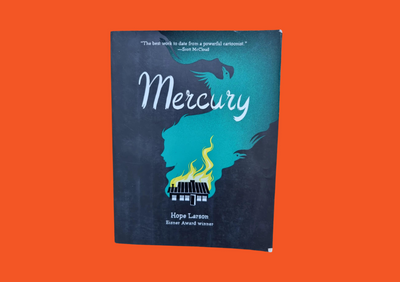 YAZARLAR

Piccolo
A magazine dedicated to Children's and Young Adult Literature, Piccolo is published every Sunday at 2 PM (GMT+3).
;