Dalston: A little dirty, a little ugly, a little raw
This week we're on the streets of Dalston: The midpoint between the cheapest lahmacun and the natural wine bar.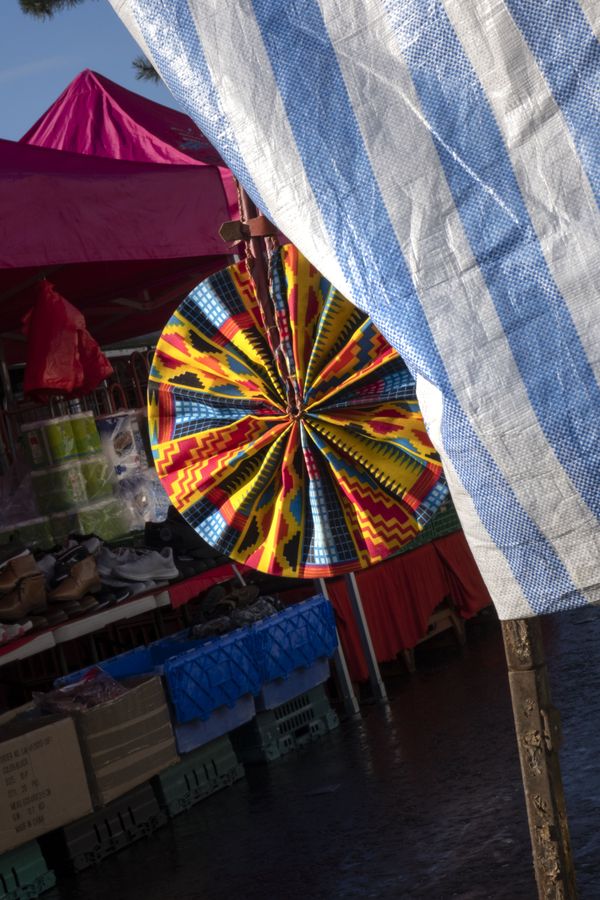 Neighborhood: Dalston, London. Local: Kirsty Tinkler. Words by: Berkok Yüksel. Photography: Alper Goldenberg & Hazal Yılmaz.
London didn't creep up on me. I remember the exact moment and place I started believing I can enjoy this city. It was in Dalston, in front of a church, sitting in a parklet with a friend drinking beer on a chill, sunny afternoon. There was nothing special about that moment, but it felt freeing.
Less than a year after that moment I moved to Dalston and London opened up for me. Describing the character of Dalston today is a tricky task. To me, it's a neighborhood in the midst of gentrification. In the daily outdoor market, Caribbean aunties haggle with vendors, while a young "creative" is trying to take a picture for their third Instagram account pointing their analogue camera.
When the opaque doors of Turkish social houses are slightly ajar, you see old uncles playing backgammon, and drinking tea. Just across the road, there is a colorful queue to London's most famous queer clubs. As you approach the Junction, you see chain cafés and fast food restaurants, even an Amazon Fresh store, as if you're in a business district.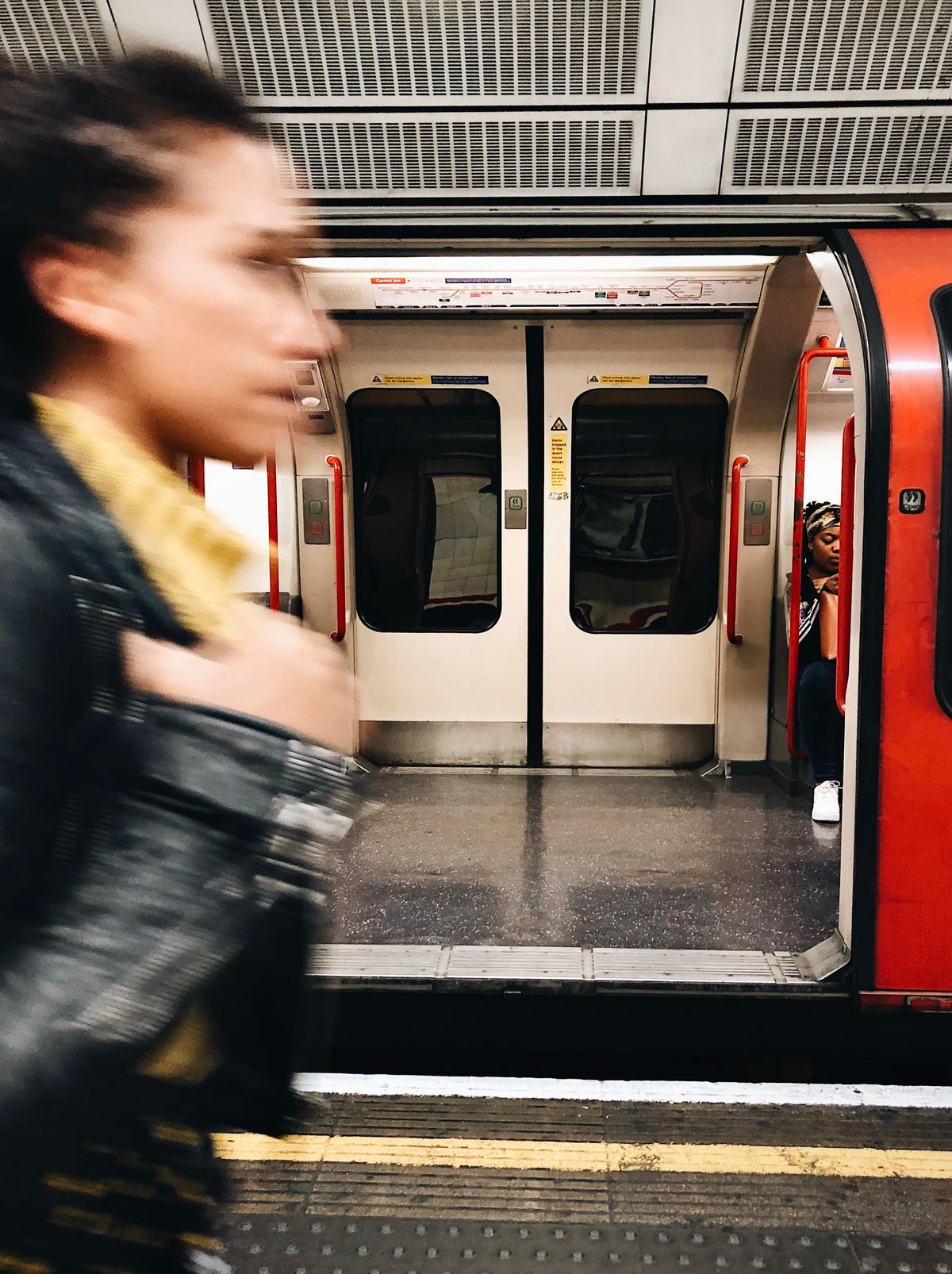 On the road to Dalston Junction
Photo: Hazal Yılmaz
---
But when you move in the opposite direction, you encounter minority associations, cultural hubs, and signs in different languages. When you delve into the side streets, you discover chic wine bars, fancy cocktail spots, organic shops, and countless taquerias. Dalston boasts more taquerias and wine bars than Soho, but it also has the most Turkish and Kurdish dernek's. Nowhere else can you go from drinking Turkish tea to having jerk chicken cooked over an open fire, before walking into a wine bar to order a glass of cloudy natural wine, in such a few steps.
One of those natural wine spots is Weino Bib. The friendly neighborhood wine bar and deli with limited seating and a wine taproom where you can drink zero-waste wine. The eco-conscious shop's founder is sculptor and dachshund mom Kirsty Tinkler. Following her urge to come to her mother's homeland, Kirsty moves to London to study art at 19. After years of artistry, hustling in the service industry and having too much fun in the raves of 90s London, her main occupation now is Weino Bib and wine importing.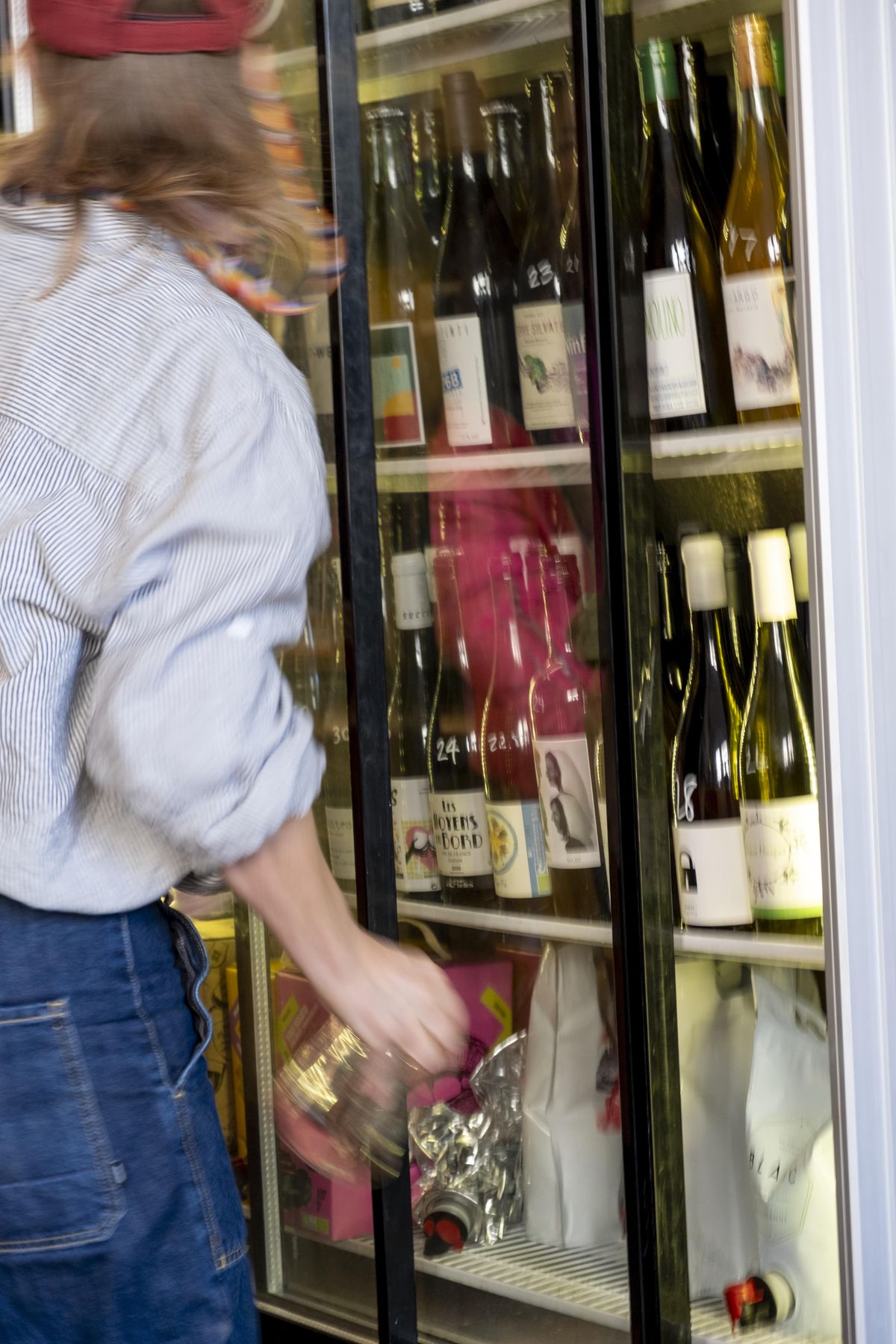 Kirsty is choosing wine
---
Can the wine be served in a carton box?
"I was a nearly full-time artist back then." Kirsty's move into the wine business is far from self-explanatory. "I was traveling up and down the country, doing work, having a fabulous time." When she met winemakers in their farms and vineyards, she was drawn to make wine into a full-time lifestyle rather than a pastoral pass time.
And specifically natural wine. "The way they were farming and simply the flavor. (…) I realized the difference [natural winemaking] made to wine." Now, Kirsty doesn't only run a wine bar and wine shop, she is also an importer and distributor. But what sets her apart and what made her pre-Weino Bib pop-ups be featured on major outlets and set the course of her journey straight is her emphasis on sustainable formats for the wine.
"Contrary to popular belief, glass bottles are not very eco-friendly." At Weino Bib you see natural, well-branded wines in boxes and plastic pouches (or alternatively on tap for bring-your-own-refillable-bottle sales). When I ask her how she became a trailblazer in this area, she says it was instinctive: "At the restaurant I was working at the time, some box wines started appearing. I had this intrinsic understanding, immediately I could see the benefit. I didn't understand exactly how but I knew it."
A study by Gaia Consulting of Norway in 2018 proves her instincts were right. A standard glass wine bottle causes about 10 times more carbon emissions than a plastic pouch or boxed wine. Mainly it's the result of the production of the raw materials: glass requires a lot of heat to be emitted in the foundry. Production aside, the cost of transportation of the heavier glass bottles adds to its footprint. "Plastic does pollute the earth but its carbon footprint is actually miniscule, granted the plastic is reusable / recycled. If we can get to the point where we can legislate against non-recyclable plastic, the glass will be the main enemy. Pursuing wine in sustainable formats felt important enough to give up making art for a while. Some people open a business to have a business but some do it because they want to do something, or change something. And that's the thing you sense around East London a lot, which makes this neigborhood special."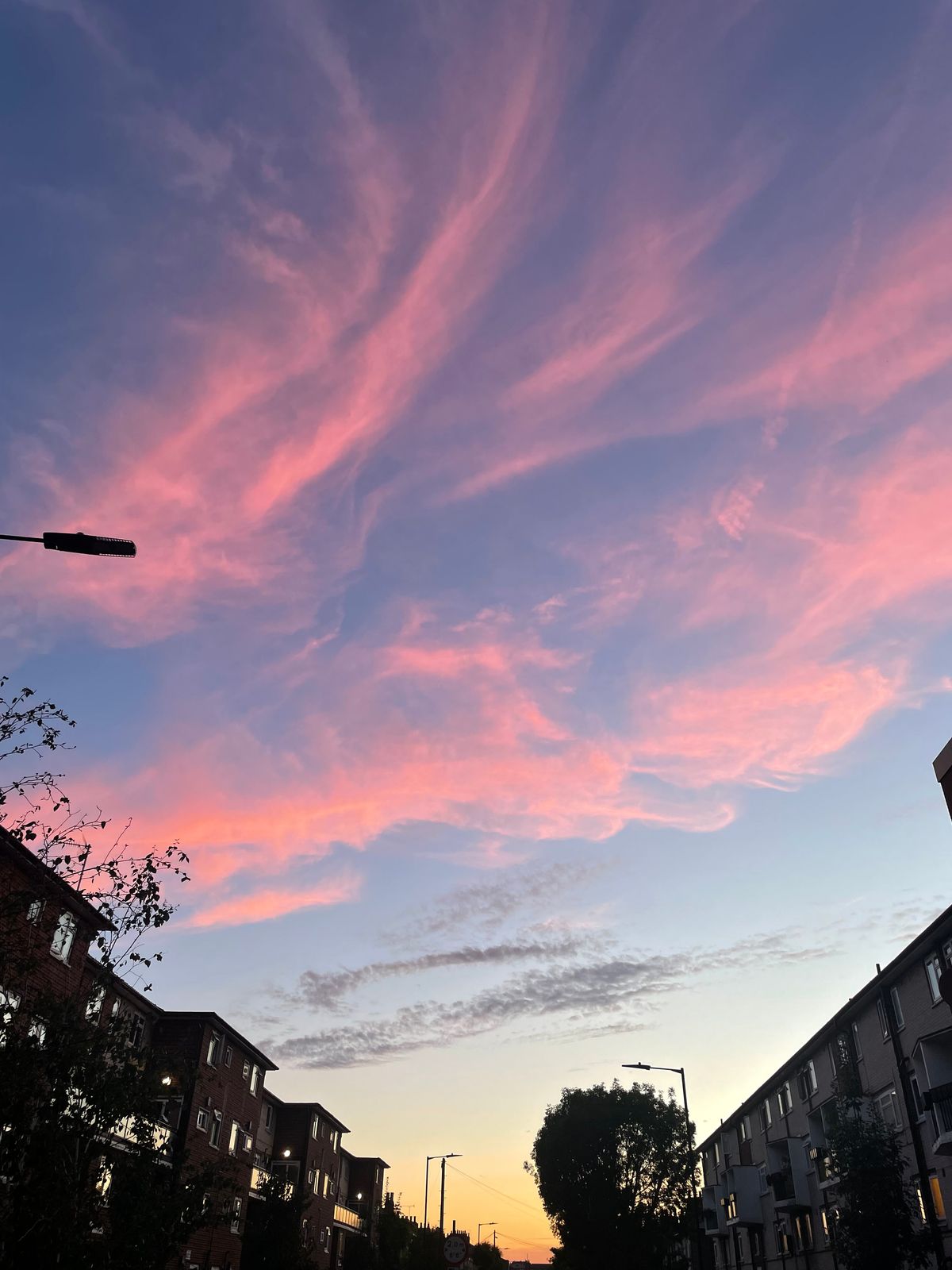 Sky in Dalston
Photo: Hazal Yılmaz
---
Dalston of the old
"When I first moved to Dalston, there were only a few pubs that worked for the Caribbean community. Dalston Superstore arrived, and the whole of Shoreditch moved up here. In the 90s London wasn't so cosmopolitan. Everything felt underground, a bit lawless. You'd ring a number and they'd give you the address to the rave on the day. I had a raving period and got in a lot of trouble. It was fun. The gay scene back then was also very illegal and underground. Since those days Dalston has changed a lot. It breaks my heart. There used to be so many artist-run galleries. All gone. If I were a young person moving to London now, I'd move to the South, maybe Peckham. East London still has an edge but it's losing it."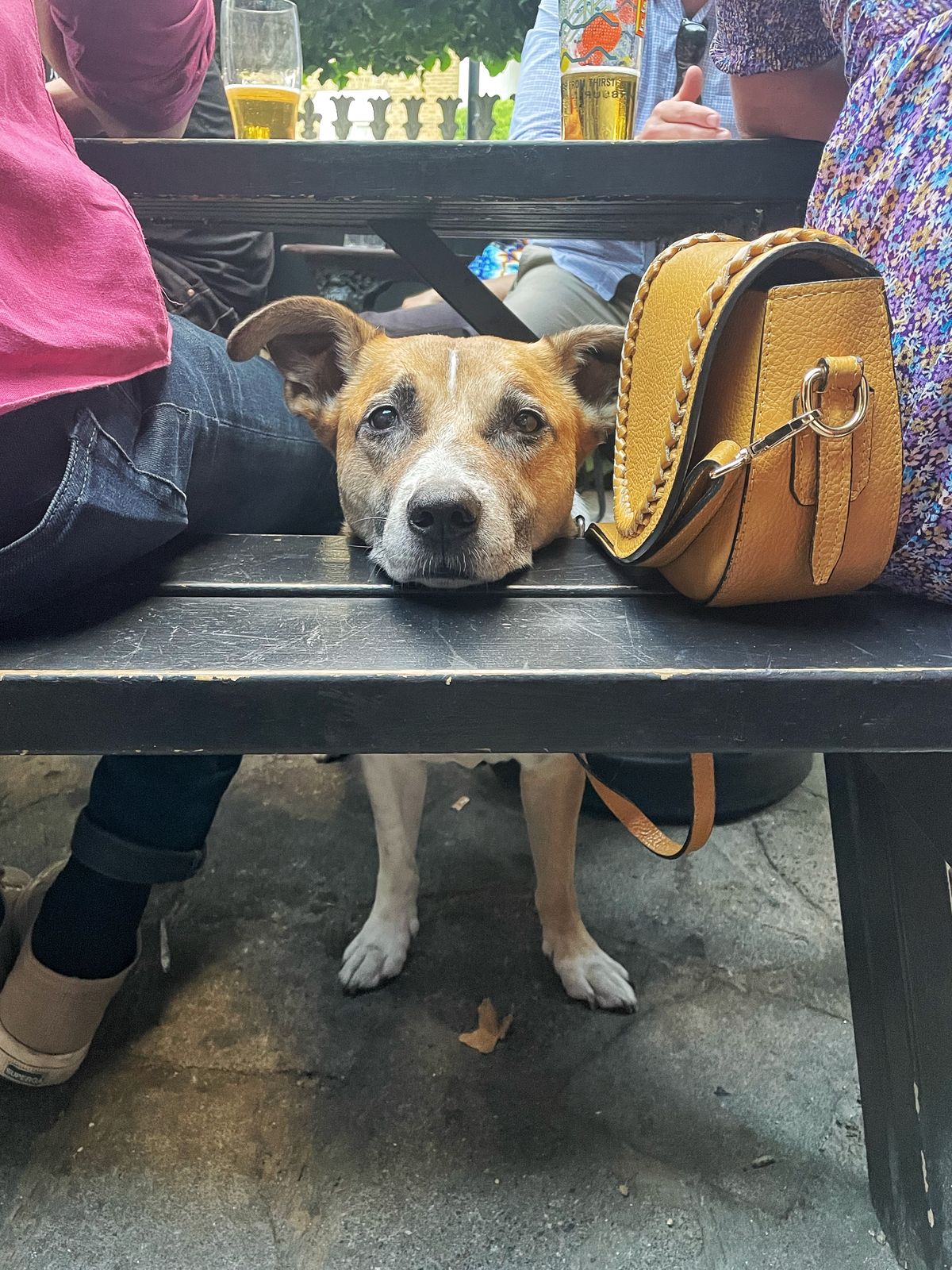 Residents of the De Beauvoir Arms in Dalston
Photo: Hazal Yılmaz
---
Kirsty sees her shop as part of the gentrification process too, "I opened a bougie wine shop here. At first, I didn't want to open in Dalston. Dalston was flooded. There were too many wine bars, it wasn't clever to open a wine bar here. But financial decisions and the added charm of the artistic metal cage outside the windows installed by the previous tenants of the shop led her pop-ups to take a brick-and-mortar form where Weino Bib is today. But even then, compared to now, her Dalston clientele was different. When I opened 5 years ago, you would not make your place look pretty, no one would come. Now the demand has changed. I'll never forget the first time a guy with a white collar came in here. The crowd has definitely gotten more affluent. But also younger. Younger people tend to be more open towards natural wine and perhaps also towards sustainable formats. They do not have set palates and are more open to experiencing the 'out-there' flavors of natural wine. Still, there is a hierarchy around the bottle. Glass connotes high-end, luxury, and quality compared to plastic and carton. What seemed to me as an insurmountable perceived value is apparently being surmounted by wine lovers, little by little." Kirsty says people are much more open to boxed and bagged wine but still, she'd like to see more people invest in sustainable formats.
As we talk a customer walks in. She's clearly someone who blurs the lines between a regular and a friend. When I ask her about Weino Bib she says, "this is more a conceptual art project" than a wine shop. Laughing, Kirsty agrees.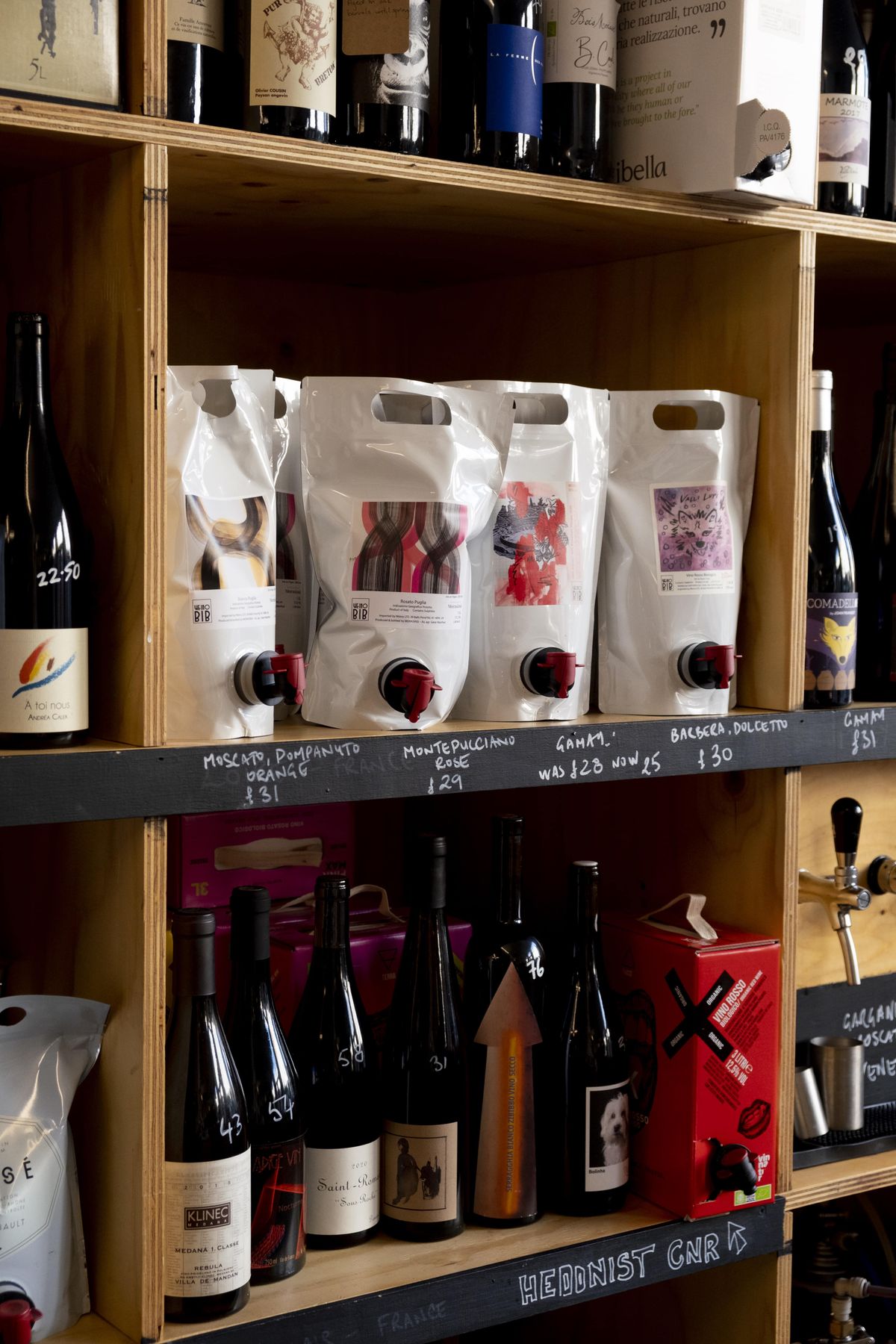 Wines in plastic pouches waiting for their owners: £31, £29, £25, £30
---
Weino Bib, your friendly neighborhood cave a vin
The first time I went to Weino Bib I was alone. My date had done a last-minute rain check, everyone I know had plans. Still, there was an Italo Disco event, Italian wines and nibbles paired with appropriately volumed electronic drums of the genre.
Normally Weino Bib hosts a small menu of charcuterie, pies and some hot dishes. The wine on tap, in boxes and pouches, the wall of independent beer brands and bottles of wine with prices written in white chalk populate the walls. The rare sunshine comes straight into the shop early in the day.
Whenever I'm there, I'm reminded of the church parklet where I started enjoying this city, this neighbourhood. It connects me to a place and feeling. It's what makes East London special: a business that exists for a purpose of doing something more than making profits. It's Dalston's wine shop and deli, unique to and because of its surroundings.
After talking to Kirsty, I felt like my praise of Dalston was untimely and missing context. It felt like writing a love letter to someone whose ex told you they used to be better in the past. But today's Dalston might have lost its edge, but it still holds enough chaotic diversity to shine. Gentrification tends not to stop at a sweet spot, nor does it have one. There is perhaps a level of gentrification I personally enjoy. One that I can afford, with the cultural components that have made Dalston a chaotic mosaic and with the newfound elements that cater to my preferences as a young creative trying to make London their home (one without an analogue camera). I like having the best and cheapest lahmacun place in London around the corner of my house and being within walking distance of a natural wine bar.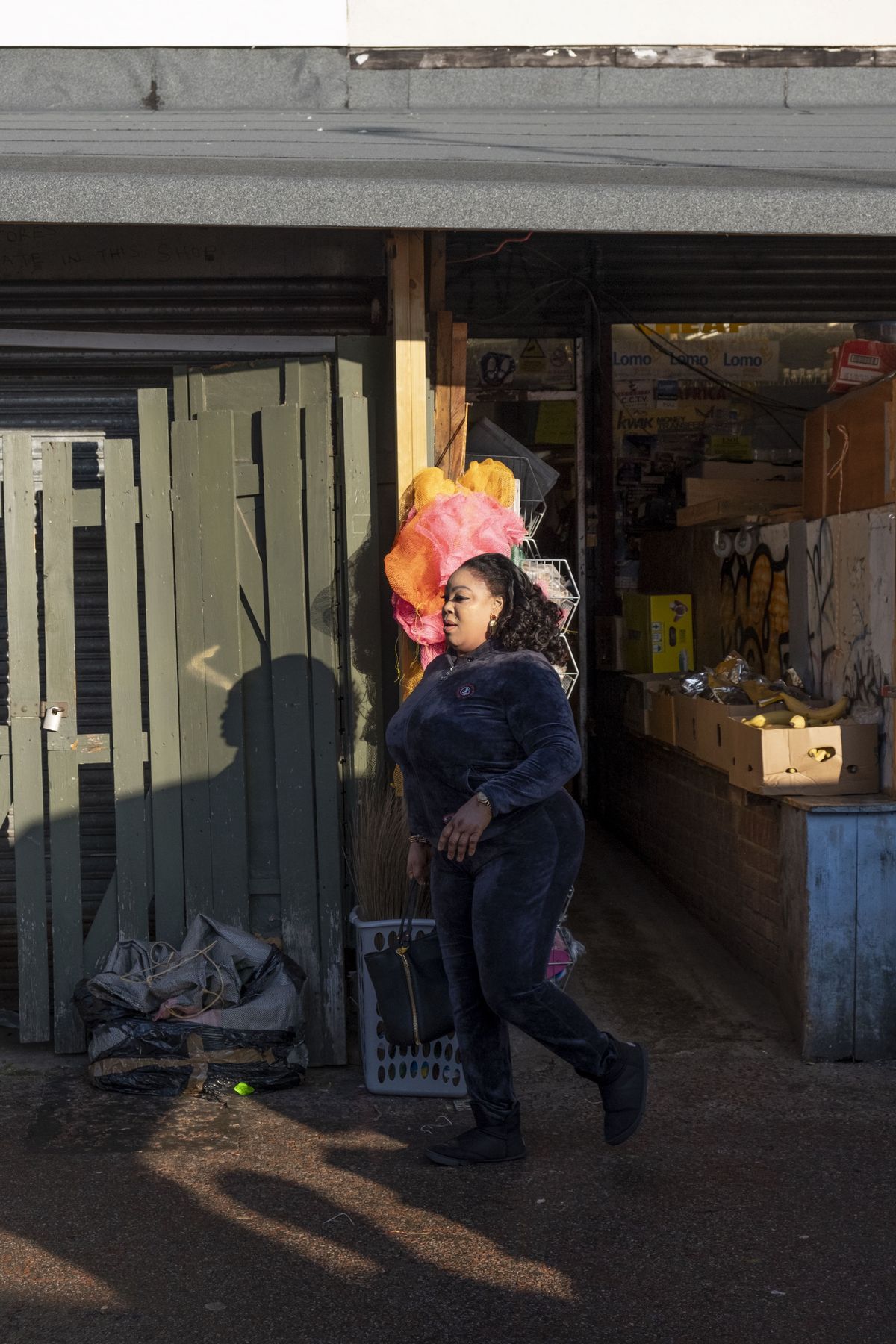 At Dalston
---
How many years does Dalston have before it becomes a shell of itself? Gentrified to a point that I also can't relate to. High-rises and office buildings becoming the flora, white-collared, truffle fry-eaters becoming its fauna? I don't know. I like this Dalston. I will be nostalgic for it in the future. I will remember Weino Bib as something that made my neighbourhood beautiful.
Kirsty too, far from turning her back on this changing neighbourhood, can't help remarking that "The vibrancy is still there. For me, one of the most fun things is walking up Kingsland Road at 1:00 a.m. and seeing everyone in their outfits."
Hikâyeyi beğendiniz mi? Paylaşın.
Hikâyeyi beğendiniz mi?
Kaydet
Okuma listesine ekle
Paylaş
Nerede Yayımlandı?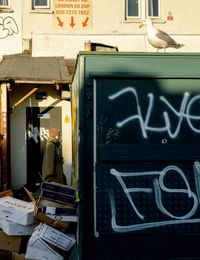 📍 Dalston, Kirsty Tinkler
Yayın & Yazar

Soli
A weekly journal of neighbourhoods to dig into urban culture, people stories, and sociocultural dynamics. In every issue, we meet an inhabitant in their hood where they live, create or belong.
;