First Week's Focus on Finance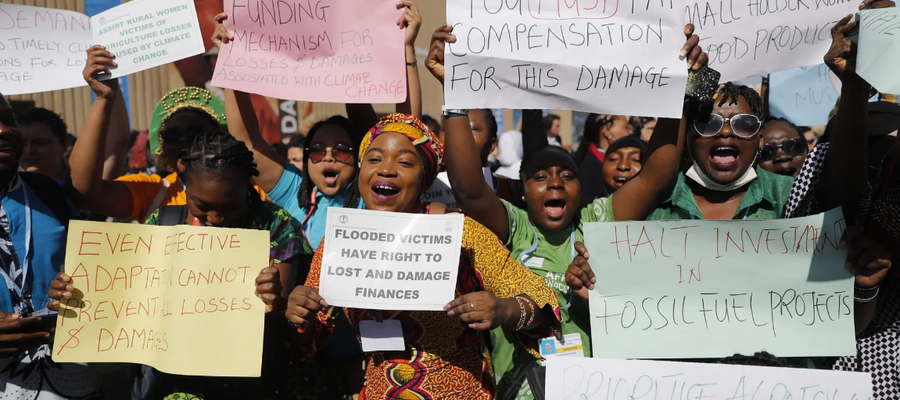 Written by Büşra Uçan,
MarComm Assistant, Mazars in Turkey
During the opening two days of the Conference, world leaders met to discuss how to implement previous COP summit decisions under the heading 'Climate Implementation Summit'. A variety of business associations and funds were formed. The first three days were marked by a call for financial support from developing countries. Developing countries cause fewer emissions but are most affected by climate change, and they are asking wealthier nations that have the largest carbon footprint to compensate them for their 'losses and damage'. The theme for the third day of COP27 was Finance.
Minister of Foreign Affairs for Egypt H.E. Sameh Shoukry was officially elected as the President of COP27 by the 'Parties' at the inaugural plenary session on Sunday November 6th. He called on participating countries to show faith in multilateralism over the next two weeks as they negotiated to achieve the goals of the Climate Convention and the Paris Agreement.
On the same day, the new Secretary General of the UNFCCC, Simon Stiell, stated,
'A new era begins today. Paris gave us the deal. Katowice and Glasgow gave us the blueprint. Sharm el-Sheikh is calling upon us to implement.'
Stiell highlighted three critical lines of action:
Transforming negotiations into actions, by pivoting to implementation,
Demonstrating tangible progress on critical workflows such as mitigation, adaptation, finance and most importantly, loss and damage,
Transparency and accountability principles need to be met throughout this process.
The World Meteorological Organization (WMO) launched its latest report at the opening of COP27 on Sunday. The report shows that the last 8 years have been the warmest years on record due to ever-increasing greenhouse gas emissions. WMO president Petter Taalas said that we are currently about 1.15 degrees Celcius above pre-industrial levels and that due to high carbon dioxide levels in the atmosphere, we can barely maintain the lower limit of 1.5 degrees Celcius contained in the Paris Agreement.
It is a fact that the melting of glaciers as a result of global warming greatly threatens water security. In addition, the World Health Organization (WHO) states that between 2030 and 2050, climate change will increase the risk of malnutrition, malaria, diarrhea and heat stress, leading to about 250,000 more deaths every year. The WHO predicts that the direct cost of climate change to health will hit US$ 4 billion over the next decade. However, the organisation also points out that investment in clean energy will provide health gains and save millions of lives.
As was the case at COP26, we heard the strongest rhetoric at Sharm el Sheikh from UN Secretary-General Antoni Guterres. Guterres noted that we are rapidly approaching a tipping point when climate chaos will become irreversible. 'We are on the road to climate hell, and our foot is on the gas pedal,' he said. Emphasizing that there is only one option for humanity, Guterres said either we cooperate or we perish. He called for a switch from fossil fuels to clean energy, and repeatedly stressed the necessity of providing financial support to poor countries.
Bajan Prime Minister Mia Mottley, who has gained a kind of rock star status at these climate summits, articulated her belief that we have the necessary collective capacity for transformation. It is not enough simply to ask governments to do their part, she said, fossil fuel companies must also pay for climate damage. UN officials, Small Island States and the leaders of many developing countries agree. In fact, it's quite clear that, as well as fossil fuel companies, those who build or continue to invest in fossil fuel supply at the same time as announcing net zero targets are duping no one. Guterres said that companies and governments engaged in greenwashing are pushing our world over the climate cliff.
With the start of COP27, there has been a significant development and 'Loss and Damage Financing' has become an official part of the COP agenda for the first time. After this decision, which came following protracted negotiations, commitments to the loss and damage fund began to be made. Committing countries included Scotland, Denmark, Germany, Austria, Ireland and Belgium.
After the leaders' speeches in the first few days, most of the negotiations are now progressing behind closed doors. On Wednesday, November 9th the discussions were around finance. In general, there seem to be positive developments. Some of the noteworthy matters are as follows:
Countries affected by climate change-induced disasters such as floods and hurricanes, will be able to freeze debt payouts automatically under new plans it has set out the rules set out for the bond market by International Capital Markets Association (ICMA).
Egypt's Presidency of the COP27 and the UN Economic Commission for Africa has launched an initiative called 'Reducing the Cost of Green and Sustainable Borrowing' targeting countries that are vulnerable to climate change.
Italy, England and Sweden were among the donors giving more than US$ 350 million to finance nature-based solutions to the climate crisis in countries like Egypt, Fiji, Kenya and Malawi.
The United Kingdom stated they would allow countries affected by climate disasters to have their debt interest and principal payments deferred.
US climate envoy John Kerry, launched the Energy Transition Accelerator (ETA) with the aim of financing renewable energy projects and accelerating clean energy transitions in developing countries.
Emily Wilkinson from the ODI (Overseas Development Institute) think tank said, 'We expect more countries to make commitments to the loss and damage fund during COP27. This puts more pressure on the negotiators to reach an agreement on the development of a suitable financing mechanism,' But the millions pledged for the loss and damage fund are far, far below the actual damages that, according to estimates, could be as high as US$ 1 trillion a year. Consequently, Prime Minister of Barbados Mia Mottley, raised the idea of a 10% tax on incremental fossil fuel profits to finance loss and damage. Global Justice Now published analysis on Wednesday showing that the five major oil companies, – Chevron, ExxonMobil, BP, Shell and Total – should pay US$ 65 billion a year, based on their calculated emissions representing 11% of total carbon emissions made to date. Recent studies have shown that the oil and gas industry has made an average of US$ 1 trillion a year in net profits over the past 50 years.
The launch of the new independent greenhouse gas emissions inventory, created by the Climate TRACE Coalition and spearheaded by former US Vice President Al Gore, also took place. Climate TRACE combines satellite data and artificial intelligence to show the facilities-level emissions of more than 70,000 companies around the world, including companies in China, the United States and India. Thanks to this instrument, the location and scope of GHG emissions can be traced with ease. Al Gore explained that the Climate TRACE tool, which combines reliable and verified data from more than 100 institutions and 30,000 sensors, can help governments determine their actions and stressed that it makes it impossible for emission emitters to greenwash. According to Al Gore, he 14 largest individual sources of global emissions are all from oil and gas fields at the moment.
Despite severe security employed as finance was being discussed inside the conference venue, climate activists we able to stage a protest to put an end to oil and gas projects inside in the UN 'Blue Zone'.
Zelenskiy. Source: Peter de Jong/AP
Ukraine
Talking about the Russian invasion of Ukraine, Guterres said, 'The invasion of Ukraine has revealed the profound risks of our fossil fuel dependence. These urgent crises today cannot be an excuse for backtracking or greenwashing when it comes to climate action. In fact, they are a reason for greater urgency, stronger action and effective accountability for the climate.'
Likewise, UK Prime Minister Rishi Sunak stressed that the war and rising energy prices around the world are not a reason to act slowly on climate change, but, on the contrary, to act faster.
Speaking at the New York Times event Boris Johnson reflected onPutin's energy blackmail, warning that we should not give in.
French President Emmanuel Macron acknowledged that richer countries less affected by climate events should provide funds and promised that the Russia's Ukraine invasion would not stop France's progress on climate goals.
Ukrainian President Volodymyr Zelenskiy attended the COP27 summit on Tuesday via a video speech, warning world leaders that they will not be able to deal with the climate crisis unless Russia ends its occupation of his country. 'There can be no effective climate policy without peace.' he said.
BONUS: The atmosphere in Sharm El Sheikh
At the COP27 summit attended by more than 40,000 delegates in Egypt, reports alleged that a food and water crisis happened in the first days. As people waited in slow lines for food, they then had to endure another line to pay. The water in the Coca Cola-sponsored cooler cabinets ran out very quickly. One of the delegates was heard to remark that, 'The only thing that didn't run out was ice cream. I don't think we should complain. After all, we are attending a conference held in the desert of a developing country.' said.
Hikâyeyi beğendiniz mi? Paylaşın.
İlgili Başlıklar
World Meteorological Organization
World Health Organization
Hikâyeyi beğendiniz mi?
Kaydet
Okuma listesine ekle
Paylaş
Nerede Yayımlandı?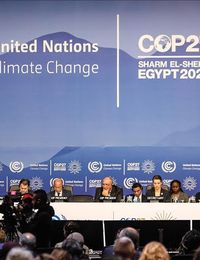 COP27: Second Week and Outcomes
Yayın & Yazar

Aposto Business
The best articles on business at Aposto, curated by our editors. Topics include micro-mobility, future of work, energy, green economy, consumer products, marketing and more.
;