From the master to the apprentice Quilting
There is a tiny, colourful shop, two steps into Soğancı Street. Beşir Abi welcomed me at the counter; with a paper, which looks like acetate paper, attached to the burgundy piece in his hand and the patterns drawn finely with a pencil that became clear as you got closer.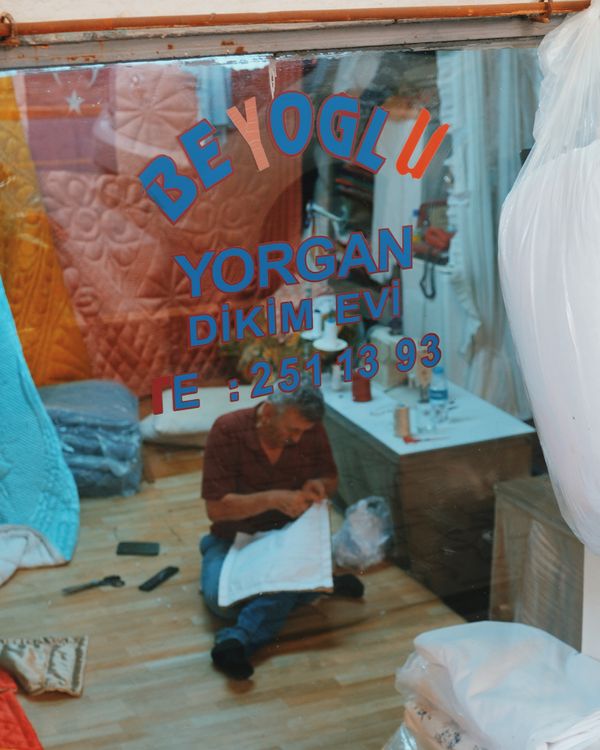 I approached him enthusiastically. He got offended; however, he tried not to make it obvious. 'Daughter, you do not stand on the counter with your shoes on.' I felt ashamed. This time, I properly got down, next to him.
There were yellow walls, and fuchsia and pistachio green quilts were hung on the walls. The store is 70 years old, and he has been a local for the last 50 years. He has been called 'Tophaneli Beşir Abi' since he was 11. He is a board member of İstanbul Yorgancılar Odası, (Istanbul Quilters Association) at the same time. His quilts are made-to-order. A clipping caught my eye, and later I learnt that Beşir Abi has been quilting for the Queen and Arab sheikhs, shipping his quilts internationally.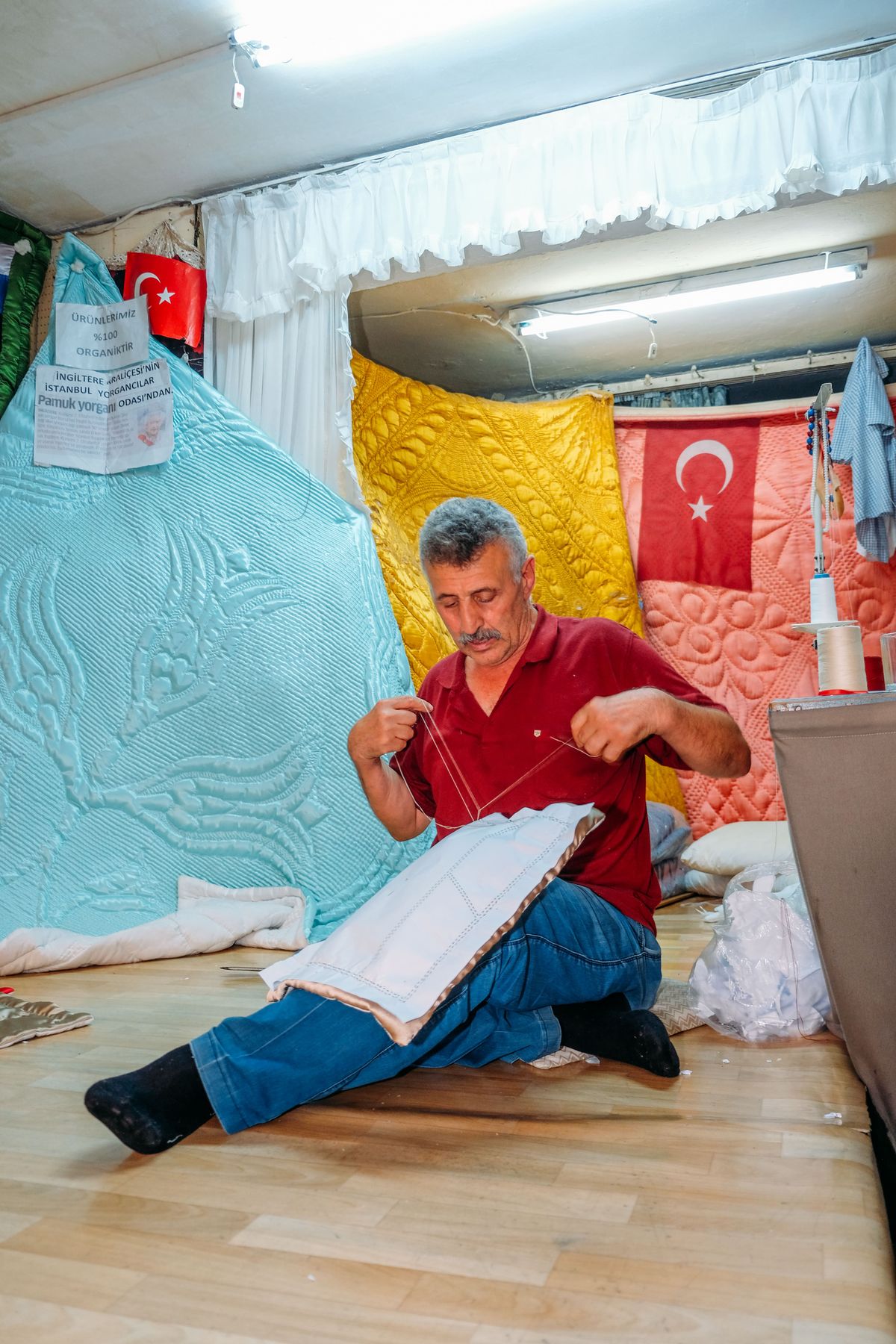 Beşir Abi
---
Lately, Beşir Abi makes his own tea. 'There used to be a coffeehouse we would usually go to, but after Galataport was opened, modern cafés came forward. The artisans had to flee. I have never set foot in one of those modern cafés. The next thing I knew, I was making my own tea.' says Beşir Abi talking about the transformation he went through.
What are the essentials of a quilt?
What matters to you the most? What are your essentials? Let me ask you. 'A happy and healthy life', isn't it? Quilts lie behind that. They are your power banks that determine how your day goes. You spend 1/3 of your day under the quilt which makes it even more precious than clothes. Thus, our craft is vital.
Quilts that are not hand-sewn are synthetic and unhealthy. They all contain cancerogenes. People are not able to see what they purchase, which is a huge drawback. If we talk about quilts, we should talk about those made out of pure wool and carefully stitched instead of those which come out of mass production.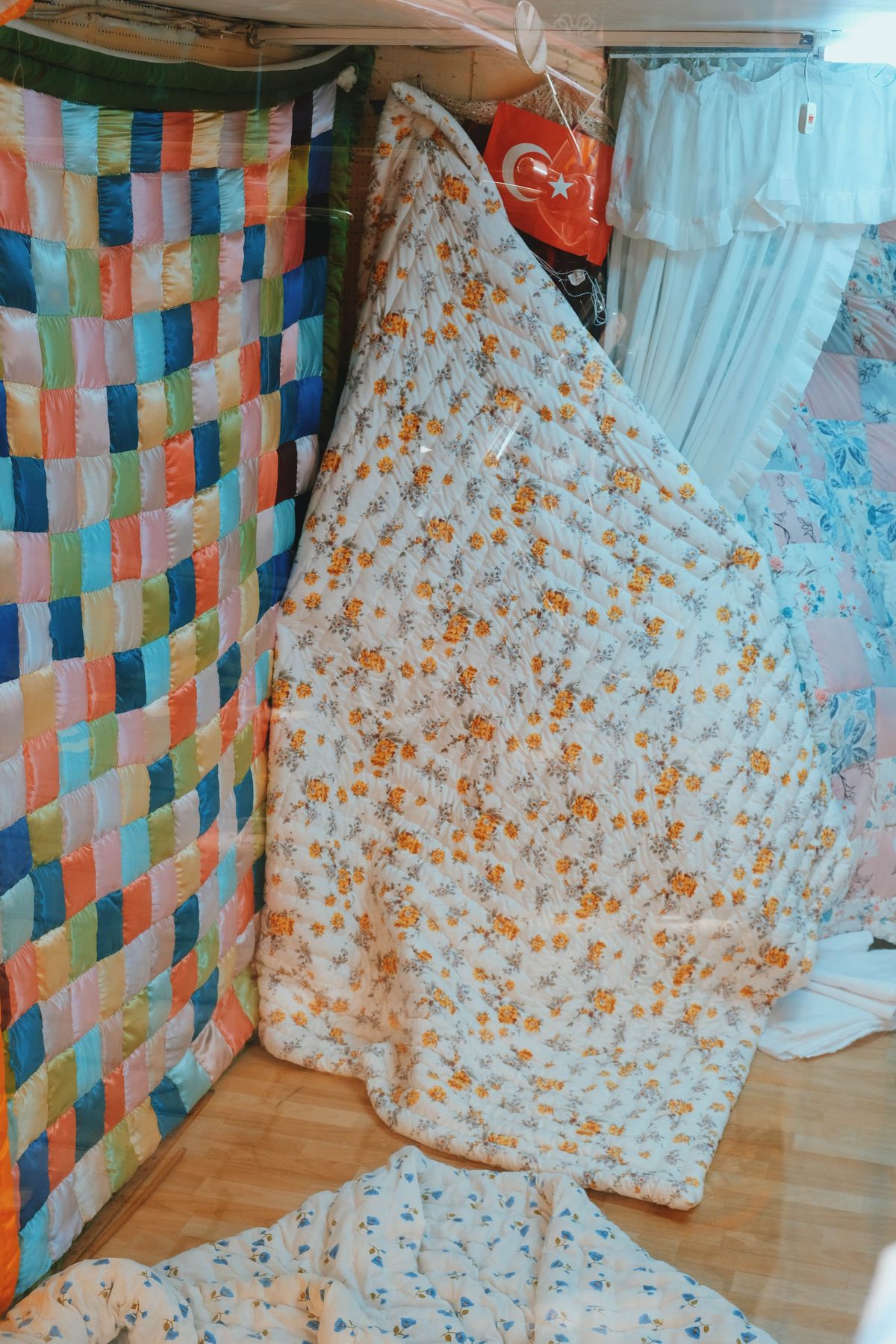 Colourful duvets
---
How do you see the future of quilting?
We inherited this craft from our masters. We would like to pass it on to the next generations, but we cannot find anyone to do so. I have a son; however, he was not interested in learning the craft of quilting while growing up. Though, it is not a craft that has to be handed down from the older to the younger.
In fact, quilting has been a part of our lives for about 7-8 centuries. During the Ottoman period, they used to quilt kaftans (robes) to keep themselves warm. Nowadays, this tradition seems to be forgotten. In fact, this craft should be taught in art schools.
In our country, young people have a hard time finding a job after they graduate from university. Unfortunately, we cannot provide them with a reliable future. Actually, everybody should have expertise in their job, starting from childhood, just the way it is in Europe. Artisanry is not looked down on, it is highly valued. Contrary to Turkey, children can receive education according to the field they are talented in. This is a huge difference.
We lack guidance. I learnt the craft by zonking out in the corners of the counter. I believe this is how you learn it, experiencing it in its place. Back in the day, when our mothers would trust the masters with us, they had the 'all yours' kind of mentality. Nowadays, there is nobody left with this perspective. Maybe that's why quilting is faced with the threat of coming to an end.
Speaking the truth with Beşir Abi was hard on me, but I felt at ease and filled with hope. I said goodbye to Beşir Abi. I'm sure I'll be back and drink his tea again.
Hikâyeyi beğendiniz mi? Paylaşın.
Hikâyeyi beğendiniz mi?
Kaydet
Okuma listesine ekle
Paylaş
Nerede Yayımlandı?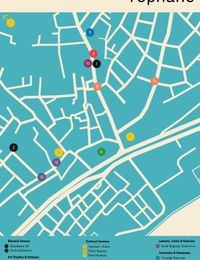 🗺 Soli is at the 17th Istanbul Biennial: Tophane
Yayın & Yazar

Soli
A weekly journal of neighbourhoods to dig into urban culture, people stories, and sociocultural dynamics. In every issue, we meet an inhabitant in their hood where they live, create or belong.
;