How to join the earthquake relief now
2023 Turkey-Syria Earthquakes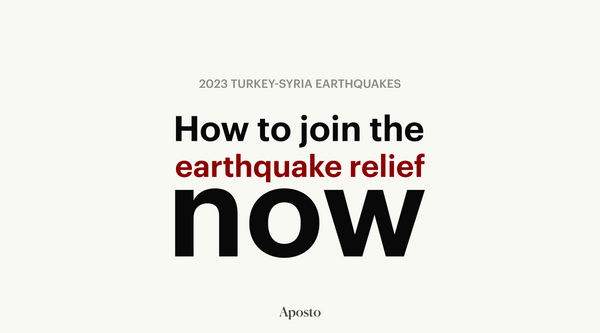 Aposto Europe
The news, every weekday at 07:30 (CET), with a distinctly European perspective. Your briefing on markets, politics, business, tech and more — under 5 minutes
Two massive earthquakes hit Turkey and Syria. While the search and rescue operations continue, we compiled a list of reliable organizations through which you can donate.
Turkish Embassies and Consulates
---
AFAD
---
Turkish Red Crescent (Türk Kızılay)
---
AKUT Search and Rescue Association
---
AHBAP Foundation
---
IFRC
---
OXFAM International
---
The United Nations Refugee Agency
The United Nations Refugee Agency is on the ground with emergency items including tents, blankets, and hygiene items in the affected areas of Turkey and Syria.
---
Save The Children
Save The Children is an NGO, aiming at responding and caring for children in times of crisis.
---
Project HOPE
An international global health and humanitarian aid NGO working in fields such as disasters, health crises, infectious diseases, and health policy.
---
CARE
CARE is an international humanitarian organization fighting global poverty and world hunger by working alongside women and girls.
---
DirectRelief
US-based non-profit DirectRelief is preparing more than 25 pallets of medical supplies from its facilities in the US and Europe for Turkey and Syria. The shipments follow $200 thousand in grants issued Monday by DirectRelief to support search and rescue efforts — $100k each to AKUT (Turkish Search & Rescue Team) and Syrian American Medical Society.
---
Turkish Philanthropy Funds
U.S. community foundation for high-impact social investments dedicated to Turkish and Turkish-American communities.
Hikâyeyi beğendiniz mi? Paylaşın.
Kaydet
Okuma listesine ekle
Paylaş
Aposto Europe
The news, every weekday at 07:30 (CET), with a distinctly European perspective. Your briefing on markets, politics, business, tech and more — under 5 minutes
YAZARLAR

Aposto Europe
The news, every weekday at 07:30 (CET), with a distinctly European perspective. Your briefing on markets, politics, business, tech and more — under 5 minutes
;