Hygiene crisis in earthquake zones
Access to clean water and hygiene supplies remains a problem in the areas affected by earthquakes.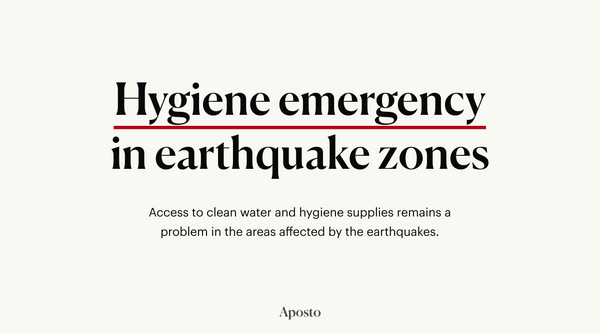 Aposto Europe
The news, every weekday at 07:30 (CET), with a distinctly European perspective. Your briefing on markets, politics, business, tech and more — under 5 minutes
Access to clean water and hygiene supplies remains a problem in the areas affected by earthquakes. We learned about the shortcomings and problems in the field from the Flying Broom Foundation's (Uçan Süpürge) Local Women Reporters Network and asked public health expert Assoc. Prof. Aslı Davas what can be done to improve the conditions.
Fundamental hygiene issues in the field
Flying Broom Foundation's (Uçan Süpürge) Local Women Reporters Network reported the hygiene problems in the affected zones. According to the information we received from Deniz Yılmaz in Gaziantep, Dilay Bozkurt in Hatay, and an anonymous member of the Reporters Network in Kahramanmaraş, hygiene problems continue intensely. There is a critical shortage of diapers, sanitary pads, clean water, toilet paper, clean underwear, and disinfectants. In Hatay, there are no shrouds or bags, so bodies are left on the streets. The urgent need for shrouds and bags is also expressed by those in Kahramanmaraş. "The streets smell of dead bodies," says the reporter from Kahramanmaraş.
Toilets
Field toilets are not widespread in Hatay, and public toilets are unusable because they are full of feces and cannot be cleaned. People try to minimise food and water consumption to avoid the need to go to the toilet.
In Gaziantep, toilets are clogged because the water has been cut off for 3 days. Clogged toilets in public places have overflowed. People are expecting repair efforts and cleaning to begin since the water supply is turned back on, but there is still a stench in the area, with feces everywhere. Men can defecate in fields while women have a harder time finding a place to go to the toilet.
There is a lack of mobile toilets in Diyarbakır, Adıyaman, and Kahramanmaraş, and there is a critical shortage of pads and other menstrual products. There has been no running water for three days and the toilets are clogged.
Problems in relief efforts
A large part of the support that is sent to the area cannot be utilized because they are not hygienic. Most of the second-hand goods sent to the affected zones are unusable. At the same time, most of the blankets and clothes are left on the side of the road to rot, as they get soaked by the rain.
The reporter in Hatay noted that aid could not get through because the excess of vehicles was blocking the roads, rubble was on the roads, and lanes were jammed. Damaged buildings continue to topple because of the aftershocks.
Lack of coordination
In Hatay, access to medical doctors is scant, and there are paramedics in public gathering areas, but basic health work cannot be carried out because the number of warm and safe spaces is very limited.
The most common problem reporters in Kahramanmaraş observe is the lack of coordination. It is reported that people are taking what they can without knowing the contents of packages. Some earthquake victims receive no support at all. It gets as cold as -17 degrees Celsius. Electric heaters are sent to the area but they cannot be used since there is no electricity. The need for coal and stoves continues in the region.
Possible risks, past cases
After earthquake disasters, infectious disease outbreaks can occur due to unplanned overcrowding in shelters and limited access to food and clean water. The risk of outbreaks is also heightened by the destruction of water and sewage systems.
The World Health Organization (WHO) warns that diarrheal diseases, cholera, respiratory diseases, and parasitic diseases may occur in Syria, where conditions have already been harsh for years.
We asked public health expert Assoc. Dr. Aslı Davas from the Human Rights Foundation of Turkey (HRFT) Academy, about the diseases seen after the earthquake and the measures that can be taken against these diseases. Dr. Davas summarized the diseases with high risk after the earthquake as follows:
"In the first four days, skin infections may occur in wounds after trauma. After the fourth day, infections start to occur due to crowded environments, lack of clean water and healthy food, poor planning of toilets and garbage collection such as respiratory infections, water-borne and food-borne infections, which are vector-borne diseases. Crowded living increases the risk of scabies and lice. The most common causes of death due to infection after a disaster are diarrhea, acute respiratory infections (pneumonia), and measles."
Post-disaster outbreaks are a global crisis. A major cholera outbreak started in Haiti nine months after the 7.0 magnitude earthquake in 2010 which killed nearly 200,000 people. Scientists suggest that this is due to the living conditions of the approximately 1,5 million displaced people in overcrowded and unhygienic tent cities.
Post-disaster diseases are not limited to the case of Haiti. In Indonesia in 2004, diarrheal diseases due to contaminated water broke out after the tsunami, in which almost 2 million people were displaced. Influenza and norovirus outbreaks were detected in Japan following the 9.0 magnitude earthquake and tsunami in 2011. Skin diseases, upper respiratory diseases, pneumonia, and diarrheal diseases were seen in the USA after hurricanes Allison and Katrina in 2001 and 2005. After the 7.6 magnitude earthquake in Pakistan in 2005, diarrheal disease cases increased by 42 percent.
What to do?
Water safety
"Tap water and water from unknown sources should not be used directly," Dr. Davas said. She listed what needs to be done for water safety as follows:
Bottled water should be used; if this is not possible, water can be boiled and cooled before drinking.
Chlorine tablets can be used in domestic water.
Clean water should be quickly transported by tankers and distributed under hygienic conditions, and water tanks should be disinfected frequently.
It should be noted that the most important danger to water safety is the contamination of the water source with human feces.
Toilets
Portable toilets should be used during the first stage after the disaster.
Toilets should be built in adequate quantity and quality in collective shelters.
Where it is not possible to connect these toilets to the infrastructure, field toilets must be used and in this case, latrine pits should be covered with soil daily and latrines should be connected to new pits.
Latrines should be disinfected daily with bleaching lime paste or similar products by following the established methods.
Places suitable for hygienic conditions should be built for washing hands at the toilet exit and care should be taken to ensure that these places are not left without water and soap. Liquid soap should be used in the areas, if possible.
Care should be taken to ensure that handwashing water is organized in such a way that it flows without forming puddles.
For women's safety, toilets should be well-lit and not far from residential areas.
Garbage
Dr. Davas reminds us that in the early days, there may be disruptions in garbage collection as municipality workers have also been affected by the earthquakes. It is important to organize quickly and collect garbage regularly. In order for the garbage system to be hygienically installed, the following is required:
In cases where transportation is difficult or impossible, wheelbarrows, transportation animals, etc. that can reach alleyways and narrow places should be used.
If the garbage dumping areas in the region before the disaster are suitable, garbage should be collected and dumped there; if these areas are not accessible or if these areas have been the cause of the disaster themselves, they should be dumped in suitable garbage accumulation areas designated for this purpose.
Garbage collection areas should be set up at appropriate points where the affected population is sheltered. These areas should be disinfected daily with disinfectants, such as lime cream, chlorine solution, and bleach.
Garbage is a breeding ground for vermin and rodents that can carry infectious diseases. In the fight against houseflies, environments such as garbage and manure where the creatures lay eggs, should not be open (healthy garbage collection containers, garbage and manure piles can be covered with 20 cm thick soil).
The formation and reproduction of pests and rodents should be prevented, and the necessary care should be taken to ensure that the pesticides and insecticides used to combat these pests do not become an element of pollution.
Garbage collection areas should be at least 60 meters away from watercourses and at least 1 kilometer away from the distribution and storage of foodstuffs; in a place where pedestrians and vehicles cannot pass.
Children and animals should not be allowed around garbage collection areas and animal carcasses should not be dumped there.
Leakages from garbage piles must be prevented, and if there is leakage, these places should be washed with bleach or a similar disinfectant.
For every 200 people, a pit should be dug 2 meters deep and 1.5x1 meter wide. This could last a week for 200 people. The decomposition of organic material in the pit requires 4-6 weeks. Pits must be covered with 40 cm thick compacted soil.
Hikâyeyi beğendiniz mi? Paylaşın.
Kaydet
Okuma listesine ekle
Paylaş
Aposto Europe
The news, every weekday at 07:30 (CET), with a distinctly European perspective. Your briefing on markets, politics, business, tech and more — under 5 minutes
YAZARLAR

Aposto Europe
The news, every weekday at 07:30 (CET), with a distinctly European perspective. Your briefing on markets, politics, business, tech and more — under 5 minutes
;