In timelessness, in black and white: Ebru Yıldız
A journey from Ankara to New York, from The Velvet Underground to black and white with Ebru Yıldız.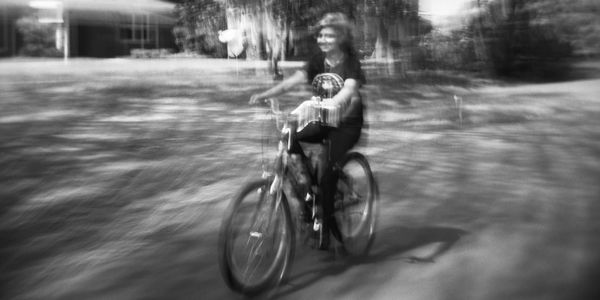 Just before our meeting, I checked Ebru Yıldız's Instagram account. In her last post, there were frames from her photoshoot with Pink. According to Ebru, the shoot took place in a parallel universe where everyone felt good, worked with pleasure, and ate cupcakes made by Pink for the team. She is lucky that she has photographs of her own which prove that she lived in that universe for a while. The main point that Ebru mentioned is that the comments previously made about Pink having a great character resonated with Ebru.
I remembered Patti Smith, sitting in the garden of the Louisiana Museum of Modern Art in Denmark and sharing with the young people gathered around her at a literary festival the advice she had received from William S. Burroughs at their age: "Keep your name clean. Don't make compromises, don't worry about making a bunch of money or being successful — be concerned with doing good work and make the right choices and protect your work." I have a similar belief. I am sure Ebru thinks the same way.
Before I started this article, I went back to Ebru's Instagram profile. After many posts, I realised that the most recent one was about Pink. When I looked at what she wrote, what she said about the photo felt like a continuation of our an hour and a half-long interview. I wanted to record it here too: "One of the things I love about photography is being in situations and experiences that I couldn't even dream of. It's like a kind of permission to be ready, to look, to see and to document. I still can't believe I've been able to do this to this day. I get so excited every time I pick up my camera because I have no idea what's waiting for me, and I feel equally grateful that I've been given the opportunity to do this. Thank you to everyone who has allowed me to photograph them." What were we saying? Keeping your name clean, protecting your work, and doing good work. Let's add being grateful to that. Now, let us take you to the story of Ebru Yıldız, a photographer who has created many opportunities in her life on her own.
Interpol (2022) | Photo: Ebru Yıldız
First stop: Ankara
There is always a starting point. The first stop in Ebru's story is Ankara. She is a teen, we are in Ankara in the 90s. Firstly, she mentioned that there were no artists in her family. That's why her family wanted her to have a profession where she could earn money for a long time, and work in a corporate organisation with a regular salary. But you can find 'regular' everywhere in the city. She emphasised that growing up, she had no relationship with the arts. Just as I was about to say "Well, photography.", she added: 'You can't be or want something you haven't seen. Therefore, I had nothing in my mind about photography. But there was always music.'
If there is music, there is room for dreams and unforgettable memories. Ebru's older brother has a special place in Ebru's introduction to music. While she was growing up, her brother was a DJ. Later on, he would also be a bar manager in charge of the music. Before that, it was important for her to have a room full of music cassettes in the family home. Ebru was as excited about her brother's cassette collection as she was about her toys. She mentioned that each cassette had a number due to her brother's disorganisation, and that she kept a notebook to keep them in order and to get back the ones he lent to friends. This collaboration started new journeys in her musical universe. Although Ebru said that she had no taste in music at the time, she realised that the sounds reflected her taste, herself.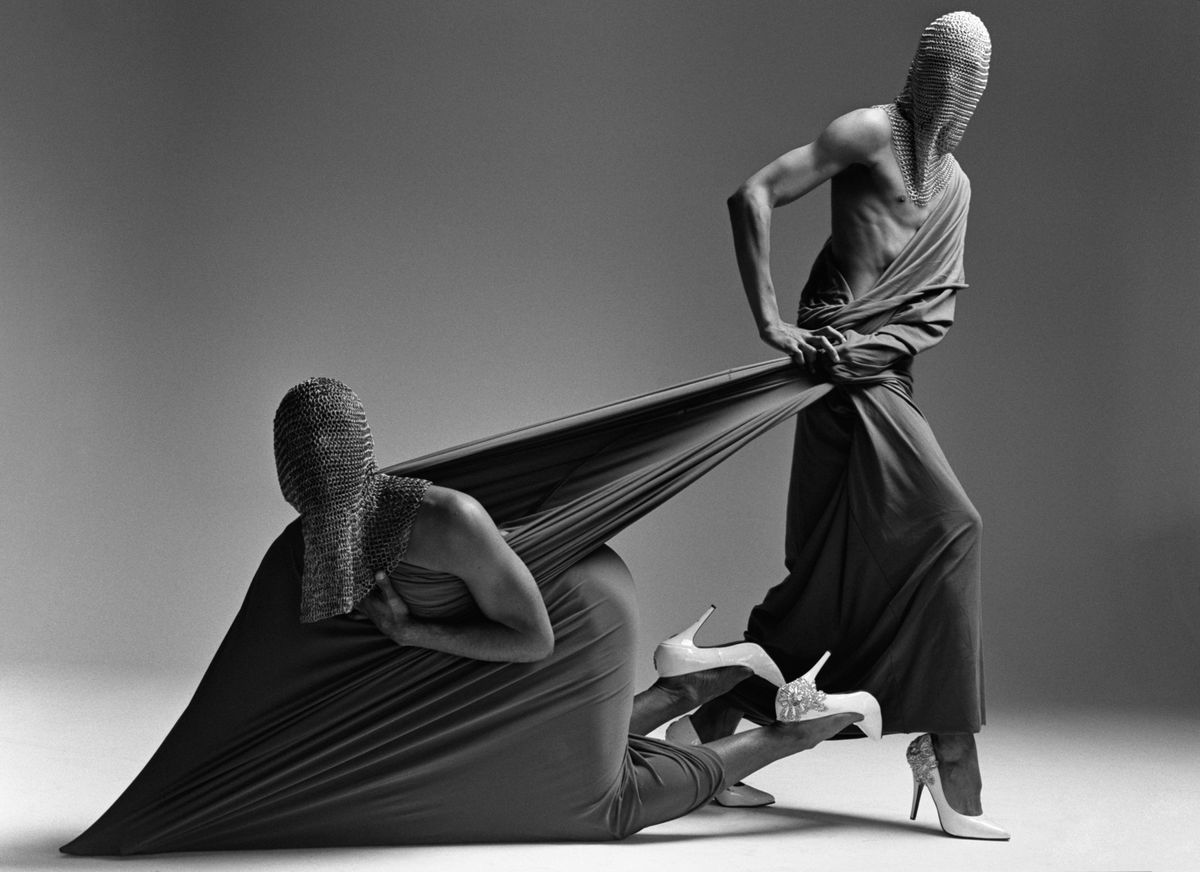 The Dragon Sisters (2021) | Photo: Ebru Yıldız
The Velvet Underground's call to New York City
Undoubtedly, music came before photography for Ebru. She had a special bond with rock music since university. However, she was far away from where concerts that would strengthen this bond happened. At that time, most of her friends were chasing club music in Tunalı. To listen to cover bands live, she would hang out around Sakarya Street, where not many people hung out, or in bars that didn't play popular music. She went to the house of the really cool sister of one of her close friends at university. When she walked in, the music pulled the carpet from under her. It opened a giant curtain in her mind. The Velvet Underground's Sunday Morning was in the lead role of that sealed moment: 'That moment was very special. I remember every detail. I remember how the light hit the room, how fast my heart started beating, and how excited I was. That was a very important point for me. Because it brought me my obsession with New York.'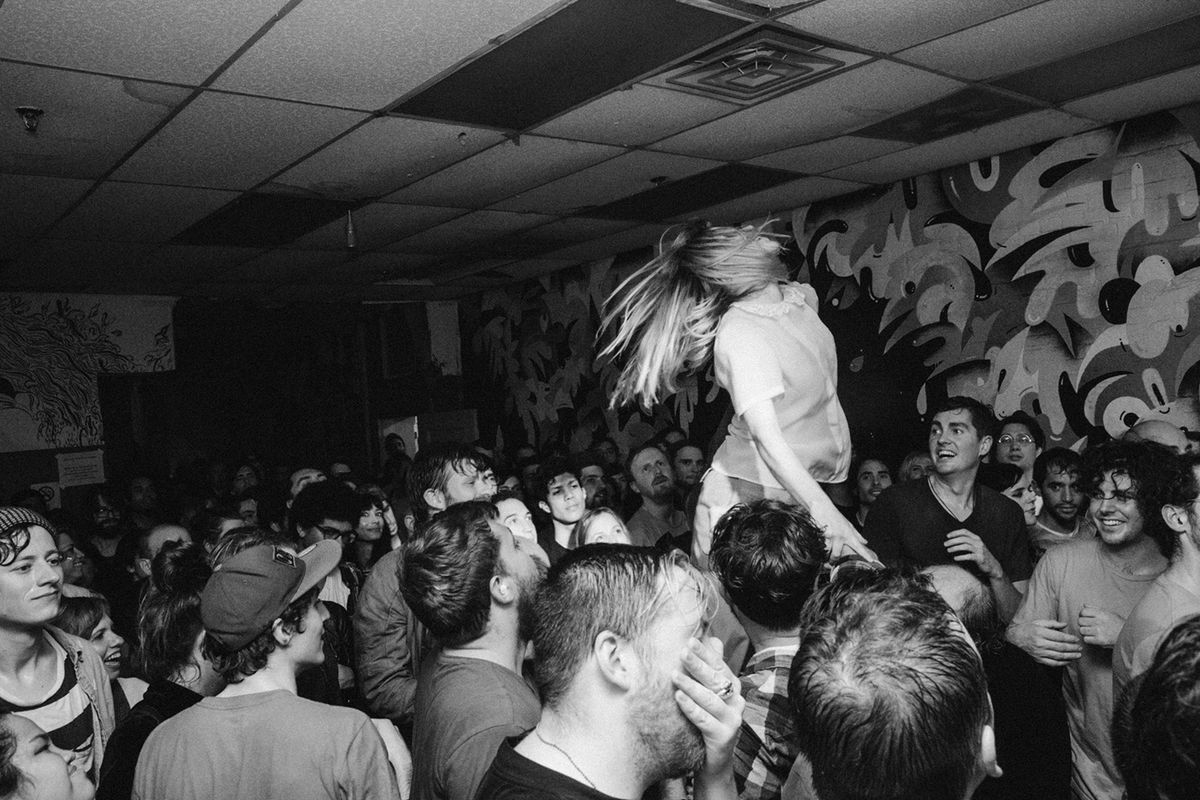 Dan Deacon night at Death by Audio| Photo: Ebru Yıldız
In New York where she belongs
Ebru spent her university years getting to know herself and moving away from the people around her with every step she took towards her darker side. As time passed, she felt more and more out of place. The city never fit her. The bright days were elsewhere. New York City, where her brother had taken her in 1994 while he was preparing for university, was on her mind.
Two weeks were enough for her to fall in love with the city. Moreover, The Velvet Underground, who brought light into her life, were also there. Ebru chose New York City for her master's degree as soon as she graduated from university. To my question "When did you feel that you were in the right place?" she answered without thinking, "As soon as I got off the plane in 1998." and added: "There is something very interesting. Maybe it has something to do with the courage of being young. As soon as I arrived, I had no fear, no anxiety or anything else. I was just very happy."
The time came. Ebru was in the city she had been dreaming of for a long time. She was in a vast labyrinth with open doors. She was aware that she had to walk without stopping. But it would take time to find what she was looking for. Even hearing the sound of music in the city was a problem. At that time, events were followed by newspapers or magazines. So which newspapers and magazines were they? Because there were many of them. This information alone was very valuable. Having spent three years in the city without people to guide her, Ebru managed to stay in her own darkness and walk towards the light with faith. In 2001, things started to change. The people who entered her life when she was working in a store became her close friends and she still keeps in touch with them today. She was no longer alone. Thus, the city gave up. Ebru won.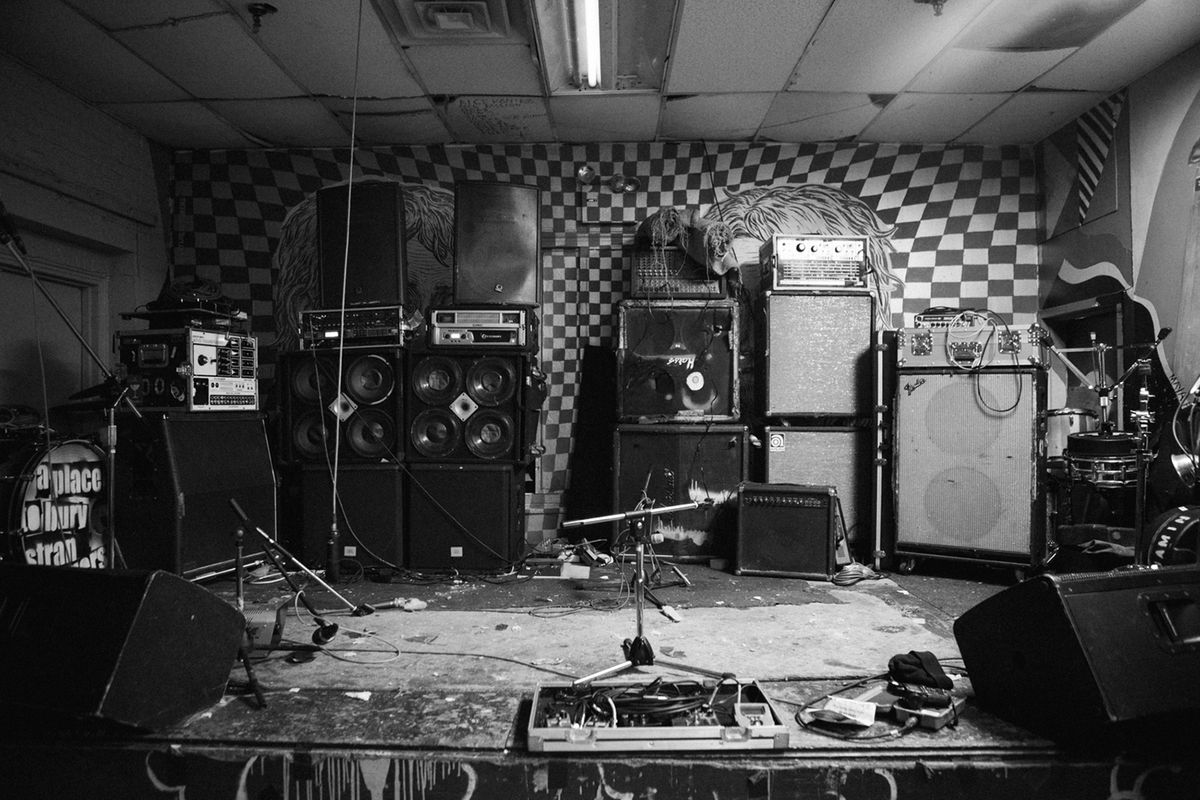 Death by Audio | Photo: Ebru Yıldız
Indescribable feelings
Ebru learned where to find live music in the city and started to go to concerts one after the other. Meanwhile, the city constantly conveyed visual messages to her in different frames. Soon, Ebru realised her interest in this field. Before deciding to study Communication Design at Pratt Institute; she took darkroom, graphic design, and drawing classes. Her goal was to find what was good for her. One day, she took her camera with her and went to a concert. She started taking photographs. She suddenly found herself having indescribable feelings. What is your passion that you will never let go? Maybe you haven't found it yet. I have no doubt that when that day comes, you will be filled with light. Your passion will always be with you. It was the same for Ebru. She never put her camera down again.
Oliver Ackermann, singer and guitarist of A Place To Bury Strangers -the first local band she photographed- opened the concert venue Death by Audio in 2004. This became Ebru's first home in New York City: "As someone who went to private school and then went to Bilkent, I was in an environment where everyone was always judging and questioning you. At Death by Audio, for the first time, I encountered a place where you were accepted just for being yourself, not where you came from or what you did. I liked that a lot. I felt very comfortable for the first time. When I met the people there, I said I belonged here.'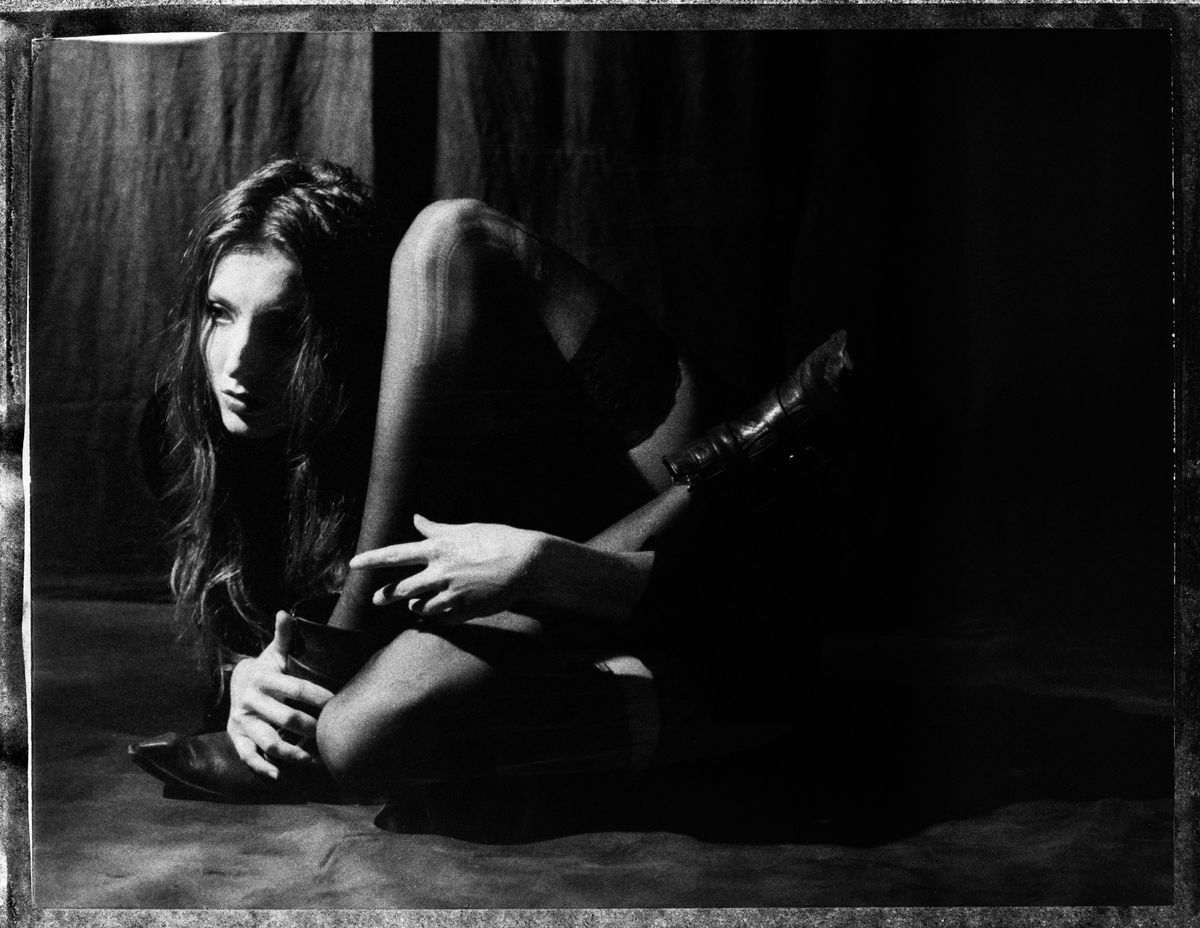 Sloppy Jane (2021) | Photo: Ebru Yıldız
Camera near her heart
Ebru now had her own city, her own home, and her own camera. Even when she was working four different jobs at the same time, she had the motivation to go to concerts and take photographs. Her connection with photography was not about the perfect technique or the closest to what the eye sees. She was in pursuit of moments. She was interested in photographing the moments created by the common feelings that brought the musician and the audience together. That's why her camera was always closer to her heart than her eyes: "For me, photographs should be able to give off the feeling of the moment to someone else who was not there, rather than reminding you of the importance of that moment emotionally."
Ebru, who made a living for a long time by working in too many different jobs to count, gained her freedom in a way when she got her green card in 2012. She had been in New York for 14 years. For her, taking photographs was an escape from the working environment where she had been exploited for years. For 10 years she had been playing this field, but could she earn money? To answer this question, she sent her photographs to many newspapers and magazines. Pitchfork was the first to respond positively. In a short time, she worked with many important publications such as Rolling Stone, The New Yorker, New York Times, NME, NPR, Wall Street Journal, and The Guardian. In 2014, when she realised that she had gained recognition in the industry, she quit all her jobs and became a full-time photographer.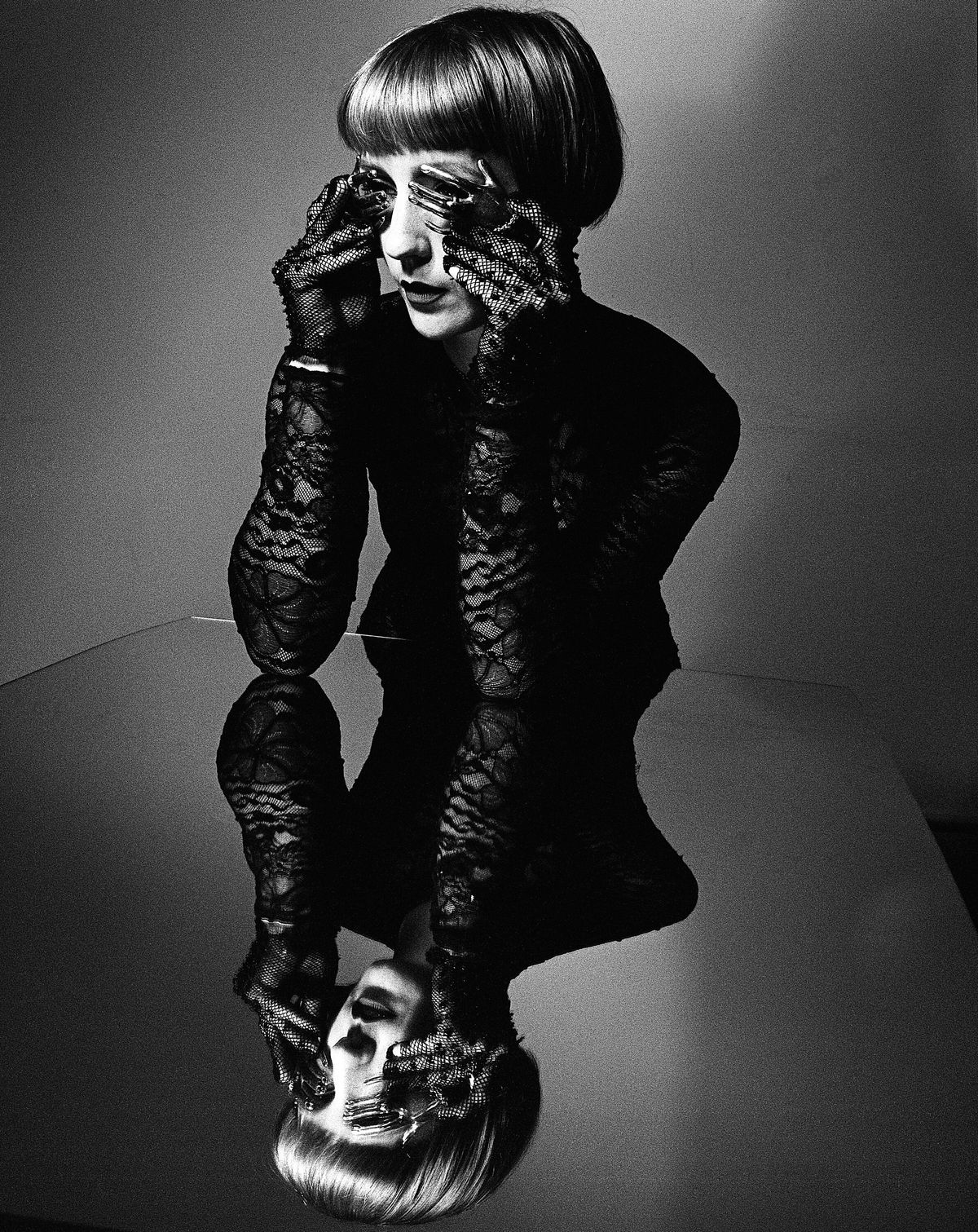 Amber Doyle, For The Record | Photo: Ebru Yıldız
In pursuit of the non-consumed
Although concerts were an adventure full of the unknown from beginning to end, they were the places where she was the least satisfied artistically. The concert photographs she took for any publication were shared as news content in the evening and disappeared from the website pages before noon the next day. She did not intend to leave her concert photographs, which took her the whole day and to which she added her emotional intensity, to media consumption. After all, concerts filled only one of her frames. She had many more that she wanted to fill with passion. Taking portraits was one of them. It was even more special: "I think the camera gives me permission to look at someone else, to be a guest in their lives, whether it's a musician or a passer-by. I am very curious about people's lives. I have an incredible interest in lives led differently than mine."
For Ebru, taking portraits was like going through the cracks of the person in front of her. This void was sometimes a parallel universe, sometimes just an area where the light fell. "When I am commissioned to take portraits, I feel that I am granted trust, which I didn't deserve, and I want to learn as much as I can about the person in order to compensate for it." Ebru says that people have always been doors for her. When she came to New York years ago, she agreed to pass through those doors. She was determined to follow the light.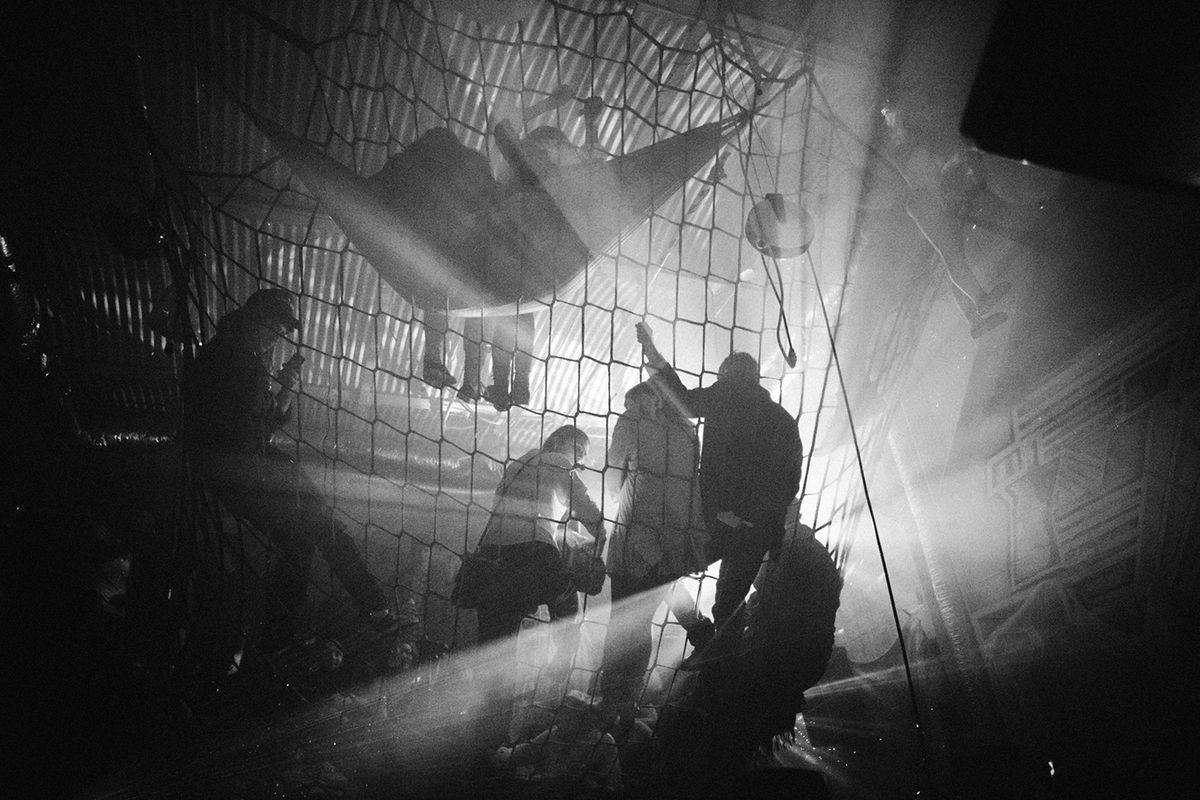 HalloweenParty, Death by Audio | Photo: Ebru Yıldız
A farewell
One day she received news that Death by Audio, her first home in New York City, had closed. It was there that she witnessed concerts where she broke three of her teeth, cracked her jaw, and proudly recounted them all. She literally poured her blood and sweat there. However, the urban transformation in the city left Brooklyn's Death by Audio helpless. When the closing date was finalised, Ebru decided to organise her own farewell and photographed the last 75 days of the venue: "I left all my work aside and devoted myself to this place. It was an emotionally intense period with many sad and joyful moments. I would do it again. I don't know how I could do it better, but I would definitely do it again. I would rededicate the same time. I would even move there. I could live there for 75 days.'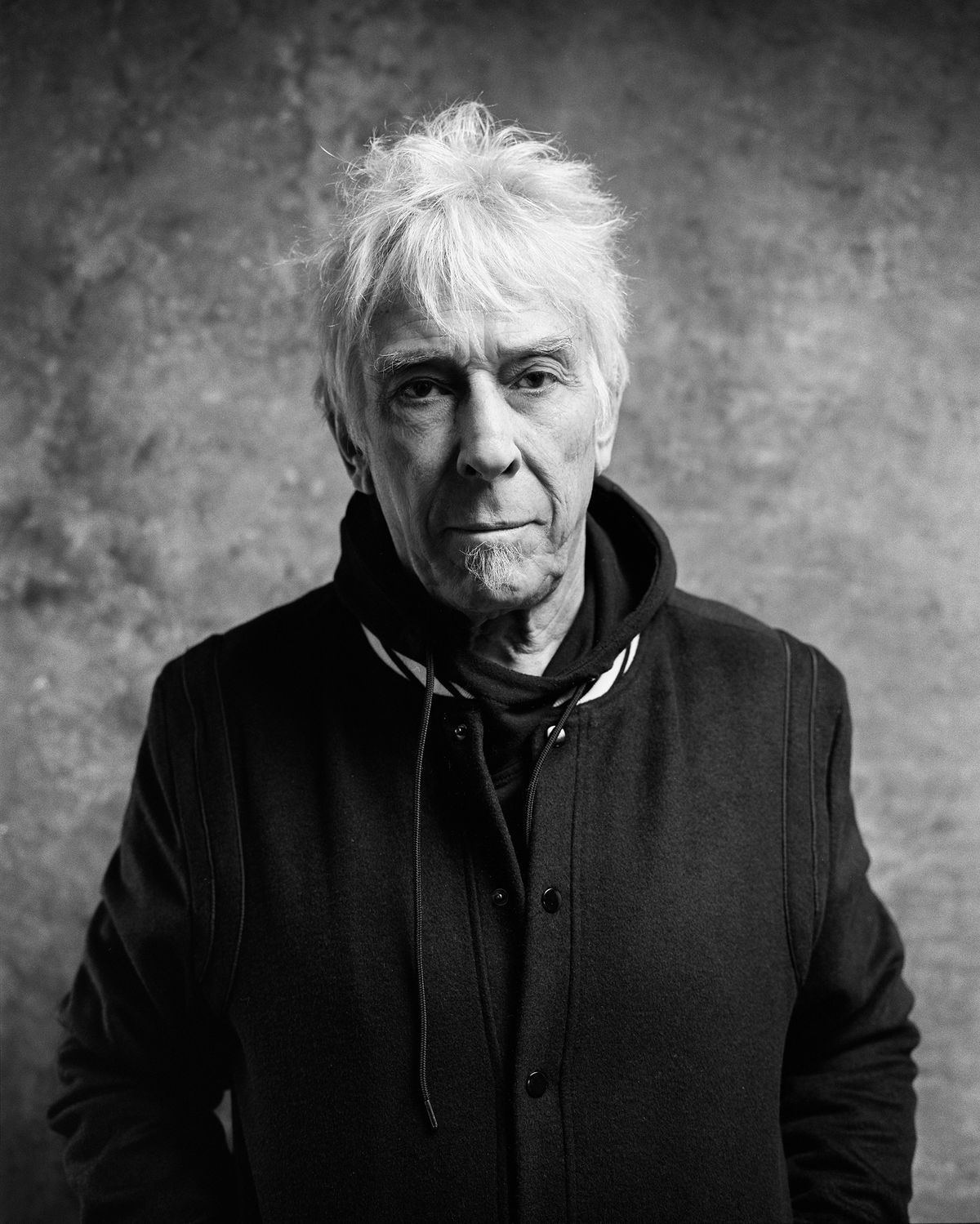 John Cale | Photo: Ebru Yıldız
NYC surprises
Ebru received an offer from one of the websites she worked for to take a photo of John Cale, one of the founding members of The Velvet Underground. Could it be time to meet one of her heroes who led her to this city? Who knows? Ebru immediately started to prepare for the shoot, which was likely to be very short. She soon learned that the shoot was cancelled. The city never gave her anything for free. Obviously, this was going to be the same. Ebru travelled to California, where John Cale lived, to do the shoot with two backgrounds, one of which she painted herself and the other one she got from a painter. The shoot took place at Ebru's friend's house: "John Cale came. I couldn't hear what was being said from the beating of my heart, it was like a dream. I shot it, it was very special for me. I still recall it moment by moment."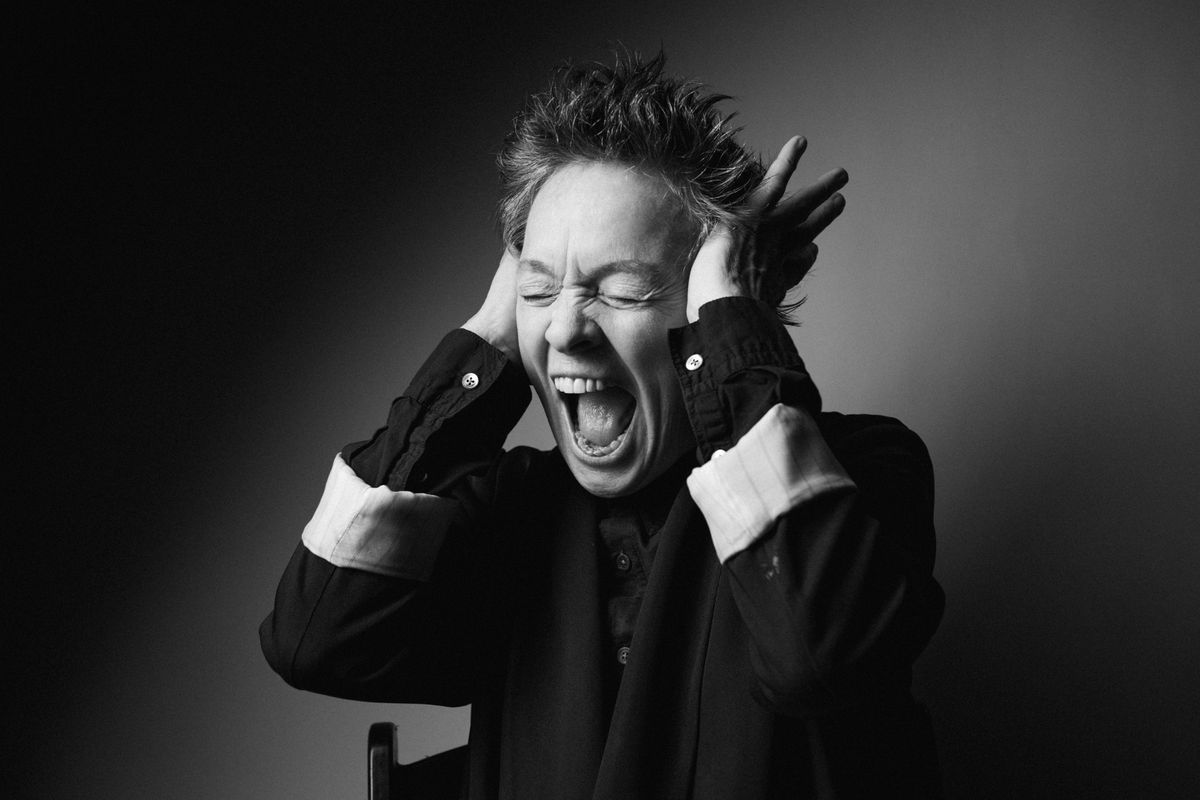 Laurie Anderson | Fotoğraf: Ebru Yıldız

Another special shoot for Ebru was Laurie Anderson. She shot her publicity the photos ended up being used when she was interviewed about Do Angels Need Haircuts? Early Poems by Lou Reed. Ebru managed to get her name in the same context with Lou Reed and Laurie Anderson. Obviously, the city had prepared some surprises for thanking Ebru, who is about to complete her 25th year in New York.
Seeing black and white
I like to think of my life journey in cycles. Encountering these cycles in stories has always brought me happiness. Ebru's brother framed the iconic black and white covers of Life magazine and hung them on the walls of the bar where he worked, which attracted Ebru's attention. At that age, she met the influence of both magazine publishing and black-and-white photographs. In this way, on the one hand, she prepared zines for musicians and bands with whom she developed a strong bond. On the other hand, she transformed the black and white shots into the most dominant identity of her artistic expression.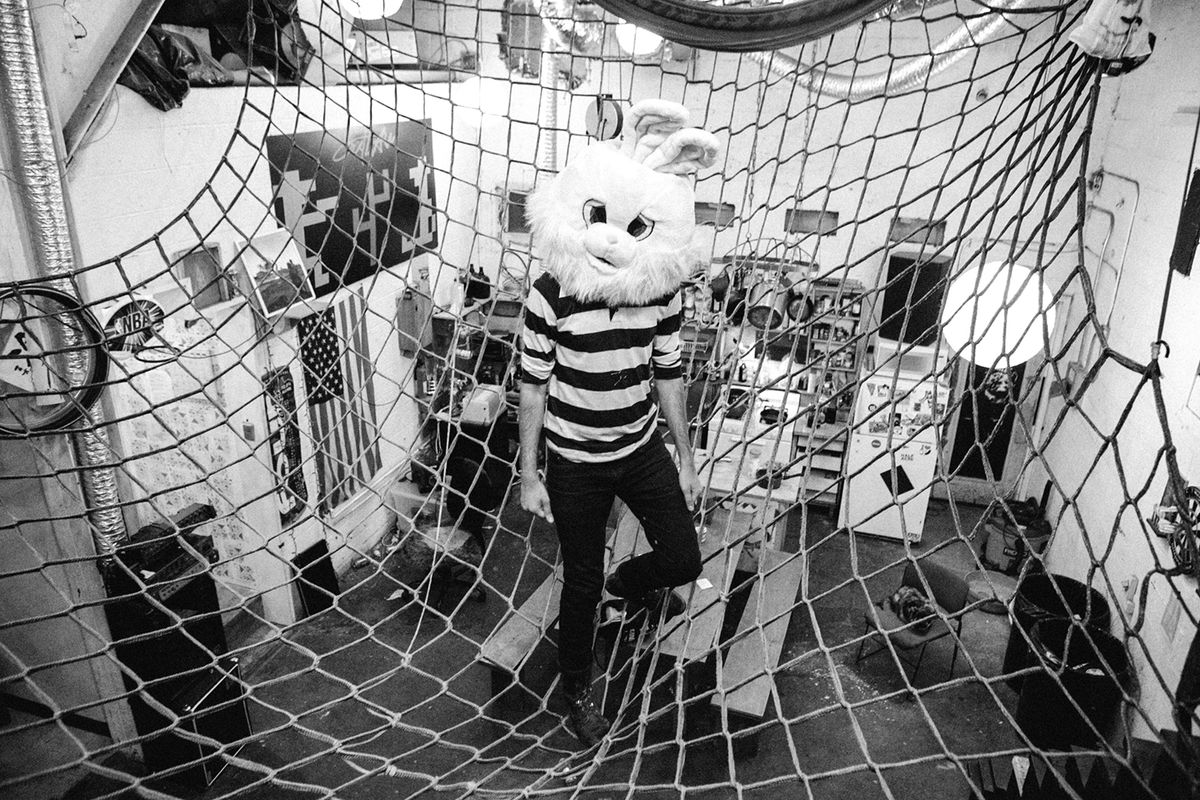 Anuj Panchal, Death by Audio | Photo: Ebru Yıldız

Although life has placed many memories in my mind that are associated with colour on the temporal plane, emotions have always found their place in the transitions between black and white. Undoubtedly, this is the same for Ebru. "When I look at the covers of Life magazine, I think that black and white photographs remove the time tag. In color photographs, you can make guesses like this was taken in the 60s, this was taken in the 2000s. But in black and white, time disappears. The photograph may have been taken today or 100 years ago. Or it could be taken 50 years from now." Ebru preferred to take refuge in the brightness provided by light. She wanted to take the eye away from the colours and make it wander through the whole photograph. 'When you see in black and white, you are not distracted by colors. I only see the light. How does the light come? How much shadow do I have? That's why I always look after my camera in black and white." She obviously wanted to hold space for the classical, the timeless.
Lastly, I wondered how Ebru was about archiving. She told me that she carefully saves every frame she takes. However, she underlined that she had not yet spent enough time in photography to create an archive. Then she suddenly smiled. She told me that her nephew had recently travelled to NYC to visit her and that they had entered everything she had taken since 2003 into an excel sheet together. In this way, she continued with her nephew the archive recording that her brother had started with her. The cassettes were replaced by photographs. There in the frame was music again. Music was indispensable.
Hikâyeyi paylaşmak için:
Kaydet
Okuma listesine ekle
Paylaş
İLGİLİ BAŞLIKLAR
Louisiana Museum of Modern Art
NEREDE YAYIMLANDI?

Duende
∙
BÜLTEN SAYISI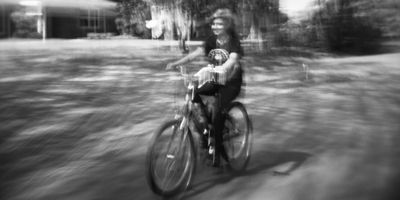 YAZARLAR

Duende
Aposto's publication of arts and culture. New guests, interviews, podcasts, and explorations from the universe of music and film.
;