Places from 2022
1 year 11 neighbourhood and 28 locals.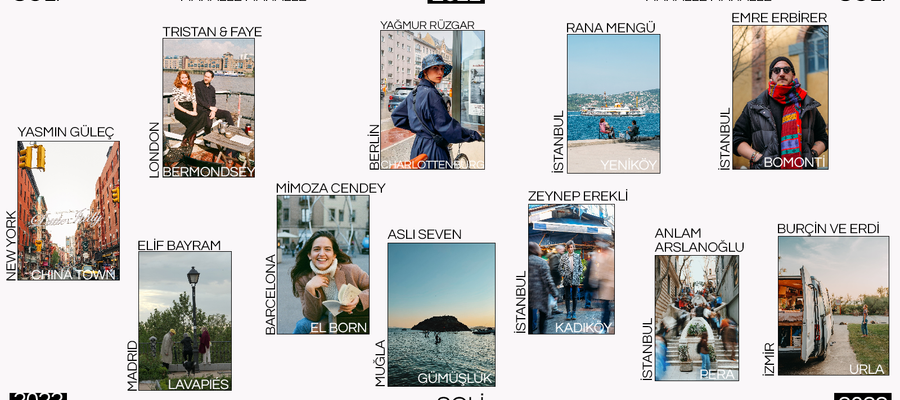 In 2022, we visited eleven neighbourhoods. Sometimes we walked in the sea while listening to the stories of the neighbourhood, or sometimes we visited galleries, ate, discovered and learned with the locals. We made friends and gained in London and Istanbul. We explored local places, walked, did not stop, and walked again. And wanted to share some of them with this issue. We will continue to seek and learn the neighbourhoods from their locals, follow us.
LONDON
Neighbourhood: Hackney Wick
Local: Meriç Canatan
Local: Meriç
---
"What used to be in the houses has now spilled out onto the streets and showcases. I think we are taking in newcomers to the neighbourhood and learning to live together. For example, in the summertime, we watch the football match on the giant screen in front of Pearl, and people from the street come to watch. I look behind me, and there are a hundred people. There is enthusiasm, an urge for togetherness."
Neighbourhood: Hackey Wick
---
Neighbourhood gem: In London, it is not customary to party until the first light of the morning - of course, this doesn't apply to the summer months, but it is pitch black at the moment. Pubs close their doors at 11:00 p.m. and nightclubs at 01:00 a.m. Grow in Hackney Wick is an exception to this. Here you can find live jazz jam on Thursdays; neo-soul, club the 90s/00s; dancehall/ reggae/bashment, old school garage on Fridays; open mic poetry nights on Tuesdays.
---
ISTANBUL
Neighbourhood: Rüstem Paşa
Local: Gülin Özalp
Local: Gülin
---
"One of the important factors that make up the cuisine of Istanbul is the coexistence of different religious communities in the city. The food cultures of Muslim, Christian and Jewish communities have always been in mutual exchange with one another. Pandeli is a place that has not moved away from the historical peninsula where it was born and even earned a place in memories by identifying with the neighbourhood. Taking inspiration from Istanbul, there is an almost organic relationship between Istanbul and Pandeli."
Neighbourhood: Rüstem Paşa
---
Neighbourhood gem: Ali Muhiddin Hacı Bekir, especially the clotted cream Turkish delight.
---
Neighbourhood: Tophane
Local: Luca Orlandi
Local: Luca
---
"Tophane is one of the few coastal lines around Beyoğlu. Green (parks) and blue (sea) in the city is here to help locals socialise. Galataport, even with good intentions, and as will probably be the case of Istanbul Modern, acts unfortunately as a filter and obstacle, enclosing access to the sea. To reach or even to look at the sea you have to pass a metal detector, you can not freely get there at night time, one more additional filter. It's neither free nor public since you are subject to rules. It's a controlled semi-public space."
Neighbourhood: Tophane
---
Neighbourhood gem: Gizli Bahçe is one of the few clubs in Istanbul that invites you to dance until dawn. For those who are not tired and want to continue their Beyoğlu meeting on the dance floor. The program is shared every week on their Instagram account. For more Tophane gems here is a link.
---
Neighbourhood: Çemberlitaş
Local: Emir Barın
Local: Emir
---
"With its libraries, madrasas, printing houses, and museums, Çemberlitaş has always been known as an area frequented by intellectuals throughout history. Thanks to the concentration of artisans and craftspersons in this region, it has also become an important center in terms of design. With regard to traditional arts, since many museums and mosques have the writings and works of very valuable calligraphers, the calligrapher and bookbinder Prof. Dr. Emin Barın took a lot from this region. In addition, the expertise of this region in the art of books was also reflected in Emin Barın's works. We can say that Emin Barın's workshop and its neighbourhood made great contributions to the work of carrying the past to the future."
Neighbourhood: Çemberlitaş
---
Neighbourhood gem: Aslan Lokantası, an artisan restaurant serving those working in the Grand Bazaar, Sultanahmet, and Çemberlitaş since 1986. Spinach soup and stuffed leaves are among the favourites. For more Çemberlitaş gems here is a link.
---
Neighbourhood: Yeldeğirmeni
Local: Ahu Toksöz
Local: Ahu
---
"Yeldeğirmeni is a neighbourhood that prefers talking things out. It is solution orientated. Cleanliness, security and area recognition are our sensitive points. The invisible, transparent ties between us go from designing a project together to having the signboard of your shop made by someone from the neighbourhood, to sharing with your next-door neighbour if you bought a watermelon that's too big. I would like to explain the microcosm here as urban biodiversity. It affects and triggers, it is very lively and constantly in motion. It is a centre where everyone cleans after themselves; where viewers wander between showcases and workshops; a place that nomads miss; where permanent residents come together in solidarity."
Neighbourhood: Yeldeğirmeni
---
Neighbourhood gem: arthereistanbul, founded in 2014 by artists who left Syria because of the war, arthereistanbul has a sound recording studio, residency programs, a darkroom, and spaces for exhibitions and workshops. For more Yeldeğirmeni gems, here is a link.
---
Neighbourhood: Sıraselviler
Local: Çelenk Bafra
Local: Çelenk
---
"I wanted to take a walk on the street, on the Sıraselviler line. We're on Meşelik Street now. It is one of the main arteries from Istiklal Street to reach Cihangir without entering the bustle of the square. The important buildings of Beyoğlu and of Turkey, such as the Private Esayan Armenian High School, Private Zapyon Greek High School, and Aya Triada Greek Orthodox Church are the buildings we come across here. I have been living in this periphery since the 90s. Although there are times when I live here where my school and work are always close to each other, what matters is not whether my physical home is here or not. The streets, the people I meet, and the conversations in front of the doors make this place "home". Now, back to Abdullah Street, it is known as "Sokak" (Street) in the collective memory of people like me who have worked in the fields of culture and arts."
Neighbourhood: Sıraselviler
---
Neighbourhood gem: Offering an engagement and production program for artists and curators, SAHA Studio is an initiative of the SAHA Association, which was formed to support the artistic production and development of artists, curators, and writers particularly working in the field of visual arts. For more Sıraselviler gems, here is a link.
---
Neighbourhood: Pera
Local: Anlam Arslanoğlu
Local: Anlam
---
"With the birth of the Republic of Turkey came the deliberate destruction of Pera and, of course, the minorities who made it famous. This is the historic story that affects me the most. On the roads I pass by every day, I remember the longing and pain of Greek, Jewish, Armenian, Levantine people, and many others who have been displaced from their homes and belongings. Nevertheless, Pera's ability to preserve its magic, embrace subcultures that cannot find shelter in different parts of the city, and rise from its ashes gives us hope despite everything. Walking around Pera is like visiting an archaeological site - civilisations collapse, but new ones are built on their ruins."
Neighbourhood: Pera
---
Neighbourhood gem: For an art route in Pera, we should mention Akbank Sanat, Yapı Kredi Sanat, SALT, Meşher, Pera Museum, Istanbul Research Institute, ANAMED, Galerist, Galeri Nev, Zilberman, Öktem Aykut, Depo, SAHA Studio, Pilot and many other galleries; and if we include the Karaköy and Dolapdere line within the borders of Beyoğlu to Pera, Istanbul Modern, and Arter.
---
Neighbourhood: Kurtuluş
Local: Utku Güven
Local: Utku
---
"Where does Kurtuluş begin and end? Does it ever end? Although it is physically defined by the islands, being from Kurtuluş is more of a feeling. The bagel seller who walks around saying "Puhçaaa!" in the mornings, annoying those who only put their heads on the pillow two hours ago is also from Kurtuluş, as is Mr. Aran, who is disturbed by the sound of high heels on the floor above him because of the never-ending party. Markiz Vintage, which displays choice items from grandmother's trunk in the window, is also from Kurtuluş, as are the tailors who sew up ripped linings and prepare them for winter, reworking jackets so they fit when the time comes."
Neighbourhood: Kurtuluş
---
Neighbourhood gem: Encountering the African community who go to mass on Saturdays in their colorful clothes.
---
MUĞLA
Neighbourhood: Gümüşlük
Local: Aslı Seven
Local: Aslı
---
"We call it empty land, but it is not actually empty at all an organism is in motion under the soil where plants and animals feed each other, reproduce, move together, and, eventually, feed us. We suffer from nature blindness. It is also necessary to add to this: the water purification and its destruction directed to Gümüşlük bay today and its destruction. For example, the quality of the water has deteriorated drastically and the blue flag has been lost. But no one talks about it, even though this is an issue that brings up the infrastructure problem of the entire Bodrum peninsula. This place turns into a vacuum truck republic in the summer months. We swim and breathe in waste."
Neighbourhood: Gümüşlük
---
Neighbourhood gem: Let's hear from another Gümüşlük local, Yiğit (Karaahmet): Tuz Duman Kumda is charming but unfortunately overpopulated nowadays. I don't like it when some places become extremely popular, I feel like we are losing what we have. This is one of them. On the beach, at the end of the bay, at the last point where the sun sets. The food is delicious, I may have eaten the whole menu over and over again. Despite many kids, dogs, and parents it's still a go-to place for me. Let's hope everyone would leave one day and we could have it all to ourselves again (laughs).
Hikâyeyi beğendiniz mi? Paylaşın.
Hikâyeyi beğendiniz mi?
Kaydet
Okuma listesine ekle
Paylaş
Nerede Yayımlandı?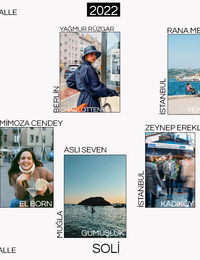 🌍 1 year: 11 Neighbourhood, 28 locals
Yayın & Yazar

Soli
A weekly journal of neighbourhoods to dig into urban culture, people stories, and sociocultural dynamics. In every issue, we meet an inhabitant in their hood where they live, create or belong.
;