Rana Uludağ: "Being on stage in Turkey is a strong enough feeling to keep me here."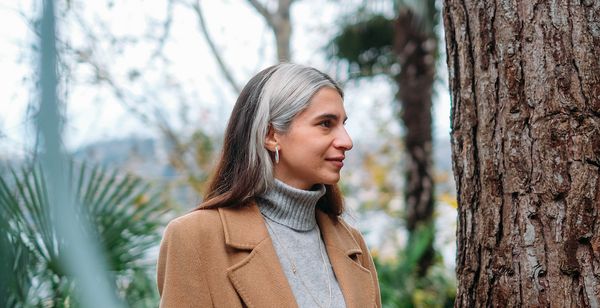 Duende
Aposto's publication of arts and culture. New guests, interviews, podcasts, and explorations from the universe of music and film.
First sounds: One of Discovery Stage's traditional curiosities is about the music that was played at home, the first sounds that were burned into the memory. Rana's home growing up was a joyful one with lots of guests, events, and parties. The chatter in the house overwhelmed the music. But the long road trips in the car with the whole family are where the music took the lead. Her memories include Simon & Garfunkel, Cat Stevens, Joan Baez, The Beatles, and Kenny Rogers. Most of them are still ringing in her ears even today.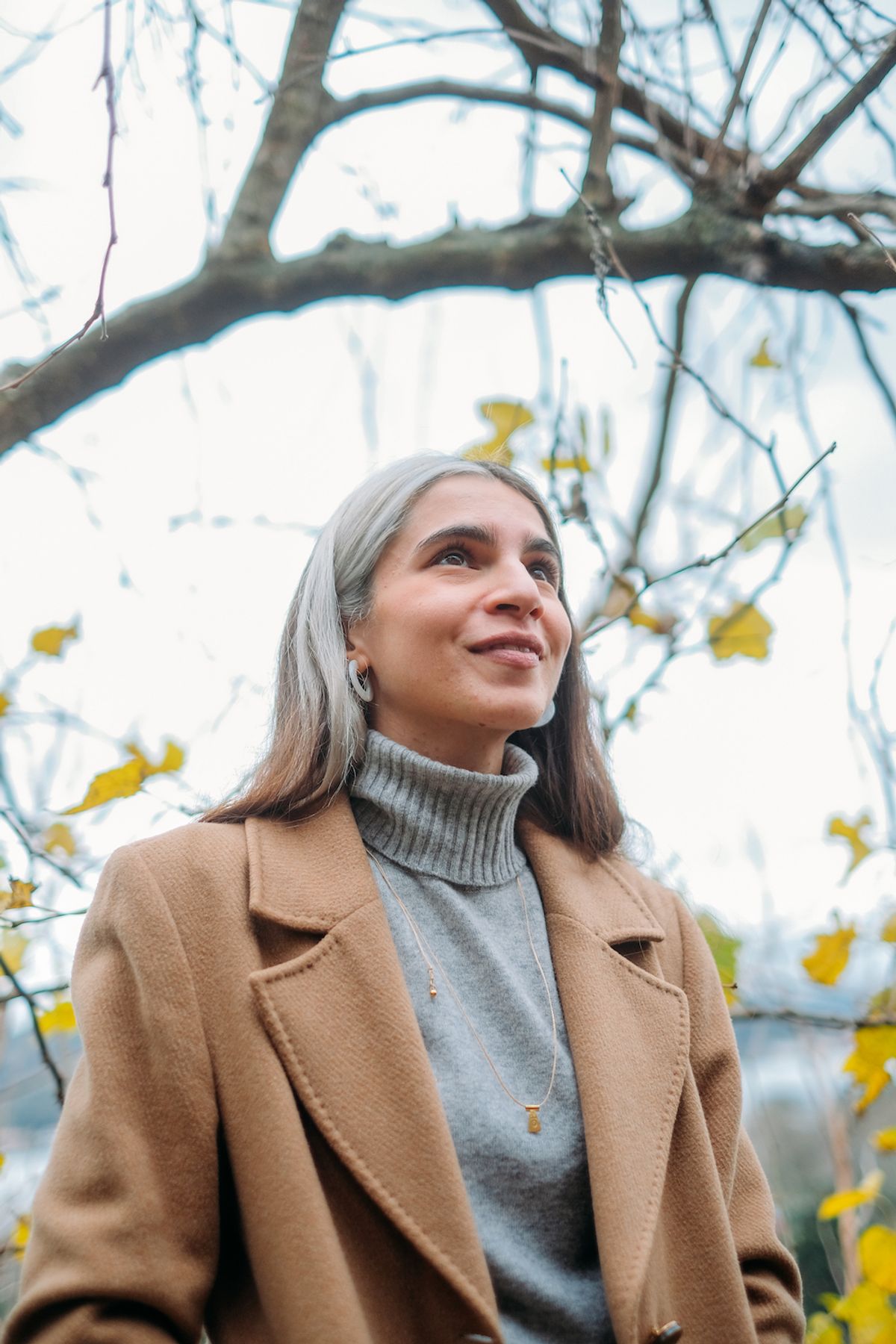 Autumn colors, leaves, and the grey sky with Rana
---
The appeal of hitting things: She takes piano lessons so "The child can play an instrument." Contrary to her sister, she is an active child. Pots, pans, tables… She hits whatever she can find. For a couple of months, she takes darbuka classes from a Boğaziçi University student. Noticing that she gets bored in piano class, her mother guides her toward the drums and she starts her drumming adventure in the 6th grade. Her instructor's path follows jazz. The first few albums are purchased from Lale Plak, which now only lives in memory; Buddy Rich, Tony Williams, and just by chance, Fela Kuti… The Fela Kuti album that she bought because she liked the cover fires the Afrobeat flame within Rana.
Double life: In Rana's life, high school education and music classes go on together. She studies percussions with Engin Gürkey whom she met while playing in the school band. She regularly performs at Nardis and Jolly Joker with her teachers. Different from her friends, in her words, she leads a "double life." This double life comes to a turning point in 2013.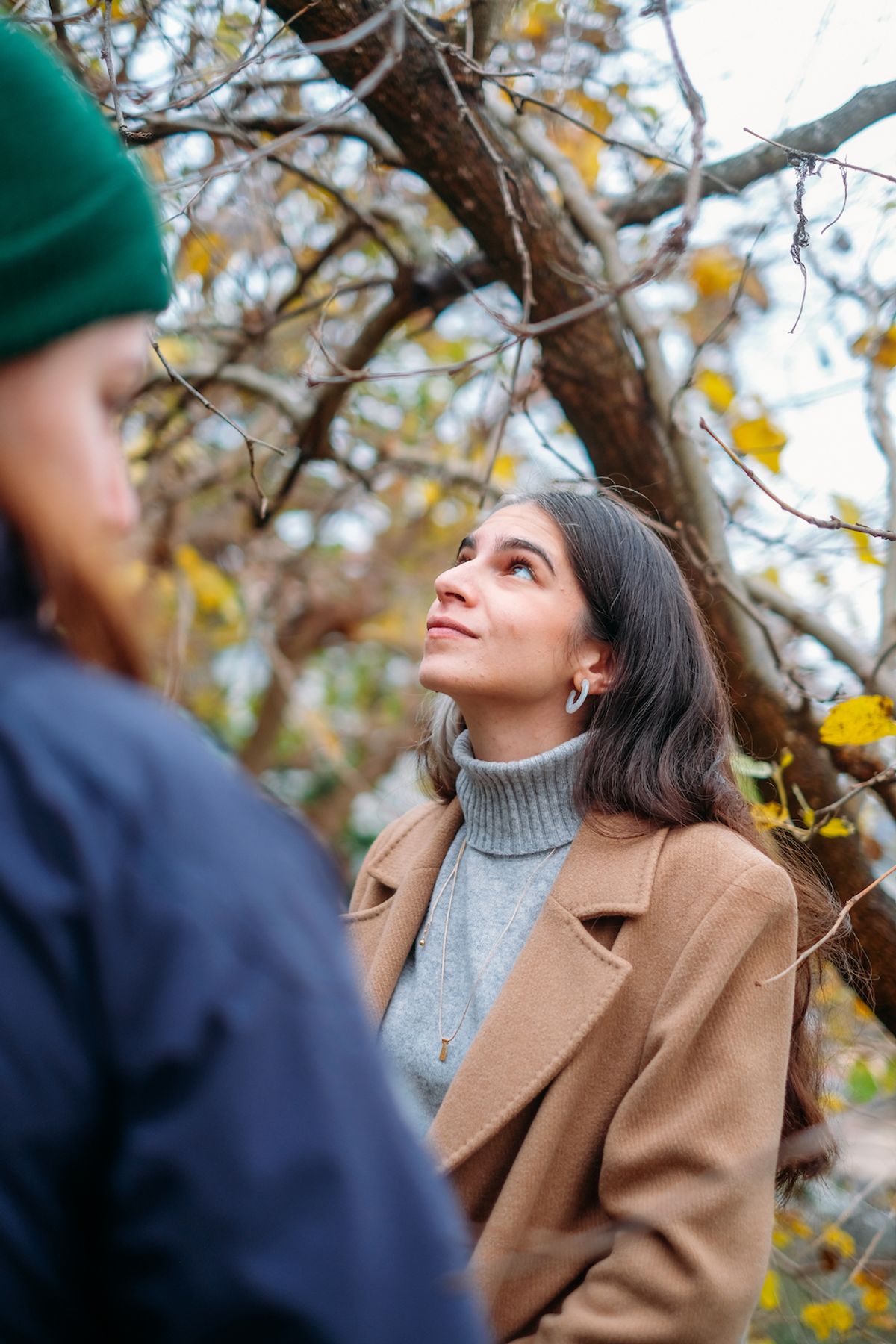 With Rana among the dry leaves
---
In the studio above the bread bakery: As she is in her senior year of high school, prep classes enter her life. On a day when she was bored in class, she takes a call from an unknown number just as an excuse to leave the classroom. Tarık Töre is on the line. He says they are looking for a drummer for their new garage rock band (now known as Palmiyeler.) They meet in the studio above the bread bakery across from Peyote. "These kids are covered in tattoos," Rana recalls thinking, "So cool." There's activity in the street as they are leaving rehearsal. People are starting to chant. The music they just made and the excitement of the crowd mix together. It's the first day of the Gezi protests.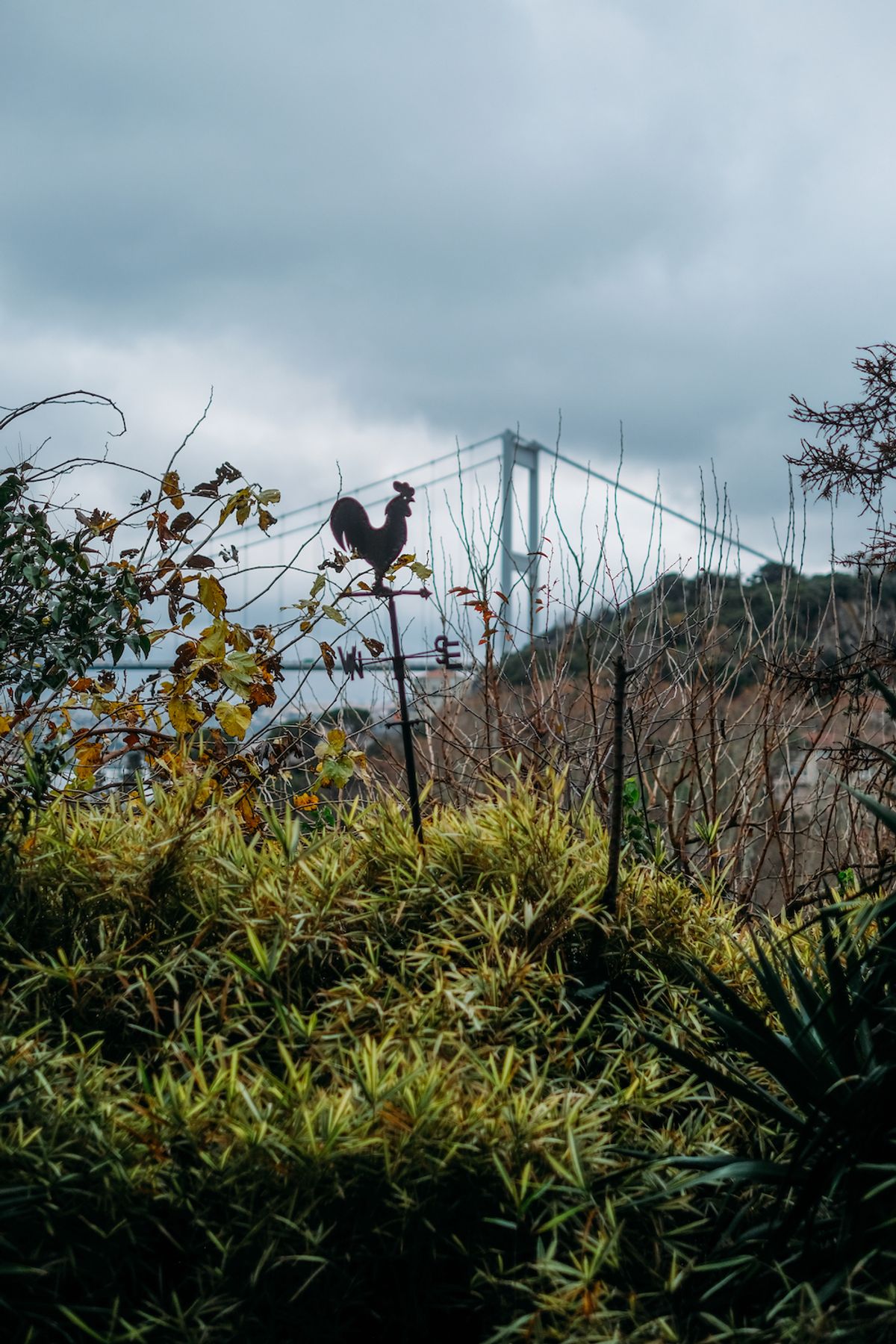 Against the wind, or with its support?
---
Onstage / backstage: Rana is interested in areas other than music. "Doing music onstage and being in the team that makes these events possible backstage provides deep satisfaction for me" says Rana. Because what makes her happy is "creating experiences that touch people, and being part of an atmosphere where they can feel relaxed, have fun, and be themselves." As she starts to find her direction as a drummer, she decides to get a master's degree in Music Business. Destination: New York University.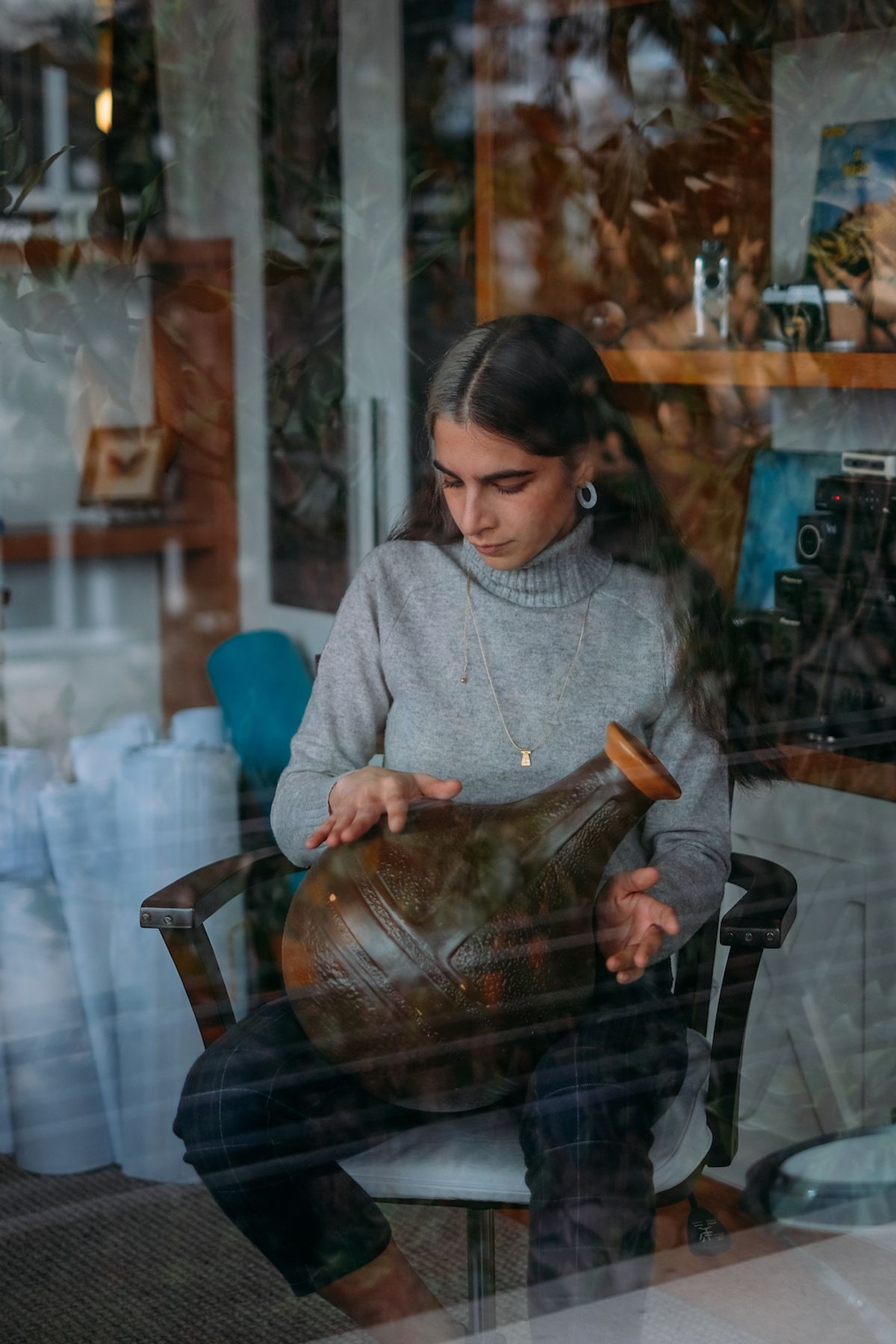 Rana and her udu drum, voices heard from behind the glass
---
To stay or to go? New York City, according to Rana is "the meeting point of people who think they are doing the best in their fields." But if you are not in a state of devoted work, the city spews you out. Even though it is an appealing place with endless potential, especially for someone in the music industry, Rana's heart is where she gets to perform with Palmiyeler. "Being on stage in Turkey is a strong enough feeling to keep me here," she says. Seeing her on stage is especially important for young women who want to do music.
As a woman who had to work way more than male musicians to prove herself from the very first years when she started drumming, for Rana it is priceless when 18–19-year-old women come up to her after a concert and say they started drumming, or that they want to. She feels a responsibility. She feels all bands must guide musicians who are starting from scratch.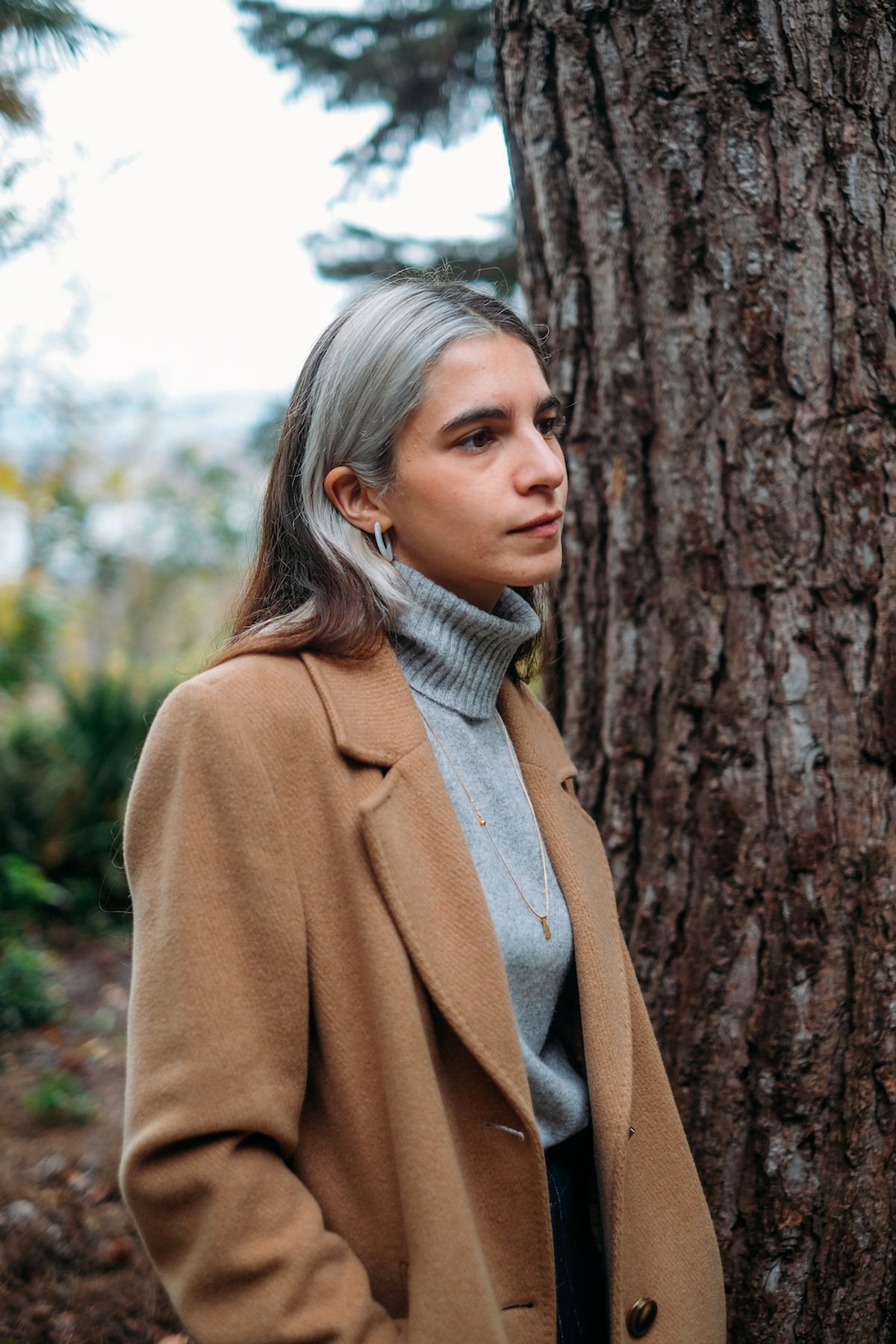 New doors opening to Rana and a goodbye
---
Key: On this week's Discovery Stage, Rana Uludağ holds the key that opens up new doors for us. We meet Greek artist Marina Satti who understood the importance of her own roots when she started studying at Berklee College of Music. Satti, who makes modern touches to traditional Greek music, has been on Rana's radar in the last year.
Hikâyeyi beğendiniz mi? Paylaşın.
Kaydet
Okuma listesine ekle
Paylaş
Duende
Aposto's publication of arts and culture. New guests, interviews, podcasts, and explorations from the universe of music and film.
NEREDE YAYIMLANDI?
🎧 Discovery Stage #15 | Rana Uludağ
You are invited to the sounds of Rana's childhood home, the phone call that changed her life, her discoveries onstage and backstage, and her creative journey in New York City.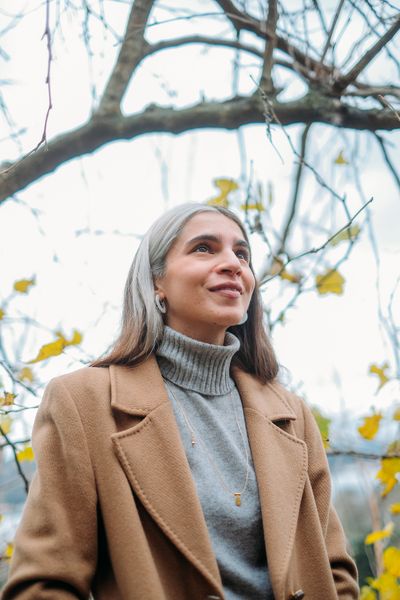 YAZARLAR

Duende
Aposto's publication of arts and culture. New guests, interviews, podcasts, and explorations from the universe of music and film.
;