Unaffected, Unlabeled Tasting
What is blind tasting?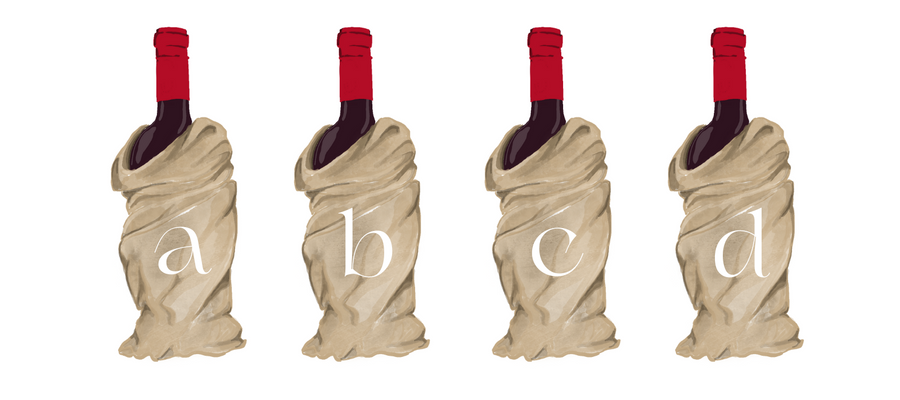 Amuse-bouche
I start this article with a little amuse-bouche-like note: Our topic is blind tasting, our starting point is the label. The label is our first date with the wine. Imagine you just met a person. If you know where they come from, how old they are, what their interests are, what they do for a living, you will have an idea about them before you even talk to them. Even the way they dress, the colors they choose, their haircut can tell you a lot. So can the label of a wine. If you know what grapes that wine is made from, its vintage, the region it comes from, the winemaker, you will have an idea about the wine before you even taste it. You can even make comments. This shapes your expectations of the wine, plays with your perception a little bit; it can affect your sensory experience. Tasting wine knowing what it is guides us, you see.
Don't judge a book by its cover
What is blind tasting? Blind tasting is tasting without knowing what the wine is, without seeing the label. It is a sensory experience with a bit of mystery, a bit of curiosity, a lot of guessing, a lot of surprises. You taste without knowing anything-not the grape, not the region, not the vintage, not the winemaker, nothing; and then you interpret it. Without being influenced, without labeling.
Illustration: Ester Saba
Why?
When we see a bottle of wine, we are inevitably impacted by the label, the year, the producer. What is written on the label immediately encodes our nose and palate expectations.
🔎 If you know which grape the wine is from, the nose immediately looks for those notes. For example, if you are tasting a Sauvignon Blanc; if you know the grape and know the bottle, it is almost impossible not to smell the lemon! Or if you have Cabernet Sauvignon in your glass, you say "Is that bell pepper?" and you look for it and find it in your nose.
🔎 If you taste knowing that the bottle you open has very high scores, the expectation grows. Even if that expectation is not met in your sensory experience; your perception becomes more positive because of the score given to that wine. And maybe you suddenly write an epic about a wine that you wouldn't give very good comments about if you tasted it not knowing about it.
🔎 When you see which region the wine comes from on the label, you immediately think of the characteristics and wines of that region. You have a wine in your head, you start to make comments.
🔎 Or if you know the harvest; you start tasting with an idea about the development of the wine. Because of the age, your mind naturally drifts to the notes we would expect; skins and tobaccos are flying in the air. This doesn't mean those notes don't exist, don't get me wrong. If they exist, they come to light more; if they don't, your sensory and emotional perception pretends that they do. Your olfactory memory gives a side smile.
Objectivity is replaced by expectations, you see.
In blind tasting, you taste unlabeled without knowing these things. It is a very useful practice and a great experience for wine tasting. You wander from region to region, grape to grape, climate to climate. You take side roads, you get on the straight and sometimes you get lost.
How?
Whether at home or in a tasting workshop, wherever you are, the aim is not to see, know or hear what is in the bottle. For this reason, the bottles are wrapped. Papers, cool velvet sleeves. It doesn't matter what you wrap them with; as long as you don't see the label! In blind tastings, they usually put the bottles in black velvet sleeves. Then you can't see the shape of the bottle.
For some tastings this may be necessary because the shape of the bottle can also give information about the origin or style of the wine. For example, Alsace bottles have a distinctive shape and say "I'm here!" Or there are Burgundy bottles with different necks. A sleeve is the best option to avoid being influenced by these. But you can cover the bottle in any way, as long as we don't understand what it is.
After wrapping the bottles in this way, we take turns to taste the wines and make comments. At the end of the tasting, it is explained what each bottle is, and we are surprised. There are so many different interpretations during the tastings! That's the joy of it, the more you focus, the more you discover; the more you discover, the more you share; the more you share, the more you grow. The tastings I enjoy the most are blind tastings. Whenever I taste wine, I ask myself, "What would I say if I tasted blind?"
Some examples
I will share 3 examples of blind tastings; three completely different selections, three completely different experiences!
Burgundy tasting with the Association of Wine Experts and Educators. The secret heroes of the tasting, a very elegant selection.
Another blind tasting example is one of the online tastings we did with Bosphorus Wine Society while we were at home during the pandemic. We gave the tiny bottles numbers like the ones below; eyes closed, noses and palates open. Here is the selection that took us from Turkey to Italy and France on a remote trip.
In recent months, we did another blind tasting; the selection became wider, the nose and palate more involved. We went on a long journey from Gallipoli to Beaujolais, from Argentina to Cornas. The selection is here.
🔎 I am warning you from the jump, the aim is not to know what happens at the end of the tasting, but to enjoy this tasting. Because it is not easy to guess.
Hikâyeyi beğendiniz mi? Paylaşın.
Hikâyeyi beğendiniz mi?
Kaydet
Okuma listesine ekle
Paylaş
Nerede Yayımlandı?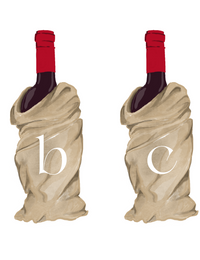 🍷 Tasting without labels
Yayın & Yazar
Veraison
Veraison is a wine publication that imagines the next sip while exploring the wine in its glass. I believe that wine is not only drunk on white-covered tables and I'm seeking a place on every table. In your inbox to draw sensory experience routes every week!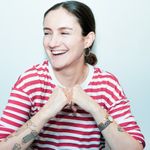 Selin Osmanoğlu
1989 rekolte; meraklı, burnunu o kadehten bu kadehe sokan, koku hafızasını pek zorlayan bir kimya mühendisi ve WSE3 sertifikalı şarap uzmanı.
;