Under the marquee, a true Mexican: Corrochio's
An underground taqueria with pizzazz, now with a dancefloor.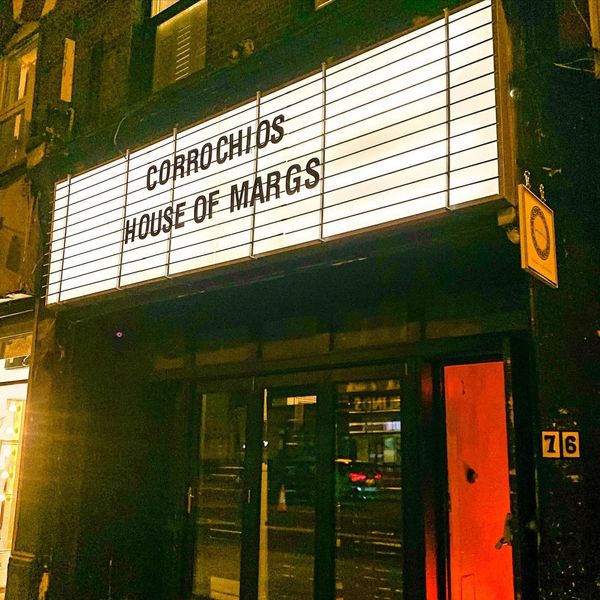 Aposto London
A weekly, practical zine to London for those who want to make this city their neighborhood. Every Tuesday.
There are more taquerias on Kingsland High Street than there are smelly butchers on Ridley Road Market. This unexplained multitude of Mexican restaurants on the road (within 10 minutes walking distance from the Junction in both directions) is perhaps the result of a gentrified neighbourhood looking for excitement in the dining sphere. But the over-tacoification often comes with a lack of flavour and an abundance of 'concept'; produce and technique that don't recreate original tastes and decor that mimics Mexican culture to a level of accuracy similar to Speedy Gonzalez. Yet among the eight Mexican joints, I can think of off the top of my head, there is one that feels less like a gimmicky recreation of culture and more like Mexicans trying to do wonders in a hole-in-the-wall: Corrochio's.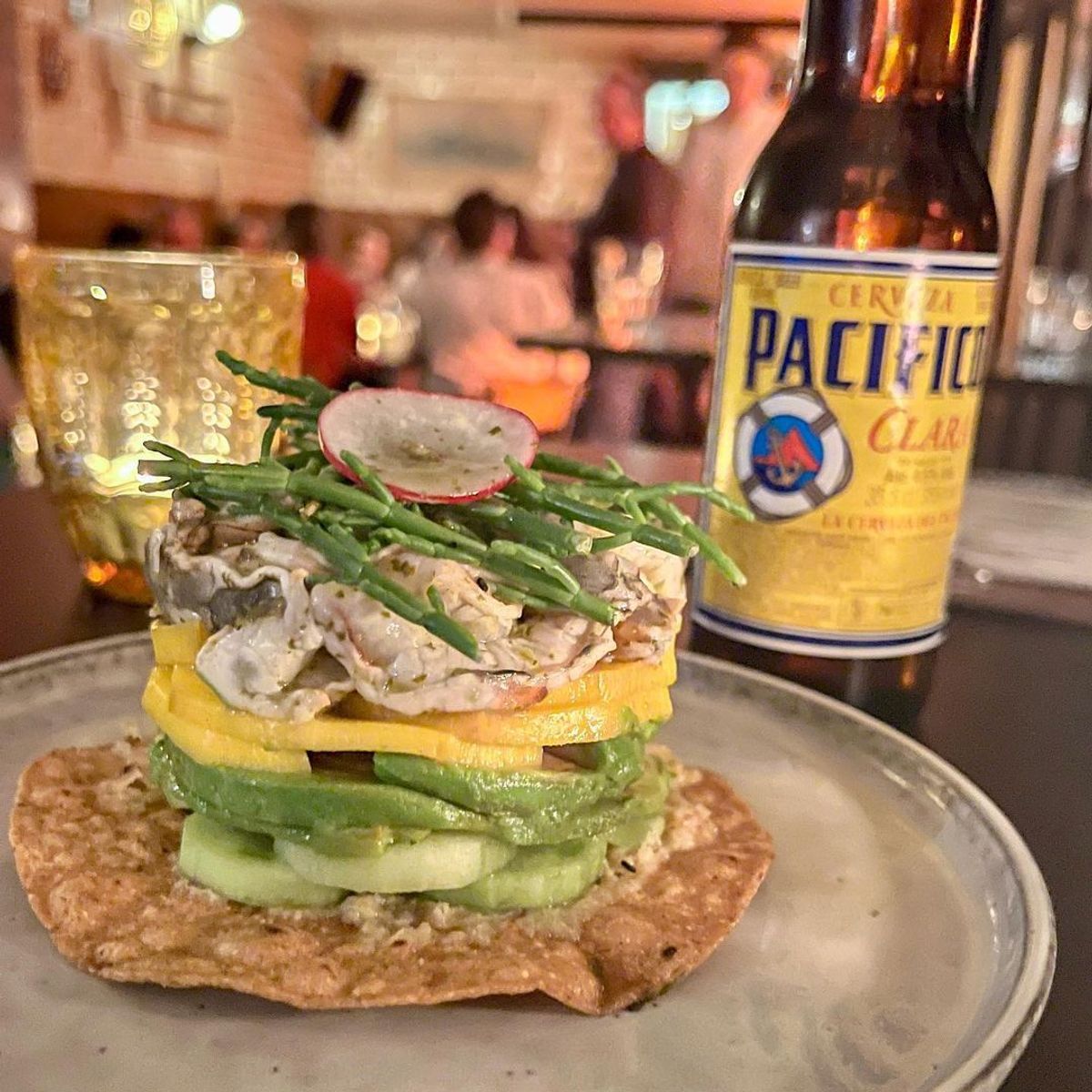 Aguachile, a weekly special
---
As a taqueria and cocktail bar, Corrochio's is for casual nights that are special. Maybe for a slightly romantic weekday date or a dinner with friends. The cute and sometimes cheeky messages on the marquee lead the way to the underground bar, akin to entering a pyramid if the tomb belonged to a hipster Aztec emperor.
In the dimly lit, lively lounge there are a handful of tables surrounded by vividly decorated walls. Not cheesy enough to have Frida Kahlo paintings but with an appropriate amount of Dia de Los Muertos flair. The number of ornaments has the necessary attention-grabbing quality, pizzazz if you will, to fill the silence during dinner. Interesting enough for the uninterested guest to look around and find something to ogle at while the overly interested one tries to establish extended eye contact after the second marg. The menu fits this dynamic perfectly too, as it is approachable enough for the newly initiated Mexican tastes but also lists regional and niche dishes to keep a level of gastronomic excitement.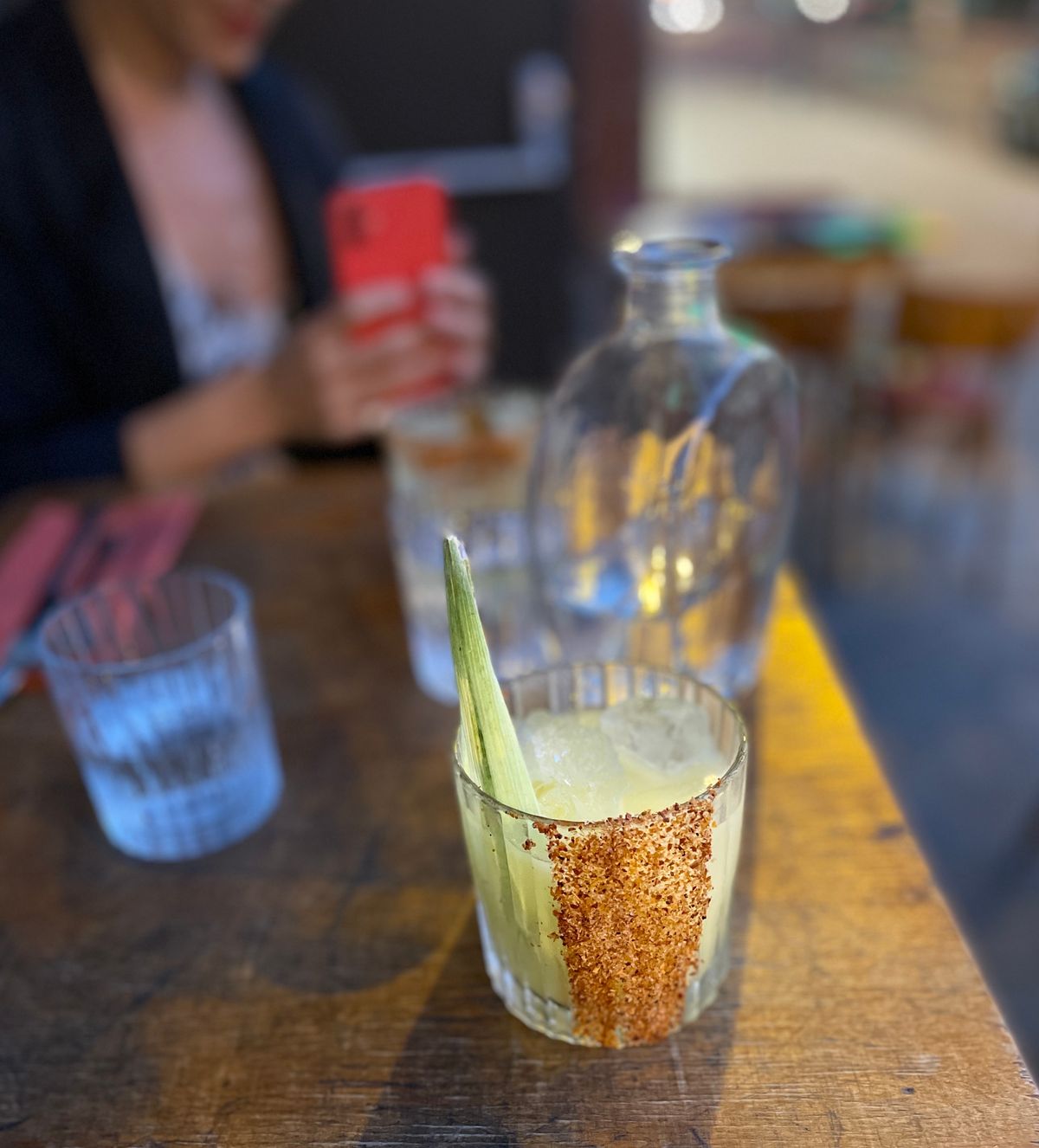 Cornholio, a muddled corn-based cloudy margarita

---
What to eat/drink: Go here for the tacos and then regret not trying the more regional and less mainstream dishes. It feels to me like the Mexican chefs in the kitchen occasionally miss a dish from their home and include it in the menu for a bit. The safe options are the Gobernador tacos with shrimp, the lengua (tongue) tacos or whatever birria they have. The vegan and vegetarian options here are also much better than any other taqueria I have tried in London, probably thanks to their salsas [mostly cruda (hangover illnesses caused by a previous bout of heavy drinking), as it should be] and the overcomplicated mole dressings. Another nod-earner is the hefty guacamole and chips starter, which by the laws of space and time should not be this good in London, as any North American would attest.
The cocktails here are proud to be on the spicy to salty spectrum, with even Clamato micheladas making appearances. The margs and mezcalitas pack the perfect fresh punch for fatty and drippy tacos but my favourite so far is the sweetly unique cornholio, a muddled corn-based cloudy margarita with a tajin rim (of course).
And then some: This autumn Corrochio's also extended to their neighbouring lounge (where Ruby's used to be) and opened a bar: Cantina. It's not the most popular yet, the queue outside is not comparable to other dance joints in Dalston, which makes it perfect. More importantly, they serve tacos. Music goes on until 2:00 a.m., with the rare sighting of Mariachi bands.
Where: 76 Stoke Newington Rd, N16 7XB
When: Great for weekday nights. Booking is recommended, especially for weekends. Taco Tuesdays are also worth going to with 4 small tacos and a decent margarita at £16, among other deals.
Hikâyeyi beğendiniz mi? Paylaşın.
Kaydet
Okuma listesine ekle
Paylaş
Aposto London
A weekly, practical zine to London for those who want to make this city their neighborhood. Every Tuesday.
NEREDE YAYIMLANDI?

Aposto London
∙
HİKAYE
🗺 Hi London, meet Soli
Tag along, let's redefine travel culture with Soli, a borderless travel community uncovering the world by neighborhood, with their locals.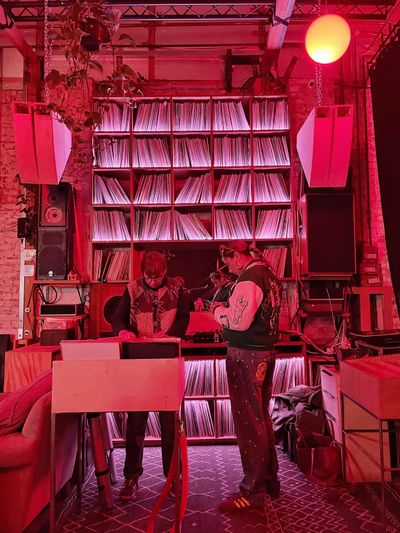 YAZARLAR

Aposto London
A weekly, practical zine to London for those who want to make this city their neighborhood. Every Tuesday.
;