Vibrating differently with different people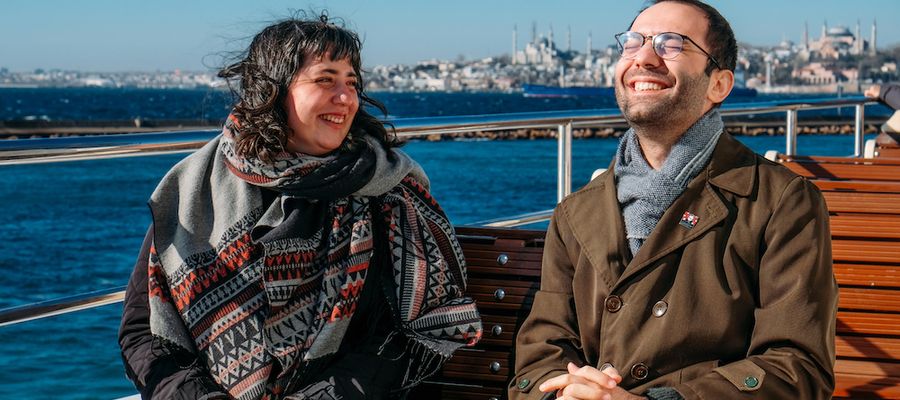 Whenever I see the future under a cloud of dust, my desire to create gets triggered. My priority becomes going for the things I believe will be permanent. During the pandemic, I started Discovery Stage in order to spend time with artists who were far away (and who are even further away now), to surrender to their creations, and make imaginary friends. I wanted to leave where I was, and gain my freedom through writing. I still do.
With İdil in front of her favorite place in Kadıköy, Polka Kafe
---
I met many of the guests on the Discovery Stage for this series. Therefore, I evaluated not only their creations but our ability to sit together and be open to sharing. The rest was carried out by text, phone call, or e-mail. This applies to İdil Meşe too. We talked over the phone on a Tuesday, met up in a soup restaurant in Kadıköy the next Wednesday, and recorded our conversation in Aposto Studio in Galata on Thursday.
In front of me, there is someone who, instead of centralizing music in her life, wants to play with it, discover it, have fun, and who sometimes likes to feel alone, and other times, as part of a crowd. She is someone who prioritizes "Vibrating differently with different people." What İdil brings to the table never fully belongs to her. These are all pieces that come out of a cluster of voices and get mixed up in İdil. It's not clear where it comes from, or where it's going. Therefore, İdil's music appears suddenly when you call out to or take a step toward it. Her breath, taken in deeply from life, blows peace into my ear.
With İdil, in the middle of an enjoyable conversation by the window at Polka Kafe.
---
At first, İdil and I are surprised by the autumn leaves blowing in the wind. Then, we put everything on the table. We took shelter in being together against the pessimism of bad days. And before we moved into a story filled with music, we created a playlist for you.
Yes, we are at the usual spot – in the place by the corner, overlooking the street.
Hikâyeyi beğendiniz mi? Paylaşın.
Hikâyeyi beğendiniz mi?
Kaydet
Okuma listesine ekle
Paylaş
Nerede Yayımlandı?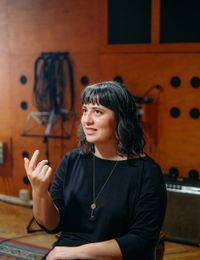 🎧 Discovery Stage #14: İdil Meşe
Yayın & Yazar

Duende
Aposto's publication of arts and culture. New guests, interviews, podcasts, and explorations from the universe of music and film.
;