War of Technology: USA vs. China
In today's article, Aposto's technology editor İrem Denli takes a look at the technology war between the US and China, and analyse the repercussions of this fierce competition.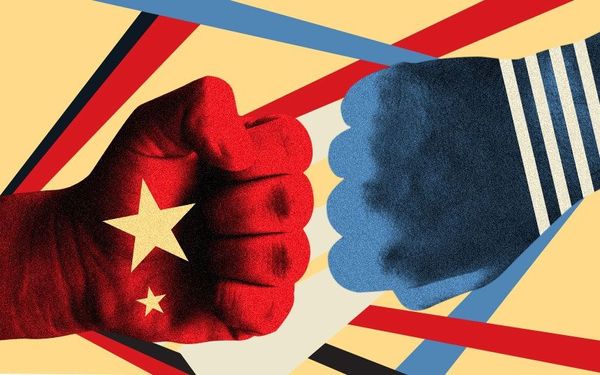 The gross domestic product (GDP) of the US, the world's largest economy, accounts for 24 per cent of the global economy, while China, the world's second largest economy, accounts for 15 per cent.
The fact that these two rival countries dominate the global economy to such an extent means that this rivalry affects the whole world. One of the fronts where the war between the two rages on is technology.
Arguing that Chinese technologies are a 'national threat' to military, politics and US citizens' data, the US imposed restrictions on China one after another last year. Accordingly; the US government announced that 36 more companies were included in the trade blacklist, expanding the scope of export restrictions already imposed on China-based technology companies. This means that companies added to the blacklist, known as the 'Entity List', will be restricted from accessing certain US-produced goods, software and technologies that are subject to US export regulations, and will face 'stringent licensing requirements' if they want to access these technologies. Among the companies subject to export restrictions are Yangtze Memory Technologies and Shanghai Micro Electronics Equipment, both of which are among the largest chip manufacturers in China and the world.
US vs China: Milestones in the technology war
CHIPS and Science
The 'Creating Helpful Incentives to Produce Semiconductors' Act, or more commonly known as CHIPS and Science Act, is designed to increase US competitiveness, innovation and national security. It was signed into law by US President Joe Biden on 9 August 2022. Aiming to catalyse investments in domestic semiconductor manufacturing capacity, the law aims to accelerate R&D and commercialisation of technologies such as quantum computing, artificial intelligence, clean energy and nanotechnology, and to create a larger, more inclusive science, technology, engineering and mathematics (STEM) workforce through new regional high-tech centres.
The CHIPS Act calls for $280 billion to be spent over the next decade on domestic chip technology and science to be produced in the US. Of this amount, $200 billion is earmarked for scientific R&D and commercialisation, with $52.7 billion for semiconductor manufacturing, R&D and workforce development, and $24 billion in tax credits for chip manufacturing. Another $3 billion is earmarked for programmes for advanced technology and wireless supply chains.
These subsidies, which promise to provide the necessary support for semiconductor companies to develop and diversify their workforces, offer the opportunity for a step change in digital manufacturing and related workforce skills. It is thought that this approach could be the key to surviving the race to reduce the size and power of chips while improving performance at the same time.
However, utilising this funding comes with a number of disadvantages: New geographic restrictions for manufacturing.
The CHIPS Act prohibits US-based companies that would benefit from the fund from carrying out semiconductor production in countries defined by US law as national security threats, particularly China. These restrictions apply only to new facilities, provided that an existing manufacturing facility does not predominantly produce obsolete semiconductors for the market of any country identified as a national security threat.
According to US government statistics, the US now accounts for 12 per cent of total semiconductor production, up from 37 per cent of global semiconductor production in the 1990s. On the other hand, many US companies are dependent on chips produced abroad.
Export controls
In early October of 2022, the US announced new rules that are among the broadest export controls ever in its race with China over the control of semiconductor supply. Under these new rules, companies that manufacture supercomputing and artificial intelligence-oriented chips using US-made tools or software and export them to China, regardless of where in the world they are manufactured, must obtain a number of special licences that are very difficult to obtain.
However, the new rules also include a clause preventing US citizens and green card holders from working for certain China-based companies. This means that a significant and substantial pipeline of American talent travelling to China to work will be cut off, and as a result, high-end semiconductor development will be adversely affected.
Alan Estevez, Under Secretary of the US Department of Commerce, stated that the purpose of these new measures, which make it very difficult for China to access advanced chips for the latest technologies, is to prevent China from purchasing US-produced 'sensitive technologies with military applications'. Commenting on the restrictions, Jim Lewis, a technology and cybersecurity expert at the Centre for Strategic and International Studies in Washington DC, said that the measures would 'set China back years'.
On the other hand, these export restrictions are not the first time the US has imposed strict rules against China regarding tech. To see when the restrictions really started to get serious, we need to look back, before the Biden administration.
It all started with him: Trump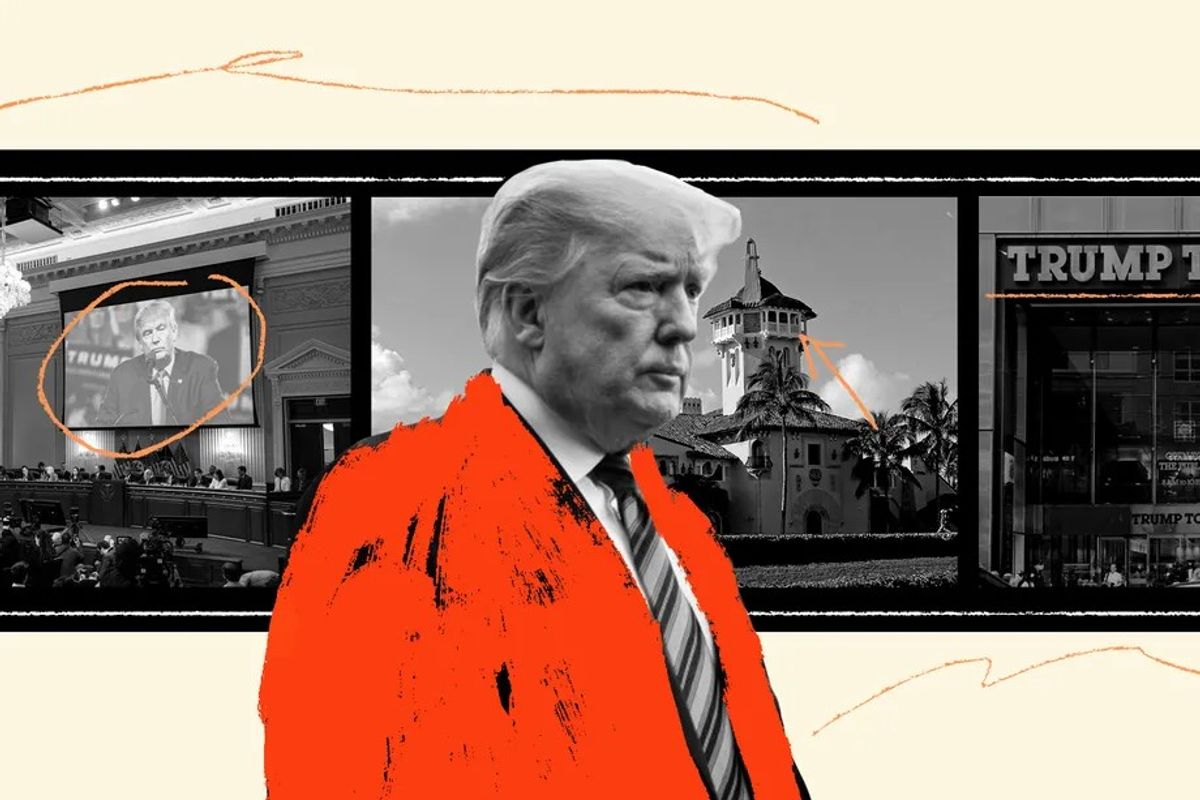 Matt Dunne/Vox

After months of speculation, then-President Trump signed a decree in May 2019 authorising the federal government to block the purchase of foreign telecommunications equipment by US-based companies if it is deemed to pose a national security risk. Although there was no statement that this decision was made for a single company, this new authority was seen by many as a move against China-based Huawei, which some US lawmakers saw as a security threat.
In short, this ban meant that China-based technology giants such as Huawei and ZTE could no longer sell their products in the US or work with big names in the field such as Google or ARM for important software and licences.
About a year after this decision was made, Trump decided to extend the validity of the decree until May 2021.
In November 2021, new US President Joe Biden signed the Secure Equipment Act, which prevented companies such as Huawei and ZTE from obtaining network licences. With the new law, which was passed by 420 votes to 4 in the House of Representatives, the Federal Communications Commission (FCC) was completely stripped of its authority to issue licences to companies on the FCC List of Equipment and Services.'It is time to close this glaring loophole [...] Once we have determined that Huawei or other gear poses an unacceptable national security risk, it makes no sense to allow that exact same equipment to be purchased and inserted into our communications networks as long as federal dollars are not involved.' said FCC Commissioner Brendan Carr.
This decision was officially implemented by the FCC on 25 November 2022.
The US argues that the Chinese government, its main rival for world power leadership, could spy on American networks through equipment from companies like Huawei. Huawei has repeatedly denied that this could happen, while Ren Zhengfei, the company's CEO and founder, has challenged the US campaign against the company, saying it will not stop its international expansion.
In February 2019, the heads of major US intelligence agencies such as the FBI, CIA and NSA warned US citizens not to use Huawei or ZTE phones, while the government also pressured allies to stop using Huawei-made telecoms equipment in national infrastructure.
Cause and effect
In 2016, the Chinese government announced plans to spend $150 billion over 10 years to develop the Chinese semiconductor industry. Until then, the US-China conflict had not started in earnest, but Beijing's announcement set off alarm bells in the US defence establishment. Experts warned that China's plan to increase its presence in the semiconductor sector puts US national security at risk: In a few decades, Chinese firms could be able to produce more advanced microchips than the US, meaning that Chinese missiles, lasers or air defence systems could become the most sophisticated in the world.
To prevent this from happening, the US found the solution in a package of hundreds of billions of dollars of support for its own domestic semiconductor production, as well as a halt to the purchase of equipment from Chinese companies, especially for military and telecommunications, and a halt to the export of chip manufacturing equipment that China needs to buy from the US for chip production. These measures, in addition to supporting domestic chip production, would have dealt a blow to Chinese production and prevented the use of Chinese equipment against the United States.
However, the repercussions of these US measures on the semiconductor industry, which has not yet fully recovered from the crisis and is therefore very fragile, are far more than just affecting China, because the companies that produce chips, export them all over the world, including China, and develop technologies using these chips are being hit the hardest.
According to Brady Wang, deputy director of Counterpoint research in Hong Kong, the export restrictions that came in October cover high-end computer chips such as NVIDIA's A100/H100 and Intel's GPU. The rules, some of which take effect immediately, build on restrictions sent earlier last year in letters to top toolmakers KLA, Lam Research and Applied Materials, requiring them to halt shipments of equipment to wholly Chinese-owned factories producing advanced logic chips.
The US Department of Commerce states that the export controls restricting China's ability to obtain advanced computing chips, develop and maintain supercomputers, and manufacture advanced semiconductors.
The chip ban is described by veteran China analyst Bill Bishop as a 'massive escalation' in trade and geopolitical tensions between the US and China. 'We are all still trying to understand the impacts of the new controls," he said in his newsletter, 'and frankly I think many underestimate just how significant they are, both for technology supply chains and future developments but more broadly for the US-China relationship'.
International research firm GlobalData, for its part, says the restrictions "go beyond the semiconductor industry" and are essentially about nothing more than world economic leadership. "It's about the dominance of [artificial intelligence], which underpins what many are calling the fifth industrial revolution, and ultimately global economic leadership over the next few decades," says Josep Bori, the firm's director of thematic research.
Although they have another year to comply with the restrictions, Asian semiconductor manufacturers such as market leaders Taiwan's TSMC, SK Hynix and Samsung are also threatened by them.
Can China use locally produced chips instead?
China consumes more than three-quarters of the semiconductors sold globally, but produces only about 15 per cent of global output.
Experts say that China's equipment makers lag four to five years behind their overseas rivals, which is holding them back from replacing equipment lost from US suppliers such as KLA Corp, Applied Materials and Lam Research. According to Boston Consulting Group estimates for 2021, a country needs at least $1 billion in additional upfront investment to establish a fully self-sufficient domestic chip supply chain.
However, it is assessed that the new restrictions may encourage Chinese chipmakers to try to produce advanced chips using creative engineering solutions with older technologies that are not subject to sanctions. Counterpoint's Brady Wang states that
"the latest US restrictions will greatly slow down China's advanced semiconductor industry and derivative technologies such as artificial intelligence, supercomputers, self-driving training", and this may cause China to direct its production capacity to "concentrate on mature technologies and utilise services outside China".
The 'TikTok' of it all
Along with all these, the US's war with China is also quite fierce on the 'social media' wing. Yes, we are talking about TikTok.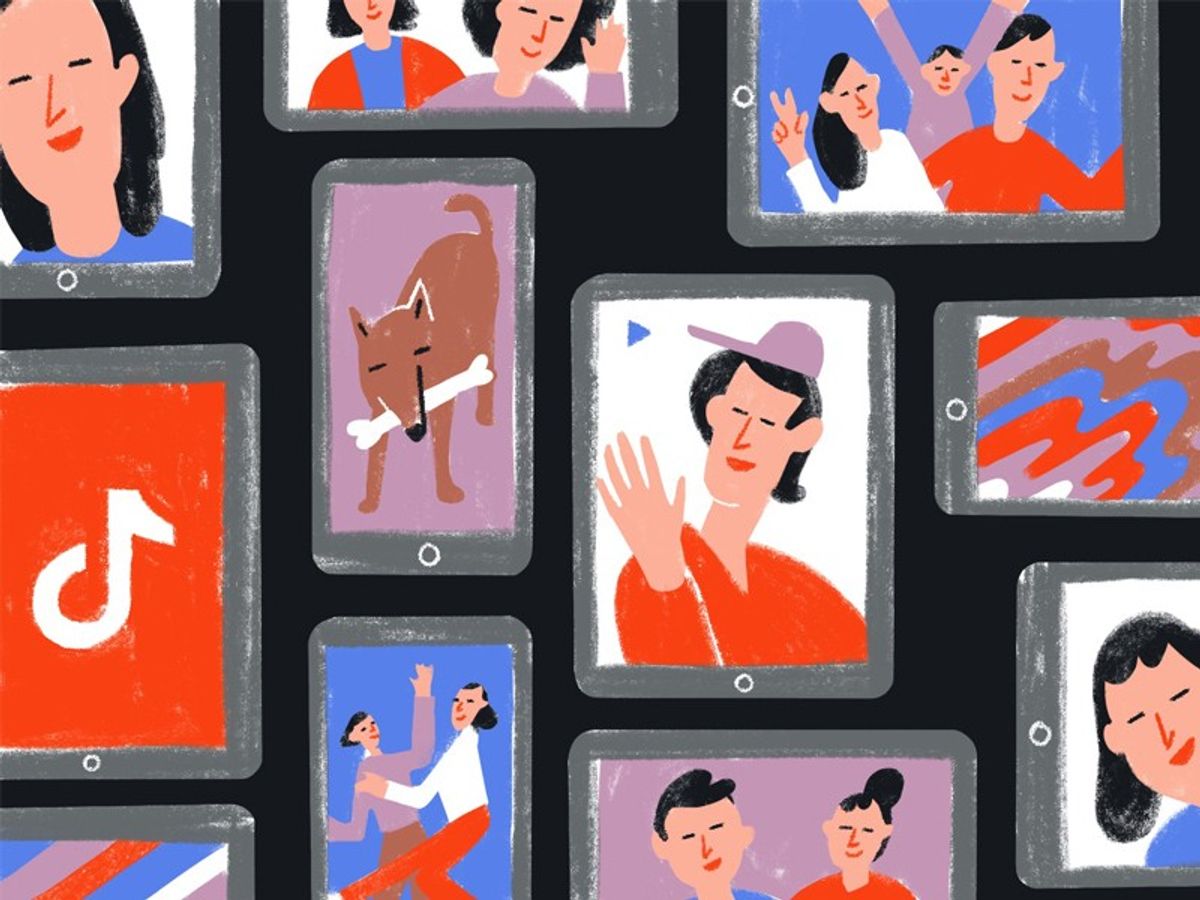 Bea Vaquero/Dribbble
The US government, which has been trying to ban TikTok, which is owned by the China-based technology company ByteDance, is getting closer and closer to its goal despite all the efforts of TikTok to prevent this. As an output of the pandemic, the efforts to ban TikTok, which became popular in a very short time by taking advantage of the distress of people stuck in their homes during the long quarantine period, first coincides with the Trump era.
On 6 August 2020, President Trump tried to block TikTok in the US with a decree banning operations between ByteDance and US citizens, citing 'national security concerns'. Eight days later, Trump 'backtracked' with another executive order that presented ByteDance with an ultimatum to separate TikTok's US business from China within 90 days or sell TikTok to an American firm. ByteDance has been in talks to sell TikTok to Microsoft, Oracle and Walmart, but none of these talks has yielded results. As a result of a series of lawsuits filed by ByteDance and TikTok influencers, this ban was also prevented.
In June 2021, President Biden cancelled Trump's executive order and launched an investigation into the security threats TikTok could pose. A year later, in June 2022, rumours of backdoor access to US user data by employees in China resurfaced. Federal Communications Commissioner Brendan Carr sent an open letter to Apple and Google, calling on them to remove TikTok from their app stores due to 'secret data practices'.
Another reason for the stagnation of investigations and actions by US agencies is the role played by opposing factors. Accordingly, the answer to the question of how freedom of expression on the US internet works when hosted by a China-based app raises issues of foreign trade policy, political ideology, international data security and many other issues.
On the other hand, the implications of this turmoil go far beyond TikTok. The reason for this is that any government decision on regulation or a ban on this short video application used by young people will set a precedent for how other giants such as Facebook and YouTube will be dealt with legally and politically in the coming years.
For now, TikTok, which continues to defend that user data is securely stored on Oracle cloud servers in the US, is endeavouring to provide various assurances to US authorities in order to prevent a possible nationwide ban. The last of these efforts came last week.
As reported by sources familiar with the matter, last week TikTok made an offer to the US government to conduct its operations more distantly and to be subject to external scrutiny. Accordingly, TikTok was proposing to expand the role of Oracle, the world's second largest software company after Microsoft, to ensure that TikTok's technology infrastructure is separate from ByteDance, i.e. China, and to create a 'proxy' board to manage TikTok's US division independently of ByteDance. However, according to the latest news, it seems that these efforts of TikTok may not yield results.
Very recently, TikTok's parent company ByteDance published the results of an internal investigation into the company. According to this report, four employees of ByteDance in China had obtained the data of TikTok accounts belonging to two US journalists. The report did not specify the most troubling details, such as what the employees did with this information. In recent weeks, the government's bill to ban the use of TikTok on state-owned devices was passed by the Senate and sent to the House of Representatives for enactment.
On the other hand, the use of TikTok on public devices is already banned in Texas, North Dakota, Louisiana, Oklahoma, South Dakota, Maryland, South Carolina, New Hampshire, Utah, West Virginia, Georgia, Idaho, Iowa, Tennessee, Alabama, Virginia, Nebraska and Montana.
Considering all these, it is possible to say that the bill will pass through the House of Representatives more urgently. Moreover, it would not be too far-fetched to say that greater sanctions, measures and bans against TikTok are on the way.
Hikâyeyi paylaşmak için:
Kaydet
Okuma listesine ekle
Paylaş
İLGİLİ BAŞLIKLAR
Yangtze Memory Technologies
Shanghai Micro Electronics Equipment
NEREDE YAYIMLANDI?

Aposto Tech
∙
BÜLTEN SAYISI
∙
ÜYELERE ÖZEL
⚔️ War of the Giants
What is the latest situation in the technology war between the US and China? What will be the future repercussions of the steps and measures taken by the US against China?
YAZARLAR

Aposto Tech
The best articles on technology at Aposto, curated by our editors. Topics include startup news, AI, fintech, gadgets, and more.
;