Well, today I just want to clear things up. I don't have much to say.
Istanbul is a museum every artist wants to leave a mark on.
Istanbul is a book you always crave reading more, again and again.
Istanbul is a mess you should know how to deal with to survive.
And more, yes. Yet:
Istanbul is our journey we decide to take no matter what.
Istanbul is Istanbul, our source to create, build, change, and preserve.
Istanbul is our home, we never give up.
Who are we?
We are Istanbulites.
This week we met with Defne (Özdoğan), an architect, creative designer, Londoner and Istanbulite, whose creative juices are flowing here. Then we needed to shake things up to change the energy around, so we reserved tickets for Sónar Istanbul and dreamt big. Later on? We'll listen to Monolink then see the exhibition titled 'Foodprint' in Salt Beyoğlu and attend the new moon event of Beca. What else? Let's meet in the doorway.
Elif
In the 19th issue:
Hopping (What's going on in Istanbul: Hand-picked and unmissable events): Monolink's DJ performance, International Experimental Film Festival, party as a goodbye to Asmalı Mescit and much more.
Water Cooler Talk: Weekly insights: national and international relations in the run-up to the elections.
Istanbulite (A talk with a creative inhabitant): Meet Defne Özdoğan, an architect and designer who lives part-time in Istanbul and in London.
What's Cooking (Selected places to eat, drink, cafés, food markets): An alternative food guide at Tophane before the end of the biennial.
---

Source: MusicTech
---
Emotional journeys: Monolink
What is it? DJ performance. Singer-songwriter and electronic music creator Monolink is back in Istanbul with a performance in which he will combine passionate touches of the guitar with some hypnotic bass and emotive vocals.
Where? Volkswagen Arena
When? 26 November
Why should you go? He answers the question here in his own studio.
Duly noted: Only tribune tickets are left but we are leaving them here just in case.
---
Experimental screenings: 4. International Experimental Film Festival
What is it? Film festival. Turkey's first avant-garde and experimental film festival, which has its finger on the pulse of experimental films from Turkey and around the world, will be in Istanbul for the 4th time.
Where? Salt Beyoğlu and Hope Alkazar
When? 23 - 27 November
Why should you go? While experiencing an alternative film festival, you will make extraordinary discoveries with spectacles that expand the visual and narrative possibilities of cinema. In addition, Stan Brakhage, one of the most important figures of 20th-century cinema, will be the guest of the retrospective section of the programme.
Duly noted: All screenings at the festival are free! Get the detailed programme here.
---
A nostalgic night: Asmalı Mescit's Groove
What is it? Party. Having said goodbye to Asmalı Mescit, Groove, one of the symbolic venues of 'once upon a time in Beyoğlu', is making a one-night return with a party reminiscent of the past.
Where? Kadıköy Sahne
When? 26 November
Why should you go? You can breathe in the calming nostalgia of the past and dance until the morning with Groove's classic DJ sets while saying 'once upon a time in Beyoğlu'.
Duly noted: This is the way to the tickets.
---
Too much excitement: DJ Assault
What is it? DJ performance. DJ Assault, the veteran of ghetto-tech, for whom we don't need to hide our excitement, is getting ready to bring his electro beats, funk and groove-filled melodies from the streets of Detroit to the streets of Istanbul.
Where? Babylon
When? 25 November
Why should you go? At the night presented by Selectist, when the booty bass boss starts spinning, you will encounter a new taste that your body is not used to hearing in this city. But don't worry, fun is guaranteed.
Duly noted: Enter here.
---

Source: ArtOn Istanbul
---
Last chance: Arura
What is it? Exhibition. New media artist Ozan Türkkan, who takes his inspiration from the connection between water and life forms in nature, invites us to Arura, the result of his research focusing on the fractal geometric structure of biological forms in nature and the variability of this geometry over time.
Where? ArtOn Pera
When? Until 26 November
Why should you go? You will be able to examine the magic and charm of nature on digital screens.
Duly noted: Arura, a Homeric Greek word derived from the verb 'to plough', whose original meaning is 'arable land', is also used in the sense of 'sacred mother earth'.
---
Early Bird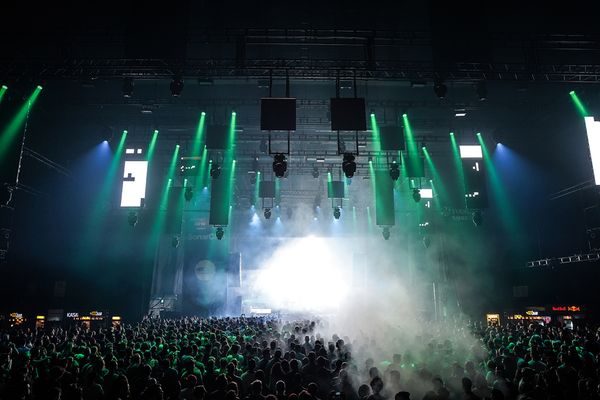 Source: Sónar Istanbul
---
Our 7th time together: Sónar Istanbul 2023
What is it? Festival. Sónar Istanbul, which combines music, creativity and technology, whispered the news that it will once again host unforgettable meetings between stages.
Where? Zorlu PSM
When? 28 - 29 April
Why should you go? We may not know who we will encounter yet, but who hasn't been on the Sónar Istanbul stage? Honey Dijon, Jon Hopkins, Laurent Garnier, Bicep, Róisín Murphy…
Duly noted: Although we were shocked to see that the first and second-term tickets were sold out, discounted third-term season tickets are here. Honestly, we couldn't hide our surprise about the prices.
---
Out of Town
The tempo of the digital: Digital Cultures Festival 2
What is it? Festival. The festival, which is organised for the second time this year, will bring together respected and emerging names of electronic and techno music for one day, offering content from technology and digital art.
Where? Hangout PSM
When? 26 November
Why should you go? From Istanbul Ghetto Club to Citron Sucré, you'll take a breather after the work week on the night that connects Saturday to Sunday.
Duly noted: For the surprisingly well-priced tickers, you can go here.
To follow weekly politics publication focusing on Turkey, city agendas, and international policy subscribe to Spektrum.

Developed by Kültür AŞ by the Istanbul Metropolitan Municipality, the Radar Istanbul app lists the recent cultural events and workshops in Istanbul with just one tap.
Integrated with ten different ticketing services, the app lists events in various categories based on the user's interest and creates tickets on the spot.
Compatible with iOS and Android devices, the application is free of charge.
You may visit this link to download the Radar Istanbul app and catch up with the latest events in the city.
Dear Istanbulite, we would love to hear from you! Email us your questions or feedback at: [email protected] and DM us if you've heard a rumour about the next hip restaurant that's worth checking out or anything else.
And also, love only grows by sharing. So please share Aposto Istanbul with your loved ones.
Defne Özdoğan
Meet Defne Özdoğan, an architect and designer who lives part-time in Istanbul and in London. But of course, she is an Istanbulite.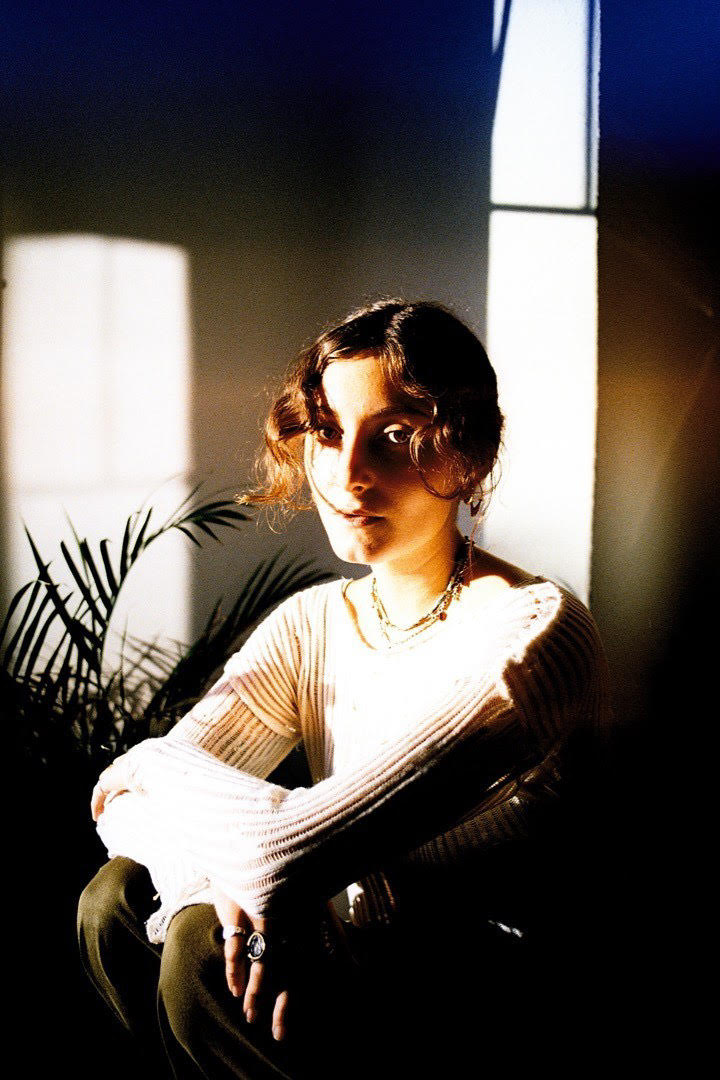 Last weekend Defne took us on a city tour. We looked at the architectural structure of Istanbul and compared it with London architecture. We talked about the points where she was inspired by the city and her brand Tenera. And when we found such a conversationalist, we could not leave her easily.
Editor's note: If you are curious for more, we are looking forward to seeing you at Aposto London on Tuesday to read the list Defne prepared for us about 3 neighbourhoods with predominant structures. You can subscribe here and wait for us.
ID
My nickname: Def
I have recently discovered (in Istanbul): Huge tomato, pepper and aubergine sculptures in the yard of Barış Manço's house in Moda, Kadıköy.
I live in: Between London-Istanbul-Bodrum but I'm from Portugal in my heart.
When I want to get inspired: I walk (the streets, the neighbourhood) and take the ferry to cross the Bosphorus.
My favourite daytime hangout in Istanbul: Is inarguably Moda, Kadıköy
This building is a gem: Hagia Sophia
Only a true Istanbulite would know: If you can get away from paying for Ispark for a while, all your debts will get erased at one point.
SHOOT THE BREEZE
For you, what does it mean to be an Istanbulite?
Being an Istanbulite means having the capability to survive in chaos on a daily basis. Since I was born an Istanbulite, I can easily adapt to chaotic places anywhere in the world really.
What are the similarities and differences between London and Istanbul in terms of their urban architecture?
To begin with, the urban infrastructure is drastically different between these two cities. In Istanbul, the landscape is filled with steep slopes and hills which gives a lot of depth to the general image. This way, basically we could see the far ends of the city from many locations. On the other hand, London, in general, is undeniably flat, which makes it very difficult to see one street from another except the area of the River Thames of course. From my personal experience, these spatial differences have had a big impact on my life.
In Istanbul, the way that I could see all the motion and dynamism of the city would give me a lot of fatigue during the day. And yet in London, I am way better concentrated and less tired moving through the city but I do tend to get lost most of the time as I can't locate myself, not being able to see the surrounding geography.
How does studying architecture and design contribute to your perspective on the city?
I mostly focus on motion and life in spaces. I find context and narrative more interesting than the city as a pile of buildings and roads. I tend to fictionalise things that catch my sights such as the circulation, people and their companions, nostalgic music and sound, and despair and vigour on peoples' faces, all these notions gather and get spread around the streets every passing second. Being on the streets of Istanbul mostly feels like being in a big theatre with performers all around. So yes, my point is that my way of being an observant architect is to live in the spatial drama of cities and their people.
What about Tenera? You are the co-founder of the sustainable fashion brand, what are the impacts of your profession on Tenera?
Well, me and my best friend and the co-founder of Tenera, Ela are a real Ying & Yang. We create all the narratives together but in terms of business development, we are total opposites. I believe that coming from an architecture background, I have a more structural contribution to the brand, questioning the feasibility and logic in every little aspect whereas Ela is a true researcher and wildly good at conceptualising! Additionally, to be a growing slow fashion brand in an age where making a profit is almost impossible as a result of the increasing production fees, you have to be able to solve problems quickly. I could say that the practical nature of spatial practices has overloaded me for years with problem-solving abilities which I am now seeing the fruits of.
What are your ways to find inspiration in the city? Are there any differences between London and Istanbul regarding your practice?
My practice mostly takes place in Turkey. Both Tenera and I nurture the heritage and traditional crafts of Turkey. All the production processes of Tenera happen in Istanbul, beginning from our studio continuing through the knit manufacturing studio and ending up in the printmaking studio. All these spaces and processes are very inspirational for us. Most of the time we follow our intuition and let the process revise our initial ideas. Tenera is a process-based brand where a big part of the inspiration comes up after we start 'doing'. London, on the other hand, is where most of the pre-production ideas come together. Here we encounter art, technology and innovation in the fashion and textiles industry. We gather all the 'new', plan a 'vision', start building a 'visual library', and fly to Istanbul.
If you had a chance to change one thing about your neighbourhood in Istanbul, what would it be?
I would intervene in the size of recycling bins and ask for more frequent collections. The size of the recycling bins where I live is equal to a large popcorn box… They definitely are not encouraging people to start separating their waste to recycle. I actually was thinking about doing a short documentary about these recycle bins because they give me the creeps. Coming from their symbolic proportion, I do not believe these bins are being separately collected and recycled. So my plan for the documentary is to secretly follow the garbage collectors and to see what happens after they take the waste. My conspiracy theory is that they just shove them all in the truck at once and toss them to some place where they get burned.
Hikâyeyi beğendiniz mi? Paylaşın.
Tophane presents: A cup of coffee, simit and mantı
Last chance to visit the biennial, yet all these places are open to warm and cheer you up on an autumn Sunday afternoon during a Tophane art walk.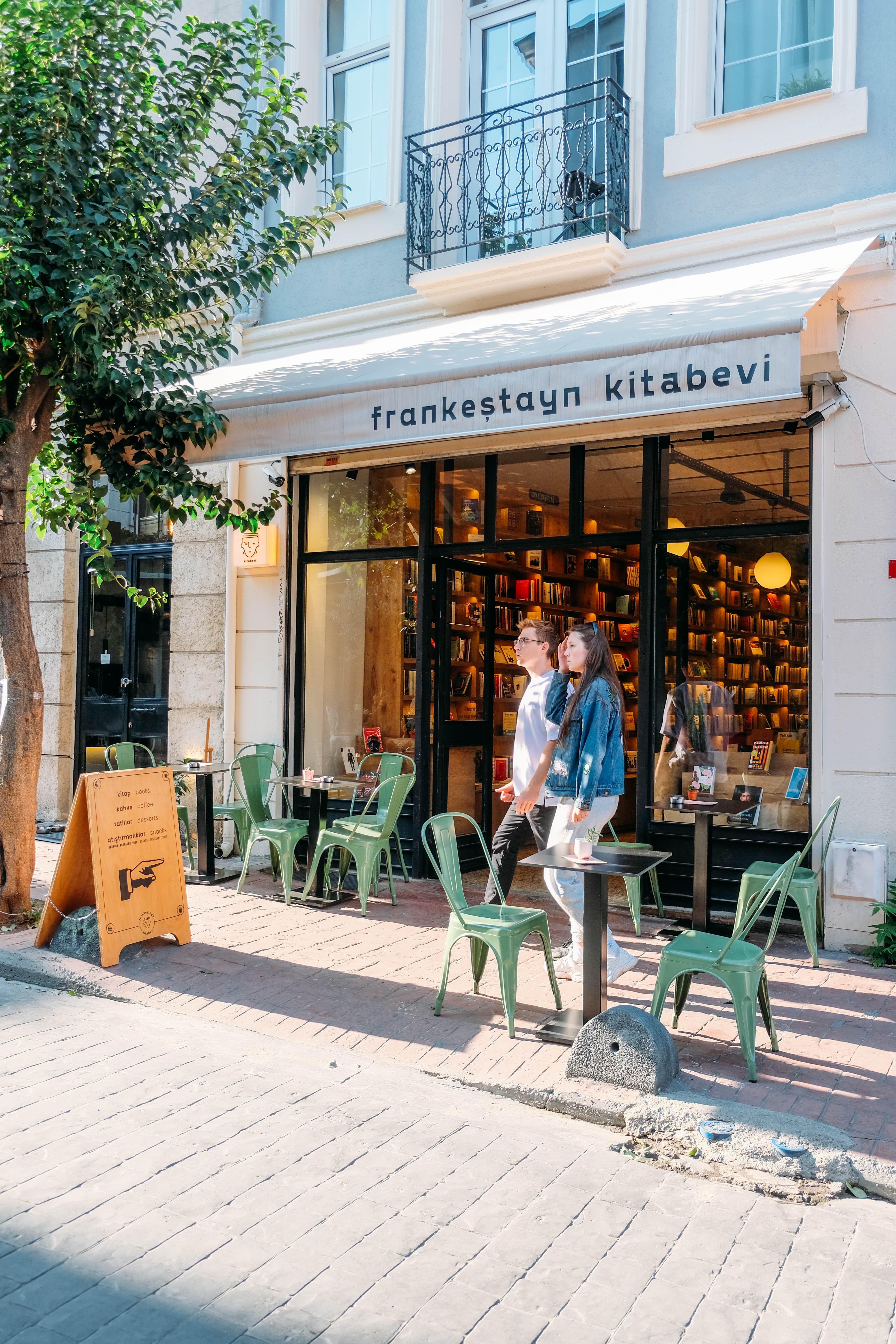 Well, Tophane is not famous for its culinary scene but it's almost in the middle of Beyoğlu. So, luckily it hosts some local gems. If you intend to visit the biennial venues today, on the last day of the 17th Istanbul Biennial, you should check the list prepared by Soli, Aposto's culture and travel publication. You can also stop by all of them after the biennial.
Probador Colectiva: Not only a third-wave coffee shop but also a coffee roasting house. We can also call it a coffee laboratory. It welcomes those who want to be educated on coffee, El Salvador & El Divisadero Anaerobic cold brew, and Vitruvius hops kombucha which comes in bottles as enticing as their contents. (By the way, its doors are open until the weather gets cold for an indoor-outdoor experience.)
Yeni Lokanta: Chef Civan Er's restaurant can be reached by climbing (yes, climbing) up Kumbaracı Slope from Tophane. Reservations are a must to try modernised Turkish cuisine and end the day on a sweet note. The dumplings are highly recommended.
Frankeştayn Bookstore & Café: The small business we are the happiest to welcome to the neighbourhood in a long time. Frankeştayn represents excluded and marginalized groups in society with rare books, a selection on gender studies and feminism, and its name. It also has a small backyard where you can drink coffee or fresh juice, and eat sugar-free desserts.
Tarihî Boğaziçi Simit Fırını: The famous simit bakery of Boğazkesen, which distributes its simits to almost every corner of Beyoğlu. The shop sells simit exclusively (yes, not even bread) and is frequented by the people of Cihangir and Tophane to buy them in the early hours or to help the owner with his crossword puzzle in the afternoon.
Bonus:
For some gluten-free banana bread, stop by Urban Bread.
It's a bit touristy but if you are craving Lebanese food you should try Arada Café's za'atar labneh pita.
If you don't have time to sit in a café, you should stop by Project Café to grab a cup of coffee.
Last but not least: Büyükdere35 as a biennial venue hosts the special project of Cooking Sections. Stop by and try some buffalo yoghurt or sütlaç while you're listening to local folk songs.
Check this out! Soli (aka another sis) prepared special neighbourhood guides including essentials of the hood for the 17th of Istanbul Biennial visitors. Soli has recently saluted you from Tophane. Read the full guide here.
Hikâyeyi beğendiniz mi? Paylaşın.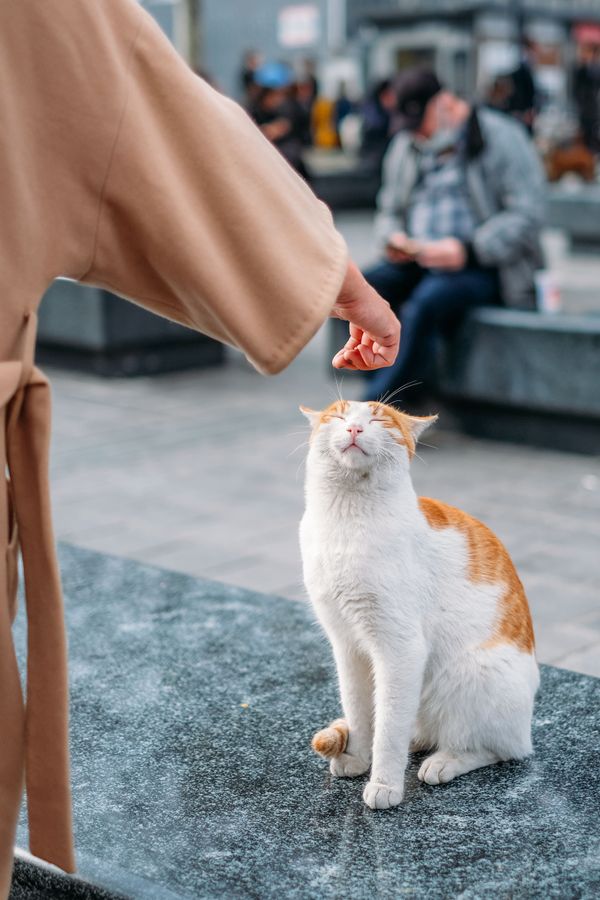 In Istanbul, you can always find a cat who wants to feel some love