electronic music
ile ilgili hikayeler

Aposto Istanbul
∙
HİKAYE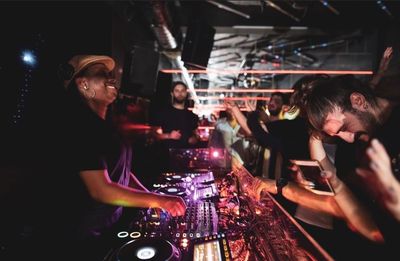 Early Bird With tears of joy: Bonobo What is it? DJ performance. DJ-producer Bonobo, who makes the calm seas inside you ripple with dance, will be with us again with a live performance after a long break. Where? Volkswagen Arena When? 9 March Why should you go? You may remember that while we were preparing to meet with him in 2020, the pandemic intervened and our enthusiasm was left in the dust. This time, he won't be accompanied by DJ Seinfeld and ...
Devamını Oku
Plan ahead Sama' Abdulhadi Sama' Abdulhadi: 4 Fridays in January What is it? Live gig . An emblematic artist of the Palestinian underground scene, Sama' Abdulhadi is the first Palestinian DJ and electronic music producer. She is announced as a Phonox resident, taking over the Brixton club every Friday in January 2023. Where? Phonox When? 6, 13, 20, 27 January Why should you go? To get to dance Sama's tunes alongside Victor Ruiz, Jennifer Cardini ...
Devamını Oku
Source: MusicTech Emotional journeys: Monolink What is it? DJ performance. Singer-songwriter and electronic music creator Monolink is back in Istanbul with a performance in which he will combine passionate touches of the guitar with some hypnotic bass and emotive vocals. Where? Volkswagen Arena When? 26 November Why should you go? He answers the question here in his own studio. Duly noted: Only tribune tickets are left but we are leaving them he...
Devamını Oku
Early Bird Source: The Times On a winter evening: Ludovico Einaudi What is it? Concert. Ludovico Einaudi, one of the most valuable composers and pianists today, is coming to change the melody of the city as part of the tour for his latest album Underwater . Where? Zorlu PSM - Turkcell Sahnesi When? 8 February Why should you go? The artist, who started to get acquainted with the piano at the age of 6, didn't stop at classical music and built...
Devamını Oku
Plan ahead Mabel's music video "Karakol" (The Police Station) Mabel Matiz What is it? Concert. Mabel Matiz is a Turkish singer offering a unique blend of maqam music, urban pop, and Anatolian folk melodies with synth. Where? Barbican When? 9 November Why should you go? Turkish folk and electronic music are on the rise with names such as Safak Oz Kutle, Oceanvs Orientalis; Selda Bağcan and Altın Gün. This would be your chance to meet another ta...
Devamını Oku
Based in Tokyo, touring the world, Wata Igarashi continues to explore his singular vision of electronic music Wata Igarashi All Night Long What it is? Dance party. Sound designer, producer & DJ, Japanese deep techno maestro Wata Igarashi is playing, and everyone else is dancing. Where? The Pickle Factory When? 23 September Why should you go? To finally catch Igarashi live, between Berlin, Basel, Sydney, and New York gigs. Duly Noted: The pri...
Devamını Oku
Out of town 7th year: Sonance Festival Source: Julius Ertelt • What is it? Festival . Preparing to bring electronic music lovers together for its 7th year, Sonance Festival invites us to a 3-day dream. • Where? Anadolu Hotels Esenboga Thermal, Ankara • When? September 10-12 • Why should you go? A who's who of artists: Sedef Island, Recondite, Ben Klock, Dubfire, Oliver Huntemann, Adana Twins, Kollektiv Turmstrasse and many more. • Duly noted...
Devamını Oku
Why Are We Not Hearing Our Languages in Electronic Music?
The fifth of istanbulberlin Encounters is with DJ, producer, and curator İpek İpekçioğlu aka DJ İpek who embodies the colorfullness of the two cities she lives, İstanbul and Berlin within herself and brightens them with her music.