Ukraine
ile ilgili hikayeler
🐧 Kaptan Pengu ve Arkadaşları 3: Buz Mandası Efsanesi : Yerli animasyonun yeni bölümü. 😺 Bonibomlar: Kediler Peşimizde / Barkers: Mind the Cats! : Tatil vizyonunu animasyona boğmaya yemin edenler kulübü... 2020 Rusya yapımı bu filmi göstermek için ne kadar ödediler acaba? Bence yapımcısı "sizin olsun" demiştir. 🧡 İkinci Görüşte Aşk / Mon inconnue : 2019 yapımı romantik film, paralel evrende uyanıp kendisini tanımayan karısıyla eski günlerine dönmeye çalışan bir ad...
Devamını Oku
🧜‍♀️ Küçük Deniz Kızı / The Little Mermaid : Rob Marshall nerde diye merak ediyorduk ki, Disney 'in "klasik animasyonlarımızı oyunculu filmlere uyarlayalım" akımına Ariel'i yetiştiriyormuş. 💤 Conjuring: The Beyond : Türkiye dışında hiçbir yerde vizyona girmeyen, James Wan 'ın Korku Seansı / The Conjuring serisiyle bağı olmayan, çok kötü eleştiriler almış bir taklit. 👹 Cin Hikayeleri Kayıp Bebek : Haftanın yerli cin filmi. 🇯🇵 Suzume / Suzume no tojimari :...
Devamını Oku

Spektrum
∙
HİKAYE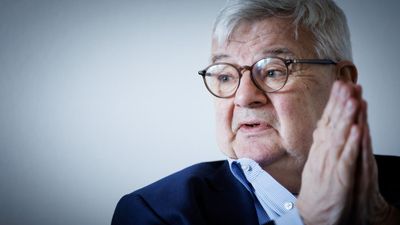 • Russian officials on Thursday accused Ukrainian saboteurs of crossing into western Russia and firing on villagers. Ukraine denied the claim and warned that Moscow could use the allegations to justify stepping up its own attacks in the ongoing war. via CNN On the ground: Russian forces are advancing within Bakhmut as intense fighting continues, according to the Ukrainian military and analysis from the Institute for the Study of War (ISW). Despite Russian a...
Devamını Oku
• Ukraine's military might decide to pull their troops from the eastern city of Bakhmut, where a bloody, months-long Russian offensive has been going on, an economic adviser to Ukraine's president said Wednesday. Meanwhile, in a video posted by the Ukrainian military, a soldier said his country's forces are still standing in Bakhmut, with no plans for a retreat. via CNN Why it matters: The ongoing battle in the eastern Donetsk region has become a symbol of U...
Devamını Oku
• Russian President Vladimir Putin said on Wednesday he is preparing for an upcoming visit to Moscow by Chinese President Xi Jinping for the opening of a metro line built by the division of a Chinese construction enterprise. Beijing has so far avoided calling the Ukraine conflict an "invasion" and continued diplomatic and economic support for Moscow. More drones: Russia's defense ministry said the military prevented a "massive" drone attack on Crimea , claiming that...
Devamını Oku
• Ukraine's President Volodymyr Zelenskiy said on Tuesday the fighting in Bakhmut is getting "more and more challenging" while the military reported that Russia's mercenary Wagner group is throwing its "most trained" units into the battle. Meanwhile, Russia accused Ukraine of attempting drone attacks in its territory, with Moscow's Defense Ministry saying that two of the four drones were "neutralized" without causing any damage, and one crashed near a village in the Kr...
Devamını Oku
• Swedish payments group Klarna reported wider losses for 2022 at 10.5 billion crowns (€950mn) against 6.6 billion crowns in 2021, with an improving performance in the fourth quarter. via CNBC The big picture: The fast-growing, privately held fintech saw business conditions deteriorate last year as consumer confidence was hit by soaring inflation and the war in Ukraine. On the other hand: Klarna's chief executive Sebastian Siemiatkowski's pay increased 35%...
Devamını Oku
• The EU agreed on new sanctions over Russia on Saturday, a day after the first anniversary of Russia's invasion of Ukraine. The bloc's Swedish presidency said, the sanctions are "directed at military and political decision-makers, companies supporting or working within the Russian military industry, and commanders in the Wagner Group. Transactions with some of Russia's largest banks are also prohibited."
• Ukraine's Armed Forces said on Sunday Russia conducted unsuccessful offensives near Yahidne over Saturday after Russia's Wagner mercenary group claimed to have captured the village in eastern Ukraine. The General Staff said Russia keeps concentrating its offensive efforts along the entire Bakhmut front line, where Yahidne is located. via Reuters Background: Bakhmut has seen some of the bloodiest fighting for months in Russia's year-old invasion, leading to ...
Devamını Oku